Alright guys, first game against the Vampire Counts! I was playing rusty and he was pretty much trying out all of the new stuff to see what it played like. I was happy to face a lot of different things as it really gives me an insight as to what the new book's brought with it.
:: Braaaaains ::
Lists were as follows:
My dragonlist:
Prince Saerith on Star Dragon - Vambraces of Defense, Great Weapon, Armour of Caledor, Talisman of Loec :: 622
Noble Naenor BSB on Great Eagle - Dragon Armour, Shield, Great Weapon, Helm of Fortune, The Other Trickster's Shard :: 216
High Mage Curu Olannon - Level 2, Annulian Crystal, Ironcurse Icon :: 180
Characters Total :: 1019
30 Archers, Full Command and Gleaming Pennant - 360
14 Archers, Musician - 159
10 Archers - 110
Core Total :: 629
30 White Lions, Full Command and Banner of Eternal Flame, Amulet of Light :: 505
14 Swordmasters, Bladelord with Skeinsliver :: 247
Special Total: 700
2 Great Eagles :: 100
Rare Total :: 150
Army total: 2500
2500 Pts - Vampire Counts Army
1 Vampire Lord @ 404.0 Pts
General; Lore of Vampires; Heavy armour; Shield; Magic Level 1
Sword of Strife [40.0]
Dragonhelm [10.0]
Talisman of Preservation [45.0]
Quickblood [30.0]
Red Fury [50.0]
1 Master Necromancer @ 200.0 Pts
Magic Level 4; Lore of Vampires
1 Necromancer @ 100.0 Pts
Magic Level 1
Cursed Book [35.0]
40 Crypt Ghouls @ 400.0 Pts
49 Zombies @ 157.0 Pts
Standard; Musician
20 Zombies @ 60.0 Pts
2 Bat Swarm @ 70.0 Pts
8 Crypt Horrors @ 314.0 Pts
Crypt Haunter @ [10.0] Pts
2 Fell Bats @ 32.0 Pts
5 Hexwraiths @ 150.0 Pts
1 Spirit Hosts @ 45.0 Pts
6 Vargheists @ 286.0 Pts
Vargoyle @ [10.0] Pts
1 Mortis Engine @ 240.0 Pts
Blasphemous Tome
5 Dire Wolves @ 40.0 Pts
Total Army Cost: 2498.0
:: Pre-battle thoughts & deployment::
I didn't really know what to expect from this kind of army, I just wanted to play my normal game and see how I'd do! I was mostly concerned with being tarpitted but assumed my flyers could help out with regards to this.
Magic - I rolled Flames and Vaul's and swapped the latter for Shield. He chose invocation on his Vampire Lord and Necromancer, while his Necro Lord got Curse, Gaze, Vanhels and Invocation.
Deployment was fairly standard, but his mass of drops gave me an unfavourable angle: Lions (being cumbersome) straight across his Zombies wasn't something I liked. In hindsight, I might've been able to deploy them differently, going on the Eastern flank. Anyway, overall I was rather happy with deployment:
He rolled a '1' for first turn so I got it!
:: High Elves Turn 1 ::
Small Archers move up to tempt Vargheists and vanguarding Hexwraiths. The rest move up, wheeling towards the middle. The thought was to either force him to play defensively (and thus get good T3 setups) or punish him for early mistakes.
Magic was 7v4, I start with a 5D6 Flames on his Hexwraiths, which IF's (oh really?) and kills 2. Olannon loses a wound (luckily, normally I'd expect him to die).
Shooting goes very little.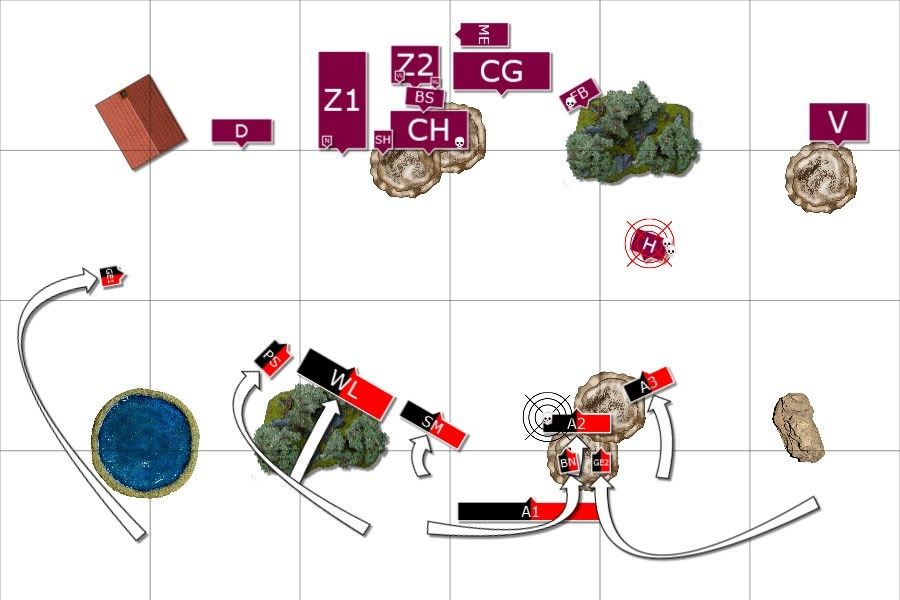 :: Vampire Counts Turn 1 ::
He could've marched up hard, using zombies to block Lions. This would've depended on Vanhels though but could've been game-breaking. However, Dragon-fever hits in and the advance is slow. The exception of course is the East flank, where both his Vargheists and Hexwraiths charge the Archers (yes!) which flee and escape.
Magic is 5v5 and the net effect is a couple of more Zombies.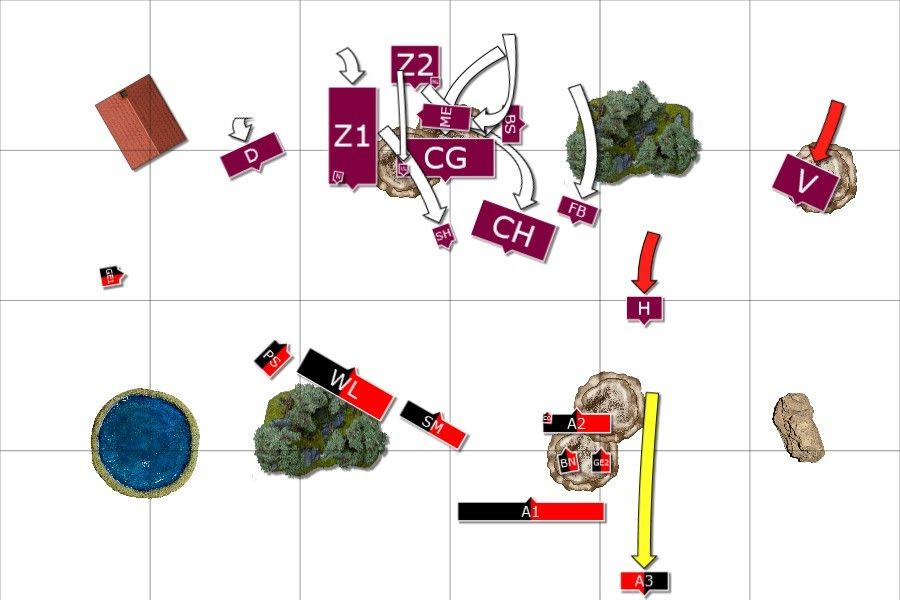 :: High Elves Turn 2 ::
The central spirit host is 13" away from the Lions. I contemplate dual-charging it with Saerith and Lions while Naenor goes into the Crypt Horrors to allow a multi-combat. While this probably would've won me the game there and then, I didn't want to take the risk as a failed charge would allow Zombies to tarpit Lions for a potentially very long time (stopping Invocation with the massive extra cast values from Mortis would've been impossible). Instead I set everything up for T3 charges, providing him with a couple of juicy opportunities with hidden traps, while the Eagles blocked what I needed them to. Annoyingly, my fleeing Archers failed to rally on re-rollable LD8 and fled off the table.
Magic is 7v4 and the increased strength of Flames kill off his Hexwraiths. I cast Flames on 4D6 on his Horrors but it is dispelled. I get both Drain and Shield on Lions through with the remaining 3D6.
Shooting puts a couple of wounds on Horrors and a Fell Bat.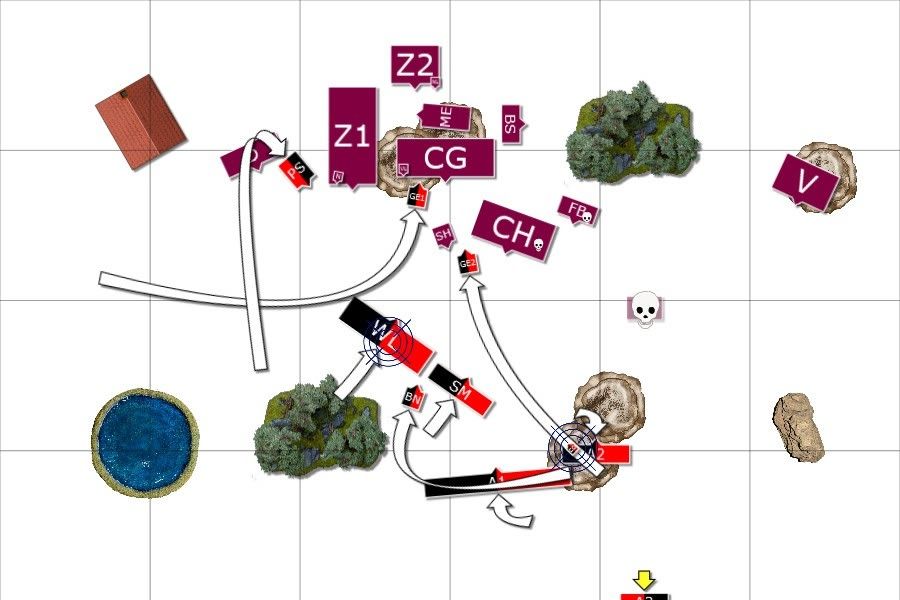 :: Vampire Counts Turn 2 ::
Vampire Lord charges White Lions and takes the bait! Vargheists and Horrors charge the Eagle, however the Horrors are so big and so close that the Vargheists automatically have a failed charge (LD7 frenzy isn't reliable...). Blocking Eagles are charged by Bat Swarm and Horrors, Spirit Host moves to disrupt Swordmasters (Naenor has no place to land). Zombies move to block Saerith from charging the Lord.
Magic is 4v3 and he starts with Cursed Book - losing 3D6 and getting Miasma. I happily let him reduce my WL's WS to 3 and dispel his last casting attempt.
Mortis Engine screams at Saerith but deals no wounds.
In combat I challenge with the Guardian (see the grey arrow for his forced movement) which is slain, however the Vampire is now very, very exposed to a flank charge from Saerith. The Lions perform a combat reform, leaving Naenor space to engage the Spirit Host. One blocking Eagle manages well against a Bat Swarm unit while the other dies horribly to Crypt Horrors.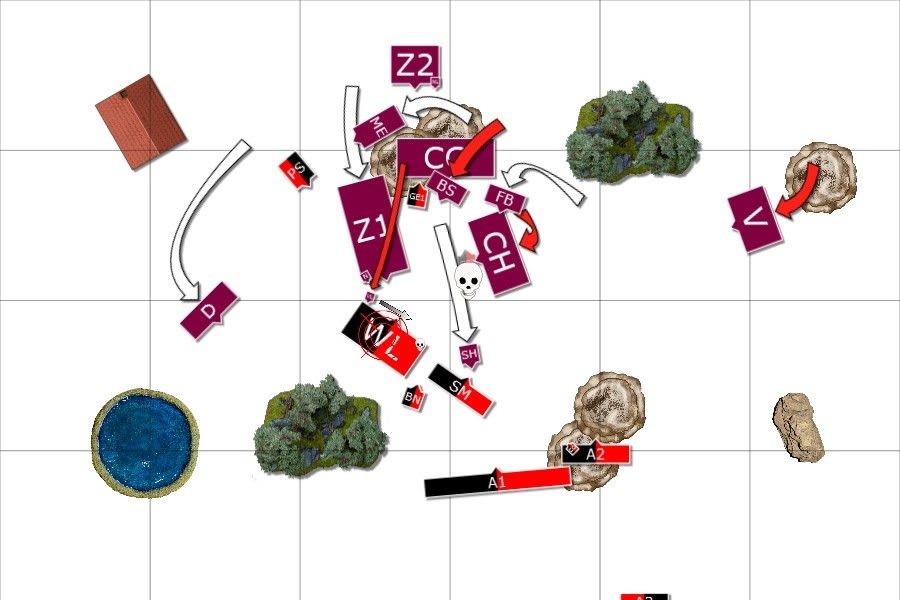 :: High Elves Turn 3 ::
I charge Saerith into the Vampire Lord and Naenor + Swordmasters charge Spirit Host (static combat resolution of 4).
Magic is 7v4 and I get Flames through on Horrors and he intends to stop Shield. However with 3v4 dice and 1W left I opt simply not to cast it. I could've tried 1D6 Shield and 2D6 Drain though, which I probably should've. Shooting again is fairly inefficient.
In combat I declare Talisman of Loec. I score 3 hits and all wound. His 6+ armour save saves 1 (despite ToL!) and his 4+ ward save the 2 others (again, despite ToL!). This meant that Faeria would not benefit from the effect. However, he 'only' puts 3 wounds on the Dragon and in return her attacks + thunderstomp gets 2W on him. I have insane amounts of combat resolution however so he crumbles and dies. The resulting tests are fairly mild. Lions combat reform to protect Saerith from being zombie-tarpitted.
The Spirit Host fails to wound me and thus crumbles due to combat res. I overrun Naenor into the Horrors, getting a charge and wheeling to the far end, to protect Saerith as I'm not too keen on them hitting me full-strength.
:: Vampire Counts Turn 3 ::
Vargheists charge my bunkering Archers, being 17" away. However, again I happily flee, leaving him standing in the middle for the third turn in a row. Zombies back off.
Magic is 4v4 and he casts Curse on White Lions, which I let through to dispel the rest.
Combat sees Naenor win but he takes 2W in return. However he's done what I needed him to and everything's ready for my T4!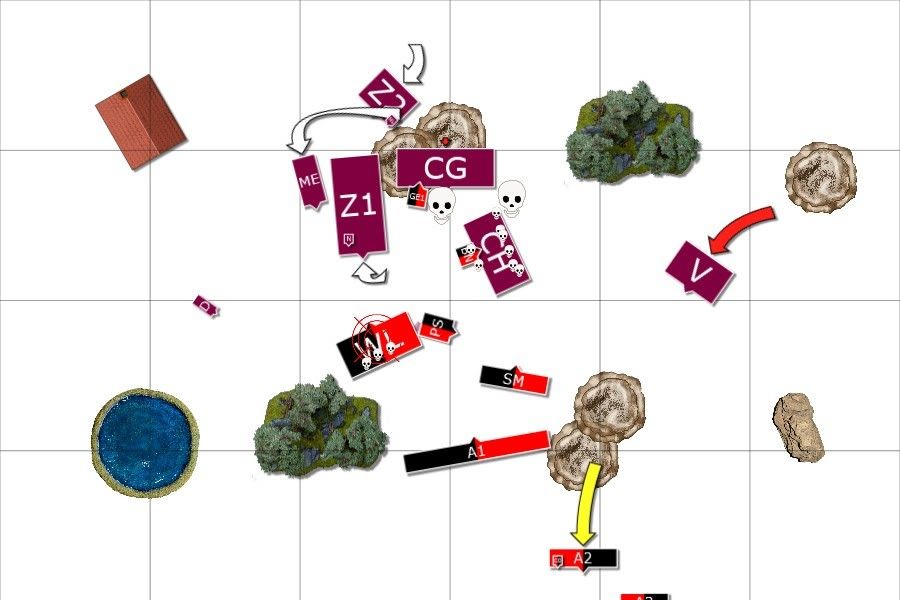 :: High Elves Turn 4 ::
Saerith + Swordmasters charge the Crypt Horrors. I mistakenly place Saerith in base-to-base with Naenor, away from the Swordmasters. Note to self: think about post-combat positions when multiple charge positions are viable. Lions move to escape tarpit-death and hopefully take care of the Mortis Engine.
Magic is a huge 10v7 and he fears Flames. I dispel Curse on 3D6 and then cast Shield on 2D6 (Swordmasters) which he lets through. I discard the rest of the dice as I don't want IF.
In combat I kill the Horrors badly but Naenor dies in return. As I go to reform, I find that I cannot block Saerith from the Vargheists by reforming the Swordmasters as he's too far away! Luckily, the central Eagle holds (on 1W - the Ghouls rolling horribly!) and passes his test due to Saerith.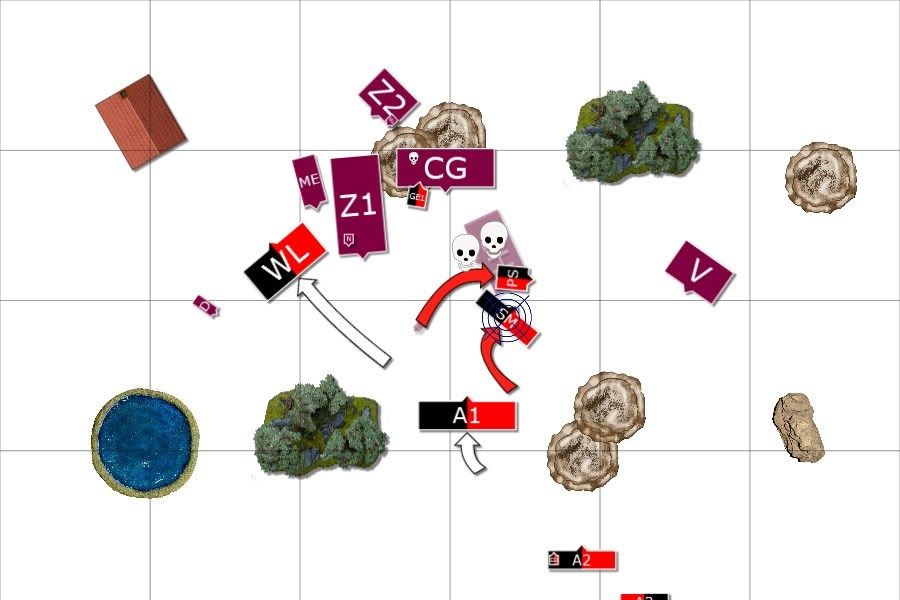 :: Vampire Counts Turn 4 ::
Vargheists charge Saerith and I can't flee as other charges will catch me so I hold. Zombies try, too, but are too far away. Mortis flank Lions.
Magic sees him get Curse through on White Lions, I dispelled Doom and Darkness from the Cursed Book (winds were mediocre).
The Vargheists lose 1 to Saerith but score 9 hits on Faeria in return. He then proceeds to roll 5+ on 8 out of 9 D6! I am powerless to defend against this and the Dragon dies before it gets to breath fire and strike them back. Saerith holds.
The Lions lose a handful and put a wound on the engine in return. I pass both the break test and the combat reform.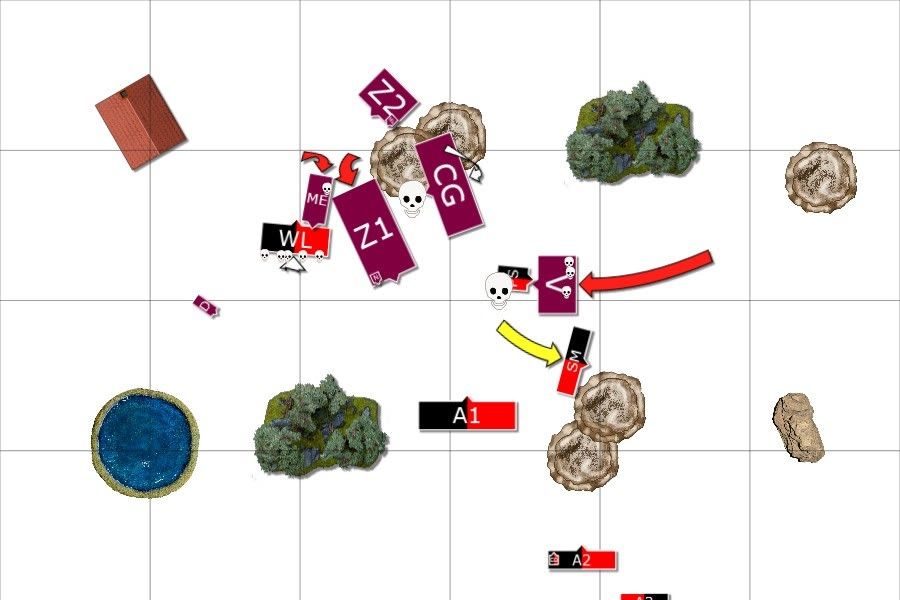 :: High Elves Turn 5 ::
Archers (who formerly reformed to 3x10) charge in to help Saerith. Swordmasters rally (they had previously fled the Zombie charge).
Magic is 7v5 and I again get Shield through on the Archers and use the rest to dispel Curse on White Lions.
Combat - my Archers fluff badly as I fail to roll a single 5+ on 12 hits. In return, the Vargheists kill 8 Archers as I fail to roll a single 5+ for Shield. As rusty commented: "well you sure needed that spell!"). The Lions kill the Engine and the explosion kills a lot of Elves and Undead alike.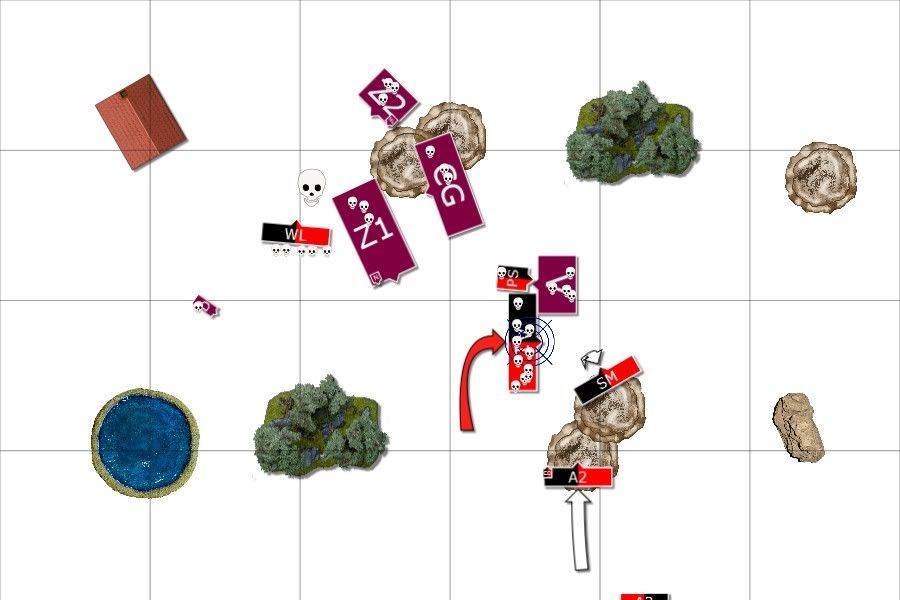 :: Vampire Counts Turn 5 ::
Zombies charge the Archers' rear. Lions are dual-charged and flee both, preserving points.
Magic sees the winds make it 4v3 and he starts with Cursed Book - getting Soulblight on the Archers which I fail to dispel on 3D6, leaving me extremely vulnerable.
Combat sees the Archers take a beating as I again fail to roll 5+ and take 10 casualties. I lose combat by 7 and I fail all my break tests (Gleaming Pennant being my last hope failing to do anything). The Vargheists catch Saerith (a healthy 722 victory points) while the Zombies catch the Archers.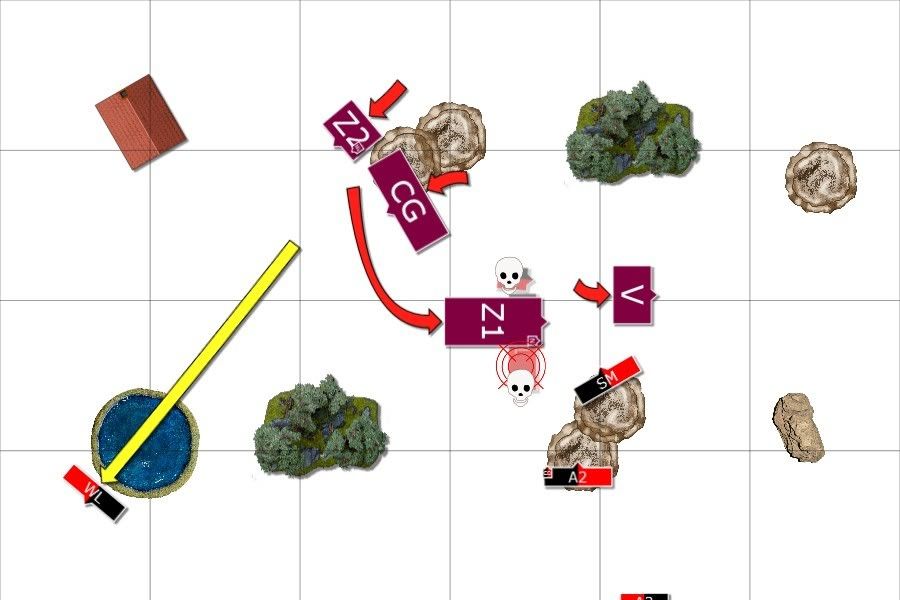 :: High Elves Turn 6 ::
Swordmasters charge Vargheists and I skip magic because I don't think the ward's necessary here, at least not worth the miscast. White Lions rallied.
I proceed to score 17 hits against the Vargheists and then only manage to roll 5 4+!!
I forgot Vargheists were only T4
. The result was that a Vargheist was left with 2W, leaving me exposed to Zombies.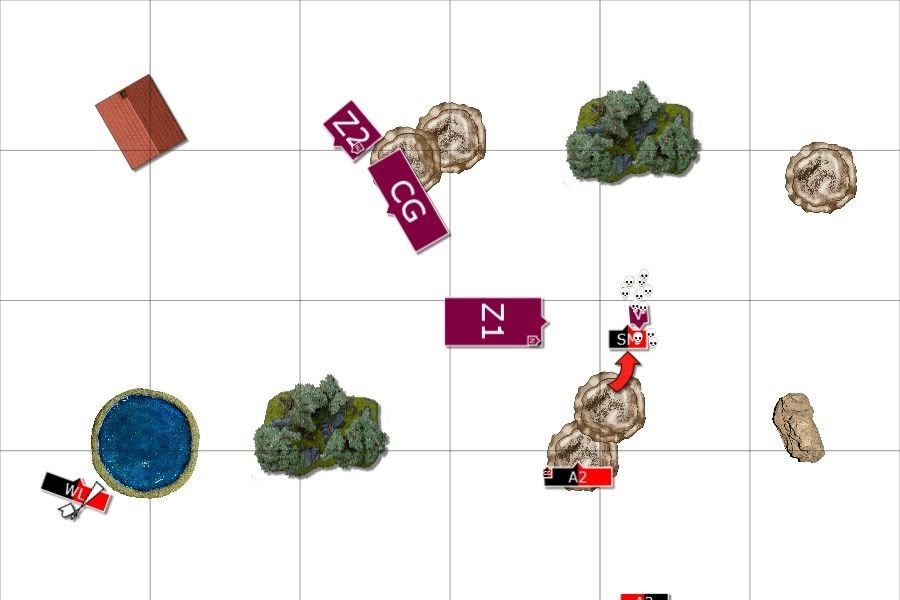 :: Vampire Counts Turn 6 ::
Zombies charged my flank. Magic was uneventful and we went to combat.
I start by failing my fear test. I kill the Vargheist anyway, due to a lot of attacks.
In return however the Zombies' static combat resolution coupled with my WS1 (losing me a casualty or two) and his return attacks meant that he won combat by 2. I roll a '7' for my break test and he runs me down.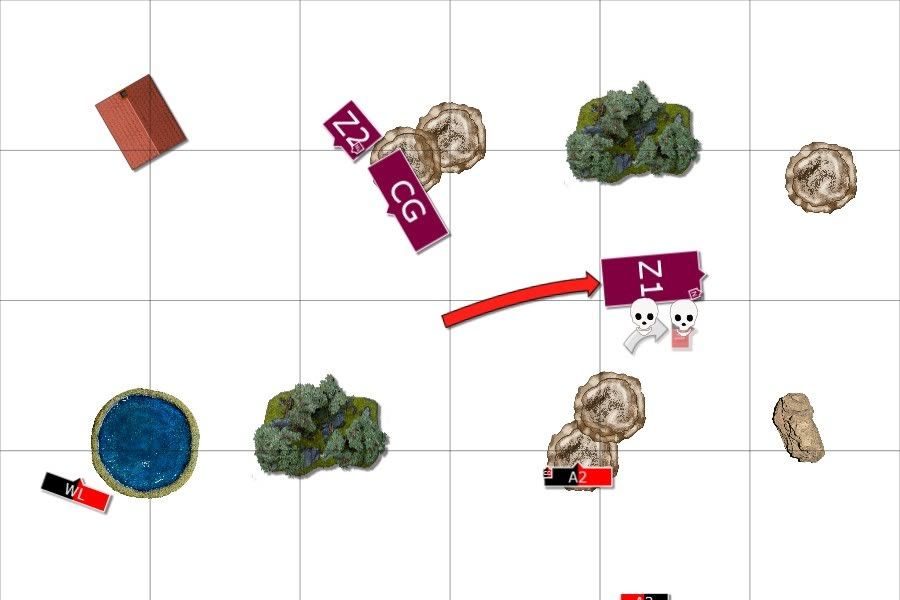 :: Victory Points ::
As we tallied up the victory points we were closer than I've ever been before! When all the bonuses were accounted for, less than 10 points separated us! As such the game was a
draw
.
:: Evaluation ::
Where do I begin? First of all, I really like the new Vampire Counts. I think it's a strong book with loads of possibilities, but the items gone missing and vanhels being fixed probably prevents it from being over the top. Their magic is also way less reliable now, with the remake of Master of the Black Arts (implicitly now forcing a Vampire Lord to choose between magic and combat as a lot of the former items making a blend possible being gone).
So, onto the game itself - I should've tried to get the Lions in another place. The threat of the tarpitters prevented them from playing optimally and denied me a good answer to his monstrous infantry. Between the Eastern rock and the hill likely would've been a good spot.
A big tactical mistake was to play the Archer horde as Archers. I should've deployed and played them 5x6 as this would give me way more options in the middle turns, providing static resolution and screening vulnerable targets. Shooting didn't do a lot but I know it's not supposed to against Vampire Counts.
Charging Saerith into the Horrors might not have been necessary at all. With the Swordmasters in the flank they would probably crumble fairly quick. With that being said, I should've placed him so that I could reform Swordmasters to screen him from the Vargheists.
Apart from this I feel I didn't make any obvious mistakes. I had a couple of moves which really ruined his plans, in particular forcing his Vargheists to charge 3 turns in a row, missing all of them, and getting his Vampire Lord right where I wanted him. In the end though, a couple of mistakes coupled with a few extreme rolls saw my win slip away (if Faeria had survived, those Vargheists would've been toast and I would've gotten away - a difference of ~1000 VP as my Swordmasters likely would've survived, too).
I've gotta get rusty to teach me how to make those 5+ rolls (seriously, you should see him play Daemons!)
C&C welcome!