So, I played a final practice game with rusty before his upcoming tournament. This was an important game for the both of us - he feels that High Elves is a really tough opponent for his list and I wanted to figure out if I'll continue with Shadow or Life. Since this was potentially my last game with Shadow, I decided to go all-in and try a build I've been tinkering with lately.
:: The Superior Kin ::
So, my list:
Shadow Archmage, Silver Wand
Std. Prince
Mounted BSB, Radiant Gem of Hoeth, Luckstone (Lore of Beasts)
35 Spearelves, Gleaming Pennant
14 Archers, musician
11 Archers
18 Phoenix Guard, Banner of Sorcery
8 Silver Helms, full command
Standard DP hammer
2 Eagles
1 Repeater
His list:
Lifeweaver - +1 DD against spells with 4+ dice
BSB - hail of doom
10 Archers
10 Archers
10 Archers
10 Archers
12 Dryads
6 Treekin
6 Treekin
1 Treeman
1 Treeman
:: Pre-battle thoughts & deployment::
Magic: I got Miasma, Enfeebling, Withering, Pit, Okkam's. BSB rolled a 4, swapping to Wyssan's. He got: Throne, Shield, Regrowth, Dwellers.
His list is solid and follows a principle or two like my own: For example, he has 4 combat units and a clearly defined firebase. The problem however, is that he's not as manoevrable as I am, and his firebase is most lethal within 15". Due to the sheer size of his units etc, he can't simply castle up since my movement will tear apart any weak spot. Likewise, I can't sit back and chill, since 40 Archers, Hail of Doom and Dwellers Below can potentially devastate me. This creates a lot of interesting dynamics between us, and it's funny how much damage output we have and how frail a lot of the models are.
Anyways, I believe that in the end, the flexibility between Great Eagles and Cavalry gives me an edge in this part of the game, which mostly feels like chess. For this game, we decided on Battle Line to keep it simple (as I understand it, all scenarios in the tourney are slight variations of Battle Line). He won the roll-off but wanted me to deploy first. I took the side which left him the least terrain with which to hide behind. I deployed my army a lot more stretched than I usually do. This was to keep his flank seriously threatened by my Phoenix Guard and disrupt any steamrollers wanting to go through my middle. Other than that, I got Dragon Princes against Treekin and Silver Helms against Treemen.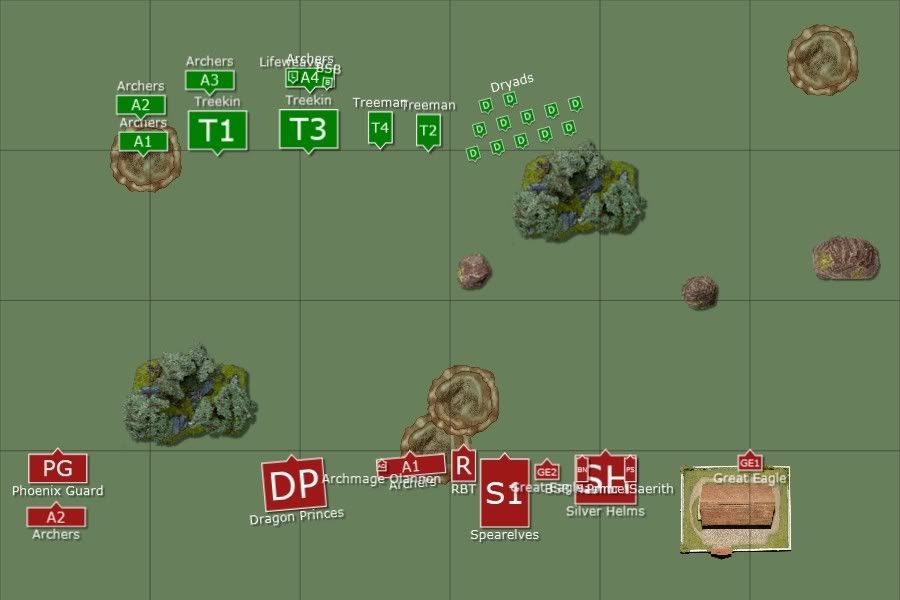 He goes first, with a 6 vs a 4.
:: Wood Elves Turn 1 ::
A cautious advance and careful movement sees his Treemen move towards my Silver Helms and his Treekin move towards my middle, while fire lanes are opened up for all of his Archers. His Dryads move into the nearby woods, where they are stubborn because of being Skirmishers.
Magic is short and painful. 11 Dice vs 6. He rolls 5 at Throne, which I let pass. Dwellers is then cast with IF and kills off half my Dragon Princes. Sigh. They pass their panic test.
Shooting sees every unit target the Dragon Princes. 2 more die, and they panic!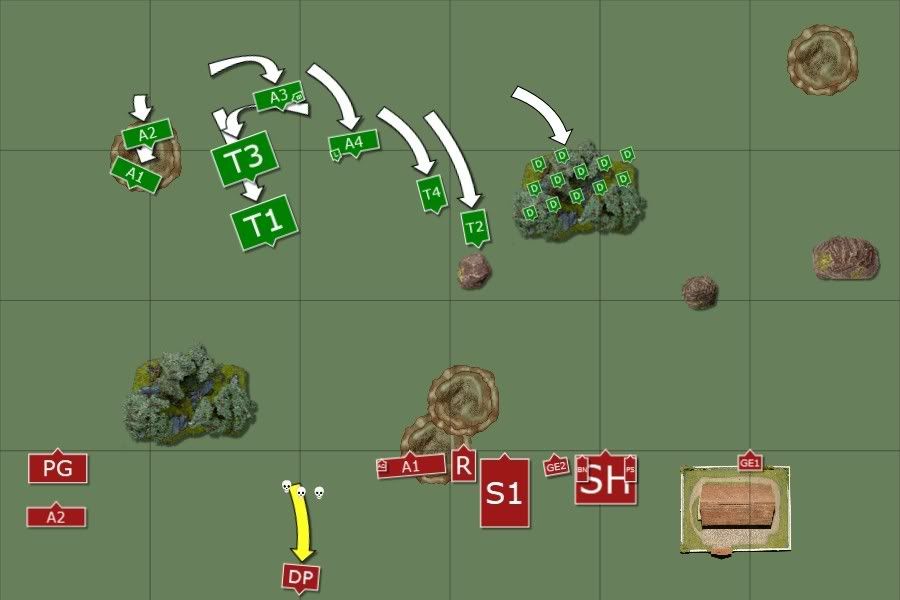 :: High Elves Turn 1 ::
Well, if anything, I'm used to going second and I'm used to having a good portion of my army obliterated by the time I get to make a single decision. No charges are declared and my Dragon Princes barely rally (I rolled 10)! Silver Helms move up at full speed, the Eagle angling a potential Dryad charge away from them. The other Eagle finds itself useful as well, getting ready to play hide and seek with the Treemen, if need be. The deployment left it a little bit too far away from where I wanted it, but with a 20" move this is quickly taken care of.
Phoenix Guard advance a full 10", threatening his flank and middle. The Archers follow up 5", drawing line of sight to his Mage's bunker (diagram is poor - the Treekin were further behind. There was nothing in-between what-so-ever). I have a nasty plan for that unit come my shooting phase!
Magic, and I expect to unleash all sorts of hell. The dice disagree however, and I get a total of 5 dice vs his 3. I hoped for more as I would've preferred throwing 2 spells: pit and withering. I throw all 5 at reducing his bunker's toughness, he fails to dispel with his 3+1 dice. Luckily for him, the toughness is only reduced by 1.
My shooting kills his entire bunker but the Archmage survives, having taken a single wound from my barrage. Had I reduced his toughness by 1 more, he probably would've died. Another Repeater also probably would've killed him.
:: Wood Elves Turn 2 ::
His Treemen move up to completely block my Spearelves. The Dryads stay put, not wanting to give up their stubborn for a pesky Eagle. On the other flank, one unit of Treekin turn to face my Phoenix Guard while the other unit moves up to threaten my pretty much non-existing centre. The Mage finds himself a new bunker.
Magic is again brutal as he gets 8 vs 6 dice: IF'ing Dwellers on my Archers. The resulting miscast does nothing, Throne protecting him. I roll my S tests very well though, and only lose like 4. I end the phase by dispelling Throne.
Shooting sees him unleash a LOT upon my bunker, including the Hail of Doom arrow. Faith, it seems, is not without a sense of irony: Olannon is left alone, his entire unit dead. I pass the panic test. His Treemen combine to kill like 2 Spearelves or something (poor rolls).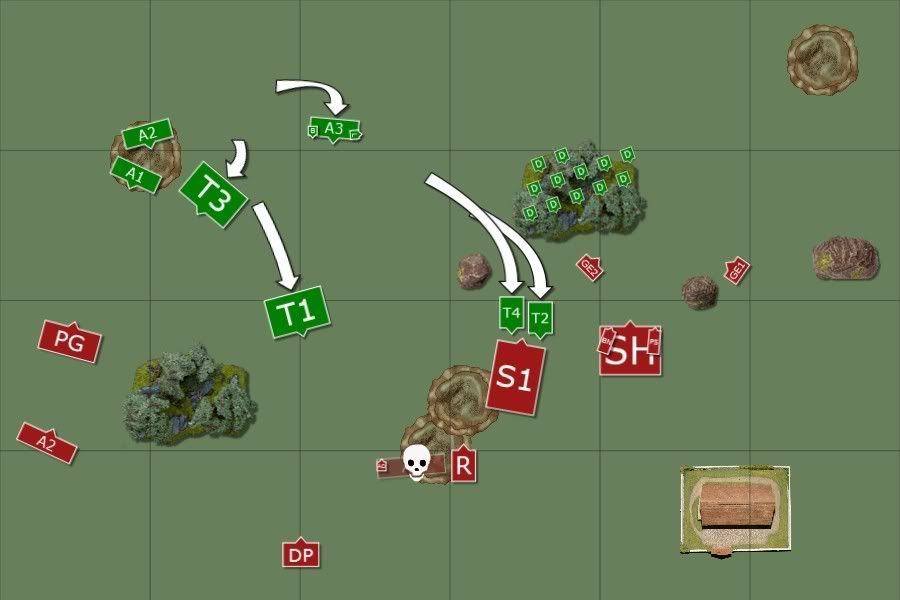 :: High Elves Turn 2 ::
I charge Phoenix Guard into his Treekin. Time to see if they're worth fielding! Silver Helms charge his Dryads. I hope to kill him in 2 rounds of combat so that, when we're done, it's my turn again. The Spearelves free reform to get away from the Treemen and help out the centre. I eye an opportunity here for a pretty nasty combo-charge next turn around, so my Archers move up around the trees to give him no good ways out. One Eagle places itself 1" in front of his Treekin, the other blocks BOTH Treemen from interrupting my Spearelves. Perfect! Olannon moves behind the hill. Don't need line of sight that much
Magic time, and I want to assist the Wardens of Asuryan. The Winds of Magic strongly disagree, and I get a total of THREE dice after 2 failed channels, snake eyes for winds and a 1 from the Banner of Sorcery. Seriously... Anyway, I get enfeebling through on his Treekin, reducing his Strength by 2. Now, with the momentum from the charge, a banner etc... It just might work, despite a horribly poor magic phase!
Shooting kills a couple of Archers - who panic! A great bonus.
Combat sees his Dryads roll 5+ saves like they've done nothing else their entire lives. I win combat, but not by nearly enough unless I roll very well next turn. Sigh, at least I'm safe from Dwellers. The Phoenix Guard however put up an amazing display and show that they can manage 5+ as well - wounding the Treekin 8(!!) times. 2 of them are saved, but that's 2 Treekin dead. In return, his S3 fails to impress me, and kills only a single Phoenix Guard. He needs to roll snake eyes but fails it. I run him down but stop 1/2" in front of his Mage + BSB bunker! One thing's for sure: I'm back in the game!
:: Wood Elves Turn 3 ::
He charges my pesky Eagle, I hold. The Treemen split up, one follows my Spearelves, the other moves to block my Cavalry's path to his Mage bunker, should I win. If I don't win, he can charge me in his next turn. Mage switches unit, the BSB moves out, hiding behind the central rock (this was a big one - the 2D diagram doesn't shot it properly), out of sight of my shooters.
Magic - and he against rolls 6+ dice vs my 6. He throws it all at Dwellers, and AGAIN get IF. Come on... My Spearelves are down to 13 models. So much for ruining the Treekin's day I guess.
Shooting does next to nothing, killing a single Phoenix Guard or so. His Treeman finished off the annoying Eagle which wasn't charged, but I assumed he'd die this turn regardless.
Combat sees my Helms roll poor yet again. However, his Dryads fail their LD8 re-roll break test and I run them down! The Helms are now down to 5 models (the Dryads took their toll in melee). The Treekin kill the Eagle with ease and reform to face my Spearelves.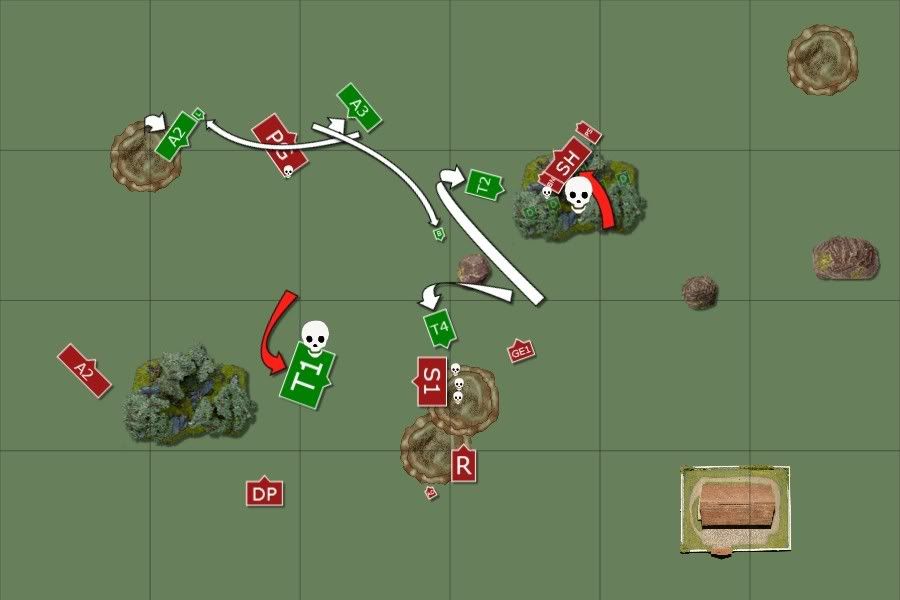 :: High Elves Turn 3 ::
Treekin are triple-charged. I do not declare potion of strength as I assume I'll need it more later. The Archers in the rear was to get the extra combat resolution: they die as easy as the Spearelves anyway so wouldn't grant him any free food. Saerith leaves the Helms to get a good tactical position for the last few turns, depending on how the combats would fare. The rest of the Helms wheeled past the Treeman to get towards his juicy Mage bunker. Phoenix Guard charged the Archers right in front of them, who fled and were caught.
Magic, and I'm praying for a decent phase. The result gives me 8 v 5 (would've been 10 v 5 had I not been ETC-capped) and I put it to good use: 3 dice on -D3T on his Treekin is dispelled. Okkam's on 5 Dice goes through on the Dragon Princes. He wondered why I targeted them, instead of the Spearelves. The reason is simple: they have flaming attacks, their steeds get S5, they're hard to kill (e.g. hard for him to remove Okkam's models should he last yet another turn). If he targets them he'll limit his combat res by a lot. Between flank AND rear charge and facing a rank too much, he needed all the resolution he could get.
Shooting - my Repeater has no good targets left so shoots the Treeman right in front of it - properly inflicting 3 wounds!
Combat is bloody: the Dragon Princes take 4 wounds (after saves) - which is doubled to 8. 2 Treekin die. The Spearelves and Archers take 1 more wound, meaning only 3 are left. They all attack the Archers, also with their Stomp: leaving only 2 alive. He fails his break test badly, even with BSB nearby (to be fair, he needed 3-). Dragon Princes and Archers pursue, while Spearelves reform to face the Treeman. I catch him, and the game looks to be pretty much over.
:: Wood Elves Turn 4 ::
One Treeman charges Saerith, the other my Repeater. The first one fails his charge roll, advancing 2". The rest of his army moves to dodge me.
Magic AGAIN sees Dwellers cast for the 4th phase in a row, this time at my Silver Helms (I rolled terribly for my dispel attempt on 6v6 dice). Between this and his remaining shooters, only the Champion and Naenor were left. They passed their panic test.
Combat sees his Treeman easily kill my Repeater.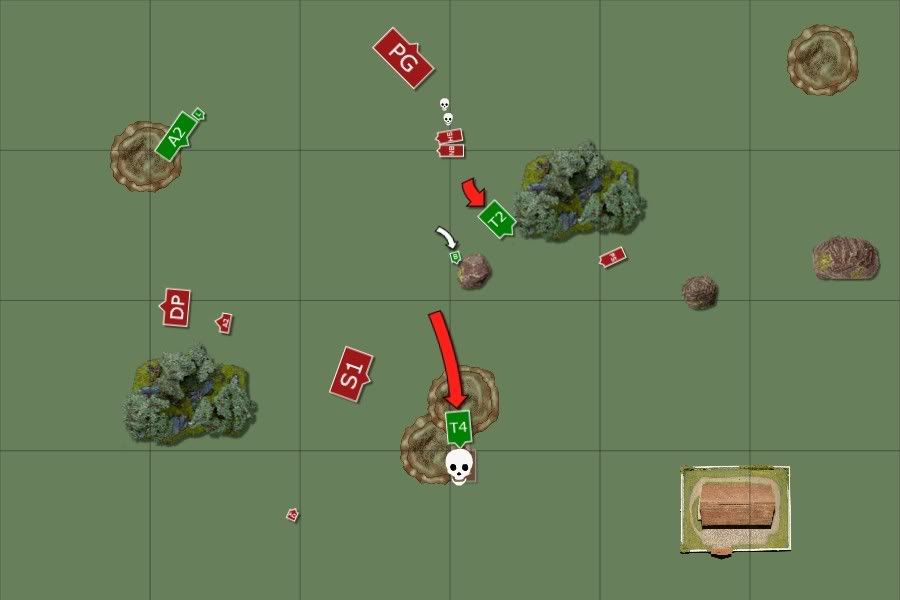 :: High Elves Turn 4 ::
Saerith charges his Treeman, who stands and shoots to no effect. My Spearelves charge his other Treeman, hoping for Olannon to aid them. Helm Champion + Naenor charge his remaining Archers, who stand and shoot to kill the Champion. My Phoenix Guard reform to a single line, intent on catching his Mage before the game ends.
Magic is very low again, 5 v 4 dice. I throw all 5 at Okkam's, but get a low roll and he dispels it with his 4+1 dice.
Combat sees Saerith put 3 wounds on his Treeman for none in return. My Spearelves manage to get 2 wounds past his Treeman's T6 and 3+/5++, but lose a lot in return. They hold due to Gleaming Pennant, the Treeman now left on 1W. Naenor wiped the Archers in a pursue roll, having won the combat easily.
The rest of the game went like this: My Spearelves lost to the Treeman, only the Champion survived. He managed to flee but never got off the table. My Dragon Princes taunted the Treeman with a juicy charge, the Drakemaster using his potion. He took the charge, but saved the 2 wounds I caused on his 6+/5++. In return, the Princes were wiped out. Saerith killed the remaining Treeman with ease but failed to reach anything else for the rest of the game. Naenor eventually caught and killed the Mage in my Turn 6, the Phoenix Guard blocking his escape path.
In my last 2 turns, I cast Pit on the Treeman, which he failed to dispel. On the very last game turn, I rolled a 'hit' but he PASSED his I1 test. That treeman, with 1W against Spearelves, then Dragon Princes with Potion of Strength, then 2x Pit, simply wouldn't die.
:: Victory Points ::
Counting up(for the fun of it) I was ahead by over 1000VP. A
massacre to the High Elves!
:: Evaluation ::
Magic most definitely was on his side this game. I mean, getting off Dwellers 4 turns in a row like that. I don't even know how I had anything left to fight him with. Close combat rolls, on the other hand, were mine. The game felt very much like Chess at times, especially in my Turn 2 where a lot of critical movement took place, enabling me to get some solid choices in Turn 3. After we talked it over we agreed that overall, luck didn't play too big a part of it as we both had our good and bad situations. It comes down to the fact that he has a hard time with armies as fast as mine: having to use his Treemen to keep my cavalry from slaughtering whatever they please means he's often losing out on Thunderstomp. Also, Saerith is a real beast against Wood Elves.
As for my new units: Phoenix Guard performed above and beyond what I expected from them. That being said, they proved most resilient when shot at - a welcome change for any Elf general! The BSB Mage-knight though failed to make an impact. This was largely due to the fact that I never had a really good magic phase, and so had to use all my dice with Shadow's. The thing of it is, though, I believe I need an easier signature spell. 10+, or 9+ on Cavalry, is simply too much for him, it appears. I'd prefer a spell where I can 2-dice a spell with a somewhat good chance of getting it through. If this is a useful spell, sufficiently threatening my opponent, casting the 3-4 dice Shadow spells could be a LOT easier. A typical phase could be 10 v 5: 2-dicing a <insert useful spell> from the BSB, 3-dicing Withering, 5-dicing Okkam's. No good and safe defense against this, as far as I can see.
_______
So, 3 games in 2 days! Looking for some C&C here folks
Regards,
~Olannon