Changed the subject as there already existed a tread with a similar subject
Thanks for all the comments. I agree that washes will help improve the depth in the painting. I got myself the whole citadel wash set (it was on sale for dirt cheap in my local games shop), so for now I'm set.
Bolt Thrower wrote:
I'm a fan of red and white myself! Our archers must have the same tailor
Very likely. It's that nice little shop by the waterfront in Lothern, right
. I like the colors as well (obviously). I think it's a nice change from the standard red and white, but it still looks dignified etc.
On to more pictures. After getting the core units sorted out, it's time for some special choices. Before anyone ask; no I didn't paint these all today. They were already done, I was just too lazy to put up the pictures earlier.
First up Swordmasters. I like their fluff and think the models look great. The painting is improving I think. I'm getting an idea with how different techniques work and what their effect is. As with the core units, I haven't finished the banner yet. Still working out what do do with it. I'll think of something.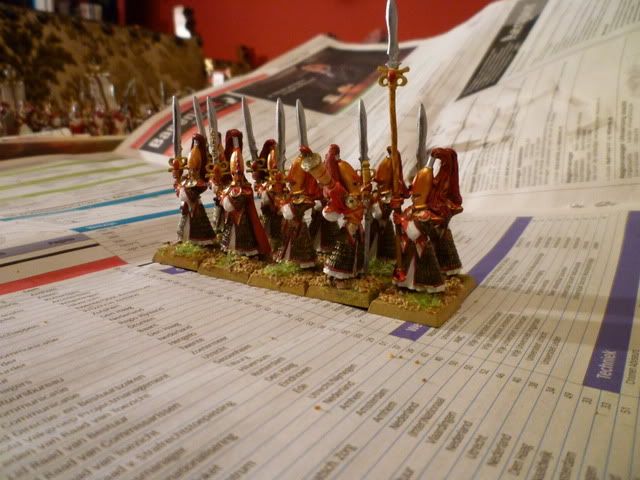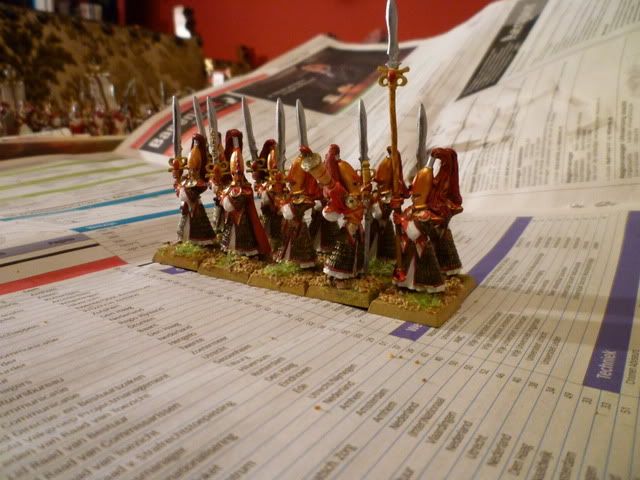 Next, a Lion Chariot. I love this model. It looks great. The idea behind it might be slightly odd (who trains lions to pull a chariot), but never mind that. I tried to go for a slightly natural, yellowy look instead of going more white. And the manes of the lions are slightly red to match the color scheme of the rest of the army.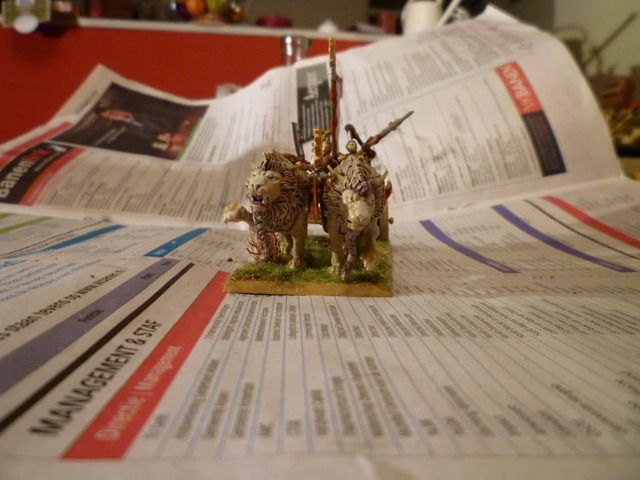 On to characters. First character to be painted is a mage. I like magic (one of the reasons to go for HE), so this was an obvious choice for a character. It's a nice model. I put quite a lot of time into it, but I'm well pleased with the result. Again tried a few new things on it to see how they worked.
front: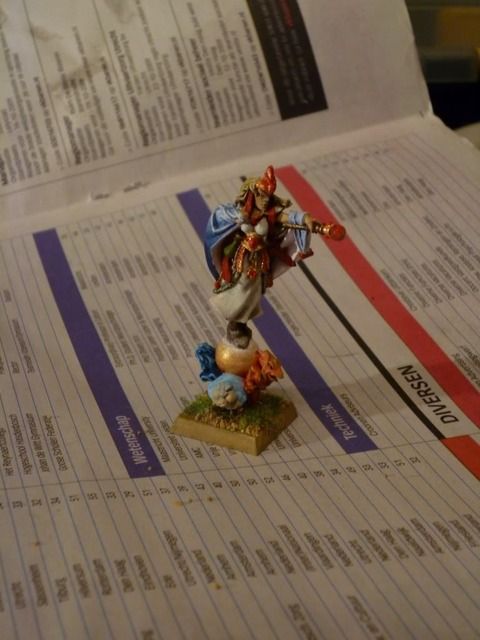 back: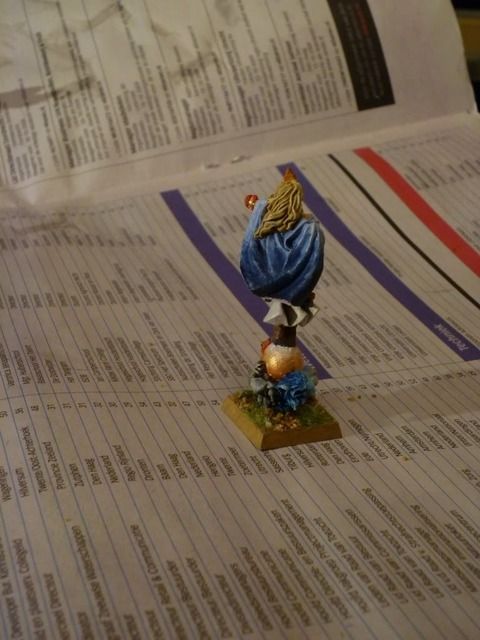 I also have another terrain piece. This is my first big terrain piece and it was quite educational. It was originally supposed to be a farmhouse, but some miscalculations and wrong measurement made me run out of building materials. So I changed to a ruin, which also works, but requires less cardboard. The little yard in front is big enough to easily fit a 2x5 unit (it needs to be useable in games), maybe even 2x6. Even though it isn't what I originally had in mind, I am happy with the result. It has character and looks great.
front: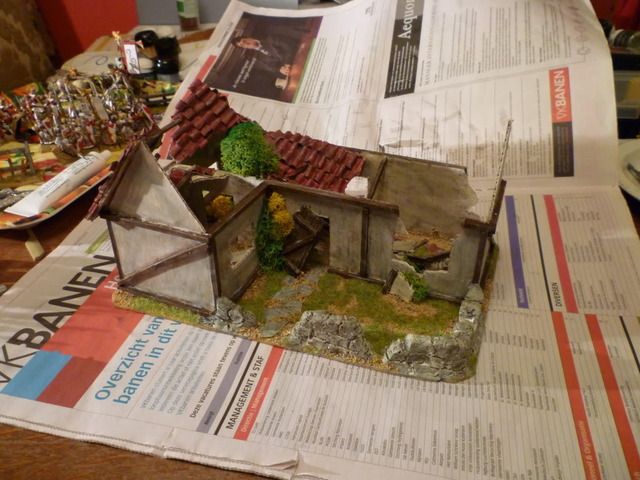 back: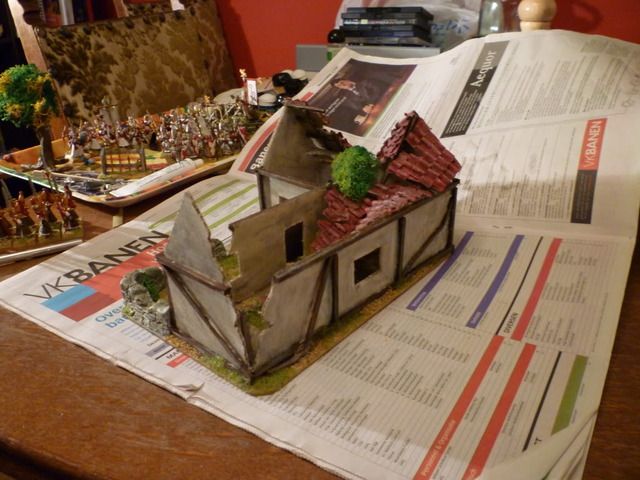 top view: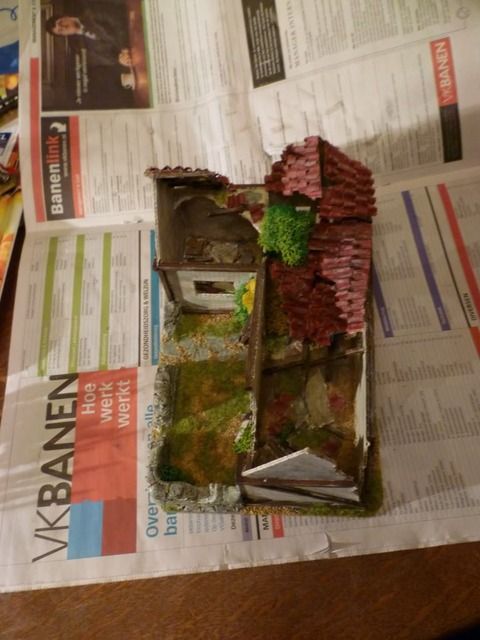 Finaly, a group shot of all of them together. I always like seeing them in other blogs, so I figured I'd share one as well. It took me quite some time to get to this point, but it is shaping up to be a nice army I think.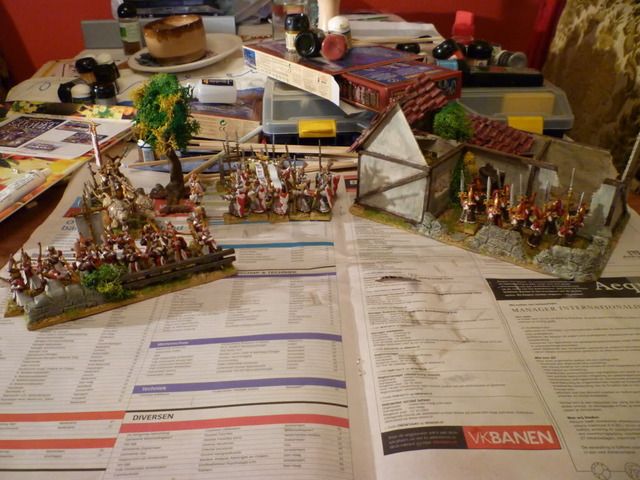 I hope you enjoyed it so far. Comments are always welcome. Next up are some white lions, a RBT, a tree (which will end up as a forest, once I get round to it) and a hill. So lots more to see (once I get round to taking the photographs)
Rod
_________________
For Nagarythe: Come to the dark side.
PS: Bring cookies!
Check out my plog
Painting progress, done/in progress/in box: 167/33/91
Check
my writing blog
for stories on the Prince of Spires and other pieces of fiction.