Greetings!
It's about time to start reports from the biggest and definitely the longest tournament in Australia - CanCon! It is a great gaming event that attracts people from all over the place. Warhammer Fantasy Battle was this time the biggest tournament (as far as I know) with 130 players which is an absolute record since a very long time. Please, consider the fact that people were coming from really far away to attend it! It is not merely a trip to another city!
Before I start to write about the players pack and format of the tournament I would like to highlight the situation that, in my opinion, shows how fantastic the community in Australia is. CanCon 2014 was initially planned for 80 players but due to popular demand the cap was increased at least twice to accommodate 130 gamers. However, it posed a tough logistics problem. There was not enough terrain in TO's disposal so they did what they could to provide some more. But it was still not enough. The only hope was to ask players and other club members for help. And help they did! In no time people started informing how much terrain they are going to bring and kept packing additional boxes and as a result there was not a single table empty or even lacking the terrain. The pieces were so varied that each table felt really unique and it made for a fantastic experience. I must admit this reply and selfless help of the players was something I have never heard of and I was very happy to attend a tournament where players with such fantastic attitude were to be met. Great job, guys!
CanCon 2014 was, as tradition has it, 3 day event with 8 games total. A gaming marathon, if you ask me but totally worth it. This year TO's decided to use Swedish Comp and keep the armies in 10-16 brackets. Armies with comps 16+ were allowed but were treated as 16. There was also a battle comp in effect. You had to calculate the difference in composition between the armies. That was then added to the score of the softest army and deduced from the score of the hardest army, after the game.
The link to the players pack:
CanCon 2014 - Player's Pack
The scenarios were in use too, sometimes with modifications and Watchtower was not played at all. What was also very useful and new was the fact that the draws were uploaded in the relevant topic so people could also check them on their mobile platforms. Also, the draw for the first round was done the day before so people could actually set up on the right table from the very beginning. An excellent idea!
I took my MSU HE of course. In the meantime I was wondering if I should change the list but in the end I made only a few here and there, more in the equipment of the Loremaster than in anything else. Hence, the list was similar to what I used at ConVic, Castle Assault and Masters. It proved to be a good if unforgiving list, the one I still enjoyed playing with and had painted. Here it is with details:
Outcasts - CanCon 2014
Larry the Loremaster
- level 2,
Talisman of Preservation
,
Earthing Rod
,
Dragon Helm
- 310 (-22)
Bob the Battle Standard Bearer
- Dragon Armour, Halberd,
Charmed Shield
,
Potion of Strength
,
Reaver Bow
- 157 (-14)
15 Archers
- Full Command - 180 (-7)
15 Sea Guard
- Full Command - 210 (-6)
5 Ellyrian Reavers
- Spears, Bows, Musician - 105 (-4)
5 Ellyrian Reavers
- Spears, Bows, Musician - 105 (-6)
5 Dragon Princes
- Musician,
Banner of Eternal Flame
- 175 (-10)
5 Dragon Princes
- Musician - 155 (-10)
12 Swordmasters
- Bladelord, Musician - 176 (-6)
12 Swordmasters
- Bladelord, Musician - 176 (-6)
10 White Lions
- Full Command,
Gleaming Pennant
- 165 (-6)
10 White Lions
- Full Command,
Standard of Discipline
- 175 (-6)
Eagle Claw Bolt Thrower
- 70 (-7)
Great Eagle
- 50 (-5)
Great Eagle
- 50 (-9)
5 Sisters of Avelorn
- 70 (-6)
5 Sisters of Avelorn
- 70 (-6)
Army Total: 2399
Number of longbows (15), Number of bows (25/2 = 12.5), Number of Bows of Avelorn (10), Bolt thrower (10), Reaver Bow (5) = 52.5 - 2 bows more than 50 (-2)
Earthing Rod (-3), Reaver Bow (-2), Banner of Discipline (-4)
300 - 147 = 153 --> Swedish Comp Score: 15.3
Not the hardest but not the softest list out there either!
I hope to write reports in regular intervals and I will try to aim for two per week but with 8 games it is a lot to write about!
Because of that I prepared a teaser!
Game 1 - Jonathan - Warriors of Chaos - Dawn Attack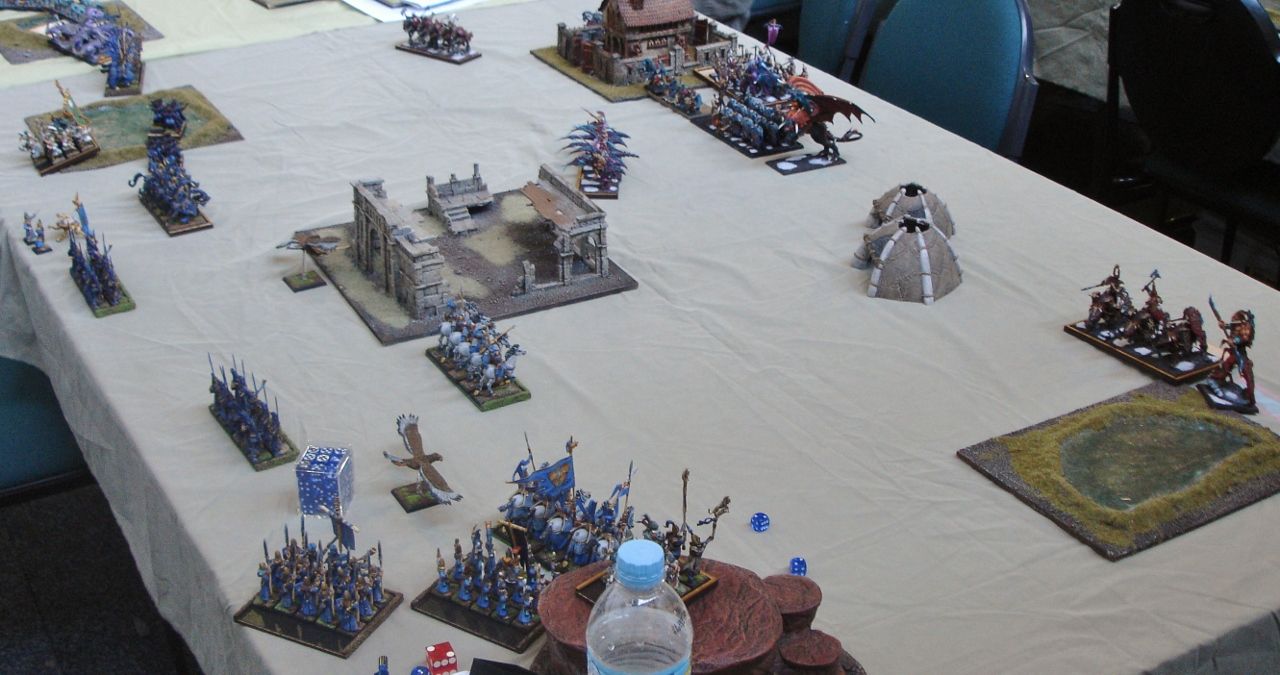 Game 2 - Ben - Lizardmen - Battle Line
Game 3 - Johannes - Wood Elves - Meeting Engagement
Game 4 - Greg - Empire - Battle Line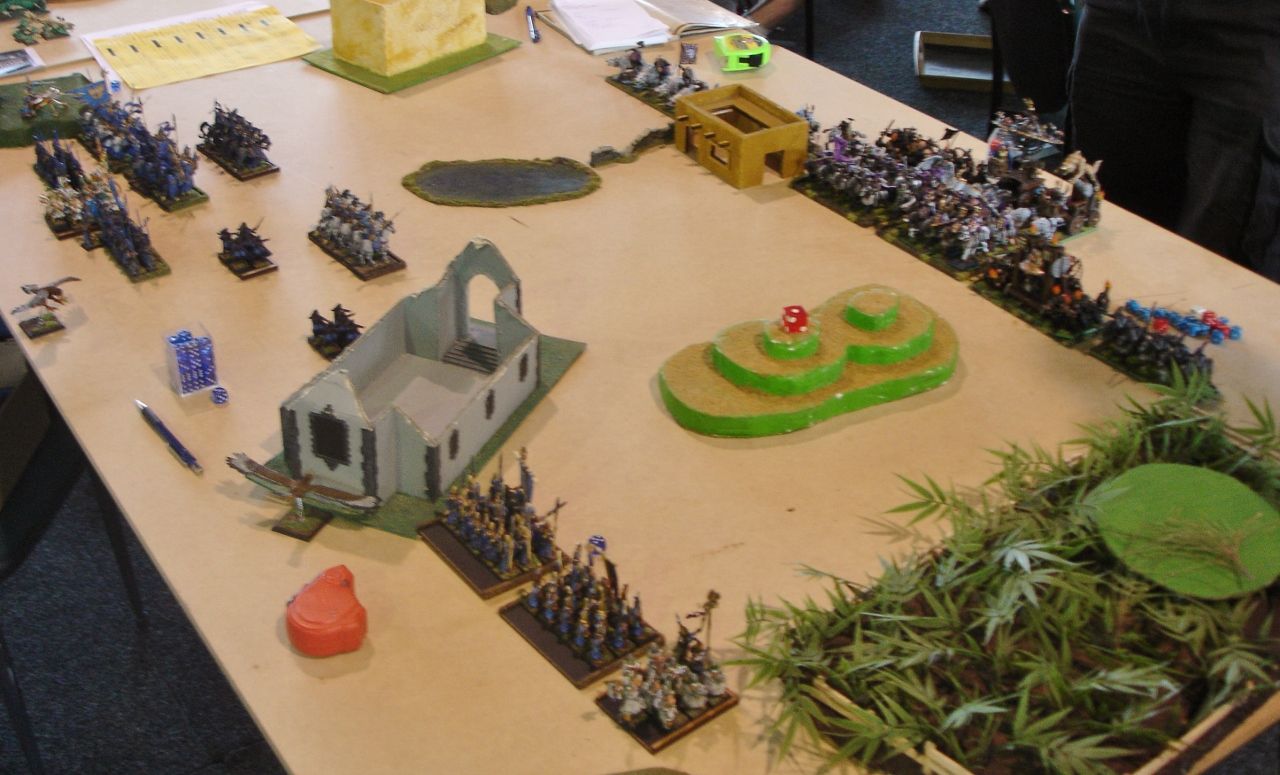 Game 5 - Chris - Lizardmen - Blood and Glory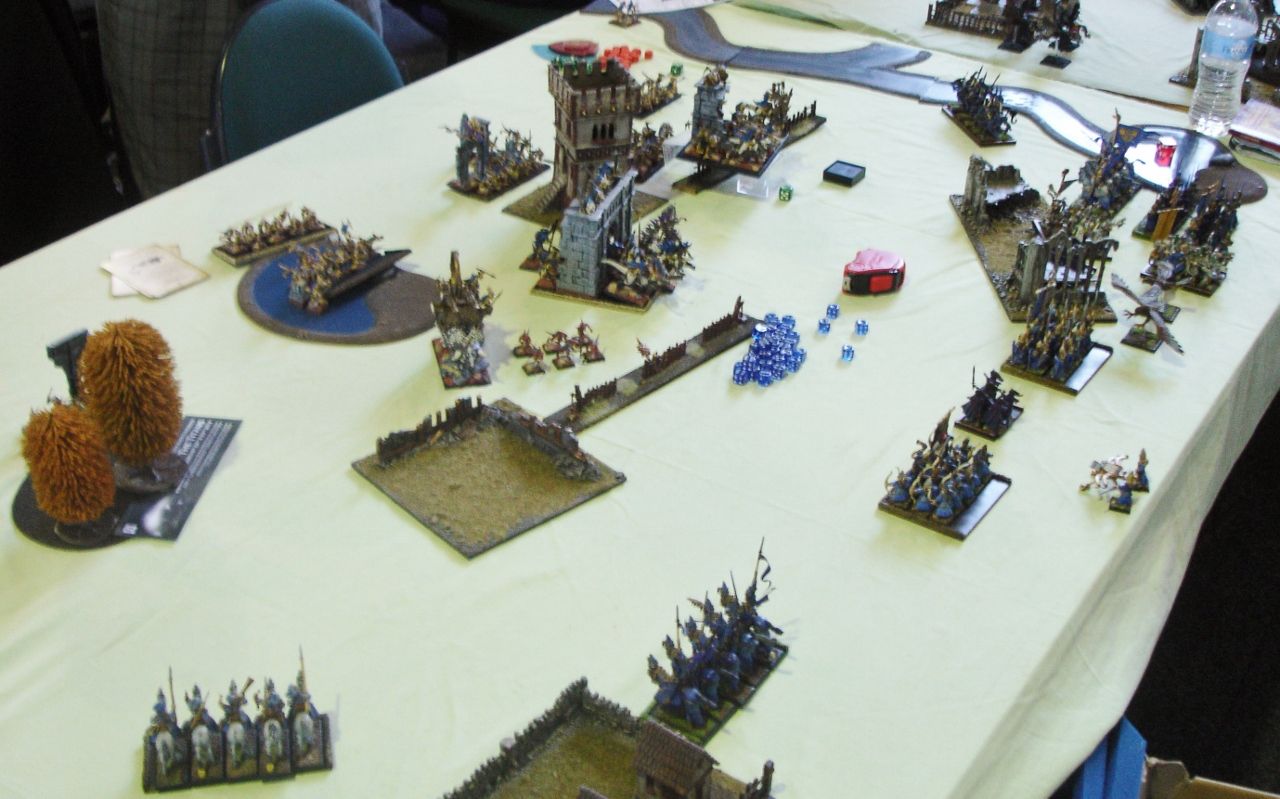 Game 6 - James - Dwarves - Battle Line
Game 7 - Jason - Dwarves - Battle for the Pass
Game 8 - Michael - High Elves - Battle Line
Stay tuned!