Ok, so it's finally time for the Crusade rundown. Given the new book and my general lack of time, I can't be bothered making proper reports for this. Anyways, a brief description will be provided:
.::. Game 1 .::.
I was facing an MSU Empire army that I knew was in the hands of a very capable player. He finished top 10 last year and I have seen him dismantle seemingly very powerful builds with it. The map gave me a section where his cannon couldn't shoot me which I intended to use as a baseline with my Archers anchored on his weak flank, far away from his most mobile elements. The idea was to try and break either his general + bubble or his mobile elements and sweep over what I could reach in time before the game was over while keeping my precious elements away from his killers. Easier said than done. Swordmasters got the shit stick in this game as they had no good role to fulfil. I decided to play them on the weak flank and just go for his missile elements + cannon. They might end up being expensive cannon fodder, but I figured it would be better to put pressure on him than play them defensively.
I got T1 due to Skeinsliver and moved my army to the no-cannon zone: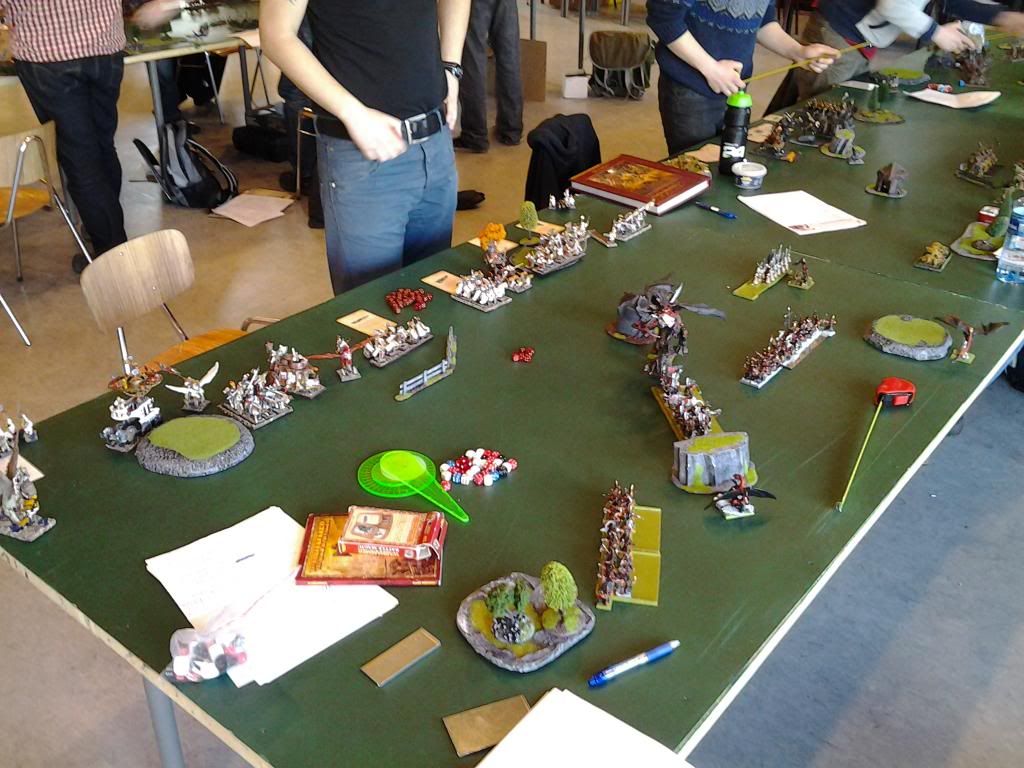 Mid-game developed like this: he kept his mobile elements too far away for me to reach and we played cat-and-mouse. On his weak flank I got lucky with a couple of early panic rolls which made it hard for him to deal with my Swordmasters. They eventually broke through all the way to his cannon, at which point they failed a panic test (despite Gleaming Pennant) and ran away. I rallied and 7 Swordmasters rear-charged like 6 Knights. I rolled terribly and they all died.
He finished the Dragon with banishment + STank in T3 I think it was, but the Prince survived and anchored the West flank with the Lions. My BSB did his best to keep his mobile elements at bay but without 2 flyers and with the Swordmasters fluffing it on the East it was impossible to control him properly. He finally crashed home into the 30 Archers with mage, but Shield of Saphery ensured they held out long enough for the BSB to interrupt. None of us managed to really win this fight before the game ended, we scored some points each but it could easily have been 500 points either way. The East saw Lions + Prince try and bring down the STank. At the end of his T6, both the STank and the Prince was down to 1W. He had spent his chariot + knights trying to wrestle down the Lions as well, to no avail.
Here's a picture of his charge hitting home and the Lions being locked on all sides: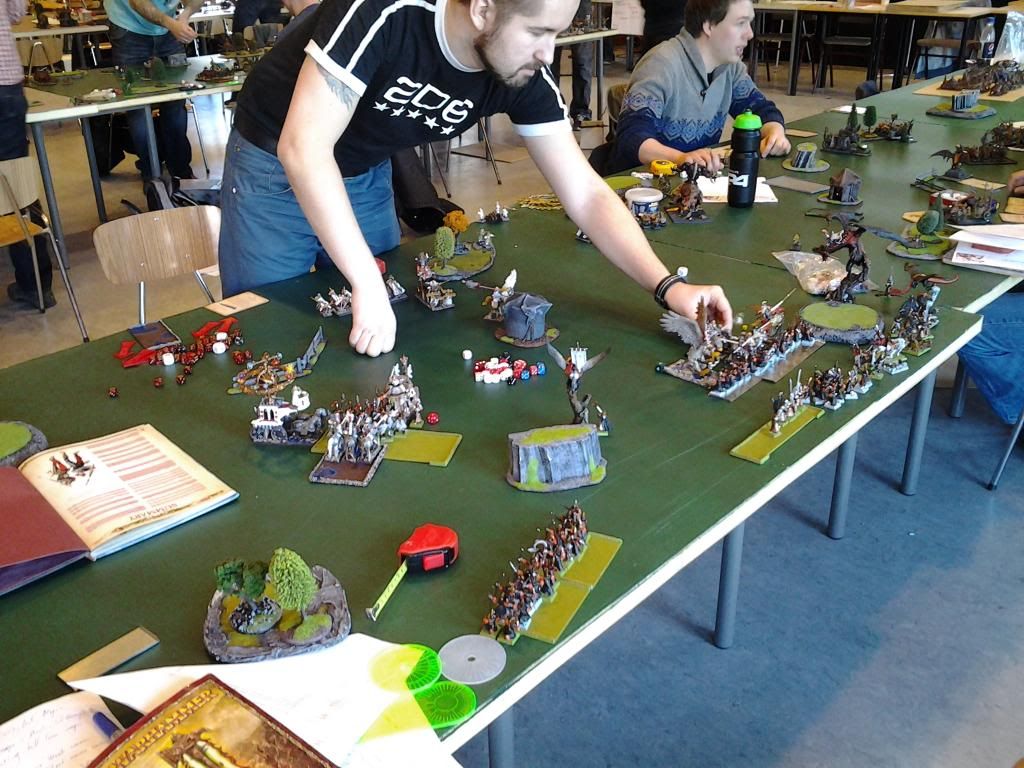 The end result was 11-9 to me. Not too shabby, considering my opponent's skill level and the hard matchup.
.::. Game 2 .::.
I was matched against Daemons of Chaos with a bit of everything. I have never played the new Daemons before, but my plan was roughly as follows: use infantry + characters to break strong flank quickly, wipe out the rest afterwards. Spend Eagles to secure weak flank for long enough. Shoot GD and leave the Skillcannon unless my Prince can get off a charge.
Deployment was fine to this end:
I went first, thanks to Skeinsliver. Things weren't looking too bad, I put 3W on his GUO instantly and had reduced his letters significantly. I even set up a quadruple charge on his Nurgle Beasts of filth which would insure insane combat resolution, see this picture: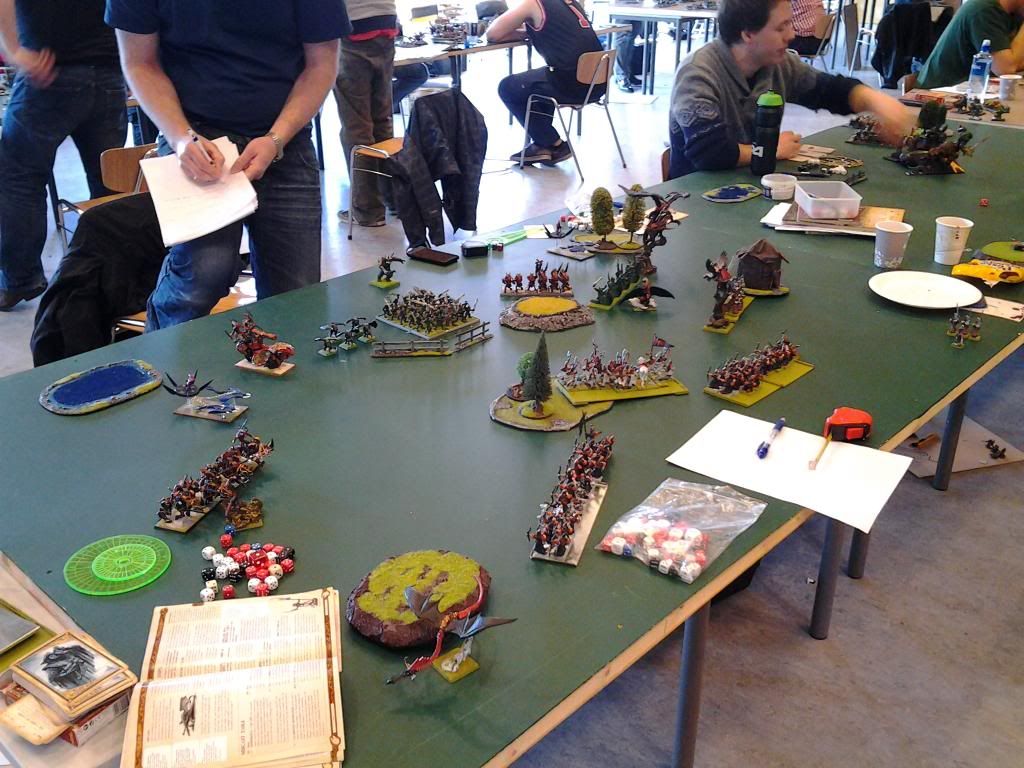 Then all hell broke loose. His chariot killed half my Swordmasters with a lucky, perfect template drop. The Winds of Magic brought my BSB down to 1W (lots of hits without armour saves...) and the Lions failed their 6+ charge. I was thus left with a Prince in their rear along with severely depleted Swords to his front. To add insult to injury, he saved something ridiculous like 8 out of 9 regen saves and killed all my Swordmasters in return. I still won combat, but not by enough by far. Now I don't know if you've faced these beasts but they are hard to kill. My Prince was pretty much stuck for the rest of the game. Despite my Lions clearing the Plaguebearers + Herald I wasn't even close to being able to put up a fight. The BSB died, my West Archers were crushed and the GUO managed to land Purple Sun on the Prince, which, many thanks to ETC FAQ (which is completely retarded in this regard as it directly contradicts the rulebook) meant that my Dragon tested on I2. I failed, the 7W Star Dragon died and the GUO then charged my 2W Prince with the Eternal Blade.
End result 4-16. I was surprised it didn't end even worse for me.
.::. Game 3 .::.
My opponent had a relatively soft list, a flying sorceror prophet, a k'daii destroyer (really awesome model as well!), a tank with gun thingy and only a single rocket launcher. He deployed the single war machine way too aggressively and I was able to quickly neutralize it. I moved up to set up for a line-breaking combo charge: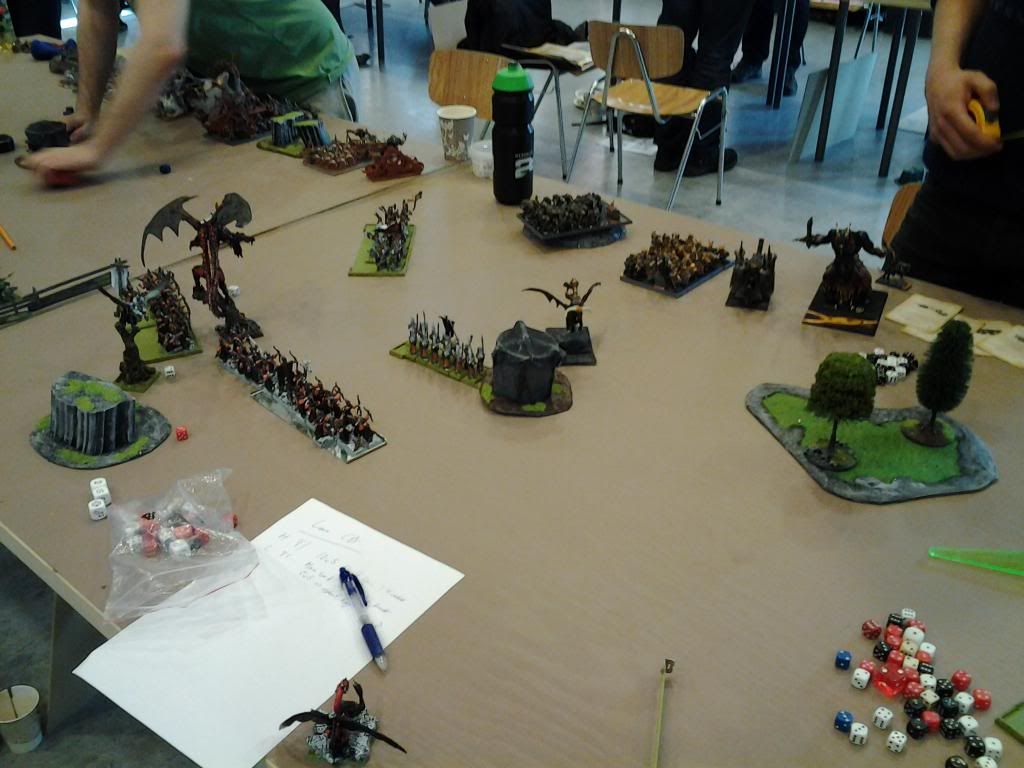 Those are Hobgoblins on the Hill and Infernal Guard with BSB + second mage in the center. My opponent then made a terrible mistake as he tried to move his Sorc. Prophet very close to cast Fate of Bjuna. He didn't know single-rank infantry were steadfast so I gladly sacrificed my Archers to pin him down.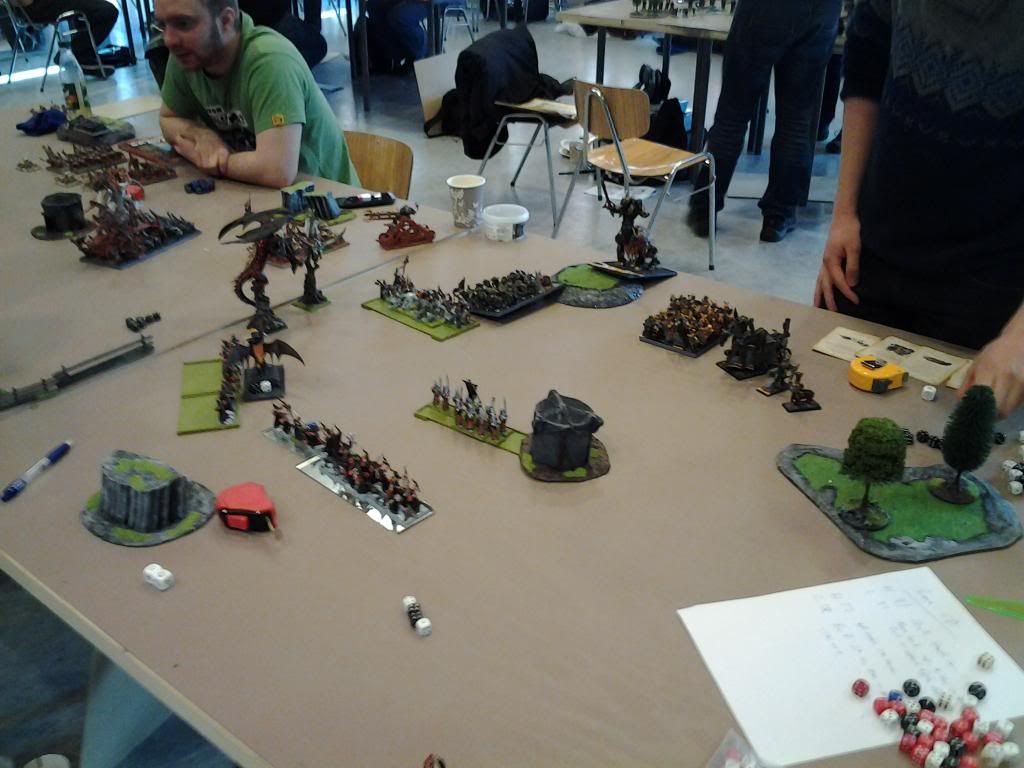 I sent the Star Dragon to his face while the BSB pinned the K'daii. This obviously went bad for him and I was able to keep all his dangerous elements in check, Archers + Eagles handling the tank easily enough. In the end I got off a combo-charge which reminded me of last year's final game at Crusade which killed all of his infantry, including his last 2 characters: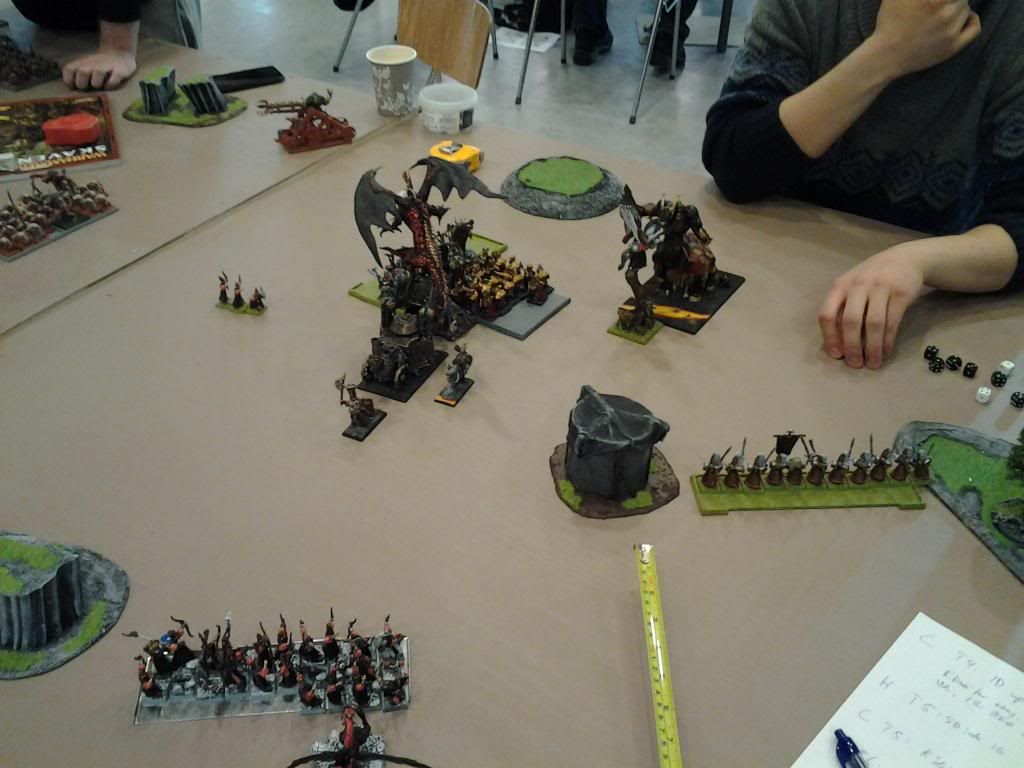 With only a single game turn left he shot my Prince + Dragon with the tank. Despite horrible wounds I survived and thus he got no VPs. 20-0.
.::. Game 4 .::.
I was playing a rather soft WoC list against a really nice guy. This and the first game were by far my favourites of the tournament. In this game my opponent had a couple of frenzied chariots, skullcrushers, the inevitable DP and a large unit of Trolls. The map was perfect and if I could've chosen all the deployment drops for both sides it pretty much would've looked like it did. Skeinsliver gave me first turn. My aim was to use flyers + combat res to break chariots + skullcrushers very early on. This would give me free reign with everything except for his DP. The Archers would do the Trolls while Eagles would run interception as needed.
I started off with moving my elements accordingly: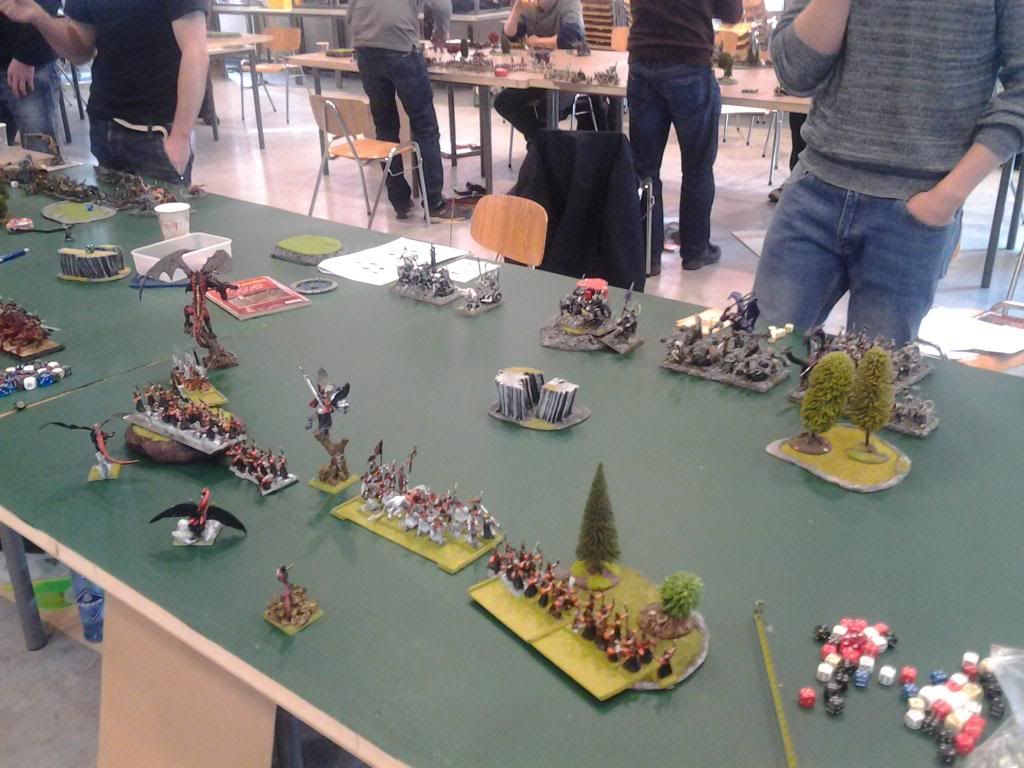 Prince was at 11 and 12 roll charges from the Crushers and Chariot, respectively. I knew he couldn't respond save for sacrificing his DP due to the huge stone in the center. Anyways, disaster struck again as his Crushers made the charge and managed to kill the Prince while doing so. Luckily I passed both the break test and the monster reaction test. However, without the Prince the Dragon's a lot more vulnerable (especially as he sported Slaanesh magic) and it took me too long to clear out the west flank (my BSB even died for it, many thanks to Cacaphonic Choir). The Dragon was eventually stuck in the middle of the board within range of his mage. With two casts of random movement it was just a lost cause getting it away: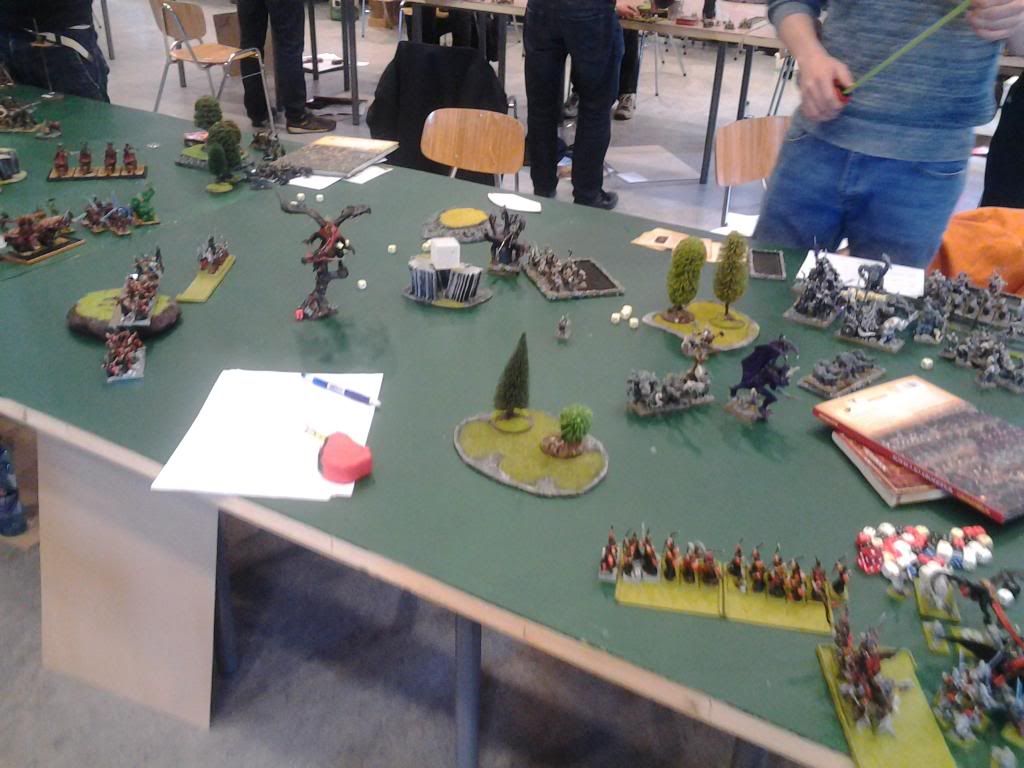 Meanwhile the Lions + Mage had died against the DP, though he was left with only 1W I never managed to kill him off. The Trolls eventually all died as well, flaming arrows proving extremely powerful.
In the last turn of the game his BSB made a long charge on my Swordmasters who failed their break test, despite the gleaming pennant. This sealed the deal and gave my opponent a solid 15-5 win.
.::. Game 5 .::.
I was playing a more traditional Empire list for my last game against a thoroughly hung-over opponent who I had played last year as well. Deployment saw my Dragon take on his weak flank this time around because this was the only place with cover from his cannon + Stank. He sported life magic so no need to worry about Banishment at least. My Lions were tasked with anti-MC duty. Early game (note: my Dragon was standing behind a fence which his cannon brought down. The Stank then took 5W of the Dragon but the Prince was unhurt):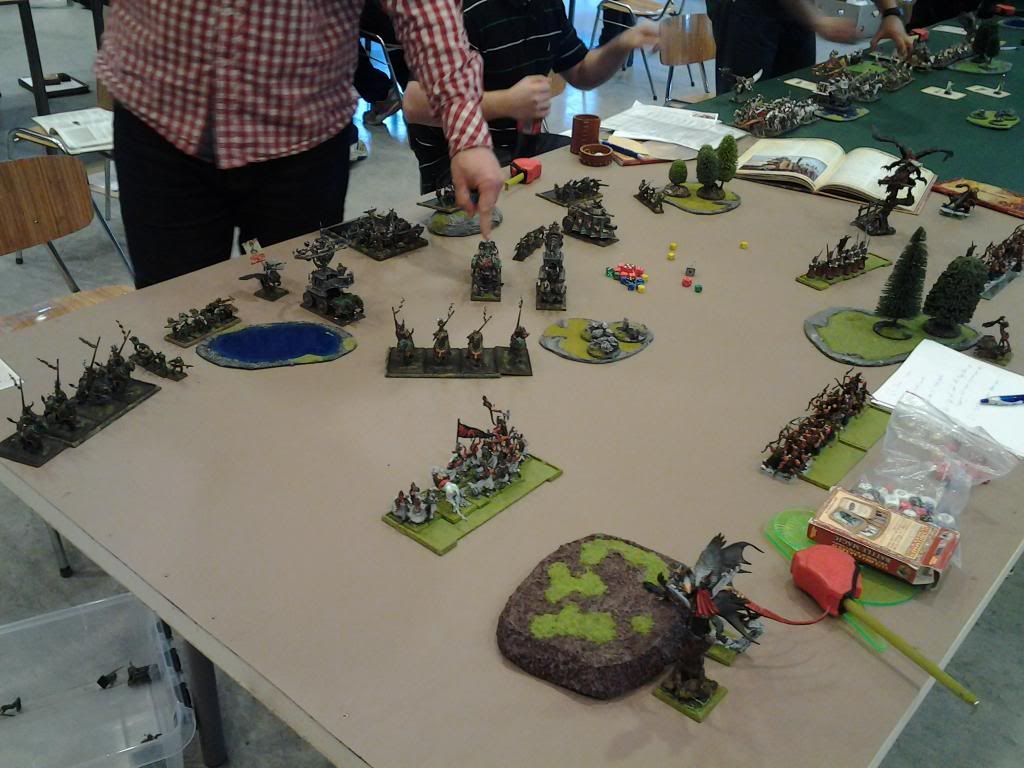 My Lions then failed miserably and were all killed. The Prince + BSB got into central positions and killed off chaff while making their way to his bunker and avoiding the Stank. The Archers helped clear his shooters. I spent Eagles to redirect where needed and tie up the STank. The situation mid-late was like this: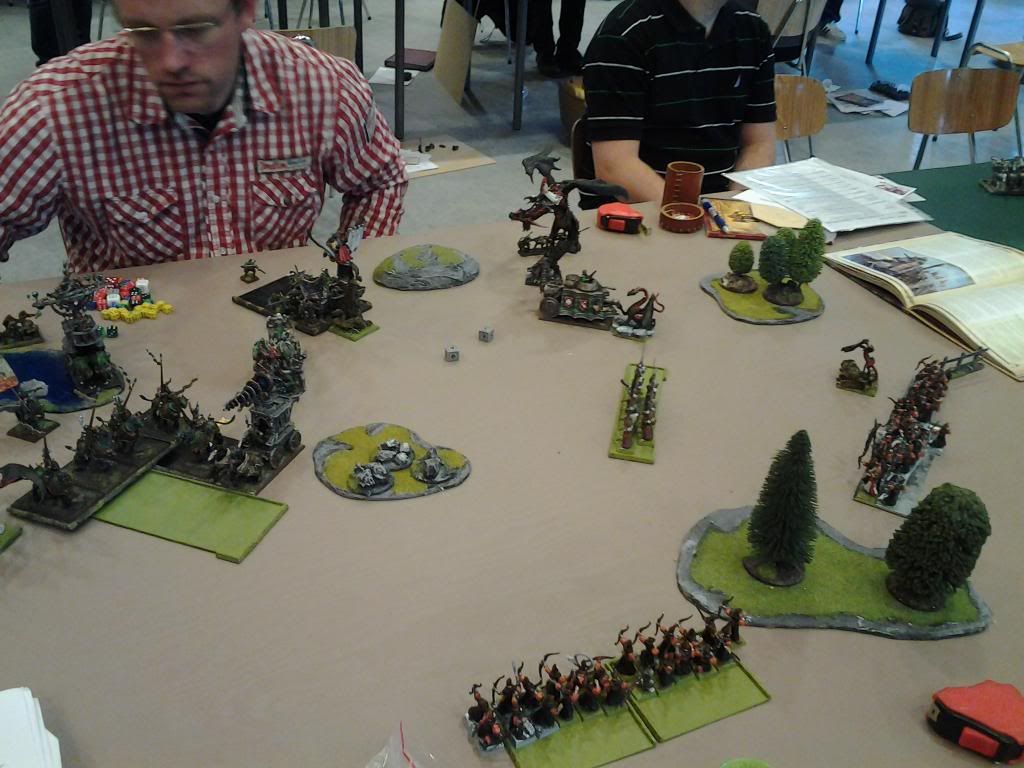 I managed to deplete his bunker with the help of the Star Dragon and my Swordmasters were moving in for support alongside the Archers against his MCs. I panicked the chariot, killed the last Demi from one unit and held the other with steadfast archers with swords ready to flank. As my Star Dragon killed his bunker he got a lucky wound from a Swordsman and suddenly started cheering. I was wondering what he was so happy about and he said "well finally it's dead". I was perplexed as I was sure he knew it had 7 wounds. Needless to say, he was less than happy to hear the news. He tried a desperate counter-charge with everything he had (flying BSB + War Alter + Chariot if memory serves). I challenged and he accepted with the BSB. Between the impact hits he managed a single wound on the Star Dragon. I did a rusty-roll and passed the final save. I killed the BSB in the challenge and his other 2 units broke. At this point he was very frustrated and simply gave up, offering me a clean 20-0. Between his inability to deal with the Star Dragon and being hungover I think he just wanted it to be over with. I objected at first saying that points-wise it would likely be more of a 15-5 than 20-0 but he insisted we end it (despite it being T6) and I left it at that.
My final score was thus 60-40. After the guy who originally placed 3rd was disqualified due an illegal list, I placed 9th out of roughly 30 participants. It was an incredibly hard field this year and with the exception of the Chaos Dwarf player who pretty much lost the game when he misinterpreted the steadfast rule, it felt like I was fighting an uphill battle all the time. Really skilled opponents, but most were a pleasure to play against
I should've placed better as I made a number of poor mistakes in quite a few of my games. I guess that's what I get for not preparing properly.
I would've provided an evaluation of the list, which I knew was sub-optimal, but see little value in doing so with the new book out and all. Anyways, hope you enjoyed the read, this is likely the last post with meaningful content in this blog