So, Battle Report up! Here it is:
:: Kholek Suneater's Badland Monsters ::
So the game was finally up and I was very eager to test this army! His army list was as follows:
Kholek Suneater
Festus the Leechlord
Throgg, King of Trolls
BSB, magic things to make him the equivalent of a level 2 mage
6 Trolls (Throgg here)
6 Trolls
37 Khorne Marauders with Flails (BSB and Festus here)
Dragon Ogre Shaggoth
Dragon Ogre Shaggoth
:: Getting ready and deploying ::
I actually outnumbered him! We rolled for magic, he had death magic on his BSB. He got aspect and doom, swapping aspect for the signature spell, spirit leach. Festus got Plague Squall in addition to his mandatory Curse of the Leper. The scenario roll was a '1', meaning good ol' Battleline. He chose the north side, deploying his Marauders first. I countered with the eastern Eagle, then followed with the second. My plan was to do something similar to what I did against Night Goblins in my 1500 points game, to enable a strong flank to punch through his entire line. I had way more drops than him so this was easy to achieve. Despite him having +1 due to finishing his deployment first, I won the roll-off and decided to take first turn. It was tempting to give him the first turn, but I wanted as many RBT shots at Kholek as possible before we started. The deployment looked like this (note: Festus and his BSB were both in the Horde):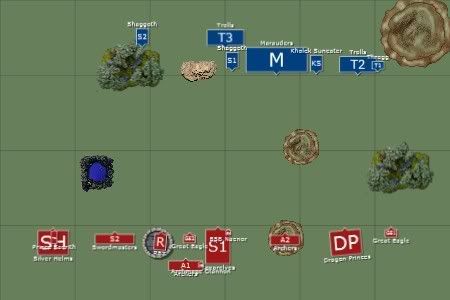 :: High Elves Turn 1 ::
I manoevre my strong flank into position. Eastern flank advances cautiously to ensure he has to pay them attention instead of just turning his entire army around towards my strong flank. Centre stays still, intending to use their M6 to respond to his moves, if necessary.
Magic sees me get 8 dice vs his 5 (he channelled 2 on 2 6's). I roll 6 at throne, getting a meager value of 20 with my bonus. Sigh. He rolls all his dice and dispels it with a value of 18, adding Festus' +2. The last 2 dice sees my DP get +2T against Kholek.
Shooting is better as my RBT starts off with taking down 2 wounds off Kholek! The central archers manage to score 4 wounds on him but he saves them all.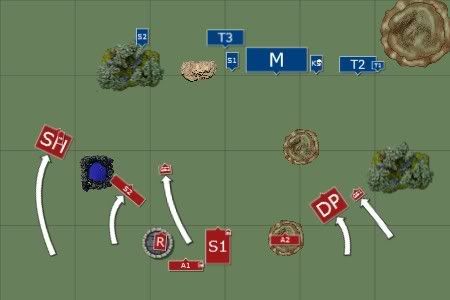 :: Kholek Turn 1 ::
Everything moves forward. He focuses on the middle, as predicted, but can't turn his eastern flank 100% due to the Dragon Princes. So far, I'm very happy with my plan, but his Shaggoths are too fast for my liking...
Magic sees him get 8 vs my 6 (I channeled one). Plague squall is cast with a mediocre result on 4 dice. I pick up 4 to dispel and roll 1, 1, 2, 3. Fortunately, he misfires it and kills a couple of marauders instead. He tries to cast Curse which I dispel. His BSB is left with 1 die with which he manages to cast Spirit Leach and kill my Dragon Princes Champion with the Potion of Strength. Sigh, these magic rolls are killing me.
Shooting sees Kholek target the Repeater, but causes no wounds.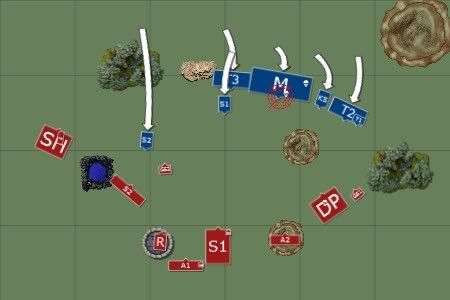 :: High Elves Turn 2 ::
Time for my re-position plan! First off though, the Swordmasters charge the Shaggoth in the middle, easily making the roll of 3+ needed on 2D6. The Dragon Princes wheel heavily to get to the center. The western Eagle positions itself to block the shaggoth's charge to the Dragon Princes, angling so that an overrun is useless. The other Eagle flies back to my lines, ready to be of use next turn.
Magic gives me a meager 5 dice from winds. Between channel and the Banner of Sorcery, I get 1 more for a total of 6 dice vs his 3 dispel dice. Despite of this, I manage to get throne off, +4T on Swordmasters and Regrow the Dragon Princes Champion (2 dice on all casts, he tried all dice to dispel throne but my roll was good and his was poor)!
Shooting does nothing. In close combat my Swordmasters put 3 wounds on his Shaggoth, losing 2 in return (thank you, Flesh to Stone!). I restrain as I don't want to risk blocking my Silver Helms.
:: Kholek Turn 2 ::
His central Shaggoth and Kholek both declare a charge on the Eagle. It passes both terror tests due to the BSB nearby! Kholek fluffs his roll and moves forward a few inches. The Shaggoth reaches it though. His other Shaggoth rallies, and his centre moves up, his Marauders cautiously awaiting behind his main advance.
Magic gives him 7 dice vs my 3 (he made 2 channels). I dispel Spirit Leach on the BSB, he gets Plague Squall off on my Spears. The template originally touched the Dragon Princes also, but scattered to only affect the Spears. Only 2 Elves die.
Shooting sees him kill no less than 4 Dragon Princes with Kholek. The Shaggoth kills my Eagle, but not before it puts a wound on it. Ha, there you go for messing with my birds!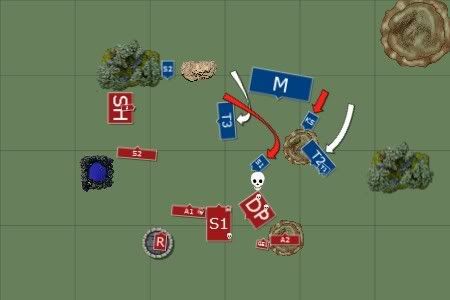 :: High Elves Turn 3 ::
Three charges are declared: the Swordmasters against his Shaggoth, the Silver Helms and Spearelves combo-charge his Trolls in the middle. I carefully position my Prince to only touch 1 Troll, something I'll be very happy I did later on... The Dragon Princes reform to face the middle again, yet they're seriously depleted from Kholek's lightning. My eastern Archers march to block Throgg's charge on Dragon Princes. I make the biggest mistake of the game here as I don't angle them to also block their charge path to my Spearelves. I was completely oblivious to the fact that there was a perfect opening for them to get through.
Magic gives me 9 vs his 6. He dispels a regrowth on the Dragon Princes. My +4T goes through on them, making sure they'll survive a round of combat and shooting from Kholek if his Shaggoth wants to charge. I try to cast Dweller's on his Horde but with only 4 dice left I can't meet the score required of the boosted version to have the range (I fail by 1!).
My Repeater hits Kholek but fails to wound. At this point I pretty much decide to try and leave him be for the rest of the game unless I get a really nice situation.-
Combat sees his Trolls vomit on my Prince. Originally, he wanted to throw a lot of vomits his way, but after carefully reading the FAQ we agreed that only models directly in base contact or with supporting attacks to the one in base contact could vomit. He only had 1 in base contact, and both vomits wounded me. So much for 1+ re-roll when he allows no armour save. The Elves combined but quite a few wounds past the Trolls' regeneration and a couple of Knights and Spearelves die in return. Naenor is also wounded once. Regardless, the Trolls lose the combat badly and break. My Helms run them down while my Spears restrain, intent on keeping the middle occupied. My Swordmasters fail their fear test but take down the Shaggoth's remaining wounds regardless and reform to face the center.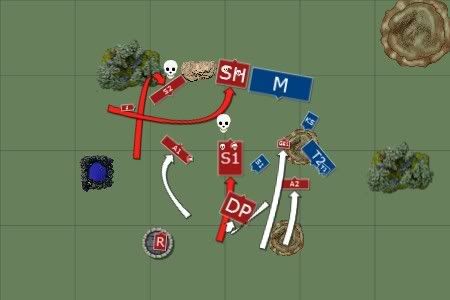 :: Kholek Turn 3 ::
I decide not to use the Potion of Strength yet, to make him charge my Dragon Princes. The Shaggoth and Kholek both declare charges on the Dragon Princes. They pass their tests, many thanks to the nearby BSB. Marauders charge the Eagle and Throgg and his Trolls thank me very much for a flank charge on the Spearelves. All units reach their targets, apart from Kholek (woho!).
His magic phase starts off with an Irrestistible Force Doom and Darkness on my General. His miscast is only 1D6 +1 due to his item, but he rolls a 5 so the BSB survives. He does take 1 wound however and 5 Marauders die with him, their regeneration saving quite a few. The rest of his magic phase is kept in check by my dispel dice.
Shooting again sees Kholek kill a couple of Dragon Princes, T7 saving 2 of them. It's annoying that he can target units in combat, also if he's engaged himself. They're down to only 4 models.
Combat sees the Trolls beat my Spears badly. I pass my test despite of Doom and Darkness ld 7, again thanks to BSB. I fail my combat reform test as I can't roll double 1's so he's still in my flank.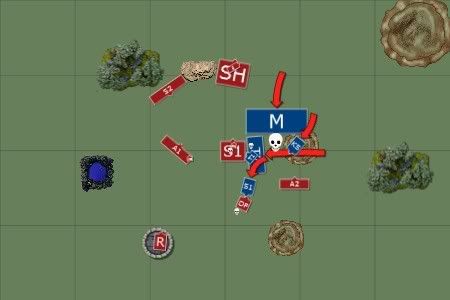 :: High Elves Turn 4
I use Potion of Strength. No charges, lots of movement to support middle. Swordmasters and Silver Helms set up for a super-charge on his Marauders, carefully leaving room for Olannon to have Line of Sight.
Magic gives me 10 dice vs 4 dispel dice. I start off with a 5-dice Dweller's which goes off. He threw his 4 dispel dice at it but failed. His BSB fails his S5 test along with 17 Marauders! Naenor is healed back to 2W. The unit Champion and Festus both pass their tests. I follow up with +4T on my Spearelves to help them against the Trolls, also healing Saerith to 2W in the process.
Shooting again fails to do anything as my Repeater can't hit Kholek.
My Dragon Prince Champion puts a couple of wounds on the Shaggoth, leaving it at only 2 wounds remaining. It has no problems killing the last 2 Knights with my T7 gone and reforms to face my middle. Naenor finds himself in a challenge against Throgg. Throgg releases what vomit he has in his body, causing 10 hits through his breath weapon attack (on 3D6 - I believe it should've been 2D6 only after reading his rules carefully afterwards)! Only 1 of them wound though! Naenor puts 1 wound on him in return, regen saving 2 other wounding attacks. The Trolls fail to impress my T7 Spearelves and fail their break test. I again opt to hold, as my Archers are nearby and I would stop as I reached them anyways. He runs through the Archers and Kholek, passing all his dangerous terrain tests. My Spearelves face his Shaggoth.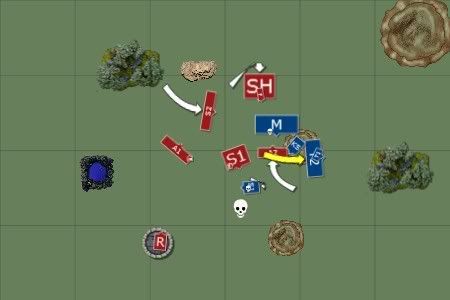 :: Kholek Turn 4 ::
His Shaggoth declares a charge on my Archers with Olannon, who opt to flee. He chooses to pursue but fails to catch them. Kholek charges my Archers. His Trolls rally, and the Marauders reform to face my Silver Helms.
Magic is 9 vs 7 dice and nothing big happens as he's down to 1 caster which I can easily control. He chooses to dispel Throne after I dispel one of casts.
In combat my Archers die and Kholek overruns into Spearelves.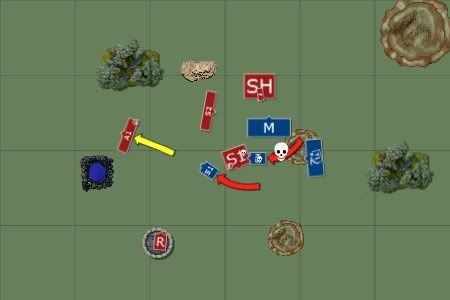 :: High Elves Turn 5 ::
I combo-charge his Horde. Archers with Archmage rally. The diagram is poor here, they were just outside Saerith's range but barely within Naenor's. Rolling 11 on the first attempt, this was a lifesaver, as my second attempt came up a 9!
Magic sees Throne back up and I regrow 3 Helms (it's rounded up for Cavalry, right? I rolled a 4, meaning it's 5 with the +1).
With Kholek in combat my Repeater targets his Shaggoth which only has 2 wounds left and promptly kills it. My Spears manage to put a wound on Kholek and lose a lot in return, however they remain steadfast. In a spectacular show of 5+ saves my Swordmasters only kill a single Marauder, having wounded 10(!!). His Champion declares a challenge, as is mandatory. My Silver Helm Champion responds as I don't want to waste my Prince. I miss both attacks, despite of re-rolls. In return, he is killed. The rest of the Cavalry put down 4 more Marauders. He kills a couple of more Helms and a Swordmaster. I win the combat, but not nearly by enough and he makes his break test.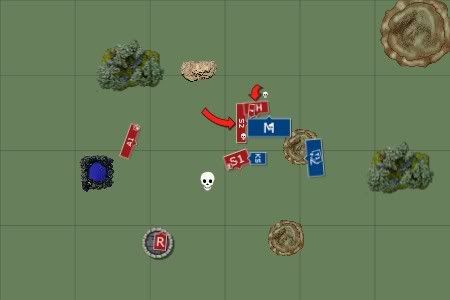 :: Kholek Turn 5 ::
Trolls charge Spearelves. Magic is snake eyes and does nothing. Kholek's shooting attacks Repeater, causing one wound. Throgg challenges, Naenor puts a wound on him but dies in return, missing his T7 badly. The rest of the Spears are wiped out. He reforms both units to face the last combat.
This time around my Swordmasters put up a better display, chopping down quite a few Marauders. My Prince follows suit and only 3 plus Festus remain. They kill a Swordmaster but need snake eyes to pass their break test. They promptly fail. I don't dare to let that many Victory Points away (37 marauders + Festus) as I have no intention of trying to kill Kholek with his 5 wounds so both units pursue and catch them.
:: High Elves Turn 6 ::
I fail my march test on my Swordmasters, rolling double 6's. I decide to put the Prince in-between them and the Trolls. They manage to escape Kholek's front arc so the Prince should block successfully. Besides, he probably thinks he has a chance of breaking him in combat (or killing him with his D6 no-armour-save-auto-hit-S5 vomit) as I haven't revealed Talisman of Loec yet!
My magic phase gives me 12 Power Dice (where, oh where was this earlier on when I really could've used it?)! I cast an IF Dweller's on his Trolls, Throne protecting me from miscast. We hold our breaths as we roll for effect, however nothing happens as he fails to roll a single 6. Shooting does nothing, and we're down to the last turn.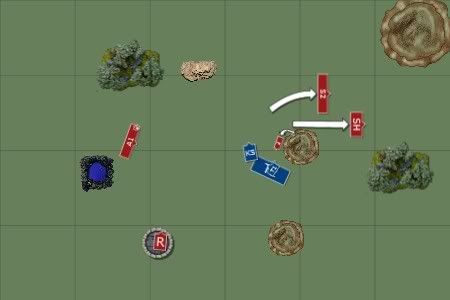 :: Kholek Turn 6 ::
He charges my Prince and I silently thank him. Interestingly enough, had Throgg failed his Strength test due to Dweller's he would've managed to put 4 vomit attacks on my Prince, probably killing him. Had I thought of this I would've targeted Kholek instead.
Kholek fires at the 3 remaining Silver Helms. He scores no less than 6 hits and kills them all off, netting him a good few victory points.
In combat we challenge eachother. I reveal Talisman of Loec. Despite having fought High Elves several times before it appeared he wasn't aware of this item and its effect. When he heard the cost his face can best be described as 'WTFBBQ?!?'. Throgg, having only 2 wounds, dies with 3 unsaved wounds. He unfortunately passes his break test on a very low roll and that's it!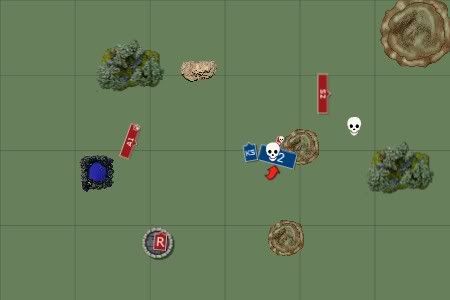 :: Victory Points ::
Well, with the battle being this bloody it was easy to calculate. He had Kholek and Trolls left, for a total of 875. I had my Prince, Swordmasters (almost untouched throughout the game!), Archmage, Archers and Repeater for a total of 1110. We both killed eachother's BSB's, however he caught one more banner. Still, I was ahead by 210 points and it was thus a
victory to the High Elves! :: Evaluation ::
My Dragon Princes ended up in a very clumsy position and I failed to utilize their potential. I originally considered a T2 charge at Throgg since they had the flaming banner. However, Spirit Leach killed this plan badly. The insane speed of the Shaggoths caught them before I could properly place them. In hindsight, I could've tried another T2 manoevre with them. Kholek kept reducing their numbers though so I was basically left with a support unit rather than a hammer fairly quickly.
The Archers' failed interruption-move against his Trolls could've cost me the game. I can't believe I didn't see that he had this opportunity. Apart from this, a lot of interruption helped saved my plan. I love Eagles and the sacrificial archers played their role perfectly.
Having Naenor in a central position saved me so many times it's a joke. There were so many terror, fear and panic tests around but I passed the vast majority of them, barely keeping my plan intact every time. The Spearelves also did what they were supposed to very well. Despite of my archers failing to help them when it mattered most they managed to keep the middle dominated right until the very end, allowing my strong flank to sweep across his army just as I hoped.
Magic-wise Life was ok. Obviously, other lores would've been better (Shadow comes to mind...) but Flesh to Stone, Dweller's on his Horde and the Lore attribute saved me a number of times. I failed to get really powerful magic phases mid-game when I could've utilized it the most, however overall I had way better magic than he did (as it should be, considering the points invested).
If I had managed to wound Kholek a bit more with my shooting I probably would've tried to take him down. In my last turn I could've had my Prince against him instead of Throgg. He probably would've charged me had I placed myself in his forward arc. As it turned out though, I kept Kholek away from the most important elements and managed to destroy the rest of his army.
Man of the match was a tough one to decide. The Swordmasters and Spearelves both performed very well, in addition to all my characters. In the end though, Saerith takes it home: plowing through 270 points of Trolls, reliably putting wounds on the Marauder Horde and killing Throgg while saving my Swordmasters was above and beyond the call of duty.
Comments and criticism very welcome!