The last game of the league sees me face off against the old Vampire Counts book. This is likely my very last game against this book, but regardless I spent a lot of time going through various details and my opponent's army list prior to the game. My score before this final game in my division was 4-0. My opponent had a score of 2-1, but his last game is against Dwarfs so if he won both, he'd beat me as well (ties are decided by the winner of a matchup). Anyways, without further ado
:: Elements of Power ::
The lists -
:: High Elves ::
Prince Saerith on Star Dragon - Vambraces of Defense, Great Weapon, Armour of Caledor, Talisman of Loec :: 622
Noble Naenor BSB on Great Eagle - Dragon Armour, Shield, Great Weapon, Helm of Fortune, The Other Trickster's Shard :: 216
High Mage Curu Olannon - Level 2, Annulian Crystal, Ironcurse Icon :: 180
Characters Total :: 1019
30 Archers, Full Command and Gleaming Pennant - 360
14 Archers, Musician - 159
10 Archers - 110
Core Total :: 629
30 White Lions, Full Command and Banner of Eternal Flame, Amulet of Light :: 505
5 Dragon Princes, Drakemaster with Skeinsliver :: 195
Special Total: 700
3 Great Eagles :: 150
Rare Total :: 150
Army total: 2498
:: Vampire Counts ::
Vampire Lord (1#, 455 pts)
1 Vampire Lord, 255 pts , Level 3
1 Sword of Swift Slaying
1 The Flayed Hauberk
1 Dispel Scroll
1 Dawnstone
1 Master of the Black Arts
1 Red Fury
Vampire (1#, 195 pts)
1 Vampire
1 The Balefire Spike
1 Book of Arkhan
1 Dread Knight
1 Ghoulkin
Vampire (1#, 225 pts)
1 Vampire (Battle Standard Bearer)
1 Dread Knight
1 The Flag of Blood Keep
Vampire (1#, 200 pts)
1 Vampire
1 Blood Drinker
1 Dragonhelm
1 Dread Knight
1 Beguile
Crypt Ghouls (40#, 320 pts)
40 Crypt Ghouls
Crypt Ghouls (40#, 320 pts)
40 Crypt Ghouls
Corpse Cart (1#, 75 pts)
1 Corpse Cart
Black Knights (8#, 283 pts)
8 Black Knights, 248 pts , Barding + Musician Mus + Standard Bearer Std
1 Royal Standard of Strigos
Black Coach (1#, 200 pts)
1 Black Coach
Terrorgheist (1#, 225 pts)
1 Terrorgheist
:: Pre-battle thoughts & deployment::
Magic: I got Flames, Courage and swapped the latter for Shield. He got:
Lord - 2, 5, 6
BSB - 3
Blood Drinker Vamp - 0
Last Vamp - 4
Thorough pre-game analysis led me to believe that I could get a huge advantage during deployment due to his lack of non-commiting drops. My goal was to get a refused flank-ish situation which would allow me to really concentrate my powerful elements into one of his vital ones (i.e. either the Lord's bunker of the cavalry bus).
To this end, I think deployment went very well. The huge combined frontage of the Ghouls would surely result in them blocking each-other as they wheeled in towards the action. I was happy with the deployment phase.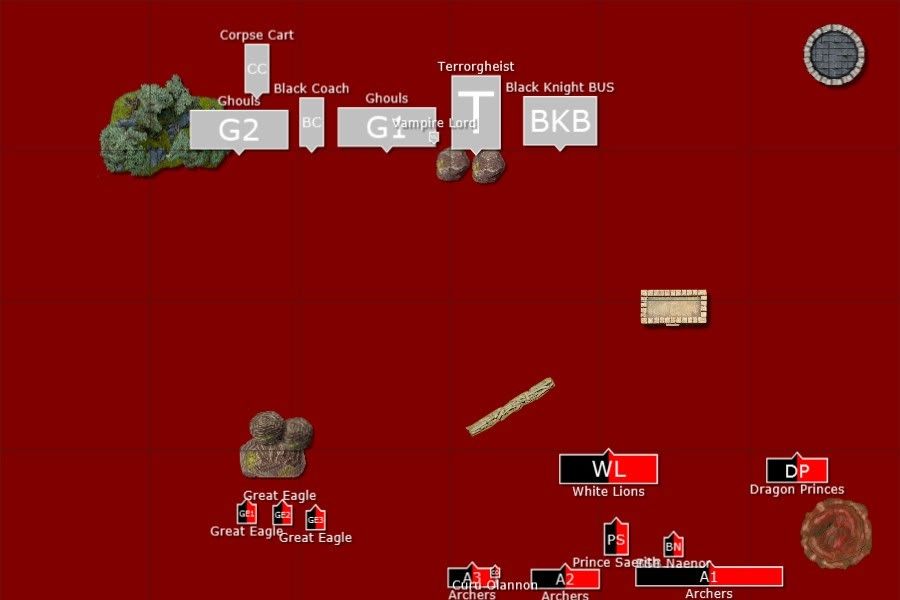 Skeinsliver gave me first turn, which I opted to take: I wanted to put pressure on that knight bus ASAP so I gave up a turn of shooting to get the Lions and Dragon Princes where I wanted them.
:: High Elves Turn 1 ::
Flyers move up on my Eastern flank, taking care to stay 29" away from the Terrorgheist. The Lions move up hard centrally while the Dragon Princes move up with my flyers. The Eagles move to central positions, ready to be useful later on. Olannon moves to within 24" with his small bunker.
Magic is 6v5 but the Coach eats 2D6. As such, he dispels both Shield (on Lions) and Drain.
Shooting does nothing.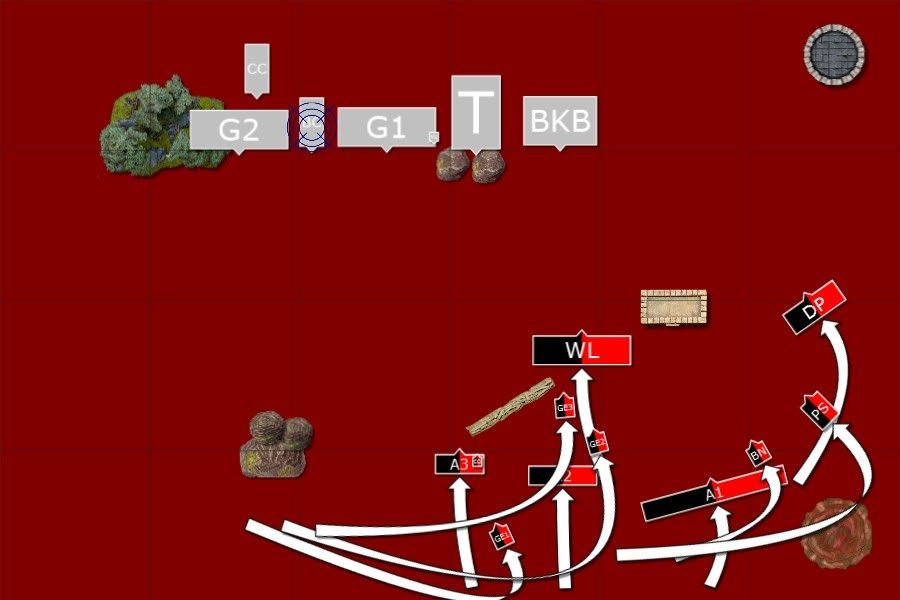 :: Vampire Counts Turn 1 ::
Knights move up, wheeling towards the Dragon Princes. They can't get within 8" though, so I'm pretty sure this move doesn't worry me. The centre move up but already the tight space means he's having some issues. His Lord is outside of Vanhels range for the bus, which suits me just fine as the only crucial spell I have to stop is the bound vanhels (although he can't reach my Princes regardless, he will get out of Lions' LoS).
Magic is 9v7. Some poor rolls on his part and good prioritization on my part sees the only effect being Curse of Years on White Lions, which kill a couple.
The Terrorgheist screams at an Eagle, but low rolls see the Eagle survive with 1W.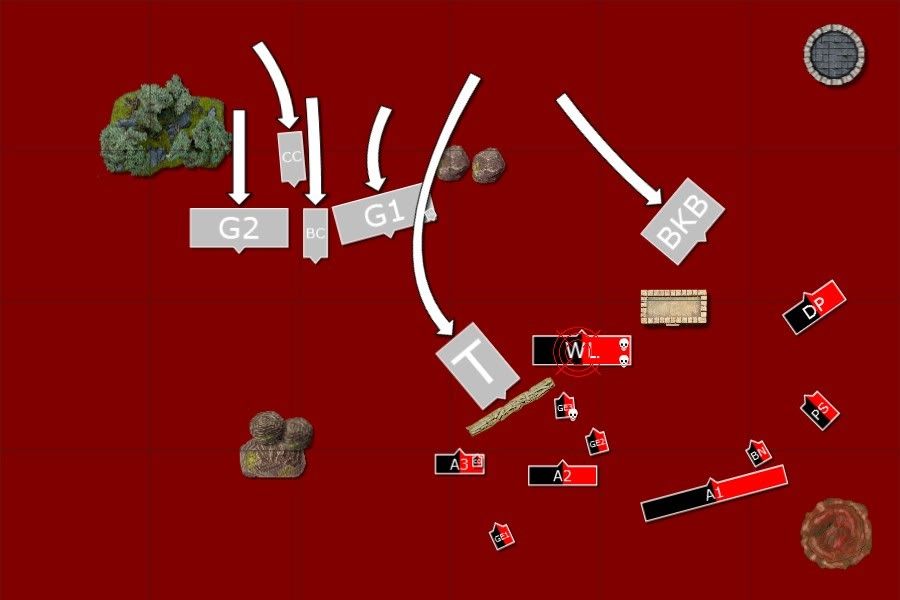 :: High Elves Turn 2 ::
I declare a triple-charge on his Bus: Saerith and Princes to the front, Lions in the flank. They all make their charges (fairly easy rolls, though I have failed easier ones before!). The 1W Eagle moves to delay his Lord's bunker while the other 2 re-position. Naenor moves to the flank, placing himself 29" away from the Terrorgheist (after a potential pivot) just to be safe.
Magic is fairly low and I simply dispel Curse of Years.
Shooting puts 3W on the Terrorgheist, much to me relief!
The combat sees Saerith declare Loec - I don't want that Blood Drinker around! I proceed to score 4 wounds, of which he saves ALL 4 on a 5+. Due to Loec, the re-roll sees him fail 2, killing him. The 9 Lions who got to attack and the Dragon Princes combine to wipe out the 8 Knights, killing off the unit. After the Vampires and Faeria had struck, there was 1 Vampire left on 1W, and I won combat by something like 10 so he crumbled. Nearly 1000 victory points to me! I reform to face the centre.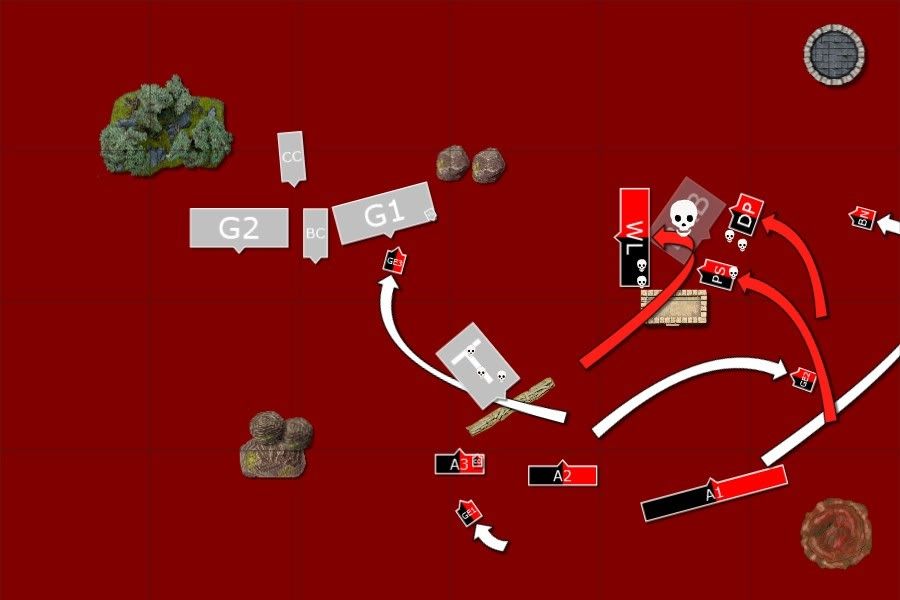 :: Vampire Counts Turn 2 ::
Terrorgheist moves towards Saerith. The rest move up, the blocking Eagle is charged.
Magic is really low (snake eyes) and the result sees the cart cast an ASF bubble (I dispelled the MotBA attempt, can't remember what he cast though).
Shooting sees the wounded Terrorgheist target my Dragon Princes and it just manages to wipe them out!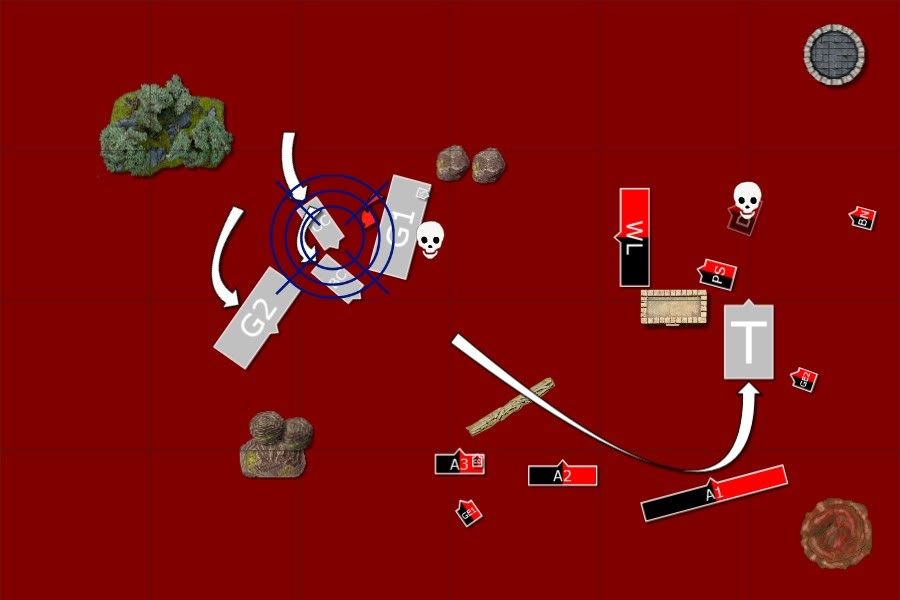 :: High Elves Turn 3 ::
I set up my units for some Turn 4 action, ignoring the Terrorgheist.
Magic is 4v2 and I cast Flames on all dice, which he scrolls.
Shooting sees me kill the Terrorgheist AND put 2W on the Black Coach! Some good rolls on my part, indeed (or rather, poor on his part as he failed his saves like a champ).
:: Vampire Counts Turn 3 ::
He again charges a blocking Eagle while the rest move up.
Magic is 5v4 but he fails to cast with the Lord and I dispel the Corpse Cart.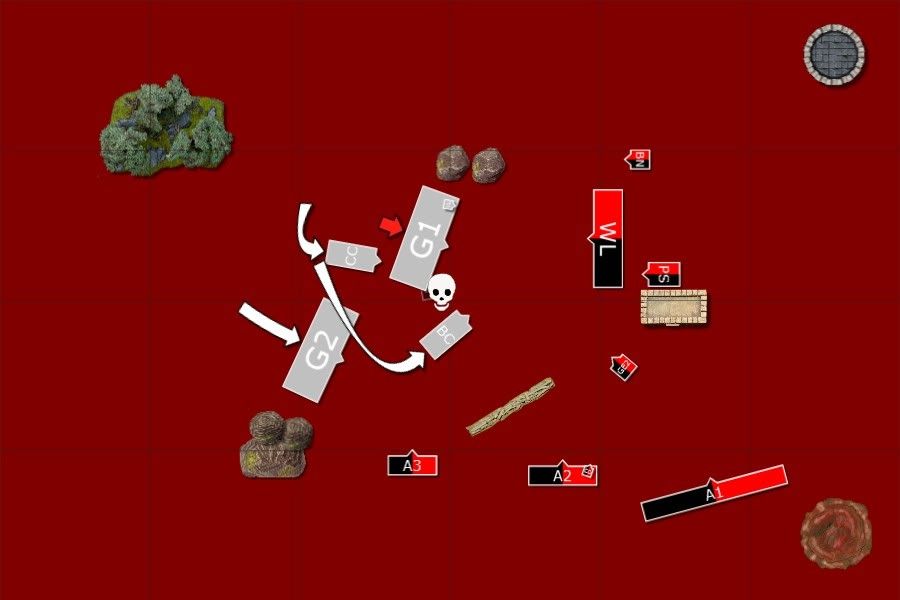 :: High Elves Turn 4 ::
So, let me just say it now... This is possibly my worst turn of Warhammer ever played. Let's see what happened:
I have 20 Lions left and they can charge 40 Ghouls. Due to little room, I cannot fit more than 1 flyer alongside them. Figuring I don't want to risk charging the Lions + Saerith and lose them vs his Lord and the Ghouls, I start looking for alternative approaches (for some reason, I thought they were still ASF due to the cart but reading through the notes I'm certain that I dispelled everything in his last magic phase).
The result? I charge the Dragon and the Archers into the Black Coach. It has 2W left and is only at level 3 so I figured I could kill it and be in a sweet position for T5. I was sure the Coach got Ethereal on level 6...
Magic - Winds aren't too high so I'm not too worried. Until the Coach eats 2D6 and my opponent gladly reveals that Ethereal is level 5, while FLYING is level 6. Oh my. As 2D6 are eaten, he dispel my Shield attempt easily.
Shooting does very little, and we go to combat. I'm hoping for a small miracle due to the fact that I have a +3 static combat resolution. Naturally, this doesn't happen and his coach wins combat by 1. I pass both Break tests.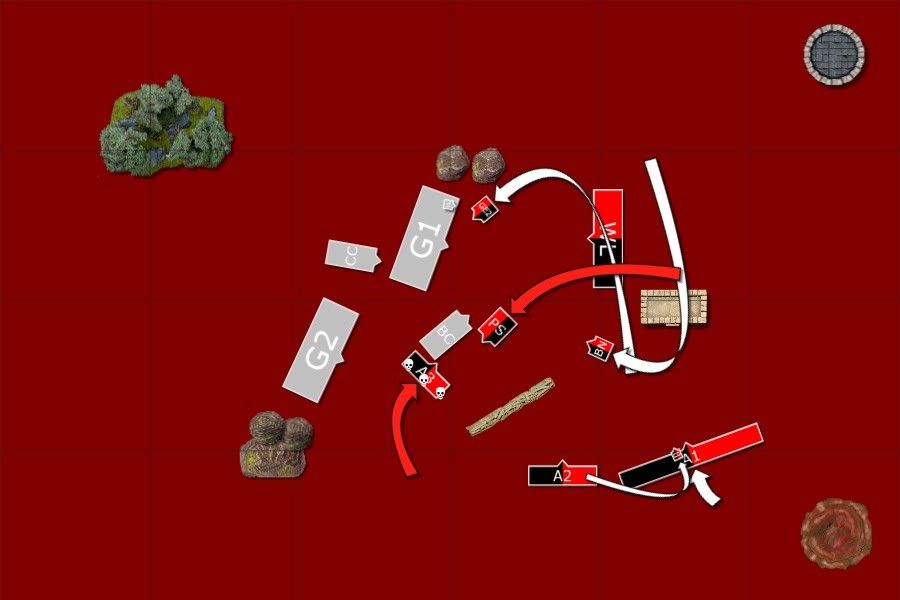 :: Vampire Counts Turn 4 ::
His Ghouls charge the blocking Eagle and the rear of my 'helpful' (read: free combat resolution) Archers.
Magic sees ASF go up again.
Combat - the Ghouls murder my Archers and Saerith fails his break test and is run down by the Coach, which pursues into the Lions. Points-wise, we're almost even now...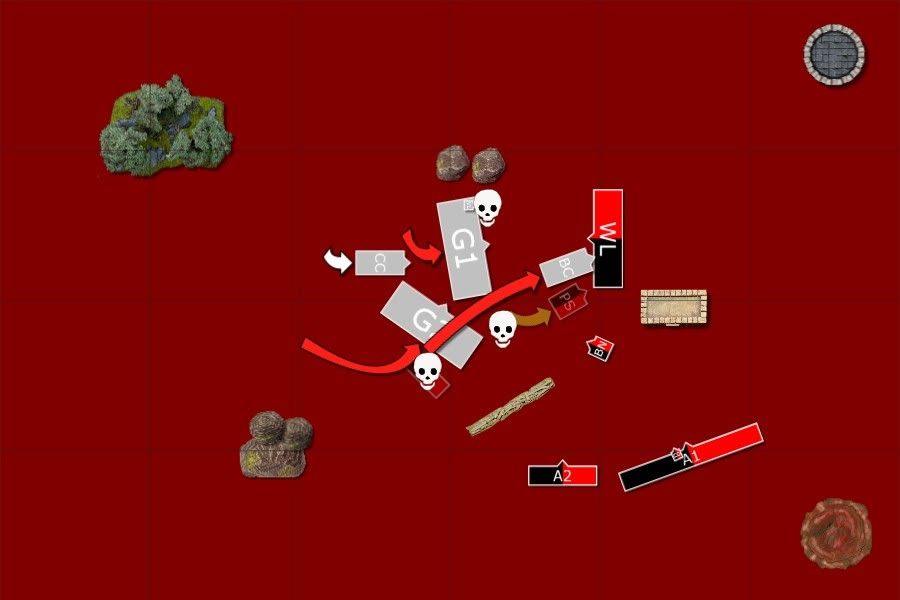 :: High Elves Turn 5 ::
I have to keep the Lions alive, it is without a doubt the only way I can win this game. For this reason, I need the Coach to survive one more round of combat (it's currently blocking the Ghouls), enabling me to place Lions in the Tower in my T6 to give them the best chance possible of surviving the game. I also fly Naenor to his rear, giving him some potentially confusing choices and enabling me a couple of sweet moves (combat resolution is so insanely important against Vampire Counts): if nothing else I could charge his Corpse Cart for a few Victory Points.
Magic is 5v5 after the coach is done. I cast it all at Flames on his Bunker but he dispel with 2 6's.
Shooting kills a few Ghouls.
The all-important combat phase sees his Coach survive! The Lions are down to 20, the Coach is on 1W.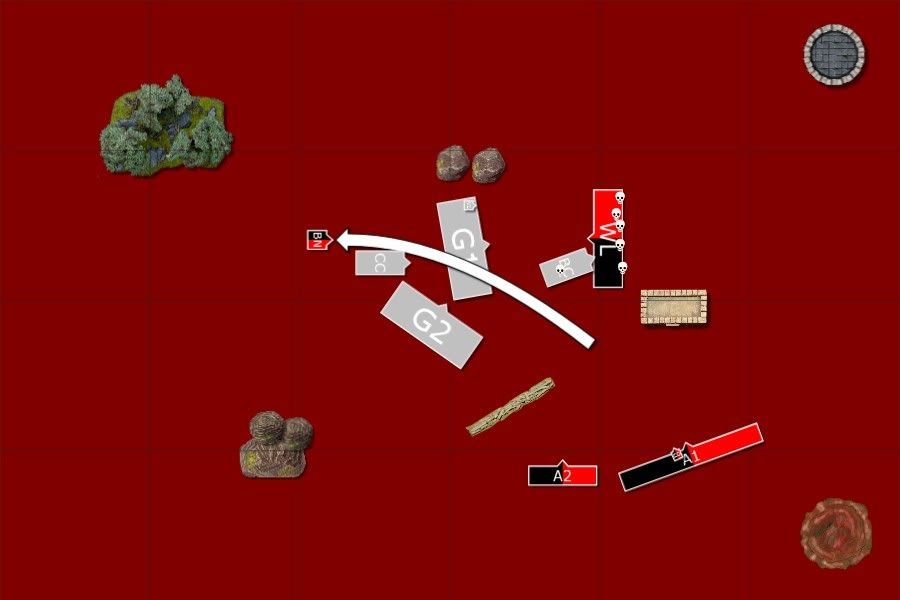 :: Vampire Counts Turn 5 ::
As he's blocked off by the Coach, he simply moves the Ghouls a little closer. The other Ghouls go for my Archers, lining up for a last turn charge.
Magic is 6v4 and he heals the Coach multiple times with Invocation, however in doing so he also miscasts - the ensuing explosion kills 10 Ghouls and wounds his Vampire! Also, he no longer has ASF...
Combat sees the Coach (now without hatred re-rolls) roll horribly and lose by enough to crumble to nothing. Perfect!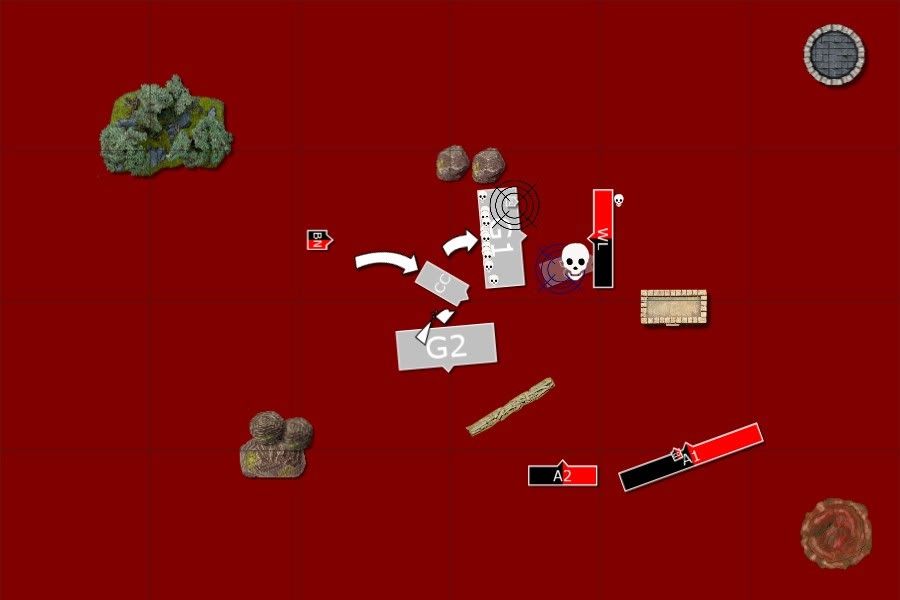 :: High Elves Turn 6 ::
30 Ghouls and a Vampire Lord against 20 White Lions and Naenor rear-charging. This time, I do what's right and engage the Undead ruthlessly.
Magic is 7v5 and I throw 6D6 at Shield of Saphery. I get IF and the ensuing miscast simply wounds Olannon.
Shooting kills off a few more Ghouls, though it doesn't matter at this point.
The all-important combat sees my Guardian challenge out his Lord. I fail my fear test but Naenor's re-roll sees me pass it (phew!) on my second attempt. I am killed with +2 excess wounds for none in return. The rest of the Elves + the Eagle combine to kill 21 Ghouls though (amazing rolls), leaving only 9 to hit back. Only 3 Lions die, which sees me win combat by a staggering 17 (or something like that), which crumbles both the Ghouls and the Vampire!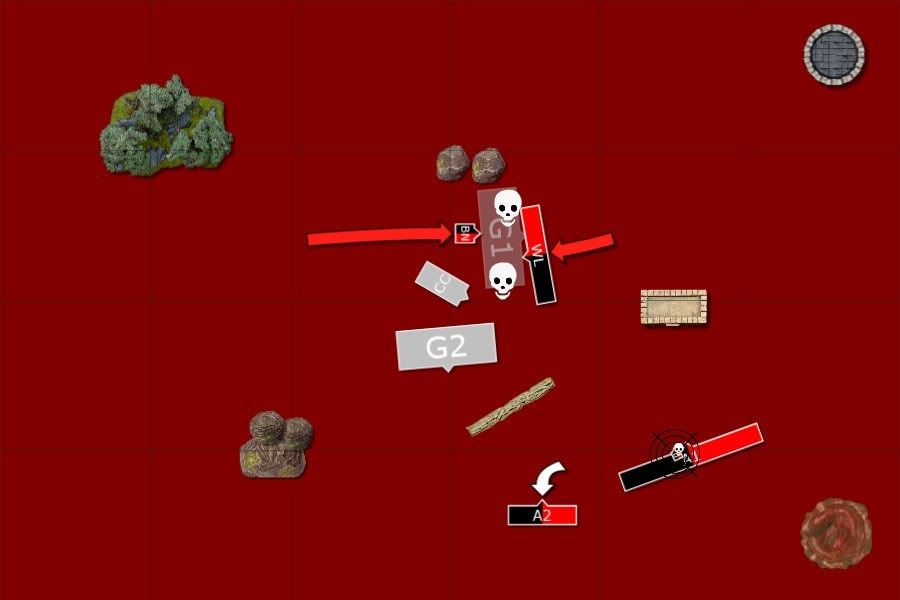 :: Victory Points ::
We didn't both counting up due to playing W-L-D and it was a clear
victory to the High Elves!:: Evaluation ::
Pre-game evaluation was good, deployment was really nice, first 2 turns were perfect. Then I made a horrible mistake and almost lost the game.
The decision to charge the Black Coach was a mix of poor risk management and the assumption that Ethereal was his level 6 power. Both elements are something I'm usually good at, and I have no good explanation why I failed so badly this game. Granted, if I had killed the Coach people might've praised me for a good, daring manovre paying off. The fact is that regardless of the outcome, what I did is a really poor choice, simply because it CAN work out as badly as this and I'm ahead by so many points, there's no need to take these kinds of risks!
I discussed the situation with Dark Reaper after the game, but that was under the assumption that the Ghouls had ASF. In that case, I think the optimal play would've been as follows:
Given the fact that ASF wasn't up, a charge could have worked out (with Saerith challenging the Lord - Faeria's S7 + Thunderstomp go a long way to neutralizing T5 2+ re-rollable Armour Save characters) as well. I doubt I could've done much worse than I did though.
Anyways, he made some big mistakes too (T1 bus movement being the worst, in my opinion) and in the end I was able to combine this list's real Elements of Power (flyers + Lion horde) to crush his units, despite Saerith and Faeria both dying. I think that this game primarily highlights these elements' potential - the Eagles virtually trapping his Centre forever, the combined charge T2 seeing something like 1300 points worth of Elves engage his bus and Naenor + the Lions finally killing off the Lord's bunker. Also, it shows how poor decisions can be made when one's paranoid (seriously, old VC Ghouls give me nightmares) and probably a little too confident due to being ahead.
===
:: Division Finished - Some Afterthoughts & General Musings ::
I won my 5 games straight in the league. Some have been very close, some were huge massacres and a couple were way closer (not necessarily by points) than they ever should've been. Regardless, the continuous support, list evaluation, tactics input, game analysis and wonderful advice I've gotten from the community of Ulthuan saw our beloved High Elves finally triumph. Now, there is one player left in the other division who can get a 5-0 score as well (rusty), if he wins his last 2 games (Lizardmen, Empire). If he does, there will be a tie-breaker to determine the overall winner of the league. Whatever the outcome of his final games and a possible tie-breaker, I would like to thank you all for helping me get this far.
Having played all these games, I would also like to quickly address this list's limitations: as many of you know, I'm constantly encouraging other players who field competitive lists to play harder opponents. While this can (and frequently is) be misinterpreted as wanting to see other people fail, the purpose of this is to truly discover whether we have a book that is strong enough to make us competitive. The High Elf book is generally considered to be mid-tier at best, some would say bot-tier. I believe that although we have some glaring weaknesses that prevent us from being top-tier, we have at least a couple of builds that are competitively viable.
The Dragonlord probably can work in a comped environment. I can see it being a popular pick under the current ETC draft for example. I really expect to see a lot of Star Dragons at ETC '12 if the High Elves keep their current +100 points and I also expect some of them to be really powerful. In an uncomped environment though, I can't say I have faith in this list: there are simply too many insanely powerful builds that have good answers to this kind of list's crucial elements. With that being said, I will probably take the Dragonlord to an uncomped tournament in 2012 if a good opportunity presents itself, but I do prefer to play in a comped environment (next tournament lined up is ETC) simply because I believe that in this environment, this list can go to the very top.
Some people have encouraged me to play against uncomped lists though, to truly test the Dragonlord. Most likely, I will get a fair few of these games in the near future as a local tournament (being run at the same time I'm at the aforementioned ETC tournament) is uncomped and I'm going to be fielding my list against things like Dark Reaper's most nasty DE/DoC lists to give us both a lot of practice. Stay tuned to see the results
As always, C&C very welcome
PS - I'll keep you posted as Rusty plays his last 2 games. The Lizardmen player is really good and the Empire list has a couple of hard counters to the Daemons so I'm hoping he'll simply lose one (or both!). If he does make it however, I'll be more than ready to face his evil minions again!