The battle was faring well in his parts of the field, however Olannon wasn't sure if the centre nor the Western flank could handle the savagery of the orcs and their monsters. Could Faeria and the Cold One Knights finish off the Ratmen fast enough to bring some much needed help against the Orcs?
:: A Desperate Alliance - Part 3 - Mid & Late-game ::
:: Skaven & Orcs and Goblins T4 ::
Black Orcs charge Hydra, which flees. They fail their re-direct test and must try and catch it, which they fail. The Savage Orcs charge blocking Shades. Boyz charge small, blocking Archers.
Magic is 5v4 and Vindictive Glare is thrown at the Shades, which we scroll.
Shooting - the Runners score an INSANE amount of poison hits and manages to kill the Cauldron! A couple of Lions die to artillery and Naenor dies to the Doom Diver. 2 BSBs in one turn, great -.-
Combat sees Faeria and the Knights finally break through the Dreaded Bell's defences and put 3 wounds on it, along with killing a dozen Clanrats. Our Blockers die.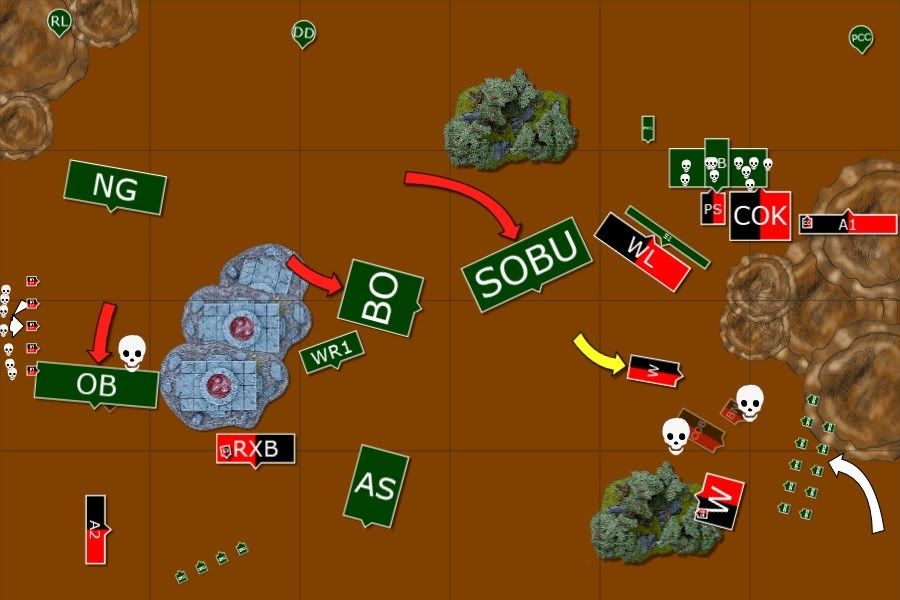 :: Elves T4 ::
Lions reform to face Savage Orcs. Hydra Rallies. Archers move to the extreme corner on the West flank.
Magic is 12v6 - Flaming Sword on Shades, Aiban on Hydra, Robes on the Bunker, Searing Doom (9 hits!) on the Spider results in only a single wound! Shooting does very little, despite the augment.
Combat kills all the Clanrats and leaves the Bell with 2W (Faeria is now down to 4W).
:: Skaven & Orcs and Goblins T5 ::
Spider moves to kill the RXB's when they reappear. Boyz move to block cornered Archers totally. Black Orcs charge Hydra (it was a way easier charge than Diagram indicates), Savages reform to face Lions.
Magic is Snake Eyes but 2 channels sees Vindictive Glare get through our defences to hurt the Shades. An amazing display of poor roll sees only 1 Shade die!
Where the magic fail, the Short Bows prove to be successful, killing 4 (!!) Shades. Catapult kills a couple of Lions and the rest do fairly little.
Combat luckily sees the Bell finally die and we're thus free to reform against the Savage Orcs! The Hydra does very well and wins combat! The Black Orcs hold on Steadfast.
:: Elves T5 ::
The Savage Orcs are triple-charged with something like 1700 points worth of fighting power. West Archers perform a noble wheel to hopefully bring their firepower to bear against the Spider.
Magic gives us a decent roll: they have few dispel dice. We want to throw all our might at the Spider. The Supreme Sorceress starts with Power of Darkness, rolling a '1'. A sac.dagger and a '1' later we realize that this was not to be, and the result is only the flaming sword on the RXBs.
Shooting puts 2W on the Spider.
Combat sees the Savages inflict a heavy toll on the Lions but they are way worse off themselves and break from combat. We fail to catch them. The Knights overrun into the Black Orcs and utterly destroy them combined with the Hydra.
:: Skaven & Orcs and Goblins T6 ::
The Boyz finally charge the Archers. Spider charges RXB's. Magic does nothing and shooting fails to hit Faeria and remaining 6 Lions.
Combat sees the Boyz murder the Archers. Though they are down to less than half their original numbers, they really did their job well. The Spider wins combat but just barely fails to break steadfast and the test is passed. In return, the Spider has but a single wound (Flaming Sword proving to be very useful!).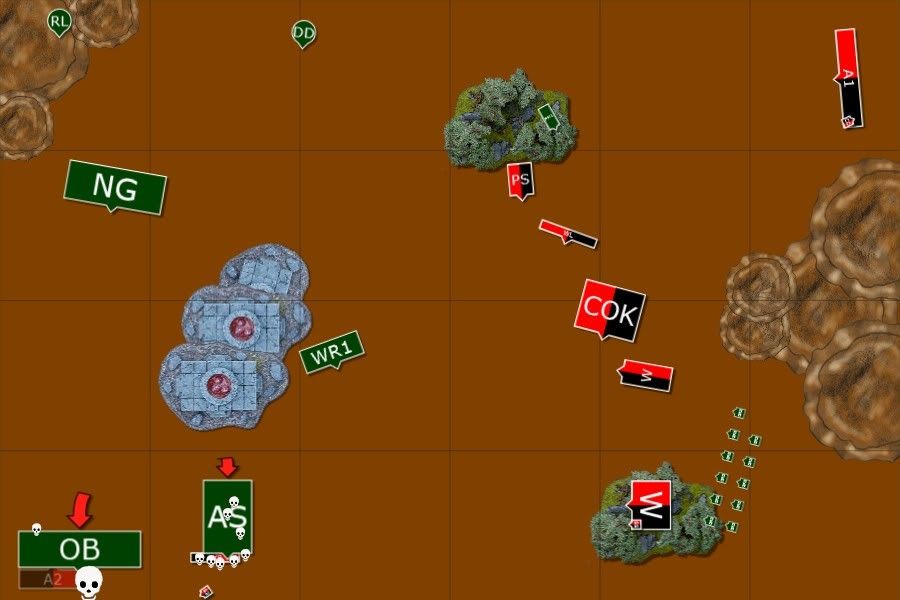 :: Elves T6 ::
The very last turn of the game sees us charge the Savage Orc remnants off the table.
It all comes down to the Spider combat and 3 hits are rolled, looking for a '6' to wound: we fail to get this and the RXB's are killed.
:: Victory Points ::
Despite losing West and the centre spectacularly early on, we did manage to pull through fairly well and I was confident we were ahead when tallying up victory points. Indeed I was correct, after all bonuses etc were accounted for the
Elves won the game by 1353 victory points! :: Evaluation ::
Magic-wise, it was pretty clear to me that Shadow would've been a lot better in this matchup. While metal seems nice on paper, it usually boils down to being easy to prioritize against. With that being said, Metal could've been a real game-winner had our 9-hit Searing Doom done more than 1W on the Spider. There were probably a lot of situations where our magic could've done a lot more, too.
Tactics-wise, I think we failed to keep the Gutter Runners in mind. Despite the 11-man unit emerging West failing to kill more than 2 Archers, it forced us to focus on it and thus disrupt our shooters enough for the Boyz to win the flank. Had they not emerged, the Boyz likely would've died.
Losing first turn wasn't really that critical, it mostly meant one less turn of shooting on the Western flank while the Eastern flank wasn't really affected. Even with +2 to start, dice are dice and you will lose that roll every once in a while!
The Swordmasters did fairly well in this matchup - on a point-by-point basis they severely underperformed, but the damage they inflicted on the Slaves + Stormvermin allowed us to really crush that flank fast and decisively. Of course, the Bell blowing up the house changed the situation, but the original plan was to get them behind enemy lines regardless, which would be very hard for them to counter. It is this kind of role that I believe makes them a lot better than Dragon Princes in this army - Dragon Princes simply do not have the sheer chopping power to accomplish this!
The Cold One Knights performed admirably along with Saerith. However, even with the Whip of Agony, S4 base and S4 mounts I don't think they were necessarily that vital. Indeed, we could've most likely done just as well with Black Guard (apart from against the Hell Pit) or another elite infantry unit. Given their relative advantage over our Dragon Princes (on a cost-effective basis) it's hard to say whether a Dragon Prince with a Noble is worth including here in place of the Swordmasters. It's for sure an interesting approach, but I believe it makes the whole army play very differently. As I've said before, I also believe this to be a poor choice against the matchups that are already rather bad (Dwarfs, Ogre Kingdoms) as they shrug off cavalry easier than they do infantry.
We probably misplayed the Pendantlord, if we had sent him to hold the centre with the Corsairs the game might very well have been way more one-sided. Speaking of the Corsairs, it was a little risky sending them outside of the Cauldron's range, relying on LD8 is something you generally do not want to do. I think that I overestimated them based on their performance in previous games (where I've been on the receiving end of their fury).
Playing a 5,000 point game was a lot of fun and definitely felt more like a true battle than 2500: we kind of had 3 very distinct fronts - the West, centre and East. It forced us to think differently as the games we normally play are a lot more compact and 'flanks' are often composed of a unit or two compared to a 1000-point investment!
Lastly I thought I'd put some of the pictures up so you can get a feel of what the game looked like:
Deployment finished, Horde's ready to move: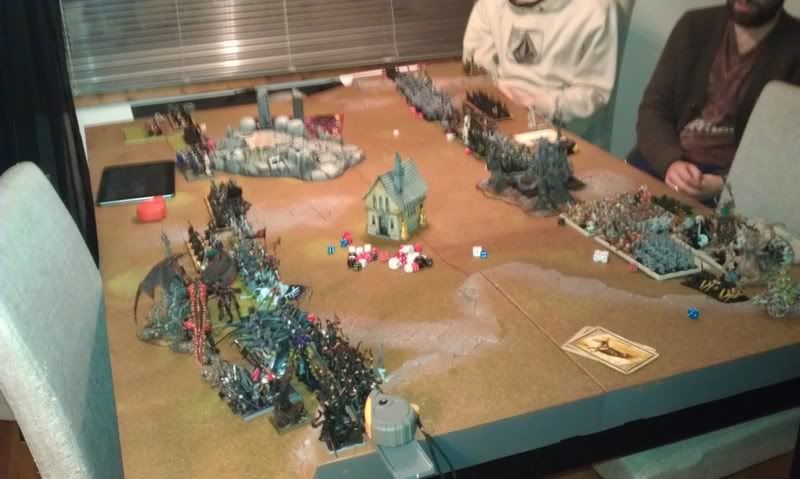 Early-game sees the Elves' Eastern flank manoevre to capitalize on their speed and hitting power:
The East is collapsing and the Elves are trying to make the most of it, reforming to crush the big Orc blocks in the centre: