I just played again vs Skaven. This was kind of a rematch for my opponent whom I played my very first game in 8th against (750 points). It was a very exciting game and kind of felt like old-time Warhammer.
:: The Rulers of the Underworld ::
So my third game at 2500 points. Could I continue my streak or would the rats see my Vindicators fall short? His list was very Skryre themed. While not the hardest list around, I'd say it was fairly decent.
Grey Seer on Screaming Bell
BSB, Storm Banner
both in
- 50 Clanrats, Standard and musician
+ Warpfire Thrower Team
Warlock Engineer - stuff
in
- 30 Clanrats, Standard and musician
+ Warpfire Thrower Team
30 Clanrats, Standard and musician
+ Warpfire Thrower Team
80 Slaves
6 Rat Ogres, 2 packmasters
1 Hell Pit Abomination
1 Doomwheel
:: Pre-battle thoughts & deployment::
I knew my infantry could carve through his units like knife through butter. I only had to worry about magic and shooting first... He rolled plague for his Grey Seer, the rest of the spells were inefficient throughout the game and I can't really remember them to be honest (I don't know Skaven too well). I was hoping I could field a strong cavalry flank against his monsters to quickly take out the heavy hitters. As for his war machines, archers and the repeater had weapons team duty while I'd try to weather the Doomwheel.
We rolled battle for the pass, he wanted me to choose side. I chose the hill for my repeater. As usual, I deployed rares first. He committed to the center and I placed archers to the left, intending to face his heavy hitters with my cavalry. The deployment went beautifully and I was quite happy: he was crammed in the middle, my left flank was weak but pointless to attack and I had both cavalry hammers against the units I wanted them to face. Additionally, his bell was quite far behind so I didn't have to worry before I could get into position.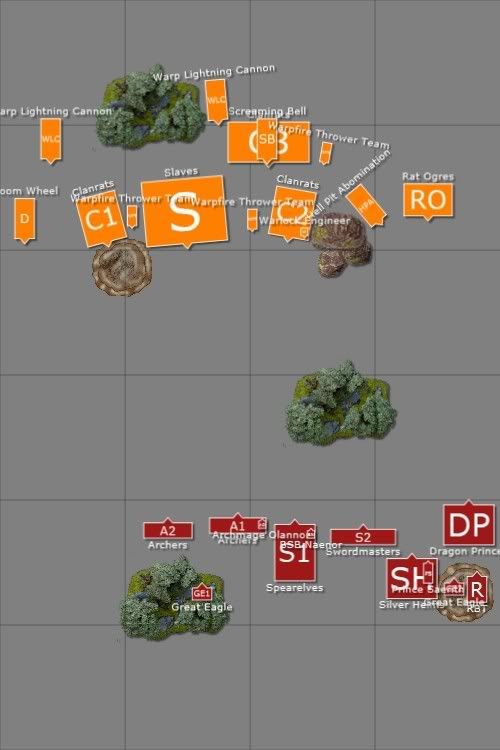 He won the roll-off and went first.
:: Skryre Skaven Turn 1 ::
He realized his Doomwheel was doing next to nothing so wanted to move it towards the middle. However, it had to move first due to random movement and he didn't dare face a low roll and slow his advance. Instead, it went behind his Clanrats, getting dangerously close to the Cannon...
The rest of his forces advanced, his Abomination only rolling 5" on 3D6. The Rat Ogres followed suit, protecting its flank.
Magic started and he rolled fairly well, however was out of range of most things useful. He started off with a useless buff on his Ogres (which would only last throughout HIS turn) and miscast on 3D6, killing a couple of Clanrats with a S10 template but saving the Grey Seer and the Bell on 4+ ward. His Warlock casts Warp Lightning on my Spears with the remaining 6 dice. His cast is mediocre and I pick up my 5 dice to dispel - which I promptly fail. 7 Spearelves die but they pass the panic test.
Shooting is eventful - but not in the sense he'd hope. One Cannon kills a single archer, the other misfires and kills 2 Clanrats from the Bell unit, the Warpfire Thrower Team and 5 more Clanrats from the other Clanrat unit. Adding insult to injury, his Doomwheel fails its restrain roll (on an
and kills the nearby Cannon!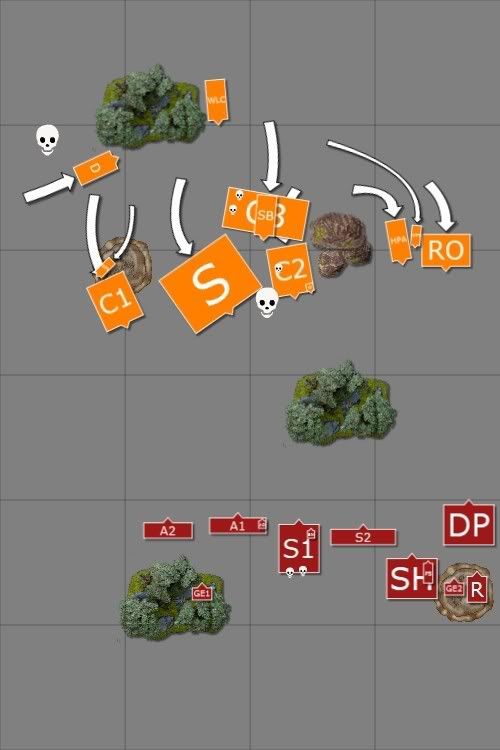 :: High Elves Turn 1 ::
I advance with my Cavarly, the center standing still. They take care to keep a reasonable distance to avoid a charge. The Swordmasters free reform to let the Silver Helms through. The Archmage's Archers shuffle back a bit and the Eagles get into position.
Magic is 7 vs 4 dice. Throne is first, with him dispelling on 2v2 dice. Flesh to Stone on Spearelves is next, he lets it through due to my 10 roll on 2D6. The last 3 dice sees regrowth go through his dispel attempt, however I roll a 1 and only 2 Spearelves rise from the grave.
My Repeater kills the Warpfire Thrower Team between his Rat Ogres and Abomination, saving my cavalry a lot of potential trouble. The Archers can't see the last weapon team so kills a couple of Clanrats instead.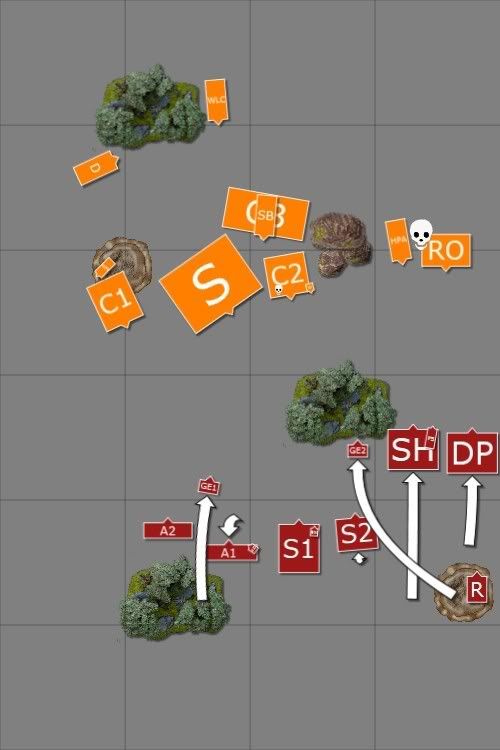 :: Skryre Skaven Turn 2 ::
Full speed ahead! No charges, but LOTS of movement.
Magic is 5 v 4. He rings his Bell on a 17 roll, sending the Slaves 6" further ahead and the Doomwheel advances 3" further. He eats a Warpstone Token to cast 13th on Swordmasters on 6 dice, however a poor roll quickly ends the magic phase, allowing my pulse to go beneath 170 again. His Grey Seer also took a wound from the Token, his 4+ ward failing to aid him.
Shooting sees his Cannon kill 3 Helms while the Doomwheel restrains. I'm in position to kill a few monsters with my Cavalry and grind some Slaves with my infantry. So far, so good!
:: High Elves Turn 2 ::
He declares Storm Banner on his BSB.
I quickly do the math on the Abomination and I realize it's fairly certain that I'll kill it in a single round of combat with the Dragon Princes. I declare Potion of Strength regardless as I doubt I'll need it that much and I REALLY need to kill it off before it goes berserk in return. The Cavalry units declare cross-charges and the monsters all hold. Swordmasters, Spearelves and Great Eagle all charge Slaves, who hold. They all make their roll, and it's game on!
Magic is 6 v 4. I start with a 2-die Throne, getting a total of 8. He fails to dispel on 2D6! I then cast Flesh to Stone on Swordmasters but a miserable roll sees him dispel on his remaining 2 dice. Argh!
Shooting kills a couple of clanrats again, his weapon team still out of Line of Sight.
In combat my Cavalry go into kill-mode, the Dragon Princes easily killing the Abomination outright (I think I scored 10-11 wounds) and the Silver Helms felling 3 Rat Ogres before they can strike back. In return, a couple of Helms die but they break easily and are run down. The Dragon Princes decide to overrun, but end up with a poor 2" move - meaning the Clanrats with the Warlock Engineer have a perfect flank charge. Sigh, I needed 4+ to avoid that angle.
In the middle, Elves do what they do best and something like 23 Slaves die. In return he rolls very poorly and only a couple of Elves die. However, it's enough to break my rank to disable his Steadfast and they hold on LD10. At this rate the unit will not be around very long though.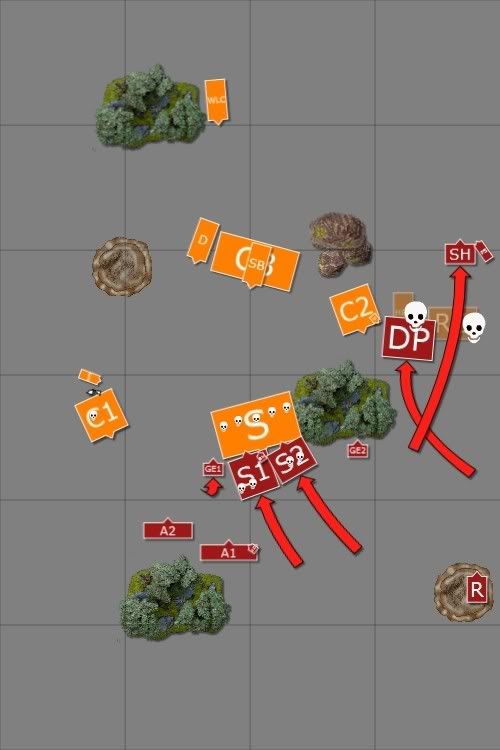 :: Skryre Skaven Turn 3 ::
Storm runs out.
His Clanrats flank my Dragon Princes, who hold. His other Clanrats charge my Archers, who stand and shoot to kill a couple. Magic is 7 vs 6 dice. He uses 6 + his remaining Warpstone Token to cast 13th at my Swordmasters. However, he again fails to meet the required 25+! My 6 dispel dice dispels his 1-die buff and the magic phase ends.
Shooting sees a perfect shot for the Warpfire Thrower Team AND his Cannon on my Helms. He starts off with a glorious exploding misfired Warpfire Thrower before his Cannon kills a single Helm, bringing them down to 3 + Saerith.
In combat his Clanrats lose 4 to my Archers. In return, they only kill 1 (only 10 attacks due to charging, still poor rolls). This means it's a tie which he wins due to musician. My Archers hold due to Naenor being nearby.
His other Clanrats fail to impress my Dragon Princes but I can't hurt him much either. I lose by 3 but barely hold! I even manage my combat reform!
In the middle I again kill something around 20-25 Slaves and he kills a couple of Spearelves and Swordmasters in return. This time around he doesn't have Steadfast and the Slaves explode, killing a couple more. My Swordmasters reform to a single line, intending to wreak havoc on the Bell unit.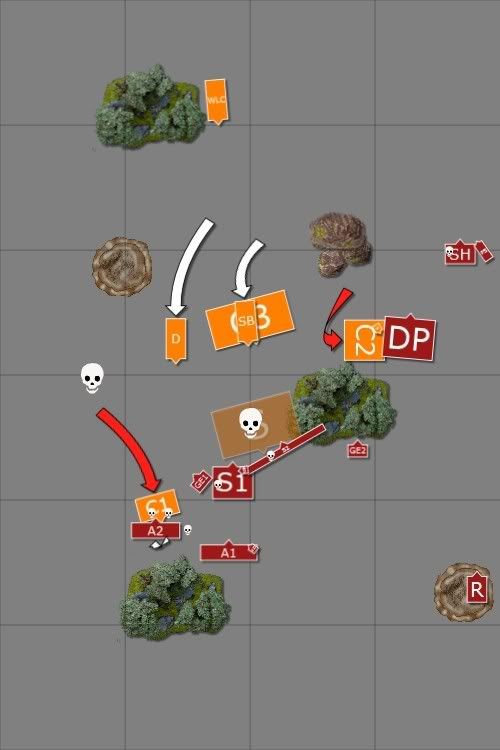 :: High Elves Turn 3 ::
I charge his Clanrats with my Spearelves and Swordmasters, however the Swordmasters roll snake eyes for the distance. Oh well, Naenor and his comrades would have to prove their worth.
In my magic phase I roll 11 for Winds of Magic. I had every unit engaged so Dwellers was useless. Oh well, I started off with an IF Flesh to Stone on my Spearelves. The Throne did NOT protect Olannon from miscast and he lost a level, forgot Flesh to Stone, and the magic phase ended. Still, 2 combat rounds of T7 against his Clanrats ought to do it.
Shooting sees 3 wounds on his Doomwheel after a single bolt hits. It goes out of control and charges my Eagle.
In combat he kills the Eagle and overruns. The Archers beat the Clanrats, who pass their break test barely. The Dragon Princes kill his Warlock and enough to win, however he holds on Steadfast LD10.
Naenor targets the Grey Seer and wounds on 2 attacks. He fails both ward saves and dies. My Spears kill quite a few Clanrats, losing only 1 in return thanks to T7.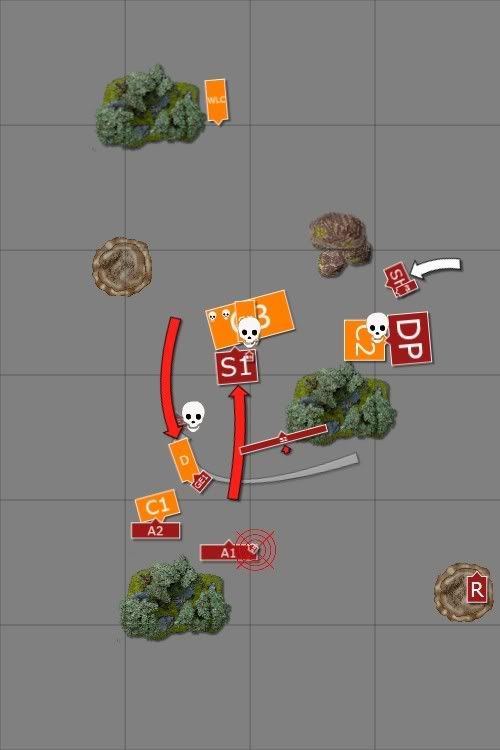 After this it was pretty much over. He didn't manage anything significant in his phase. I proceeded to charge my Helms into his Bell unit and the Swordmasters killed the Doomwheel. He conceeded the game at the start of his Turn 5. At this point, his 2 units of 30 Clanrats were both reduced to 3 fleeing models while his Bell unit was down to 20-25 Clanrats against 15 Spearelves, 3 Silver Helms and Saerith and Naenor.
:: Victory Points ::
I didn't bother calculating - it was a clear
massacre to the High Elves! :: Evaluation ::
This game was a lot of fun due to the fact that magic never made a huge impact. This made it feel like the older editions where magic would amplify certain parts of the game instead of making or breaking it. My opponent was rather unlucky in a lot of important fights. However, deployment and movement saw him lose 2 flanks very quickly and he would've had a hard time regardless. I got my perfect matchup and was able to engage when and where I wanted to, again utilizing my superior movement to achieve this.
Keeping his magic and shooting at bay (read: being lucky he didn't roll better) certainly helped. I never once tried to cast Dwellers this game and the rest of the spells were fairly irrelevant. Granted, T7 Spearelves at the end helped but his Grey Seer would've died regardless. I doubt it would've changed anything.
I'm certain you all have a lot of thoughts about this game. It seems to me that I use certain patterns again and again in my playstyle, would you agree with this? Please leave a reply with your thoughts about the fight as I'm eager to hear the opinions of others as well as analyzing myself.
One thing is sure though, I love the 2 Cavalry Hammers. They are both incredibly powerful, and having 20 2+ save models with 8" movement is not to be underestimated.