@cycloptic squirrel - automatic S4 hits really hurt, yes
@rusty - thanks for clarifying. Will comment on tactical things somewhat now and more later.
:: High Elves Turn 2 ::
I see what an opening rusty's provided me with - leaving the comet alone in the middle of nothing allows my WLs to take the chance of engaging the house. The benefits of winning this fight truly are amazing: the West Dryads + Treeman will take about forever to get anywhere useful since they can't march. What's more, I can exit the house on the far side to directly threaten his bunkers and go with the Prince! Long story short, I charge the central Dryads, which no longer possess S5, T5. The Dragon charges the Treekin to the front, hoping its sheer destructive powers will help me out. The Dragon Princes elect not to charge out of fear of being completely evaporated. They instead move up just outside his hero's charge arc, as does Naenor.
The West shuffles to prepare for the incoming hero.
Magic is 7v5. I start off with Iceshard Blizzard on the Treekin, which is dispelled. I then cast Thunderbolt on the Netling-hero and this draws his crucial scroll out, prior to any important combats. Shooting deals a single wound to his West hero.
Combat: the Lions roll insanely well as I hit with every single attack: as Dryads are I6 this was very lucky indeed. With the Amulet of Light, they easily perish and I occupy the house. Saerith deals 3W to the Treekin, but they save one, leaving all 6 alive to hit Faeria. Rusty gets a lot of hits and ends up with something like 5 wounds, but luckily I save 2 of them: leaving Faeria with 4W. The ancient Dragon hits back hard and between her firebreath and attacks with the Other Trickster's Shard, I score a massive 10W total for 3 dead Treekin! They lose badly but hold on steadfast (many thanks to BSB being nearby!).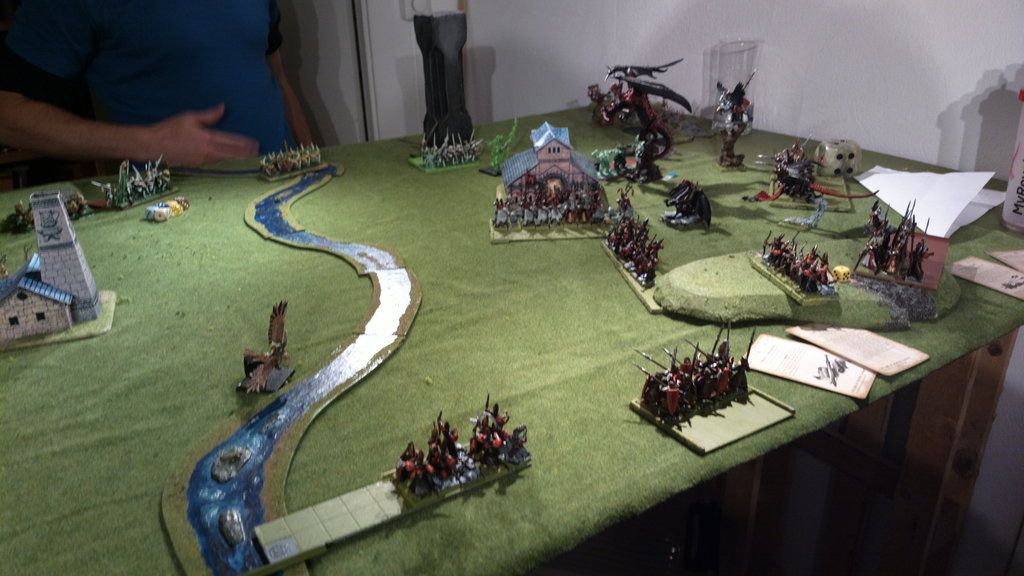 :: Wood Elves Turn 3 ::
In my opinion, this was the most crucial turn of the game. Rusty basically had to commit to the Prince with two heroes, including the BSB. Additionally, his West flying hero had to try and break through my small units. To this end, his BSB flanked Saerith on one side, the Netling on the other. The last hero engaged the big Archers, which chose to stand and shoot. Unfortunately, no wounds were caused. Magic is 7v7 and my choices are easy: dispel Wyssan's. He throws an amber spear which kills a single Lion. Shooting sees him kill another Lion or two, hard cover proving to be a friend.
The all-crucial cc phase sees his West hero fluff it and my Archers even deal him a wound: they also hold on Steadfast. Saerith and Faeria manage a single wound on the Netlinghero but I lose by 2: holding on LD8 re-rollable proves fairly easy though and I'm fairly certain I can wipe the board as I please by now!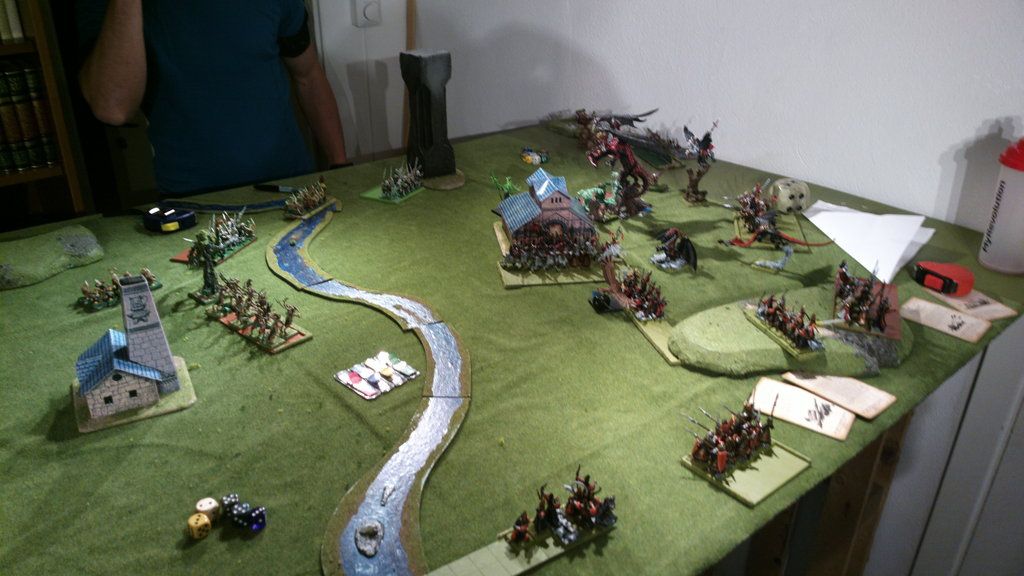 Thoughts on the situation and the following turns are very welcome