First 2500 point game in a long time! I asked Rusty for a hard list, and I got one! He offered up Dwarfs, Vampire Counts and Wood Elves. I find that playing Dwarfs is simply boring and random, and I know Wood Elves fairly well. So it was that I was going up against the Undead.
:: Ghostly Ghasts from Ages Past ::
My last list, featuring a small tailoring as encouraged by Axiem:
High Archmage Olannon, Ring of Fury, Crystal, Dragonbane Gem
Prince Saerith, Bow of the Seafarer, Armour of Caledor, Luckstone, Talisman of Protection
BSB Naenor, Reaver Bow, Charmed Shield
Shadow Mage Cael, Seerstaff (choosing Miasma, Withering)
26 Archers, std and musician
17 Archers, banner of eternal flame, musician
12 Archers, musician
21 White Lions, musician and Banner of Sorcery
18 White Lions, musician and std
1 Eagle
2 Repeaters
Rusty's list:
Vampire Lord +3A blade, hatred, ghoulkin, + attacks equal to hits from first go' round, 4+ ward
Vampire Hero Helm of Share WS
Necromancer, dispel scroll
40 Ghouls, champ
40 Ghouls, champ
23 Ghouls, champ
40 Grave Guard, full command and +1 to hit banner
1 Black Coach
:: Pre-battle thoughts & deployment::
Magic: I threw 2,2,5,5 for Olannon and swapped for Shield and Vaul's - giving me a very good selection against him. He got what he wanted, can't remember what at the moment (for his level 3 vampire)
He indeed had a solid list. Deployment-wise I felt that I had no good options and was rather unhappy with the end result. I'm still getting used to changing my mindset for this kind of army and I think this deployment says it all. He marched his ghouls up (not shown in picture but taken in consideration for his Turn 1) and got first turn, the bonus he received from finishing first ensuring this.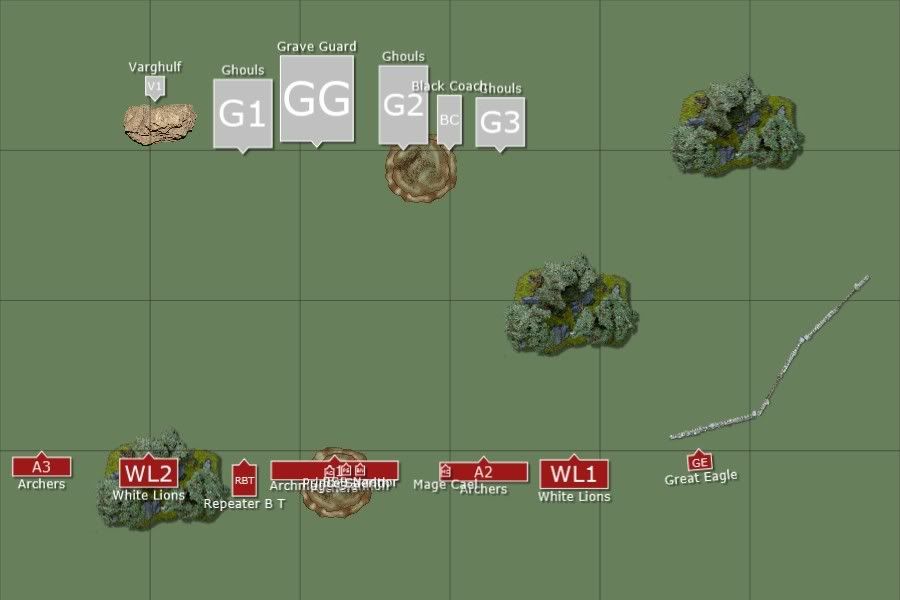 Note: I forgot to put his characters in. They are included in subsequent turns. He placed Lord with Grave Guard and the Hero + Necro in the small unit of ghouls.
:: Vampire Counts Turn 1 ::
Everything moved forwards, oh my so fast these undead creatures are! He was now standing just about 8" away from me.
Magic - he rolls snake eyes. However, one channel later and his +2PD vamp hero ensures he has a decent 4v2 phase, after I fail to channel. Due to some reckless positioning, he can't move his Lord's unit (regardless of movement it would've gone within 1" of his ghouls ahead of it). He Van Helsed these first but when I made it clear that he couldn't legally move them we agreed to put the cast on another unit instead. In a tournament setting, I might not have let this go by but in a friendly game, especially in one where I really want to test my army's limits, I believe I'm obliged to let this go. The result is that I have a big unit of Ghoulkin right in front of my archers with flaming banner. The second Van Hels casting (this time on the Grave Guard) was dispelled with a roll of 10 vs his roll of a 9 (I had +5 vs his +3 as well).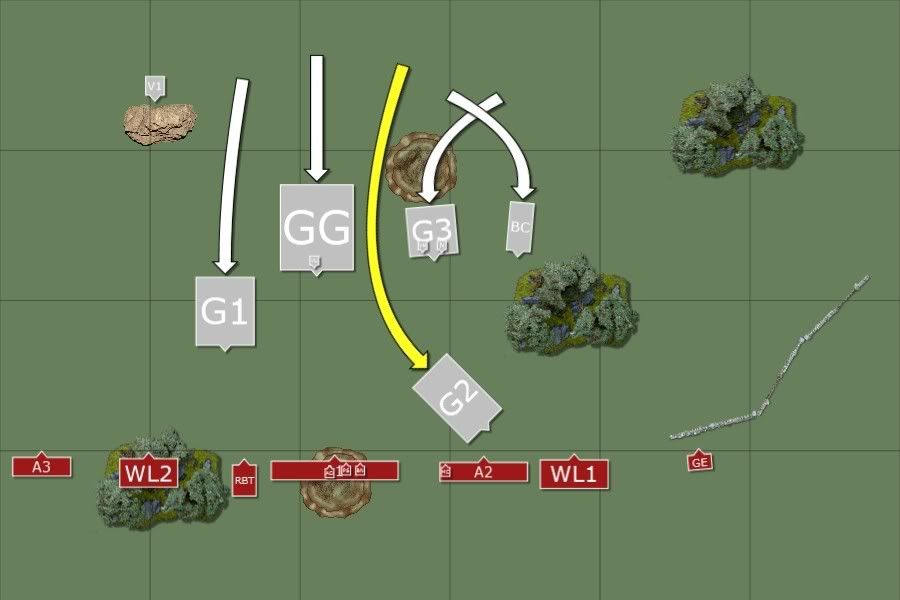 :: High Elves Turn 1 ::
My start is shitty, my position is shitty. I spend about 5 minutes thinking what on Earth I can do at all in this game. I quickly realize the small Lions need to go for the greater good. I charge them into the left Ghouls, hoping to be able to assist them somehow. The other Lions go against the right Ghouls. It's a stretch hoping that I can end this quickly, but it's my only chance - if the 21 Lions can survive, I have a decent chance of being able to really put a dent on his Lord's unit with combined charges, provided I've reduced them drastically first. My Eagle blocks his Coach's path for charging the Lions in the flank, angling so that an overrun leads to the flank of the Ghouls.
So - for magic. His Black Coach forgot to pull PD last turn, so we agreed it couldn't get any this turn either. With poor rolls and a channel from him, I manage to only get 6v5. Sigh. I realize that if I'm going to have any chance in this game, I need to get a decisive magic phase where shield, flames and withering are key. I reckon he has a dispel scroll, and I'm fairly certain it's not on his Lord. I thus Vaul's his unit with Hero + Necro, and it's rightly scrolled. Being left with 3v5 dice, I have to gamble. I roll 1D6 @ Curse of arrow Attraction at his Lord's unit, and score a 6. He rolls 3D6 for dispel, barely making it! (low roll) The remaining 2v2 sees me get Flames of the Phoenix through on his Ghouls in melee with my big Lions (right unit of 40 Ghouls). He loses 10.
Shooting - my 26 Archers, Searith and Naenor target his Grave Guard. Naenor starts out perfectly with rolling three 1's for his to hit rolls. Are you kidding me? This is just what I need to get back from a bad start... Saerith manages to down 3, his Seafarer Bow ploughing through ranks like a hot knife through butter. The rest of the Archers pull down a couple as well, along with the RBT plucking 1. The 12 Archers on my left flank put 1 wound on the Varghulf and the last Repeater fails to do anything.
Combat - my Lions win both combats, but not nearly with enough. They take a handful of casualties in return and it's looking grim for me as he's taking his second turn...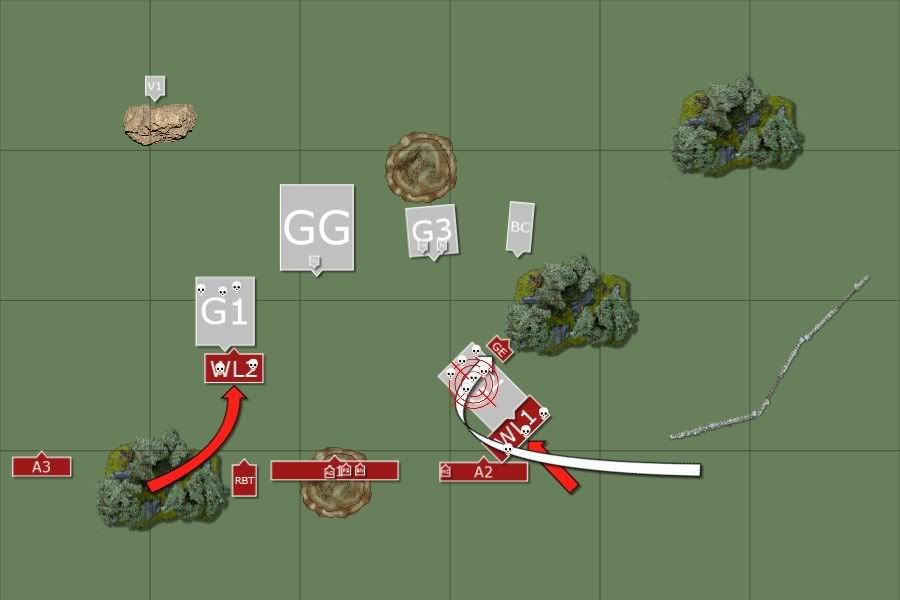 :: Vampire Counts Turn 2 ::
He charges the Eagle with his Black Coach. Being 12.5" away from Saerith and Naenor, I promptly fail the Terror test and flee. Come on already! His Coach redirects into the Lions' flank. His Varghulf and Lord with Grave Guard charge the White Lions in the middle...
Magic sees a poor roll again leave him with a 5v3 phase. He starts off with a 2 die IF Vanhel's on the ghouls fighting my larger Lions (the only Lions with a chance at surviving, if I'm lucky). The resulting miscast drains the rest of his phase and kills a couple of ghouls around the necromancer.
In combat my White Lions have 3 models in base contact with his Lord and manage to put 3 wounds past his armour save (which was non-existant, save for a charmed shield which blocked 1 hit). He saves 1 of them on a 4+ ward, leaving him on 1W! In retaliation, he reveals his insane CC potential by single-handedly killing like 11 Lions, destroying the unit on his own. The overrun is 8" - leaving them just ahead of my Archers (he started 24" and a bit away and had now made 3x 8" moves). The Varghulf reforms to face the Archers as well, with the Ghouls overrunning towards the repeater.
The other combat sees his Coach fail a dangerous terrain test, and receive 1W for its troubles (he saved 3 out of 4 on a 4+ ward save). The Lions are reduced to 8 Elves but manage to put a couple of wounds on the Ghouls, his Vanhels hurting me. I hold on stubborn (thank you very much!).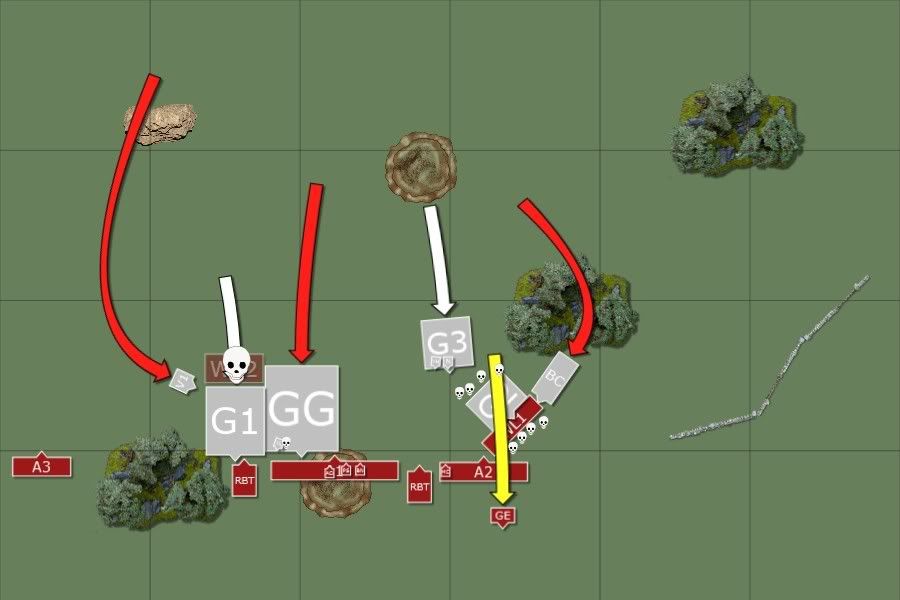 :: High Elves Turn 2 ::
I immediately realize that I just might have a chance at this game. I charge the big Archers, with an Archmage, a Prince and the BSB into his Grave Guard. The left Archers wheel to be able to target his Ghouls in front of my Repeaters.
Flames drops 10 Ghouls, leaving him with only a few left before combat. Magic is huge as I get 12v6 dice, after his coach ate 1 dice (I used BoS after it had eaten and got a 3 - winds were 6+4). I decide that I need to draw him out on a Vaul's, as his lord won't last 2 seconds without his ward. I start off with a 3D6 Vaul's, scoring 9. He dispels with 3 dice on a good roll, and I'm good to go.
The result is this: his Grave Guard are -3WS, -3T, my Archers are 5+ Ward, his Hero bunker lost a couple to ring of fury. Olannon is swapped with Cael due to Shadow Lore attribute. In hindsight, I believe I might should have played this differently. The strategy I used was as follows (number is for # of D6 used):
3 Vaul's, 2 miasma, 2 shield, 1 fury, 4 withering
I could've opted for:
3 Vaul's, 4 withering, 3 Flames (on Grave Guard), 2 shield
He spent all his dice trying to dispel Withering, which I saved for last. This trickle allowed so many spells to stack up meanwhile, just wonderful! The reason I went for what I did was this: with the withering failing to cast or being dispelled, I would've been unable to swap out my Archmage safely with a good strategy. Having 3D6 left, I went for the safe option since we wasted 3v3 anyways.
Shooting did nothing major.
Combat - the Lions crush the Ghouls and the Coach dies to combat resolution, its ward save negated by the special undead rule. The central combat, I believe I asked him for challenges but he had none. I had none either, and proceeded to Make Way! both fighty characters against his Lord (as neither were engaged). In the middle of it, he called out a challenge with his Lord and I forgot that I specifically asked him if he wanted to challenge and accepted with my Prince. Normally, you can't challenge after Make Way! and I'm not sure he saw this coming. Regardless, we ended up in a challenge. Saerith scored 3 hits due to his -3WS. All 3 wounded, and he rolled his three 4+ ward saves. The first 2 came up a 4 and a 6, the last spinning dramatically only to come down a 3 after a couple of seconds which felt like forever. Wuzzah! The rest of the combat saw my characters evade killing blow (he directed too few attacks against them) and when I hit him (actually this happened first, of course, as I have ASF) on his -3T my Archers proved to be solid. Despite of miasma, his Hero's Commandment Helm gave him WS6. I don't know if this is how it works when these 2 combine, but that's how we played it. I killed a lot of his Grave Guard, the Archers taking only a handful in return. I win by 5 and he loses a few.
Crumble rolls sees his army begin to evaporate, and I'm feeling confident I should be able to pull this through!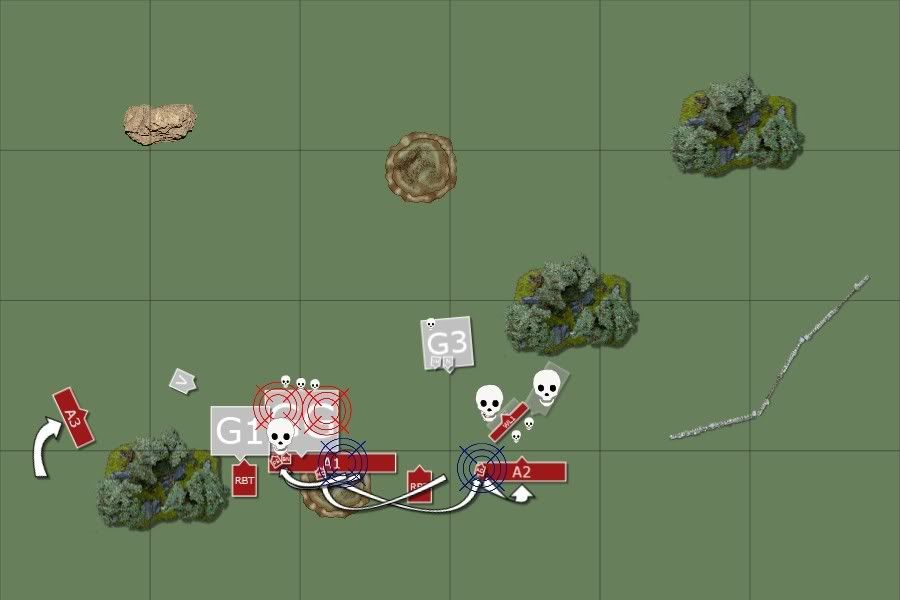 :: Vampire Counts Turn 3 ::
Crumble time again and a few more models drop!
He realizes that a last effort to kill off my main unit with characters can see him win, despite his general dying. His Varghulf charges my Archers, his remaining Ghouls deciding the Repeater's had its share of fun this game (killing what? 2 models?).
Magic is 5v4 and he spends all his dice dispelling Withering.
Combat - the Varghulf only touches my Prince. Since this is the case, I issue a challenge with him. He refuses, which lets me put his Vamp hero at the rear rank where he can't butcher Elven Archers. The combat is a real nail-biter, as Saerith is brought down to 1W by the Grave Guard (no killing blow!) and the Varghulf had yet to attack. He scores 3 wounds on S5, the luckstone being gone. I save 2 of them on my (now) 4+ armour save, and Shield of Saphery helps me when I need it the most! Naenor bows down to a Grave Guard killing blow though. The resolution ends up being 14 v 14 exactly - a draw!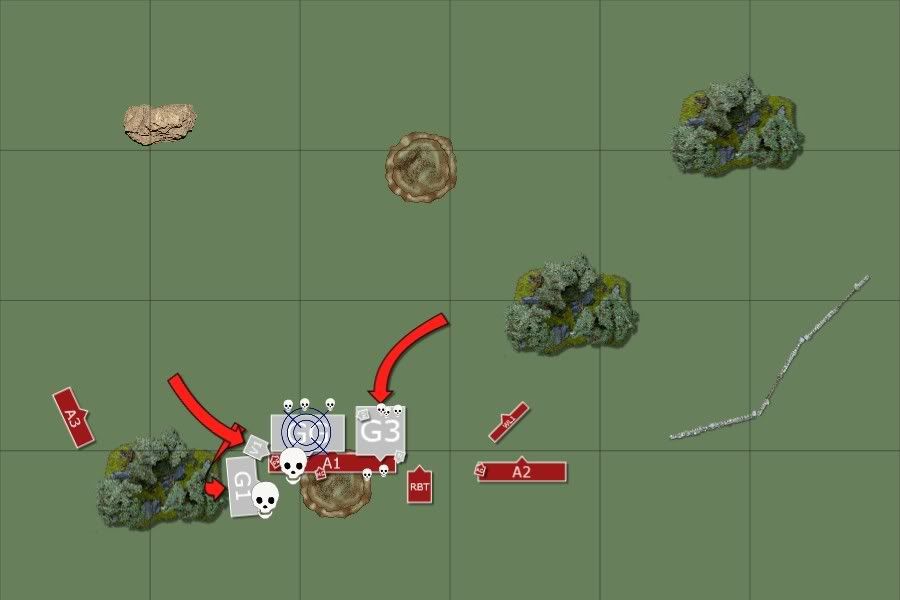 :: High Elves Turn 3 ::
My White Lions charge his small Ghouls in the flank and my Archers reposition should the fight drag on.
The magic phase sees me get a massive 12v4 - and at this point he concedes the game: the combat is looking hopeless (GG only 8 remaining, Ghouls 16 or so, the other Ghouls 11) and with all this magic and the clock being 22:30 we decide it's better to leave it at that: I have 30 Archers outside of the combat, along with a repeater and full 3W Archmage. My mages are both alive and the shadow one could've swapped Searith out of base-to-base to keep him alive. It might've been worth shot but overall he would've been extremely lucky to even grab a draw from this situation.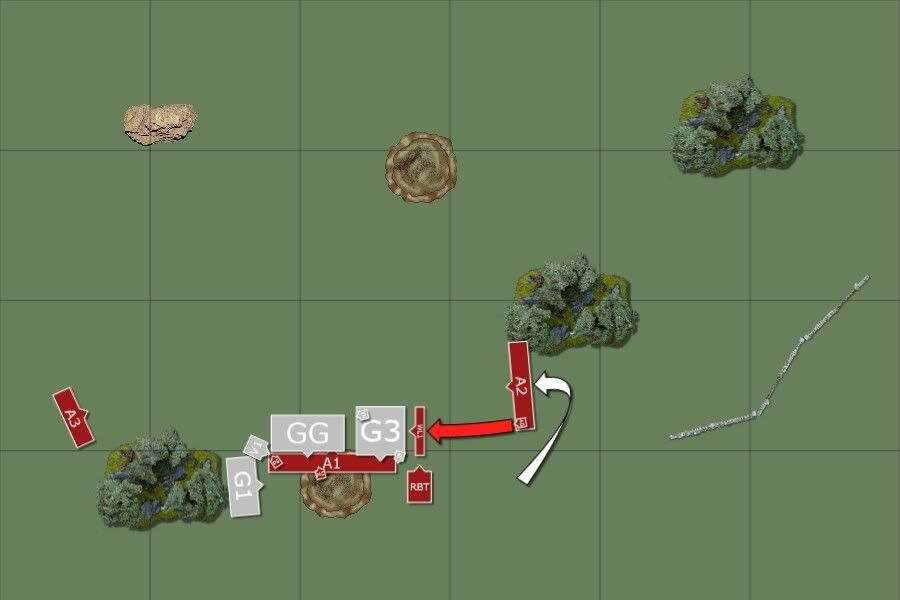 :: Victory Points ::
As he conceded it's a clear
massacre to the High Elves!:: Evaluation ::
There's a lot of things to be said here. First, my deployment has hardly ever been this bad. Looking at the board, I'm unsure what I could've done differently. The woods and hills blocked LoS so badly and forced me to deploy offensively. Even still, I had really poor arcs of sight and my shooting was really limited (this was not just due to his speed). Suggestions on this part in particular would be welcomed! (I won the roll-off for table edge so could choose).
Vampire Counts are fast. This army can struggle with fast armies as its shooting advantage is reduced. Deployment probably needs to take this into consideration to create more favourable opportunities, instead of being forced to charge in with both melee-dedicated units on Turn 1.
The Shadow mage really performed well here, and I believe the Lore Attribute of Shadow is extremely versatile with my list as the characters need to be able to swap out frequently and safely. I was unable to get a proper withering + flames combo off, but this really requires a set of conditions to be met: most dominant magic phases (12vX) sees your opponent with enough dice to stop one of them if it's crucial. As for Mindrazor, I didn't miss it a bit.
The Archers performed really well. The Withering made them very very strong, although the -3T roll was lucky (as opposed to -1). With that said, they never got to do much shooting, partially because of my poor deployment, partially because of his speed.
The fighty characters did what they were meant to in combat - slicing and dicing apart rank and file. It's a pity I couldn't put their bows to better use.
Would more infantry have been better than the Prince? Maybe, but I doubt it. With that being said, this is one of the matchups where the Prince is probably not the best option. I see him as way more powerful vs Skaven (HPA, Doomwheel), Daemons (Juggernaut-ridden heralds, greater daemons), cavalry busses (hello T3 rank piercing no armour save dragon princes/cold ones/empire knights etc) and the likes.
A problem I find with this army is frontage. I tend to find that my units clutter up too much, the melee getting in the way of my shooting arcs etc. I guess this is something I need to work on. I would very much like your input with regards to this specific aspect.
As for Rusty, he made a few mistakes. Capitalizing on them allowed me to get back from a bad start, with a bit of luck and good magic results. First, his Vampire Lord was too vulnerable. Granted, he could kill 12-16 Elves per turn, easily, but as important as a general is to the Vampire Counts, this is too risky. Secondly, his careless positioning of the right Ghouls denied his Lord's Grave Guard to be Vanhelsed in Turn 1. This gave me the chance to engage him at my terms - maximizing the Archers against him while keeping the characters out (to allow Make Way!). Apart from this though, he played very well. I suppose in a lot of ways this game was pretty much point and click for him, seeing as he had units engaged so fast and magic was rather poor (not much prioritization to do).