.::. Battle Report - 2400 vs Ogre Kingdoms (ETC comp) .::.
My list:
Prince on Barded Steed, Heavy Armour, Enchanted Shield, Giant Blade, Dawnstone = 263
Loremaster, Book of Hoeth, Talisman of Preservation = 330
Noble BSB on Barded Steed, Star Lance, Dragonhelm, Golden Crown of Atrazar, Heavy Armour, Shield = 166
Mage, scroll = 110
Characters = 869
13 Silver Helms, Shields, Full Command = 329
5 Reavers, bows, muso = 95
5 Reavers, bows, muso = 95
5 Reavers, bows = 85
Core = 604
20 White Lions, FC, BOTWD = 340
20 PG, FC, Razor Standard = 375
Special = 715
3 RBT = 210
Rare = 210
Army Total = 2398
His list:
Bruiser General Crown of Command
Bruiser BSB Mawbanner
Firebelly L2 Scroll, Fire Ring
9 Ironguts, FC
3x10 Gnoblars
3 Ogres
8 Leadbelchers, musician, champion
7 Maneaters, brace of pistols, poison, stubborn, musician
3 Cats
2 Ironblasters
// Pre-battle thoughts and deployment //
I think this is one of the most disastrous matchups for HE to face. The list sports a number of drops for the OK player to completely outdeploy me, the shooting tears me apart and there are hardly any good targets to engage (the Leadbelchers are pretty much the only unit I want to fight).
My intention for this game was so have the PG central, WL hammering and SH wheeling wide around. Hopefully I`d be able to combo-charge to engage 1 unit while keeping the others away. His magic is super-poor but his shooting is super-strong, so I can`t win a ranged fight. Advancing on S4 armour piercing and 2 Ironblasters...
Magic - I auto-defaulted to Iceshard. No point doing anything else here in my opinion. He rolled up flame cage and a useless spell, swapping the latter for Fireball.
Horribly out-deployed. I didn`t realize how bad until later on. The main problem is the Silver Helms being utterly incapable of reaching meaningful combat due to Lake + Ruins + chaff. I rolled higher for first turn, luckily.
// HE T1 //
Full speed ahead on the Western flank. PG slower, Lions grab cover. Magic, I land debuffs on the Leadbelchers, but no scroll is drawn. He dispels Spirit Leech on an Ironblaster.
Shooting is miserable: the RBTs all have to fire on the same target to kill a single cat. Reavers do nothing.
// OK T1 //
Maneaters start walking up with Ironguts nearby (BSB with Maw with Maneaters). Chaff on the West getting into position. Magic is big and I have to let 2 Fireballs through which kill off one unit of Reavers (3 panic tests without Lord or BSB, all passed luckily). I stop flame cage. Poor decision on my part to leave the Reavers exposed like that: there`s nothing of value in the East and the RBTs will quickly face Ironblaster-death regardless.
Shooting: 2 Ironblasters fire, one kills an RBT, the other misfires and is unable to fire for this turn and the next. Maneaters kill an RBT. Leadbelchers roll a ridiculous amount of shots and despite needing 6`s back to back to hit they manage to kill one Lion.
// HE T2 //
I swift reform Silver Helms and manage to slip past the Gnoblars, for now. I place PG for a tempting charge from his Ironguts (needing 5 or 6), intending to flee. This is a move purely to buy the assault on the Leadbelchers some more time without expending Reavers, of which only 2 units are left. One moves West, the other East. Lions move up hard, outside of Ironguts` charge arc.
Magic: I catch a lucky break as I start off with a Spirit Leech on the Ironblaster which can shoot this turn. He decides to take it and I roll a 6 to his 1. He dispels the rest. Shooting: RBT does nothing.
// OK T2 //
Big mistake revealed as the Gnoblars simply reform to block my Helms. Leadbelchers move further back and other Gnoblars block Lions. A cat charges East Reavers. Ironguts charge PG, who flee. However I roll a miserable 3 and he needs an 8 to catch me. Luckily he fails and stumbles ahead a couple of inches. Magic sees him land Flame Cage on the PG: with them fleeing and the Western situation pressured so badly, I decide not to scroll it. Hopefully I can keep retreating tactically with them for the rest of the game and the 4++ should be enough to see them get to safety.
Shooting is a lot worse with his Leadies hitting on 4`s, but Lion Cloaks help quite a bit and I have roughly half the unit remaining at the very least. Maneaters blast away at PG who are now far below fighting strength.
Combat sees Reavers beat the cat. He runs, I pursue but fail to catch. Gnoblars fail panic test and run as well.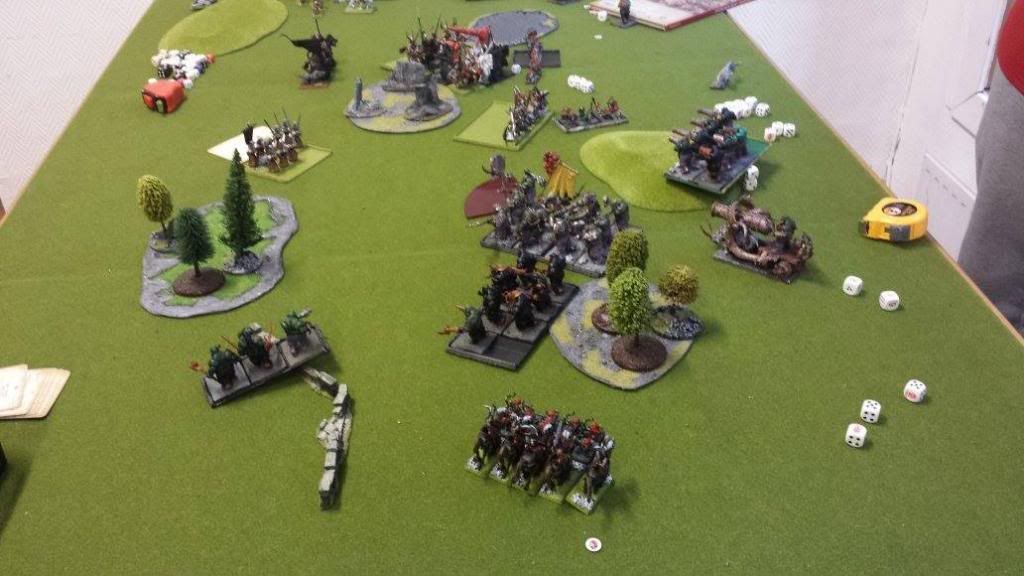 // HE T3 //
The situation is becoming very desperate. The Prince needs a 10 overrun from the Gnoblars to reach the Leadbelchers. I decide to make the charge but I charge the Lions in as well. Big mistake: if the unit is not destroyed completely the Prince is shuffled towards the front rank (he was 2 wide) and thus an overrun would be impossible. Reavers move up on both sides. Silver Helms reform to get out of ruins. PG rally and take casualties from Flame Cage. I face them away, intending to keep on running.
Magic sees the scroll come out finally. I think I landed a couple of debuffs on the Leadbelchers still. Shooting finally sees the RBT prove its worth as it combines with the Reavers to JUST cause a panic test, which sees the Gnoblars flee.
Combat: I kill 9/10 Gnoblars... This shuffles my Prince after the last one. He fails his break test and I pursue away from the Lions. NOT what I was intending...
// OK T3 //
Ironguts reform and go 4-wide towards my aggression. Leadbelchers move behind. Ironblaster lines up Prince. Maneaters go after PG. Gnoblars on the East rally, cat keeps fleeing.
Magic sees him fail to cast anything on low winds. Shooting...
Leadbelchers kill a couple of Lions and it`s now an interesting matchup between them: basic Ogres can still hurt our Elves a lot! The Ironblaster however misfires (thank you very much) and loses its ability to shoot. Prince intact!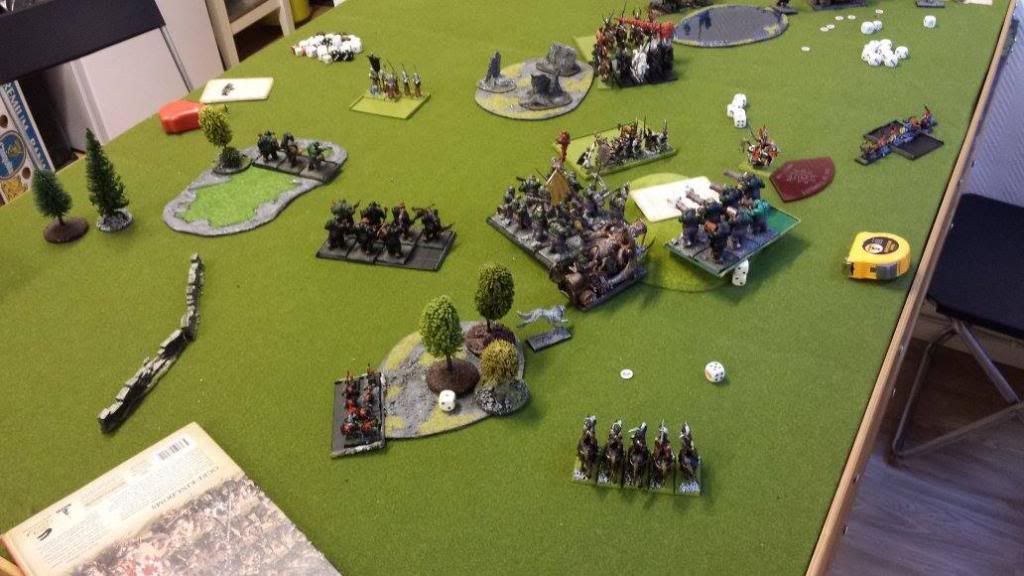 // HE T4 //
I take a lot of time to contemplate what to do here. In the end I decide to yet again go for the risky play in hopes of getting a decent-ish result: The Prince acts as the most expensive roadblock in history as he goes next to the Ironguts. WL front-charge Leadbelchers and Reavers flank them, after sending a cat fleeing first in the direction of the Maneaters (it lands right in front of them). Silver Helms and BSB move up with an angle that sees them able to charge both the Leadbelchers and the Ironguts.
Magic is low, but luckily I channel. I manage Miasma WS, but roll a `1` so he still hits Reavers and mage on 4s. I get Earthblood on Lions but he dispels Iceshard (I only had 5PD here so power of the Book people!). Shooting sees RBT put a single wound on Ironguts (single bolt, was hoping to get lucky here which could help my Prince a lot.
Combat: I fluff horribly and actually lose to the Leadbelchers. Reavers run and Lions barely hold due to LD10. Wow.
// OK T4 //
Yet another mistake revealed: Ironguts have a flank charge on the Prince. He makes it and Ironblaster charges WL. Cat rallies and blocks Maneters. Magic sees me stop his one cast. Shooting: can`t remember, probably not important.
In combat the roles are reversed: with barely a handful of Lions left I score more wounds than I did last phase and he fluffs a LOT. 1 Lion (!!!) is left and I`m stubborn. I hold. However the other combat is where interesting things happen: he Makes Way! with both BSB and General to get higher strength impact hits on the Prince. I challenge, he declines. I move General to the back and manage to kill the BSB outright! He scores 1W, which means I lose by 2. Hold due to BSB.
// HE T5 //
Silver Helms charge Leadbelchers: with the Mawbanner gone I think the Prince is fine on his own. I need to kill the Leadbelchers and free up that space before the Loremaster gets in trouble. Magic is low, but again I channel which is crucial. I start with 2D6 Earthblood, getting 5+1, book making it 5+6! With only 3 dispel dice he lets it go and Prince is back on 3W. He dispels Iceshard on the Ironguts but second cast goes through! 6`s to hit the Prince, yes please
In combat the Silver Helms show that they actually can do some damage: Ogres are pretty good targets for ASF S5 attacks and the Leadbelchers lose like 10 wounds or so, left with only the champion on 1W. He kills the mage and Lions but fails both break tests. I pursue Leadbelchers with both units to get Loremaster away from Maneaters and catch them. BSB within range of Prince since I pursued with Loremaster first.
The Prince duly thanks the Loremaster for his aid and I kill the Firebelly this time around! In return he fails to wound me, which means I actually win combat. He is steadfast, but is lacking his BSB. A roll of `9` sees him relieved because of Banner of Discipline, but Iceshard is -1 to LD as well and he breakes. Prince catches them and a massive amount of points fall into my lap.
Apologies, no picture :/
He tries to charge PG but fails to reach. I block Maneaters with Reavers, chase Ironblaster off the table and preserve Loremaster + Prince. Counting up points I`m 1258 ahead, a comfortable
18-2 win to the High Elves!// Evaluation //
I don`t even want to start counting mistakes in this game. On both sides, they were plentiful and affected the game greatly. This is a bad, because it makes it very hard for me to properly evaluate the matchup.
Anyways, let`s start:
Deployment-wise was a big bummer for me. I`m sure I could`ve find a way that would`ve made it easier for me to advance with the SHelms. Also, early game move of Reavers was really bad: these should be as close as possible to the Helms to help clear the way. Also, they`re the only good target for Fireball AND I need their chaffing abilities mid-game when my aggression hits home. Big advantage OK with the refused flank...
...However, despite everything that happened I believe OK would`ve won if he had simply swapped places with Maneaters and Leadbelchers. I don`t know why he didn`t place the WS4 S5 stubborn Maneaters on the refused flank and having the Leadbelchers wheel around! Furthermore, with the Maw banner on this unit T1 and maybe T2 I couldn`t have dropped his BS with Iceshard.
Early turns I started blasting away at chaff but I couldn`t roll the numbers I needed to clear it quick enough. Getting angles with the Loremaster was also hard and winds weren`t high enough to let me both debuff shooters and throw missiles at chaff. Well I could`ve but I opted to SL the IB instead, which I got lucky with (tbh I was hoping to draw dice or even a scroll).
The T2 Silver Helms move was pretty bad. Largely a result of my deployment, but I could`ve looked for better solutions. I was so pre-occupied with the fact that he didn`t have a musician that I didn`t consider a normal reform to 1-rank wide blocking me out. His T2 Ironguts move was also unnecessary in my opinion: with the Maneaters on the flank there`s no way my PG can do any harm here. I would`ve simply reformed the guts around now and ignored the PG.
T3 WLs charging Gnoblars - no comment. With their lousy LD I could`ve simply charged with the Prince in the flank alone and he would`ve needed snake eyes to hold.
The Prince getting flanked, no comment: I haven`t used Eagles in a while and with Reavers you pretty much always get a front. However the single biggest mistake of the game was making way with the BSB + General to get stronger impact hits on the Prince, no doubt. This allowed me to go from what would likely have been a minor defeat (see below) to a huge win. Last game I tried a gambler`s move like this, it failed. This game it most certainly did not.
// The Prince & Guts situation //
Let`s assume that the Prince would`ve held for 2 combat turns, a reasonable assumption given his inability to put more than 1W on me in the first round and me having such a strong Lifebloom cast in the next combat round. I would`ve killed the Firebelly and Leadbelchers, but the Guts (+banner), BSB + General (+bonuses) and Ironblaster would be intact. I believe I could`ve secured the Loremaster regardless. I won by ~1250 points. The gutstar is roughly 475 with bonus, General 250, BSB 250. The Prince is ~350 with bonus. So adding these numbers together, we`re looking at a difference of 1325 points, which would mean a 10-10 tie.
Of course mistakes happen in every game, so I can`t just dismiss the analysis on the basis of this game having "too many". I think this last paragraph is the closest I can get to a "reasonable" evaluation though, which shows that the matchup might not be as critically bad as I feel it is.
Thanks for reading, C&C appreciated