Okay, I played a game against a buddy of mine the other day. 2500pts High Elves vs Lizardmen. I decided to go with an army build I don't usually use to just give it a try.
High Elves
Lords
Prince (Blade of Leaping Gold, Talisman of Endurance, Lion Cloak, Heavy Armor, Shield)
Griffon (Swiftsense, Swooping Strike)
Heroes
Dragon Mage of Caledor (Dragon Armor, Dispel Scroll, Khaine's Ring of Fury)
Noble BSB (Star Lance, Spellshield, Dragon Armor)
Core
15 Archers
15 Archers
15 Archers
6 Silver Helms (Shields, High Helm, Standard)
Special
11 Dragon Princes of Caledor (Sword of Anti-Heroes, War Banner, FC)
Rare
Bolt Thrower
Bolt Thrower
Frostheart Phoenix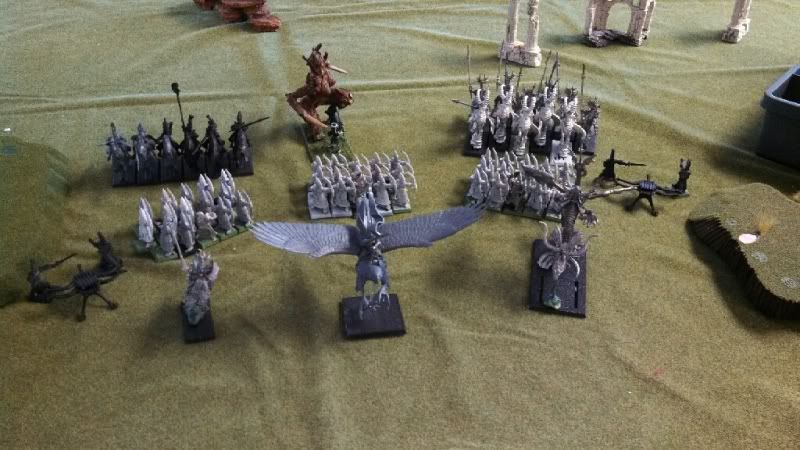 Lizardmen
Lords
Slann Mage-Priest (Cube of Darkness, Ironcurse Icon, Harmonic Convergence, Becalming Cogitation)
Saurus Old Blood (Light Armor, Shield, Ogre Blade, Sacred Stegadon Helm of Itza)
Heroes
Skink Priest (Dispel Scroll)
Gor-Rok
Saurus Scar Veteran (Great Weapon, Light Armor)
Saurus Scar Veteran BSB (Light Armor, Extra Hand Weapon)
Oxyotl
Core
29 Saurus (FC, Spears)
10 Skink Skirmishers (Javelin+Shield)
10 Skink Skirmishers (Javelin+Shield)
10 Skink Skirmishers (Javelin+Shield)
10 Skink Skirmishers (Javelin+Shield)
Special
20 Temple Guard (Halberds, FC, Jaguar Standard, Shield)
10 Chameleon Skins
Bastilidon (Solar Engine)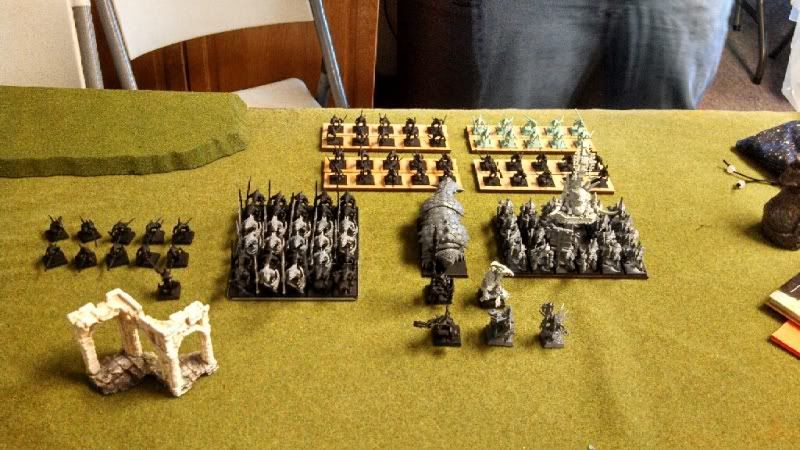 Magic
Dragon Mage - Piercing Bolts of Burning, Fireball
Slann - Wyssans, Savage Beast, Curse of Anraheir, Flock of Doom
Skink - Chain Lightning
Deployment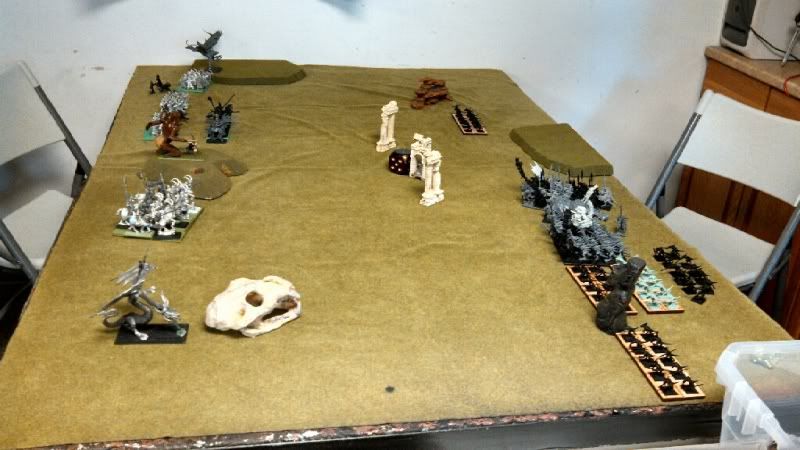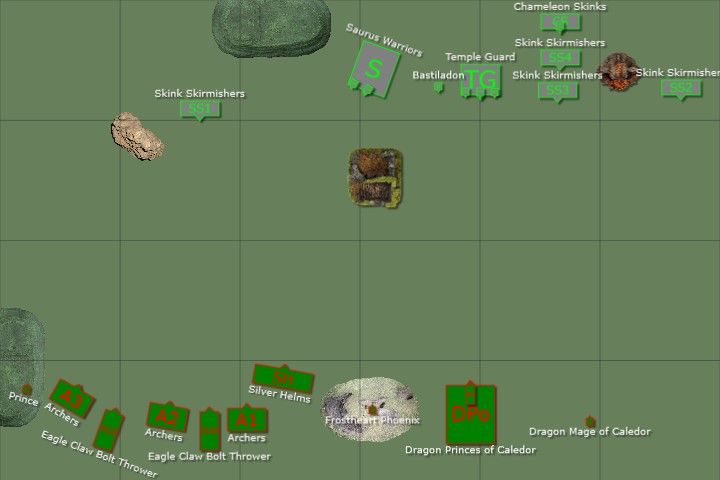 So my goal originally here was to lure him to face off against my shooting and put my fast movers on a flank to go around them. For some reason that escapes me at this moment I stuck to that rather then committing everyone to the left when I saw he was deploying as far away as possible. This was a less then stellar decision on my part, but I held out hope that maybe I could break through and get into his back field. I won the roll and let the Lizards go first to let them come to me.
Lizardmen Turn 1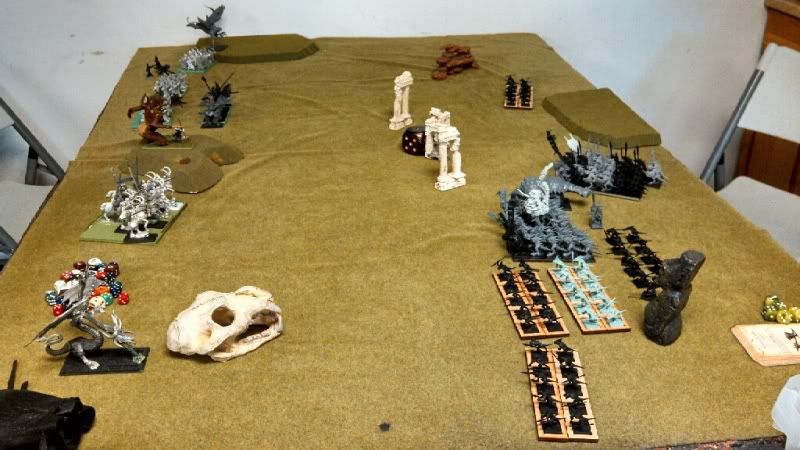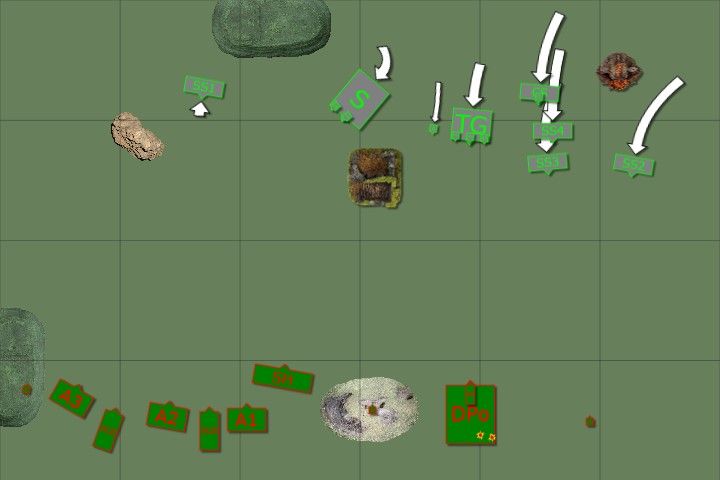 The Lizards advance, except for the lone skinks that fall back to try and get out of bow range. Magic phase is weak I attempt and fail to dispel chain lighting which kills a Dragon Prince, and Flock of Doom kills another.
High Elf Turn 1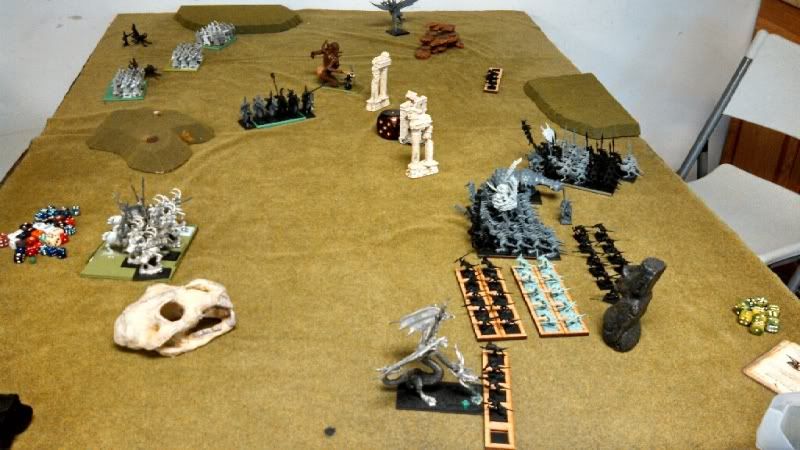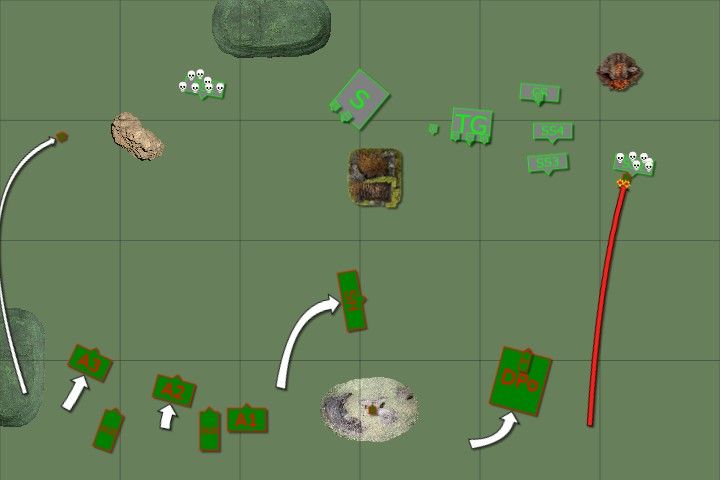 The Dragon Mage charges the closest skinks to try and break them and push on into the back field, his dragon taking 2 wounds from stand and shoot, while the Dragon Princes take up position to charge any of the Lizard units the following turn. As my mage is in combat the magic phase is uneventful. The archers all shoot up the skinks on the left flank, killing 7 of them. In combat the DM and his Sun Dragon kill 6 skinks, but he holds on double 1s, and my heart sinks.
Lizardmen Turn 2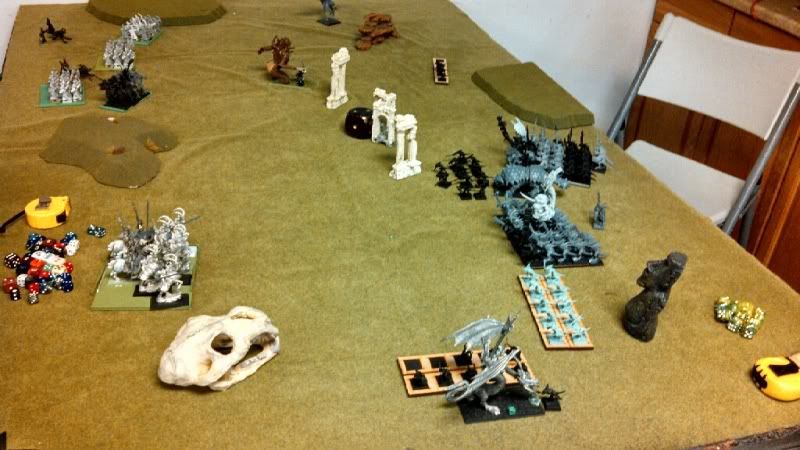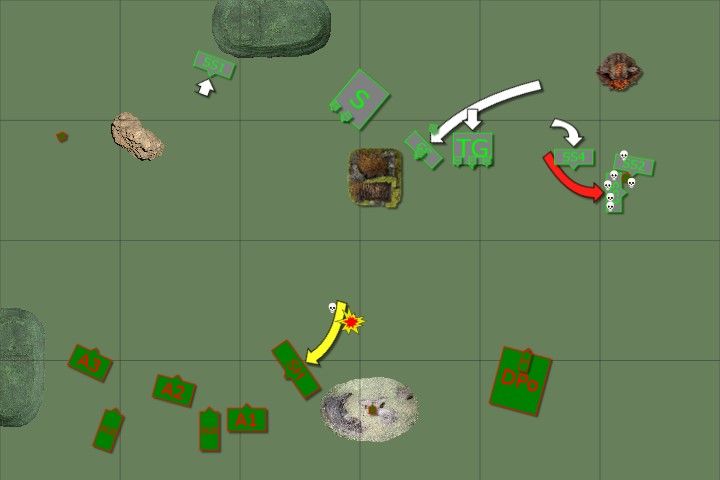 Skinks charge into the Dragon Mage. Magic proves uneventful as I dispel chain lightning, then the Slann fails to muster enough power to cast Wyssans on the skinks. The engine of the gods opens fire on the silver helms killing 2 of them, and they break rolling an 11. His attempts at shooting my phoenix (who is in the wrong place in the BC photo) amount to nothing. In combat the DM desperately tries to free himself by using the breath weapon, but I get double 1 and kill a single skink with it. The mage kills another, and the dragon kills 3 more, while the dragon takes a wound.
High Elf 2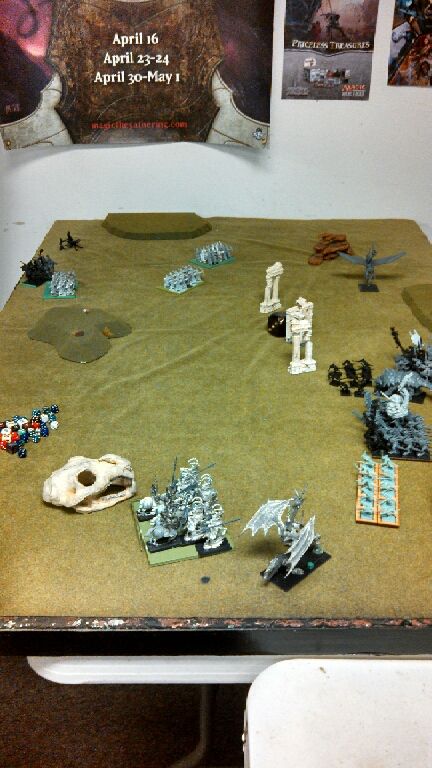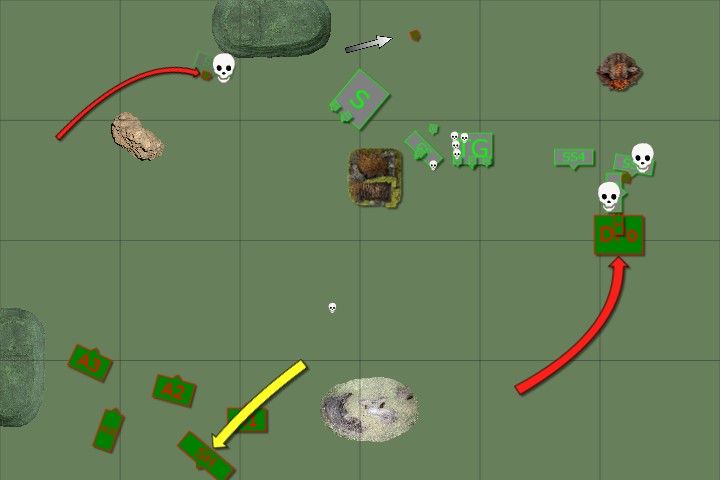 The Dragon Princes charge the skinks to try and free up my Dragon Mage. The Prince charges the skinks. Silverhelms fail to rally fleeing through my archers and Bolt Thrower. The bolt thrower panics and flees off the table. The archers manage to kill a single chameleon skink. Bolt thrower pierces through 4 ranks of TG! (Never happens). In combat the Dragon Mage and Dragon Princes crush the skinks and for some reaon I make a huge blunder and don't overrun with the Dragon Princes. This blunder ends up being momentous. I think I didn't think of it at the time because the Mage couldn't overrun. *sigh* The prince easily destroys the skinks and reforms to move onward.
Lizardmen Turn 3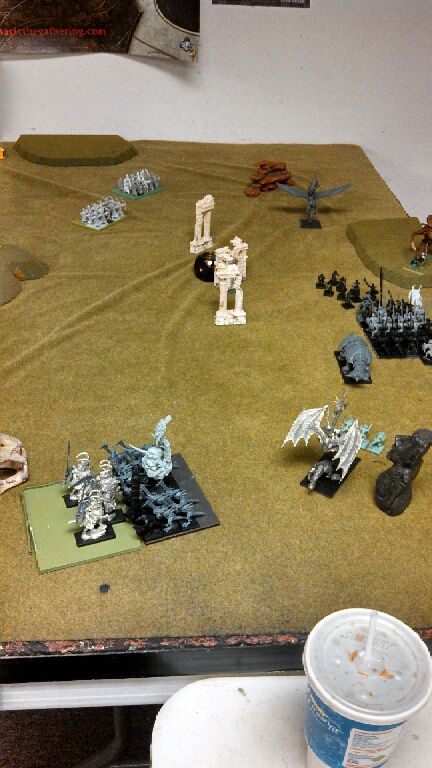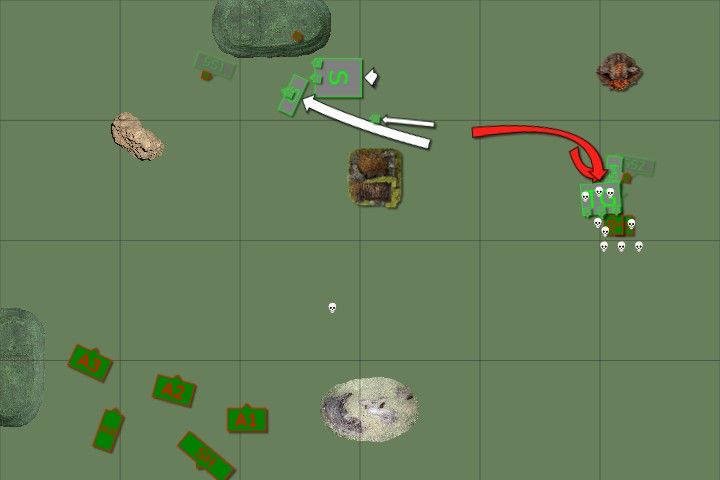 Temple Guard charge the Dragon Princes and Skinks charge the Dragon Mage. While Saurus and Chameleons move to intercept the Prince and phoenix. I use a Dispel scroll on Curse targeting my Dragon Princes, and I dispel Wyssans. The engine of the gods fails to cast. The Chameleons manage to put 2 wounds on the phoenix. The Mage and his Dragon kill 7 skinks and breaks them (not shown in BC, still working on using that program effectively), fails to run them down. Drakemaster declares a challenge that is accepted by the Temple Guard champion. Drakemaster slays him with 1 overkill. The Noble and Dragon Princes only inflict 2 wounds on the Temple Guard who inflict 6 total in return. The Dragon Princes hold on a 5 (just making it!).
High Elf Turn 3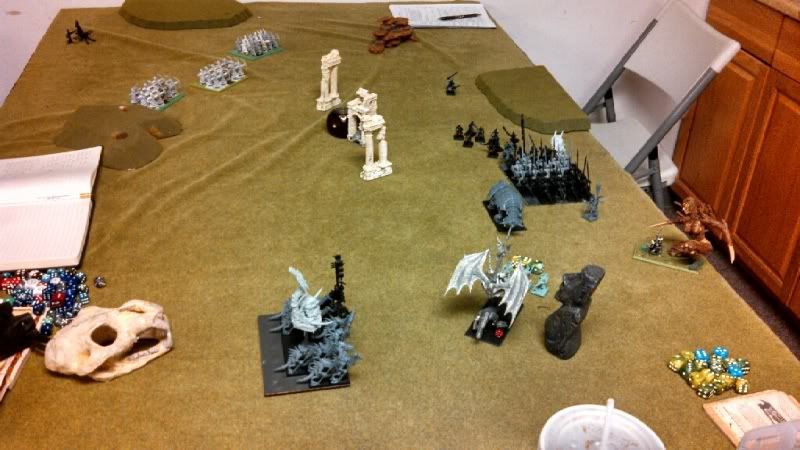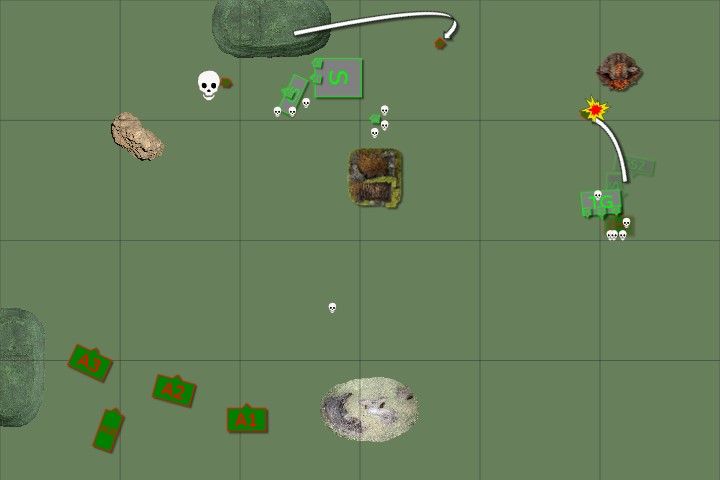 Silverhelms flee off the table, rolling box cars. Prince charges the chameleons who kill his Griffon out from under him on stand and shoot, so he fails his charge. Dragon mage finally gets to cast some spells, he casts piercing bolts of burning with irresistible force, killing 2 Saurus, and doing a wound to the dragon and himself. Having lost almost all his dice he tries to cast fireball and fails. The archers manage to pick of 3 chameleon skinks. The bolt thrower puts a single bolt into the Bastilidon doing 3 wounds. Drakemaster issues another challenge that is accepted by the Old Blood. Drakemaster does 1 wound, and is then cut down mercilessly. Dragon Princes and noble kill 1 more temple guard before they are wiped out to a man, and the temple guard reform.
Lizardmen Turn 4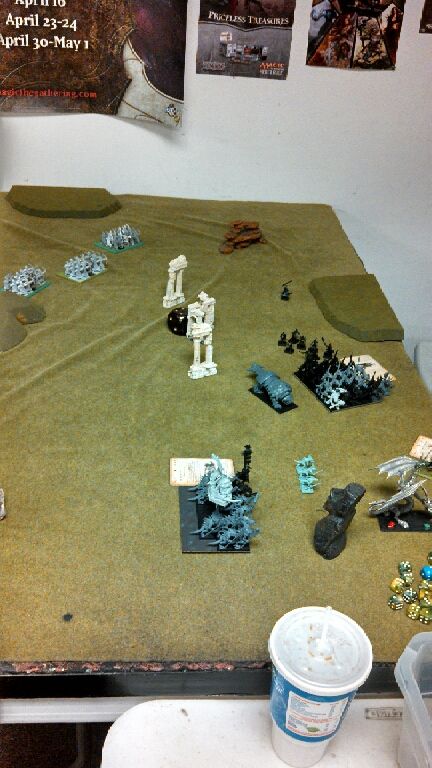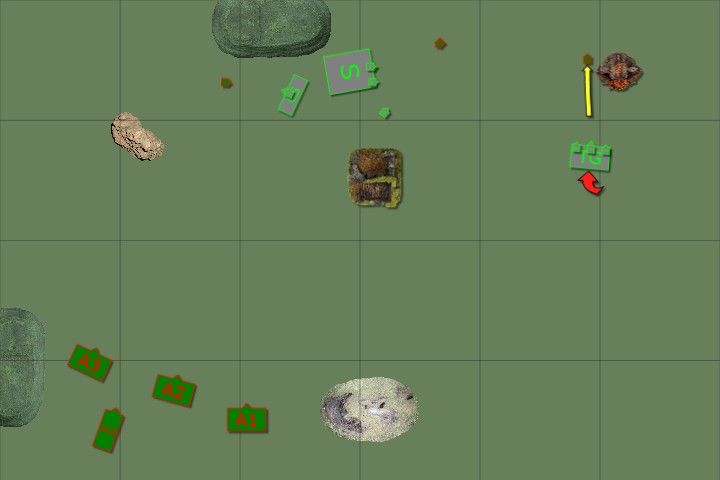 Temple Guard charge the Dragon Mage who flees, thankfully not off the table, and the temple guard don't catch him. The 3 remaining skinks rally (Not shown on BC, SORRY!). Slann gets off Wyssans on the Saurus, Savage Beast on his Old Blood, and Curse on the Phoenix. Chameleons shoot the prince, but his Lion Cloak protects him.
High Elf Turn 4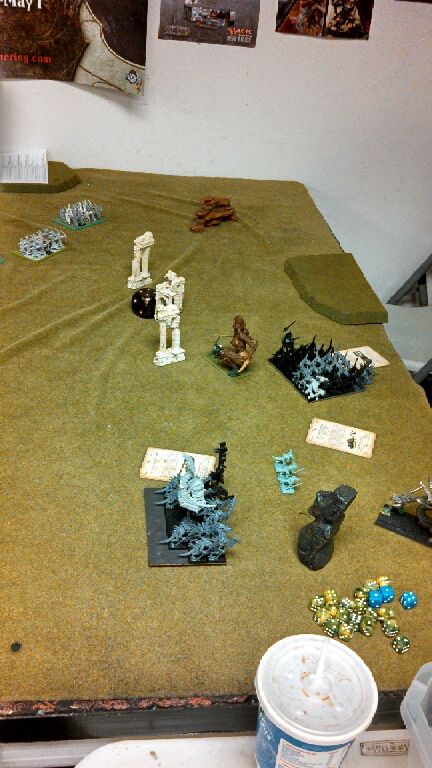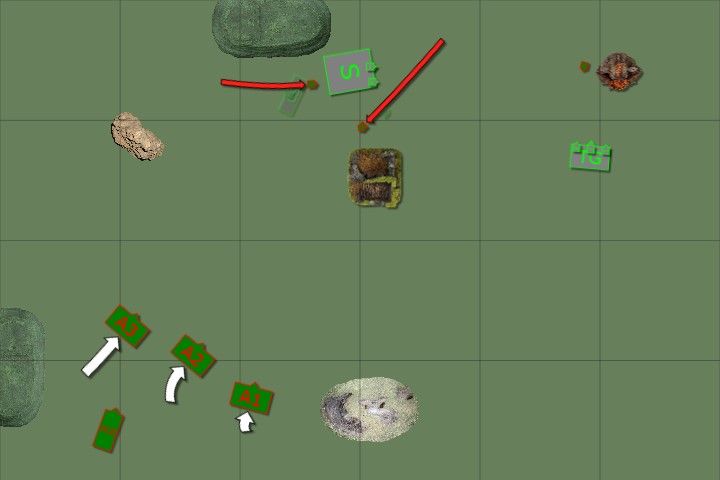 Prince charges the Chameleon skinks. Phoenix charges the Bastilidon. My fireball is dispel scrolled and I fail to cast piercing bolts. My shooting proves completely ineffective (T5 Saurus, ugh). In combat the prince slays 3 skinks, takes a single wound, breaks them and he runs them down JUST falling short of overrunning in to the rear of the Saurus. The Phoenix takes out the Bastilidon and overruns to get out of Saurus charge arc.
Lizardmen Turn 5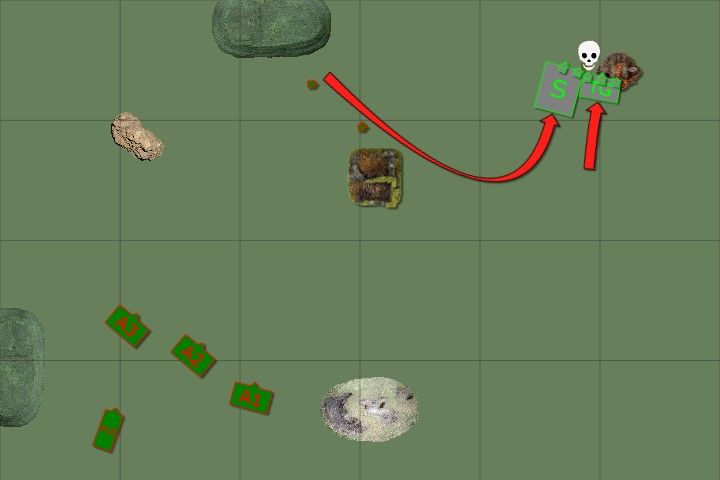 Temple Guard and Saurus charge the Dragon Mage. I fail to dispel Wyssans, he puts the curse on my prince, and savage beast on his old blood. The Old blood and scar vet slay the dragon and mage.
High Elf Turn 5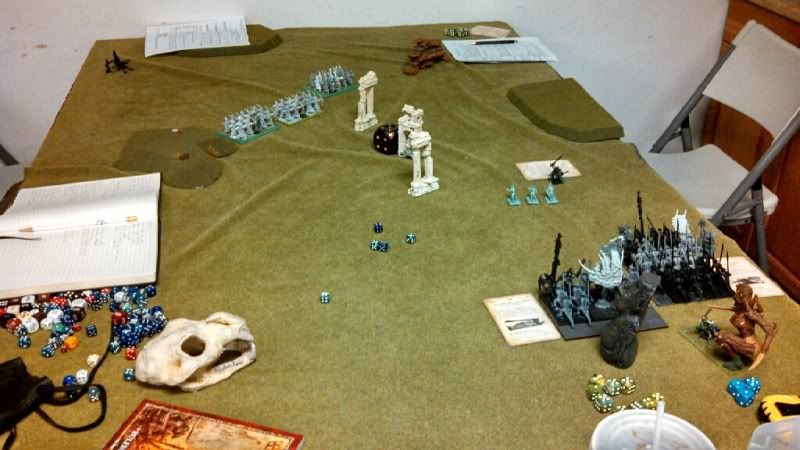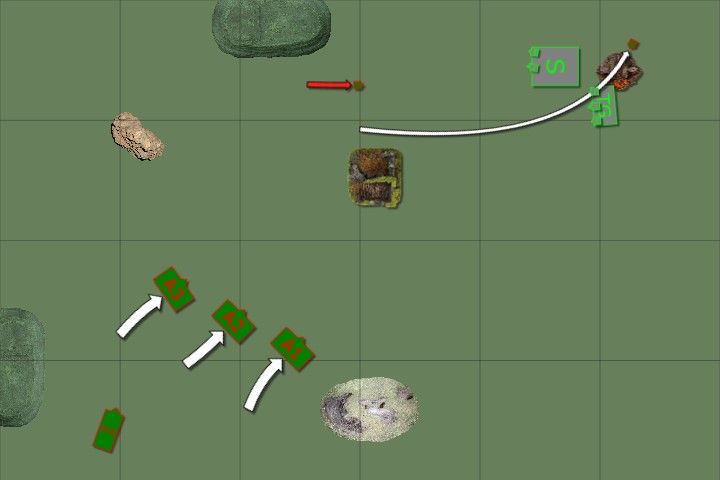 The Prince tries to charge the skink priest, and fails. The phoenix maneuvers behind enemy lines. I have no magic phase, and in the shooting my archers finish off the 3 skinks.
Lizardmen Turn 6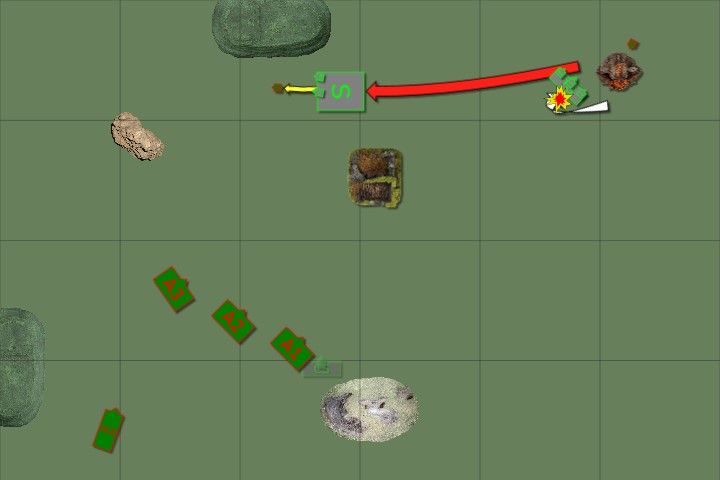 Temple Guard reform and Saurus charge the Prince. In the magic phase the Slann casts Curse on my prince with IF, he explodes killing 4 temple guard and doing a second wound to the old blood. The Prince challenges and it is accepted. Gor-Rok and the Prince square off and fail to do any damage to each other. Losing by ranks the prince flees, but the Lizardmen fail to catch him.
High Elf Turn 6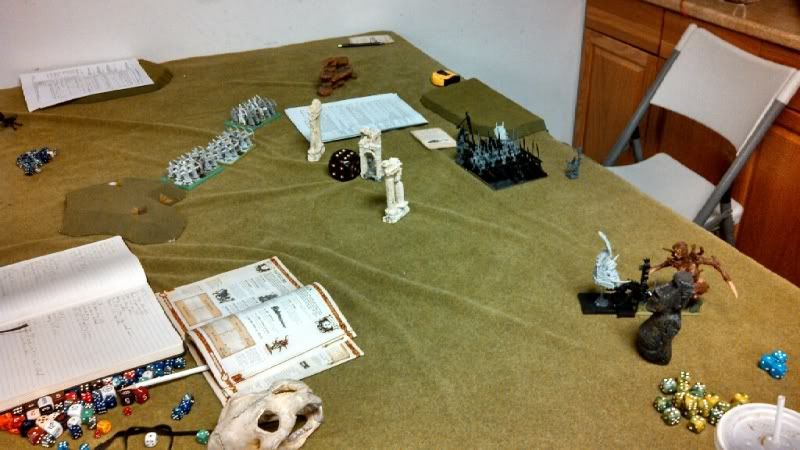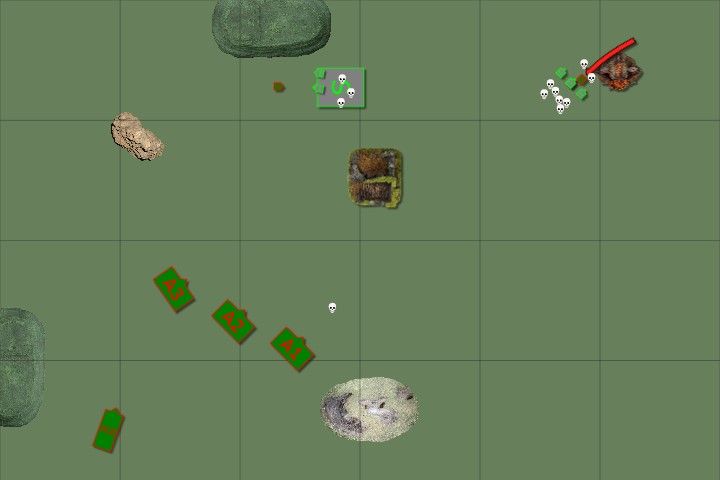 Prince rallies (Thank Asuryan!), and the Phoenix charges the temple guard. We unleash shooting killing 4 saurus, but not enough to make them even check to rally. The phoenix takes 2 wounds, but wipes out the temple guard leaving only characters behind.
Final Result
Lizardmen - 1382/ High Elves - 1115
So disappointing, but I really have only myself to blame. I made a mistake in deployment that I thought I could remedy, but when those skinks held after the Dragon Mage tore them up I knew it was going downhill, and it did. It ended up being close, but it should not have been. Over all I enjoyed the game. And I hope you guys enjoyed the report (My first ever, still working out the kinks). Any comments or critiques are welcome.