Managed to get another game in this weekend against my old double tournament partner. Lately he has been testing out a few different enjoyable styles of ogre lists and in past tournaments lately has had success with his MSU (not sure if it quit falls under MSU) style ogres. To explain some of the choices in his list is because he was practicing for a tournament using the Swedish comp system while I was practice for the tournament in September which has a basic comp system (basically similar to scgt).
Anyway I hope you all enjoy the following match.
His list:
Slaughter master lv4 death
Arabyan carpet, preservation and charmed shield
Butcher lv2 great maws
Scroll
Bruiser BSB
Iron fist and armour of destiny
6 Iron Guts, musician and champ
6 Iron Guts, musician and champ
7 Ogre Bulls, Full Command
6 Leadbelchers, musician
6 Maneaters, poison, sniper, brace and musician
2 sabretusks
2 sabretusks
Iron Blaster
My list (unchanged):
Archmage, Level 4 Wizard, Lore of Shadow on Barded Elven Steed
(AB) Book of Hoeth, (BRB) Talisman of Preservation
Prince , Dragon Armor, Barded Elven Steed
(BRB) Dawnstone , (BRB) Enchanted Shield , (BRB) Giant Blade
Noble, Battle Standard, Dragon Armor, Great Weapon, Barded Elven Stead
(AB) Golden Crown of Atrazar, (BRB) Dragonhelm
5 Ellyrian Reavers spears only
5 Ellyrian Reavers bows & spears
5 Ellyrian Reavers bows & spears
5 Ellyrian Reavers bows & spears
10 Silver Helm, Shields, FC
12 Dragon Princes, FC (BRB) BoWD
T Chariot
Eagle Claw Bolt Thrower
Eagle Claw Bolt Thrower
Flamespyre Phoenix
Frostheart Phoenix
Spells---
Slaughter master -
Fate, Caress, Soul blight
and I can't remember his fourth
Butcher -
Toothcracker and Trollguts
AM -
Enfeeble, Wither, Pit and Mindrazor
Deployment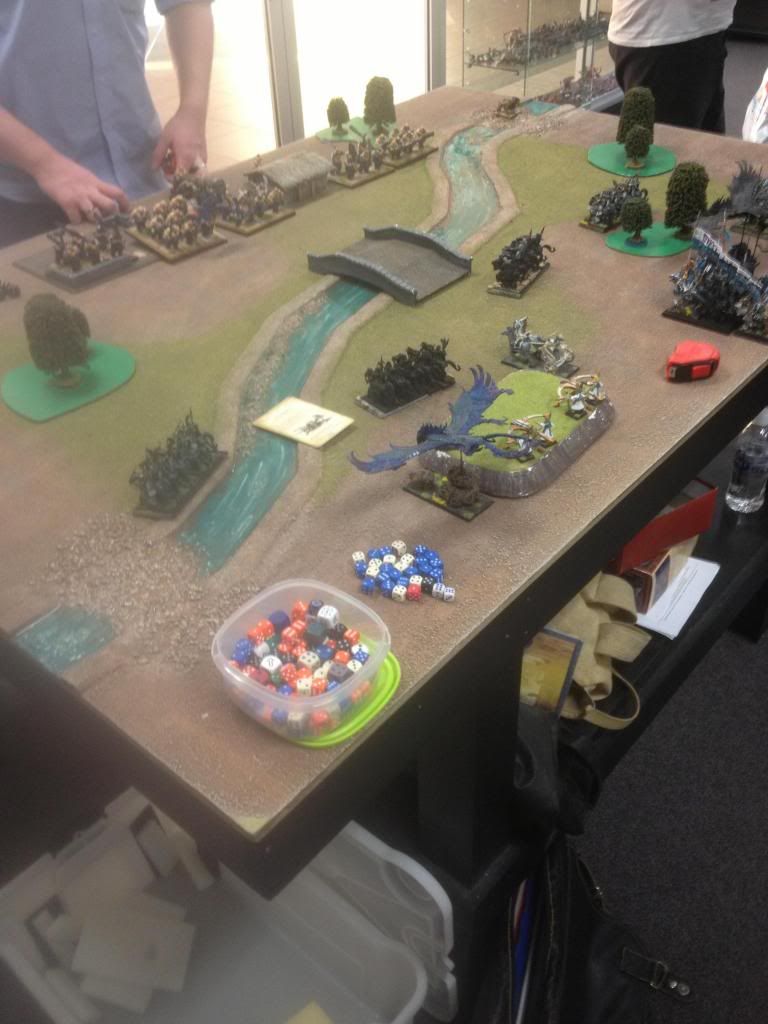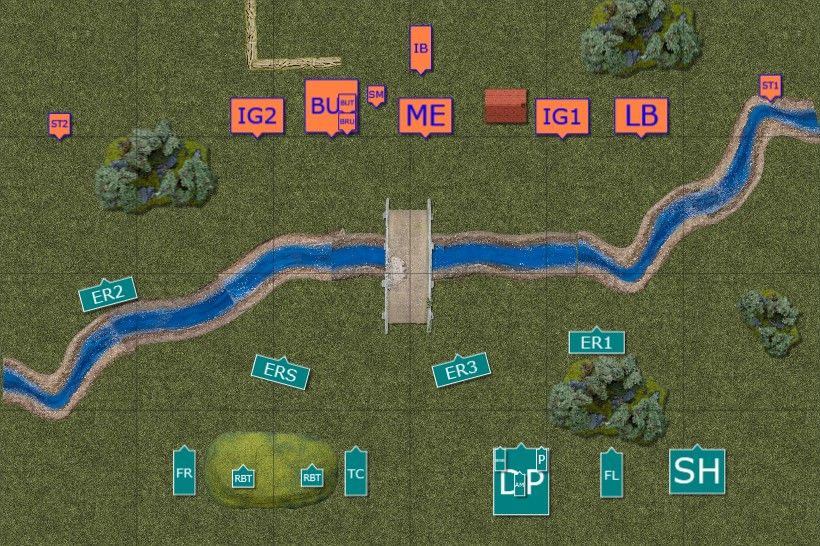 Was again another strong point of this game. I think I boxed my self up and placed the SHs way out of position, but I guess at least they drew gun fire away from the DPs. I don't really have an explanation for the deep deployment but I guess I was counting on him advancing and this would give me more time. With his MSU style list I at least new that my frost Phoenix and chariot could hold off his guts and bulls from the west.
Ogre turn one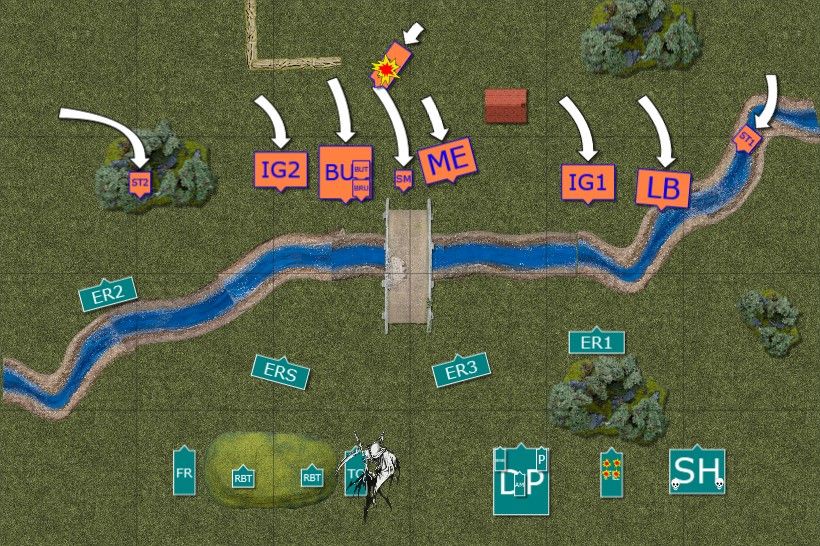 Movement: moves all units right to river edge. Sabres go into river to find out what it is....Neurotic Ooz, probably a good outcome for his leadies.
Magic: ( winds 12 v 6 ) : starts with regen on the bulls which I let him have. He then soul blights and caress the chariot doing 1 wound. I then stop a couple of other spells.
Shooting: man eaters leave the flame Phoenix on 1 wound and leadbelchers kill 2 SHs. Thankfully the cannon misfired and blew the barrel up.
Asur turn one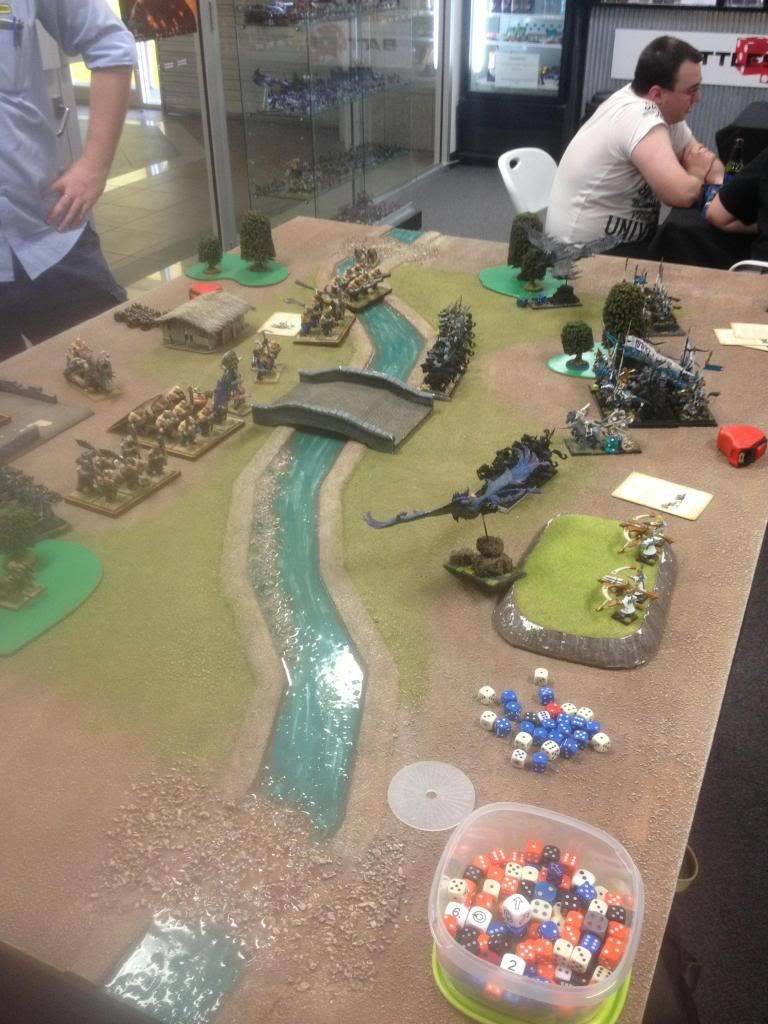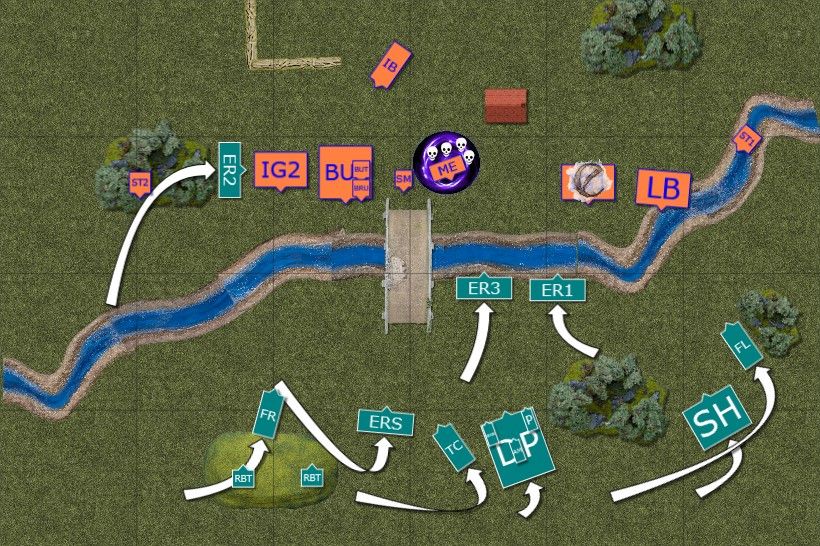 Movement: mostly conservative but a lack of concentration. Firstly I move the flamer and Helms to grab the focus of belchers however mistake 1) was placing them within 6" of each other. Western reavers move to flank of guts and the eastern reavers move to edge of river to hopefully put my opponent in two minds.
Magic: (winds 12v 6) I enfeeble the eastern guts but only roll a 1. He then dispels my attempt to wither his slaughter master, but I get lucky (new he had a scroll) and roll IF for pit killing 4 man eaters.
Shooting: I try a single bolts on his bull unit but booth miss. Reavers don't do much damage.
Ogre turn two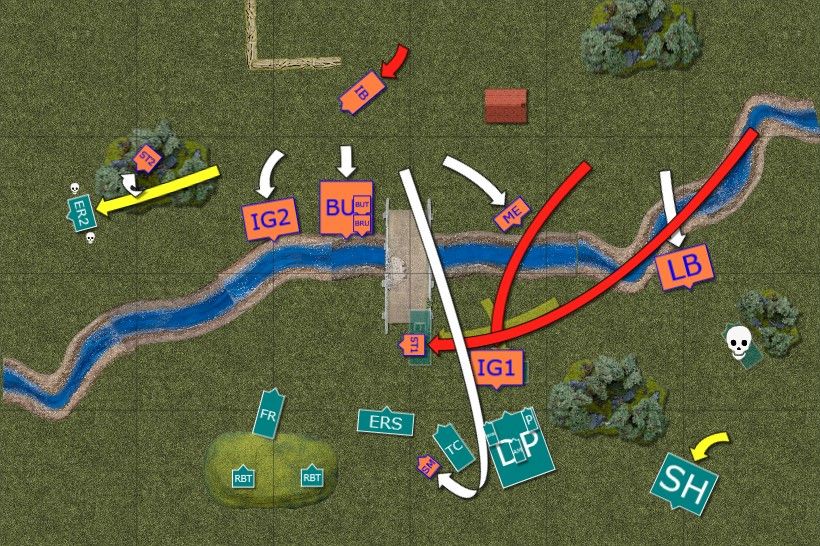 Movement: eastern dogs charge 1 unit of reavers and the guts charge the other, then blaster chargers western reavers(didn't even check this one, put that down as another error) which opt to flee loosing 2 because of dangerous terrain. Slaughter master works way into my deployment.
Magic: can't remember winds but the only spell he succeeded was caress on frost Phoenix which did no damage.
Shooting: belchers kill flame Phoenix which panics the silver helms (mistake again).
Combat: both dogs and guts slaughter the reavers and over run.
Asur turn two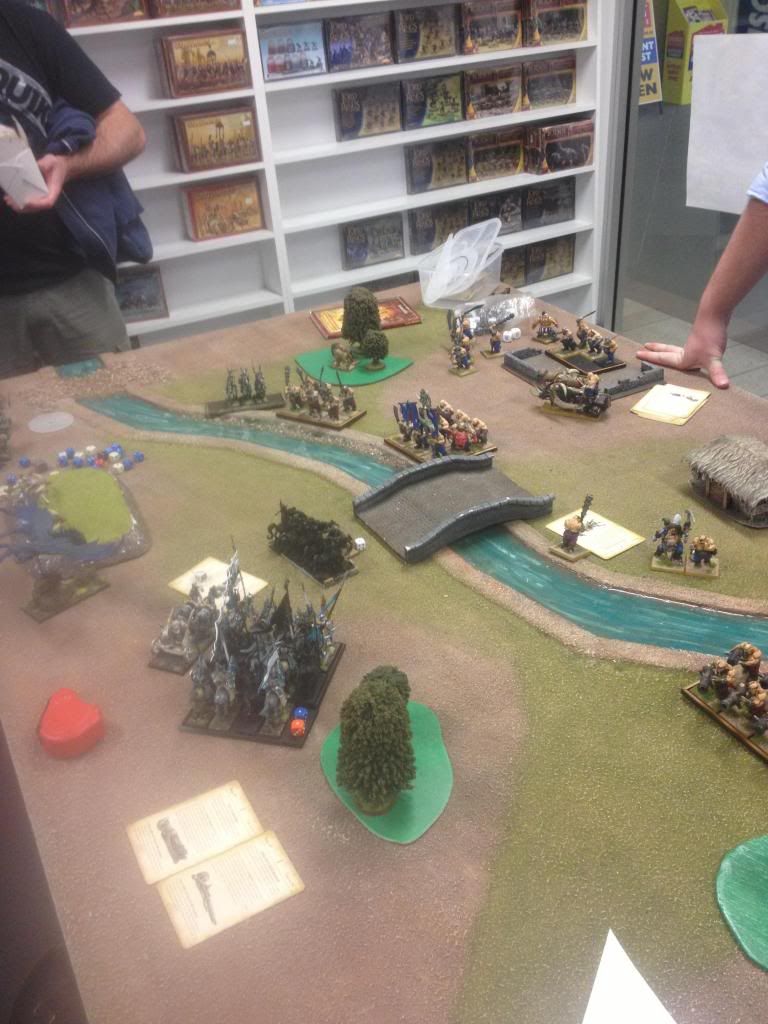 Movement: DPs charge guts, and reavers charge sabres. Western reavers rally and to make my mistake known the SHs continue to run of the board. Frost Phoenix and chariot set up to take on bulls and guts once they cross the river.
Magic: ( 8 v 5) he scroll pit on his bull unit but rolls horrible when trying to dispel a 4D wither on his slaughter master reducing it to T1.
Shooting: I put 9 wounds on the slaughter master ( charmed shield one hit away) but he manages to save 6 of them.
Combat: DPs kill all but 1 gut which breaks from combat, I don't pursue and reform to the west. A strike of luck when his slaughter master panics of the board due to the guts breaking in combat (rolled box cars). The revers leave a sabre on 1 wound.
Flame Token dissipates
Ogres turn three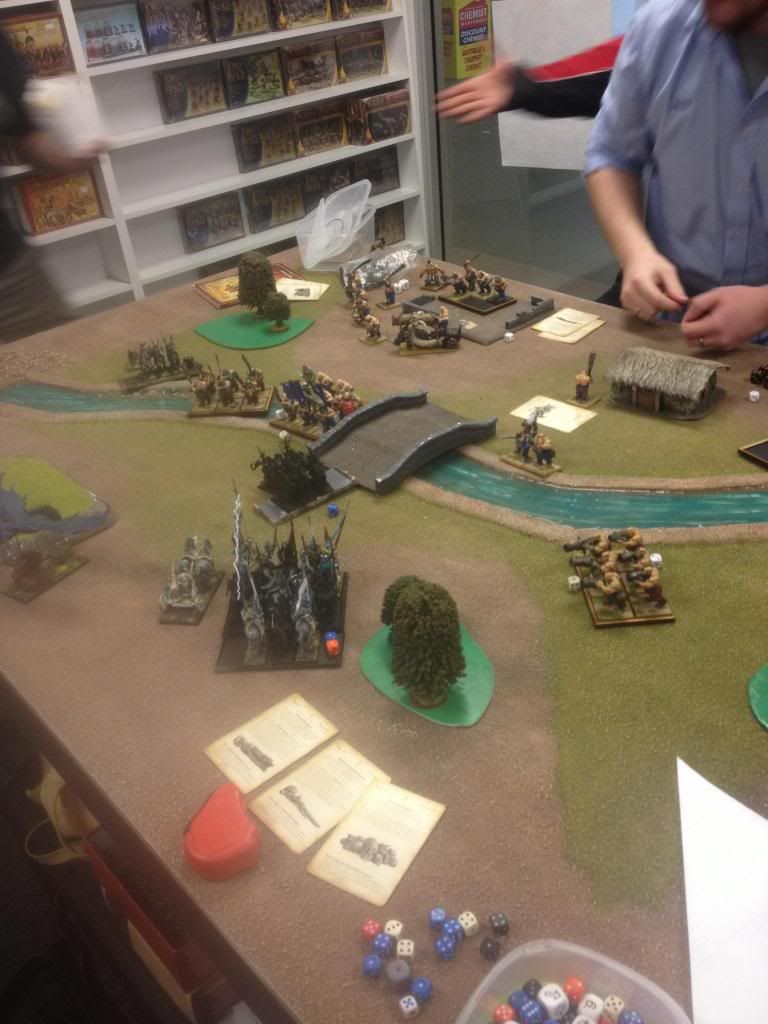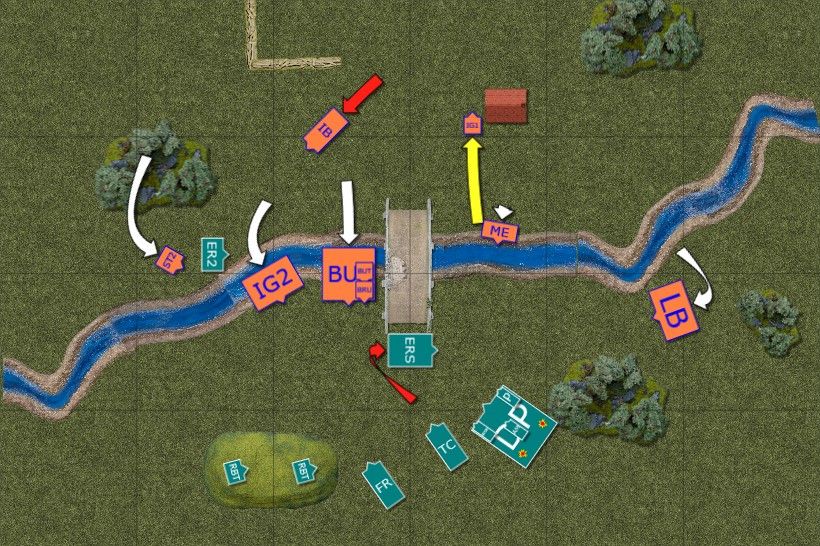 Movement: Blaster fails a long charge on the Reavers. western units edge over the river, man-eaters and belchers advance on DPs.
Magic: lv2 doesn't exceed to cast anything.
Shooting: man eaters do 1 wound to my AM and belchers kill 2 DPs.
Combat: reavers manage the last wound on the sabre and reform.
Asur turn three
Movement: Reavers charge belchers to move out of the way of DPs whom charge the bulls, the bull opt to flee moving right over the back of the blaster. Phoenix and chariot charge the guts however the chariot fails his distance.
Magic: (7 v 4) I start with a wither which he dispels. The I cast pit killing the blaster.
Shooting: kills one more man eater.
Combat: Phoenix wins combat and runs the gut unit down.
Ogre turn four
My opponent decides to end the game here because he wants to fit another game in before the shop shuts.
A win for Avicii's Asur!
After battler thoughts:
- not a big win, which was probably needed against a softer MSU ogre list than I am normally use to versing.
- there was some extremely lazy mistakes made which I pointed out. This needs to be taken out of my game before the upcoming tournament.
- deployment was obviously once again a weak point.
- my win could have been bigger or smaller if the game had gone a full 6 turns.
- a bit of luck could have been the real reasoning behind my win.
All in all I enjoyed the game and it was good to get a win up.
Avicii