High Elves v. Warriors of Chaos (2500pts)
Myself and Malossar (
link to his blog
) have been talking lately about running a Star Dragon list with the new book. Each of us is running a similar list and we're trying to figure out what really works well and what doesn't. As an added incentive, the first one of us to 10 wins gets to claim the mighty prize of pride and a high horse from which to berate the other. Mal has gotten in 2 games already and although he still sits at the zero wins marker, he has some valuable experience going into his next game for which his list has changed. I need to get rolling with some games!
The list I'm using is as follows:
Quote:
Prince on Star Dragon + Sword.Might, Ench.Sh, 4++, OTS, HA
BSB + B.Steed, DA, Golden Crown, Charmed.Sh, Pot.Str, Sword.Striking,
Noble + B.Steed, Ogre Blade, HA, SH, Dragonhelm
Mage(2)[High] + Scroll, Ring.Fury

10 Silver Helms + command, SH
3 x 5 Reavers + spears & bows
3 x 5 Reavers

7 Dragon Princes + command, BotWD, Star Lance

Frostheart
3 x RBT
Mal has been running a double Phoenix list and between us, we were wondering about the use of RBTs instead of one Phoenix. This game is me trying this idea out against Nurgle WoC.
I am facing:
Daemon Prince(4)[Nurgle]+wings, 1+/5++, Sword Striking, 2++ v. flaming, Breath Weapon
Exalted on Disc + 3++ (Tzeentch), Charmed Shield, Halberd,
BSB + Dragonhelm, stuff
Sorceror(1)[Death] + Ring.Rhuin, Scroll
23 Nurgle Warriors + command, Sword + Board, +1 movement banner
3 x 5 Hounds
2 x Nurgle Chariots
1 x Gorebeast Chariot (Nurgle)
2 x 3 Skull Crushers + mus.
Not a fun list to play against but certainly not the worst WoC list out there. Note that there are army restrictions due to comp. on the max. number of flyers, items, etc, etc which is why the lists both might seem somewhat away from the optimal if all things/combos were allowed (take a look at the Crossroads GT website for the actual restrictions we were using - I think they tend to be very fair).
Rolling for spells:
lvl.2 High Mage: Soul Quench and Apotheosis
DP: Stream of Corruption, Plague Wind, Miasma, Rancid Visitations
Sorceror: Fate of Bjuna
Note that he rolled first before I rolled a 1 & 6 for apotheosis and convocation. I swapped to soul quench as convocation was pretty much useless against his list and has a high cost for a lvl.2, drain would also be more or less ineffective with the spells he rolled up - miasma of pestilence being the only spell I could use it against.
Deployment
Deployment was as follows, I dropped my reavers whilst he dropped his hounds in terms of chaff before I deployed fairly centrally. I was relatively happy with the result. He would be funneled into the board center whilst I would be free to fly around and use my mobility to redeploy as needed. With my vanguard moves I put my Reavers into better positions to control his movement and shoot his hounds.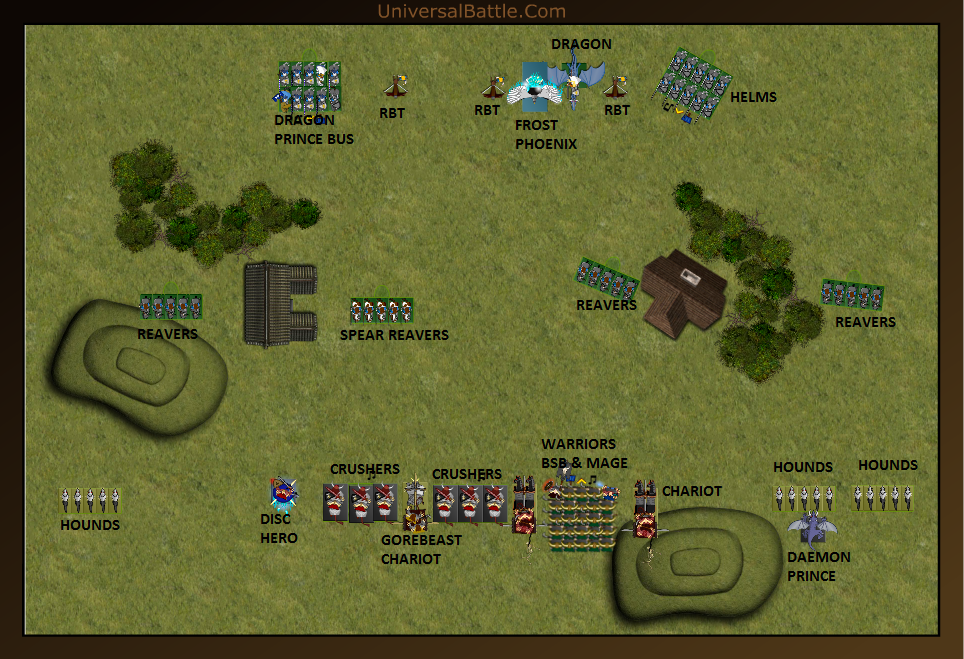 I won the roll off for first turn and away we went!
HE 1
After winning the roll for first turn I chose to redeploy my forces, the Silver Helms reforming to move left along with the flyers. Magic was more or less a non-phase with me being out of range of Soul Quench (18") but in the shooting phase a couple of Chaos Hounds died to the Reavers. My RBTs failed to make an impression on the Gorebeast chariot and I found out that the disc lord had a 3++ invul. in addition to a 1+ AS which would really make taking him down tough!
WoC 1
Predictably the warriors began their advance forward. Several charges were declared, most of which I fled, safe in the knowledge that 'feigned flight' would allow my Reavers to regroup and fight another day. On the left I did hold against the Skullcrushers in order to draw them out of position - if I had fled they would have redirected into my other Reavers next to the building and gotten closer to my lines. Stand & shoot on the right flank took down a dog before the unit fled the other unit of charging hounds.
Magic came up 9v5 and I let through a 4d Miasma (of Pestilence, don't confuse with Shadow lore miasma though it has a similar effect - reduce WS/I in B2B) on the central Skull Crushers - I wasn't about to hit them in CC anyway. Next up my opponent IF'd Vortex of Nurgley-ness but managed to misfire and plant it on himself! The only effect was that he lost a W on his Sorceror as the DP passed his toughness check. With that the magic phase was over and I'd gotten away lightly without rolling a single die!
In CC the Skull Crushers killed the Reavers and overran due to being frenzied - they were effectively out of the game for a while.
HE 2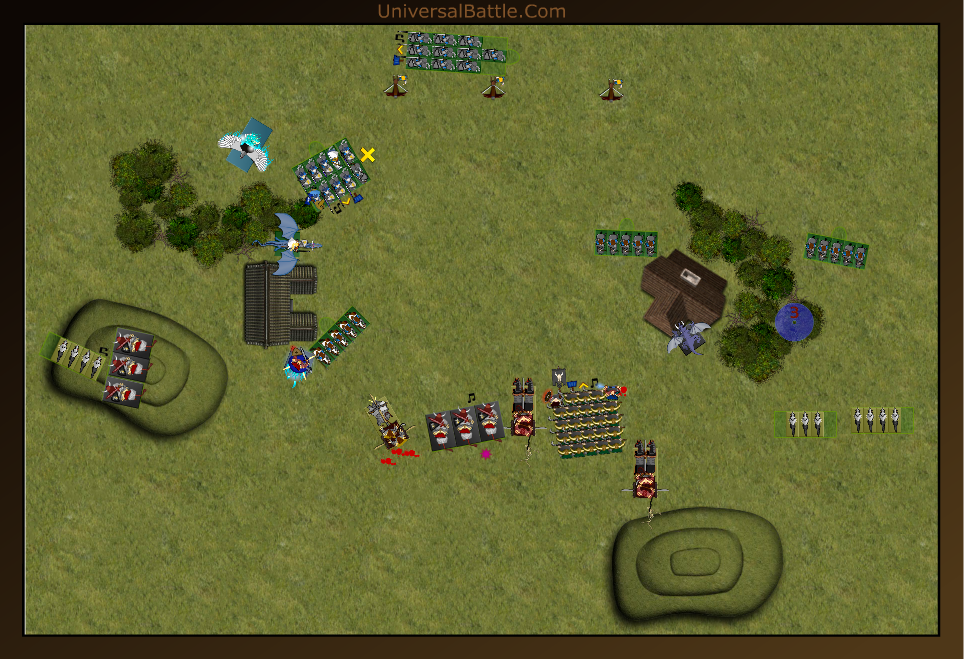 The Reavers rallied and moved into blocking positions whilst I again continued to move my flyers, etc into a better position for the coming turns. On the left the Frost Phoenix attempted a long charge on the flank of the Skull Crushers (needing to roll 10) but failed - it was a long shot but wouldn't matter in terms of where I would end up.
The winds came up 10v6 and started with a 2d Apotheosis on the mage to give the Dragon Princes a buff to their ward save. This went through. Two castings of Soul Quench (big version and ring version) both got through my opponent's defences and I managed to put 2W total on the Gorebeast chariot.
This was followed in the shooting phase by the RBTs which put another W on the Gorebeast and a the Reavers killing a single hound. I was beginning to question the inclusion of the RBTs as they hadn't achieved much so far...
WoC 2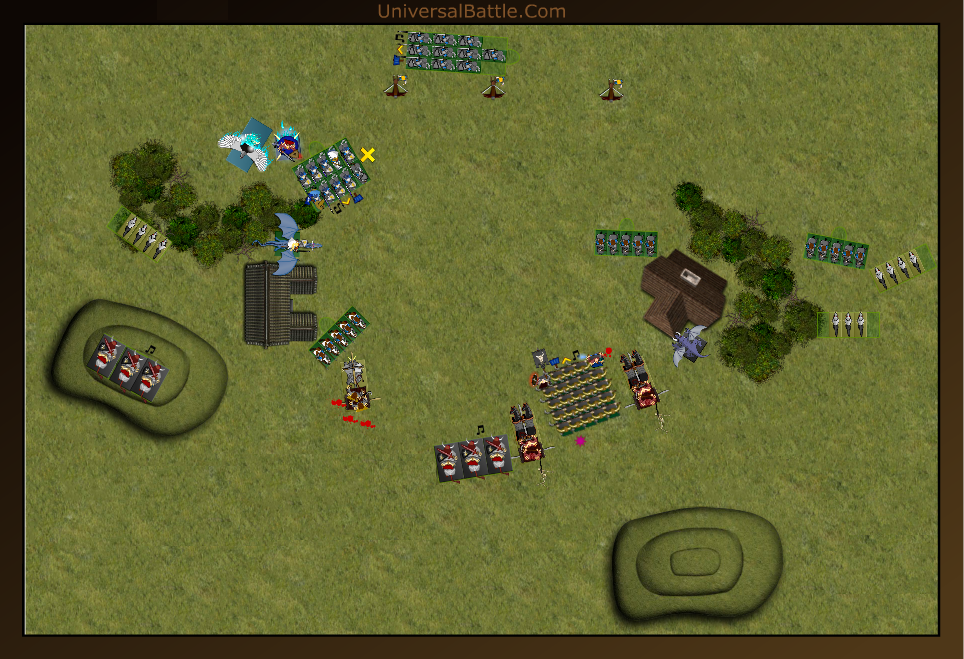 The WoC decided not to charge and where needed, the Skull Crushers passed their frenzy checks. The jostling for position and waiting for mistakes continued as my opponent repositioned his forces and waited for me to make a move...
Magic was 8v4 and the Warriors were miasma'd on 3d which I again let through - I wasn't about to charge them! A 2PD v 4DD cast from the Ruby Ring onto my Reavrers was dispelled and an attempt at casting the Nurgle Vortex was failed.
HE 3
I decided it was time for some decisive action and declared charges from the Phoenix onto the Skull Crushers (17" away) and the Prince/Dragon onto the other unit of Crushers (19" away). I was thinking I could blow through those units and hopefully be in my opponent's backfield but alas, it was not to be as the Prince failed to make his 9 on 3d (52% chance) and ambled forwards. The phoenix did make it into combat however which was useful as he would be able to stop the Crushers from coming around my flank and getting behind my Dragon Princes. I was also able to reform my Dragon Princes and take them out of the arc of the Disc Exalted whilst still remaining within 18" range of the Gorebeast for magic. Huzzah.
The poor attempt at a charge by the Prince (probably a bad call from me) meant I really had to use my Reavers to hold his units and hope I could kill the Gorebeast with magic/shooting - I was worried about it's Killing Blow abilities and my Prince!
Luckily Lileath blessed me in the magic phase with 11v6 dice (and a crucial 4++ for the Phoenix) and I started out with a 6d(19) casting of boosted Soul Quench on the Gorebeast which was dispelled with 6DD. My 2d attempt at the Ring of Fury was also scrolled but a 3d cast of Apotheosis went off and again, granted the DPs an increased ward save.
In the shooting phase the Reavers on the right killed 2 dogs and caused them to flee but crucially, I failed to kill the Gorebeast with the RBTs only managing to put a single wound on it after I fired 3 big bolts.
In combat the Phoenix whiffed and did not get a single hit whilst taking a wound in return. Luckily he held though.
WoC 3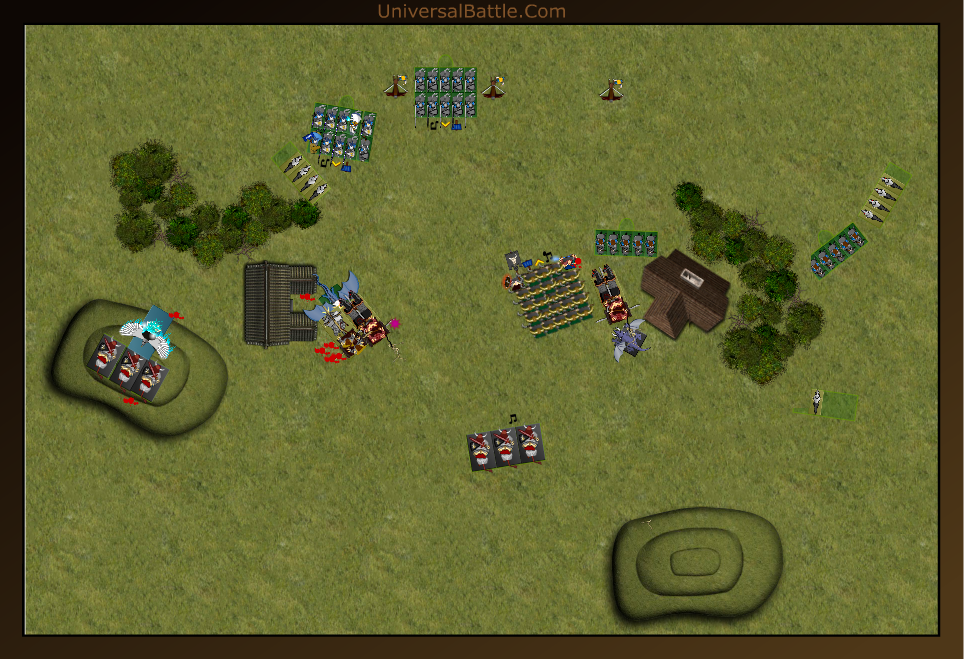 As I thought they would, both the Gorebeast and regular chariot charged my blocking Reavers in an attempt to overrun into the Prince. I held here but looking back on it, I'm not sure why I did. The Reavers were going to die and he would overrun into my dragon either way with my poor placement. The disc lord also declared a charge onto my dragon - potentially a bad move by him as the charitos would get impact hits but the high str. attacks of the crew/gorebeast would be wasted as he had to challenge me with the disc rider (who I thought I could take in CC). The hounds on the left moved to block my knights - who were ready to support the dragon if needed. In the end they weren't as my opponent did not declare his Skull Crushers into the Prince (which he should have in my opinion).
My opponent rolled 6v5 for magic but I channeled and was able to make it an even 6v6. I dispelled both a Fireball magic missle from the sorceror and Rancid Visitations from the Daemon Prince which saved my blocking Reavers (my opponent was getting rather annoyed with them at this point!) but was unable to prevent him casting Miasma on the chariot in combat with the Prince, this reduced my WS & I by one but also managed to get his DP an additional wound and toughness point due to the lore attribute.
In combat the Reavers were killed and he overran but didn't manage to wound with a single impact hit. My Prince then proceeded to put on a brilliant display of ineptitude and fail to hit his hero of disc either (we were in a challenge). His hero then managed to put a wound on the Prince before the dragon stomped him into the ground to tie combat.
The Frost bird did manage to cause a wound to the Crushers for no reply but they held (although they lost frenzy).
HE 4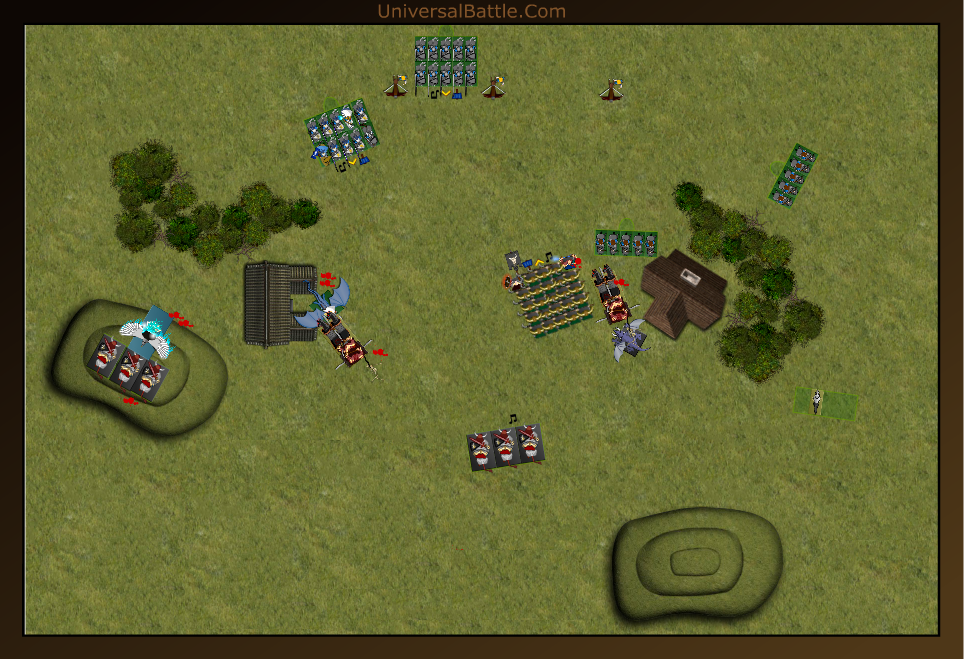 There were no charges from me this turn and after a few moves, we went to magic. With 9v6 I went for a boosted Soul Quench on the Warriors but failed to kill anything after he failed a dispel. A 1d cast from the ring also failed but Apotheosis on 2d healed a wound on the Prince.
Shooting killed a bunch of hounds (I felt forced to use RBTs for this to stop them getting in the way of my DPs again) and put a single wound on the right-most chariot.
In CC the Prince again waved his sword in the air to no avail and took 2W in return (thank Lileath for Apotheosis!). The dragon then also wiffed and I was forced to use the breath weapon to take down the gorebeast. On the far left the phoenix took another wound but held on a 9.
WoC 4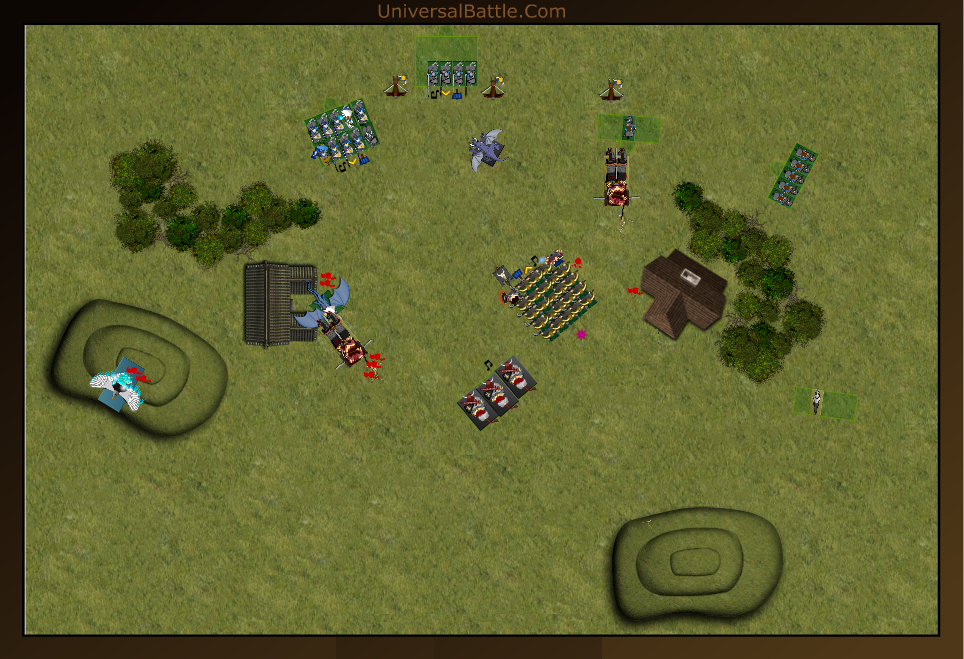 The Nurgle chariot started his T4 by charging my Reavers (who held) and the rest of his forces moved up. The Skull Crushers did not declare a charge on the dragon which was a poor choice IMHO. The Daemon Prince finally came into play also.
A 9v4 magic phase gave my opponent control but he rolled poorly and started by failing with the Ruby Ring on 2d. I dispelled a 3d cast of the Nurgle magic missile on my helms but this meant they got hit with the Nurgle breath weapon spell instead. The result for me was 3 dead Silver Helms, swiftly followed by another 3 dead in the shooting phase from his 'normal' breath weapon. I passed panic checks each time.
In combat 1 Reaver survived the combat with the chariot and fled away with the wheeled contraption in hot pursuit. The Prince/Dragon put 2W on the chariot they were in CC with but he held on a 5. The Phoenix however salvaged the phase for me and caused a wound on the Skull Crushers before running them down as they fled.
HE 5
I started up my 5 by declaring my Potion of Str. and charging the Nurgle Warriors who held. I then proceeded to fail the necessary roll of 6 on 3d and was left pretty disappointed with my investment of points in both my bus and the potion! My remaining Reaver fled off the board whilst the Phoenix moved back towards the action and I moved to block his chariot (again).
Magic and shooting were entirely lacklustre and only managed to put 4W on the Nurgle block combined. I did however manage to kill the chariot in combat (finally) and reform the Prince to face the Skull Crushers.
WoC 5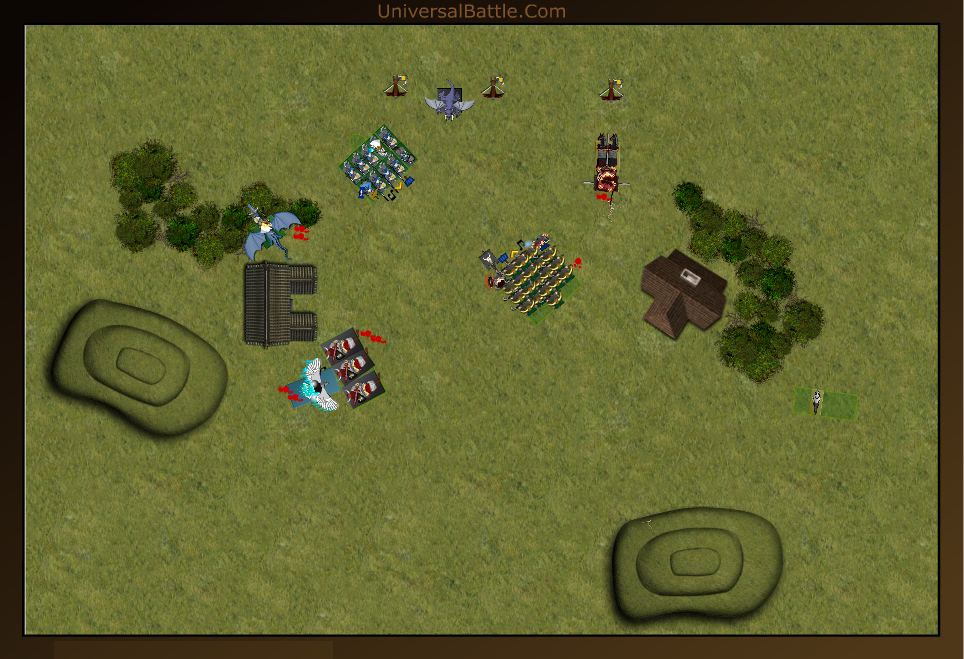 The chariot charges the Reavers who elect to hold whilst the Nurgle warriors charge the Dragon Princes (hold) and Skull Crushers go for the Dragon (flee). The DP also charged the SHs and I elected to hold again in the vain hope of maybe surviving but also to stop him redirecting into the RBTs. The Prince successfully escaped the oncoming Skull Crushers and they redirected into the Frosty instead who held. Fortunately for me the Nurgle block also failed it's long charge (needing to roll something like 10 on 2 dice).
Magic was also a bit of a failure for my opponent after a 6d cast of Fireball failed to make an impression on the dragon and I dispelled miasma with my dice.
In close combat the Silver Helms were cut down and fled the board whilst the chariot killed the Reavers and reformed. The Phoenix did a wound to the Skull Crushers who held.
HE 6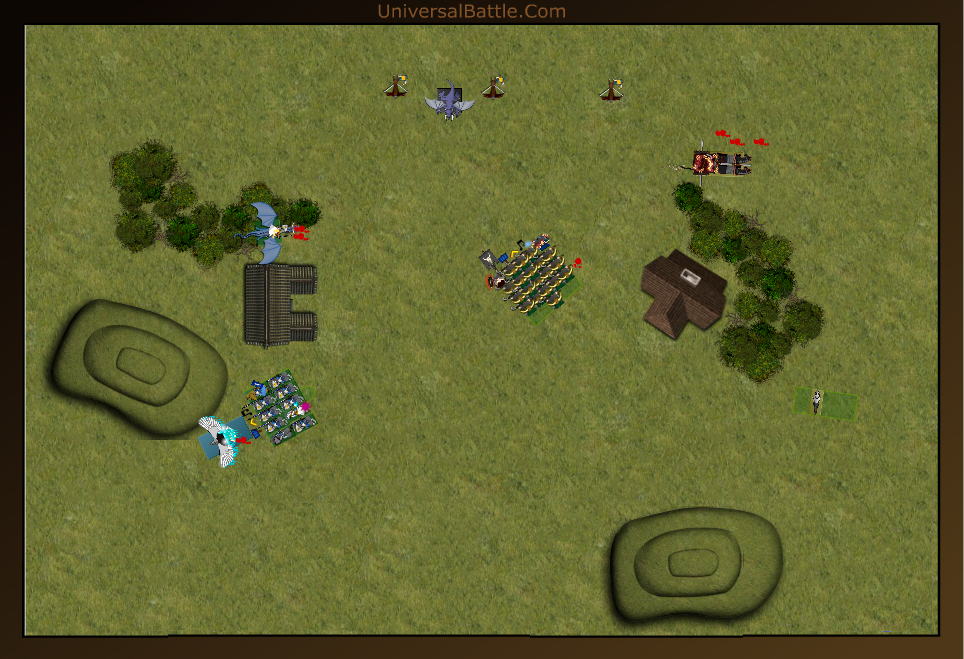 I was counting up points here and I realised I was just ahead. I had lost all of my core (625pts) but he had lost more in his Disc Hero and the chariots/hounds/crushers. To this end I played it safe and declared a charge from the Dragon Princes into his chariot, as I thought he would, he fled and this allowed me to redirect into the Skull Crushers fighting the Phoenix. The Dragon rallied.
Magic was 7v4 and an utter failure of a phase. I managed to recover a wound on the Phoenix but failed to cause any damage to the chariot with a boosted Soul Quench. The RBTs managed 2W on it but not enough to kill it and get the points.
The Skull Crushers were slaughtered in close combat without reply and cut down as they ran. The pursuit also took me further from the dangerous chaos elements that remained.
WoC 6
The last Warriors turn was fairly uneventful. The chariot rallied and my opponent attempted to recover something by trying to kill the Prince/Dragon. It would come down to magic with the sorceror moving within 12" for Fate of Bjuna. I watched the winds roll with some trepidation as they came up 7v4. Fortunately I still had my scroll remaining however and managed to shut down his phase to conclude the game.
Result: Minor Win for the High Elves!Summary and Thoughts
That game was seriously cagey wasn't it! Both of us were jostling for position and waiting for a mistake to capitalise upon. We both had very simlar, in-your-face aggressive armies and couldn't really get the best ouf of them against each other. I also made a few mistakes that hurt my ability to dictate the game:
1. The Prince charge was a gamble which didn't pay off and nearly cost me very dearly. Luckily for me my opponent failed with his killing blow impact hits but I could've feasibly lost my Prince here. Note to self: 52% is not good odds for a charge!
2. My target choices were sometimes poor in this game. Hitting the Nurgle block with missiles (both normal and magical) was a bad choice as I was never really in a situation to take them on in combat. I should've prioritised his chariots first and got the points before chaffing the warriors away.
3. I'm not sure that Soul Quench was the best swap for Convocation. It has such a short range and didn't really do much for me here. I'm not sure if Drain Magic would've been a better choice as it can be cast whenever - even in CC which is where the bus is likely to be - and gives the advantage of the ward save more often i.e. casting it even when there isn't a spell to remove.
Other thoughts: The RBTs (and my ranged output in general) performed poorly. In terms of damage output my RBTs didn't accomplish much at all. What they did give me however was some measure of board control. The bolt throwers kept the Daemon Prince honest for a large part of the game (although I'm not sure if he should've been that scared) and did at least give me something with which to attack at range. For now, they'll stay but I'm not convinced as yet as to their utility over something else. As these are the current main difference in mine and Mal's lists, I'll be commenting more on these in the future and their role v. say a 2nd Frosty.
That Gorebeast chariot is nasty and tough as nails to boot! I really struggled to make an impression on it with anything this game although, as usual, my single bolt attempts at shooting were pretty atrocious.
For my opponent, I think he was too cautious with his Daemon Prince and made some strange charge moves (Disc Hero) or lack of them (not charging Crushers-->dragon). In the end though it was a very tight game and such things are won on these small margins. Either way I have my first win on the way to 10!