.::. Battle Report: 2400 ETC vs Wood Elves .::.
Last week rusty was in town and although we hadn't originally planned for it, I suddenly had time for a game. It's been a long time since I last faced Wood Elves. Would I be able to handle the annoyance that is Rusty's MSU forest spirit mash or would the fey elves tear me apart? Read on!
Lists:
Prince on Barded Steed with Giant Blade, Dawnstone, Enchanted Shield, Dragon Armour - 277
Archmage on Steed with Book of Hoeth, Ring of Fury - 320
BSB Noble on Barded Steed with Crown of Command, Dragonhelm, Halberd, Dragon Armour, Shield, Luckstone - 174
Noble on Barded Steed with Ogre Blade, Crown of Atrazar, Dragon Armour, Shield - 147
Characters: 918
18 Archers, musician - 190
15 Archers, musician - 160
5 Reavers - 80
5 Reavers, bows - 85
5 Reavers, bows - 85
Core: 600
11 Dragon Princes of Caledor, Full Command, Star Lance, Banner of the World Dragon - 429
Special: 429
5 Sisters of Avelorn - 70
2 Repeater Bolt Throwers - 140
1 Frostheart Phoenix - 240
Rare: 450
Army Total: 2397
+++ WE-2700-ETC13. 3 (2698pts)
+ Lords + (630pts)
* Spellweaver (280pts)
Dispel Scroll
Dragonbane Gem
Lore of Beasts,
Wizard level 4
* Treeman Ancient (350pts)
A Cluster of Radiants
+ Heroes + (194pts)
* Noble (194pts)
An Annoyance of Netlings
Battle Standard Bearer
Dragonhelm
Great Eagle
Great weapon
Opal Amulet
+ Core + (814pts)
* Dryads (108pts)
Branch Nymph. 8x Dryads (96pts)
* Dryads (96pts)
8x Dryads
* Glade Guard (190pts)
Banner of Eternal Flame. 13x Glade Guard.
Full command
* Glade Guard (132pts)
10x Glade Guard, Lord's Bowman, Musician
* Glade Guard (132pts)
10x Glade Guard, Lord's Bowman, Musician
* Glade Guard (156pts)
12x Glade Guard, Lord's Bowman. Musician
+ Special + (390pts)
* Tree Kin (390pts)
6x Tree Kin
+ Rare + (670pts)
* Great Eagles
* Great Eagles
* Treeman
* Treeman
// Pre-battle thoughts and deployment //
With +300 points, the WE are hard to face. They can get so many juicy things and put so much hurt on the table. Furthermore, Beasts is a fairly good lore against me. Curse slows down the bus and hurts my grinding power. Wyssans, Pelt and Savage Beast also make it harder to grind. The goal then was to take on smaller elements at a time and try not to get bogged down with things I cannot handle. The dual-cast of Soul Quench would provide me with flexibility and the Frostheart would allow for some mobile assistance, if able to avoid Amber Spear and arrow-spam. The latter is actually not that bad, seeing as it has a 5+/5++, which is over 50% chance to succeed.
Spells saw me get Soul Quench, Hand of Glory, Apotheosis and Fiercy Convocation. Rusty took Wyssans, Curse of Anraheir, Savage Beast and Transformation. Deployment was flank-heavy on both our parts. Rusty`s goal was apparantly to stall my bus centrally while killing my flank off. My plan was obviously to not let this happen. To win big I would need to preserve my weaker elements. I surprised him a bit near the end of deployment - my Prince went out on his own to cover the weak flank. Without Spear, he doesn`t really have any ranged threats to 1+ re-rollable.
Rusty went first.
// WE T1 //
Movement on the flank was limited, the fear of my prince weighing heavily on his decisions. Magic saw Curse go through despite my efforts to dispel with the BoH. Shooting killed some reavers and archers, all tests passed (the former had moved to grant Sisters hard cover).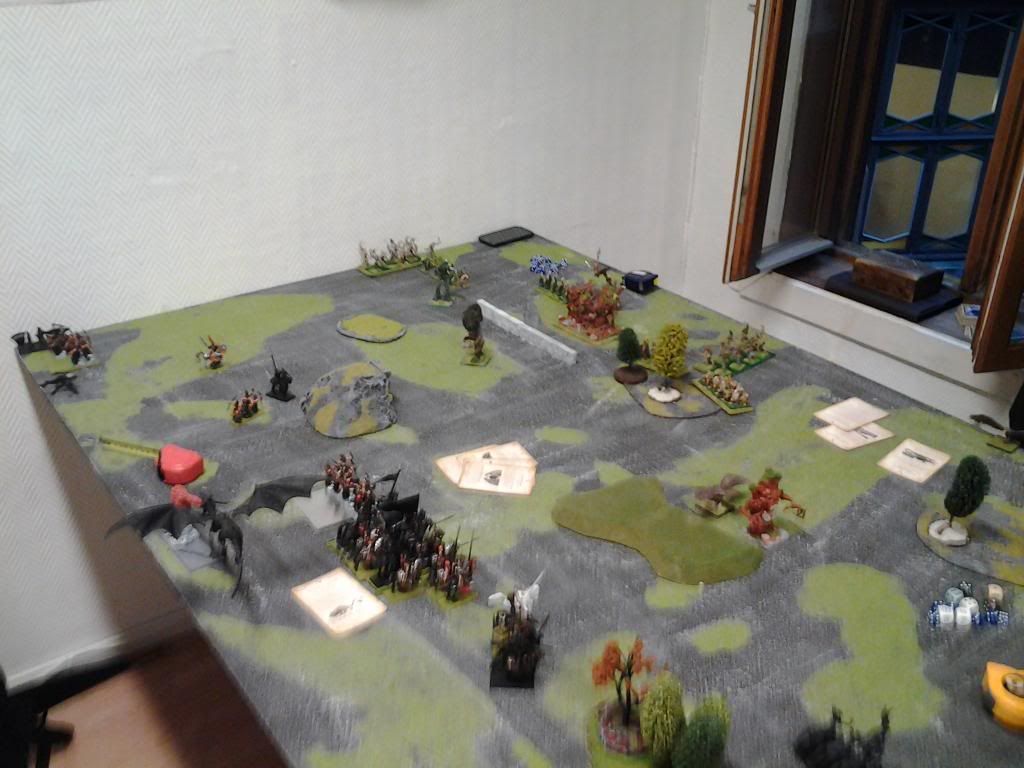 // HE T1 //
With the Prince outside the bus it was no need to start losing models due to my lack of grinding power, so I decided not to march. Instead, this turn I was determined to kill off small stuff. I managed to grab an Eagle and some Archers, dual-quench proving very hard to be up against. Frostheart moved to weak flank and sole reaver blocked treeman.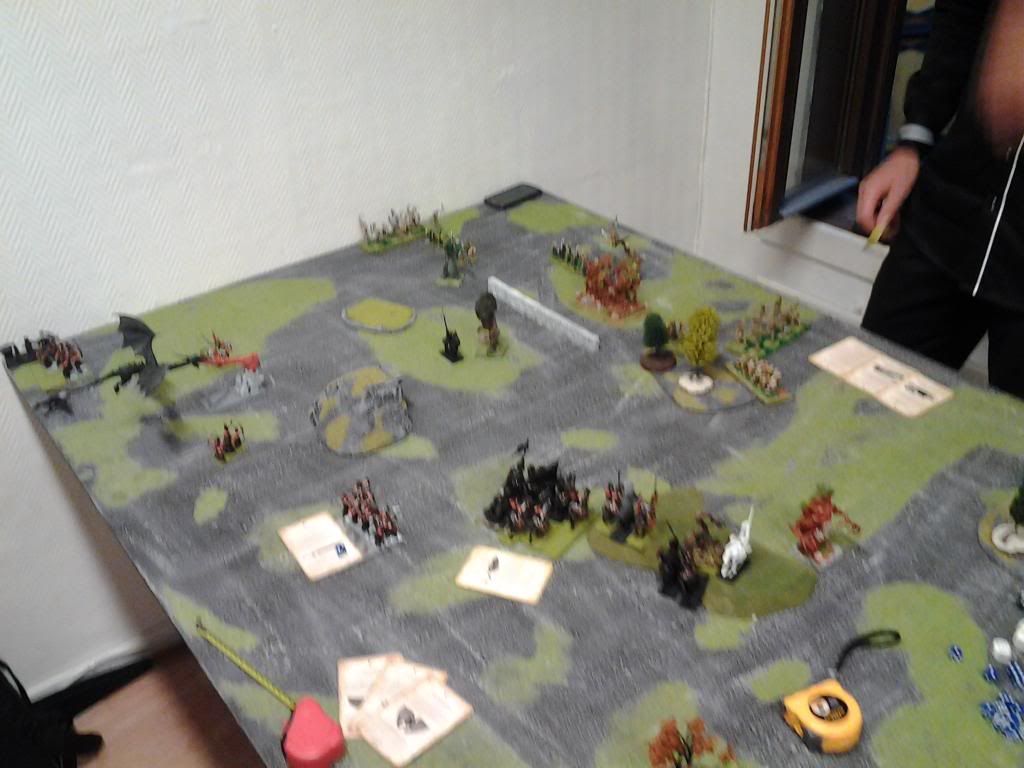 // WE T2 //
ETC virtual pivot allowed his Treeman to get away and he moved towards my back lines instead (this was the ancient by the way). Curse was again cast successfully on the bus. Dryads managed to sneak past the Prince`s charge arc. Shooting - more Archers died.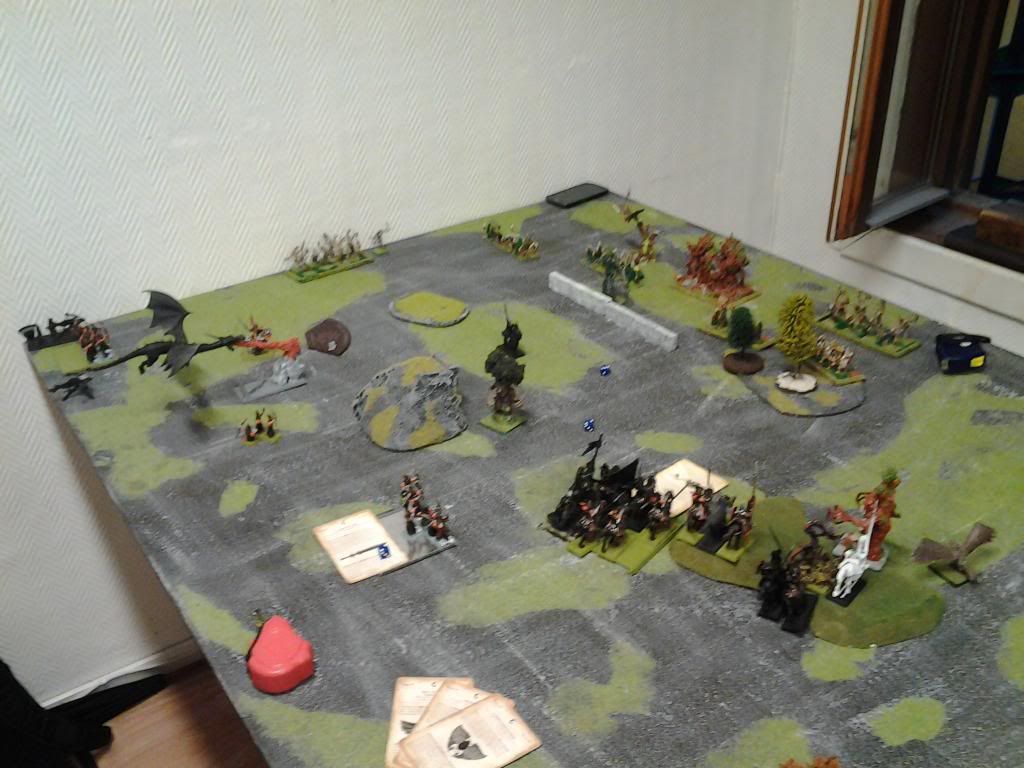 // HE T2 //
I free reformed the bus to block the Treeman and thus preserve my rear. Magic drew a scroll as he didn`t want to take the chance of fiery on his bunker with dice to spare. Frostheart + Prince moved to block off dryads.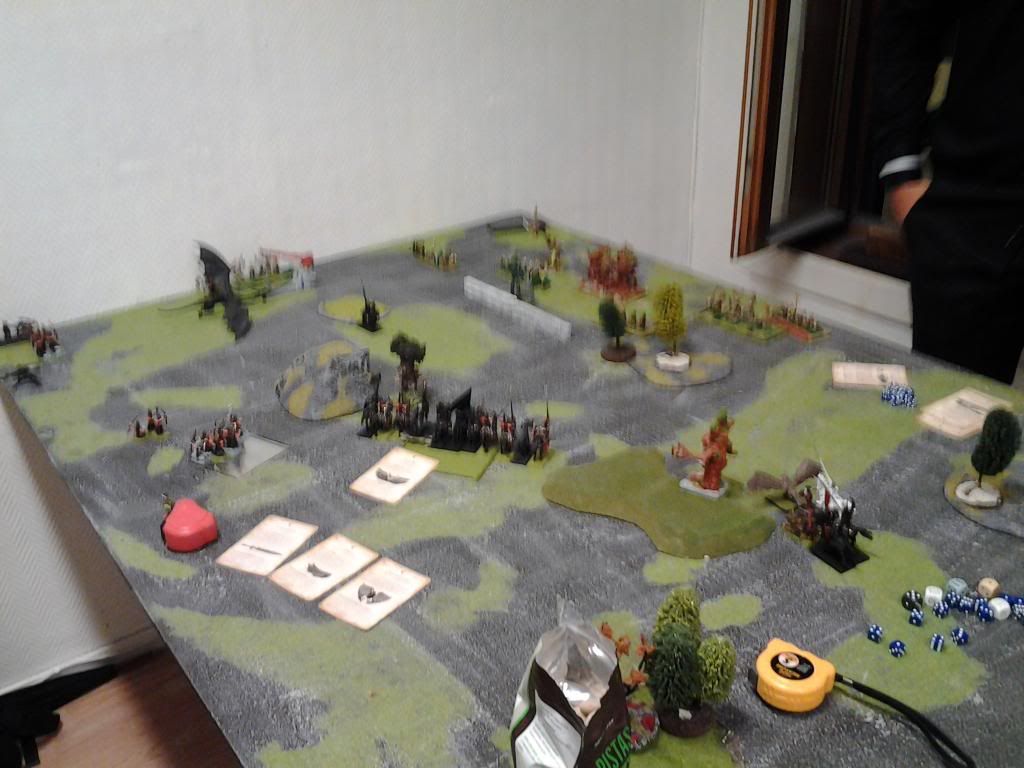 // WE T3 //
Dryads couldn`t get out. Treeman charged bus. Magic, can`t remember. In combat, disaster struck for rusty as his Treeman failed his re-rollable LD9 test and I ran him down! Adding insult to injury, his BSB was parked behind and I overran into him.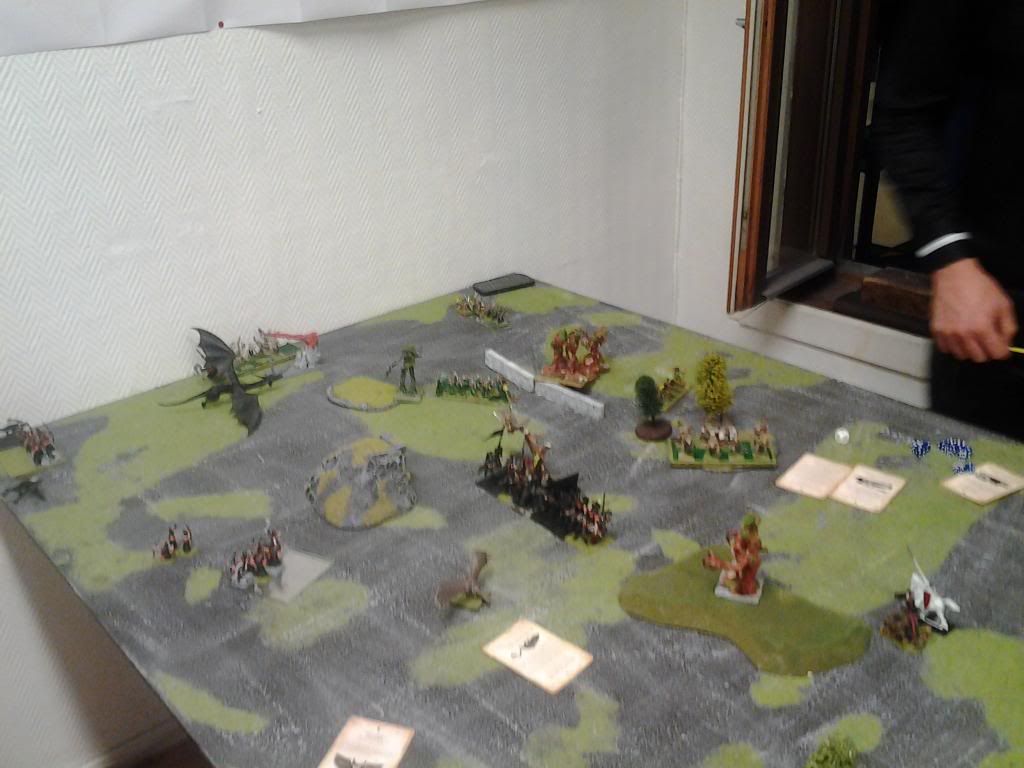 // HE T3 //
Prince into Dryads, Frostheart central. Magic - a couple of spells got off to boost my ward save. In combat I made the biggest brainfart for a long time as I challenged his annoyance BSB. I could`ve simply done nothing and would`ve had a million lances hitting home and killing him off, easily. He managed to hold, not losing a single wound. Prince beat Dryads and reformed.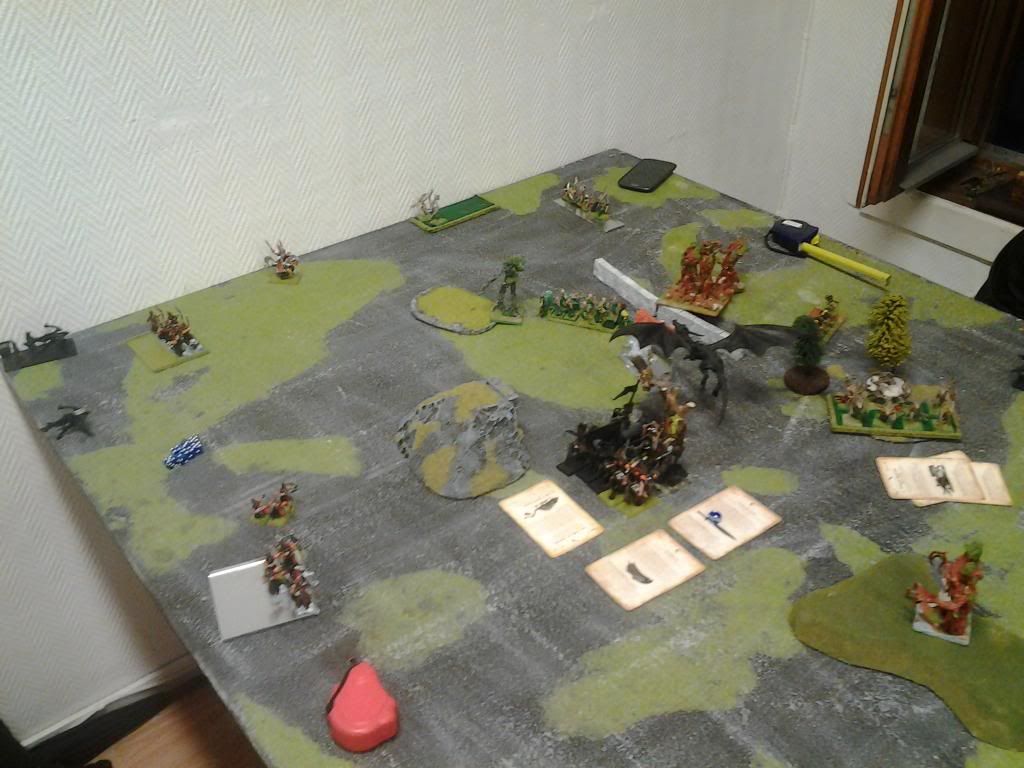 // WE T4 //
Treeman flanked the bus but failed. Other Treeman moved centrally. Mage swapped Archers to avoid Frostheart. Magic saw his BSB get Wyssan`s. He wounded my fighty noble once for none in return and passed his test.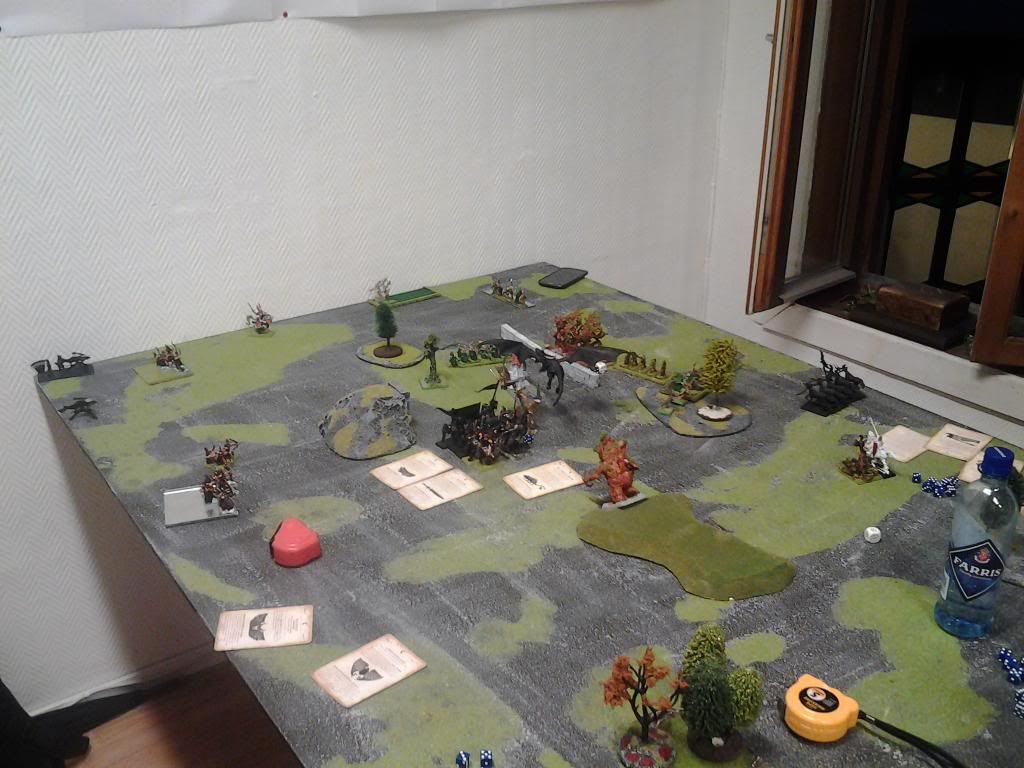 // HE T4 //
Prince into Treeman, frostheart into Archers. Magic - 2 spells off again. Combat - no wounds dealt, he held. Prince dealt a wound to the Treeman for none in return. He held.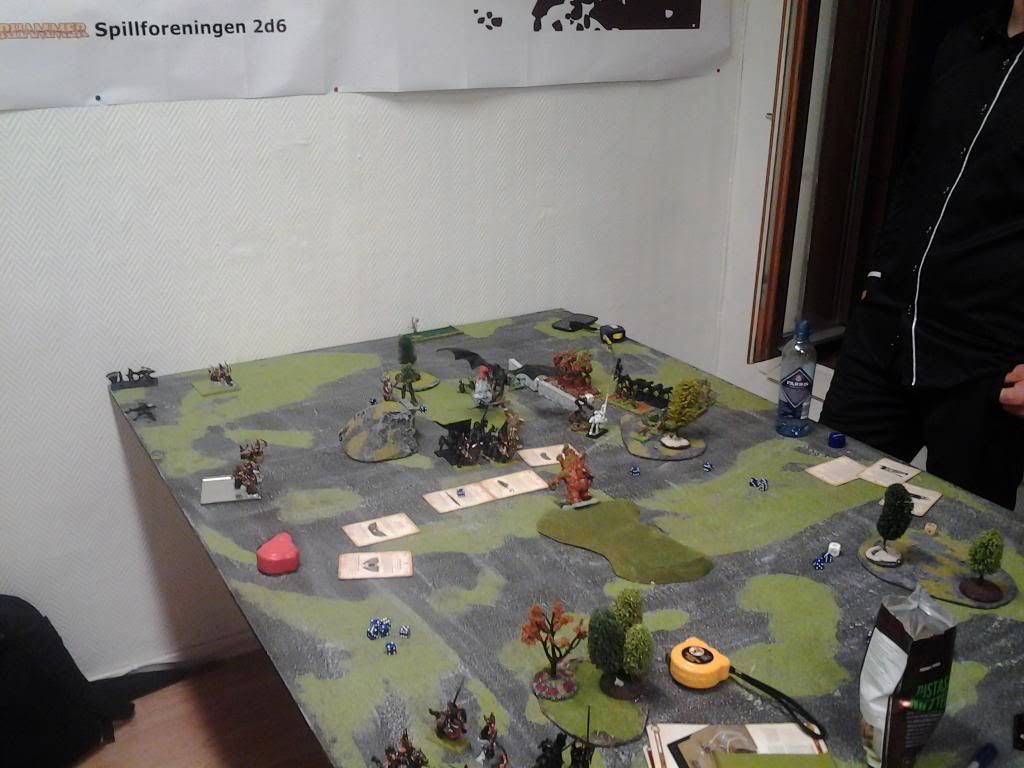 I`m a little fuzzy on the details, but essentially this is the rest of the game: his BSB killed my Noble and this time it was rusty`s time to brainfart. No challenge was declared and the attacks killed him. The treeman had gotten into the fight at this point and fled. I ran him down. Meanwhile my Reavers + RBTs were putting a heavy toll on his Mage + bunker, so in T5 he was stranded alone, forced to move out. With my Archmage out of combat, dual soul quench sealed the deal. The Prince rolled poorly against the Treeman and was down to 1W at one point. Apotheosis healed him back up though. Rusty tried to get some points for my frostheart by charging with Treekin. Its S6 magical attacks and -1S aura proved too tough though: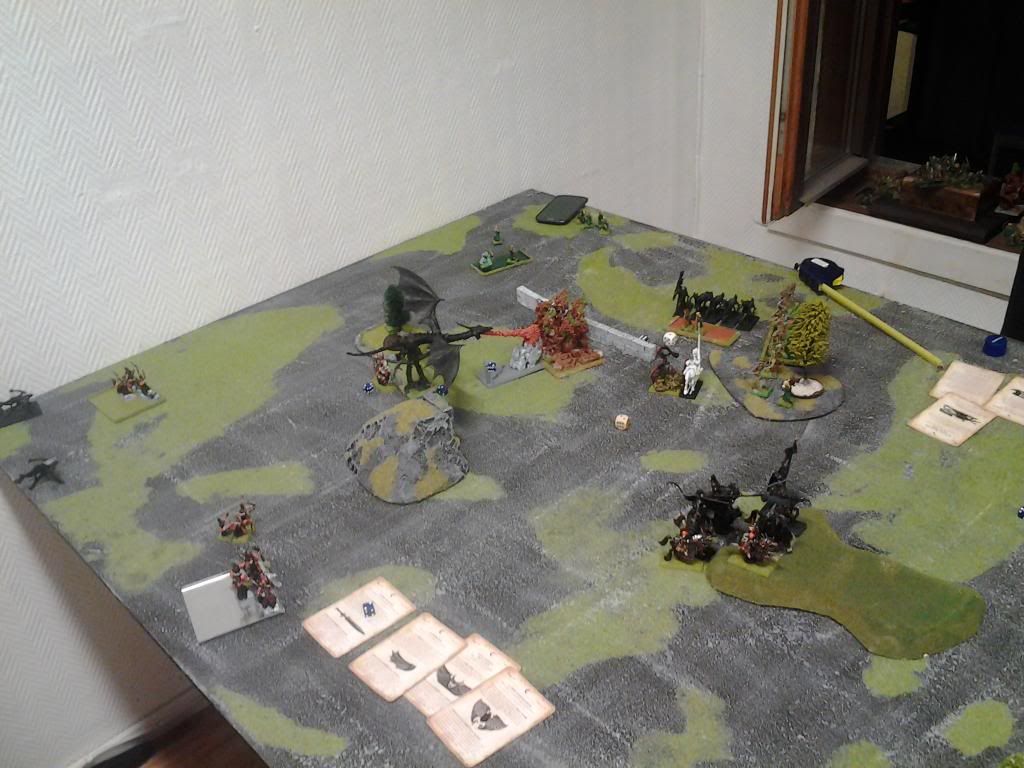 In the last turn of the game I flank-charged his Treekin with my bus and front-charged with my prince. They were brought down to 2 models and the return attacks failed to take the last wound off of my phoenix. He broke, I ran him down.
Counting up, I had lost one unit of reavers and the fighty noble. Rusty had lost everything except for a unit of Dryads. A solid massacre to the High Elves!
// Analysis //
The dual casts of soul quench and the RBTs + Archers were significant in this game. It allowed me to force rusty into some hard decisions as he was constantly forced to take a pounding which WE are not used to. My weak flank performed admirably, it committed his deployment and kept shooting all game, bringing down dryads, archers and the mage bunker. The Sisters actually didn`t do a whole lot (I think they killed 1 dryad during the whole game, most of the time they shot Treemen but couldn`t find 6's to wound) but rusty kept trying to get at them. Hand of Glory proved to be a very effective spell in this war, making up for the WE's inherent advantage in not getting -1 to shoot from moving.
The bus lacks grinding power, especially without the prince. It`s very hard to bring down, but then again it doesn`t really do a whole lot. Knowing when to charge, when to split and when to simply cast magic is essential to the success of this list. It is not as straight forward as many other deathstars.
Rusty, Strange, Dark Reaper and I had a fairly thorough discussion in the aftermath of this game. The conclusion was that with the current meta, melèe-WE simply cannot work. You have too many bad matchups that you simply cannot handle. While the bus is obviously untouchable for Tree Spirits, there are a lot of other armies in the game who have equally bad units to deal with. I think Rusty will try and opt for a more shooty-avoidance type of army, swapping Tree Kin for fast cav and more archers. Such an army is incredibly frustrating to deal with and with triple treemen he still has a significant combat presence without commiting to this phase.