Curu Olannon presents:
:: 2D6 Crusade - Game #3 - Dwarfs - 26/14 points before pairing ::
By now, a lot of people had 40-0 combined (Chayal, among others!) so I was hoping to get a fairly easy matchup and gather some proper points. Apparantly, being 40-0 by this point wasn't necessary to be a good player: my matchup was another Norwegian ETC player (who also holds the local tournament record of 96 points in 5 games (!)) who played my 'favourite' matchup: Dwarfs.
Going into this game I wasn't sure what to expect: a high-caliber Dwarf player fielding an anvil-based shooting list was surely tougher than what I've faced before, but he had made a fatal mistake: the only war machine in his army not to have a flaming attack was a Grudge Thrower! I was hoping to capitalize on this, which I viewed as my one saving grace in this game, to at least give him a proper match!
:: I Stand Alone ::
The lists -
:: High Elves ::
Saerith with GW, AoC, Vambraces, Loec, Star Dragon - 622
BSB Naenor with Sword of Might, HoF, Shield, Dragon Armour, Great Eagle - 208
Olannon with Level 2, Annulian Crystal - 175
Characters - 1005
30 Archers, Full Command, Banner of Eternal Flames - 365
15 Archers, Musician - 170
10 Spearelves - 90
Core - 625
26 White Lions, Full Command, Banner of Swiftness, Amulet of Light - 450
14 Swordmasters, Bladelord w/Skeinsliver, Musician, STD w/Gleaming Pennant - 270
Special - 720
3 Great Eagles - 150
Rare - 150
Total - 2500
:: Dwarfs ::
Runelord - Gromril, Shield, Anvil, Spelleater Rune, Rune of Stone
Master Engineer - Gromril, Shield, Rune of Stone, 2x Rune of Speed, General
Thane - Gromril, Shield, Xbow, Siren Song Rune, Rune of Stone, Rune of Cleaving, Rune of Fire, Rune of the Brotherhood
Thane - BSB, Gromril, Master Rune of Gromril, Rune of Resistance, Rune of Preservation, Rune of Fire, Rune of Furnace
20 Quarrellers (Rangers) - Light Armour, Xbow, Great Weapon, Full Command
18 Thunderers - Light Armour, Shield, Full Command
21 Miners - Light Armour, Shield, Great Weapon, Full Command, Steam Drill
19 Hammerers - Full Command
Cannon - runestuff (flaming), engineer
Grudge Thrower - runestuff (flaming), engineer
Grudge Thrower - +2S, accurate (non-flaming), engineer
Total - 2400
:: Pre-battle thoughts and deployment ::
The terrain didn't give me much to play with, but with the cannon having flaming attacks it didn't matter too much. Magic saw me roll a 1 and a 6! Great, I thought, at least I have a chance of undoing some runes if I don't get spelleaten first.
Seeing his list I quickly realized that if either the Swords or the Lions got into H2H relatively unharmed, they would devastate everything, given enough time. Ironically, the Dragon didn't matter as long as these two got there safely.
Deployment saw my Eagles a bit off, but with so little combat potential I didn't think I'd need them anyways. Given the situation, I was happy with this phase of the game:
Now, the most important part of any game I have against shooty stuff: could I win the roll-off? This was doubly important against this list because of the anvil being capable of slowing me down - if I got first turn I would essentially deny him one of his slows.
However, I rolled a '1' and even Skeinsliver couldn't help me as he needed 2+ to start and promptly rolled a '5'. Oh well, I've always known that I'll at some point have to go second against Dwarfs. Let's get to it:
:: Dwarfs T1 ::
Nothing moved and there was no magic, so straight to shooting and nail-biting:
- Cannon opens up, killing an Eagle. Panic is passed.
- GT misses Lions, despite re-rolls and all.
- The last GT rolls a 'Hit' on Faeria. It's randomized to the Dragon and he wounds her... The multiple wounds however turns up as a '1' and I'm very relieved! His Anvil then decides to slow the Dragon down, passing its 2+ needed. Not too bad for a first turn!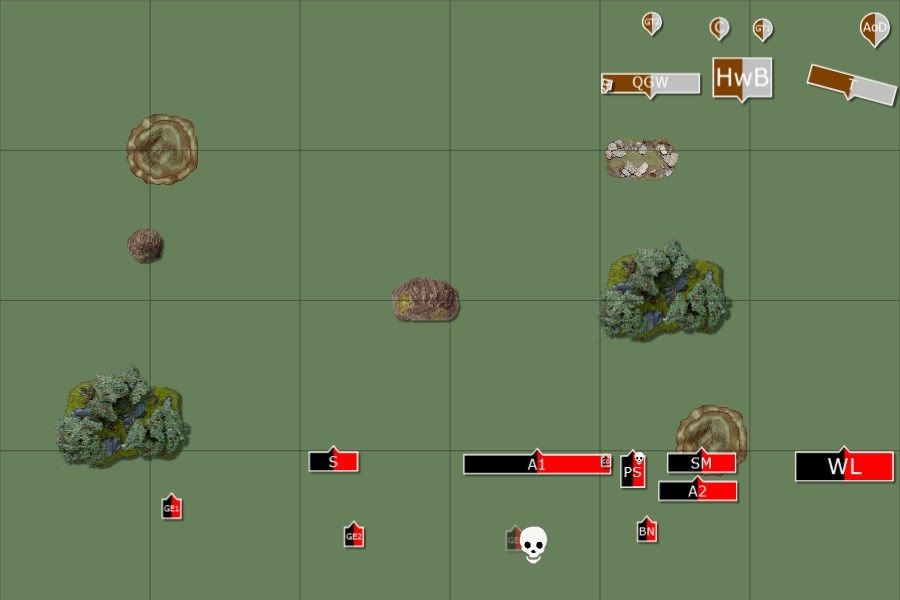 :: High Elves T1 ::
Well there's not much to a first turn against Dwarfs. I thank whoever wrote our book for making Dragons M6 and not stupid M2 like Eagles and march everything up as far as possible. I know the Archers could very well end up having a vital role, just not yet so nothing's wasted here.
Magic gives me a 5v9000+ split and I decide to try now: if I can neutralize that non-flaming Grudge Thrower then my Dragon stands a really good chance at devastating this game (rules question - how does Vaul's Unmaking actually affect Dwarf runed-up War Machines? It was ruled so that it destroyed all the runes at Crusade, but I only found out about it afterwards). I manage to get two 6's and I remove the accuracy rune!
Suddenly things felt way better. Now, if only I could make it through one more turn...
:: Dwarfs T2 ::
His Miners enter the field and threaten my Archers and Swordmasters. The Siren Song Thane moves out of his unit, placing himself a convenient 21.5" away from Saerith.
We go to the shooting phase, he starts up with the Thunderers against Naenor. He manages a staggering 6W but Naenor isn't intending to go down any time soon, saving all of them with his 4+ re-rollable! His cannon puts 2W on an Eagle while the Grudge Thrower kills a handful of Lions. He contemplates using the anvil to flank my Swordmasters but ends up slowing Naenor to M2 instead. His Grudge Thrower mocks Olannon's skills as it lands a direct 'hit' on Faeria again! She receives the randomization and loses 3 wounds this time, down 4 total.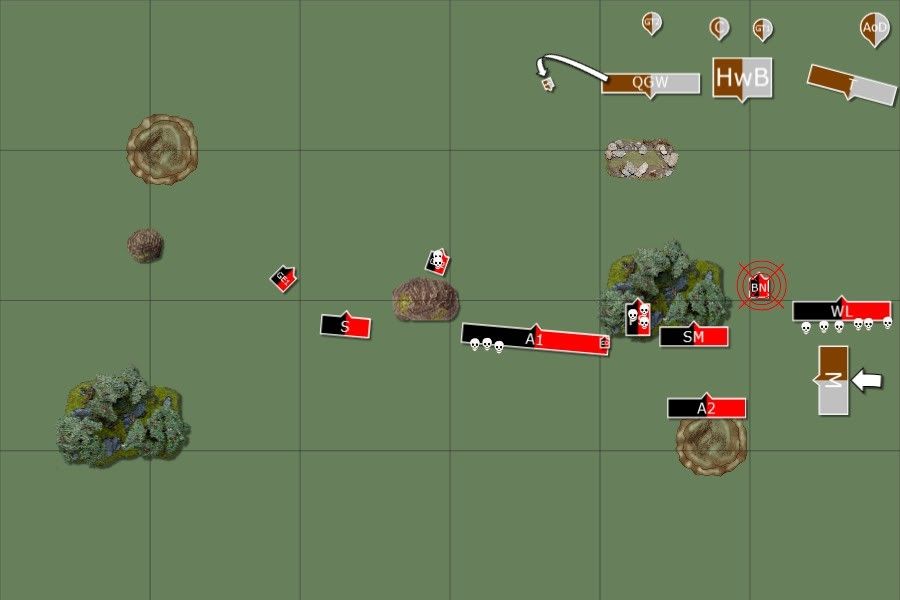 :: High Elves T2 ::
The Lions are too far away for it to be worth risking a charge, instead I march them up. I make a somewhat curious move with the Swordmasters here: marching up the middle means I must take a lot of heat, instead I go East behind the Lions where the crossbows can't see me. This has the added benefit of concentrating my combat units where I need to kill him the fastest and I'm confident I can make room for it all to happen relatively smooth.
Saerith is of course Siren'd out and fails at rolling 12+ on Swiftstride, thus being left in the open again.
As I don't see any value in casting anything, I skip magic and go to shooting. My Archers perform ok, killing off 2 models each.
:: Dwarfs T3 ::
His Hammerers move up to block my White Lions and his Miners charge my Archers - losing a couple to Stand and Shoot. His Thane and Master Engineer block my Eagle's path to his Grudge Thrower.
Shooting again and his supposedly 'inaccurate' Grudge Trower lands yet another 'hit' on Faeria! This time however he rolls a '1' to wound her and I breath a sigh of relief. The Crossbows then decide to try their luck and manage a staggering 3W prior to saves! I fail 2 of them and she's down to a single wound. His Thunderers then decide to try their luck and they manage to inflict a single wound... I need a 5+ to save her, which I fail and she goes down! Adding insult to injury, the cannon kills an Eagle which panics my Spears while the anvil wounds Naenor and slows him down.
Combat sees the Miners easily kill me down to ~8 Archers and I flee. I roll a crappy '3' for my flee distance but his is just good enough to catch me - a '4'!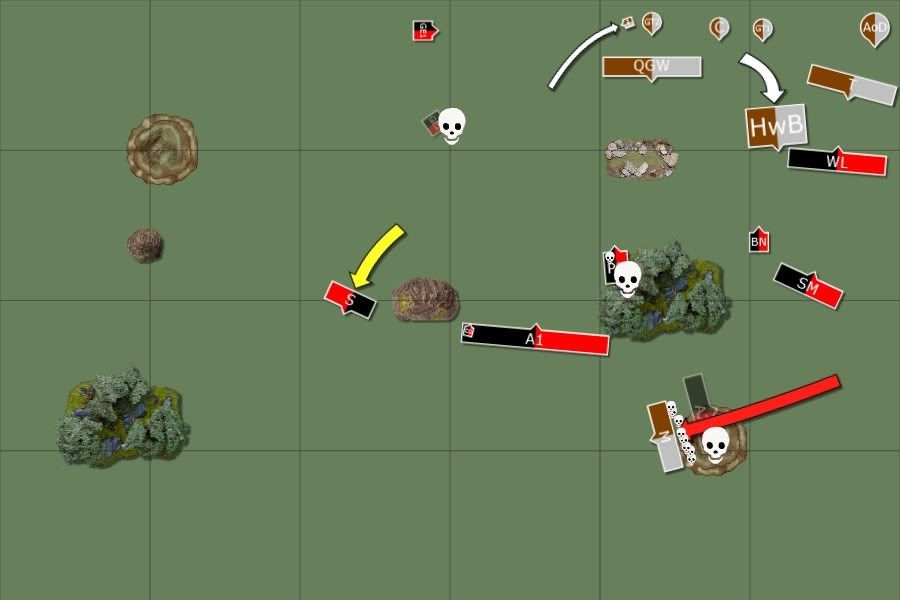 :: High Elves T3 ::
Lions charge Hammerers. Now, this is a tricky one: I decide to move my Swordmasters up right behind the Lions. The thought here is to combat reform the Lions in his T4. I can trade a couple of blows for a bit and then reform without much injury (being stubborn most certainly helps here!). This has the benefit of giving everything (including the Swordmasters) hard cover from his Thunderers. Saerith tries as well, needing 6+, but fails and is left on his own in the middle of no-where, feeling a lot smaller than a turn ago when he was riding a mighty Star Dragon. My spears rally and Archers shuffle a bit, taking care to be out of his charge arc. Naenor moves up, though he's fairly slow.
Magic is something I again feel is not worth spending time on so I jump to shooting where I kill a couple of his Miners. The unit is now likely to lose a combat by the time he engages me given their reduced size and another round of shooting + stand and shoot.
Combat sees my Lions roll poorly and lose. I'm stubborn but then again LD8 isn't all that... I fail my break test and my pulse jumps to like 200, but luckily Naenor's re-roll saves me! Phew!
:: Dwarfs T4 ::
No charges are declared and movement is minimal.
Shooting sees his Grudge Thrower AGAIN land a hit on Saerith. He wounds me, I fail my 4+ ward and he rolls the required 3+ to kill me outright, netting him no less than 722 victory points. So much for making use of Vaul's Unmaking... His Thunderers try their luck against Naenor and wound me once! The rest kill the last Eagle and down a few Archers. The Anvil slows Naenor yet again (a wise choice as a charge on a War Machine + pursuit off the table would be perfect!).
Combat - my Lions roll a lot better this time and win combat by 2 or 3. Regardless, he is stubborn and so tests on LD9. As I'm ready to declare my combat reform however he FAILS his re-rollable LD9 and flees! He is so close to his own units that he flees off the table and I pursue into the Thunderers. Wow, so much for that carefully set up position! I actually think this hurt me more than him because now my Swordmasters have to spend yet another turn out in the open while my Lions would've devastated him given another turn (they were 19 strong I think, while he had ~14 left) with a frontage of 8. Regardless, his lines were now wide open. Could I kill enough before the end of T6 to make up for the loss of Saerith? Could Naenor possibly survive with 1W? Would my centre lose out against his artillery + Miners? I had all these questions and a million more racing through my head as we went to my T4.
:: High Elves T4 ::
Ok, first things first: start with the easy part to keep your mind free of nuissances when you have to consider the hard parts. The centre was mine to dominate and I knew it. Turning the Spears around and backing the Archers off (to a position where the Spears could counter-charge) gave me a good starting point. I also took care to place the 1W Olannon on the far edge where he would be impossible to hit if I had to charge in. I didn't want to leave him alone either with all the artillery still alive and pounding. Naenor moved up as well, intent on being in charge range regardless of what would happen next turn.
The Swordmasters then took up a position where they barely had Arc to the Anvil, while keeping a real threat up against his centre. I was betting on the Lions to go through those Thunderers as though they were butter. Magic was skipped yet again and in the shooting phase I killed a couple more Miners. They were now down to 7, while my Archers were just above 20.
Combat saw the Lions easily kill the Dwarfs and I made a mistake as I pursued them: their angle took me off the table (should've seen this coming) which was completely unnecessary: with his lack of firepower I could've reformed instead.
:: Dwarfs T5 ::
He reformed his Quarrellers to 5-wide, facing Naenor and moving up. He decided the Miners stood a better chance of surviving by not charging and so kept them still.
Shooting saw him kill a few Swordmasters, but not enough to stop their advance. One GT was too close however and killed a few Archers instead. He then surprised me big-time as he used the Anvil to charge the Quarrellers into Naenor! Wow, I completely forgot about this possibility and their Great Weapons were now posing a huge threat. His first round of combat wasn't nice to him as he missed 7 out of 8 attacks and the last failed to wound! I lost combat but held on re-rollable LD8.
:: High Elves T5 ::
Swordmasters charge the Anvil, Lions move back in, this time 6 wide. The diagram's a bit off here, but I was unable to position them to get a flank arc to the Quarrellers because of the 1" rule to either side. I made sure that they had a column to his War Machines while letting the Swordmasters pass them to engage the Quarrellers.
Magic skipped and shooting kills 2 Miners, however relatively speaking he's now in a better position than last turn because his GT killed quite a few of mine.
Combat sees the Swordmasters take the Anvil down to 2W for 1W in return. Being unbreakable, he isn't going anywhere. Naenor is wounded 4 times this round, but I save them all!
:: Dwarfs T6 ::
His Miners decide to try their luck - the Archers aren't deep enough for the artillery to be likely to bring them beneath 25%. A good stand and shoot kills 3 however and there's only 2 left!
Combat - the Archers lose but hold on steadfast. Naenor is wounded 3 times, but again i save them all! The Swordmasters finish the Anvil and reform to face the Quarrellers.
:: High Elves T6 ::
The last turn of the game, and I'm desperately looking for more victory points: The Spears counter-charge the Miners, the Lions go against the closest War Machine and the Swordmasters, intent on helping Naenor, flank the Quarrellers.
Magic sees me cast Shield of Saphery on the Archers.
Shooting is void so we go to combat:
The Lions make short work of the War Machine. The Spears and Archers fail to kill the last Miner and he even passes his break test! Naenor and the Swordmasters bring the Quarrellers down to 5 strong. He directs 1 attack against the Swordmasters(max of what he can) but fails to hit. The last 4 go against Naenor, scoring 2 wounds... Again, I manage to save both! Since he didn't kill any Swordmasters he's not Steadfast and fails his break test. I run him down, and that's the game!
:: Victory Points ::
Counting up I've killed 1881 points worth of Dwarfs, while he's killed 1042 points worth of High Elves. The result is a
15-5 win to the High Elves! :: Evaluation and Conclusion ::
Wow, what a game! A lot of crucial moments, nail-biting dice throws and close calls. This could easily have been a totally different result.
Early-game I think I did what I could, but Saerith's view arc was terrible given that I knew he had the Siren Song Thane and where he was. I probably won't make this mistake again any time soon. Mid-game I should've restricted the Lions since his Thunderers would auto-flee off the table. Really poor mistake, especially given the fact that I had taken a mental note of their angle during deployment. I could blame it on having little time (this was the only game where I was worried about the time actually!) but it's such a basic mistake really. Hopefully, lesson learned!
Late-game - I think it played itself. Arguably, Naenor should've attempted a charge or stayed still. Forgetting about the Anvil's movement-boost almost cost me a TON of points, pure luck prevented him from dying - indeed Naenor's last man stand saved me a solid victory.
A big thanks to my opponent for a truly great game. He was a real sport to the very end - when I kept passing those 4+ re-rollables he swore more than once, but it was with a smile on his face and a laugh right afterwards, as if showing frustration more than anger (which I can completely understand, having played against Rusty's Daemons and uncanny 5+ rolls). I hope he enjoyed the game, too!
As far as luck is concerned, some outrageous rolls definitely impacted the game. However, I think we had a fair share of bad luck/good luck on both sides: the constant 'hit' markers on his Grudge Thrower really killed my General off way sooner than it should've. Indeed, passing that 6+ to charge would see me get into combat with the Hammerers and thus likely save 722 (!!) victory points. Naenor's continuous luck against the Quarrellers was also huge though, but I doubt this had more of an impact than the rolls affecting Saerith.
Anyways, thanks for reading! I hope you found this interesting and that you'll let me know any comments you might have
Regards,
~Olannon