This blog will be for both my High Elves and my Wood Elves (WE's from Pg3)
This is my starting point, a long long time ago, in a house far away... (i've moved 3 streets away)
----------------------------------------------------------------------------------------------------------------------------
Well, this may ended up being the slowest updating blog since Mj's "My tour so far", for that I appologise, but hey I need a reason to get off my backside and finish it all.
I started collecting HE again in winter 09 after a long few years off. I'd thrown away my old army (yep...
) and had to start from scratch.
I went to my local GW shop and bought the battalion, a lion chariot, 10 white lions, Korhil and the wizard set too. Simple idea was to do a Chrace themed army. As you will see, that idea didn't last too long at all! I'm very much a magpie and when i see something new and shiny it gets all my attention.
I've decided to not break the mould too much with my colour scheme - White! yawn... However I want to use the white for some of the armour/weapons too, giving a Lacquered or Ceramic effect. Once Satin sprayed, I will 'Ard Coat the white and it should look pretty special. I'll be doing this for most units where appropriate.
The fabrics will all be highlighted up from Astrnomican grey, space wolves grey to skull white (those greys are blue to my eyes!) Gems will be black and other colours will be kept to a minimum - possible golds here and there, but not so much.
There are pictures of my dragon on a different thread found
HERE
Those red gems, those that I said were black... well, they are black, honest
(I'll address that when I'm more confident)
I'll focus this page on the full army and keep it updated as I progress. Hopefully you'll see my painting standards improve with your tips and ideas.
Like an idiot, I've gone out and bought more than I need before I've finished much, so here's an idea of the job in hand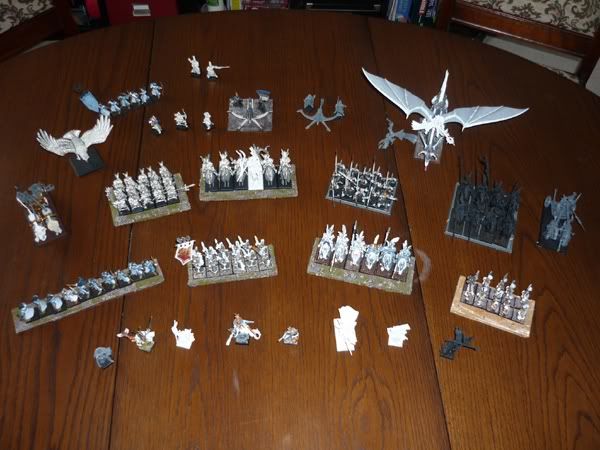 So far I've started most units and finished none, so so easily distracted... even a bag of midget gems (chewy fruit sweets) will stop me going near the army to paint it. Don't get me wrong, I love WHFB, totally, but I get much more drawn in by the fluff and writing better and better army lists / character builds.
Heres some pics of my work so far.