Ulthuans,
Before I became a loyal Assuryian myself, I first fell in love with Daemons of Chaos as my first army. I've been painting for almost five years now so these guys were a blast to paint. While I'm waiting for my new army of High Elves to get here, I'll be finishing up painting this horde of grizzly abominations so that I can actually say "I have a finished and painted army".
Anyways, here's my list for a 1500 pt game for those of you interested in the army itself. (It's always interesting to see how an opposing army is put together. If you ever need help on kicking the tar of a Daemon army, feel free to ask me
).
Command/ Heros
Herald of Khorne (General)
Juggernaught of Khorne
*Armour of Khorne*
Pts:165
Herald of Nurgle (Battle Standard Bearer)
Palanquin
*Banner of Sundering*
*Noxious Vapors*
Pts:240
Core
Unit of Khorne Bloodletters (16)
Blood Reaper (Unit Champion)
pts:222
Unit of Plaguebearers (16)
Plague Ridden (Unit Champion)
*Banner of Seeping Decay*
pts:247
Furies (10)
pts:120
Special
Unit of Flesh Hounds of Khorne (5)
pts:175
Seekers of Slaanesh(5)
Unit Champ
*Siren Standard*
pts:157
Rare
Flamers of Tzeentch (5)
pts: 175
total points: 1501 (Close enough, but could remove a model if playing under strict regulations)
Sometimes I do some subbing and such, but this is the general gist of the army.
Here's a progression of what I've done so far:
Anyways, I got some Tamiya Red Clear for my Khorne units. After reading through the codex and looking through some White Dwarves, an illustration of some 'letters emerging really caught my eye. They're glistening with blood and have a distinct sheen to them. So, with this idea, I went forward and applied the concept to my jugger and my 'letters. Let me know what you think. They look much better in person.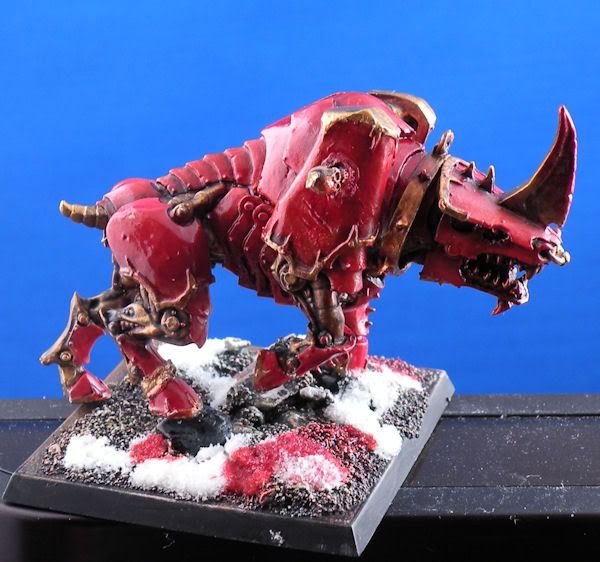 After these shots, I went full steam ahead and took some more pictures as I went to town painting these guys: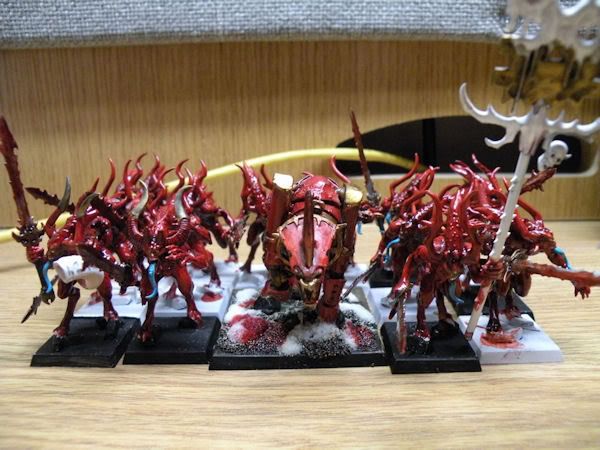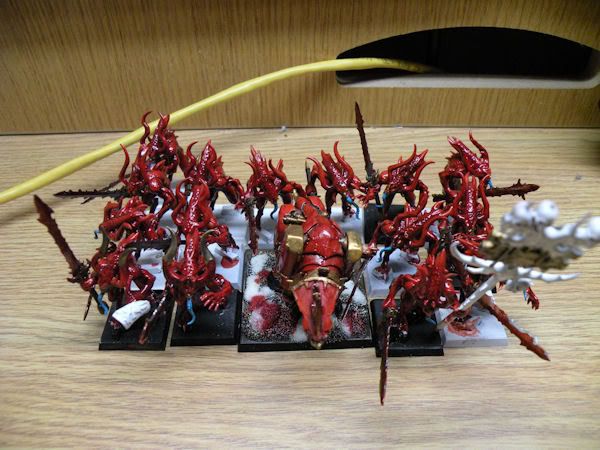 As I stand now, my laptop had recently broke so I gave up taking pictures for a bit and just worked on painting.
Here's a run-down of what I've gotten done since taking anymore pictures:
'Letters and mounted herald are completely done. I'll just need to create an appropriate movement tray for them at the very end.
Plaguebearers are completely done. As for the herald, he turned out much better than I expected. An appropriate movement tray will be in the works.
Flamers have been re-primed and reset. These are my favorite to work with because I love to blend on these models. I should have them done by tonight or on Wednesday. While they are skirmisher units, I will make a tray for them as well that will be nice to put them on for display purposes.
The fleshounds, I have no idea. I primed them and undercoated them with a deep sanguine color (dark brown with a bit of red). I'm a bit puzzled how I will pull these guys off. I was thinking a darker color with brighter scales to them, but I must confess I'm not familiar with painting scales on a creature. I know how I'd do it, it's just a matter of experience. I still haven't decided what I plan on doing for these buggers yet.
I plan on having pictures up soon of this army. I don't have steeds of Slaanesh yet, but I just proxy them. For the time being, my attention has turned to my High Elves, so I plan on just painting up the rest of this army and then moving on to the sons/daughters of Asur.
Any comments and criticism are greatly appreciated. I know these aren't High Elves, but it's something I'm working on.
Cheers!
Jake