After my first UB practice / test game I quickly realized that some of the elements that seem to be taken away actually still are around very much.
For example.
Effective Rank Bonus
K, on the last edition ranks gave static combat resolution and allowed supports attack to be made. They also had steadfast to help them hold their grounds
Well here is example picture (porprotions are not correct etc, but principle can be seeing here)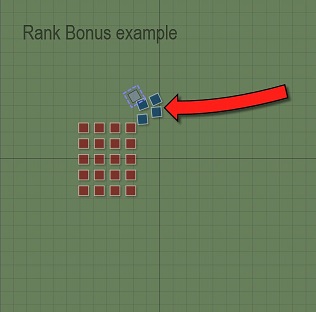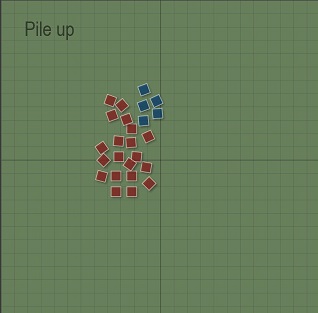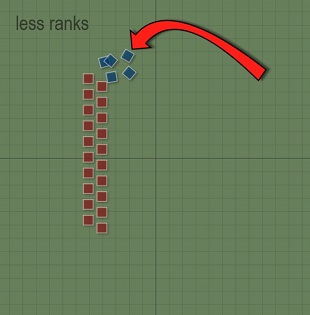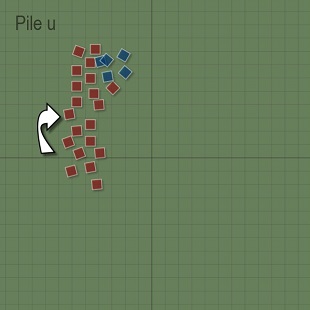 ok these pictures are not the most perfect ones, but in short having "3 ranks" compared to "1 rank" and get charged in corner means about extra 4-6 attacks. so that would be roughly "the same" as +2 combat resolution in old one. well not exactly, but you get the point. Effective rank bonus.
Effective Flank Charge
Ok as we know in the old one flank charges were really good / bad thing depending were you flanking or not. The basic effects were +1 to combat resolution, denies support attacks and some saves such as parry. Additionally if the flaking had rank also ranking bonuses were denied. Additionally if unit was charged from multiple flank it couldn't reform.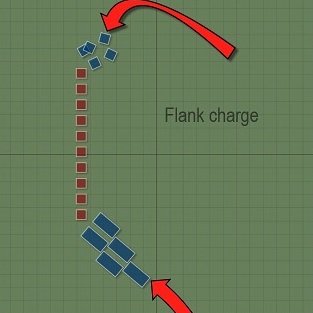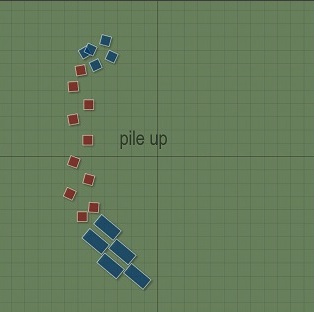 Well lets assume opponent will have straight line formation of troops with maximum of 1 inch apart from each other. (very ideal I know) getting charged from both flanks means. No pileup option for the defender. Also it will seriously cut attacks. You are not allowed to move if you are 3 inch from enemy and you can only pile up, but unit must maintain 1 inch from another model. If we would charge from both ends to "ranked" unit then the most middle ones needs to be left there to connect the two parts of the unit. Thus effectively negate attacks that could follow from pileups. The wider the unit is the topology of maintaining 1 inch between friendly models makes the unit more vulnerable to flank charges.
"Redirecting"
Well redirection in old edition in nutshell means, stall enemy big threats from doing what they are supposed to do. This was achieved by running some mundane troops infront of them, changing their overrun directions, forcing march tests etc.
Well redirecting in this form doesn't exist, but.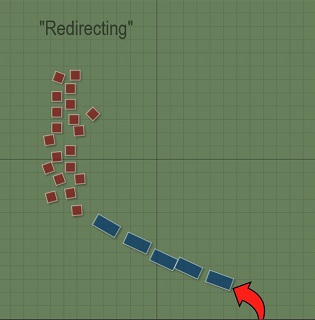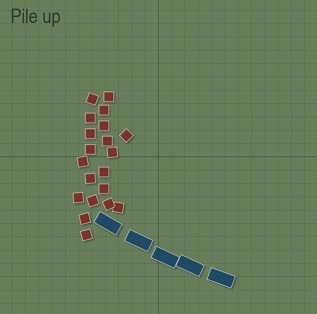 Lets take our previous edition redirection masters, Reavers. Now if you clip only one model to the corner of the unit 1/2 inch apart from it then the conga line with exact 1 inch apart. now you cut down many attacks your opponent can do by filling this. Additionally as the reavers can shoot prior to charge they can do significant ammount of damage. and you can remove models as you see fit. so remove from back until one of opponent pile up models is within 1/2 of the second model, then kill the one that is closest to the opponent. Your back reavers will get 3 shots per round to the unit and this unit performance is hindered next to nothing additionally this actually can cause really negative effect on battleshocks for the unit in question. As the rules state that the unit that starts turn within 3 inch from enemy model can either retreat or remain stationary. It is actually little odd that it isn't models. In this situation given that this game has really smooth and dymanic movement why couldn't those dudes that are in the back simple "run" to aid. well not by raw.
------
These were really basic things, hope it helps people to find more tactical elements from the game.
_________________
High Elves since Aug 2010: Tot /W / L / D - 100 / 75 / 23 / 2
Tomb Kings since Sep 2013:Tot / W / L / D - 31 / 18 / 12 / 1
Chronicles of Loriel's Glory and Shame