I was little surprised that I received no comments on my 71 high elven match up, but then I realized that most of ulthuan people have probably missed it (due overwhelming Necromunda postage or small advertisement), since I use the Battlechronicler to export whole HTML sites.
Here is the link to it
http://loriel.kapsi.fi/WHFB_BR/HE071/BR.html
but I decided to post pictures of it also to the actual post
Overview
Scenario: Battleline
Location: Wintefell
Date played: 3. November 2014
We decided to have Battleline. No roll for scenari. Terrain was randomized as BRB 8th page 142. I won the first pick for terrain. Terrain placement order
- River
- Swamp
- Forest
- Waystone
- Building
- Hill
- Forest
- Wyrding Well
Dwarf
General: Stumpel
RuneS1 Infantry (Character), Runesmith
Rune of Spellbreaking, Rune of stone, Great Weapon
96 points
Hero
RuneS2 Infantry (Character), Thane
BSB, Dwarf Pistol, Great Weapon, Master rune of Gromil, Rune of Iron x 2
177 points
Core
Long1 25 Infantry, Longbeards
Full Command, Great Weapon, Rune of Stoic
415 points
Special
Gyro1 Unique, Gyrocopter
80 points
Gyro2 Unique, Gyrocopter
Vanguard
100 points
Hamme2 22 Infantry, Hammerers
Full Command,
338 points
Rare
Flame War Machine, Flame Cannon
140 points
Drake 10 Infantry, Irondrakes
160 points
Range 6 Infantry, Rangers
Musician
94 points
Total: 1600 points
High Elves
General: Loriel
Mage Infantry (Character), Archmage
Level 4. Lore of High Magic, Book of Hoeth, Golden Crown of Atrazar, Fencer's Blades
320 points
Annoi Infantry (Character), Annointed of Asuryan
Giant Blade
280 points
Noble Monsterous Beast (Character), Noble
Dragon Armor, Great Eagle, Star Lance, Charmed Shield
165 points
Core
Helms 10 Cavalry, Silver Helms
Musician, Shield
240 points
Reave1 5 Cavalry, Ellyrian Reavers
Spear
80 points
Reave2 5 Cavalry, Ellyrian Reavers
Spear
80 points
Special
WL 27 Infantry, White Lions
Full Command, Banner of the World Dragon
431 points
Total: 1596 points
Deployment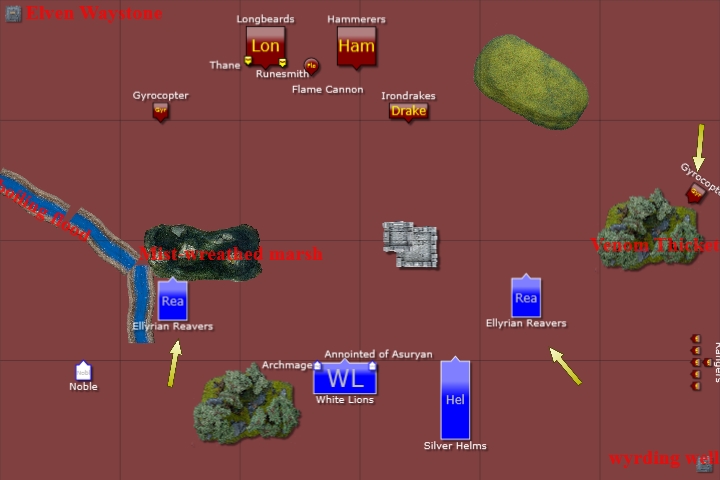 My opponent won the side picking. Then I got the first placement. Deployment order was
- Right flank ellyrian reavers
- Left flank gyrocopter
- Whitelions
- Long beards
- Silver Helms
- Iron Drakes
- Left flank reavers
- Flame Cannon
- Characters -> I generated ( 3, 3, 4 and 6.) I chose hand of glory and swapped tempest and convocation to signatures.
- Rest of the dwarfs.
He won vanguards
I Won the first turn
Turn 1 - High Elves
I went almost full speed ahead, except with the helms.
Magic: WoM 2+2 and I channeled 1. Thus 5 vs. 2
- Hand of glory 2 pd on whitelions -> succesfull casted increased characteristics by 1.
- Walk between worlds 2 pd on whitelions -> failed dispel. I moved the unit at 12 inch from hammerer / long beards / flame cannon.
- Soul Quench 1 pd on flame cannon -> Succesfull 1 wound.
No shooting, No close combat.
Turn 1 - Dwarf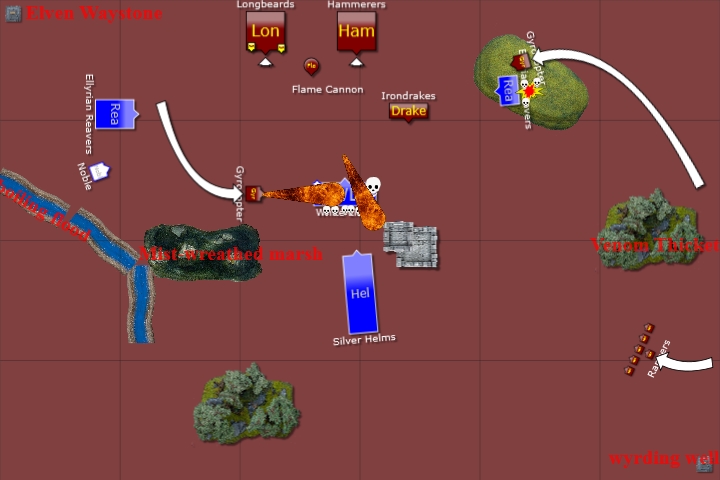 He moved back with the main blocks.
No magic
At shooting he first shot with the flame cannon. He used the dwarf steam with it and scored nearly perfect hit on white lions. I failed with look out sir with the annointed, subsequently failed 3+ ward and he managed to do 3 wounds with the flame killing my general. Total 6 white lions died from flamecannon + irondrakes + gyrocopter. The other gyrocopter dropped bombs on reavers and killed 3 of them.
Turn 2 - High Elves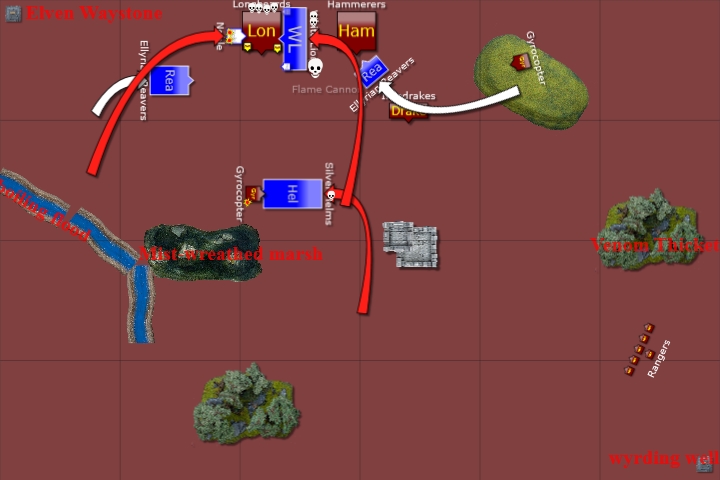 This picture was little off. I needed 6 to get in close combat with the great eagle and 8 with the flame cannon.
Magic: WoM 5 + 4
-Drainmagic 2 pd. Succesfull casted
- Walkbetween the worlds 3 pd. Dispelled
- Hand of glory 4 PD, spellbreaked.
No shooting
Silverhelms failed to deliver. They managed to do only 1 wound. (expected value of 4
and then one died of them when copter attacked and due that the copter didn't break. The Flame cannon was destroyed easily enough and we then realized that my unit was actually flanking the longbeard unit which it overran. Thane called for challenge and my Noble took it. I failed to do single wound, hitted with all attacks, and rolled 3 ones with the star lance. Thane did 2 wounds to my noble which survived because of the great eagle +1 wound. My white lions managed to only do total 4 wounds. I reformed to gain little more attacks.
Turn 2 - Dwarf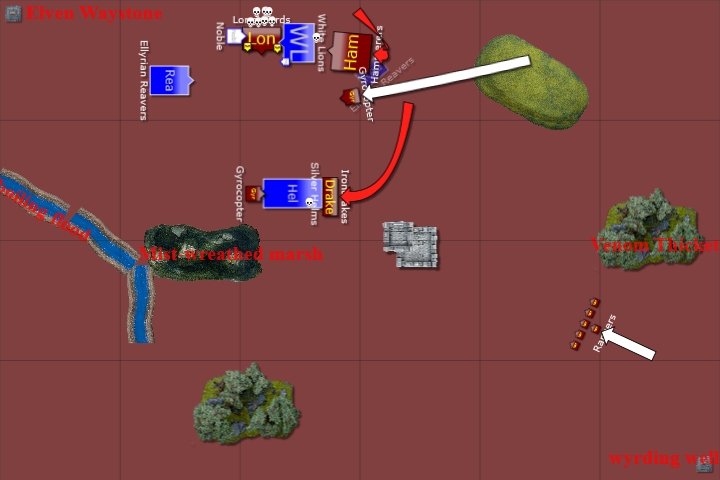 At close combat we forgot that Iron Drakes had +1 str. It would have caused more wounds on Helms. I got squashed but double 1 break test saved me. In the longbeard battle I naturally couldn't do much about the thane but luckily he also failed to wound me. This time my Whitelions did much more damage and killed ... something like 8 - 10 longbeards. They didn't break though.. I reformed to 5 wide formation.
Turn 3 - High Elves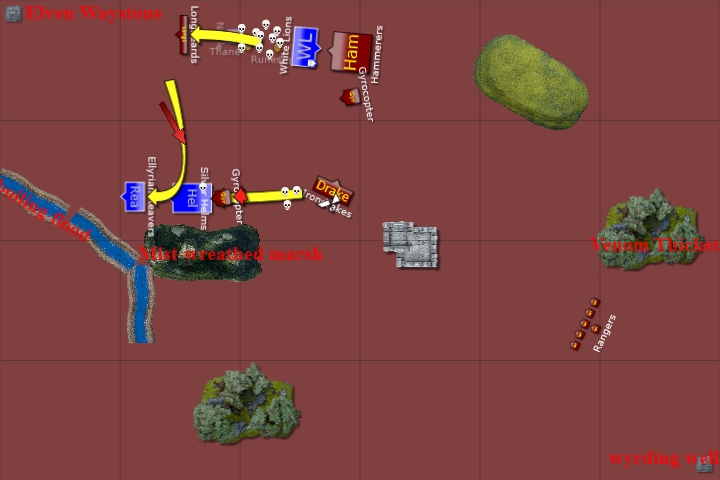 I tried to even the odds by charging the back of the gyrocoper.
Magic: WoM 2+2 +1 channel.
- Drain magic 2 pd, succesfull
- Hand of glory 3 pd, failed dispell. Increased of 3.
Close combat. My helms and reavers failed to even a single wound and irondrakes managed to kill 3 helms by off chance. Both of my unit broke, Iron Drakes restrained pursuit and gyrocopter failed to catch running silverhelms. My white lions scored really good with the hand of glorified and they almost leveled the whole unit doen (including the rune smith.) Unfortunately my noble wasn't lucky enough to survive this round and died. I restrained pursuit as the thane bsb died on break and faced to take charge from hammererers. [note] We realized after the battle that My friend forgot that he had stubborn banner on the unit. He wouldn't most likely fail the reroll 10 ld break test and hammerers would have got rear charge.
Turn 3 - Dwarf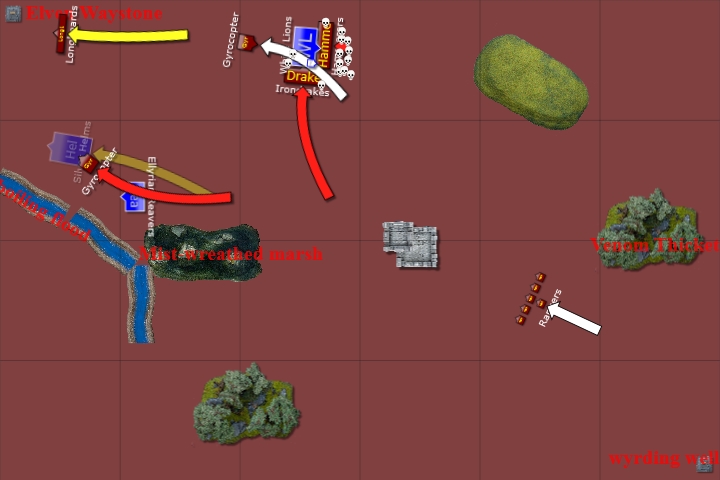 Irondrakes managed to land long flanking charge. Gyrocopter bounced the helms and managed to catch them. Longbeards failed rally (required snake eyes).
At close combat I made a challenge with my Archmage and hammerer champion took it of. (this denyed two flanking attacks) hammerers got badly hammered. I killed 12 of them and 1 from the flank. Hi killed something like 6 of my lions (most from the flank
) Hammerers were stubborn and iron drakes managed to hold.
Turn 4 - High Elves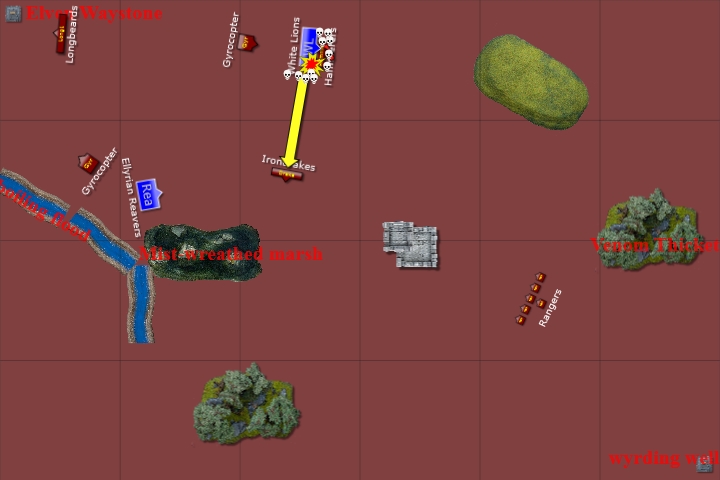 Reavers rallied
WoM 5+6
- Drain magic 3 pd. succesfull casted
- Hand of glory 4 pd, irrestible force. Increased characteristic of 3 (detonation) no casualty for the High Elves 5 casualties for dwarfs. Lost 1 dic.
- Walk between world 4 pd, dispelled.
At close combat my Hand of Glorified lions reduced hammerers to only command. The wizard was forced to use Crown of Atrazar. Iron Drakes broke from combat, hammerers survived due stubborn.
Turn 4 - Dwarf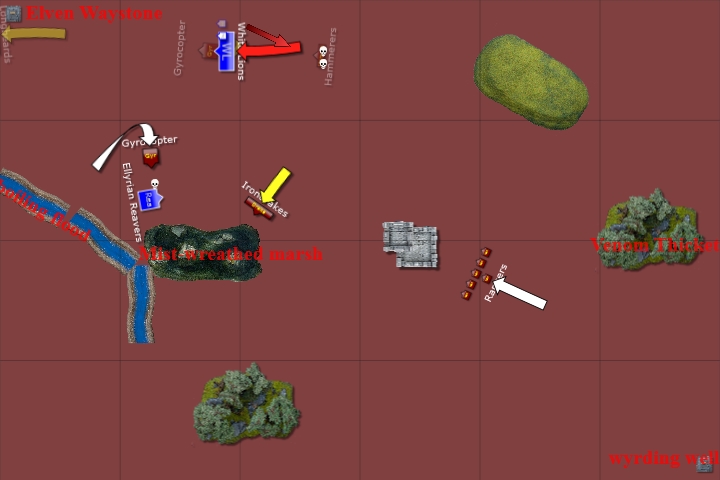 Longbeeard ran from the board. Iron drakes failed to rally.
Gyrocopter shooting killed one reaver.
At close combat my mage finally slayed his foe. Both musician and banner bearer was put out of their misery and gyrocopter broke from combat and was caught by white lions.
Turn 5 - High Elves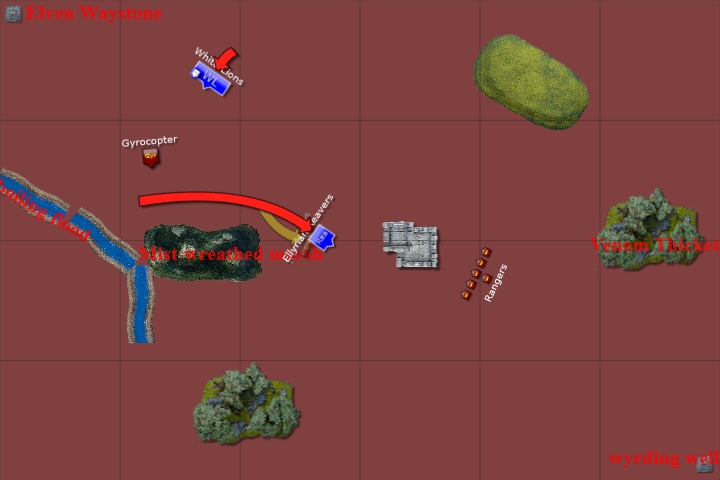 Reaver caught the running iron drakes.
WoM 1+3
- Drain magic 1 pd, succesfull
- Walk between world 1 pd, succesfull
- Hand of glory 1 pd, succesfull, increased 1 characteriscics
- Soul quench on gyro copter -> failed to dispel so succesfull.
Turn 5 - Dwarf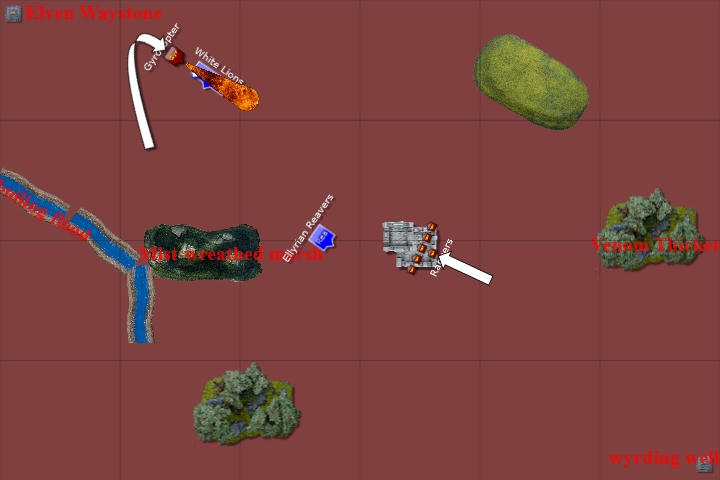 My opponent tried to cause panic in my lions, but no wounds were made 4+ armor 3+ ward made sure of it. My opponent yielded at this point.
Final Score was 1750 - 765