---
.::. Battle Report - 2400 vs Beastmen (ETC comp) .::.



A new army! I haven`t faced Beastmen in a very, very long time. I know that they have some strong options available so was eager to see how they play.

// Lists //

Prince on Barded Steed, Heavy Armour, Enchanted Shield, Giant Blade, Dawnstone, Ironcurse Icon = 268
Loremaster of Hoeth, Book of Hoeth, Talisman of Preservation = 330
Noble BSB on Barded Steed, Dragonhelm, Golden Crown of Atrazar, The Other Trickster`s Shard, Dragon Armour, Shield, Lance = 163
Heavens Mage, Dispel Scroll = 110
Characters = 871

12 Silver Helms, Shields, Full Command = 306
5 Silver Helms, Shields, Musician = 125
5 Reavers, bows = 85
5 Reavers, bows = 85
Core = 601

20 White Lions, FC, BOTWD = 340
20 PG, FC, Razor Standard = 375
Special = 715

3 RBT = 210
Rare = 210

Army Total = 2397

Beastmen:

LORD
Great Bray Shaman: General, Lv4 Shadow, Power scroll, Obsidian lodestone. 315p
Great Bray Shaman: Lv4 Death, Warrior bane, Scepter of stability,
Talisman of preservation, Healing potion. 335p
HERO
Bray Shaman: Lv2 Shadow, XHW, Dispel scroll, Opal Amulet 152p
Bray Shaman: Lv2 Beast, Shard of the herd stone. 160p
Wargor: BSB, HA, Shield, Gnarled hide, Crown of command. 166p
CORE
9 x Ungor Riders 54p
40 Gor heard: FCG, XHW, Totem of rust. 395p
40 Gor heard: FCG, Shield, Standard of Discipline. 360p
SPECIAL
1 x Razergor 55p
1 x Razergor 55p
5 x Harpies: 55p
5 x Harpies: 55p
39x Bestigor heard: FCG, Razor Standard 543p

// Pre-battle thoughts and deployment //

I knew the list I was facing was tough (as far as tough BM lists go), which presented me with 2 options: I could either hang back and win small, fairly reliably going into a 12-8 or something like that, or I could go gung-ho style and see just how tough they are in combat. With this being a practice game I decided to go for the second.

Deployment: Herdstone went down first so I could choose to how to counter this. I decided to play WL center, with Helms on extreme flank and PG towards refused flank. I placed chaff on the West, intending to kill off Pumbas and Harpies to gain board control and move East as needed to get the freedom I wanted to engage. I placed both characters with Lions to avoid having to dispel nasty death snipes.

Spells: he got Miasma, Withering, Pit, Mindrazor on L4, Miasma + Enfeebling on L2. Death got Spirit Leech, Caress, Soulblight, Fate of Bjuna. L2 Beasts got Wyssan`s, Curse of Anraheir. I defaulted to Iceshard.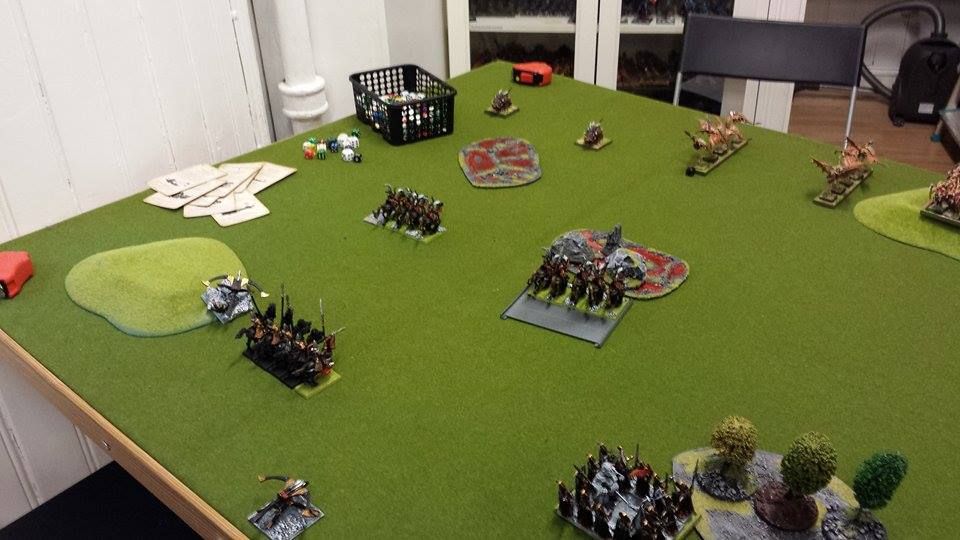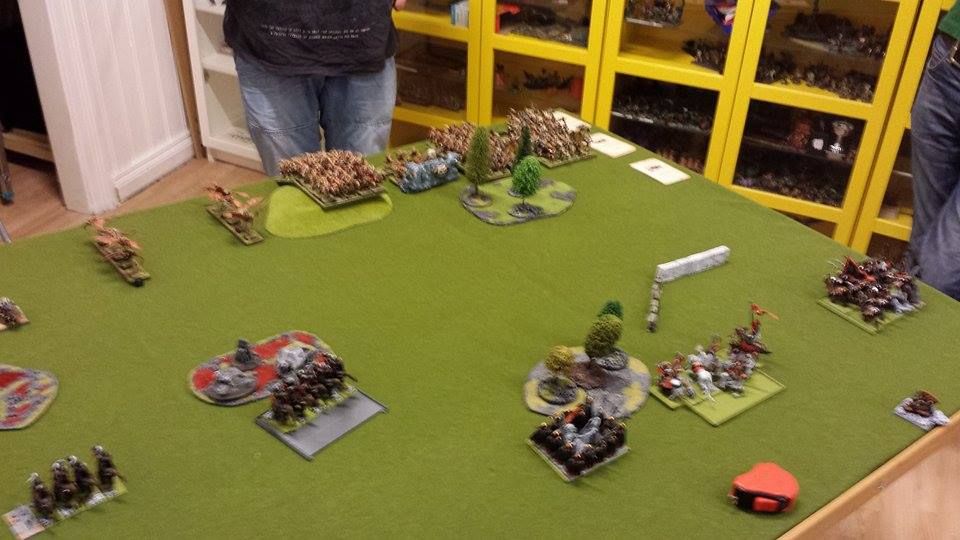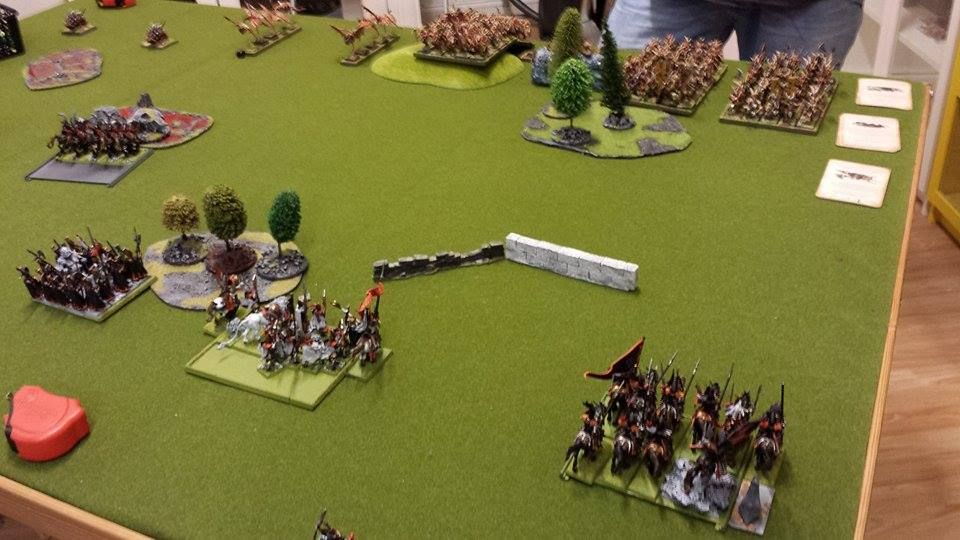 All of his characters apart from the L2 beasts guy was in the central block.

Having +1 to start ensured me first turn!

// HE T1 //

One Reaver unit moves up to force march tests on Pumbas. Small Helms advance slowly to react to Pumbas. Infantry move up center and big Helms await his T1 with a cautious advance.

Magic sees Iceshard land on Harpies. I forced out DD with a Spirit Leech on his L2 Beasts. The result killed 2 and they panicked off the table. I finished with 1D6 Miasma on the Bestigors (which were placed close to the table edge!) to slow them down to M4. Shooting: I did one wound to Pumba and a few on the Bestigors from RBTs. Nothing major.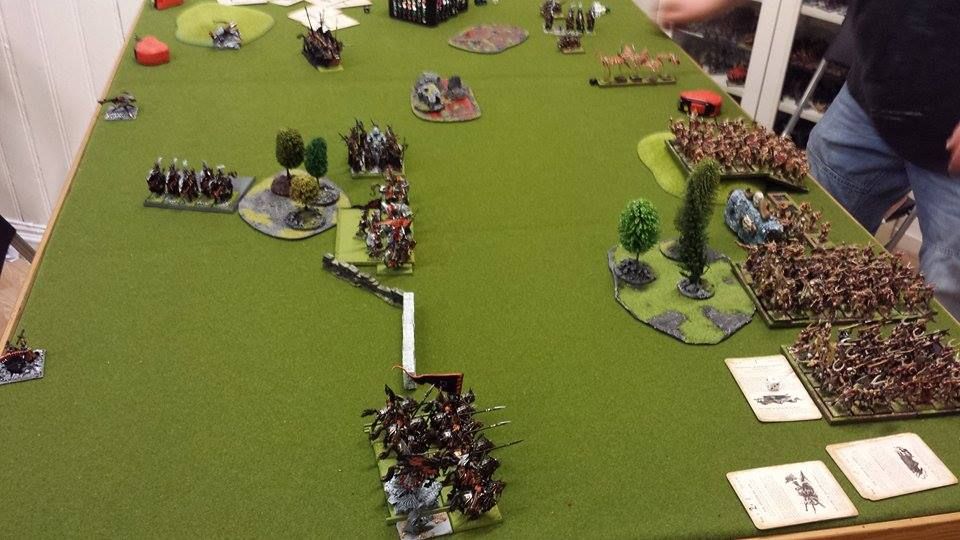 // BM T1 //

One Pumba fails march test and moves up towards RBTs 7". The other passes his and moves centrally. Harpies move up, blocks are very cautious.

Magic - double Miasma brings Helms to I2. Pit of Shades is dispelled.




// HE T2 //

PG charge Harpies. He flees, I redirect into Pumba. He holds. Reavers rear-charge Pumba. Hold again. Small Helms charge the other Pumba, which also holds. Infantry move up. Big Helms stay still.

Magic - I think I drew his Scepter of Stability here on a high cast of Spirit Leech. I got Miasma through on his Bestigors, M3. Shooting killed a few guys, nothing major. Combat saw my Helms fluff vs Pumba on the West, but I won by 1 because of charge. He held. The other Pumba didn`t die (!), but fled. PG restrained, Reavers pursued. PG reform.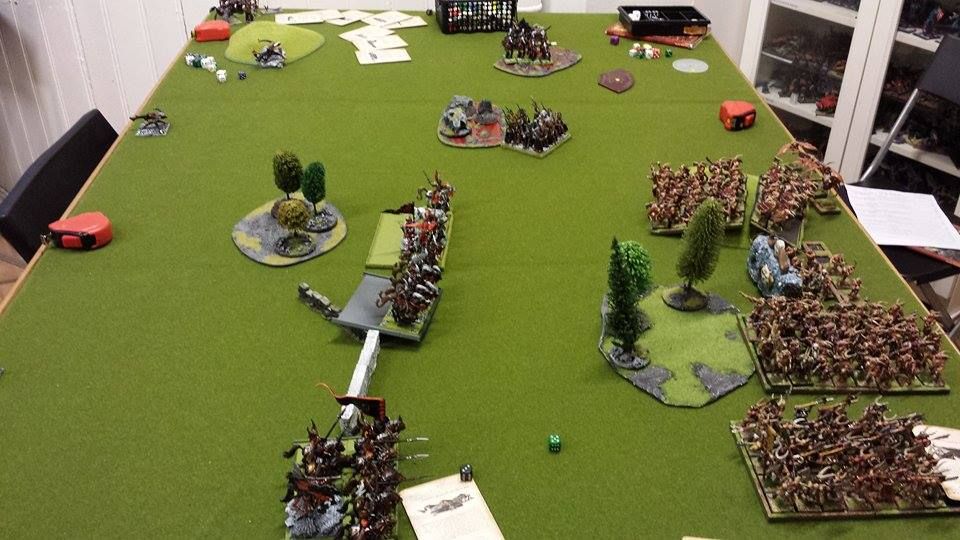 // BM T2 //

Yet again his blocks are very cautious. Harpies rally. The magic phase goes the same as last time: I dispel Pit and Helms are I2. Combat sees Pumba win vs Helms, I hold.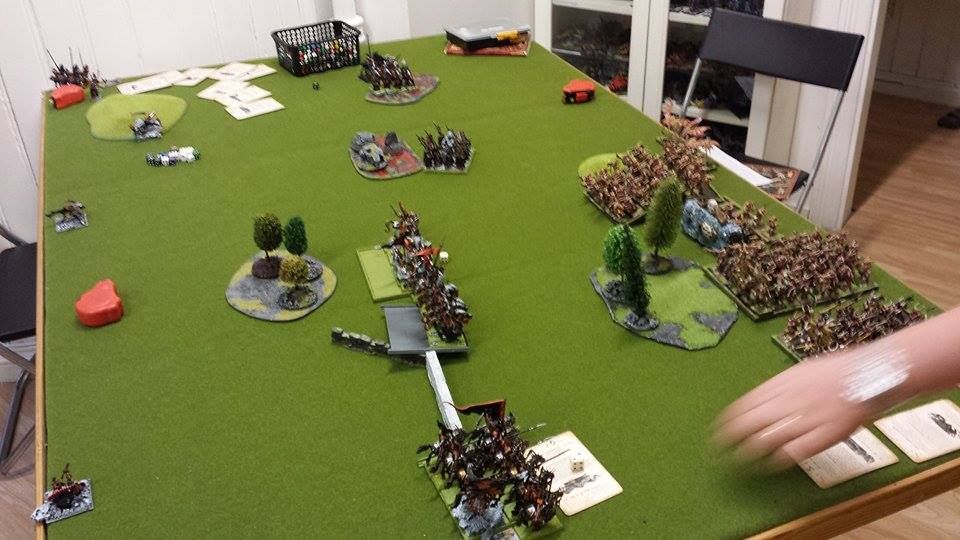 // HE T3 //

WL + PG charge his Western block. WL fail their 7+ required so I move Reavers up to block central block (who need 7+ to reach Lions). With almost all of his characters here, I want him to charge my WL with this block actually: since it`s so long and unwieldy I have to close the door, which means the Bestigors will be isolated. Furthermore, if he fails the charge he`ll be stranded in the wood where he isn`t steadfast: if I kill the BSB he can quickly lose the game instantly. Thus, I place Reavers ahead of him, taking care that they only need 6+ or 7+ to escape (by moving through the Lions) should he charge.

Magic sees him dispel my attempts at helping the PG, even the scroll comes out. I finish with Miasma on his central block for -2M: perfect! Shooting panics Harpies off table and kills a couple of Bestigors.

Combat sees PG do what they do best: grind. I win, he holds on steadfast. Pumba finally kills the Helms on the West.




// BM T3 //

He charges my Reavers! I happily flee and he tries to complete the charge (which is impossible given the distance) and stumbles ahead 5", right into the middle of the wood! Magic sees him assist vs PG, but only one Miasma (WS) goes through, -1 sees him still only hit on 4s. I think he also cast Wyssan`s on the Bestigors, which I didn`t bother dispelling as I had no intention of contacting them. I also spent my scroll here.

Combat sees PG grind it out and win again, he holds on steadfast.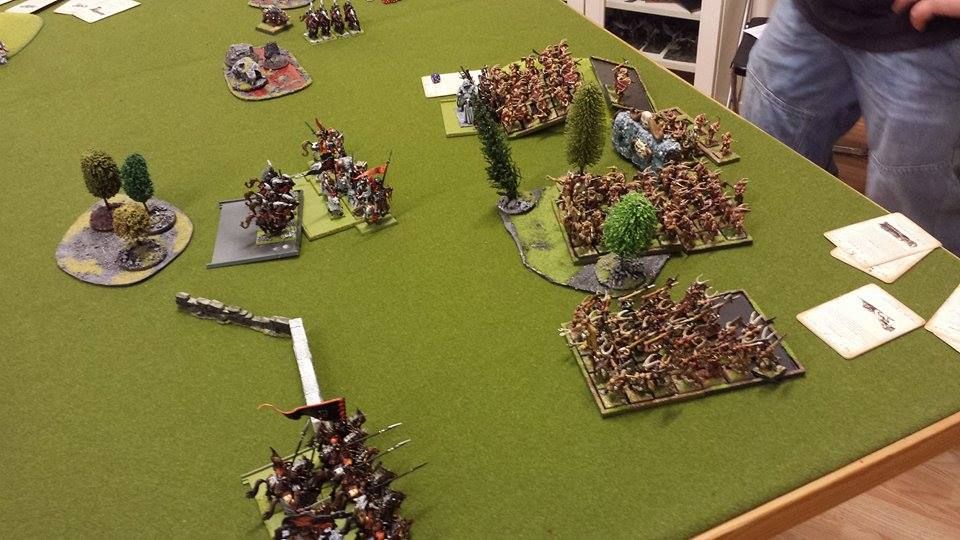 // HE T4 //

WL charge center. Reavers block Bestigors. I brainfart as I forget to shuffle my Helms 4" left, I was intending to double-flee which essentially leaves the Bestigors out of the game. Magic sees me draw his scroll, but I still get Earthblood through. Shooting kills last Pumba.

In combat the PG win again, he holds. I brainfart with Lions as I forget about the Crown and target the unit with as much as I have. Huge mistake. They kill a lot of the Beasts which fail to do a lot in return. He holds on stubborn.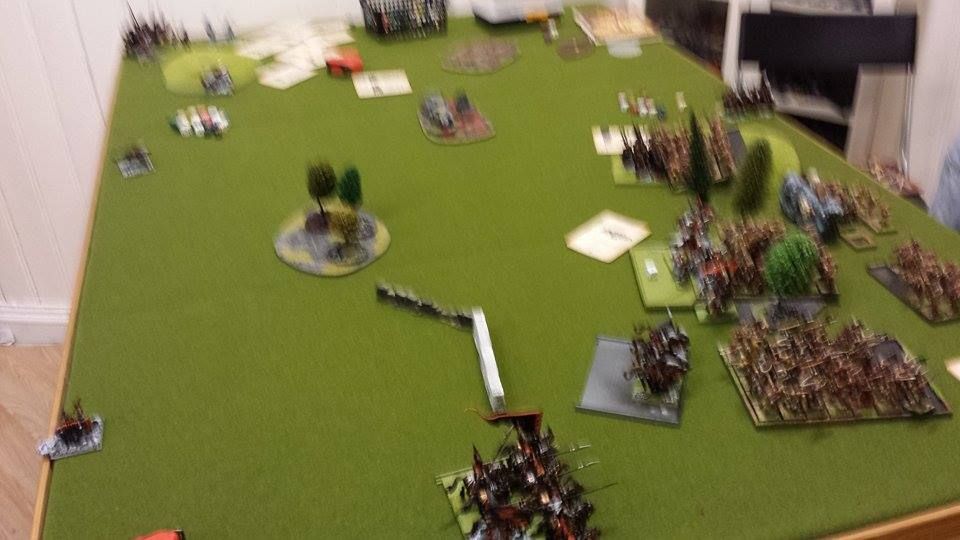 // BM T4 //

Bestigors charge Reavers, I flee. He redirects into Helms and I flee as well, to make sure he`s out for the full game in case the central combat goes on. Yes that`s 330 vp insta-wasted, but I think it was worth it. My mistake not moving them previously, anyway.

Then comes the hurt. Magic is huge and he starts throwing the spells around. I prioritize as best as I can, but given the power scroll the result is this:
- Miasma WL (-1WS)
- Soulgblight WL
- Mindrazor block vs PG

In combat the magical assistance really shows as, although I load as many attacks as I can onto the BSB, he survives. Furthermore I don`t kill as many as last round either and take a lot in return, T2 not being solid. Loremaster nearly goes down, 1W left. I lose I think but hold on stubborn and reform the Loremaster to corner-to-corner. PG win, Mindrazor´s not that big of a deal for them actually as they already have no armour save because of the banner.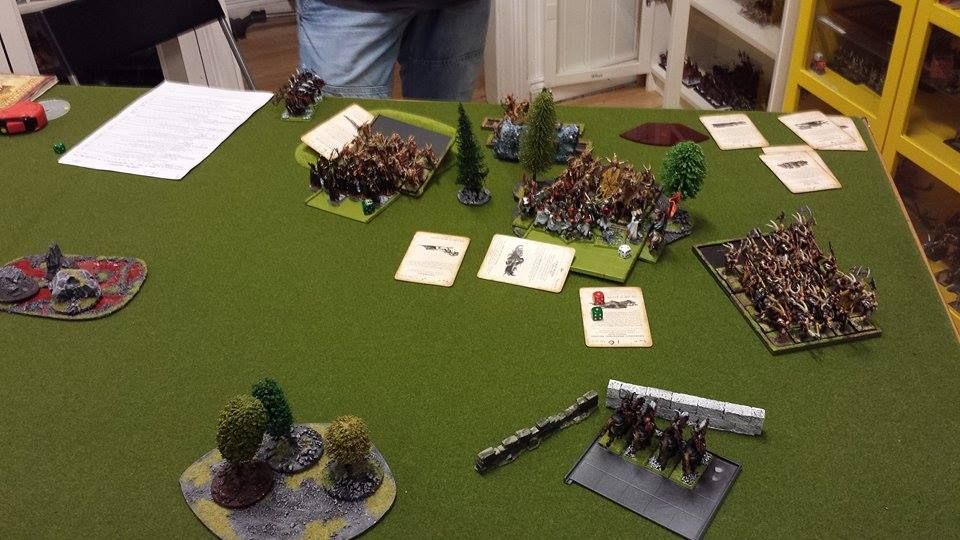 // HE T5 //

Reavers rally and move to within BSB/General bubble to block him in his T6, if need be. Magic is huge and now it`s my time to abuse my potential: BoH ensures a lot of spells go through: net result is Wyssan`s + Earthblood on WL, Miasma (-1WS) on him. He dispelled two casts of Iceshard and failed to dispel miasma.

In combat I kill the BSB and lots of normal folks, winning big. He fails break test and since he`s below 25% I opt to reform, having both the PG combat and the fleeing unit in my arc in case I need to help out T6. The Bestigors PANIC (LD7 for the lose) and flee off the table. PG win their combat and he`s no longer steadfast. I run him down.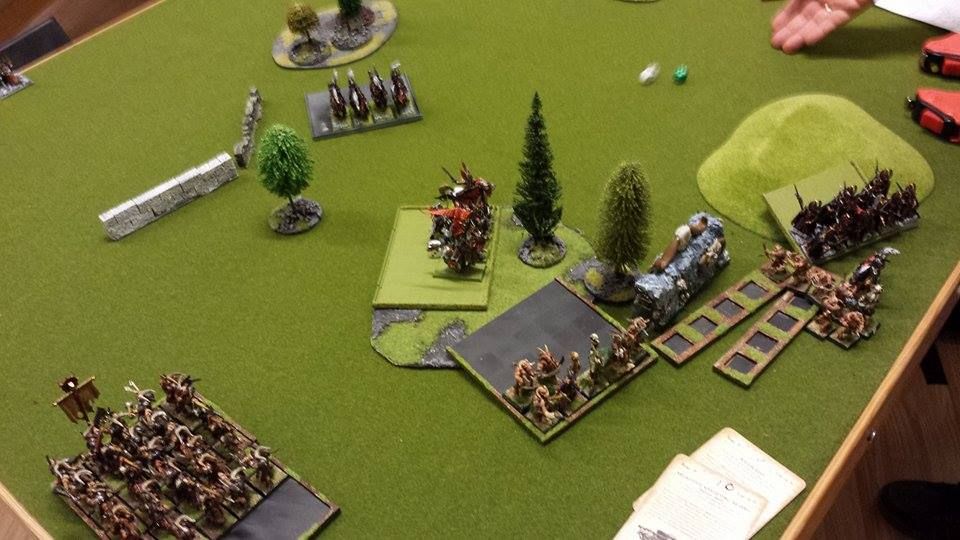 With that, the game is pretty much over. I charge his Skirmishers + L2 Beasts in my T6 with PG and kill off the last few guys. It`s a clear 20-0 massacre to the High Elves!

// Evaluation //

I learned one very important lesson in this game: the only way I can engage Beastmen is if I either have complete board control (meaning I can block out a given unit from combat for at least an entire turn), or if I can break him in 2 rounds of combat. The first can be achieved by using Reavers + small Helms more tactically and praying that the RBTs can handle Pumbas on their own. Harpies are still a problem and early magic should have ONE priority: draw dispel dice with Spirit Leech => Fireball + Iceshard on Harpies. In this game, my opponent used the Harpies very aggressively. Placing them behind his units would`ve given him a lot more options (e.g. blocking my WL T4) and made my life harder. Also, placing them closer would allow them general/BSB bubble.

The Bestigors hit amazingly hard. S6 AP is no joke. This game I didn`t engage them at all, but going in against them is very, very risky. I suppose magically assisted PG is my best bet here. Speaking of magical assistance, the Beastmen have so much magic it`s not even funny. I think my opponent had an irrational fear of Silver Helms in this game: if he had focused on Withering / Enfeebling early on (which are both RiP spells), my offensive magic would be harder pressed. Also, placing the Bestigors near the table edge necessitates them moving up, early. Otherwise they become easy, trivial even, to block out with cavalry.

I made 2 big mistakes here and 1 big strategical mistake. Mistake number 1, probably the biggest one, was not targeting his BSB in the first round of combat. At this point my Loremaster was full 3W, so I had him in b2b. This would`ve allowed me to place 8 S6 attacks on him, which would likely have killed him. The second one was not shuffling the Helms, losing a lot of unnecessary points. The strategical mistake was not committing more chaff to board control on the East.

Lastly, although this was a huge win it`s a difficult matchup. Had the Bestigors played more aggressively with the Harpies played defensively, it would be a lot harder for me to choose favourable combats like I did. It`s tricky for Beastmen to keep characters within Herdstone range for power dice purposes while moving the blocks and the blocks, being composed of 25mm infantry, are cumbersome. Identifying when and where to strike reliably is key to winning big against these. I`m very happy I got to play this game as it`s been an eye-opener with regards to how Beastmen play.

As always, C&C appreciated