---
.::. Battle Report - 2400 vs Chaos Dwarfs (ETC comp) .::.



My list:
Prince on Barded Steed, Heavy Armour, Enchanted Shield, Giant Blade, Dawnstone = 263
Loremaster, Book of Hoeth, Talisman of Preservation = 330
Noble BSB on Barded Steed, Star Lance, Dragonhelm, Golden Crown of Atrazar, Heavy Armour, Shield = 166
Mage, scroll = 110
Characters = 869

5 Reavers, bows & musician = 95
5 Reavers, bows & musician = 95
8 Silver Helms, FC = 214
19 Archers, musician = 200
Core = 604

20 White Lions, FC, BOTWD = 340
20 PG, FC, Razor Standard = 375
Special = 715

3 RBT = 210
Rare = 210

Army Total = 2398

His list:

Hashut Sorc-prophet on Bale Taurus, Charmed Shield, 4++
BSB, Luckstone, GW
L1 Fire
Khan on Wolf

27 IG FC GW
30 Hobgoblins, bows, FC

Iron Daemon
Deathshrieker

K`daii
Hellcannon

// Pre-battle thoughts and deployment //

I wanted Archers to have a chance at shooting the Deathshrieker. I wanted cavalry to face Hellcannon and Lions + PG to control the center. I didn`t know how to handle the K`daii but was assuming my Reavers could prove their worth here. A third redirector surely would`ve helped here!

Deployment was ok but my opponent got the better of it: the map provided lots of cover for him and he was easily able to hide the Deathshrieker. Furthermore, the K`daii got a very advantageous position and I knew from the start that containing it while continuing with my plan would be hard.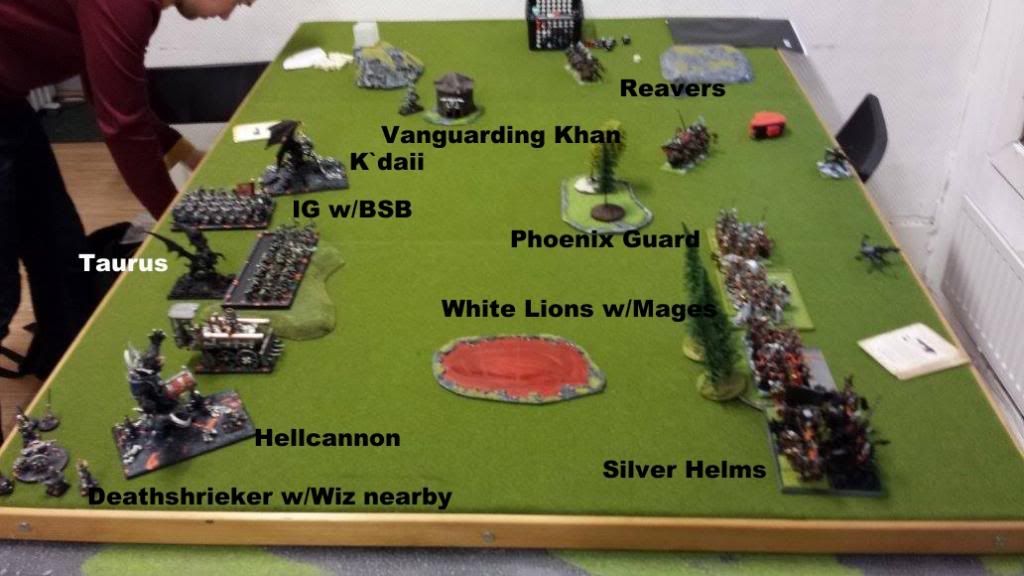 Magic saw him roll up Hatred, Toughness-spell, Ashstorm and Flames of Azgorh. His fire mage took Fireball, my Heavens guy took Blizzard.

Despite his +1 I managed to grab first turn


// HE T1 //

Cavalry moved up, well outside of the likely charge of the Hellcannon. The White Lions advanced full speed and the Phoenix Guard held back, taking care to stay out of anything resembling a likely charge from the Destroyer. Reavers moved to shoot Khan and reformed to 3+2 in case he`d survive and charge. Other Reavers moved to a more central position.

Magic saw his fear of Searing Doom letting me land 3 spells: Spirit Leech on BSB (no effect, LD10 v LD10), double Blizzard on Hellcannon.

Shooting saw an RBT pierce the Destroyer with a single bolt for 1W, while the Reavers understood the danger of the situation and added another. Other Reavers managed a wound on the Khan. Not bad for a start!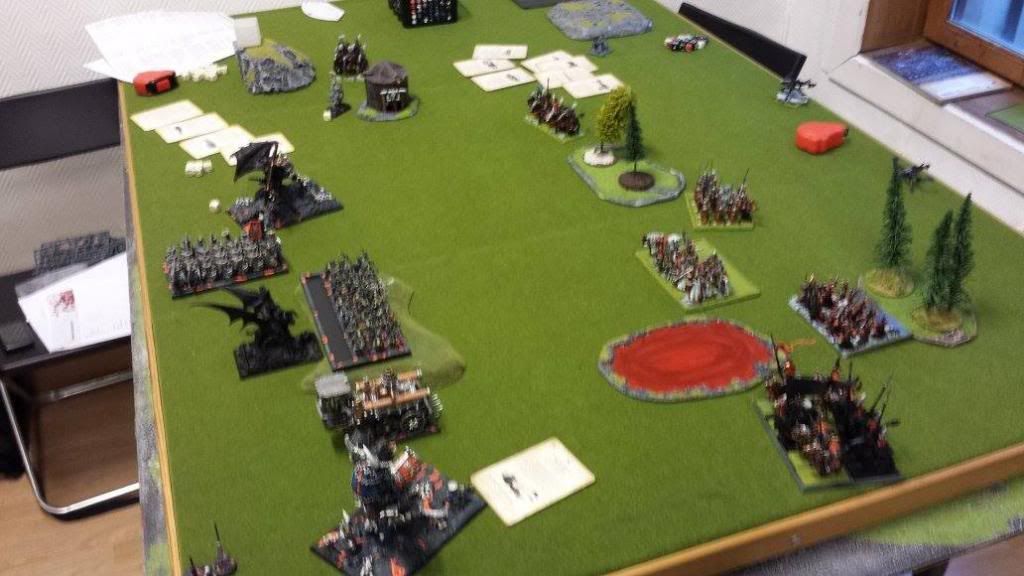 // CD T1 //

Iron Daemon moves to block the Helms from charging the Hellcannon. Destroyer and Taurus move up. Khan blocks reavers. Magic sees him land an IF Ashstorm on the Silver Helms! I was really hoping to be able to dispel this, but alas it was not to be. The resulting miscast drained his dice but had no other effects.

Shooting saw the Iron Daemon open up with 10 shots on the Helms. He was at short range and only needing 4+ to hit, he killed off 4 of them. I passed panic, and although I lost LoS I don`t think my opponent realized this (either that, or he was scared of Lions): the Hellcannon failed to shoot and the Deathshrieker targeted my WL, combining with the Hobgoblins to kill 4 or 5 (I failed all bar 2 saving throws).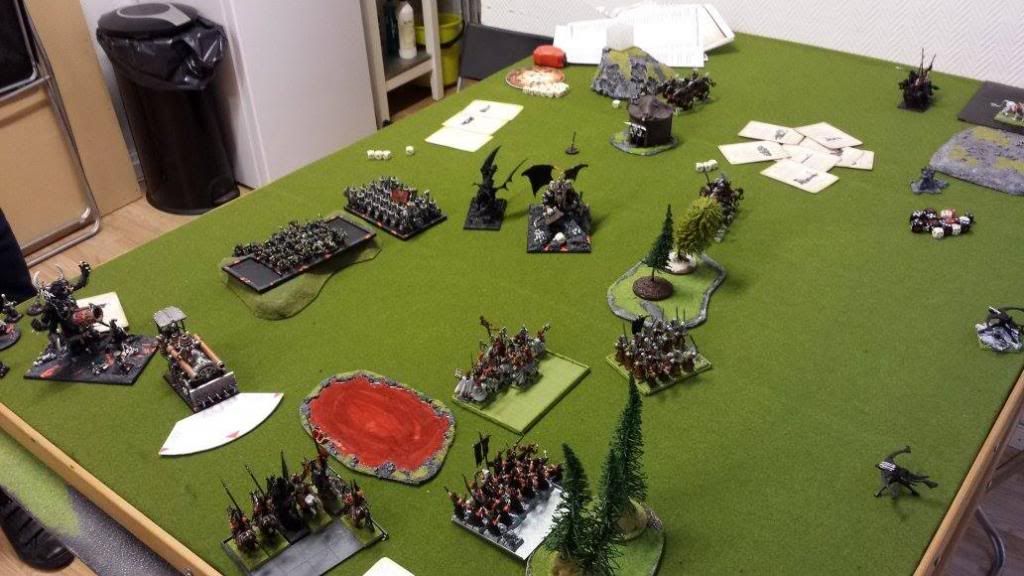 // HE T2 //

Lions flank charge the Iron Daemon: given their position, my ashstormed cavalry and the K`daii + Taurus having very good positions, I had to act. As it wasn`t hellbound I wouldn`t get 2++ from BOTWD, however I also would be wounding it on 5s. Cavalry reformed, BSB facing center in case the K`daii tried anything funny, Prince barely within charge arc of the Hellcannon. BSB failed dangerous terrain but Crown saved it, 1 Helm died. Reavers charged Khan.

Magic saw my opponent prioritize dispelling Wyssan`s. This opened up for Miasma on the Taurus (-3M), which allowed me to swap the Loremaster for the mage. This allowed me to barely get front arc to the Fire Wizard near the Deathshrieker, and I promptly sent a Spirit Leech his way - killing him off! It`s not often you get to utilize Smoke and Mirrors, but this was a play I was very happy with


Shooting saw the RBTs do next to nothing, same with Archers and Reavers. Combat saw Lions put 7W on the Iron Daemon... But its 6+ saved 2! In return, a `6` for Thunderstomp severely reduced my unit. Reavers and Khan failed to do anything.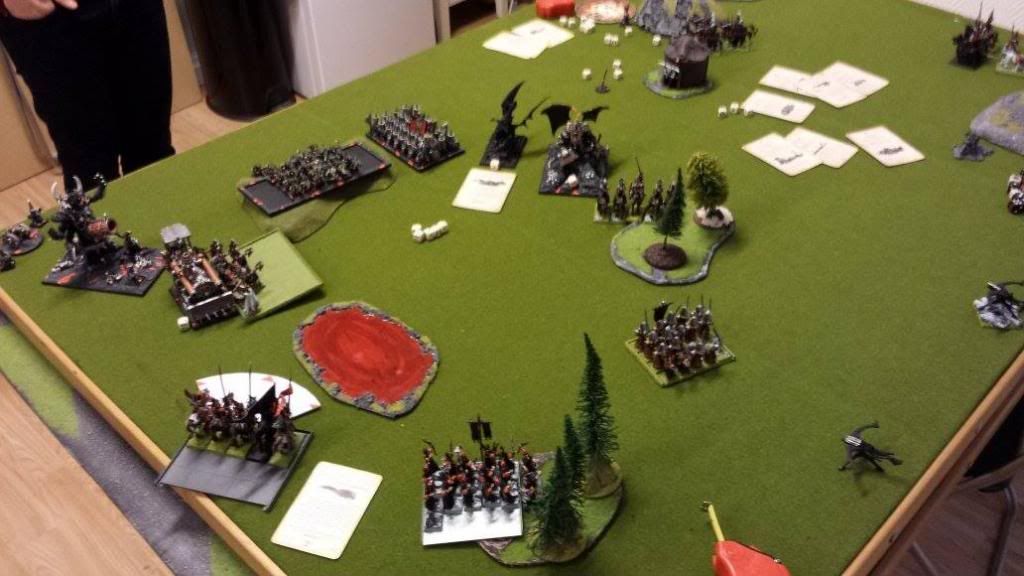 // CD T2 //

Destroyer charges blocking Reavers, who fail their Terror test and flee! He redirects into PG, who flee as well and he fails to catch me. Hobgoblins rear-charge the Lions. This puts the K`daii 19" away from the BSB, with its flank open. Taurus tries to rear-charge Lions but due to Miasma he falls short. Magic sees my scroll come out and I contain the rest. Shooting sees Hellcannon target Helms but it scatters off: without the Daemonsmith it`s a lot less accurate. Now, the Deathshrieker proceeds to target the PG and this is a misinterpretation of the rules on my opponent`s side: he thought that a fleeing unit having to take a panic test automatically flees further. He kills a couple of PG and is very disappointed when they don`t flee off the table (naturally). It`s been a long time since he last played.

In combat, the Lions put 2W on the ID and this time he fails to save any and the choo-choo train goes down. I get a couple of Hobgoblins as well and he does very little in return. I lose due to static but hold on stubborn and combat reform to face his front, 4-wide with mage in second rank. Reavers kill Khan.

I forgot to take a photo but the arrows explain the major movements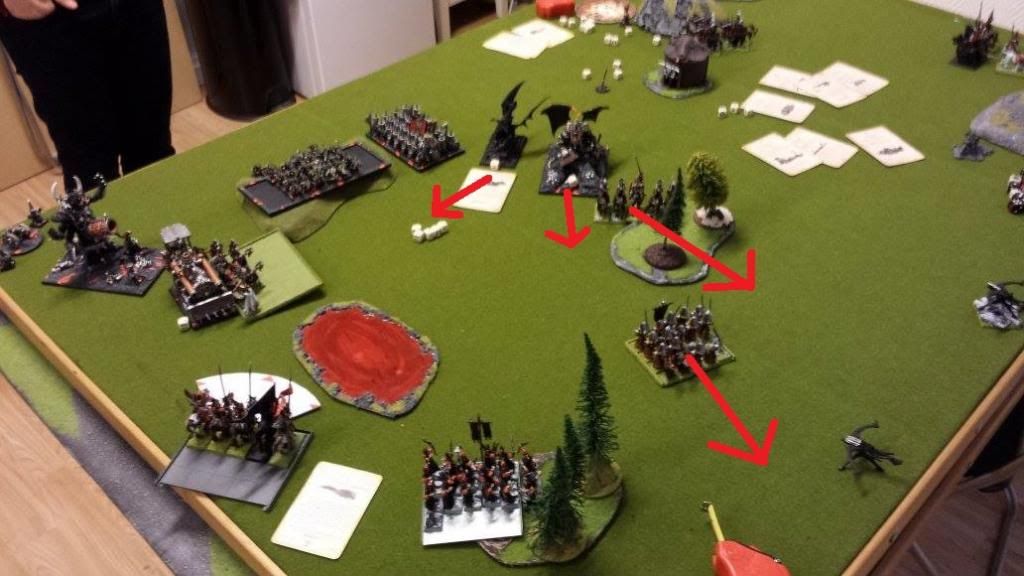 // HE T3 //

BSB charges Destroyer: without LoS it`s disastrous to stand around. Furthermore my scroll is blown and the Lions are dangerously low on models. Even if I fail the charge I won`t be that much worse off than I already was. Prince moves to block Hellcannon and Silver Helms reform to 1-wide to charge past the Hellcannon and into the Deathshrieker in my T4. Luckily both PG and Reavers rally (the PG barely so - I rolled a 10!).

Magic: he prioritizes the Lions so I land Miasma WS (-3) on Destroyer, Iceshard on Destroyer (so he now needs 6`s) AND Spirit Leech on the BSB (no effect this time either). Shooting again does very little. In combat the BSB proves solid and puts a wound on the Destroyer with the Star Lance. Thus he`d have to get a wound back at me to survive: flank + charge + bsb + wound = 4 => pop! He failed to hit, needing 6s and thus the K`daii was no more! BSB overruns to avoid Infernal Guard, I pass dangerous terrain.

The Lions won combat this time around but he held on steadfast LD10.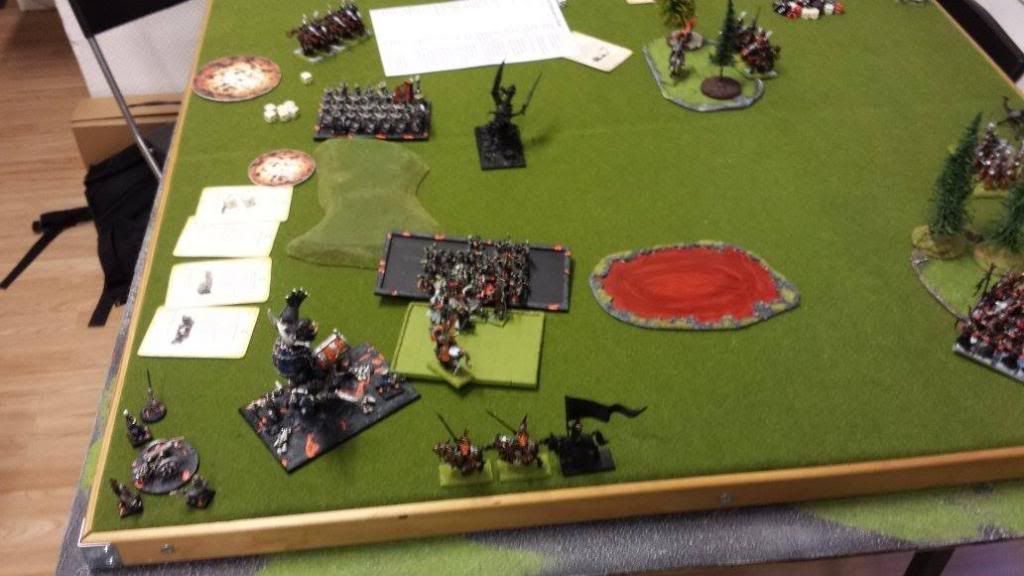 // CD T3 //

Bale Taurus charges Prince, I pass terror test (yay!) and hold. Magic: the winds are big and I focus on Ashstorm, which is easily dispelled with its 4PD cap. With charging the Prince, his arc is terrible and he can`t really threaten me with his spells. Shooting sees Hellcannon target the BSB, but it scores a misfire and eats up all the crew! The Deathshrieker targets Archers (I`m not sure if he had Line of Sight to the BSB) and kills 7-8 of them, panic passed.

Combat sees me make a pretty huge mistake: I thought the Bale Taurus had a 4++ same as the K`daii, so I targeted the Sorcerer thinking it would be roughly equally hard to kill either and I`d rather see him lose his mage and general. I get one wound through and in return he fails to hurt me. I lose by 1 (charge + flank) but hold. The Lions however lose to his Hatred Hobgoblins and as I fail to make a single save, I lose the last of them and thus also Stubborn. I lose by 1 I think but the Loremaster legs it with the mage: a crucial turn of events as a lot of rolls will see me run off the table (snake eyes I stop before the Prince - 2 => 7 is safe, 8+ off), however I roll a `5` and he + the mage are safe. Phew! He runs after me but rolls very low and fails to catch. Double-phew!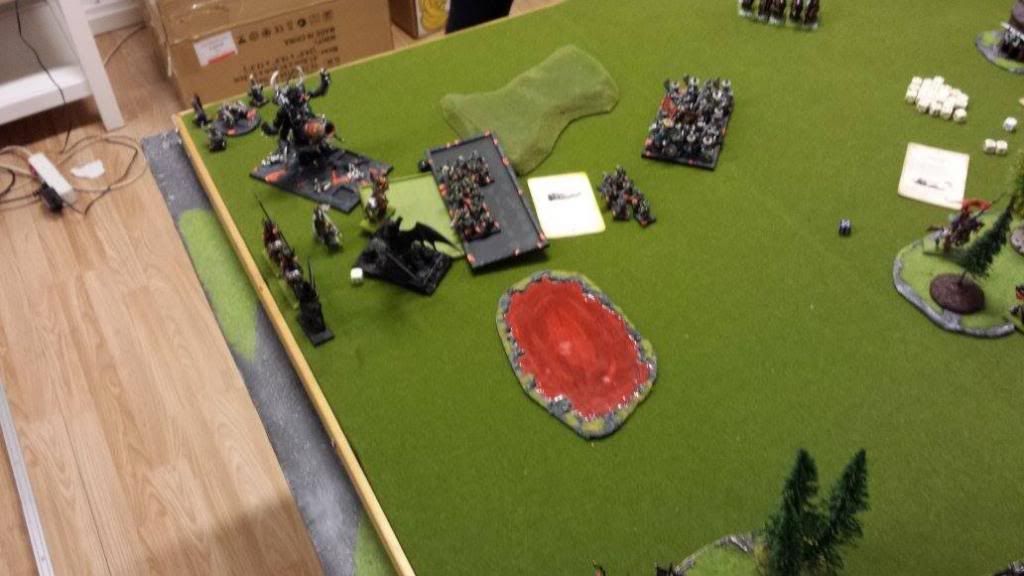 // HE T4 //

Silver Helms charge Deathshrieker. BSB joins 5-strong Reavers. PG march up, Reavers stay outside of IG arc. Archers move up.

Magic sees me land Wyssan`s on the Prince and Miasma WS (-3 again!). I then finish off with IF boosted Shem`s on the Hellcannon: and with its crew gone I score a massive 11 hits which results in its death! Before I get too happy though I roll a dimensional cascade and the Loremaster goes BOOM! In the process, my mage is wounded, Prince is wounded, Taurus is wounded. At this point I realize it has no ward save...

Shooting again does next to nothing and we move to combat: with S8 the Prince promptly puts 4W on the Taurus which dies. He passes his break test. I fail to do anything to his Deathshrieker.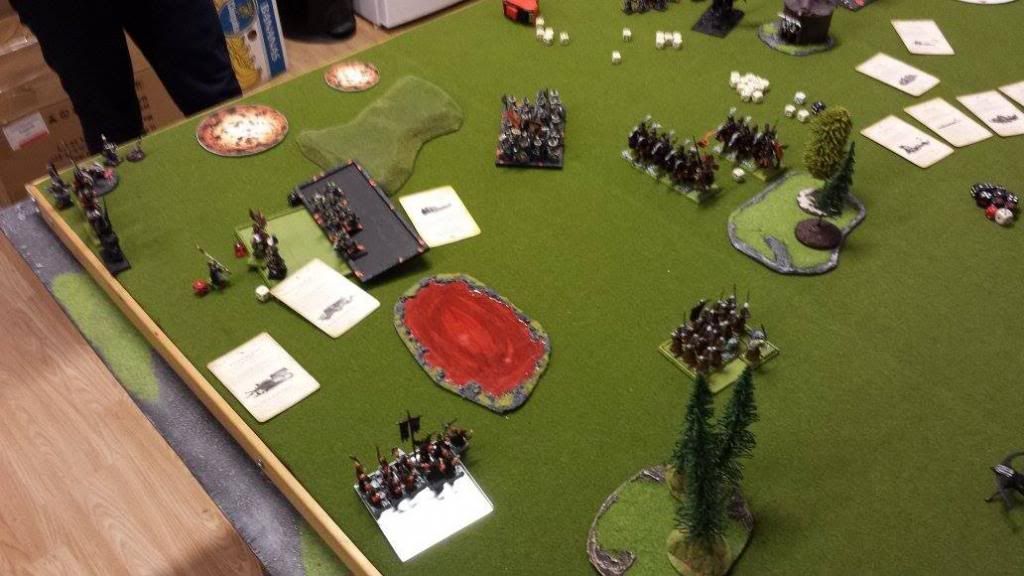 // CD T4 //

Hobgoblins can`t charge Prince because they can`t make the wheel: their poor pursuit led them into a position where the Sorcerer is blocking them. They swift reform instead. Magic sees Ashstorm land on the Prince. Shooting: Hobgoblins kill my mage with throwing knives. Combat: I can`t remember if I hurt him or not but with S4 he isn`t really impressing me anymore. We stay there.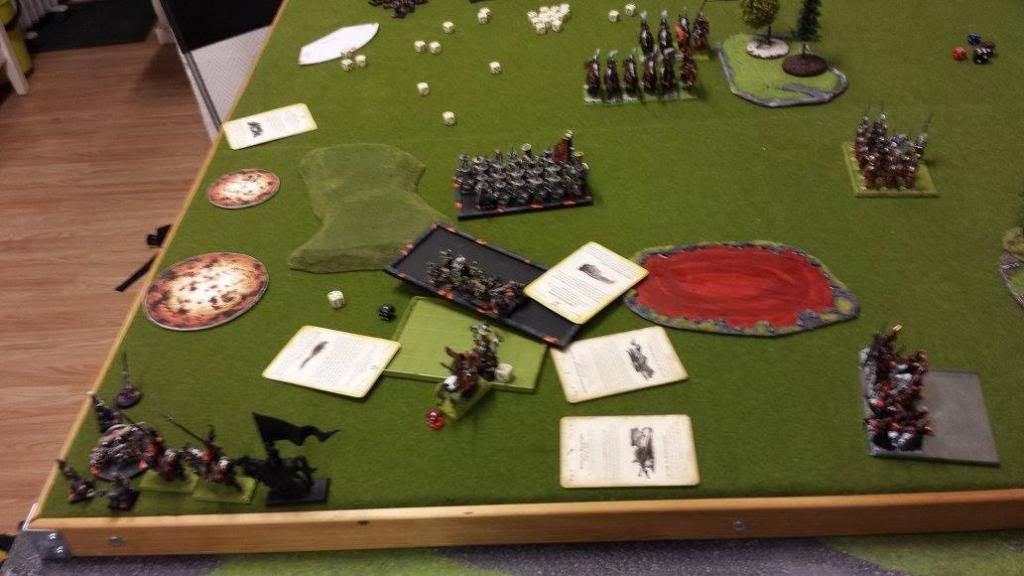 // HE T5 //

Archers try to flank Sorcerer but fail (8+ roll). Reavers + BSB rear-charge Hobgoblins. Other Reavers block IG with PG right behind. Magic: I dispel RiP Hatred on Goblins. Shooting: everything is engaged bar the IG, who lose 1 to the 3 RBT (2 of which were shooting through hard cover at long range). Combat: Prince brings Sorcerer down to 1W. Reavers + BSB win but the gobbos kill 2 Reavers and he holds on steadfast LD10. Silver Helms kill Deathshrieker and reform to face center.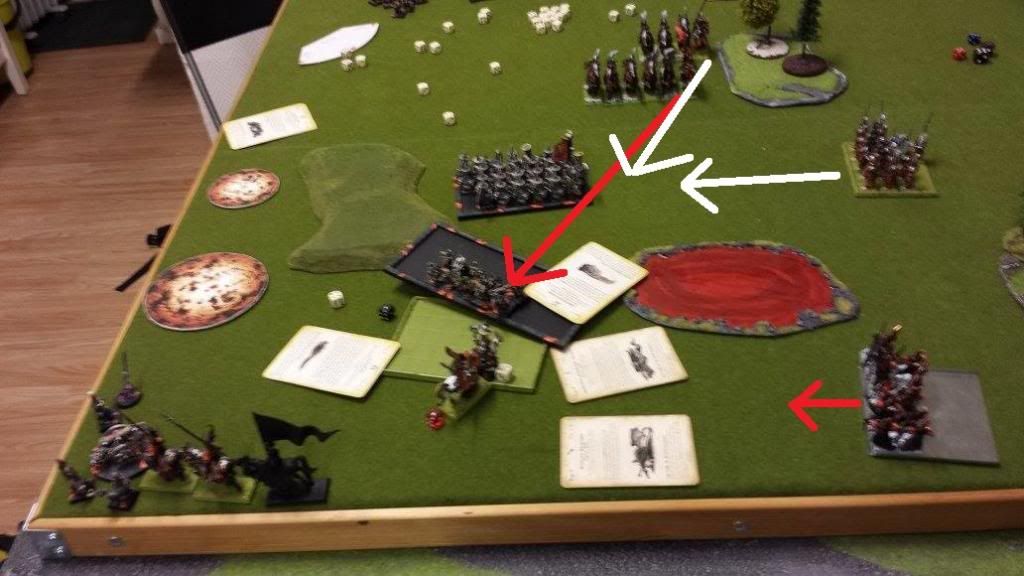 // CD T5 //

IG charge Reavers. Magic sees me dispel Ashstorm, Flames scatter off Helms. Combat sees Prince kill Sorcerer, Reavers + BSB make gobbos break and restrain. I reform everything to face the IG, who beat Reavers and overrun into the PG...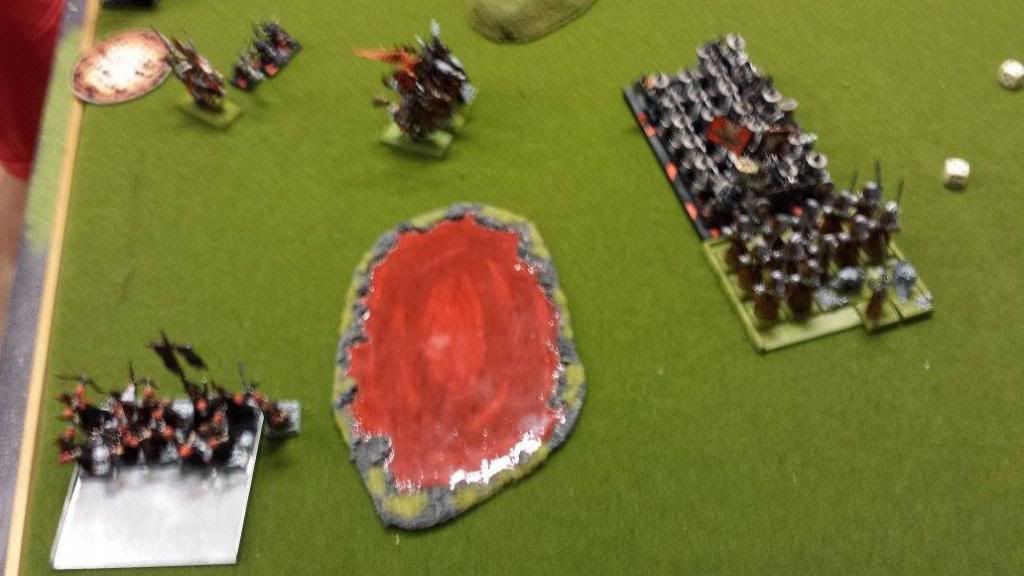 I charge everything into the IG and it`s not pretty. RBTs kill off the last few Gobbos and in combat I force IG to test on snake eyes. They fail and thus the Chaos Dwarfs are wiped out!

Although it was a bloody battle my clean-up at the end netted me well over a thousand points (600 for general, 440 for IG + BSB + bonuses). As I had "only" lost nearly 1000 points myself, it was a 20-0 victory to the High Elves!

// Evaluation //

What an intense game! From T1, the pressure was on. Although Destroyer has a number of weaknesses, my army isn`t really that well suited to handling one. This, combined with the terrible terrain (so much cover and dangerous terrain tests + the lake blocking me from marching) forced my hand earlier than I`d prefer. The IF Ashstorm on T1 sealed the deal and I had to commit into a position I was definitely not comfortable with. In the end, the Loremaster with BoH and sheer luck pulled me through: although it ended up 20-0 I could very well have lost this: with the Taurus making its T2 charge and the Deathshrieker taking out the Prince, I would`ve gotten K`daii + ID + Khan vs losing Prince + WL + Loremaster + mage, AT BEST.

While going up against gunlines in general can lead to nail-biting battles where one or a few number of dice make a big difference, I think this highlights a weakness in my list: my inability to properly protect the Prince + BSB and my need for +1 chaff unit. For this reason, I will consider a new draft where the core is all mounted: 3 units of Reavers and a bigger block of Helms. As far as shooting armies go this is far from the worst and even this one took away my LoS relatively effortlessly.

I rolled a lot of big magic phases in this game. It´s a double-edged sword because your opponent can always dispel that one crucial spell (Wyssans going off in my T2 would`ve ensured the Lions killing off the ID instantly and overrun into the HC, which doesn`t like BOTWD...), but with the BoH Loremaster you can (usually) still get a lot of value out of this situation. I felt he was really ace in this game, a constant pain for my opponent and despite blowing himself up, he ensured the Prince`s survival (two of my to wound rolls were 2s), the destruction of the re-roll scatter-dice wizard and, of course, the Hellcannon.

Also one thing I feel I have to point out that`s impossible to read from the report itself: my opponent hadn`t played a game in quite a long time. As I`m used to playing very active players, most matches are played rather fast, with us just declaring what we need (3s to hit, 2s to wound etc) and rolling the dice. This is part habit, part on purpose as I hate losing out on time at tournaments. However in this game it stressed my opponent out, which was not my intention at all. As the game was on a knife`s edge from T1, I didn`t notice this until we were pretty much done. My apologies, and I hope this won`t repeat itself in a friendly game: when you don`t understand what others are rolling for and just being told what`s going on (e.g. "ID is now dead, please remove it") it`s no fun at all. We`ve all been there and it`s my bad for not taking this into consideration for the game.

Lastly, it felt very good playing against Chaos Dwarfs as it`s an army I`ve recently picked up. It`s very rare that I know an army this well (I did almost lose the game to forgetting the Taurus didn`t have a 4++ though, one LD9 test away!), but knowing exactly what you`re up against most definitely gave me confidence I really needed in the middle of things going on here.

Thanks a lot for reading, I hope you`ll leave a comment