.::. Battle Report: 2400 ETC vs Dwarfs .::.
High Elves 2400 points
Star Dragon, Prince with: Enchanted Shield, Star Lance, Other Trickster`s Shard, Golden Crown of Atrazar, Heavy armour = 596
High Mage lvl 2 on horsie with scroll, furyring 180
High Mage lvl 2 on horsie with power stone, obsidian amulet 180
Noble BSB with: Dragon Armour, Shield, Ogre Blade, Dragonhelm, barded steed 172
Characters = 1128
12 Helms, fc shields = 306
5 Reavers, bows & muso, champ = 105
5 Reavers, bows & muso = 95
5 Reavers, bows & muso = 95
Core = 601
27 WL, FC BOTWD = 431
Frostheart = 240
Special & rare = 671
Army Total = 2400
Dwarfs:
Dwarf lord. 1+ reroll, immune to killing blow, 2++ fire, GW
Runelord. Anvil, Balance, 2+ save.
BSB. 1+ reroll, challange, flaming attacks
2x Dragon Slayers
Master Engineer
30x Longbeards, GW, FC, Ancestor og Determination
10x Quarreler Rangers, GW, champ, muso
27 Hammers, FC.
2x5 Miners
Cannon reroll misfire
GT str 5 reroll scatter
GT str 4 reroll scatter fire.
// Pre-battle thoughts and deployment //
Old matchup, old opponent. What`s new? Lions are back in the game
Eager to try them out. The bad part about going up vs Dwarfs is not being able to test my magic lore choice much.
Deployment was fairly straight-forward, he took a corner and I deployed opposite. I managed to hide both the Frostheart and the Star Dragon. I got lucky and grabbed first turn.
// HE T1 //
Full speed ahead. Magic was 2+1, thus I avoided losing the 5++ on the Frosty at least, though obviously with 2 v 6 dice I couldn`t do anything. I managed to hide both flyers behind a wall, thus safe from his cannon. I was a little cautious with my cavalry as I wanted to see his moves first and figured my SD could take a couple of rounds alone before needing assistance.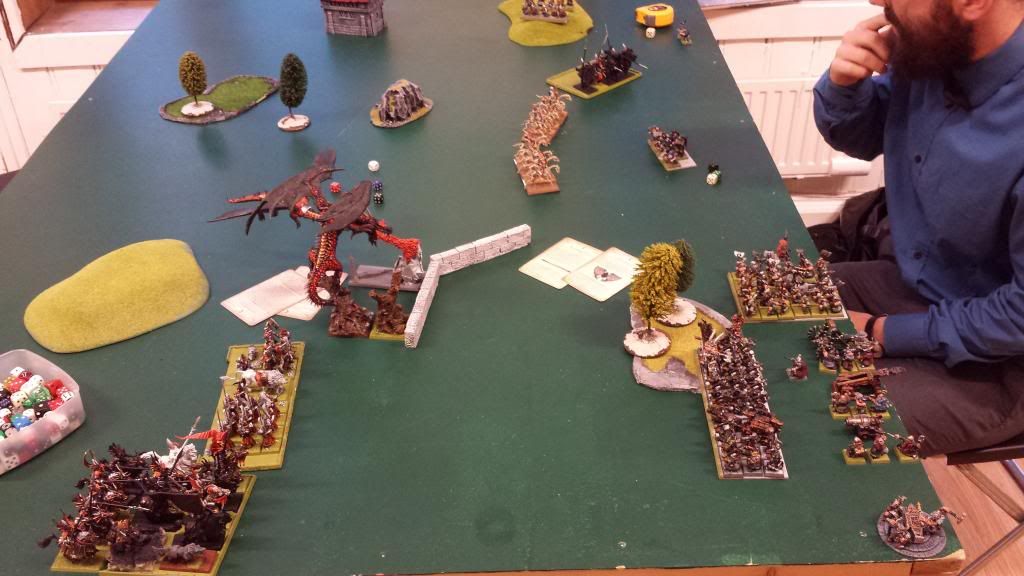 // DW T1 //
Not much in terms of movement. He tried both GTs at the Frostheart but despite having re-rolls to hit, he missed both (and no scatters landed on the SD). The Cannon took a helm or two. Anvil targeted Frosty, now happily M2.
// HE T2 //
He used banner of siren song to get my SD into Hammerers with Lord and BSB. I happily obliged and declared a charge with the Frosty as well, with its M2 I figured a failed swiftstride charge could hardly be worse than marching 4". I didn`t make the required 11+ so the Dragon went at it alone. I decided to place it close to his Lord, which meant exposing its flank to the Longbeards. With the Anvil around, I figured I probably wouldn`t get a whole lot out of placing it otherwise regardless and this would leave a juicy portion for my Lions to smack into.
Magic saw me declare Power Stone in a miserable snake eyes phase but I failed to get IF and he dispelled, though only barely!
Combat saw the Prince deal 2W to his Lord with the Star Lance and I mistakenly tried to take him down with 4 attacks from the SD (the last 2 for the BSB). I did no wounds whatsoever with its mundane attacks, but fire breath took down 3 Hammerers with thunderstomp claiming 5 more. I won, he stood.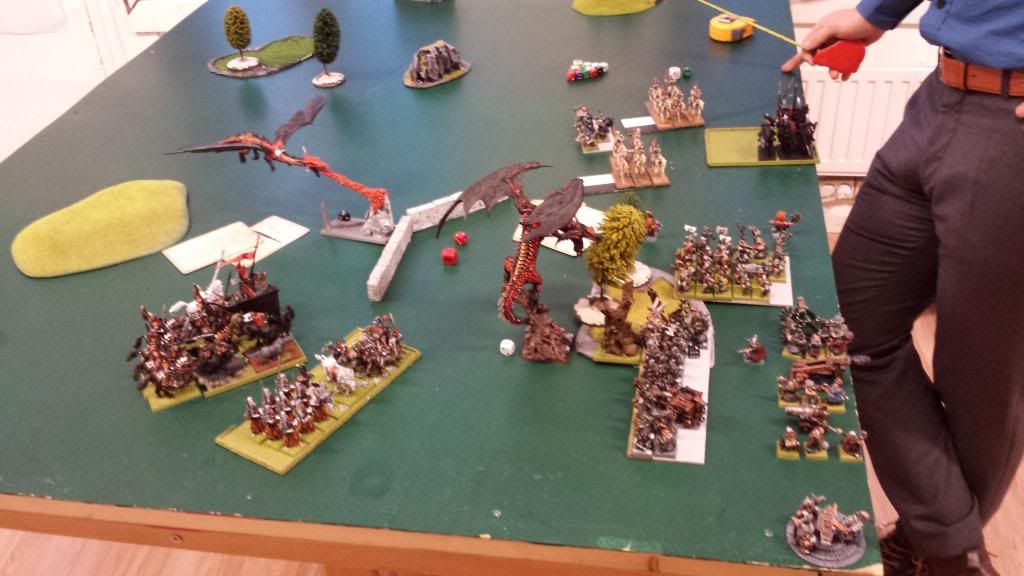 // DW T2 //
Longbears flanked the SD. The artillery combined took only 3W off the Frostheart. Miners came on and blocked Lions (my bad for not realizing this could delay them severely). Combat saw the Star Dragon receive an insane amount of hits and I think something like 4 or 5 wounds got through its T7, but I rolled an amazing three 6`s for my armour save and Strange could but shake his head as the beast slaughtered Hammerers (though again I tried to get past his Lord`s 1+ re-rollable with 4 attacks and failed). I can`t remember who lost combat but with stubborn LD10 on both sides it didn`t matter.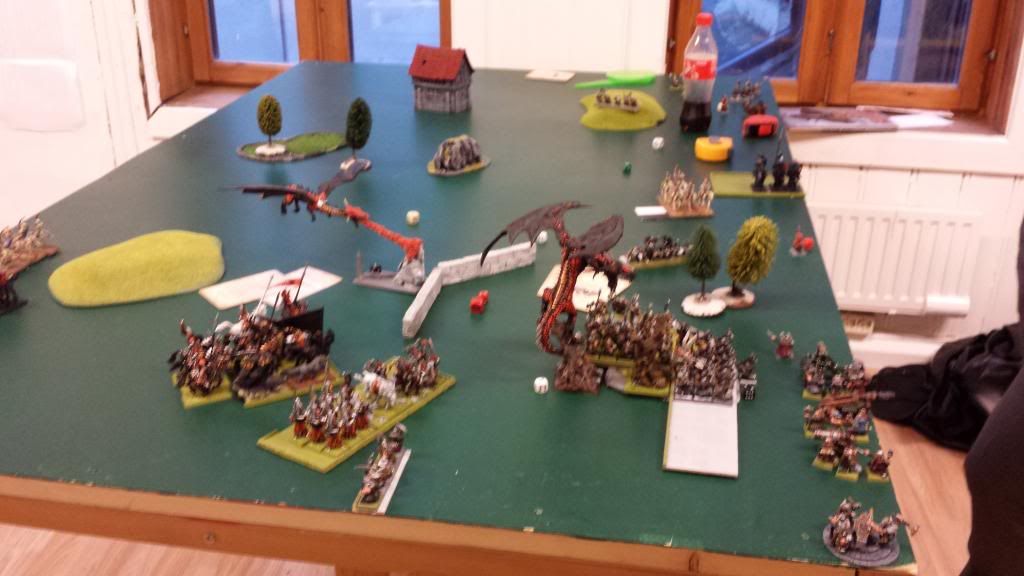 // HE T3 //
Frostheart into flank, Helmbus into flank (both engaged Longbeards). Lions into chaff. Magic nothing, as per usual. Combat: I slaughtered a great deal of Longbeards and Hammerers and saved yet another wound or two on the SD, thus it was still around 3-4 wounds left and the Prince hadn`t taken a scratch. I won combat massively. He held, but didn`t have a lot of troops left.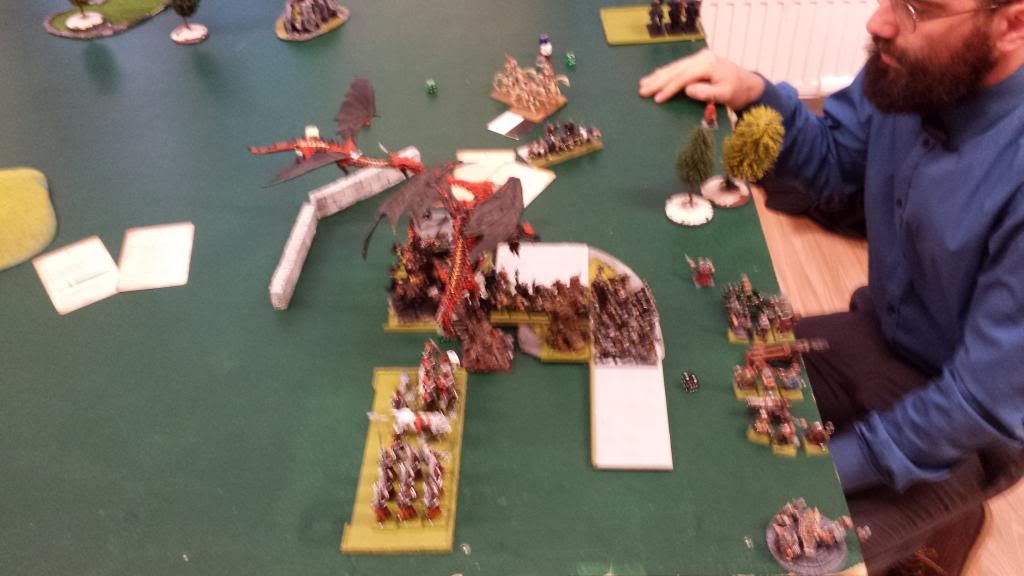 DW T3: Miners delay my Lions yet again. Regardless, I have enough power to wipe him out completely in the central combat and it`s my T4 next. He concedes and with him only having killed reavers and mages, it`s a clear
20-0 victory to the High Elves!// Analysis //
Getting first turn was lucky, but with having both flyers in hiding it`s not the worst spot to be in vs Dwarfs. With that being said, having anvil target Frosty T1 prior to me even moving woulda been bad. Furthermore, this would`ve allowed him to target the Dragon in his second turn, possibly giving him an extra attempt at shooting it.
The Lions moving so close to the edge was a huge mistake. They never reached meaningful combat in this game, a pity really but solely my tactical error because, truth be told, Strange`s miner-luck has been terrible previously and he`s never managed to speedbump me like this. Lesson learned (famous last words!).
Magic against Dwarfs is just so boring. This game I didn`t get a single spell through.
Chaff war this game was won by Dwarfs. 2 Slayers and 10 Rangers kept my Reavers at bay and he eventually killed them all off, too. Regardless, I don`t see a better use for them here, if they break through they can make a tremendous difference as I`ve experienced previously.
The Dwarf Lord`s setup is somewhat outdated. We`ve discussed it in-depth and Strange will probably change it to quite a bit more killy (hint: T5+ adversaries-killy). Interesting, and about time given the meta!
T7 is amazing. Truly amazing. That being said, lots of S6 attacks is hurtful. I made a mistake targeting the Dwarf Lord with 4 attacks for 2 consecutive combat rounds. His wounds, while expensive, do not pose a greater threat to me than Hammerers` wounds. By targeting Hammerers instead, not only do I hit on 3`s but they don`t get an annoying 5+ re-rollable. Even with only 1W left, I believe this is a risk that I simply don`t need to take. Better to just kill off the stubborn unit!
I think that`s about it for now, feel free to leave a comment, which I would appreciate of course