.::. Battle Report: 2400 ETC vs Lizardmen .::.
Time to put my list concept to the test! Having wondered about various Dragonlord builds, I eventually settled for an MSU cav approach. Read on to find out how my first game with it went:
Lists:
High Elves 2400 points
Star Dragon, Prince with: Enchanted Shield, Star Lance, Other Trickster`s Shard, Golden Crown of Atrazar, Heavy armour = 596
Heavens Mage lvl 2 on horsie with scroll 155
Heavens Mage lvl 2 on horsie with power stone 150
Noble BSB with: Heavy Armour, Shield, Ogre Blade, Dragonhelm, barded steed 166
Characters = 1067
6 SHelms, muso + champ & shields = 158
6 SHelms, muso + champ & shields = 158
5 Reavers, bows & muso = 95
5 Reavers, bows & muso = 95
5 Reavers, bows & muso = 95
Core = 601
7 Dragon Princes, muso, standard, BOTWD = 273
3 RBT = 210
Frostheart = 240
Special & rare = 723
Army Total = 2391
Lizardmen:
Slann with HE Loremaster spells, 3D6 channels and channeling staff. Re-rolls first failed dispel.
Skink with scroll, lvl 1 beasts
Saurus tankyhero on cold one, 1+ re-roll, sword of might
Saurus tankyhero on cold one, 1+ single re-roll, GW
Skink bare-bones on bird
3x10 Skinks
2x3 Terradons
2x1 Salamander
35 Saurus
28 Temple Guard with Razor Banner
// Pre-battle thoughts and deployment //
Basically he has 2 blocks and lots of chaff, with a strong magic phase. I want to clear enough chaff to double or triple-charge the blocks, which I know I'm capable of tearing apart if the context is right. Heavens truly shines in this matchup as all spells are valuable. I need to get as much out of my own chaff as possible and know when to sacrifice semi-big things (i.e. silver helms) to get the big kill.
Deployment is fairly spread on both sides, with me taking care to not let him roll towards a single "chewy" point with ease. At best, he can target the RBTs but they are, by their very nature, fairly bad against Lz in the first place so I can't get around that. Magic saw me double up on Iceshard + comet + chain lightning. He took Wyssan's on his Lvl 1.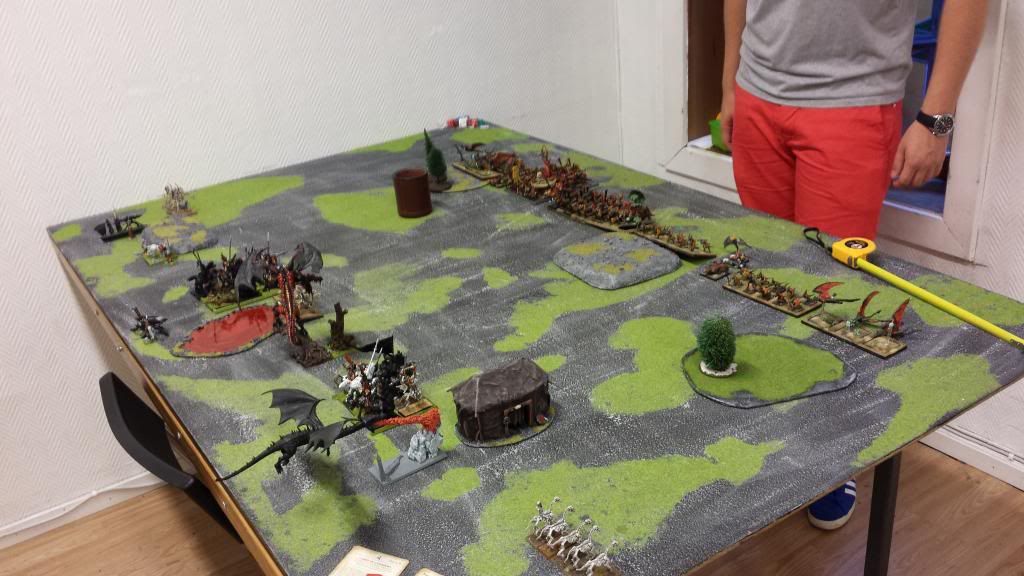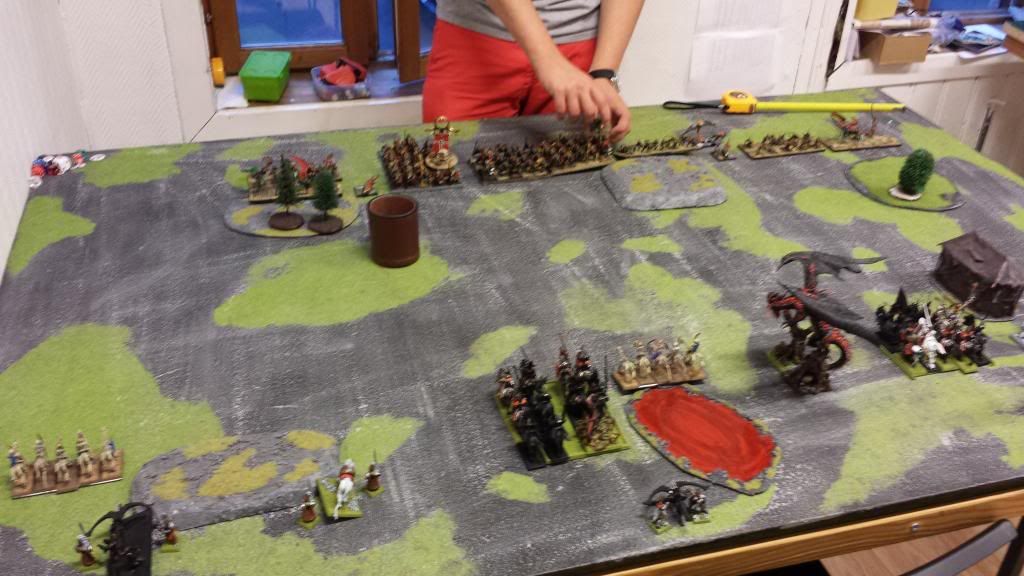 When deployment is done I vanguard offensively and manage to grab first turn.
// HE T1 //
Western Reavers backed up, central reavers backed up, Eastern Reavers full speed ahead to flank Terradons. I figured with a little luck, they could panic (roughly 50-50 on their LD test). Mages with DP for BOTWD protection, I know I won't be charging blocks T2 so no biggie. I move within 24" for chain lightning. Magic sees me get a pretty decent 7v5 split, however he dispels comet on 5v5 without the re-roll and my cast of Iceshard goes through. I would've needed another dice or two, enabling me to get off both chain lightning and comet, giving him a much tougher choice.
Shooting saw me indeed get a Terradon down but he passed panic. The RBTs did next to nothing, same for the other Reavers.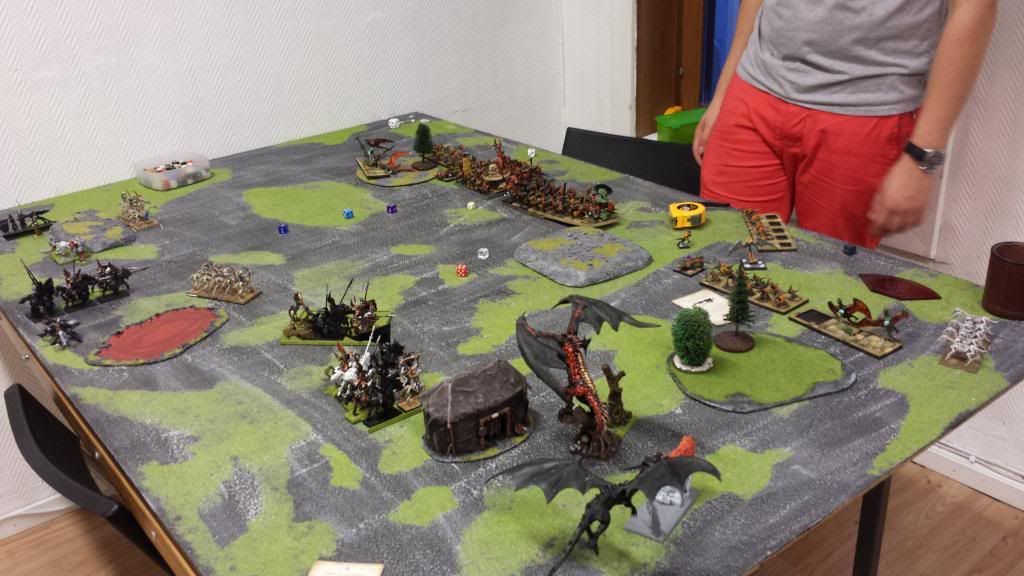 // Lz T1 //
He moved up Terradons to drop rocks, indeed killing 4 Reavers on the West. His Terradon hero charged my Reavers, I chose S&S but managed nothing. Blocks somewhat defensive still. Magic, can't remember the split but I let through a 2D6 Fireball which obliterated all 5 of the central Reavers. A risk I chose to take which didn't end up going too well. I also failed to dispel a Searing Doom on my Silver Helms and lost 4 of them. Shooting sees him kill off the lone Reaver on the West and in combat he kills off the Reavers on the East. I am now without any Reavers and it's becoming painfully clear to me that I should've played them way more defensively in this matchup.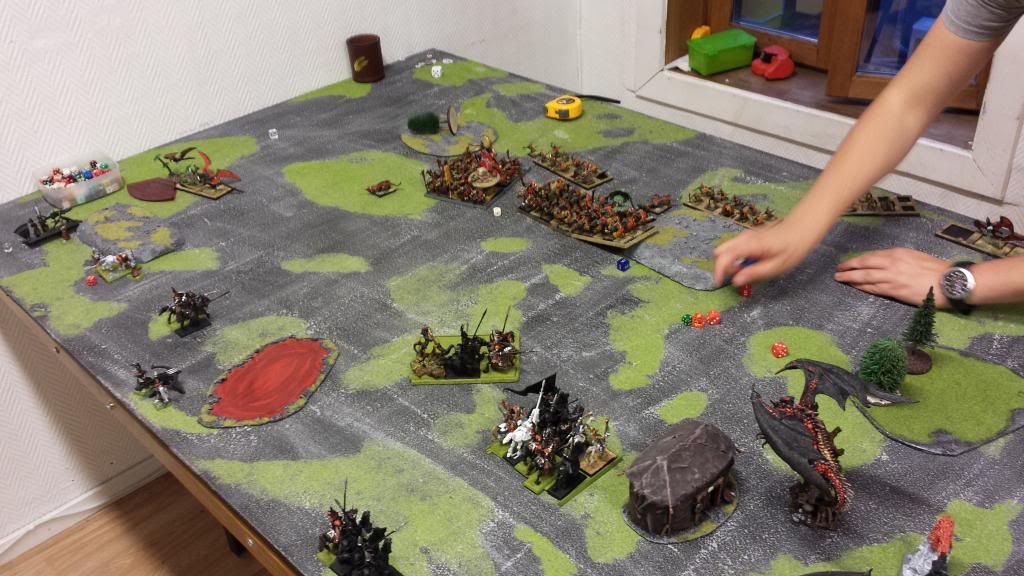 // HE T2 //
Silver Helms, 2 remaining, charge the Salamander (needing 9+, so roughly 50-50). He holds and I make it. Dragon + Frostheart move up as far as they can towards his Saurus block (containing both heroes). DP get into position with the mages moving out to the other SHelm unit. Magic, he dispels comet and lets chain lightning through (!). I manage to bounce it once but nothing big happens. It's becoming a problem that his scroll is still intact. Shooting - RBTs fail miserably at trying to contain the Terradon threat as between the 2 of them, I can't manage a single wound. The last targets Temple Guard and downs a couple. Star Dragon uses breath weapon on the Saurus - but out of 20 hits I only score 5 wounds after saves. In combat I strike a very lucky blow as the SHelms kills the Salamander outright. This allows me to reform and use the unit as chaff, something I knew would be valuable.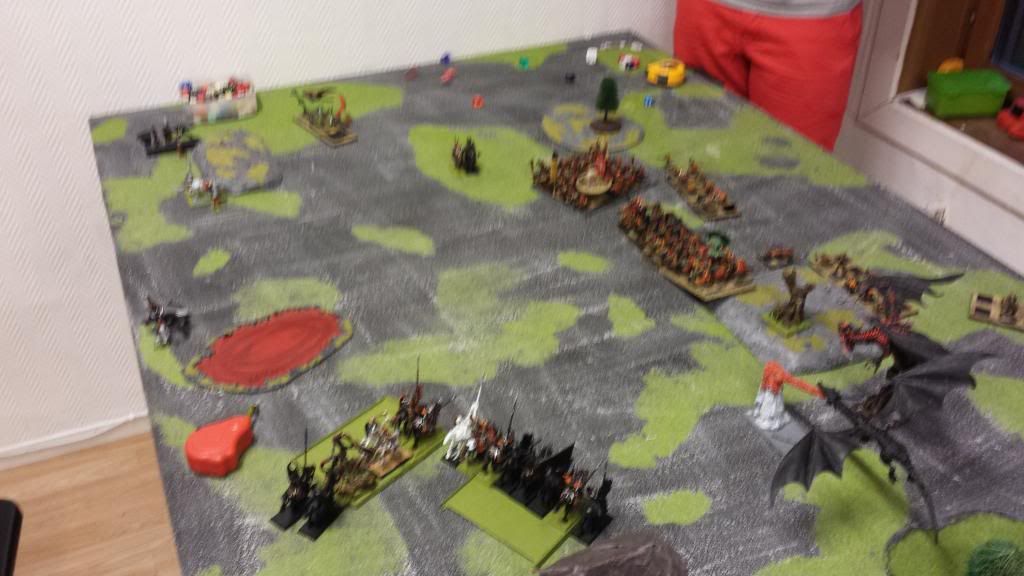 // Lz T2 //
Heroes move to the other block, TG turn towards the Dragon with the Saurus reforming. Skinks move around to target the Phoenix and Terradons charge their first RBT. Magic, he tries to spirit leech the Prince. I let it through and he does nothing. He then tries a boosted Searing Doom but fails to cast. Shooting - skinks manage nothing on the Frostheart. Combat: Terradons win and reform.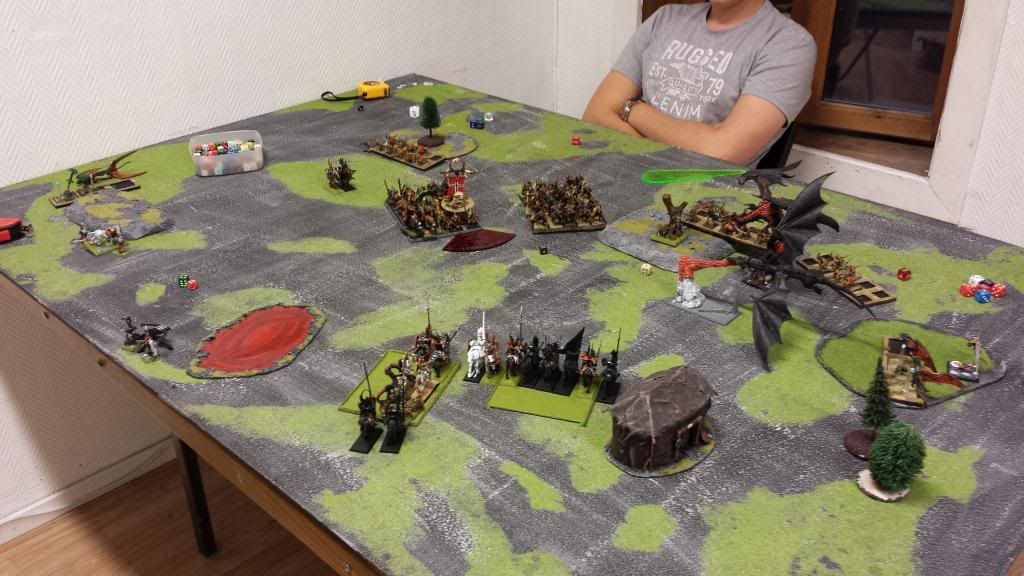 // HE T3 //
Time to hit the hammer. Looking at last turn's picture, the following is an option: charging DP to the right flank of his Saurus, Frostheart center, Dragon left. This leaves the Dragon facing the TG and he's stubborn because of BOTWD. I declare all 3 charges but the DP, needing 8+, fail it. I luckily pass my SHelms march test and use them as a blocker, allowing me at least some time in combat with the Saurus before he hits home with the TG. I finally manage to draw his scroll in the magic phase. Shooting sees the last RBT take out another 2 TG. In combat I'm challenged out by champion and kill him, he fails to wound the Frostheart and the beast ensures I win combat through Thunderstomp.
// Lz T3 //
Block charges SHelm chaffers. Rest move around, swarming me like Lizards tend to do. Magic sees my scroll drawn out as he Spirit Leeches my scroller with a very high roll (15 raw on 3D6, 19 with bonus). I contain the rest of the phase. Combat: I roll well with the monsters and utterly decimate him to the point where he has less than 10 remaining. I lose Crown at this point but my Prince is still unharmed so it's no biggie. He kills SHelmblockers easily.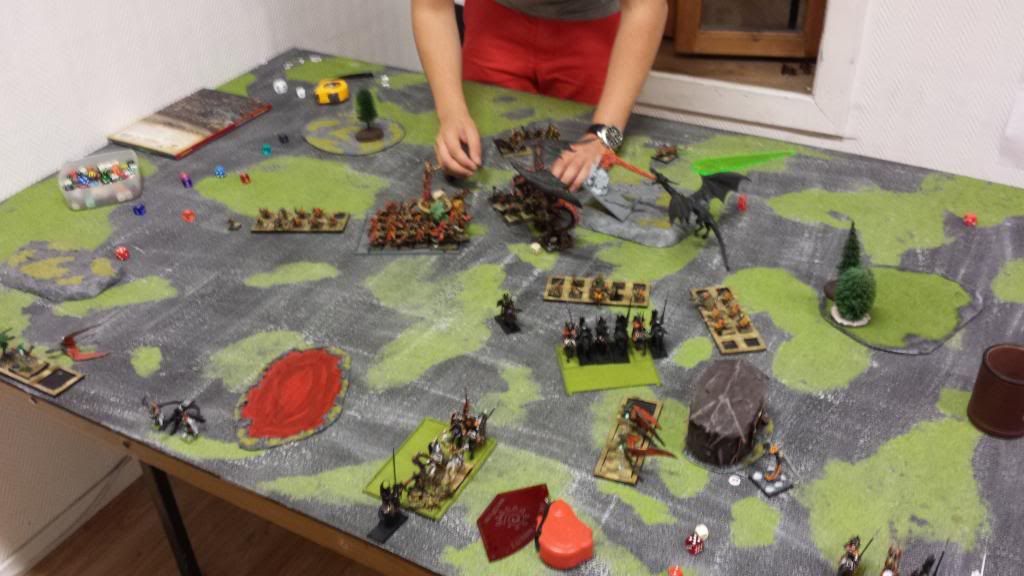 // HE T4 //
I charge the Skinks in front of me with the DP. He flees and I fail to catch him. This allows my mages to join the DP, getting BOTWD protection again, while the Helms move up to block his optimal charge at the Dragon, in case I can't win combat this turn he can't maximise against me. Magic sees me get an IF Comet and I place it behind his TG. BOTWD saves the worst of the damage, but my BSB takes a wound (does he get LoS against miscast templates? we played it as though he does not). In combat I wipe out his Saurus and the net result after these rounds is 1W on the Star Dragon, Crown lost on the Prince. Not too bad! I reform Star Dragon to face the TG head on, with the Phoenix turning around to assist as well. At this point in time, I'm VERY happy that BOTWD makes the Dragon stubborn -- a charge with 3 ranks, banner + bsb and challenging me out could've easily broken me otherwise.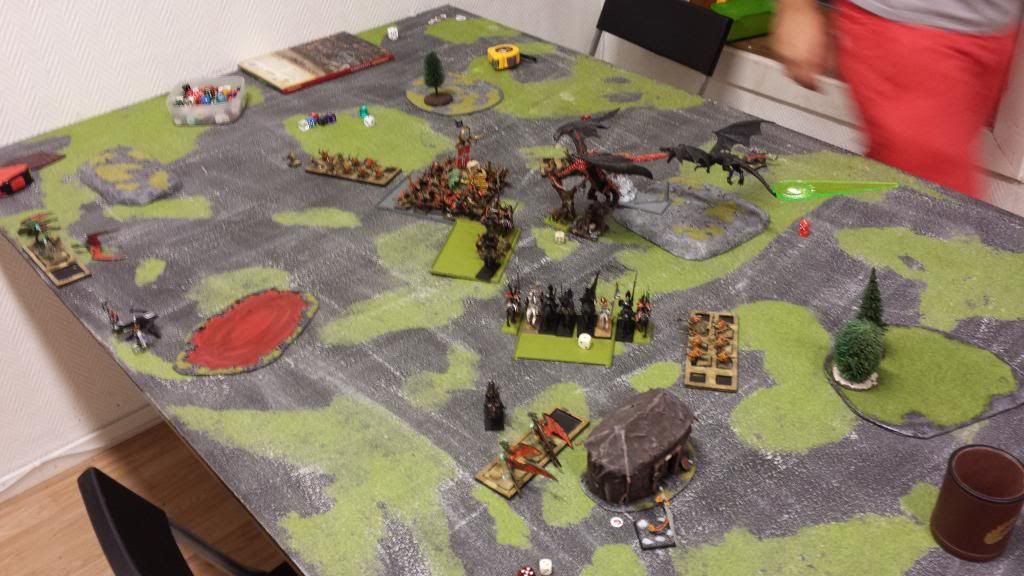 // Lz T4 //
He charges the Dragon. Magic sees him roll huge and end up 11v6. He starts of with 2D6 Lifebloom, which disastrously enough fails to cast with a '2' and a '1'! Everyone who's played Life extensively knows how real this threat is. However, this phase is super-vital as he wanted 4 casts: wyssan's x2, iceshard, lifebloom. I dispel the Priest's attempt at Wyssan's and his net effect is thus nothing. To add insult to injury, the comet came down and took 6 TG with it. The last RBT goes down and in combat I end up in a challenge against the tankiest hero, which I manage to dispatch with the might of the Star Dragon, despite his 1+ re-rollable (yes, I was lucky). I easily pass the break test and he knows it's coming for him.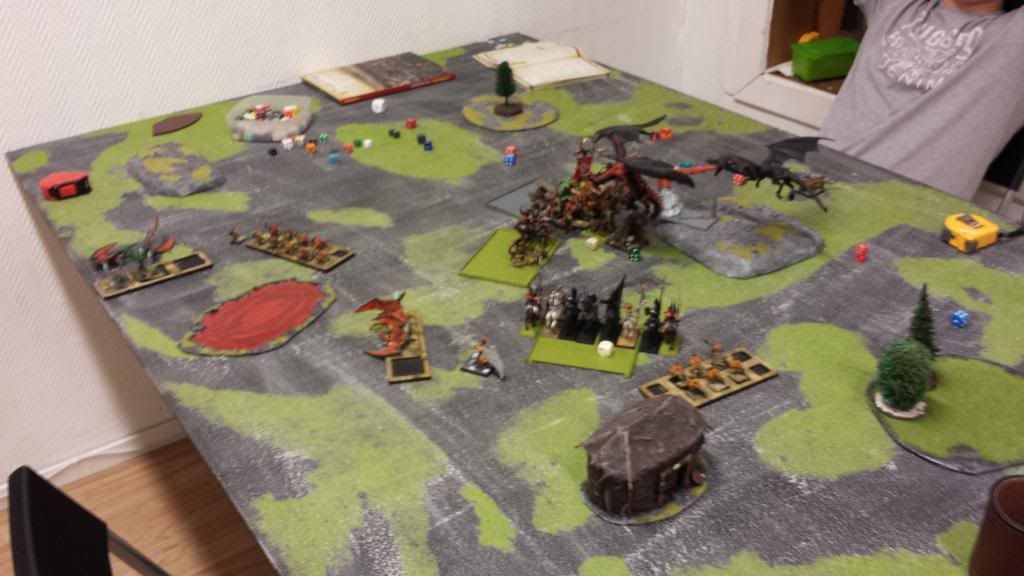 Rest of the game was like this: DP had a front charge so I triple-charged him with SHelms in flank, DP to the front, Frostheart to the front. I made a stupid risky move as I placed the BSB corner-to-corner with him, having only 1W left he was promptly killed for his troubles. The Shelm champ called out a challenge to maximise my Prince's and BSB's killing potential. He directed everything he could at my Prince, which went down despite the -1S strength aura (razor standard certainly doing its job!). However in return he had only 9 TG left after all attacks. As I rolled for thunderstomps, I got boxcars (what a break!) which was enough to obliterate him. He was thus not stubborn any longer and needed snake eyes to even stay in the fight. He failed this and I ran him down. In the last few turns of the game his Skinks managed to down the DP to 1 man remaining and kill off one of my mages.
The net result was still heavily in my favour, though I had bled a lot I was comfortably ahead around ~700 points and thus it was a
14-6 victory to the High Elves!// Analysis //
I like the new Lizardmen. They seem appropriately nerfed. They are still a very powerful force to be reckoned with in the hands of a skilled general, without being over the top. Although I haven't faced all their shiny stuff nor their new tricks, what I played today felt "right". I doubt they need much comp to be "where they should be" (famous last words, eh?). I particularly like the synergy of 3D6 channeling with the channeling staff, it allows them to get a significant magic presence both defensively and offensively, while being somewhat random (thus not mindrazor-reliable). This encourages players to go for overall strong lores (i.e. Heavens) or the Loremaster (which really was an eye-opener in this game!). This in turn makes the big spells less make-or-break the game (though an IF Searing Doom with lots of hits on my Prince could've easily seen him roll over me).
Anyway, let's move on to the game itself. 2 big blunders from me: I picked the wrong side as his extensive cover really hurt my RBTs. This, combined with my poor Reaver play, netted him 500 points for basically nothing in return. I felt I played the flyers well, I was able to establish control quickly, line up with the cavalry and be in a significant combat from T3. Harder than it sounds, trust me, the key word being significant combat.
The BSB moving into B2B with the TG was also just beyond stupid. I just wanted a bit of extra combat resolution, but it's not worth the risk even though he can only face 2 return attacks.
EDIT: Note! Heaven's attribute means that spamming Iceshard Blizzard on Terradons might've been a decent early-game casting strategy.
For the Lizardmen part, we agreed that it was needless for him to play so offensively. With his Loremaster having an array of excellent spells against me, most notably Searing Doom, he could've hung back, let his chaff take care of my chaff and magicked all day. As in my last game vs Ogres, he wanted to see "what if", which makes a lot of sense as it's a new book and one needs to learn how it can play. In the end though, the Star Dragon and Frostheart prove why they may be one of our best combos in our own new book - at the end of the game the former had lost but a single wound, with the Frostheart having lost 2. Considering how much damage they faced and tanked up, this is pretty amazing.
So, having faced this list you might question whether I think a fireward is worth it on the Prince? My initial thoughts are nope, far from it. The thing is that the Prince will frequently die, end of story. It doesn't really matter if he does, depending on the game of course. However, you want him to live as long as possible to bring his OTS into effect for the Star Dragon. If something like a Searing Doom hits you, the Dragon will take most of the hits and it'll suffer badly regardless of his equipment. Furthermore, giving him 2++ vs fire reduces his armour save to 3+, which really is terrible. Statistically, you fail twice as many saves vs S3 with it and I think the threat of Searing Doom etc is too situational to be worth the swap. I won't forget that the option's there though!
Yeah I think that's about it for now. Hoping for some feedback from y'all
Last but not least, the Dragonlord is
BACK
!