.::. Battle Report - 2400 vs Empire (ETC comp) .::.
// Lists //
Prince on Barded Steed, Heavy Armour, Enchanted Shield, Giant Blade, Dawnstone, Ironcurse Icon = 268
Loremaster of Hoeth, Book of Hoeth, Talisman of Preservation = 330
Noble BSB on Barded Steed, Dragonhelm, Golden Crown of Atrazar, The Other Trickster`s Shard, Dragon Armour, Shield, Lance = 163
Heavens Mage, Dispel Scroll = 110
Characters = 871
12 Silver Helms, Shields, Full Command = 306
5 Silver Helms, Shields, Musician = 125
5 Reavers, bows = 85
5 Reavers, bows = 85
Core = 601
20 White Lions, FC, BOTWD = 340
20 PG, FC, Razor Standard = 375
Special = 715
3 RBT = 210
Rare = 210
Army Total = 2397
Empire:
L4 Wizard Lord, 5++, Heavens, Scepter of Stability
Arch Lector on barded horsie, 1+, 4++, crown of stubborn
L1 Wizard, scroll, Heavens
Captain, magic weapon, 2++ fire, 1+
Captain BSB, pegasus, 1+ re-rollable
11 IC Knights, FC
20 + 10 Archers
4 Demis
6 Demis
STank
Great Cannon
// Pre-battle thoughts and deployment //
By now I`ve had a few games against Empire and I`m confident in my list`s ability to handle them. In most matchups, isolating demis is key to winning as they`re virtually the only thing causing enough damage to hurt me. Demis + IC Knights into Lions at the same time is disastrous so must be avoided at all costs. Demis into PG can be ugly, but PG are usually fine vs IC Knights. His magic can be nasty, but the Loremaster is terrible for him to face with virtually half my spells being disastrous for him.
Deployment gave me a big impassable. Perfect to force his demis through and give my cavalry some space. After some deliberation I decided to place the PG outside gen/BSB bubble as his IC Knights went down quickly. While a bit risky, I didn`t see it as likely for him to cause panic in any way for them so I was fine with this.
I got the RBTs in a very good pattern where it was pretty much impossible for him to dodge a flank shot (provided they stayed alive). I even managed to deploy one of them to get a flank shot on his big demis (with BSB on the end towards me!!) if I got T1. I learned last game how brutal this can be, and getting first turn here could be truly significant: killing the BSB right off the bat is, admittedly, a long shot, but if it works it`s just perfect.
One RBT is deloyed in the very corner, outside of the photo. The weird-looking unit angled towards the center is my 5 Helms, whom I had forgotten at home and thus had to use heavy unit fillers for.
The RBT with T1 flankshot opportunities.
Magic saw his L4 get Harmonic, Comet, Chain Lightning, Iceshard. Both our L1s chose Iceshard.
As we rolled for first turn I was eager to get that RBT shot off. Sadly, it never happened as the Humans seized the initiative.
// Emp T1 //
The East Reavers didn`t receive a charge, instead the Demis moved up to right in front of them instead. The center advanced with the STank moving towards an RBT. Magic was low and the result was Convergence on big Demis.
Shooting took out an RBT.
// HE T1 //
I can`t move out and face him. Despite the STank and Cannon firing away, I need to use the terrain to my advance and hope Searing Doom + Spirit Leech can help me out. Thus, I back everything 3" apart from small Helms (who are on Wizard-hunting duty), and Western Reavers (who taunt the STank).
Magic however is not cooperating. I get big winds, but roll abysmally. Spirit Leech and Searing Doom are both dispelled without a scroll (despite me using 8D6!). I land Iceshard on his Cannon but eat a Miscast. I`m lucky to catch a fairly insignificant result and I finish the phase off with a 1D6 Miasma on big demis, reducing M by 2.
Shooting sees the corner-RBT land a flank shot on the Demis, killing one and hurting another with 2W. The other misses. Reavers manage to land a wound on the STank!
// Emp T2 //
IC Knights and big demis keep moving up, small demis have to stay behind and reform to protect flank from small Helms. STank doesn`t take the Reaver bait. Magic, Iceshard on Lions, Convergence on big Demis. I dispel Comet with dice. Shooting - both RBTs go down.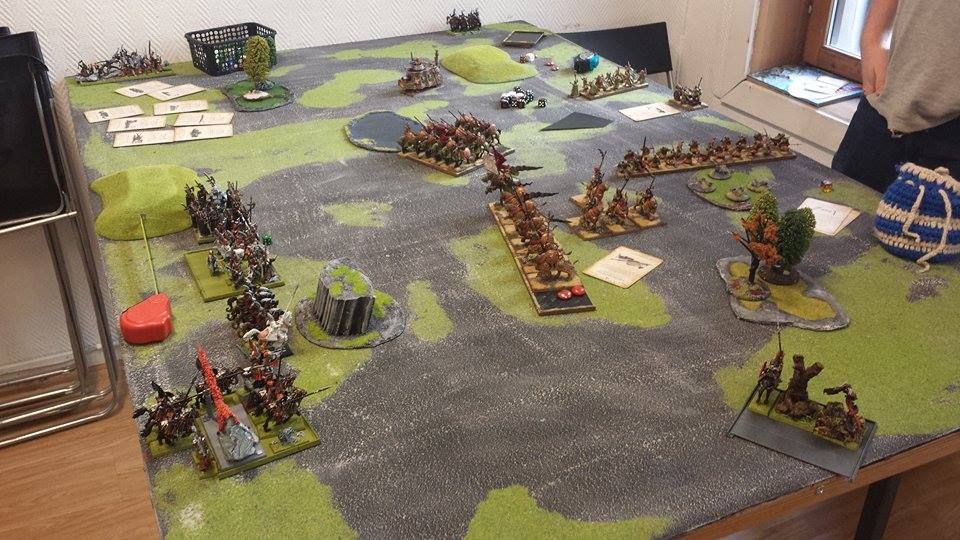 // HE T2 //
This is my chance to commit in a passive manner - perfect! I move Lions up, Reavers block IC Knights and PG stand behind. Helms move to outside of small Demis` front arc, while the big ones can`t reach them because of the impassable. The small Helms continue their long journey towards the L4 by moving to the very corner of the table, forcing small Demis to roll box cars to complete their charge, should they wish to.
Magic sees his scroll come out, phew! Shooting does nothing.
// Emp T3 //
IC Knights charge Reavers, I hold. Big Demis charge Lions, I hold. Eat that S6, Humans!
Magic sees my scroll come out, which is crucial to prevent that brutal Iceshard from landing on my Lions. Shooting sees Cannon + STank try and snipe my characters but LoS! rolls are passed and only a couple of Helms bite the dust. I think the Cannon blew itself up here as well.
Combat: Reavers kill the Champ from IC Knights and die. He overruns into PG. Lions and Demis trade quite a few wounds. Can`t remember if he won and I stood on stubborn or if I won by a small margin.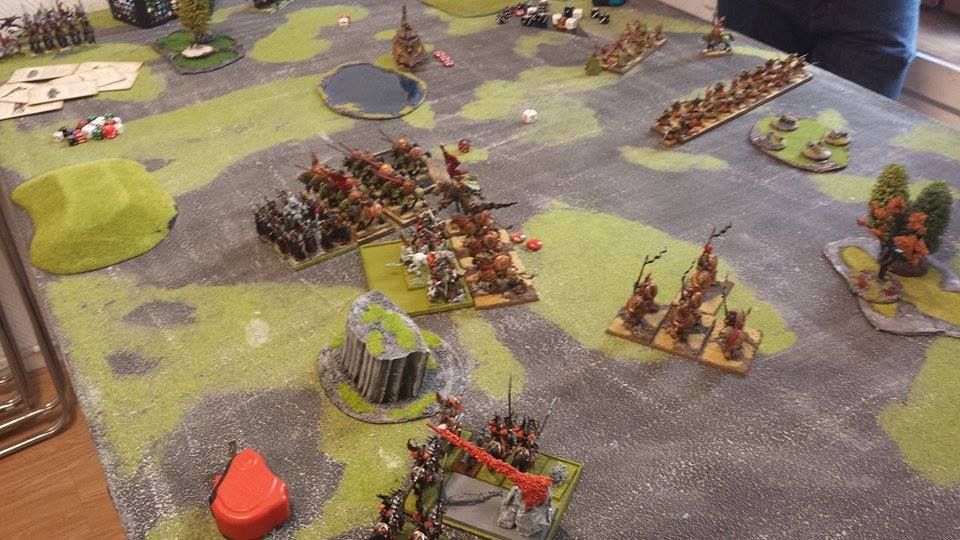 // HE T3 //
Silver Helms counter-charge to help the Lions. With 9+ I can reach the IC Knights on an overrun as well. Small Helms continue their long journey while the Western Reavers take advantage of the fact that the lake is impassable to the STank and can catch up, hopefully redirecting it if need be before the battle is over.
Magic is 4+2, but he rolls two 6`s for channels. I roll low and can`t get a single spell through.
In combat the "big" Demis aren´t so big any longer as they all die, leaving the BSB alone. He needs snake eyes and fails. I overrun with Helms but fail the 9+ required, the Lions reform to face the IC Knights. PG fare ok, I lose but I`m steadfast so hold, easily.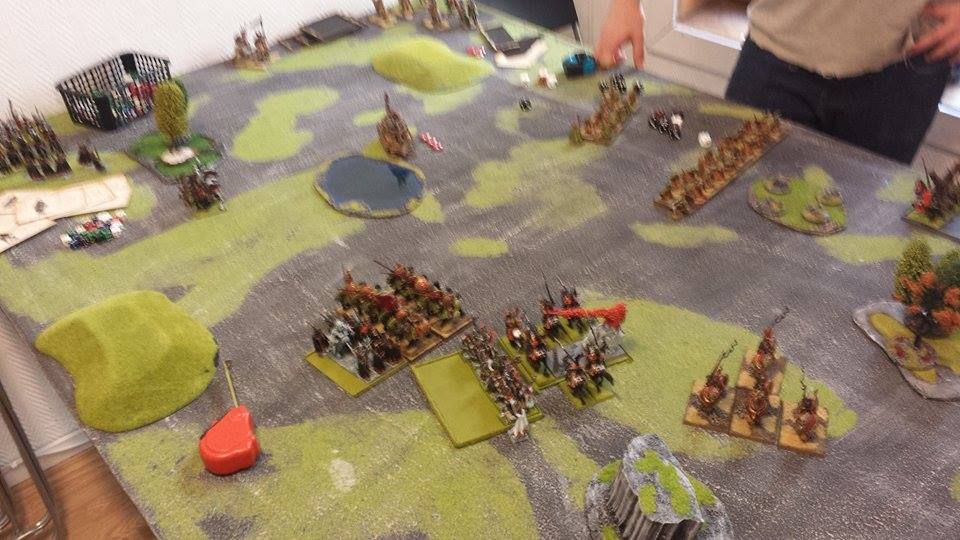 // Emp T4 //
Remaining Demis reform to face my units. Wizard Lord`s bunker reform to force me through ruins (dangerous terrain on 1s and 2s) if I want to charge him. Magic sees Iceshard land on the Helms and Convergence on IC Knights. In combat I am lucky to maintain steadfast (I was very close to losing it!) and the PG hold on.
// HE T4 //
Big Helms + Lions charge IC Knights. Small Helms charge Wizard Lord`s bunker. One dies to dangerous terrain. Being only 4 prior to this, I need to take a panic test, which I luckily pass.
Magic is again useless as I fail to roll anything but 1s and 2s for both winds and casts: I think the phase was 4v2 but I failed to cast anything.
Combat: IC Knights die horribly but the Archlector survives. Thus they are stubborn, thus I have to face Demi`s rear-charging me. The small Helms however get a couple of casualties for none in return. Being Skirmishers the Archers don`t get any ranks and lose badly. They break, I catch them and the magical offense is gone!
// Emp T5 //
STank charges small Helms. Demis charge big Helms. Magic is contained as his L4 is gone. Shooting is non-existant. In combat his Demis ensures a small win as his Archlector passes 8/8 saves vs S6 attacks and is thus stubborn. I pass all break tests.
// HE T5 //
Reavers block the STank, keeping it away from that vital central combat for his last turn.
I`m really hoping magic can help me here as I`ve had terrible phases so far this game. I get a huge roll, 11v6 or something like that, but alas it`s to little help: Wyssan`s on Helms is dispelled on 4v4 D6, Miasma is let through but I fail to roll the 5+ needed to bring him to WS1 (thus needing 5s to hit me), Iceshard is dispelled on 3v2 (!!) D6 and I fail to cast my last spell.
In combat the Archlector finally goes down. The Demis however strike true and I lose combat by 3. I`m testing on LD7 re-rollable which I fail. Adding insult to injury, the Demis catch me. Yes, that`s 4 Demigryphs getting ~900 victory points. He overruns into WLs.
After this it`s pretty much down to Lions vs Demis. He can`t assist them magically as I dispel his one attempt. However a combat reform sees my PG unable to counter-charge him as I lose the roll-off. In my last turn I get a big phase again and go 5D6 Wyssan`s, an abysmal total of 12 after BoH re-roll and the bonus. He dispels it. I cast Iceshard on him, which goes through, then fail Miasma on 1D6. In combat, I pass my fear test but he rolls a LOT of saves. In return he kills a few and I lose. Luckily I pass my LD9 stubborn break test and the game is over.
A truly bloody battle with but a fraction of my forces remaining. However, the Loremaster + PG + WL are worth a LOT of points so I`m hoping I`m still ahead. Counting up, I`m right in my assumptions and it`s roughly a 400 VP difference in my favour, a
12-8 win to the High Elves!
.
// Evaluation //
Strategy worked well. Losing the RBTs so early was a pain, they would truly have been a pain for him given their positions (see the HE T3 photo for example). Losing T1 also doesn`t help in this matchup, landing those shots and magic missiles early on can be devastating. Luckily I managed to work around this and, crucially, isolating the big Demis paid off big time.
Magic has never been as bad as it was for me this game while I`ve played the BoH Loremaster. I had so many phases where I couldn`t get anything critical through. It`s important to note that every once in a while, this will happen and I have to know how to play without the tremendous magical support I`m used to. Indeed, this game was going pretty well for me until the big Helms failed their break test.
Speaking of which, many will read this and consider it bad luck. True, you have a ~80% chance of passing such a test. However, I scored big points in my last game because my opponent failed a re-rollable LD9 test. That`s just how Warhammer is. When you`re far behind, you have to take risks to try and get back in the game. My opponent did so in this game and it paid off. Kudos to him for that. The question thus becomes, was the Silver Helms` position ideal in the first place, i.e. was there something I could`ve done to avoid the situation entirely? This photo provides an interesting basis for discussion:
So the PG are down to 10. The WL are ~16 strong and have a flank charge on the IC Knights. With only S4 and no stomps, these guys don`t really hurt that much. What I`m saying here is that WL + PG is enough to win this fight reliably, especially considering the magical support I can (normally) rely on. The question then becomes whether my Silver Helms can do something more useful here than helping out as well. Indeed I considered charging the STank for some time, but decided against it since it has 7W left. On T6, 1+ this could potentially tarpit me for longer than I`m comfortable with.
I haven`t looked at this situation thoroughly enough yet to know what the optimal move is, but I know that my decision here was what cost me the Helms. Perhaps this was a risk worth taking? Indeed, had I passed the test I would´ve counter-charged with Lions, Make Way! on the Prince and likely beat him big time, which would mean 18-2 or even more in my favour. What do you think?
As always, thanks for reading
I`m looking forward to reading your thoughts on this game!