.::. Battle Report - 2400 vs Vampire Counts (ETC comp) .::.
On my request, I finally got to face an extremely hard VC list. I was eager to test my High Elves going up against it as I haven`t faced VC in a very long time. Anyway, without further ado:
Prince on Barded Steed, Heavy Armour, Enchanted Shield, Giant Blade, Dawnstone, Ironcurse Icon = 268
Loremaster of Hoeth, Book of Hoeth, Talisman of Preservation = 330
Noble BSB on Barded Steed, Dragonhelm, Golden Crown of Atrazar, The Other Trickster`s Shard, Dragon Armour, Shield, Lance = 163
Heavens Mage, Dispel Scroll = 110
Characters = 871
12 Silver Helms, Shields, Full Command = 306
5 Silver Helms, Shields, Musician = 125
5 Reavers, bows = 85
5 Reavers, bows = 85
Core = 601
20 White Lions, FC, BOTWD = 340
20 PG, FC, Razor Standard = 375
Special = 715
3 RBT = 210
Rare = 210
Army Total = 2397
His list:
Vampire lord: lvl 4, the lore of the vampires, red fury, aura of dark majesty, beguile, great weapon, Charmed shield, talisman of preservation, sceptre of stability, the other tricksters shard: 505
Wight king: bsb, nightshroud: 150
Necromancer: lvl 1, the lore of the vampires, dispel scroll: 90
Necromancer: lvl 1, lore of Death, book of arkhan: 90
Necromancer: lvl 1, lore of Death, scroll of shielding: 80
Cairn wraith: 60
34 Crypt ghouls: crypt ghast: 350
33 Skeleton Warriors, hand weapon, full command, banner of swiftness: 210
5 Dire Wolves: 40
10 Hexwraiths: 300
10 Hexwraiths: 300
Terrorgheist: 225
--------------------
2400
// Pre-battle thoughts and deployment //
Hexwraiths are fast and dangerous. The biggest problem about these is that they`re fast cav and thus extremely flexible. The rest of the list poses ranged threats in the shape of Spirit Leech and the Terrorgheist. I was hoping to get a good couple of turns worth of magic here before combat hit home: Shem`s Burning Gaze and Fireball are strong against Hexwraiths. His plethora of arcane defensive items did look dangerous though. Also, the RBTs would be tasked with killing off the Wolves before combat hit home: If I failed this, it would be easy for him to chaff away a unit at a crucial point.
Magic: he opted not to take SL but got Caress and Soulblight. Thus I wouldn`t have to count on BOTWD for my characters that much. I got Comet but opted for Iceshard instead after contemplating this a bit. I would`ve kept Thunderbolt and Chain Lightning I believe.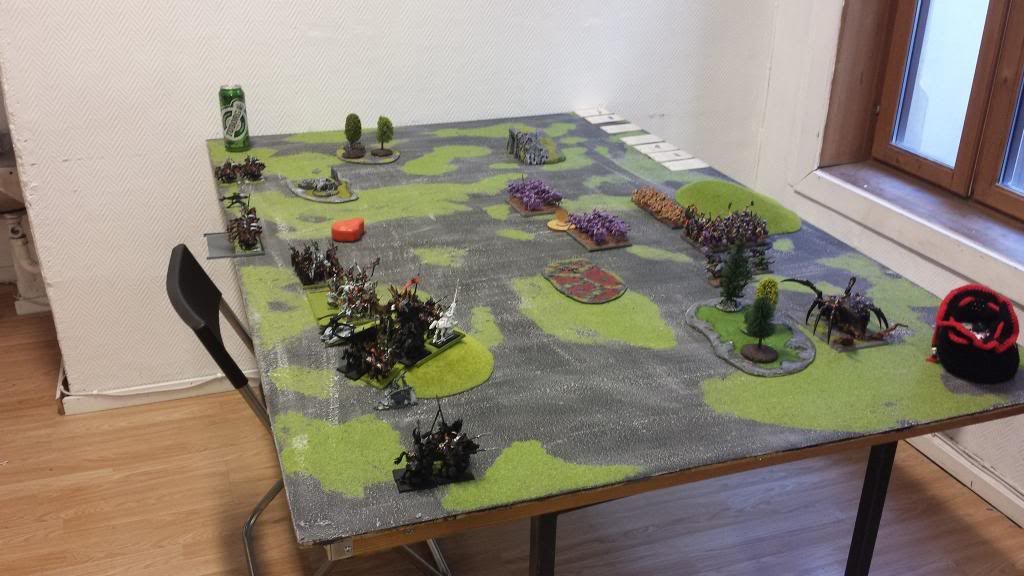 He won roll-off for vanguard but it didn`t matter: I didn`t want to lose the Reavers instantly so I moved them backwards anyways. I managed to grab first turn and ahead we went!
// HE T1 //
Everything moved backwards, Silver Helms stayed put to counter an aggressive Terrogheist. One unit of Reavers go wide, party to be available late-game, partly to taunt his Hexwraiths. Magic was 5 + 1 and he channeled one. I started off with 2D6 Burning Gaze and got a terrible result of 4 (+2 bonus for 6) after BoH. He dispelled on 2D6. This was a terrible start to the game so I had to start gambling straight away: 4D6 at L3 Fireball failed to cast after three 1`s showed up. He hadn`t even spent a single arcane item and I had done no damage to him: Not looking good.
Shooting sees RBTs combine to kill 1 unit of Wolves, luckily.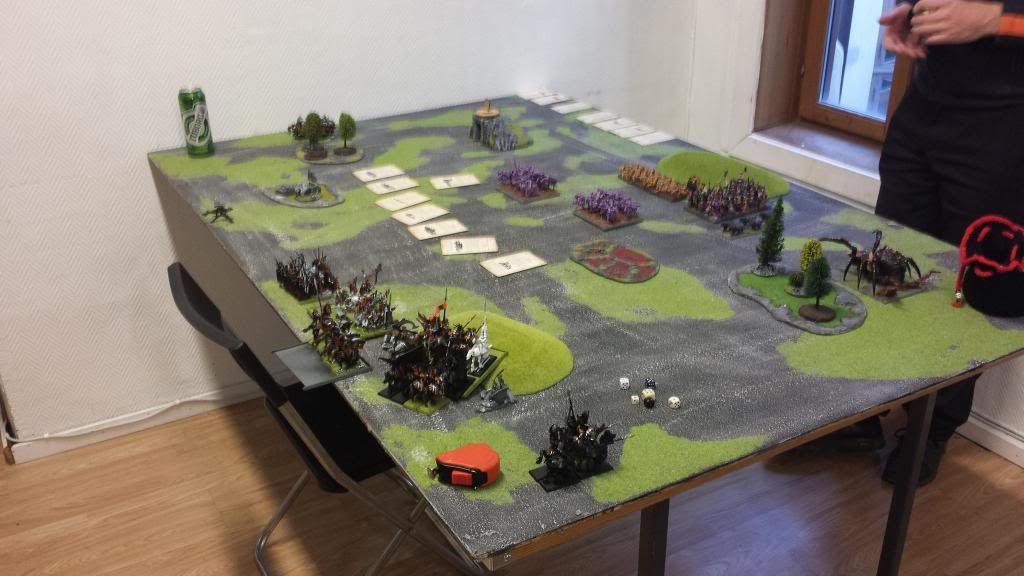 // VC T1 //
No Hexwraiths are taunted. Everything moves up, Terrorgheist in range of screaming an RBT, Hexwraiths at double-6 charge from the bus. Magic is 10v5, the result is pretty bad: a huge cast of boosted Vanhel`s (6 + 4 + 4 + 3 if memory serves) pretty much forced me to spend the scroll or engage very quickly. I chose the latter but still had to let Caress through, which killed an RBT.
Shooting saw the Terrorgheist killed another RBT. All panic tests were passed.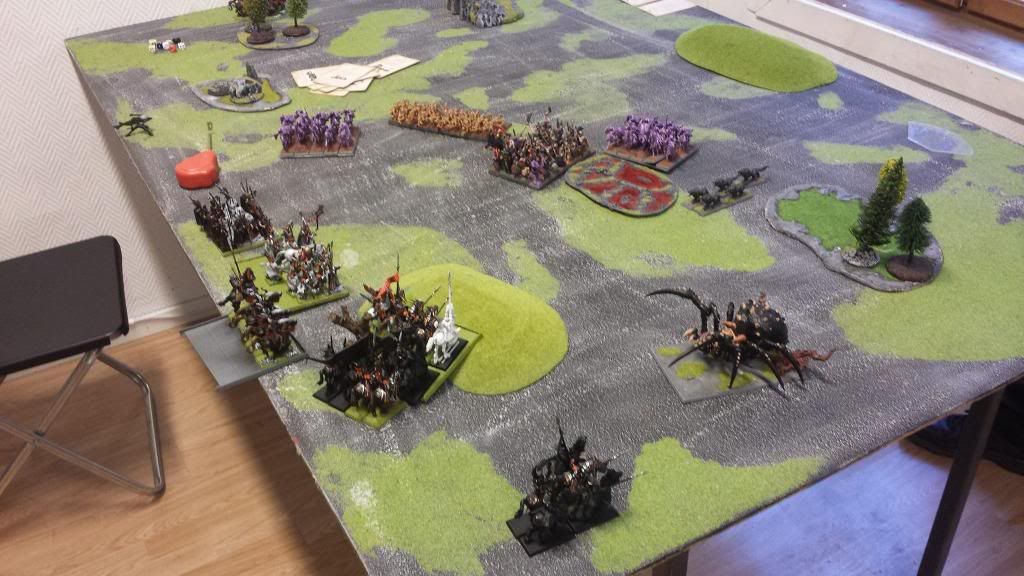 // HE T2 //
Phoenix Guarda charge Hexwraiths. I figure I have to lock down this unit at this point to hopefully get a favourable combat in the center. With static and a bit of strong magic I can even win and slowly trickle them down. It`s not ideal, but it`s not terrible either. Nearby Reavers move up to block Ghouls + Skellies, Lions behind and Cavalry lining up as well. Small Silver Helms charge Terrorgheist.
Magic comes up 2v1. I start off with failing to cast miasma on the Hexwraiths on 1D6 and he dispels Iceshard. Shooting sees RBT failing to hurt Wolves (needing 6`s due to hard cover and long range). This was looking bad. Silver Helms scored a wound on the Terrorgheist for none in return and it lost another 2 due to being unstable. PG loses one and a Hexwraith pops (it should`ve been 2 as I won by 3: 2 ranks + banner + charge vs 1 casualty), BSB reducing the unstable effect.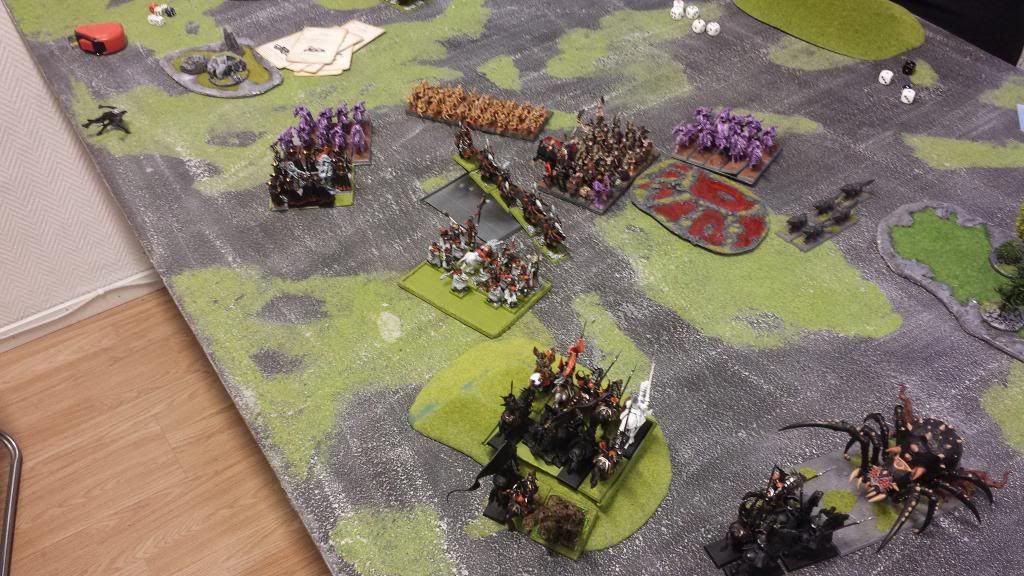 // VC T2 //
Bad goes to worse as his Skeletons charge the Reavers. The Skeletons incorporate a Wraith, which causes Terror. The blocking Reavers fail their re-rollable LD10 terror test and my Lions are very exposed. Ghouls + Skellies charge them. Whoops! Remember what I said initially about RBTs having to deal with Wolves? Well, the remaining unit blocks my bus. Magic is very low and I contain it all, luckily. Shooting sees Terrogheist roll very low and no Helms die.
In combat my opponent makes way with the Vampire Lord
next to the Loremaster and 2 full support rank of White Lions
and challenges with the Wight King. I oblige with the Mage, hoping to save the scroll for another turn. This combat is the only chance I have at getting this game, after his risky make way move. I target the Vamp Lord with everything I can (8 S6 attacks) and my opponent is suddenly super-surprised: he was expecting to face 3 S6 and 2 S4 attacks: he didn`t know the Loremaster sported a great weapon and he didn`t consider Martial Prowess. I got lucky with the dice and scored 5 wounds. He picked up 5 ward save rolls and to my huge relief, 4 of them failed! The Vampire Lord was killed and his units apparantly lost their impetus: the Wight King only scored 1W on the Mage, the unit scored 2W on the Loremaster but more crucially: he fluffed SO MANY attacks on the Lions and only a single model died! He lost a few to crumble. Meanwhile, the PG held up, losing the combat but passing the break test and the Helms, adding insult to injury, finished the Terrorgheist.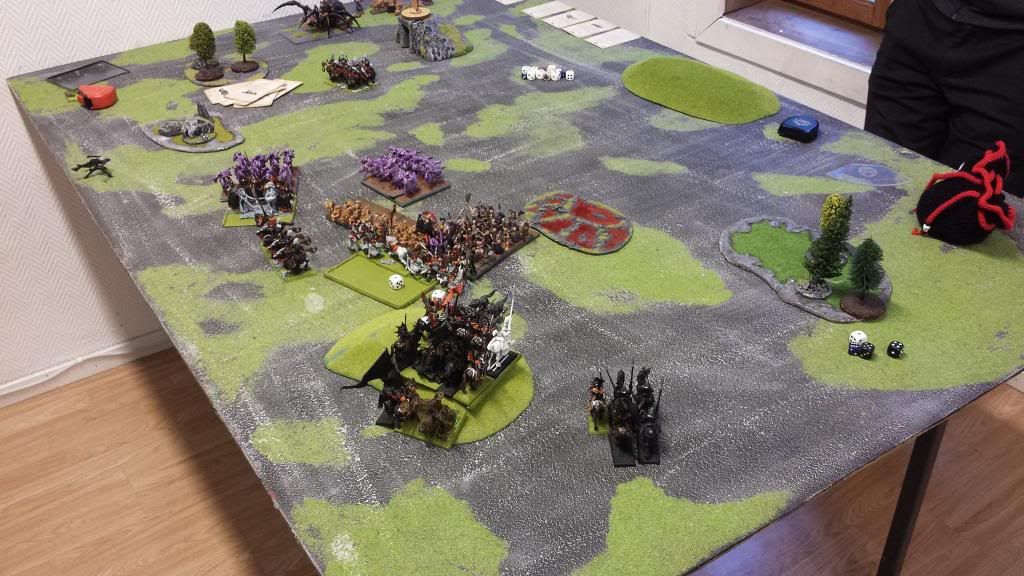 // HE T3 //
Small Helms flank charge Skeletons, big Helms charge their blockers. Reavers rally, other Reavers move up. Magic is box cars and his scroll comes out, Iceshard goes up on his Ghouls AND Lifebloom goes off, healing the Loremaster back to 2W. Shooting is non-existant as everything is in combat barring an Ethereal unit.
In combat the Lions continue their great display and kill off a lot. Wight King can`t kill the mage because I pass my regen rolls and the Skeletons fail to kill the Loremaster again. Silver Helms make an impact as well and he loses big. Ghouls pop and I reform Lions. PG break but he fails to catch me.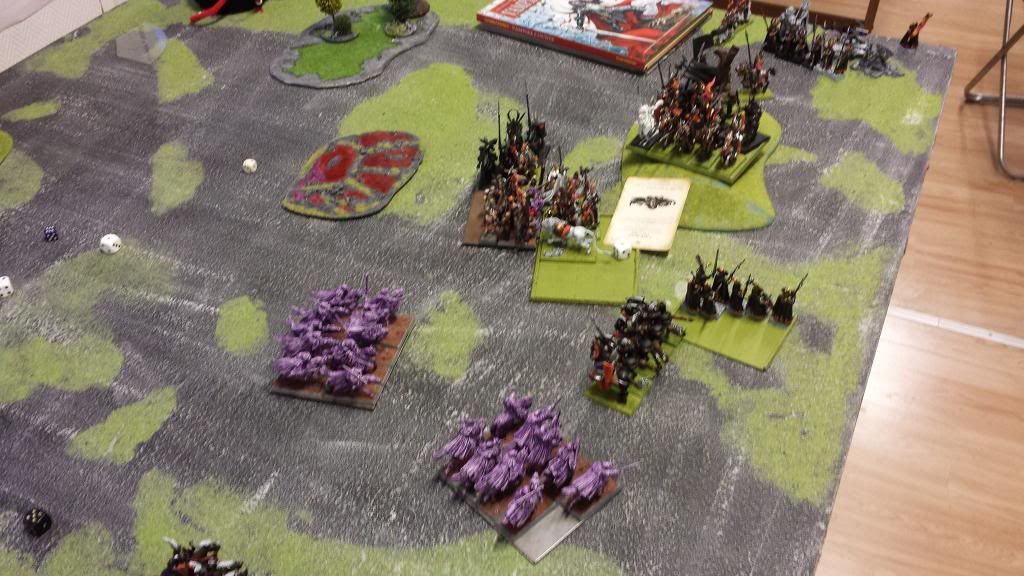 // VC T3 //
Hexwraiths flank Lions in a desperate attempt to contribute enough static res to keep him alive. The other unit moves through Reavers and kills them. Magic sees him get off Soulblight on the Lions, scroll comes out. Combat sees the Wight King score a killing blow on the mage and the challenge is ended. I kill a lot of skeletons and win, despite Hexwraiths (BOTWD helping my out here). It`s not big though, but now my bus is ready to help out.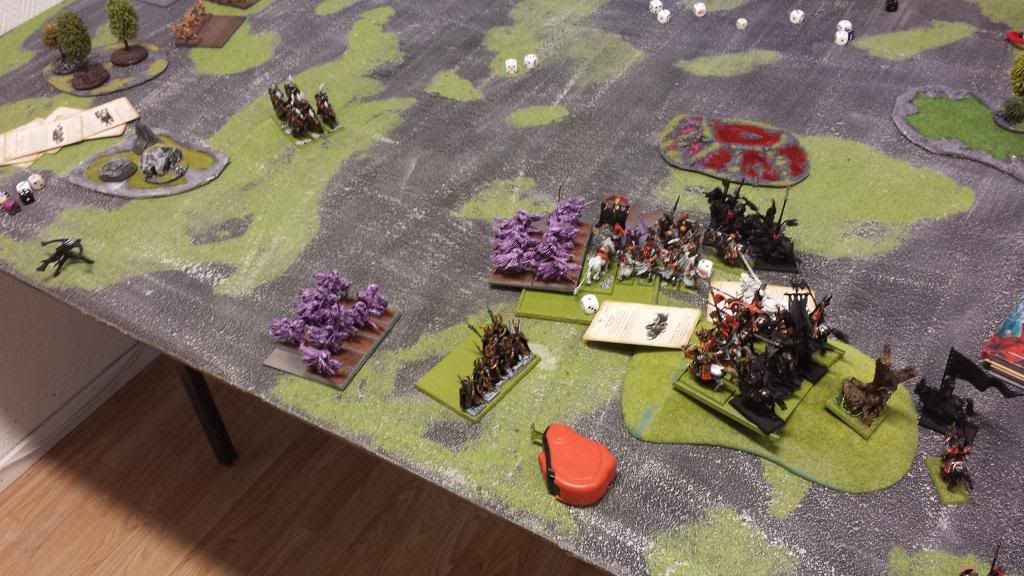 Bus charges Hexwraiths. PG reform to conga. Magic is big and I get a couple of vital spells off. Combat sees me win huge and everything pops. He`s left with a single unit of Hexwraiths who elect to charge PG. He fails to bring them below half strength and I counter-charge with the bus, Prince cleaving him apart. They pop and the game is over! I had lost 1.5 units of Reavers, mage and 2 RBTs as well as PG banner. A
20-0 victory to the High Elves!// Evaluation //
This victory has a bittersweet taste. I originally though this was an ok matchup for my list. I no longer think this is the case, I believe it is a pretty bad matchup to the point where it might be one of the worst, if played by a capable player. The only reason I won this game was because he made a huge mistake with his Vampire Lord (who could`ve opted to make way corner-to-corner with the Loremaster instead and thus killed him with 5 WS7 S7 Red Fury attacks and TOTS) and I got lucky. I was all set up to lose (and it probably would`ve been big as well, likely in the neighbourhood of 0-20) before this.
The threat of this VC list is so multi-faceted that it`s very hard to deal with everything: the infantry units are numerous enough to simply swarm whatever I can field and the Vamp Lord is, as always, a real powerhouse. Nightshroud on the Wight King is a huge headache, although admittedly this match saw him neutralized to a great degree (he was in the front rank so couldn`t make way to an optimal position and the challenge with the mage saw me luck out). The Hexwraiths have a T1 threat range (relative to deployment) of 28", which is huge. Also, being fast cav there is no way I can catch him - even with M9 swiftstride - if he doesn`t want to be caught. The Terrorgheist, while relatively weak in combat, forces me to dedicate a portion of my army to it. Indeed I got lucky here as well with 5 Helms being able to take care of it, but it did its job of taking away my chaff-clearing abilities together with Caress. If the Vamp Lord had killed the Loremaster (or even just survived), this would`ve been my final chance (charging the big bus at him) but the Wolves kept me from doing so.
Lastly, against most lists double LD10 Spirit Leech is extremely dangerous. BOTWD helps me out here, but still the magical presence is extreme: double Vanhel`s is very hard to cope with and ensures that his infantry can get to where they want, when they want. Very dangerous.
In hindsight there`s probably a few things I could`ve done better. I`ll have to analyze the game further before making some points, but I`m convinced that this is a matchup favours the Vampires.