Curu Olannon presents:
:: 2D6 Crusade - Game #1 - Chaos Dwarfs - 0/0 points before pairing ::
Having stayed up until 11.30 PM painting non-stop for roughly the entire day, I was anxious to see what these painted miniatures could actually DO once they hit the tabletop! Unfortunately for me, my first opponent was one of the best players in the scene: a veteran who started playing Warhammer in the early nineties and a regular at the Norwegian ETC team for the last couple of years. His army was truly amazing and unique, I hadn't seen a single model (!) in his army ever before (he won best painted army award as well). Now, rusty was convinced that I'd get a real thrashing and with Ptolemy's battle report against Chaos Dwarfs in my mind, I wasn't too confident. However, he was a really sporting opponent and the game was easily one of the best I've ever had: a nice, relaxed atmosphere (as you'd expect in your run-of-the-mill friendly), lots of tense moments, some crucial dice, lots of laughter and some really nail-biting moments! Without further ado:
:: Evil Incarnate ::
The lists -
:: High Elves ::
Saerith with GW, AoC, Vambraces, Loec, Star Dragon - 622
BSB Naenor with Sword of Might, HoF, Shield, Dragon Armour, Great Eagle - 208
Olannon with Level 2, Annulian Crystal - 175
Characters - 1005
30 Archers, Full Command, Banner of Eternal Flames - 365
15 Archers, Musician - 170
10 Spearelves - 90
Core - 625
26 White Lions, Full Command, Banner of Swiftness, Amulet of Light - 450
14 Swordmasters, Bladelord w/Skeinsliver, Musician, STD w/Gleaming Pennant - 270
Special - 720
3 Great Eagles - 150
Rare - 150
Total - 2500
:: Chaos Dwarfs ::
Lvl 4 Sorceror-Prophet w/2+ re-rollable armour save, stubbornhelm (death)
Lvl 1 Sorceror w/scroll (metal)
BSB w/stuff
30 Infernal Guard
30 Chaos Dwarfs (not sure what these guys were or had to be honest, they may have been IG as well)
K'daai Destroyer
Iron Daemon (melee upgrades, T8, W8, no shooting, insane impact hits, insane thunderstomp)
Deathshriek Rocket
Hellcannon
Total - 2400
:: Pre-battle thoughts and deployment ::
We quickly went through his list and I was
very
happy that I had read Ptolemy's report prior to this engagement: I knew roughly what everything was and what it could do. Borrowing Tamurkan from Dark Reaper and reading the Chaos Dwarf stuff semi-thorough most certainly helped as well!
Magic - I got Curse and Shield (rolled them both naturally so no choice here). He got Searing Doom for his level 1 and his level 4 got Spirit Leech, Caress of Laniph, Soulblight, Doom and Darkness.
Deployment, and I had 3 crucial thoughts in my mind:
1 - Keep the Eagles central so as to be usable T1 for the K'daai
2 - Keep the flyers behind impassable terrain for worse accuracy
3 - Keep one flank heavily loaded, the other clear, to perform an enveloping manoeuvre (due to his slow nature, this could be game-winning)
To this end, I was quite happy with it. He deployed in a central position, flanked by K'daai on the West and the Iron Daemon on the East:
Note: the rocks in the middle count as dangerous terrain. His Lvl 4 + BSB was in the IG unit, the Lvl 1 was in the CD unit
He had finished deployment first and unfortunately the benefits of Skeinsliver couldn't help me as I rolled a '1' and he a '4'.
:: Chaos Dwarfs T1 ::
He moved up his flanks, the Western one maximizing its move (Q - is a model/unit allowed to end its move with its base over an obstacle?). The centre shuffled a bit, but with M3 that's pretty much all you ever do!
Magic - I can't remember the details but the result was Doom and Darkness on my White Lions.
Shooting - his Deathshrieker Rocket misfired, despite a re-roll, and blew itself up! The Hellcannon fared better as it landed a direct hit on the Lions and killed 9, however I passed panic!
:: High Elves T1 ::
First things first - block that K'daai! The Iron Daemon proved to be in a particularly annoying position as I couldn't march up as hard as I wanted to. In the end, I got a decent position but had I gotten T1 I could've been in a way more aggressive spot.
Magic saw me get Curse on his CD and Drain up, not too shabby!
Shooting killed a couple of CD. With his 3+ Armour Save and 5+ ward vs Fire, I believe targetting the Hellcannon might've been a better choice.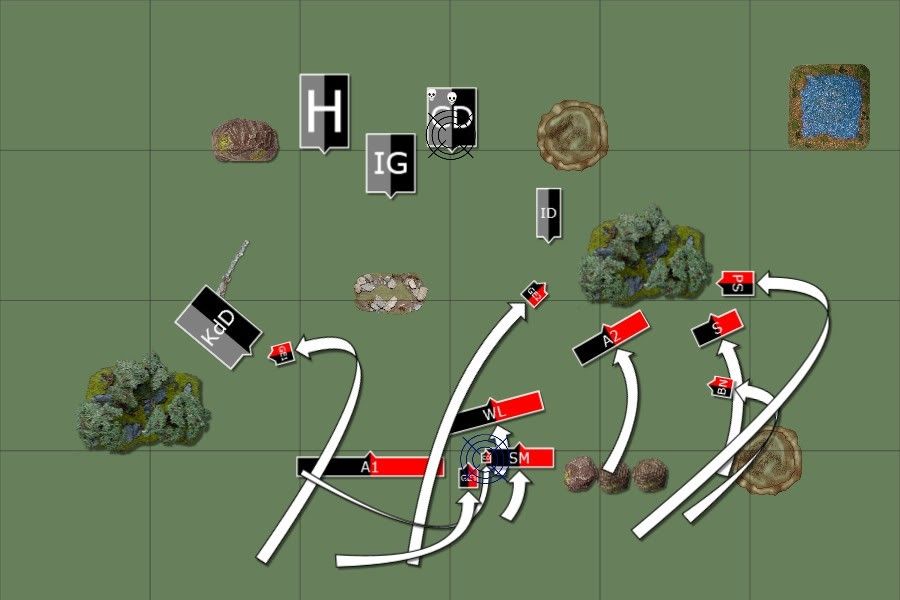 :: Chaos Dwarfs T2 ::
2 blocking Eagles were charged, no surprise there.
Magic, I think I dispelled it all... Shooting however saw his Hellcannon target Saerith and score another hit! The hit was resolved against Faeria and wounded... However the D6 came up a '1' for multiple wounds!
Combat saw both Eagles die horribly. No wonder these birds never get really big, they always die at an early age!
:: High Elves T2 ::
Having clarified that the Iron Daemon possesses no threat to my flyers, I combo-charge it with Saerith + Naenor. An Eagle moves to block the K'daai again while the rest move up.
Magic - I got off Drain, he prioritized dispelling Shield.
Shooting - a couple of CD, nothing major.
Combat - I showed him the destructive powers of the Star Dragon as I put 3W on him, however he still had 5 remaining.
:: Chaos Dwarfs T3 ::
In my T2 I had positioned the Eagle outside the Dangerous Terrain to avoid taking a wound. Completely silly, as it was going to die regardless to the K'daai. In doing this, I allowed him to narrowly wheel past and engage the Lions. I wasn't quite ready for this but realized that it wasn't necessarily all bad as the Hellcannon was taking its toll on them. I was playing rather fast to ensure I could finish, so I think this placement was mostly due to instinct (i.e. avoid dangerous terrain).
So - the K'daai got into the Lions while his IG charged the Eagle, who chose to flee.
Magic saw him get D&D on my Lions again, and I was hoping that Saerith + Naenor would help me out here!
Shooting saw the Hellcannon miss its mark.
Combat was interesting, I knew I had to get rid of his Iron Daemon as soon as possible so I used Talisman of Loec. It wasn't optimal as I really wanted to have it against his Destroyer but I couldn't risk being stuck for another round. With a bit of luck and Loec, I managed to take it down and reformed to a very flexible position.
The Lions managed 2W on the Destroyer before he struck back and killed half the unit (the burn damage wasn't too bad, lots of 1's and 2's). I held on stubborn LD7, many thanks to Naenor!
:: High Elves T3 ::
I was contemplating going all-in on the K'daai, however I forgot at this point that he had flaming attacks so I didn't dare sending in Naenor. Had I thought of this, I probably would've gone for it. Instead, I was afraid he'd survive and that Saerith would break on combat resolution (so many Lions could die...). Probably a mistake on my part as I left it alone and charged the CD instead.
The rest shuffled around, nothing major.
Magic - I dispelled D&D with all my dice.
Shooting didn't do anything major.
Combat - I wounded him 7 times with the Lions, however he saved 5 of them for only 2 wounds lost (leaving it on 2W). Now, he performed a minor combat reform which allowed him to get my Swordmasters' flank (totally my bad not to consider how this reform could change this angle). Saerith and Naenor reduced their opposing unit to ~10 models, taking no wounds in return.
:: Chaos Dwarfs T4 ::
The K'daai charged my Swordmasters, who held. The Hellcannon opted to move up, taking up a flanking position.
Magic saw him kill my Eagle, just barely, with Spirit Leech. This was annoying as I really could've used it and 1W would be plenty.
Combat saw him kill off half the Swordmasters, I did nothing in return. I considered reforming here but didn't want to take the extra burn damage so I chose to stand with my flank against him. Saerith + Naenor killed off the IG and reformed to face the last unit, containing all his characters.
:: High Elves T4 ::
I triple-charged his last unit with Archers (who had his flank), Saerith + Naenor. I reformed the last Archers to a single line where they forced the K'daai away from the central combat, should he wish to interfere.
Magic saw me get Drain up.
Combat - I scored lots of wounds and even killed off one of his characters. However he was stubborn and I got no-where. As the combat drew to a close I noticed that my Archers were easily in the Hellcannon's charge arc and I suddenly understood his move a lot better. I tried to combat reform them out of it but it couldn't be done. Since he was stubborn it was completely unnecessary for me to spend the Archers like that... The K'daai reduced the Swordmasters to 3 (really poor rolls) and due to the Gleaming Pennant I stood my ground! A crucial roll, Saerith's LD certainly helped out.
:: Chaos Dwarfs T5 ::
His Hellcannon rear-charged my Archers.
Magic saw him get off D&D irresistably on Saerith, taking 1W on his Lord for the trouble. A huge bonus for him as the dice were 5v6 and I was going to lose because of all the free-kill Archers.
Combat saw his K'daai kill the Swordmasters easily enough and reform to face the Archers. The Hellcannon killed quite a few Elves and I rolled poorly for my flyers. I lost combat by 4, meaning I took break tests on 3-. Luckily enough, Naenor held but the Archers were caught by the Hellcannon and Saerith fled.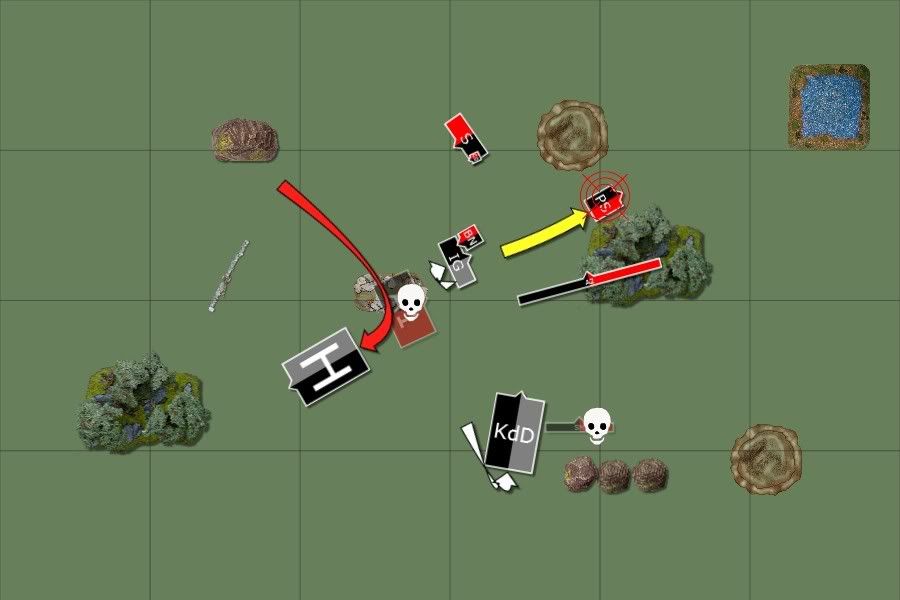 :: High Elves T5 ::
Saerith rallied, taking care to have vision of both the K'daai and the central combat). The blocking Archers stayed put, intent on keeping their Noble safe. Magic was uneventful as the winds were low and he rolled high for his dispel roll.
Combat saw Naenor wound him once for nothing in return and we stuck.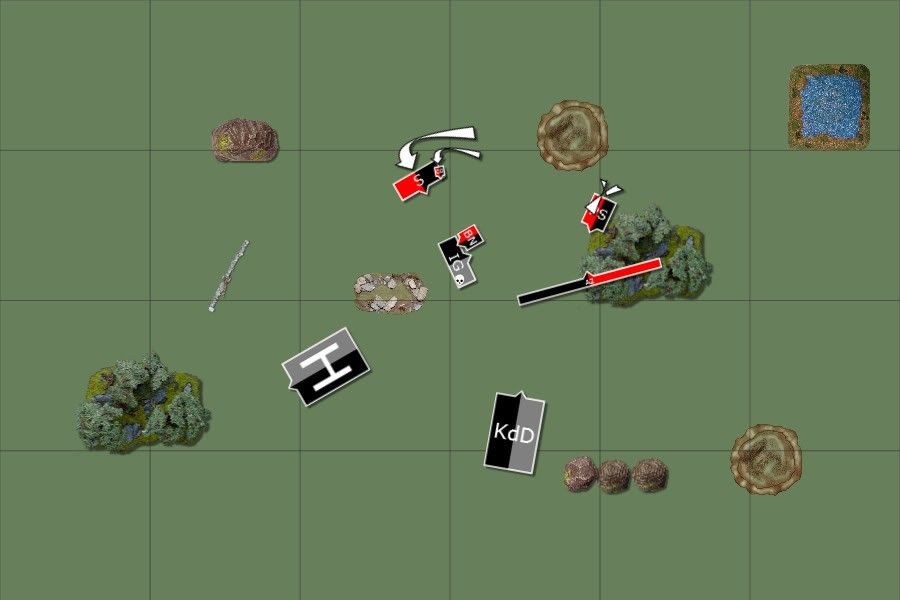 :: Chaos Dwarfs T6 ::
The Destroyer charged my Archers and I held. Magic saw him get 8v5 and he started off with 4D6 D&D on Saerith. I let it pass since I had Naenor's re-roll and figured that stopping Soulblight was vastly more important for my chances. LD7 re-rolled is ~75-80%, should my Archers even break/be killed in the first place! -1S, -1T on the other hand would've been way worse and I did indeed manage to dispel Soulblight.
The Hellcannon fired upon the Dragon, but missed it (I hadn't thought of this panic test when I prioritized dispelling)!
Combat saw the Archers die to a man (he finally rolled some good dice). Saerith managed to fail his test and fled, despite the re-roll. Naenor kept holding on however, trading blows for minor effect.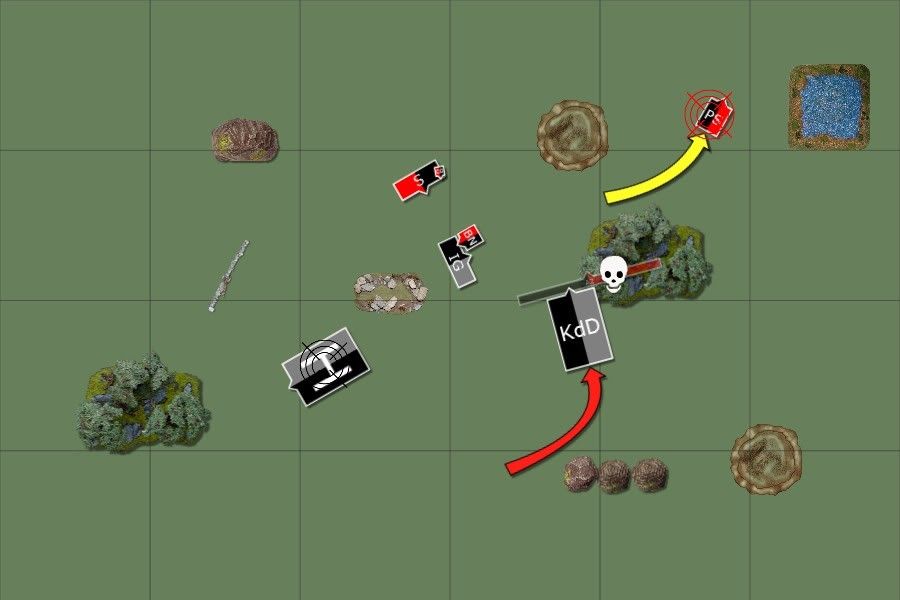 :: High Elves T6 ::
In the last turn of the game I charged my Spears + Olannon into his flank, hoping to force one final break test and be lucky. I managed to rally Saerith on that crucial LD7 test, saving me over 300 victory points in the process!
Magic saw him dispel Shield easily, I was going for a 5D6 cast praying for IF to blast some stuff but couldn't get it.
Combat was close and he lost by 1. However the LD9 re-rollable was easily passed and with that the game was over!
:: Victory Points ::
Counting up it quickly turned out to be an extremely close game. In the end he had killed 1480 points from me while I had killed 1391 from him. With such a small difference, the game was a
10-10 draw! :: Evaluation and Conclusion ::
Overall, I think I did fairly well. The deployment was good, strategy was sound. However, although I had some knowledge of Chaos Dwarfs it wasn't nearly enough. Forgetting that the K'daai had flaming attacks hurt me so badly and sending in the Archers when I knew he was stubborn was just bad. Apart from this however I was happy with the game and indeed I think 10-10 was good considering how rusty was ready to bet on me losing 0-20!
I think that I played the 30 Archers pretty terrible here. Instead of taking pot shots at the CD I should've targeted the Hellcannon all along and continued shooting it rather than charging the IG.
Chaos Dwarfs are an interesting army to play against. I think they add a lot of variety to the meta and present a truly unique challenge: between 3 unbreakable monsters, Dwarf resilience, war machines and powerful magic, they are an elite force which plays very differently to the existing ones. The next time I face them, I'll know even better how to handle them. I should've taken away a win here, in my opinion, after the first ~2 turns I had a big advantage which I failed to properly capitalize upon. With that being said, this could've gone either way and we could both have ended with a 15-5 win.
A very enjoyable game and a perfect start for the tournament as I learned how to manage the time and got to know how nice and relaxed the atmosphere was! A lot of this was of course due to my opponent, so many thanks to him!
As always, C&C very welcome
If you have any questions about CD, feel free to ask as I feel I have a pretty good grasp on their rules by now!
~Olannon