I faced Tomb Kings last night, first time ever against this army!
:: Of Ancient Horrors and Elven Pride ::
The lists -
:: High Elves ::
Saerith with GW, AoC, Vambraces, Loec, Star Dragon - 622
BSB Naenor with Sword of Might, HoF, Talisman of Protection, Shield, Dragon Armour, Great Eagle - 218
Olannon with Level 2, Annulian Crystal, Ironcurse Icon - 180
Characters - 1020
30 Archers, Full Command, Banner of Eternal Flames - 365
15 Archers, Musician - 170
10 Spearelves - 90
Core - 625
26 White Lions, Full Command, Banner of Swiftness, Amulet of Light - 450
14 Swordmasters, Bladelord w/Skeinsliver, Musician - 253
Special - 703
3 Great Eagles - 150
Rare - 150
Total - 2498
:: Tomb Kings ::
Level 4 Wizard - Nehekara, Earthing Rod
Level 2 Wizard - Nehekara, Scroll
23 Archers, FC
20 Archers
4 Chariots
5 Horse Archers
5 Horse Archers
40 TG, FC
40 TG, FC
Hierotitan
Casket of Souls
Warsphinx
:: Pre-battle thoughts & deployment::
Magic: I rolled Vaul's and Shield. I would've preferred Curse or Flames over Vaul's, but investing as little as I do in magic I can't complain! His level 2 got 0, 3 and his level 4 got 0, 4,5,6 - both from Nehekara.
Going through the lists beforehand, I had a pretty good idea of how I wanted to play this: I cannot beat 80 elite infantry magically aided and supported by 2 monsters head on. I needed to really shatter one at a time and carefully remove support elements to be able to properly isolate them. To accomplish this, I imagined getting a refused flank and using terrain as well as my chaff units to dictate when and where to fight. I wasn't sure what to do with the Warsphinx but I did know that nothing else was worthwhile shooting at so I was hoping my 45 Longbows could put off a wound or two before combat ensued.
Deployment went pretty well for me and I got a very good starting point. In particular, I was happy with how he had to commit his Chariots (or a combat block) fairly early on, allowing my Lions to go into a perfect position: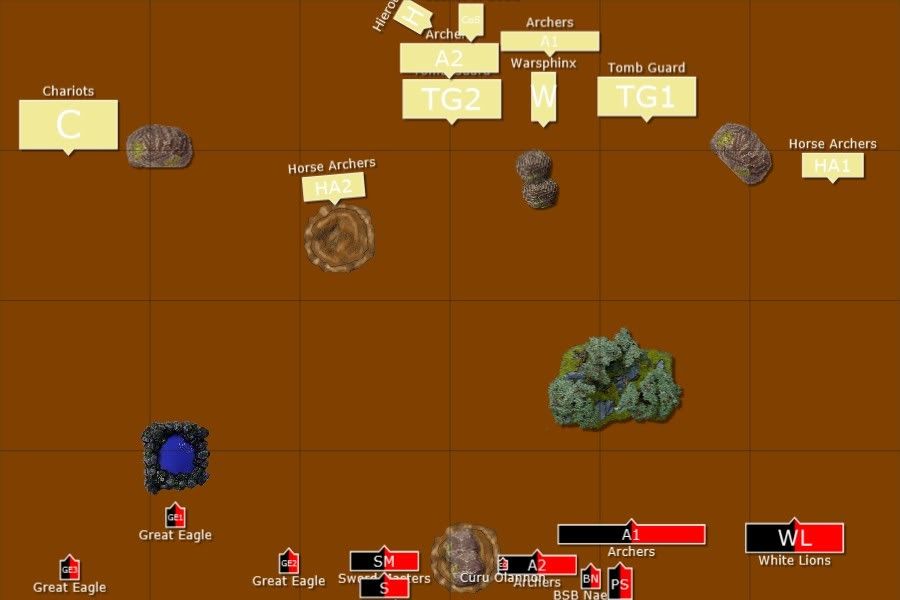 :: High Elves Turn 1 ::
Lions moved up full 12". I made a slight mistake as I didn't measure the wheel relative to the big rock (this would've been an illegal move due to the 1" rule) in front of them but I realized this only when my magic phase was done. The Eagles swooped towards the center - given his slow army I knew I wouldn't have to use them before later on.
Magic was 6v4. Fearing his 3D6 LD nuke bound spell I started off with a 2D6 Shield on Naenor: if he got taken out Saerith would've been a juicy target later on and failing fear tests is never fun. He let it go and Drain was dispelled on 4v4.
Shooting saw my 30 Archers obliterate the Eastern light cavalry. The other Archers targeted the Sphinx but of the 2 wounds I got, he saved both. While this might sound like a lot of luck, the fact is that I would've needed both to wound given the fact that I have to let him cast his movement bubble (thus healing the Sphinx 1W) due to higher priority spells next turn.
:: Tomb Kings Turn 1 ::
Everything move up and his Sphinx cleverly moves to rear-guard duty, blocking Saerith's optimal path. He sighs as he moves the Chariots, realizing they won't see combat as soon as he'd like.
Magic is 9v8 and he starts with a "your Lions are now -D3M and treat ALL terrain as dangerous and must test for any kind of move" on 4D6. I can't let this through and decide to take my chances with Light of Death and dispel it on 6D6. He then casts a movement bubble which I let through and finish with Light of Death, which I fail to dispel. Saerith's LD10 proves solid however and no damage is dealt.
Shooting does nothing, the Swordmasters' armour protecting them from two wounding shots.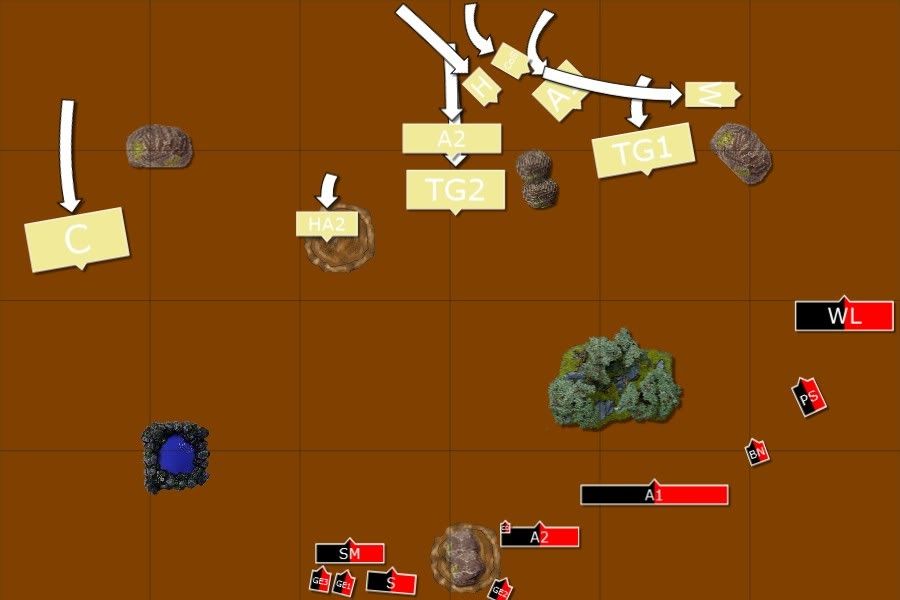 :: High Elves Turn 2 ::
So Saerith can't get to any really nice spots because of the Sphinx. I opt to move him to where he's barely out of the Sphinx' and the Guards' charge arcs, getting him close enough to ensure good spots in my next turn. The Lions free reform to get into position. The Eagles keep on moving towards where they'll surely be needed - I try and keep them out of his possible shooting range.
Magic is 8v6 and I 4D6 Vaul's on his General's unit to force out a dispel or see him risk losing the Earthing Rod. He dispels on 4D6 and I cast Drain with my remaining dice - however a miserable roll sees him dispel with his remaining 2D6.
Shooting - no threats to my Eastern approach chaff-wise sees all Archers target the Sphinx. I do however not manage to score a single unsaved wound.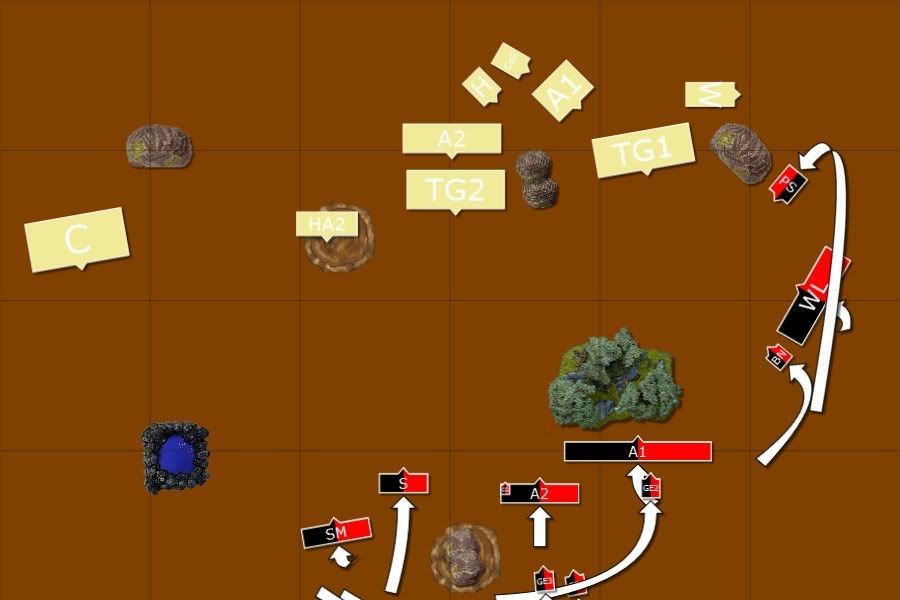 :: Tomb Kings Turn 2 ::
His Eastern horde reforms to be 8-deep (5 wide) and move up somewhat. A very smart move, in my opinion. The Warsphinx moves along on their flank. The center keep moving up, as do the Chariots.
Magic is 4v3 and he casts the movement hex on my Lions and I'm powerless to dispel.
Shooting kills a few Spears and they panic, running through the Swordmasters who pass their panic test (not shown in the diagram, I fixed this in my T3 photo).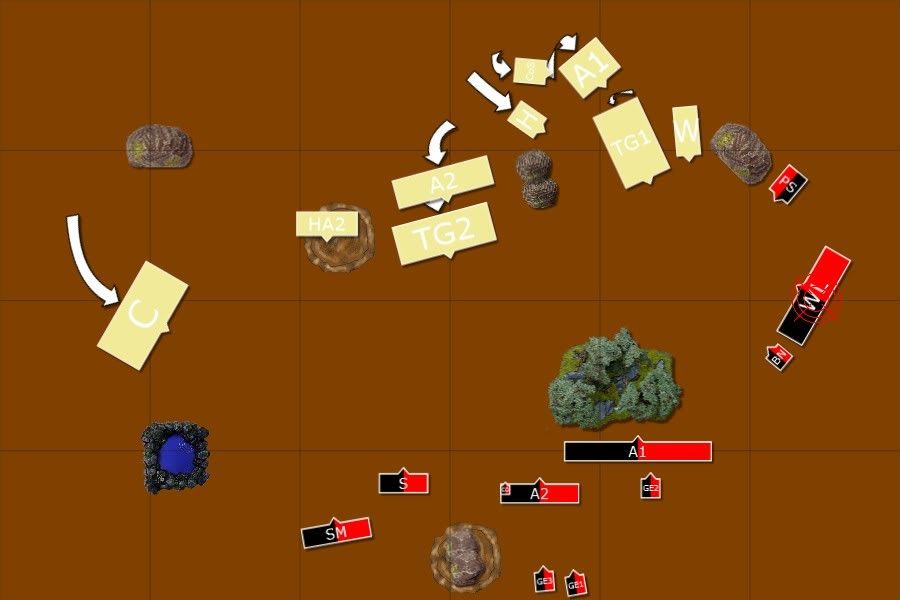 :: High Elves Turn 3 ::
I move up with Characters while an Eagle goes to sacrificial duty, blocking the Hierotitan's path to Naenor. Saerith places himself just within 12" of Naenor while getting a really juicy breath weapon on the Tomb Guard.
Magic is 5v5 and I cast Shield on Naenor again and he dispels Drain. Shooting sees the breath weapon kill 13 Guards (!) and the Archers finally manage 2W on the Sphinx!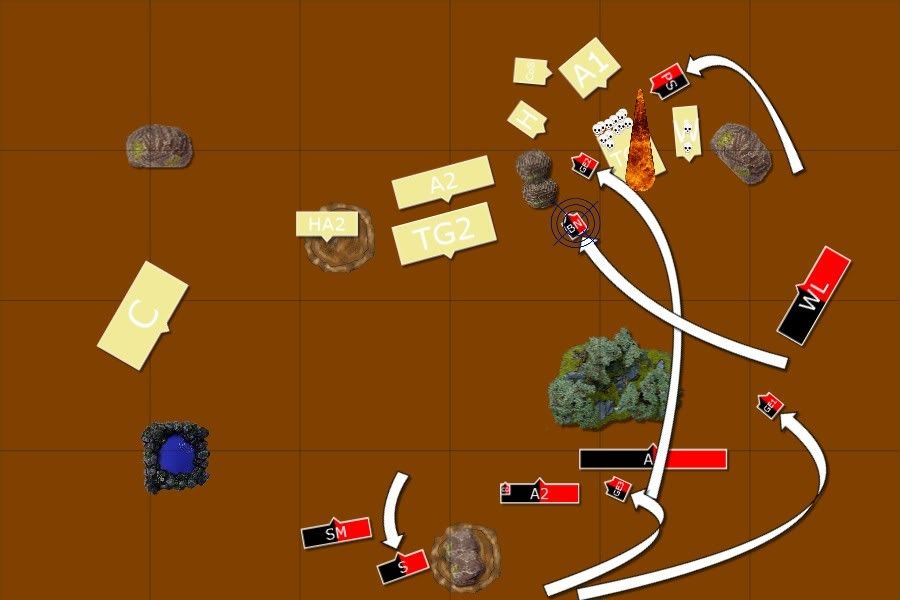 :: Tomb Kings Turn 3 ::
Sphinx + Guard charge the Lions, however the Guards fail to reach me (needing 8 or 9+ on their roll). The rest move up and make ready to face my army as best they can. The Hierotitan curiously decides not to attack the blocking Eagle.
Magic is 6v5 and he casts a boosted +1A on everything within 24" and gets IF! This heals the Sphinx 1W and drains his Level 2 to Level 0, effectively reducing his magic potential by a lot.
Shooting kills the blocking Eagle due to the Archers shooting twice, while the West fail to hurt my Swordmasters yet again!
Combat sees the Sphinx tear a bloody path through my Lions (he placed it so that it had the minimum amount of return attacks - with just 26 I can't get the horde effect in all situations) - killing half of them (aided by breath weapon) for 2W in return. I pass my break test.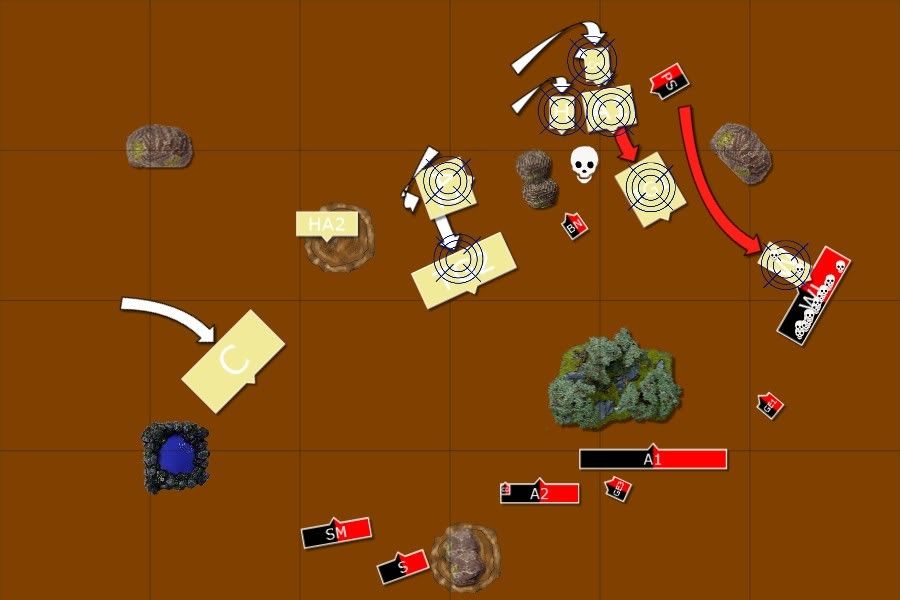 :: High Elves Turn 4 ::
Saerith + Naenor dual-charge the Archer bunker (which contains his Level 2 -> now Level 0): the plan is to overrun into the Hierotitan and Casket, respectively. The Swordmasters charge the Chariots, needing 8+ and failing.
Magic is 6v3 and he scrolls a strong cast of Shield on Lions, dispelling Drain.
Shooting kills a handful of Guards.
Combat sees the Sphinx reduced to 1W and the Lions to 5 men. Naenor is challenged out by his Wizard but I kill enough to crumble them anyway, Faeria proving to be very destructive (as usual). The overruns work out perfectly and I engage both juicy targets. My plan of removing his essential support is working out very well, though the problems with the Sphinx are proving to be a thorn in my side.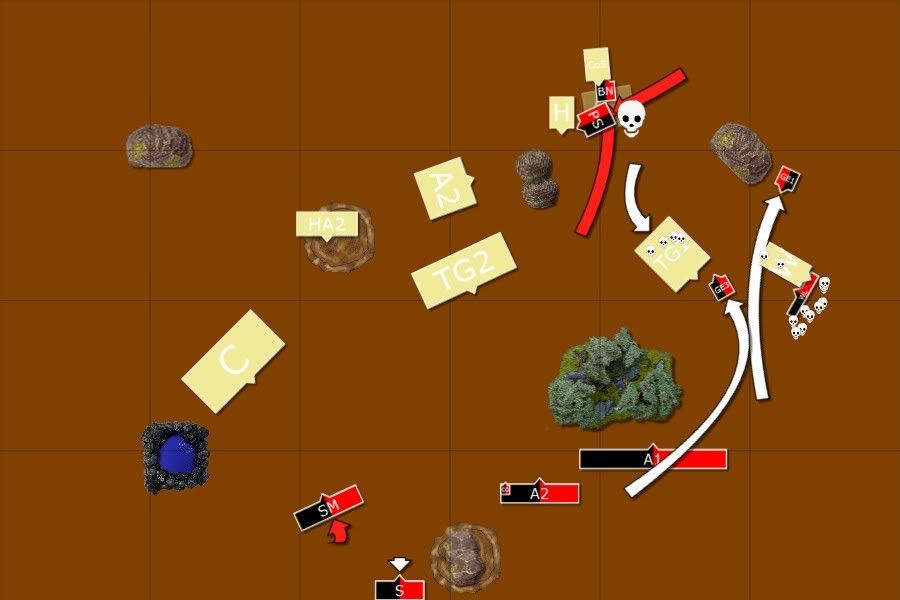 :: Tomb Kings Turn 4 ::
Chariots charge Swordmasters, Guards charge blocking Eagle.
Magic is 7v4. He starts off with a 2D6 move bubble, which I allow. He then proceeds to fail to cast a spell and I dispel his bounds easily.
Shooting kills a single Spearelf.
Combat - he wants to start with the Sphinx and my 6 attacks score only 3 hits (after re-rolls!), making it 50-50 to kill the construct. The first two dice come up a '2' and '4' and the last spins for some time... Coming up a '6'! The next to be resolved is the Eagle - he fails to wound me but I break and escape him! Swordmasters lose a lot to impact hits but kill 2 Chariots in return. His crew roll poor though so in the end 5 of them are left standing and I pass my break test (5 for steadfast actually not mattering as I roll a '1' and a '2'). Lastly my characters both kill their opponents and reform to face the Tomb Guard: as the Casket blows up I'm anxious with regards to Naenor but he fails to hit him on the 4+ roll. Saerith is hit but no damage is dealt. A very crucial turn for me, no doubt!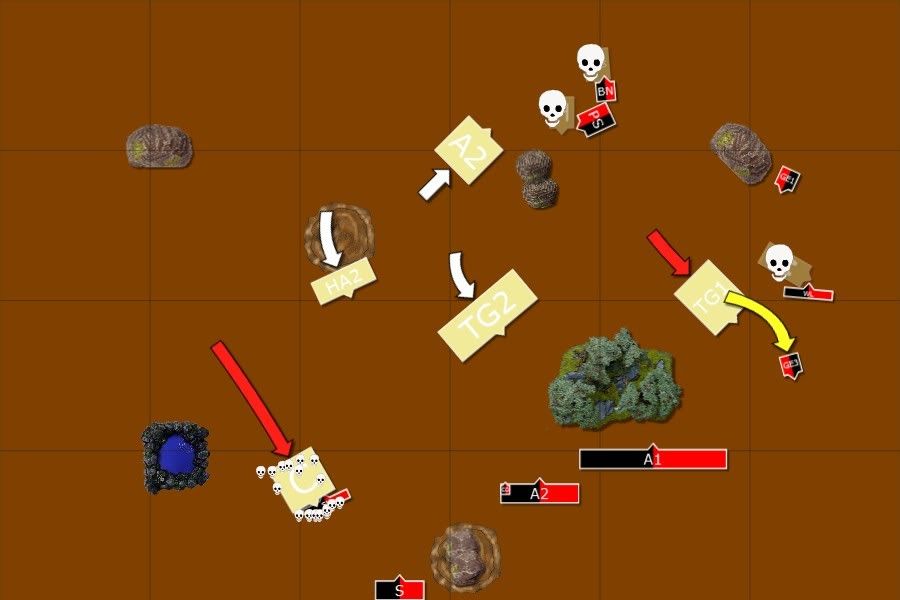 :: High Elves Turn 5 ::
Saerith needs to roll a 7+ on his Swiftstride to reach the Guards and make the roll. The Archers declare the charge as well (obviously), having a juicy flank shot. The fleeing Eagle rallies while the last Eagle blocks the central Guards.
Magic is low and I get Shield on Archers, Drain is dispelled.
Combat sees my Archers fail to kill a single Guard and lose 2 in return. Saerith and Faeria go to town and after combat resolution the Guards are only 5 models strong. The Swordmasters make short work of the Chariots and reform to face his centre: if he wants to move the Guard up I intend to quadruple-charge him: Swords in flank, Saerith + Naenor other flank, Archers front.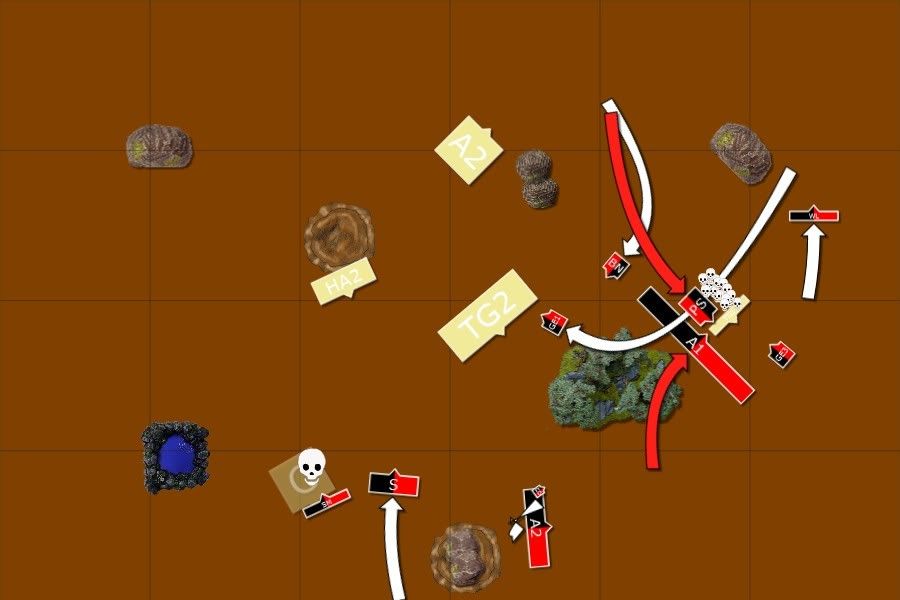 :: Tomb Kings Turn 5 ::
He charges the blocking Eagle (no surprise there!), the fast cavalry move to block off Swordmasters. Magic and shooting are non-important and in combat he fails to break the Eagle! This leaves the Guard too far away from my Archers. The other combat sees his remaining 5 Guards die.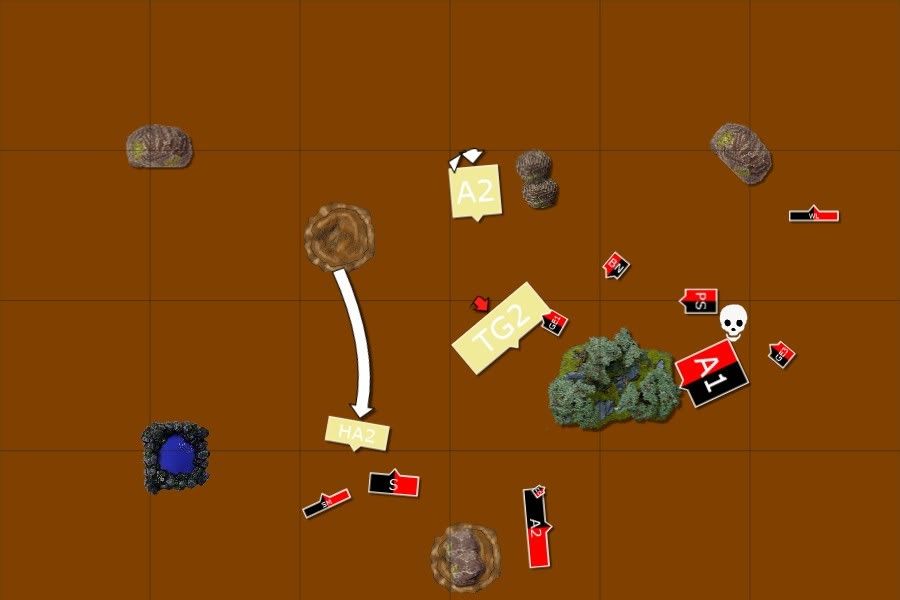 The last 2 turns see my kill his cavalry and he eventually kills the Eagle!
:: Victory Points ::
Tallying up I'm 1595 points ahead as per the BRB rules. The ETC standard is 50% for severely reduced units, so my elites cost my a bit - I end up being 1225 ahead. Since he didn't play the ETC rules, I didn't bother with the 10% in this calculation (it was a friendly, after all). Still a solid
18-2 win to the High Elves!:: Evaluation ::
An interesting game and an interesting army to face. My one major mistake in this game was to not have an Eagle stay behind for Chariot duty. Leaving the Swordmasters alone like that is a huge risk and I didn't really need all 3 on the East (I should've realized this early on). This would've almost guaranteed me a charge here, instead of receiving one.
The overall plan worked out very well, but if he had killed my blocking Eagle it would've been interesting to see if I couldn't have killed that bunker completely for a clean 20-0. With 28 Archers to the front, both characters in the flank and Swordmasters in the other flank, it would've been very interesting!
Magic wasn't big this game. He had some nasty spells but never enough to truly change the way the game played. I don't know if Tomb Kings can accomplish this without spending tons of points though, but I believe it's one of the few strengths they have given how easily they get bonus dice, bonus to cast and bound spells.
I'm sure you have a few comments and I'm eager to hear your thoughts! Hope you enjoyed the report