Battle Report up!
:: Red Snow ::
My league dragonlist:
Prince Saerith on Star Dragon - Vambraces of Defense, Great Weapon, Armour of Caledor, Talisman of Loec :: 622
Noble Naenor BSB on Great Eagle - Dragon Armour, Shield, Great Weapon, Helm of Fortune, The Other Trickster's Shard :: 216
High Mage Curu Olannon - Level 2, Annulian Crystal, Ironcurse Icon :: 180
Characters Total :: 1019
30 Archers, Full Command and Gleaming Pennant - 360
14 Archers, Musician - 159
10 Archers - 110
Core Total :: 629
30 White Lions, Full Command and Banner of Eternal Flame, Amulet of Light :: 505
5 Dragon Princes, Drakemaster with Skeinsliver :: 195
Special Total: 700
3 Great Eagles :: 150
Rare Total :: 150
His list:
Dwarf Lord @283 pts
Shieldbearers
Rune of preservation
Rune of resistance
Master rune of spite
Rune of might
Shield
Dwarf thane @160 pts
Master rune of gromril
BSB
Rune of preservation
Rune of resistance
Rune of fire
Dwarf Runelord @258 pts
Master rune of balance
Shield
Rune of cleaving
Rune of stone
Rune of preservation
Rune of resistance
39 Dwarf warriors @410pts
Great weapons
Champion, Standard Bearer
37 Dwarf hammers @524 pts
FC
Master rune of Grungi
Cannon @140 pts
Engineer
Rune of forging
Cannon @145 pts
Engineer
Rune of forging
Rune of burning
Grudge thrower @170 pts
Engineer
Rune of accuracy
Rune of penetration x2
Grudge thrower @150
Engineer
Rune of accuracy
Rune of penetration
Rune of burning
10 Quarrellers @130
Great weapons
10 Quarrellers @130
Great weapons
:: Pre-battle thoughts & deployment::
Quite a bit of analysis preceded this match. Ulthuan's community had made me very aware of what to expect, how to get the most points and play effectively. As for standard tactics against Dwarfs - full speed ahead and go for cover would apply.
Magic saw me roll 5, 5 and I swapped one for Vaul's Unmaking (seeing as Flames will always be dispelled in his magic phase I saw little value in it) and one for the mandatory Shield of Saphery. Perfect selection against Dwarfs!
In general his characters would determine what I would do: there is no way I could engage the Hammerers with the Dragon alone if they had BSB + general support.
As we went to deployment, I was pretty confident that the mutually agreed upon terrain placement gave me at least something to work with: though I was fairly vulnerable from the get-go there was plenty of cover for me as I advanced, almost regardless of his deployment. In the end, we got the following after deployment:
His General + BSB was with Hammerers, Runelord with Warriors
It came down to that all-important first turn roll, and he rolled a '2'. Hoping I could make a decisive roll here, I managed to get '4' - grabbing first turn!
:: High Elves Turn 1 ::
Turn 1 against Dwarfs is almost always the shortest phase I play in a game (barring filler turns to clear up etc). I think I was done within 5 minutes. Basically everything marched up (save for the 14 Archers) and I got all flyers behind cover, making cannonballs way less effective. Magic was 4v7 and he promptly dispelled me. Shooting saw the 14 Archers remove a single Quarreler and that was it!
:: Dwarfs Turn 1 ::
His blocks wheeled to face the incoming threats: making sure the Dragon would hit a front instead of a flank. That was it for movement and we went to shooting...
The non-flaming Grudge Thrower opens up with a misfire and is unable to shoot for this turn! The second one however lands right on target and kills 6 White Lions, despite my Lion Cloaks.
The flaming cannon follows suit and downs another 2 lions. The Quarrelers on his East open up as well but finally my Cloaks prevent any damage. The West sees his cannon kill a Dragon Princes and 2 Archers while his Quarrelers kill another Caledorian, reducing them to 3. I pass my panic test on both this unit and the Lions and we're on to my Turn 2!
:: High Elves Turn 2 ::
Dragon Princes charge the Quarrelers. I figure that if all 3 make it through S&S, I have a decent chance at winning combat and getting some juicy rear action against his War Machines. Saerith charges the Warriors and barely makes his 14" charge! The Dragon Princes unfortunately lose 2 to Stand and Shoot, leaving the Drakemaster alone. Oh dear.
The White Lions move up hard and I use Naenor and 2 Eagles as a living shield to grant them hard cover from the xbows: I can't risk losing a lot of them. The Archers stay still to perform some shooting of their own, intent on showing the Dwarfs that you don't need blackpowder to accomplish something...
Magic is 7v9 and I start off with a 5D6 Vaul's on his Hammerers which is cast with IF. I contemplate getting to work on his Lord's configuration but I decide that it's probably better to remove the banner providing virtually his entire army with a 5+ ward vs shooting as the Lions are relatively weakened and I don't think I can risk an engagement with the Hammerers at all, in which case the Lord's equipment doesn't matter. I remove the Banner and the miscast sees me roll a '4' total. While I escape the Realm of Chaos, a big blast kills 11 Archers and wounds Olannon. Panic is passed.
Shooting sees me direct everything at his non-flaming Cannon and I manage to kill it! The ensuing panic tests sees his non-flaming Grudge Thrower fail its re-rollable LD10 test - meaning it can't shoot next turn!
Combat sees my Drakemaster kill a single Quarreler before he is butchered in return. Saerith kills a champion challenger and the combat is tied.
:: Dwarfs Turn 2 ::
Hammerers realize their wheeling mistake and come around to flank Saerith in the next turn.
Shooting sees his flaming cannon target Naenor, lining up 2 Eagles behind him. However, he fails to wound the Noble Elf (I would've had 3W and a 2+ ward save anyways) and as such the bounce stops. The remaining Grudge Thrower misses the Lions despite its rune of accuracy and does no damage. The Quarrelers try and down the central Eagle blocking their Line of Sight but only manage 2W! As far as I'm concerned, Eagles do their job just as well with 1W as with 3W, most of the time
The Western Quarrelers kill enough Archers from the small unit to panic them off the table. While it's not a big loss to me, that one unit has almost singlehandedly gotten him over 300 victory points with nothing but minor losses in return.
Combat sees him contemplate whether to challenge Saerith with the Runelord or not. He's hoping he can pin him down until the Hammerers come around, in which case he'll need as many models as he can. The challenge is called out, and while Saerith fails to kill him due to a 2+ re-rollable, Faeria finishes the job in style. Regardless, I lose combat by 1 but pass my break test easily.
:: High Elves Turn 3 ::
Party time! Naenor + central Eagle charge the Grudge Thrower, East Eagle + White Lions charge Quarrelers, remaining Eagle blocks Hammerers.
Magic is 11v6 and I start off with a 6D6 Shield on the Lions, getting IF. Olannon dies along with a handful of Archers. I pass panic due to Gleaming Pennant.
Shooting kills a couple of Quarrelers and puts a wound on one of his machines.
Combat sees my Lions kill the Quarrelers and overrun into the Warriors. Between them and the Dragonlord, no less than 23 Dwarfs bite the dust before they get to hit back (11 hits from breath weapon resulting in 5 of these certainly helped) and the retaliation is weak as only a single lion dies (he rolled poor and Shield saved 2 out of 3 wounds caused). Thunderstomp comes up short but it doesn't matter - he breaks and I overrun into a war machine with Saerith, the Lions reforming to face East (that's right, I have no intention of engaging them against his Hammerers). Naenor + the Eagle kill their opposing crew and overrun as well.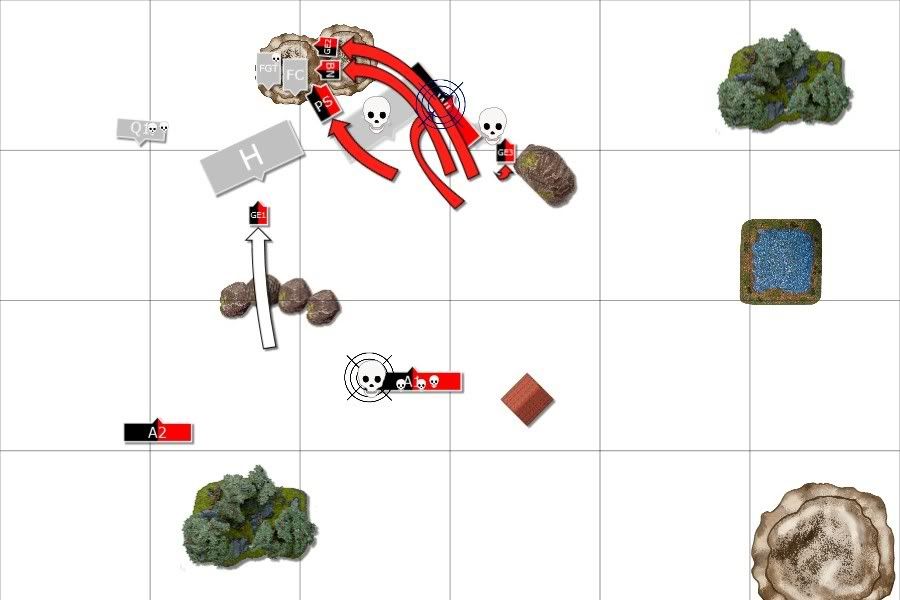 The game is basically over at this point. His T3 sees him charge the Eagle - which flees past the impassable terrain and as such he can't catch me. I kill his remaining units, leaving only the Hammerers alone (which I do not engage all game) as I make a tactical retreat (to the accompanying sounds of something that sounds remarkably like a chicken, naturally coming from my opponent who's having a laugh at my withdrawal).
We finish all 6 turns however simply because he wanted to move his Dwarfs a little (fairly uncommon for him
). At the end of T6, this is the standing:
:: Victory Points ::
I lost the Dragon Princes, small Archers and Olannon for just below 500 points. He lost everything but his deathstar, which was worth roughly 1000 points. A clear
victory to the High Elves!:: Evaluation ::
It was a fun and enjoyable game against an opponent I would very much like to play against again, probably trying out some list tweaks etc. For a change, it was also very fast (games vs Dwarfs tend to be, I find) which was perfect for me as we were going for a couple of beers when the games were over (2 more league games were played yesterday).
I certainly shall not complain about my luck in this game. Everything performed as I needed it to and nothing really went wrong. Indeed I believe that getting the first turn was extremely crucial here as it allowed all of my flyers to head for cover, greatly reducing his shooting potential.
I do believe that if he had gotten T1, his best choice would be to direct all 4 machines at the Lions. If they go down, I simply do not have anything which can deal with him. Despite the Dragon being a juicy target, I do believe any Dwarf player should first and foremost simply kill off the Lions in this list: the Dragon cannot win alone against that much infantry and a tooled-up lord.
As the game played out, most choices were fairly obvious. I don't feel that I did anything especially good (nor bad) here, in these matchups the game tends to play itself. I was very happy with deployment though and that is always a crucial part of the game.
I think this game highlights how poor the Dragon Princes are in my already bad matchups: even going against a support unit was too much to ask from them. For 200 points, in this list, I simply do not think they're worth it. While a bus-ish approach of 9 + BSB could be viable (I wouldn't know as I haven't tried this), I am very eager to try the Swordmaster replacement some more. In particular, the threat priority they hold will be very small relative to the rest of the list, which means that they'll usually face less heat than they would in a more typical High Elf army (and we all know how deadly they can be if they reach combat unscathed).
I would like to point out 2 things: I again lost my mage due to miscasts (anyone keeping track?) and my Dragonlord didn't lose a single wound all game (how's that for facing 4 War Machines and 2 Great Weapon Hordes?) - I do believe this has never happened before with this list!
C&C welcome, as always