---
Olannon was looking across the field. He could see the heavens twist and warp with unnatural energy as the vile Ratmen and savage Greenskins approached the last gamble. Truly, the world was coming to an end. When the Elves had first heard rumours that the Skaven had united with the Orcs they couldn't believe them. Several months later and most of Nagarythe and Ulthuan lay in ruins, the vile hordes proving to be unstoppable.

He shuddered at the mere thought of this last assembled alliance. Who could ever think that the Dark Elves and High elves would fight on the same side? "Desperate times, desperate measures" he thought to himself as he readied his last units for battle...

:: A Desperate Alliance - Part 1 - Pre-battle Thoughts, Lists & Deployment ::

You'll have to excuse my poor attempt at making any sense of the alliance here. Long story short, we were 5 people wanting to play Warhammer and the armies available combined with who wanted to play with who saw Dark Elves and High Elves ally against Skaven and Orcs and Goblins. The lists were quickly designed and we decided to play on a '6' x '4' table. I knew from the get-go that this meant that frontage would be a huge issue. After the table was set (but before we revealed the lists, which we played as open by the way) I discussed how we should approach the game with Dark Reaper. We decided to more or less give up on one flank, try and anchor the middle and crush the enemy's most expensive side completely. If we could, the surrendered flank should primarily consist of shooting units so that it would be hard to ignore it (psychologically) and also see us potentially winning it (after all, shooty Elves do fairly well in combat).

The Dark Elf list was designed with this in mind, however to avoid going over the top (for the sake of the spirit of the game) we decided on a couple of sub-optimal choices. A big unit of Corsairs was the central elements, its purpose was to help the Lions in either supporting the flank assault or hold the middle, whatever seemed best during deployment. This was coupled with some shooting and a bunker to make up the core section. Special saw a Cold One Knight bus with a Pendantlord which we meant to place nearby Saerith and Naenor (I played my normal Dragonlist) to crush the expensive flank and Shades to capitalize on our shooting. We wanted to try something else than Shadow so a Metal Supreme Sorceress would be our main source of magical offense, along with a lvl 1 Fire Sorceress and a Cauldron to fill out the character slots. Overall, I was quite happy with the synergy and had confidence in our plan.

Without further ado, I present the lists (roughly):

High Elves
- Prince Saerith on Star Dragon: AoC, VoD, ToL, GW
- BSB Naenor on Great Eagle, DA, Sh, SoM, ToP, HoF
- Mage Olannon, Annulian Crystal (high)

- 30 Archers, FC, Flamebanner
- 13 Archers, muso
- 10 Archers, muso

- 30 WL, +1M, AoL
- 14 SM, Skeinsliver

- 2 GE

Dark Elves
- Pendantlord
- Sac.dagger lvl 4 (metal)
- Lvl 1 (fire)
- CoB

- 30 Corsairs, FC, frenzy banner
- 18 RXB
- 18 Warriors

- 10 Shades
- 10 Shades
- 9 CoK, FC, ASF Banner, Whip of Agony

- 1 Hydra

Orcs and Goblins:
- Warboss w/stuff
- BSB w/stuff
- Lvl 2 savage orc, 5+ unit-save-ward
- Lvl 2 Night Goblin

- 40 Boyz
- 40 Savage Orc Big Uns
- 40 Night Goblins

- 30 Black Orcs
- 5 Wolf Riders
- 5 Wolf Riders
- Rock Lobba
- Doom Diver

- Pump Wagon
- Pump Wagon

Skaven:
- Grey Seer on Bell
- Warlock Engineer with Doomrocket
- BSB w/4+ ward

- 50 Clanrats, FC
- 60 Slaves
- 40 Stormvermin
- 2 Plague Wind Mortars

- 11 Gutter Runners
- 11 Gutter Runners
- 11 Gutter Runners

- Hell Pit
- Plague Claw Catapult

Ok, that should give you a pretty good idea about what we were all facing! Note: we only went through the various units briefly before deployment and revealed items etc fully after that.

Magic was as follows:

Goblin lvl 2 – Vindictive Glare, Nightshroud
Orc lvl 2 – 'ere we go, hand of gork
SK lvl 4 – Plague, vermintide, pestilent breath, 13th
===
DE lvl 1 – Flaming Sword of Ruin
HE lvl 2 – Shield, Fury
DE lvl 4 – Searing Doom, plague of rust, blades of aiban, glittering robe

They won the roll for a side and chose the one with a hill in the corner. This was a bit sub-optimal for us as I would've wanted the hill for our weak flank to give shooters flexibility but regardless I was sure we could work with what we got as well.

Early on we deployed a lot of our shooters and chaff, which led to them countering our deployment with their own chaff. This revealed where their squishy-but-expensive units would end up and allowed us to place our strong and fast elements opposite according to our plan.

Overall, I was quite happy with the deployment. I was a little unsure about the centre, given the big Orc squads backed up by loaded characters, but was hoping that their insane frontage and our sacrificial units would prove to be enough.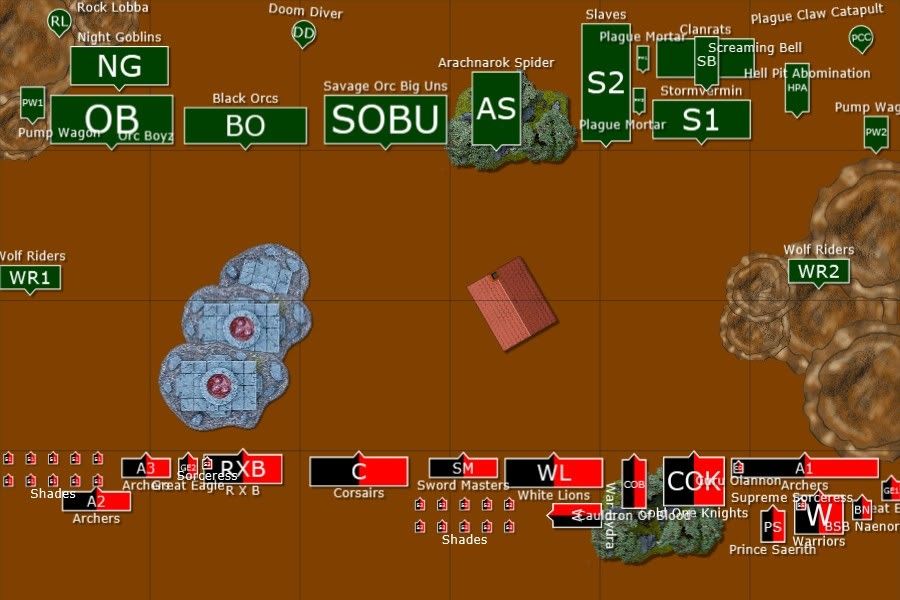 We opted to deploy the Shades as normal units because we really didn't need them scouting (there were no very good spots) and we thought they'd have their Gutter Runners emerge later on (which they did) and wanted +2 to go first. Despite this +2 bonus however they managed to grab first turn, as they rolled a '6' after our '3'!