Tonight's league game saw me face the dreaded Skaven. Indeed one of our worst matchups, as most of you will agree. How did the Dragonlord fare against the dreaded Ratmen? Read on!
:: Unspeakable Filth::
My Dragonlist:
Prince Saerith on Star Dragon - Vambraces of Defense, Great Weapon, Armour of Caledor, Talisman of Loec :: 622
Noble Naenor BSB on Great Eagle - Dragon Armour, Shield, Great Weapon, Helm of Fortune, The Other Trickster's Shard :: 216
High Mage Curu Olannon - Level 2, Annulian Crystal, Ironcurse Icon :: 180
Characters Total :: 1019
30 Archers, Full Command and Gleaming Pennant - 360
14 Archers, Musician - 159
10 Archers - 110
Core Total :: 629
30 White Lions, Full Command and Banner of Eternal Flame, Amulet of Light :: 505
5 Dragon Princes, Drakemaster with Skeinsliver :: 195
Special Total: 700
3 Great Eagles :: 150
Rare Total :: 150
Army total: 2498
His list:
Warlord
Rat Ogre Bonebreaker
Dragonhelm
Sword of Anti Heroes
Talisman of Preservation
Shield
Other Triksters Shard
Chieftain
BSB
Enchanted Shield
Foul Pendant
Ironcurse Icon
Biting Blade
Grey Seer 240 (4 spells from Ruin, 0 from Plague)
Talisman of Endurance
Scalm
Power Scroll
Warlock Engineer
Level 2
Dispel Scroll
5 Giant rats
Packmaster
5 Giant rats
Packmaster
40 Slaves
Shield
Command
40 Slaves
Shield
Command
49 Stormvermin
Command
Storm Banner
40 Plaguemonks
Command
Plague Banner
5 Gutter Runner
Poisoned
Slings
5 Gutter Runner
Poisoned
Slings
Hellpit
Doomwheel
Warp Lightning cannon
Sum 2499
:: Pre-battle thoughts & deployment::
Magic - I rolled a double 2 and opted for Flames, skipping Vaul's. I took a couple of minutes to decide but in the end the choice seemed to be a clear one. The other spell of course swapped to Shield of Saphery. His Warlock got Lightning and the 6th spell (ini-test something) - leaving his Grey Seer with Scorch, Death Frenzy, 13th and Warpgale.
Deployment saw me try and get the Flyers near safety as soon as possible, while taking a central position with the Lions and holding the Archers back. The Dragon Princes got a flanking role, hoping to get at the Warp-Lightning Cannon fairly soon. Overall, I was rather happy with this: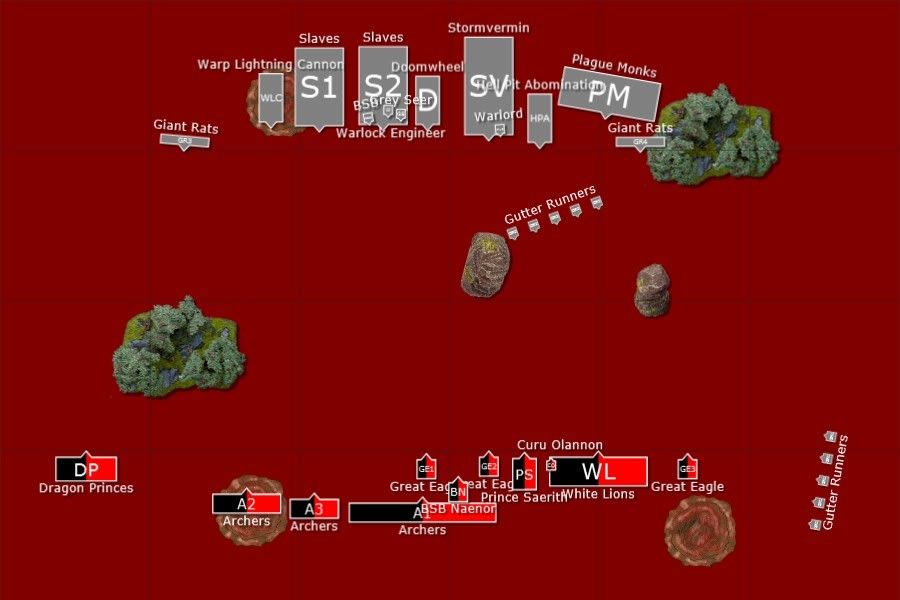 With +2 to start, I got first turn and gladly took it.
:: High Elves Turn 1 ::
Storm Banner goes up. I move up aggressively and get Saerith in cover. The rest do as much as they can but it's relatively futile with M2. Lions get a good position, as do the Princes.
Magic is 4v3 and I get a HUGE cast (value of 20 before the bonus) on Flames, which draws out his scroll.
Shooting fails to impress his Doom Wheel: Storm Banner removing literally a dozen hits.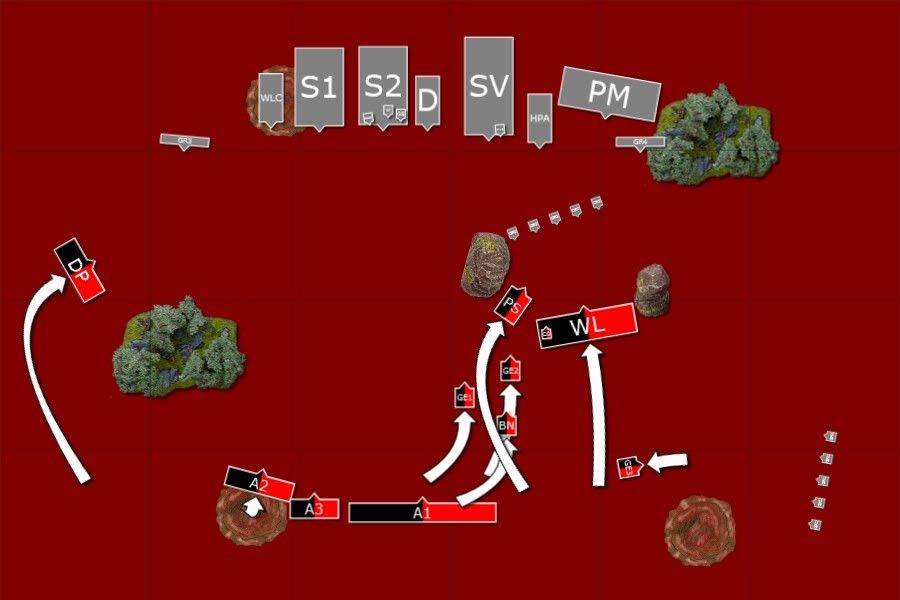 :: Skaven Turn 1 ::
Storm Banner runs out!
Rat Darts move to intercept and re-direct Lions and Princes. The rest move up and it's clear that he wants the Stormvermin into combat as soon as possible with the Plague Monks as a secondary line unit.
Magic is 4v5 and he uses his single Warpstone Token (he only got 1) to even it out and casts an IF Warpgale (the miscast does nothing significant). So much for Storm Banner running out.
Shooting sees his Gutter Runners poison an Eagle to death, put 2W on the other while his WLC kills Naenor. Sigh.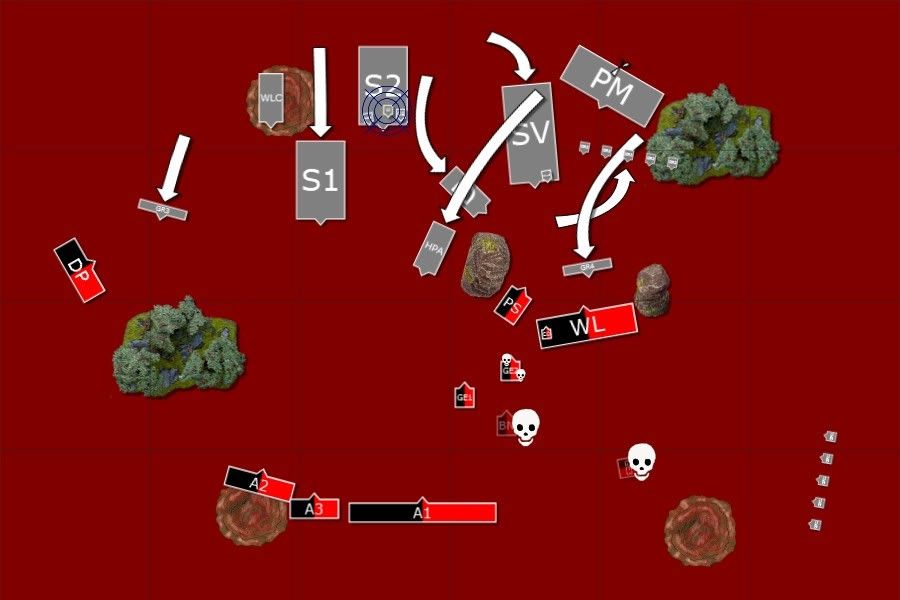 :: High Elves Turn 2 ::
Lions and Princes charge the intercepters. I wheel the Lions so that a combat reform will allow them to completely block off any paths to Saerith, effectively keeping the Doom Wheel away.
Magic is 5v3 and he dispels my 2D6 Shield on the Lions with 3D6 of his own. My 3D6 Flames of the Phoenix on his Plague Monks get IF (sigh) and 12 of them die; Olannon suffers a wound.
Shooting sees all my Archers managing to put a total of 1W on the Doomwheel (I could not roll 6's to wound!). Test has no major significance (think he got D6 S6 hits and -1D6 movement but he suffered no wounds).
In combat I kill both redirectors and reform the Lions to block off Saerith. The Dragon Princes also decide to reform: I do this for 2 reasons - if I had rolled 11+ I would've been out of charge-arc for the WLC. By reforming I also gained a guaranteed charge (being within 10"). This would prove to be a poor decision...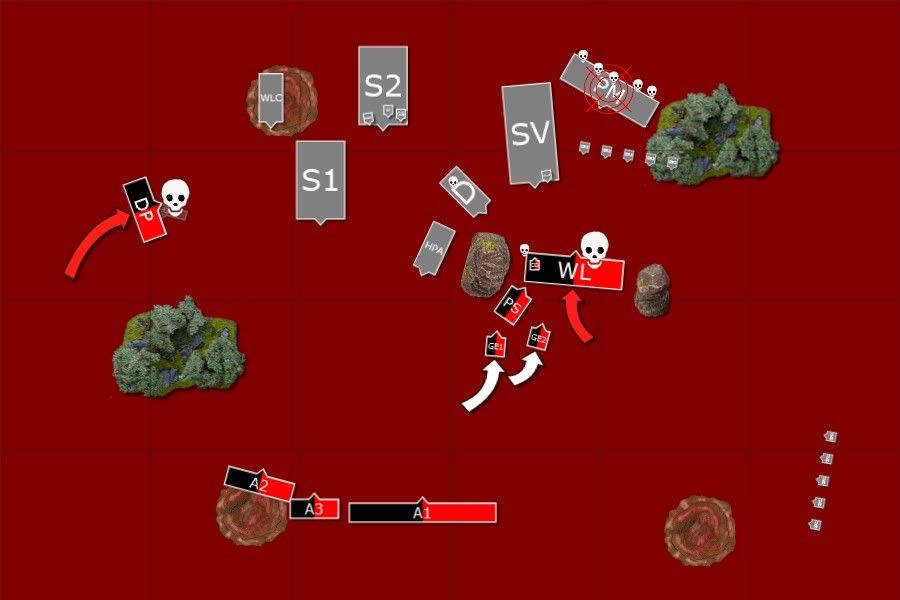 Diagram mistake here - his Gutter Runners panicked due to the Rat Dart being killed in combat
:: Skaven Turn 2 ::
His Warlords' Stormvermin charge the Lions, as does the Doomwheel. The Hellpit moves a mighty 15" towards the Archers. Slaves free reform and block the Dragon Princes' path. So bad of me not to consider this.
Magic is a disastrous 7v4 after he rolls double threes and channels. This is arguably the worst phase I can have with Crystal as he has a LOT of flexibility given the fact that he has multiple high-priority spells. He starts off with a 2D6 Death Frenzy and scores 14 with his +4 bonus. I simply throw everything I have at dispelling it as I cannot risk the Stormvermin gaining that bonus, even for a single round. He gets up Warpgale again and Lightning kills the full-wound Eagle with 6 S5 hits.
Shooting kills the last Eagle. Doomwheel rolls S2 and fails to impress the Lions.
Combat - the Lions go to work and kill a lot of Stormvermin (roughly a dozen) + the Doomwheel. In return, 7 of them die. I win combat but he passes his test.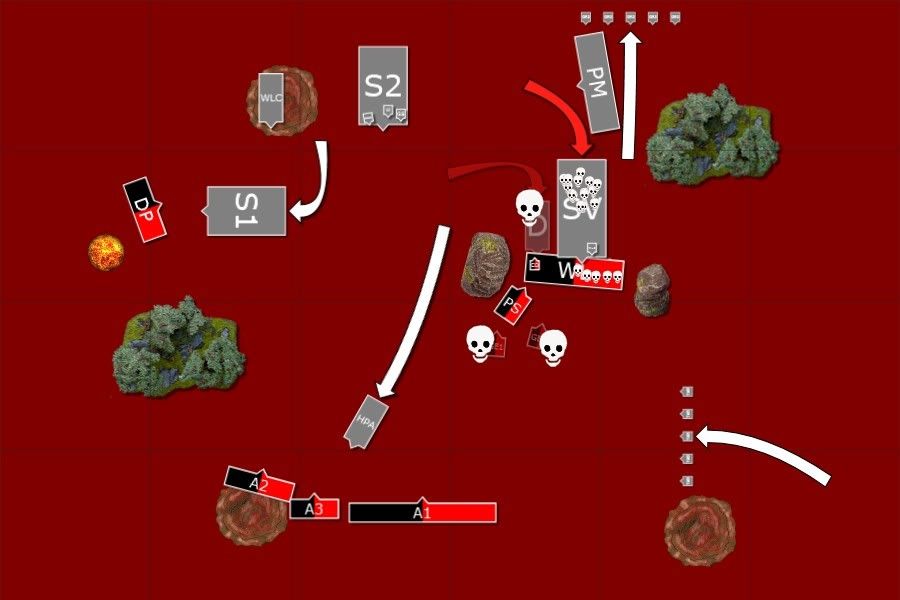 :: High Elves Turn 3 ::
Dragon Princes charge blocking Slaves. Saerith moves behind the White Lions and around them (the diagram is a little bit off here - there was clearly space to go between Lions and the rock, even with the 1" rule) to have the flanks of the Stormvermin and the Plague Monks next turn. The beauty of this is that his WLC can't easily hit me because of the bounce-nature and my proximity to combat-engaged units.
Archers reform to Horde and the 14-man unit moves to get a flank charge later on against the HPA. Another mistake, as it would turn out...
Magic is 7v6. He didn't dispel Flames last turn so it burns another few Plague Monks. They're now down to 18. I start off with a 4D6 cast of Shield, which has a result of '10' after my +2 bonus. He dispels with 3, leaving 3v4. I then cast Drain on 3D6 - scoring a total of '7' with my cast bonus. He easily dispels but Flames is still in play.
Shooting - I open up on the Hell Pit but score but a single wound.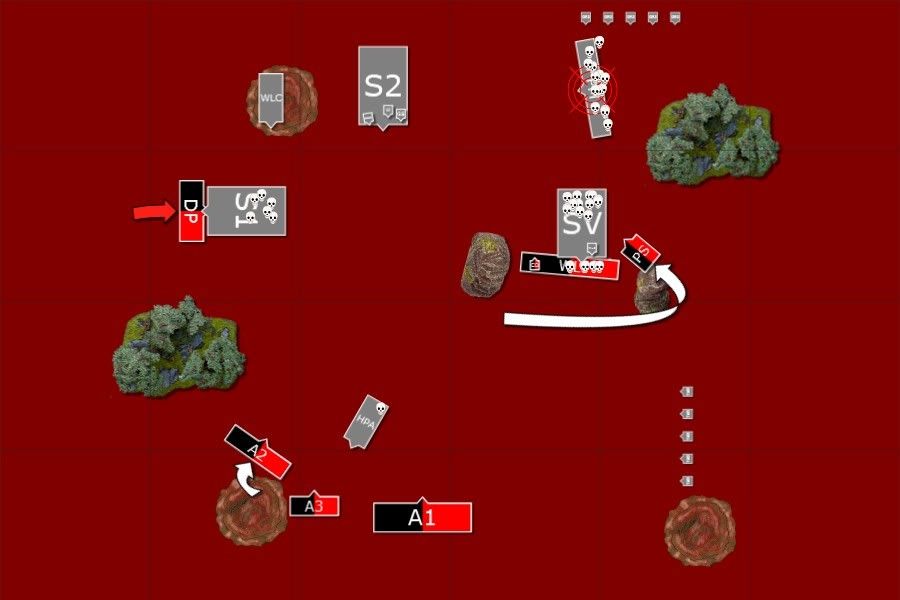 :: Skaven Turn 3 ::
Plague Monks wheel to be able to charge Lions next turn (again the diagram is a little off - this was clearly possible). I didn't mind this as I had no intention of there being a next turn for them to help out
Hell Pit charges Archer Horde.
Magic is 8v6 and he starts dispelling Flames on 3D6. His remaining 5D6 go into Death Frenzying the Stormvermin but I dispel with my 6D6 (phew!).
His WLC misfires and is gone! Gutter Runners target Saerith but no effect; the Elven armour and tough hide of Faeria prove resilient to the Slings.
Combat sees the Lions bring the Stormvermin down to ~20 rats, but they're drastically weakened themselves as there are only ~15 Lions remaining. Archers lose badly but hold on Steadfast.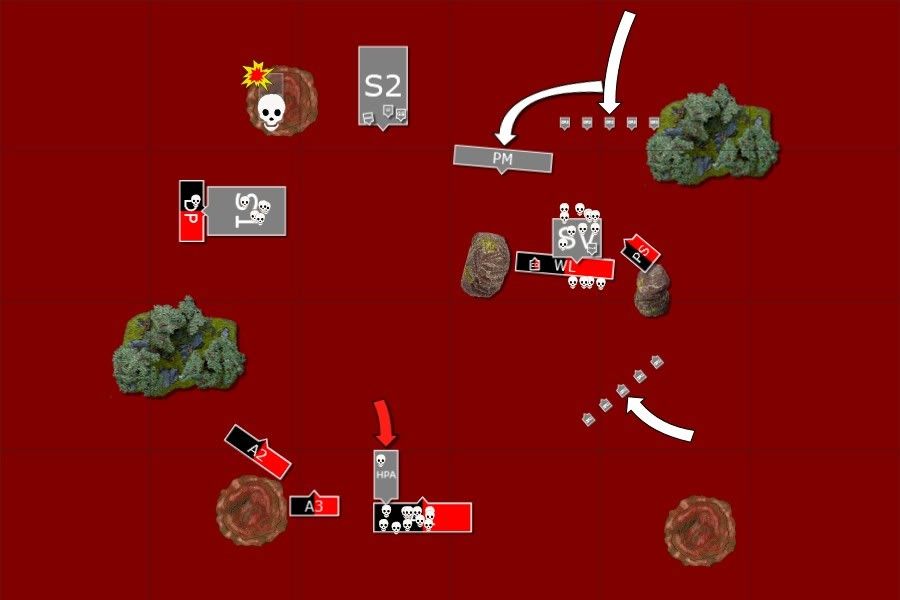 :: High Elves Turn 4 ::
Dragon charges Vermin (champion was dead after attack allocation last time). My 10-strong Archers charge the Hell Pit in its flank while the 14-man try to help my Dragon Princes (a flank charge would break Strength in Numbers - thank you very much FAQ!), however they fail to meet the 7+ required to make it.
Magic is 9v6 and I start off with a 2D6 Shield which is dispelled. I then cast Drain on 2D6 and he lets it through. The last dice see me cast Flames on the Monks but I IF again and Olannon dies (seriously, how many times have I lost a mage due to miscasts??). The Monks are reduced to 10 rats.
In combat I declare Loec on Saerith and challenge. His Warlord accepts (he saw no other option as any other action would see his Stormvermin utterly destroyed). Due to Loec Saerith and Faeria barely manage to kill him, Saerith is left on 1W! The Stormvermin are killed down to 7 remaining by the Lions and break, but I fail to catch them. The Lions are now 11 remaining. The Hell Pit keeps killing Archers.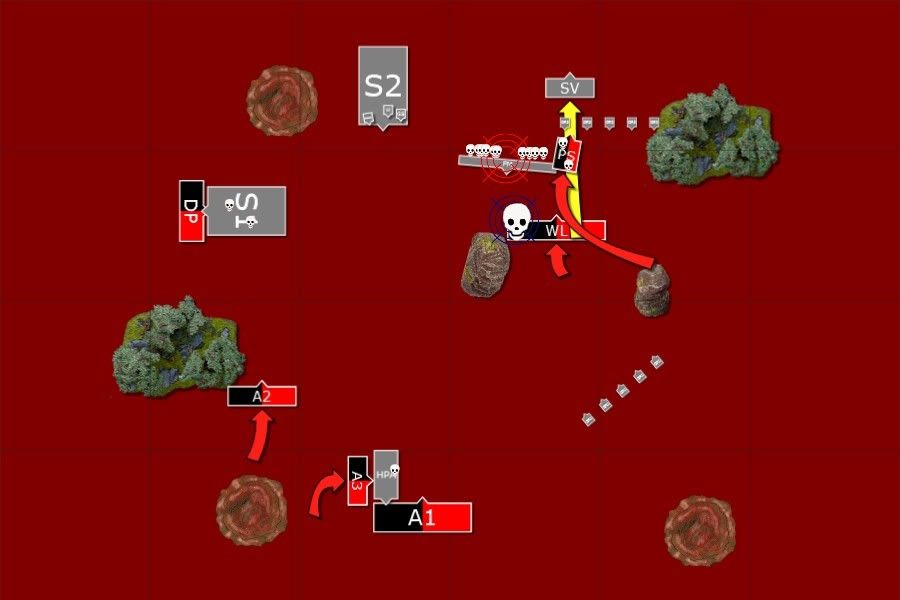 :: Skaven Turn 4 ::
His Plague Monks manage to restrain and instead reform to face me in the next turn. Grey Seer and BSB moves out of Slave-bunker. The Stormvermin flee (6 remaining, needing Insane Courage).
Magic is 6v4. He Power Scrolls 13th at the Lions but I barely manage to dispel it with my 4D6!! The last 2D6 come up double '1' and the phase ends. Phew!
Shooting again does nothing as my armour saves are passed.
His Slaves vs Princes FAIL their LD10 re-rollable break test!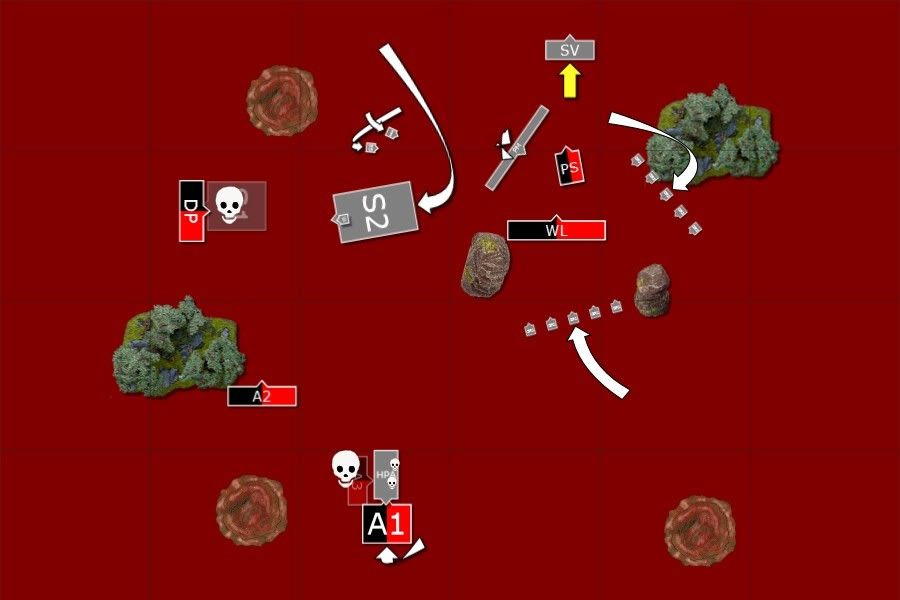 :: High Elves Turn 5 ::
I combo-charge his Slaves with Warlock Engineer with my Princes and 14 Archers. Lions and Saerith combo-charge the Plague Monks and I manage to place Saerith on the extreme left flank - meaning an overrun can take me into his BSB.
Magic and shooting don't exist so it's straight to combat! I murder the Monks with ease and Saerith overruns into the BSB.
The Slaves lose badly but hold. My Archers are reduced to 3 and they fail the necessary Insane Courage test - leaving the Hell Pit to pursue off the table.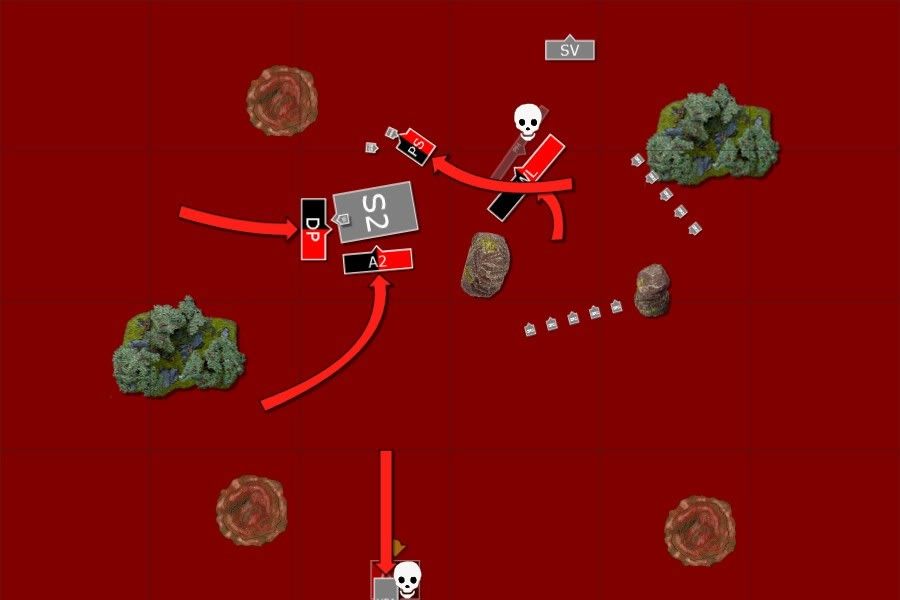 :: Skaven Turn 5 ::
Grey Seer moves away from the BSB, placing himself behind the Lions. Gutter Runners move up.
Magic sees Scorch and 13th finally kill the Lions, he got a big phase and I was powerless to dispel both.
Shooting again does nothing, however combat sees me kill the Slaves and they explode, leaving the Dragon Princes 3 strong and the Archers 11. Saerith murders the Skaven BSB and reforms to face the Grey Seer.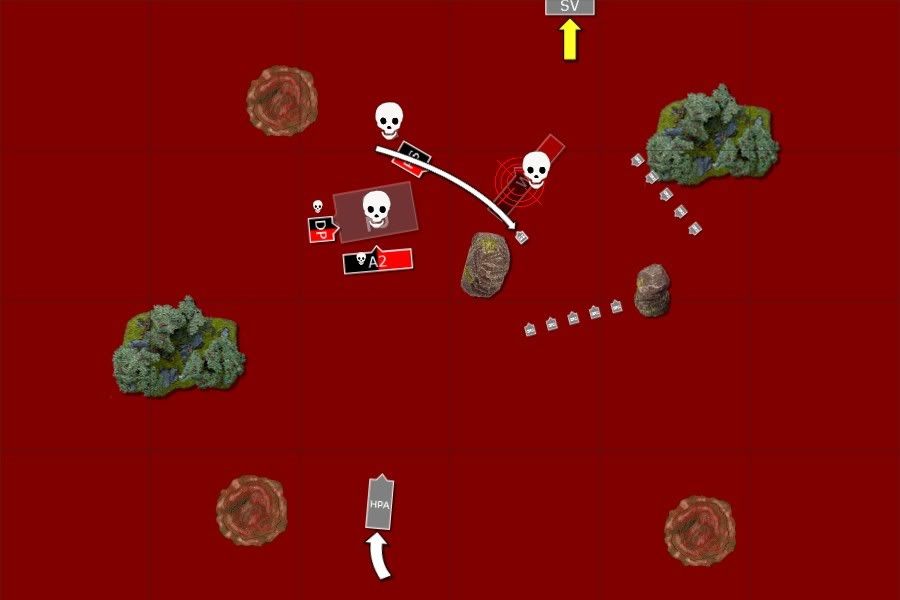 :: High Elves Turn 6 ::
In my last turn of the game I make more mistakes than I think I ever have, relative to my options. I charge the 13th Clanrats with my Dragon Princes and they flee. I charge Grey Seer with Saerith (he is 8.5" away) and he flees and I fail to catch him. The Archers reform and move as far away from the Hell Pit as possible, meaning he'll need 16+ to catch them.
:: Skaven Turn 6 ::
Grey Seer fails to rally, Hell Pit fails to catch the Archers.
However shooting sees the Gutter Runners put up a spectacular display and manage to kill the remaining 3 (!!!) Dragon Princes, netting him 200 VP! I am now very nervous as we go to calculation as I only have Saerith and the Archers left!
:: Victory Points ::
A careful calculation of Victory Points sees it come down to bonuses: he has only the Gleaming Pennant banner, whereas I have Stormvermin banner, Monk banner and his BSB. This crucial 125 point bonus difference meant I was barely able to get a win: the total difference was a little below 200 Victory Points in my favour. A very closely-fought game with brilliant moves and glaring mistakes on both our parts, luckily I didn't pull the shortest straw in the end. A
victory to the High Elves! :: Evaluation ::
I've never played this Skaven player before. I've seen him play a couple of times and I know he's a skilled player. However, yet again I find myself falling hard for the same tricks I use so much - redirection, angling. His use of Rat Darts and Slaves was exceptional and this was a real problem for me as I failed to consider these possibilities. The choice to engage the Doomwheel against the Lions and cast 13th on 4D6 when I also had 4D6 AND Drain up were obviously mistakes and he said at the end of the game that he'd probably be annoyed at these mistakes for several days.
On my part, I believe failing to overrun with the Dragon Princes was the biggest mistake. The chance of rolling 11+, even with Swiftstride, is fairly low and I should've seen the Slave-block coming, especially since I reformed so stupidly (there really was no need to have a guaranteed charge as opposed to having to roll like 5+ on Swiftstride). Also the last-turn charges were really poor of me - since we play a win/lose based system, there is nothing to gain for me by getting 'more points'. I should've ran the Dragon Princes away and, when his Grey Seer fled, done some calculation. In general I'm bad at properly gauging victory points toward the end of the game. Ironically enough I did the right thing in my game against Dwarfs (which was only a practice game!) and I seriously need to start doing this more.
If you think the Hell Pit killed those Archers way too fast you're right: I realized after the game was over that we played its attacks as hits (when he charged we simply forgot to roll to hit with his 3D6 attacks as he had impact hits first and then thunderstomp after). This, I believe, is mostly something he should bear in mind but of course I should know his army well enough to point out the fact that his Hell Pit has to roll to hit, not just wound
I very much doubt he did it on purpose, i.e. I believe it was an honest mistake. Most likely those Archers all would've died and luckily it didn't make a difference (at the end of the game the HPA had 2W left). Next time I will remember it though
I'm sure there are a lot of other things to point out, but for now I just want to hear what you all think of this game. Did I deserve to win? What could I have done differently?
P.S - I'm so tired of losing mages to miscast. If I ever play magic-heavy High Elves again I swear I will try and make a Life-based list work.
I hope you enjoyed the report
Please leave a reply if you have anything to comment or criticise!
Regards,
~Olannon