(I'll address your comments later)
My first game yesterday, against Ogre Kingdoms.
:: The Big Beasties of the East ::
His army list was roughly as follows:
Slaughtermaster, 4+ ward armour, sickle
Firebelly, dispel scroll
BSB
8 Ironguts
6 Bulls
1 Leadbelcher
1 Leadbelcher
1 Thundertusk
My army list was a slight deviation:
Archmage, ring of fury, wand, anti-fire gem
Mage, crystal
BSB Reaver
Prince Armour of Stars, Seafarer
Standard core
30 White Lions, Banner of Sorcery + other trickster's shard
7 Swordmasters
2 RBT
2 Eagles
:: Getting ready and deploying ::
Magic was as follows: he didn't get regen, firebelly defaulted to magic missile. No biggie there. I got Blades of Aiban + Searing Doom for my metal and 1,2,3,5,6 for high (no double missile
).
Scenario was Blood and Glory (modified version: first to break the opponent gets +800 VP).
Deployment-wise I felt I had an advantage - The Lions were on the flank and the big Archers firmly in the middle, flanked by lots of redirectors. I forgot to put the Swordmasters in my army in Chronicler so they're not shown. They deployed behind the small Archers to my East.
He went first after I rolled a 1 and he a 6.
:: Ogre Kingdoms Turn 1 ::
Everything moved up. Magic was 4v6 which meant he got nothing through my defences. His Maneaters target one of my Eagles but only wound it twice! The rest of his shooting kills a couple of Archers and a Swordmaster.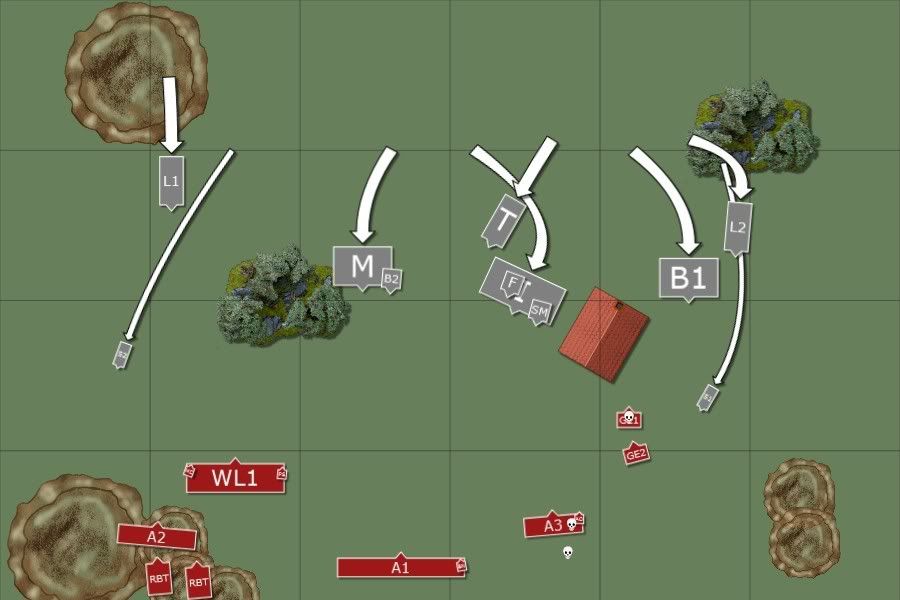 :: High Elves Turn 1 ::
Small shuffles around. The wounded Eagle goes to block his Bulls, forcing them to overrun into the building and thus stay still for a turn, enabling me to hammer his center without fearing his flank charge.
Magic is 10v4. I fail to cast Blades on big archers on the roll of 4. Curse is then dispelled, Vaul's on his Ironguts is scrolled. I finish with a 3D6 flames on his Ironguts which is cast with IF! The result is a 3, and I promptly roll a 3, killing my Archmage Turn 1. Again.
Shooting kills 2 Manhunters, the Archers firing well after Saerith misses his 2+ shot.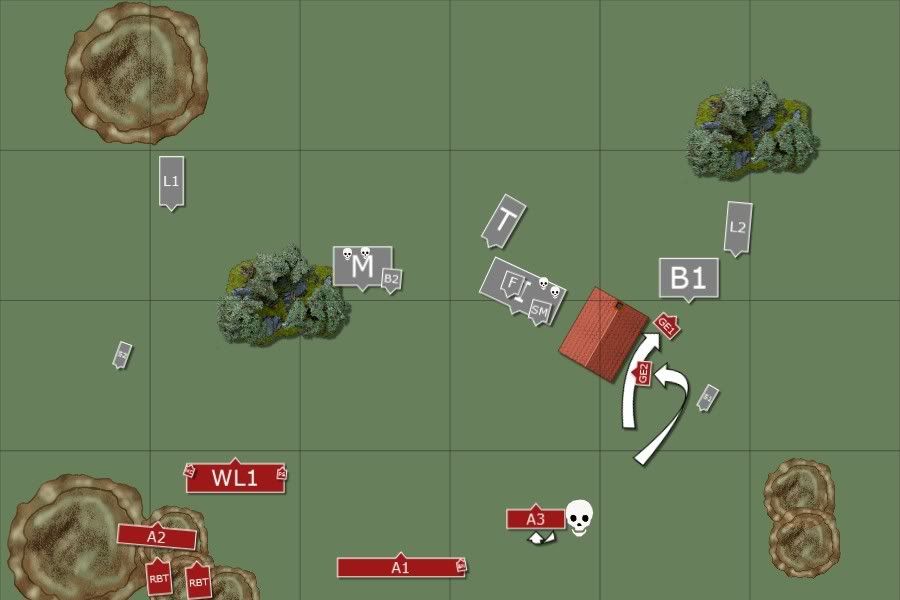 :: Ogre Kingdoms Turn 2 ::
He moves further up, wanting to engage me soon enough. One of his Sabertusks has my smaller Archers' flank and charges, making it. The Bulls charge the Eagle.
Magic is 12v7. Since I only fear one spell (+T) there's no effect.
Shooting fails to do anything after his Maneaters fail to Snipe Cael. His cannon takes out a Repeater though.
Combat sees his Sabertusk kill an Archer, winning combat. I fail my re-rollable LD8 steadfast test and am run down. By a 21 point cat.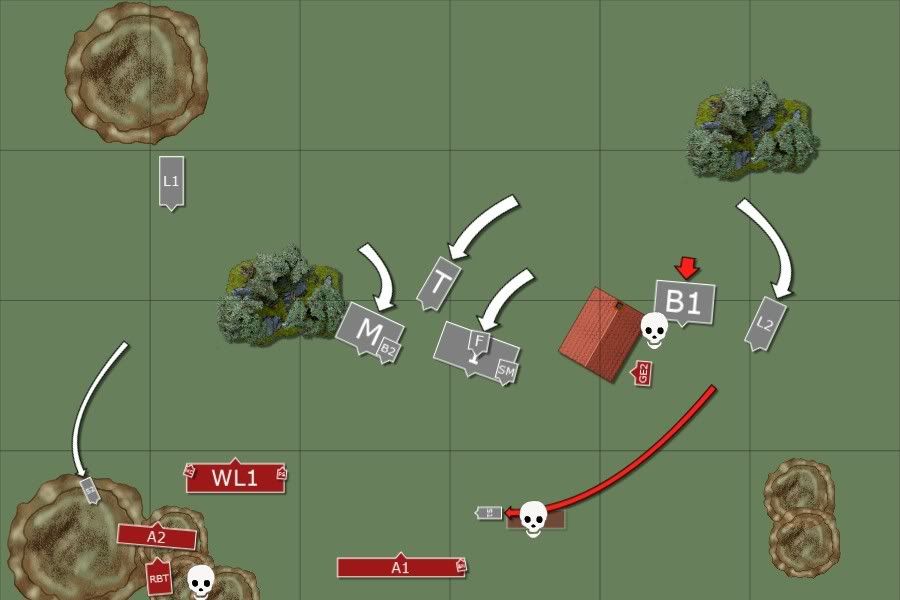 :: High Elves Turn 2 ::
The Swordmasters move in to being 15" away from his bulls (they're not in the diagram but were 6 left at this point), hoping to stall them and maybe kill a couple. The rest of my army shuffles a bit, opening up fire lanes and preparing for an engagement next turn. Though the diagram might imply it, the Lions were too far away to have a likely charge on his Maneaters. My Eagle blocks his Ironguts since I don't want him forcing me to charge them. The plan is roughly to kill his other combat units (Maneaters, Thundertusk) and then come around at their back or kill his flank (Bulls + Cannon).
Magic sees me Searing Doom his Cannon, scoring 5 hits. I only manage 1 roll of a 4+ though.
Shooting sees me fail to impress his Maneaters as much as I would like to, after I AGAIN fail to hit on 2+ with Saerith.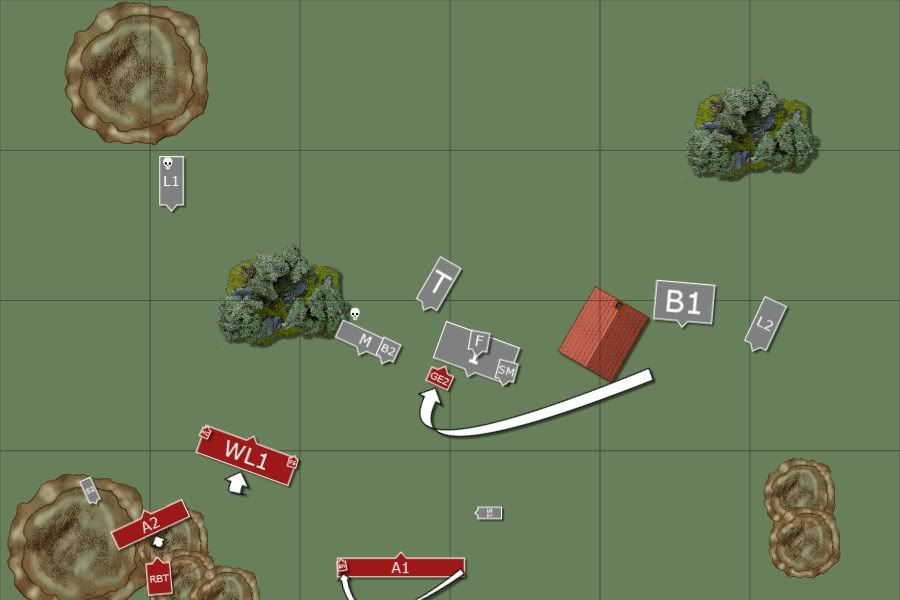 :: Ogre Kingdoms Turn 3 ::
Ironguts charge Eagle. The Bulls make their long charge on my Swordmasters (needed 9+)
Magic is 8v7. He starts off with a 3D6 panic test @ Lions, which I let through. He then IF's his +1T boosted, increasing like ALL his units' toughness. The miscast result has no effect what-so-ever.
Shooting - his Maneaters finally kill Cael after hitting with poisoned attacks, meaning I'm left without a mage at all. The rest of his shooting kills my last Repeater.
Combat - Swordmasters do nothing after a bunch of impact hits and his +1T. They're killed and he overruns off the table. The Ironguts kill the Eagle and restrain.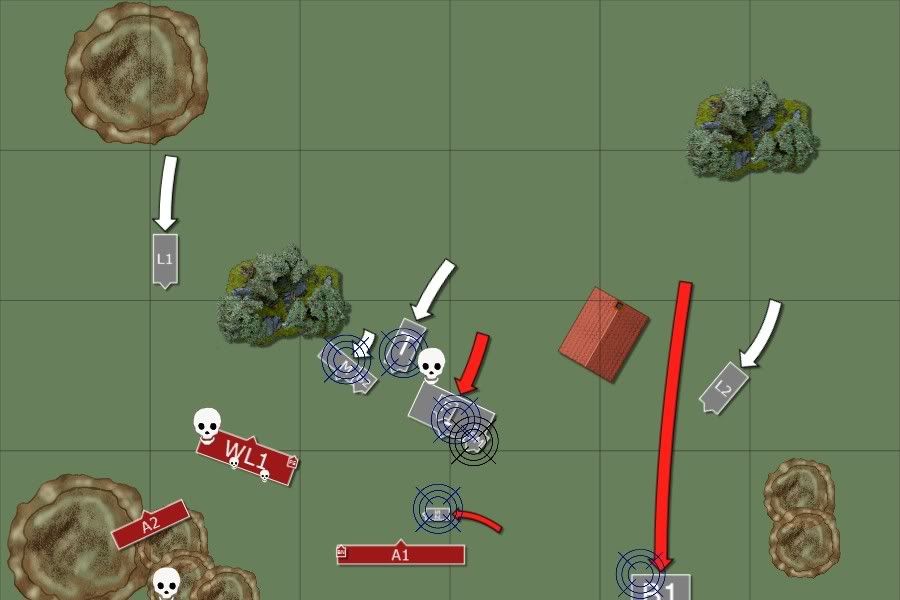 :: High Elves Turn 3 ::
I charge his Maneaters with my Lions. Knowing I have to win decisively and carry on against the Tusk, I also declare a hard charge with my BSB. If he fails, he'll act as a roadbump, allowing a possible dual-combat since my Lions can turn around and rear-charge his Ironguts. I fail the BSB charge and a couple of Lions drop to Stand and Shoot.
Magic is non-existant, shooting does very little.
Combat - I win big against his Maneaters and overrun into his Thundertusk after he fails to roll insane courage on his 2W champion.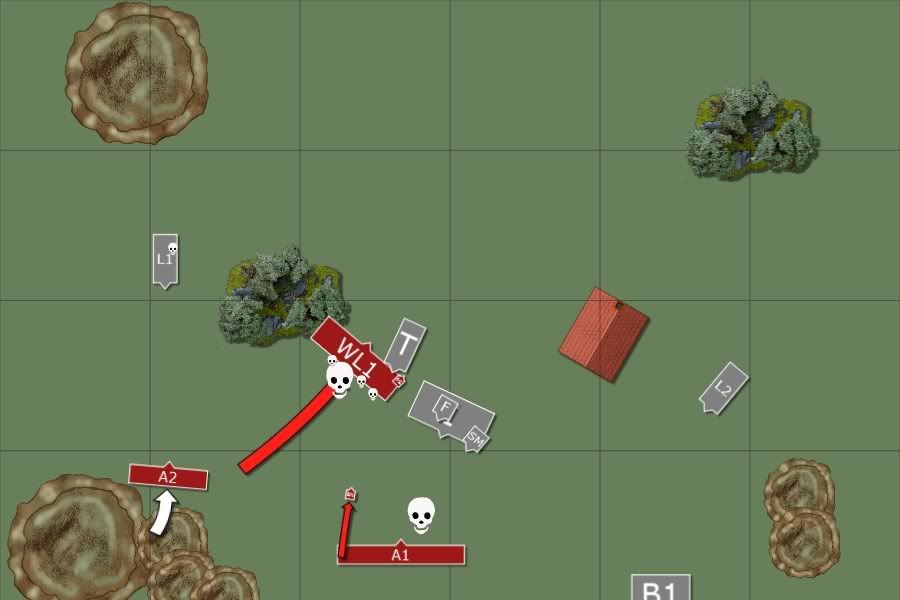 :: Ogre Kingdoms Turn 4 ::
He charges my solo BSB. Magic is 7v6 but he can't get his +1T through. Shooting does fairly little.
Combat - and this is decisive. I HAVE to kill the Thundertusk to be able to turn around and engage his Ironguts who'll surely overrun into my Archers. I therefore activate Talisman of Loec. Between the Prince and Lions, I score 14 hits, needing 4+ to wound. I then proceed to only get 3 wounds, despite of Loec (Prince had 3 hits). Sigh, I'm not supposed to win this game. The Prince teleports close to my remaining Archers (not shown in diagram, but in the next one). BSB dies, he overruns into big Archers.
:: High Elves Turn 4 ::
Prince joins up with Archers and they shoot the Cannon. Saerith AGAIN fails to hit on a 2+ and the Archers deal it a wound. Combat sees my Archers die, Ironguts reforming to face Lions, who kill off the Tusk, reforming to face his cannon.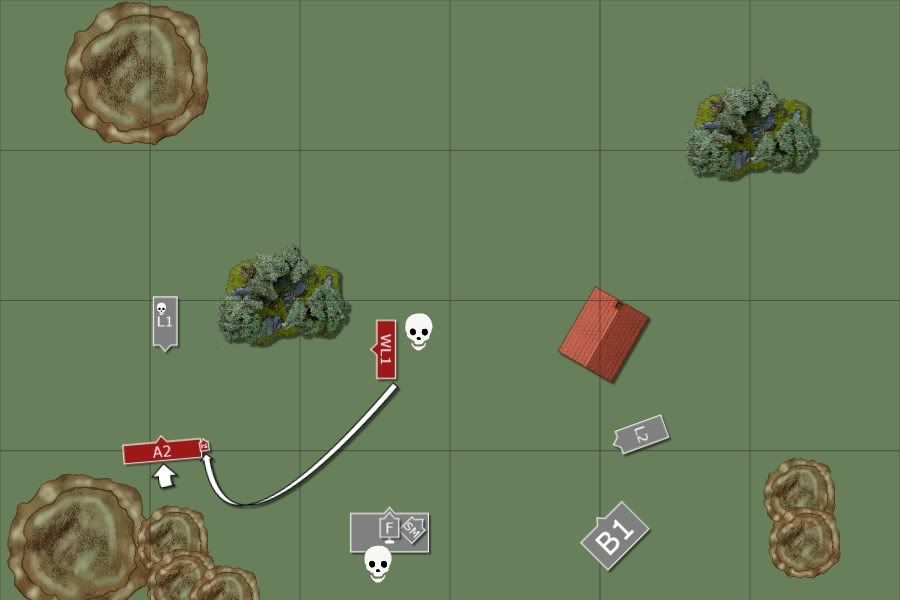 :: Ogre Kingdoms Turn 5 ::
He charges my Lions, who are now 10-12 remaining, and I flee, getting away. Magic sees him missile them, killing a handful, leaving 6-7. The left Cannon charges my Archers + Prince. I stand and shoot but Saerith still cannot roll anything but a 1 for that bow, so he makes it.
Combat - he fluffs impact hits and is killed in return! I reform to face his lines, making sure to place Saerith with good line of sight to his remaining cannon.
The rest of the game went like this: Saerith actually hit the cannon on a 2+ in my next turn, wounding it on 4+ and dealing 3 wounds through D3. The Archers then managed to bring it down to 1W. In his turn, he tried to missile my Lions and panic my Archers, neither working out for him. In my very last turn, his cannon was in hard cover. Saerith somehow managed to hit it, despite needing 4+, but failed to wound. 4 Archers hit it also, but only 1 wound... The game ended with a dramatic saving throw of 4+, which he made!
:: Victory Points ::
Counting up victory points, we find that he's killed 1503 while I've killed 1126. This meant that even if I had killed the Cannon I would've lost by 200 points - enough for him to claim a victory.
Sadly, another loss for my Vindicators, making 3 in a row with this kind of list.
:: Evaluation ::
I believe I got a pretty good start, deployment-wise. I managed to create a refused flank situation from which my Lions could really dominate their side of the board, which is exactly what they did.
Last time I lost my Archmage Turn 1 against Ogre Kingdoms, I was very lucky for the rest of the game, what with my Swordmasters single-handedly killing most of his army and the cavalry finishing him off. This time however, I really didn't feel much love from the dice.
I think I played pretty well in this game. Perhaps I should've used my Swordmasters centrally as well and sacrificed Naenor to get a potential triple-charge on his Ironguts. Had I not lost the Archers to the Cat, they could've blocked his Bulls off. The end result was pretty close, not even 400 points worth of difference between us.
Anyways, let me hear your thoughts on it all
Next report coming up is my second game yesterday, which was against Orcs and Goblins!