---
Rematch against Warriors of Chaos! This time around, he didn't bring Kholek but instead a lot of magic!



:: The Magic of Chaos ::



My fourth game, and possibly my 10th win in a row. Could my Vindicators pull it off yet again? His list:

Sorceror Lord of Tzeentch, 3+ Ward, 2+ Armour Save, Infernal Puppet
BSB, Book of Secrets, Power Familiar
Festus
Throgg
6 Trolls
6 Trolls
20 Warriors of Nurgle, Additional Hand Weapon
1 Shaggoth
1 Shaggoth

:: Pre-battle thoughts & deployment::

I was less worried about this list than Kholek to be honest. I believe the Warriors are way inferior to the Marauders as well. Overall, I was pretty confident I could handle this list. We decided to play battle line, both of us somewhat tired of random scenarios. I won the roll and chose to deploy first as I thought the south side was marginally better for making him commit.

For magic, he rolled 1,2,3,3, swapping a 3 for Treason. God I hate that spell, so cheap and so insanely powerful against High Elves. Festus got 1 wound no armour save and the BSB took Fireball from the Lore of Fire.

Eagles and Repeater first, as usual. He committed and I refused the Repeater flank. All his characters, save for Throgg, deployed with the Warriors.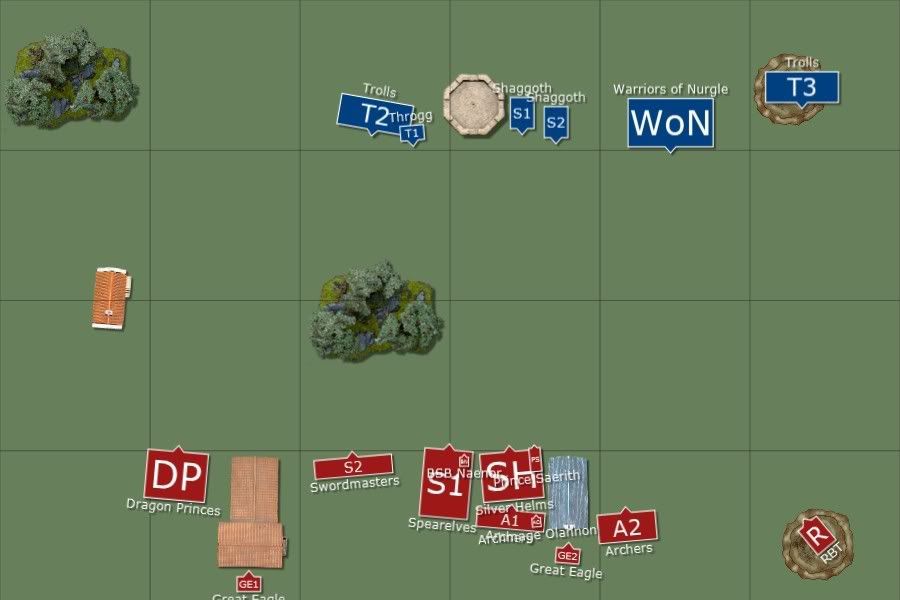 I won the roll-off and went first.

:: High Elves Turn 1 ::

I moved up my units as fast as they could, though the Cavalry took care to keep their distance against his monsters. Archers with Archmage moved up somewhat to get in range for a decent Pit.

Magic sees 8 dice vs 5. I start off with a 4-dice Withering on his central Shaggoth. I get 2 6's and the Shaggoth is left with T2. I roll a 7 for the miscast table, and my opponent announces he has Infernal Puppet. Sigh. He rolls a 5, so it's reduced to a 4. My Archmage disappears along with his entire unit. As my opponent said (remember he was the Ogre general as well): "I'm starting to see a trend here!". Well, whatever that trend is, I don't like it.

In the shooting phase the Shaggoth takes a beating from what's left - leaving it at only 1 wound. With that, my turn ends, and I'm facing 3 Mages having +2 Power Dice.




:: Warriors of Chaos Turn 1 ::

He moves up his denied flank as best as he can, the wounded Shaggoth taking lead. He's not careful with its angling - leaving me a perfect position to get back into the game. I notice it's around 5-6" between it and the Warriors block and I'm starting to see opportunities for my next turn. Throgg's unit moves back, denying me a charge.

Magic - and I need to make the most out of my defense. He rolls 5 for winds (4+1) but has 2 extra from his BSB and manages to channel another for a total of 8 v 4. He starts off with a Flickering Fire on my Silver Helms, which goes through at IF! His result is poor but Puppet makes it decent and he suffers no harm due to regen/ward saves. A single Helm dies and I'm fairly satisfied as the rest of his Power Dice are drained away.




:: High Elves Turn 2 ::

Hammer-time! I only have one shot at this game so I throw caution to the wind. Silver Helms charge his Warriors and I take care to angle Saerith to target Festus. Spearelves charge his 1W Shaggoth, needing 5" to overrun into the Warriors. The Dragon Princes and Swordmasters move up. I place one Eagle to protect Saerith's flank (I forgot it in the diagram - sorry!), while the other protects the Dragon Princes' front (poor diagram here).

Shooting sees 2 wounds off the remaining Shaggoth due to a single bolt. We go to combat and Naenor easily finished the Shaggoth. His reckless angling set up the perfect overrun, which I duly fail with a 3 and a 1 coming up. Sigh. Saerith invokes Loec to make sure the unit loses some its durability. I promptly put 4 wounds on Festus, and he saves them all with his first roll! I hold my breath but to no need, he misses 3 on the Loec re-roll. The other Silver Helms combine to kill 5 more, losing a handful in return. I lose by 1 but hold easily due to Naenor.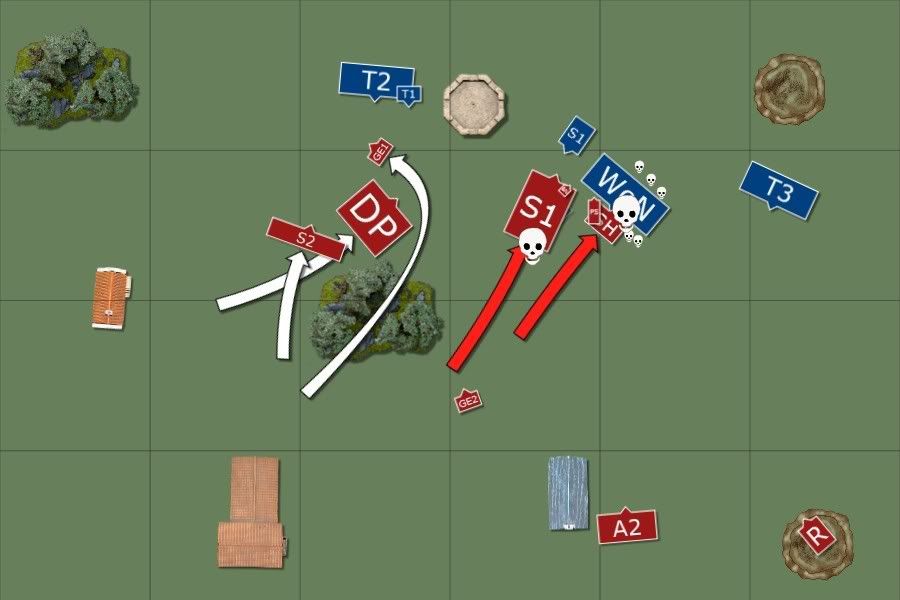 :: Warriors of Chaos Turn 2 ::

Throgg charges the Eagle, the other Trolls charge the other Eagle. Both hold. The Shaggoth charges my Spearelves who also hold.

Magic is uneventful with poor winds. He ends up casting Treason at my Helms (the only unit in range) which does nothing.

In combat he resolves the Cavalry one first, his Lord issuing a challenge. Saerith duly accepts and puts 3 wounds past his 2+ armour save - only to see them all saved by his 3+ ward. I mean... 3+ ward and 2+ armour save on a Wizard - I wish I had that kind of protection! Regardless, he fails to wound Saerith in return but the rest of his unit easily kills the few remaining Helms and I lose badly. I fail to roll snake-eyes. His Warriors pursue, with the Shaggoth restraining. I roll 5-4-2 for my flee only to have his Warriors roll 5-5 to kill Saerith AND overrun into Spearelves. So, speaking of Spearelves, they put a handful of Warriors down and lose 15 (!!) in return. Naenor finds himself locked in challenge against the Sorceror Lord, the 3+ Ward again protecting him from harm. I hold due to steadfast. The Trolls kill an eagle each, Throgg's unit overrunning into the Dragon Princes' front. The diagram is poor here: it was a clear front charge with my Swordmasters having a clear counter-charge. It was poor eagle-placement on my part as I intended to angle them away - letting my lances count. I guess I was too pre-occupied with praying for my Spearelves' overrun to pay attention to its angle.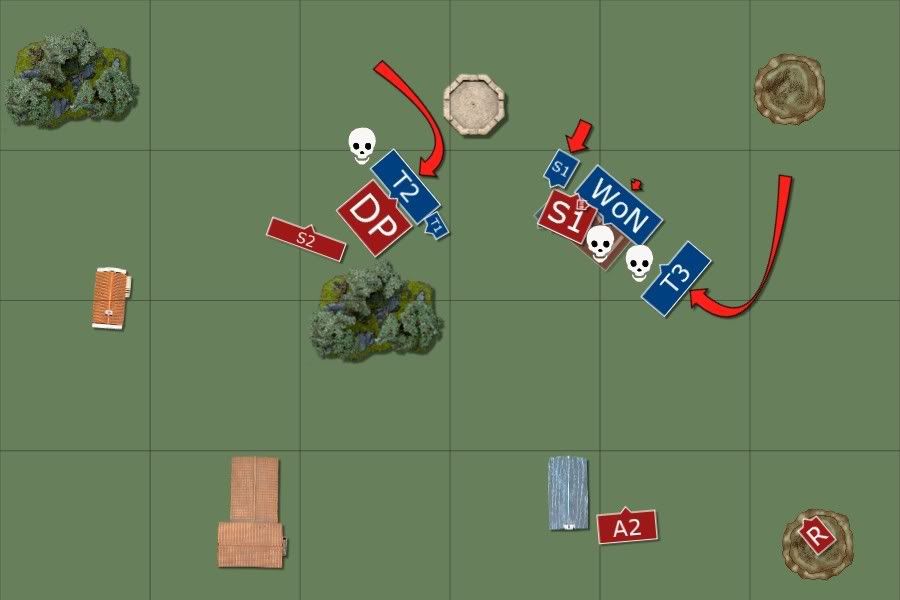 :: High Elves Turn 3 ::

I declare Potion of Strength on Drakemaster and counter-charge with Swordmasters. His unit was 6 + Throgg big so he had 3 Trolls on the flank - letting all the Swordmasters attack! I needed to win this fight to have a chance at the game.

Shooting took a couple of wounds off the Eastern Trolls, and we proceeded to combat: Drakemaster put 2 wounds on Throgg, barely dieing in return. The rest of the Princes put down 2 Trolls, with the Swordmasters killing a third. In return, I lost a couple of Princes and a Swordmaster. He lost the combat badly and both units chose to overrun, hoping to get central enough to make an impact. I easily caught him and my rolls were fairly good.

The Spearelves however received quite a beating and I failed to pretty much hurt him at all. Failing Snake Eyes they, too, were overrun. This put his Warriors in an awkward position though, the Shaggoth however had a nice flank charge to my Dragon Princes.




:: Warriors of Chaos Turn 3 ::

His Shaggoth and Trolls charge my Dragon Princes, who hold. The Trolls were very far away and didn't make it.

Magic sees him get 12 dice vs my 5. He starts off with a 4-die IF Treason on Swordmasters. Luckily, 8 remain. The miscast kills 2 Warriors and wounds his Lord. The unit was now down to 10 with the BSB + Lord. His dice are heavily drained away and I dispel his last cast.

Combat sees his Shaggoth roll very well, and I lose just enough to lose Steadfast. One of the Steeds (!!) put a wound on him though, so he only had 2 left. I promptly run away but he fails to catch me. A perfect opening for my Swordmasters to charge his Lord's unit - my last remaining chance (albeit a legit one!) at winning the game: if my shooting could kill the Shaggoth and the Swordmasters could deal with the Warriors, I'd have 2 small units left against his Trolls.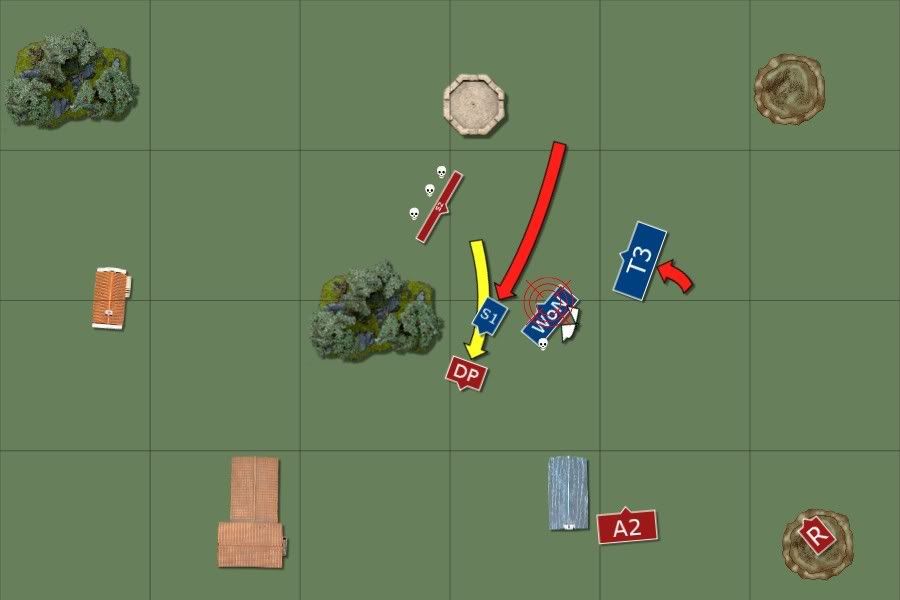 :: High Elves Turn 4 ::

My Swordmasters charge his Warriors and the Dragon Princes rally. Archers move up to draw proper Line of Sight to the Shaggoth, making sure to get in short range while they're at it.

The all-important shooting phase fails me badly as I can't put a single wound on him. The Repeater hits, but rolls a 1 to wound. The Archers hit with 8 arrows but only 1 wounds and it's saved. Sigh.

The Swordmasters kill all his remaining 8 Warriors and his 2 characters put 4 of the 8 down. He breaks however, needing to roll a 4- on 2D6 re-rolled, which he fails. His BSB dies instantly and his Lord runs away 7". Rolling my pursuit roll, I get 6 and overrun into Trolls.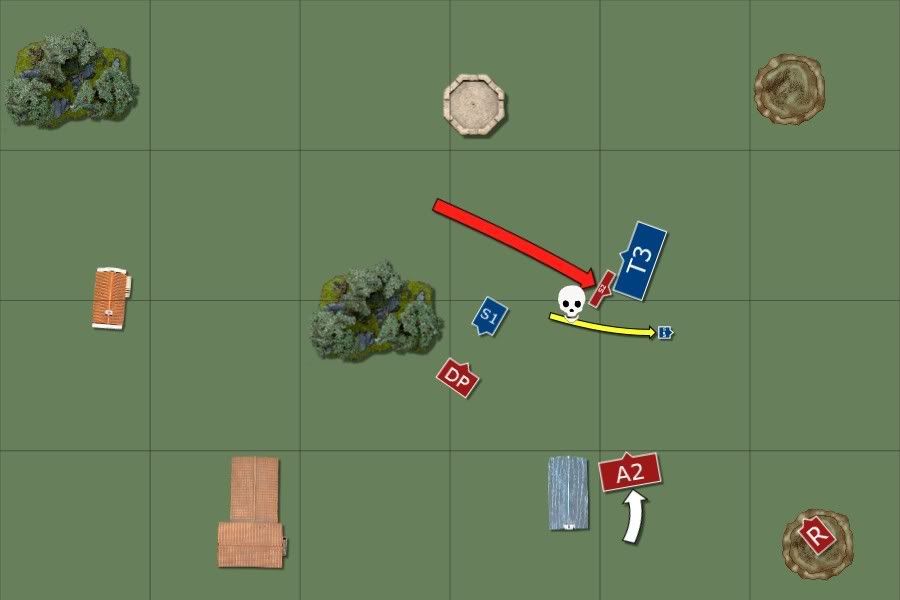 :: Warriors of Chaos Turn 4 ::

The game is pretty much over. His Trolls kill the Swordmasters and the Shaggoth kills my remaining cavalry. His Lord rallies and kills 8 Archers with a magic missile. Having a handful of Archers and the Repeater left, I concede the game.

:: Victory Points ::

It was a clear victory to Chaos, as I conceded!

:: Evaluation ::

Boy oh boy! Here I was thinking I'd get to try out some nasty Shadow buffs and hexes, only to lose my Archmage on my very first turn - again! Because of this I had to play fairly recklessly. It was an uphill fight the entire game and in the end I couldn't get back in. My 2 biggest mistakes hardly had an impact: one was angling the Eagle poorly, the other was accepting his Lord's challenge (forgot he was Tzeentch, should've seen the Ward save coming from miles away). The first of these actually benefitted me as the combat against Throgg was perfect for me. The second didn't matter too much, and, on average, I would've wounded him at least once.

His magic was poor throughout the game, with his IF limiting himself. That being said, his spells weren't that much of a threat. What kept me in the game was my hard units getting into combat quickly. 3 events could've very well turned this the other way around: the Spearelves making the overrun, the shooting killing the 2W Shaggoth and my Swordmasters catching his Lord.

Regardless, it was not to be. Playing a one-mage is quite risky, especially when you don't do Life, however you can't expect to miscast on 4 dice AND lose your mage, even if your opponent has Puppet. That being said, I will give Shadow 4 more games (at least) to see how it plays. I have a feeling that Life, with its increased reliability, will be my favoured choice in the end. We have yet to see, though!

So my first loss. Unfortunately I don't have time to play before next Wednesday (I really doubt it at least) at which point I'm facing Wood Elves. In the meantime, I'd appreciate thoughts about this game


Regards,
~Olannon