Aright, report-time again!
:: Descendants of Aenarion ::
My list:
Saerith with GW, AoC, Vambraces, Loec, Star Dragon
BSB Naenor with RGoH, GW, DA
Mage lvl 2 crystal
Mage lvl 2 seerstaff
20 Archers, Full Command, Banner of Eternal Flames
15 Archers, Musician
10 Archers
10 Spearelves
21 White Lions, Full Command, Banner of Sorcery, Amulet of Light
7 Swordmasters, Bladelord w/Skeinsliver, Musician
5 White Lions
2 Great Eagles
Daemons' list:
Keeper of Secrets, Spirit Swallower
Tzeentch Herald, Scroll, fly
Nurgle Herald, BSB with Icon of Despair
Khorne Herald on Jugger with Armour of Khorne, re-roll to-wound stuff
26 Bloodletters, Icon of +D6 first charge
19 Plaguebearers
5 Chaos Furies
5 Chaos Furies
6 Flamers of Tzeentch
1 Fiend of Slaanesh
5 Fiends of Slaanesh
:: Pre-battle thoughts & deployment::
By ETC standards I was expecting to face Banner of Sundering, but since he knew I was fielding Coven of Light he didn't feel like bringing it because it would feel like tailoring. Like I told him, I think 90% of all Daemons armies will sport this banner in ETC so I may as well get used to it now. Regardless, the Icon of -2LD it was for this game.
The big threat here was of course the fast stuff. I was confident that I could handle the rest, but the Keeper + Fiends could potentially tear through me as if my units were paper. To this end, I was very happy to see him use the Fiends as a flanking element with the Keeper going in a central position - nothing worrying me at all so far! I out-chaffed him, which gave me a pretty good deployment.
Magic saw me miss out on both Banishment and Pha's, my BSB got Speed of Light while the Crystalmage got Net (which I swapped for Shem's) and Timewarp. He got a perfect selection for his Tzeentchian Herald: Glean Magic and Bolt of Change.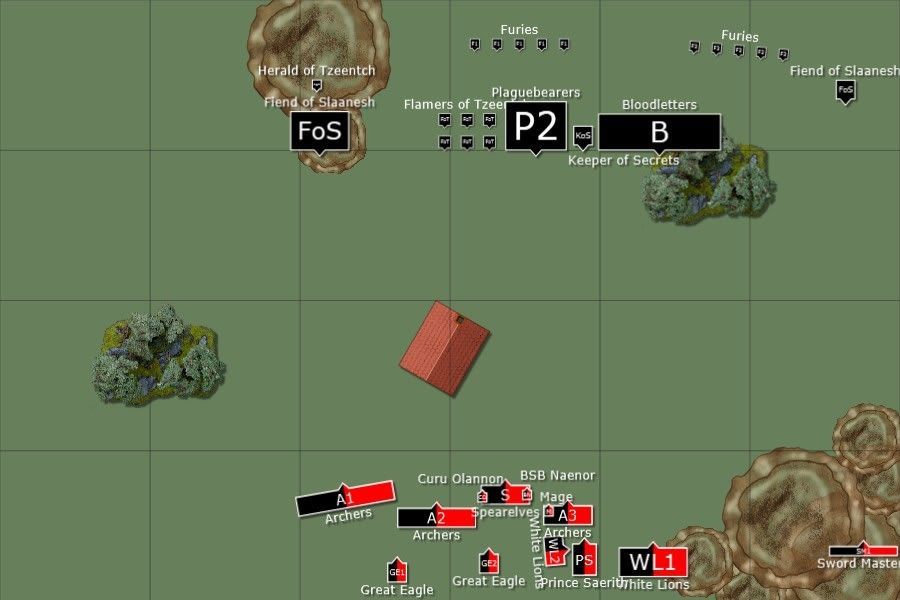 :: Daemons Turn 1 ::
Everything surged forwards, the Keeper and Fiends being somewhat cautious. His Herald on the Bloodletters was positioned centrally, meaning he had to take a dangerous terrain test if he wanted to stay in that place as opposed to on a flank. Dark Reaper said it wasn't that important, and promptly failed both the test and his ward save, leaving the Herald at 1W.
Magic gave us a 7v6 split and he started off with a 3D6 Gleaned Shem's on the closest Eagle. I let it through and it did no damage. Bolt of Change was dispelled.
Shooting saw his Flamers target my first bunker, the Spears. A few died, but I passed panic. Overall, a pretty good T1 Daemons from my point of view.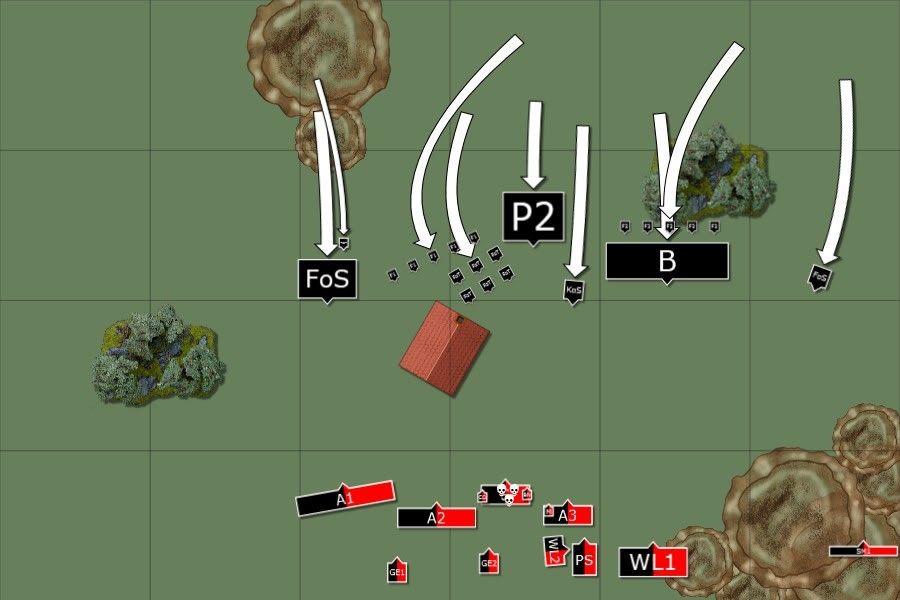 :: High Elves Turn 1 ::
Saerith was 19" away from the Keeper and I reckoned I could put pressure on him early on, blocking the Letters if need be. Anyway, I failed the charge so only moved a couple of inches.
Eagles moved up to block the Keeper and keep the 'Letters from getting their +D6 charge move against something valuable.
Magic - 9v5 and I started with a 5D6 Banishment, getting IF. The result knocked 3W off the Keeper and killed a couple of Elves. The rest of the phase was contained. I shot what I could at the Keeper and managed 1W, leaving him on only 1W! The Western Archers started targeting the Fiends though, fearing the incoming charge.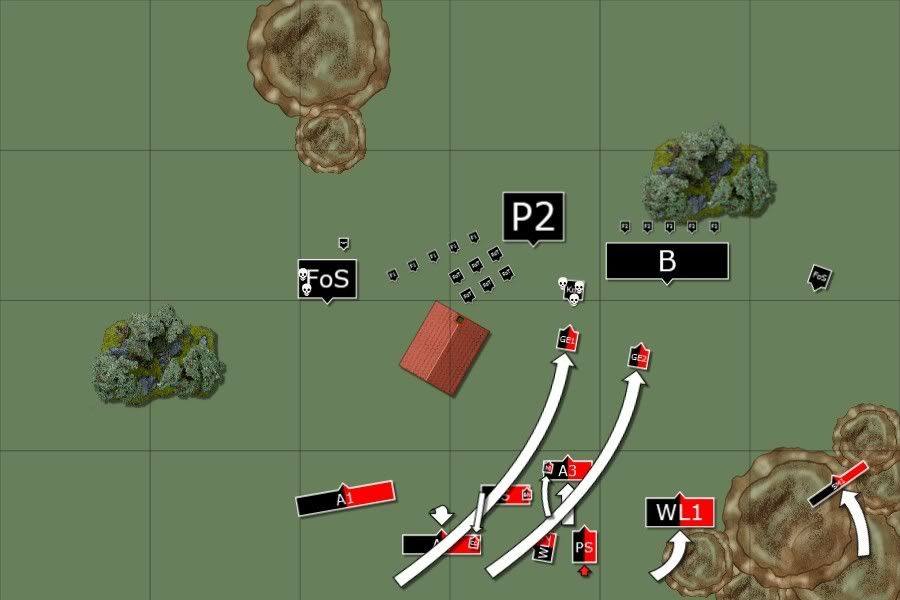 :: Daemons Turn 2 ::
Keeper charges the Eagle. It flees and Dark Reaper realizes that if he pursues, he'll be standing in no-man's land with 1W. He successfully redirects against the Archers with the Seermage, which Stand and Shoot. 3 hits are rolled, but none find a weak spot. Regardless, I still have ASF for another chance. The Keeper makes it. The Letters charge the Eagle, who also flees. Due to its angle, he's not too keen on being left in the middle, so he decides to redirect against the Swordmasters, hoping the Icon of Endless War will help him. Alas, it does not and the Eagles are both alive, still. The fiends charge the Archers and a very good roll on my part sees no less than 4W scored by Stand and Shoot.
Magic gives us an 8v6 split and his Herald is now within range of 2 of my mages. He thus uses Glean Magic to Banish the Dragon. Fearing Bolt of Change more, I let it through and the net result is, luckily, 1W on Faeria and none on Saerith. I dispel the Bolt.
Shooting sees his Flamers roll really miserably and fail to kill the rest of the Spears, leaving 3 alive.
Combat - my West Archers manage to win, again some strong rolls, but the Fiends hold onto reality. The central and important combat sees me fail to roll 6's to wound yet again, and he kills all but 3 models, catching them in pursuit and overrunning into Saerith. Due to Spirit Swallower, he is now fully healed.
:: High Elves Turn 2 ::
I have a bit of a problem, I really want Timewarp on the Prince and Dragon but his scroll is still intact. The solution is that he's all Daemonic and his Herald is alone. Though I've lost Pha's and Banishment, my spells are still pretty good. While you ponder this, let's look at the movement phase first.
The small Lions need 9+ to help the Archers. I figure that they may as well try, and successfully roll the charge, flanking the Fiends. The Lions and Swordmasters move back while the Eagles both rally. My BSB shifts to the rear Archers while the remaining Spears move to block the Plaguebearers, forcing them closer to the building.
Magic - a crucial phase sees him channel twice for a total of 11v8. This is pretty bad for me. I start with a 3D6 Speed of Light, which he uses 5 (!)D6 to dispel. I then cast a powered up Shem's on 5D6 (probably should've cast the normal one on 3D6 as the Herald of Tzeentch is only T3) which he scrolls. We're thus left with 3v3 D6 and I successfully get Timewarp through his defenses, granting me a total of 12 (!) attacks and ASF on both models!
Shooting does very little and we move to combat.
The Fiends are now in dire straits but one of them manages to hold on, much to my relief (as they're thus shielded from the Flamers). The Keeper loses 2W to the Dragon and deal 3 back. He thus wins by 2 but I manage to hold due to the BSB.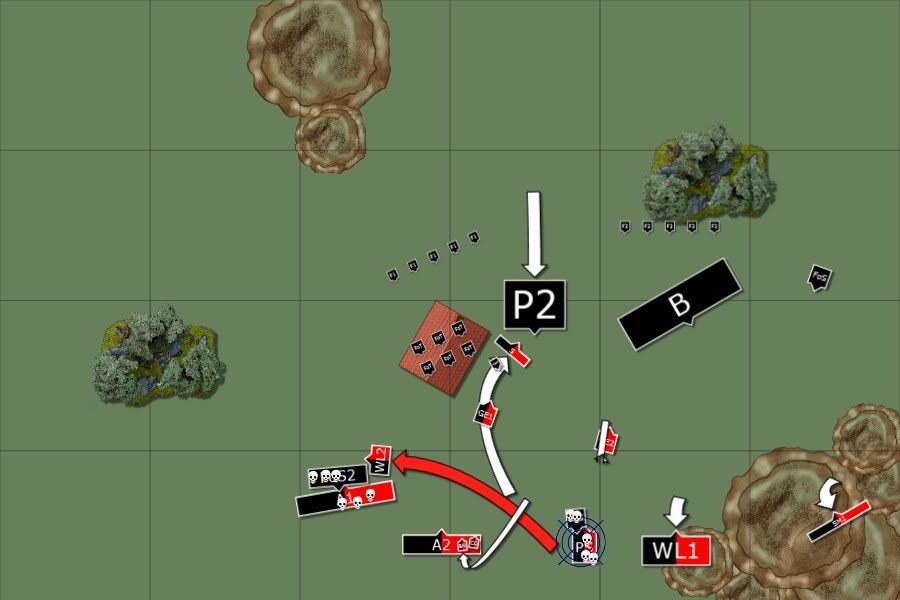 :: Daemons Turn 3 ::
His Furies charge Saerith's flank (forgot to move them last turn, they were screening the Herald). His Bloodletters charge my Eagle again and I flee - he fails to catch me. The Plaguebearers charge the Spears.
Magic is 10v8 and he gets IF Timewarp on the Keeper. Not that it matters too much, I can handle +1A. I dispel Bolt of Change. Shooting sees his Flamers target my big Lions, killing 4.
Combat sees me declare Loec. I manage to kill the Keeper with Saerith's 5 attacks alone, re-rolls be praised! In return, he brings the Dragon down to 2W. Because he challenged, I miss Faeria's attacks on the Furies (I actually forgot that because she had ASF this should've been counted for the purposes of Overkill) and lose combat, however I pass the break test. The last Fiend dies and miraculously, a Spearelf survives. He decides to pursue, much to my relief, catching the Spear but getting stuck next to the building.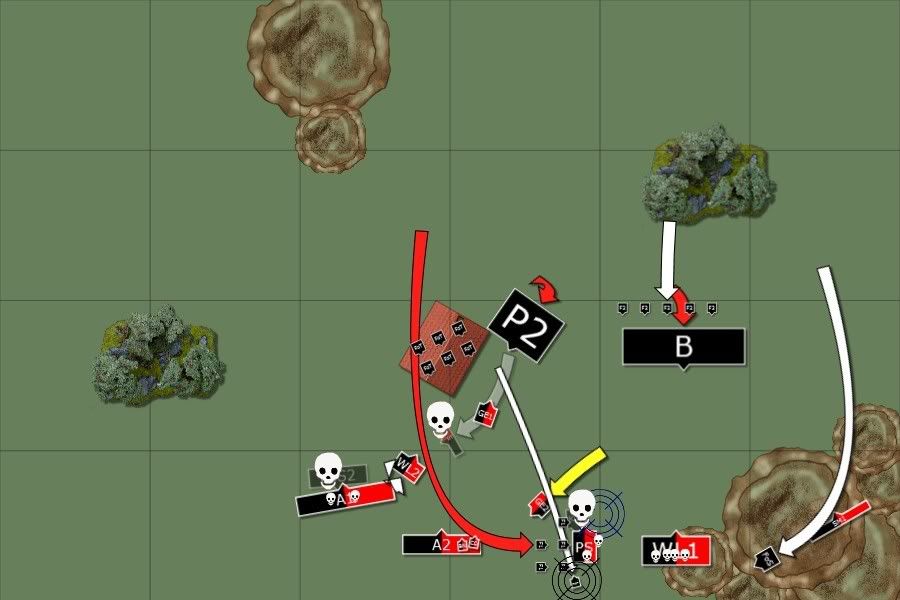 :: High Elves Turn 3 ::
I move the Lions up together with the Swords, using an Eagle to block the Letters for now. The idea is to have him charge it, overrun and give me a very favourable combat. However, doing it like this I also have a couple of other lucrative options. The West move up close to the building, the Lions making ready to either go against the Plaguebearers or interrupt the Flamers should they try and escape the Archers.
Magic is 9v6. I cast Speed of Light on the Lions, which he lets through. Looking carefully at the Eagle placement, it's clear that if it flees it'll go past the Lions, not through them, thus not even causing a panic test. If he redirects, WS10 I10 can pose serious issues for his Herald and with stubborn I stand a pretty good chance of holding, if I even lose, since killing the Herald (who only has 1W) will lose him his Hatred. The rest of my magic is dispelled.
Shooting does little and in combat the Furies manage a wound on Faeria, bringing her down to 1W. I kill them all in return.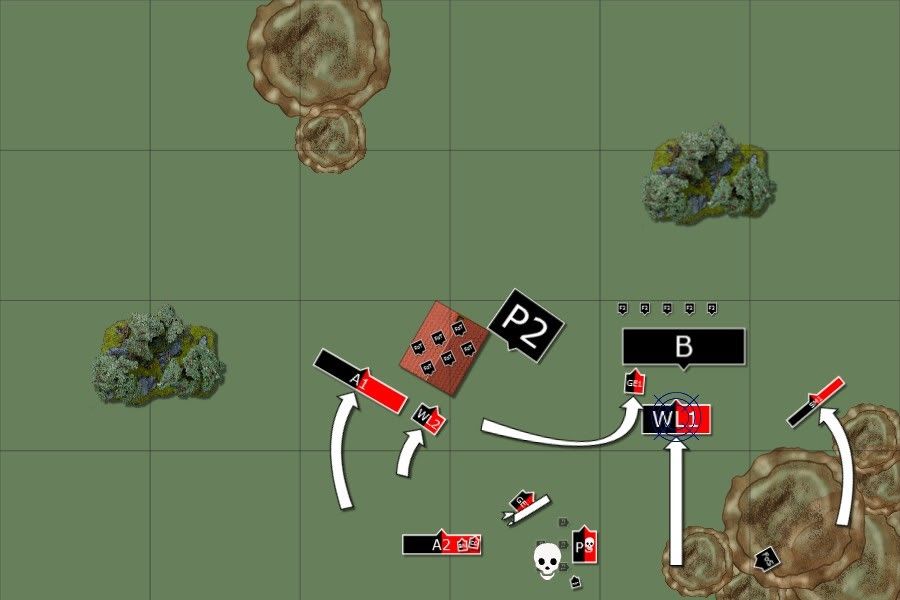 :: Daemons Turn 4 ::
The 'Letters charge the Eagle and I promptly flee. He then fails to redirect into the Lions and cannot catch the Eagle either because the Lions are blocking! He uses his Furies to block the Swordmasters.
Magic is 7v7 and he starts off with a 5D6 Bolt of Change, which I dispel. He then manages a 2D6 Timewarp (through Glean Magic, needing 7+) on the Letters! Shooting sees his Flamers (still full strength) target the small Lions, but they only manage to kill 2 - leaving 2 alive!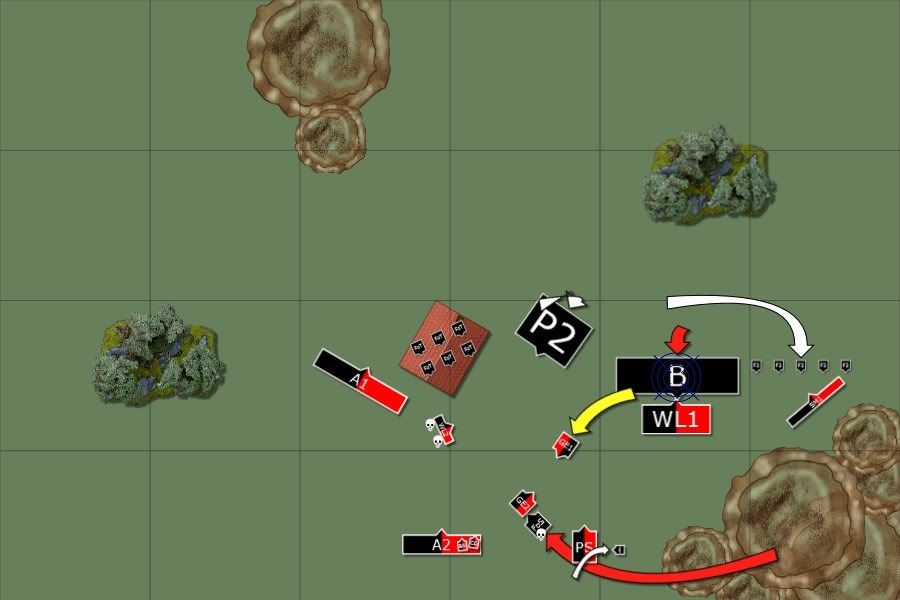 :: High Elves Turn 4 ::
Swordmasters charge the blocking Furies, flaming Archers charge the Flamers. The small Lions block the Plaguebearers. I make a big mistake here as I forget to move the Dragon and flame his Bloodletters from the rear.
Magic is 7v3 and I start off with a 5D6 IF Speed of Light bubble. I lose the BSB's magic level and I manage to cast Timewarp on the Lions with 2D6 as he fails to dispel with 3D6!
Combat sees my flaming Archers put a real hurt on his Flamers as they lose 4W for killing 2 Archers. I win but he holds. Swords kill the Furies and reform.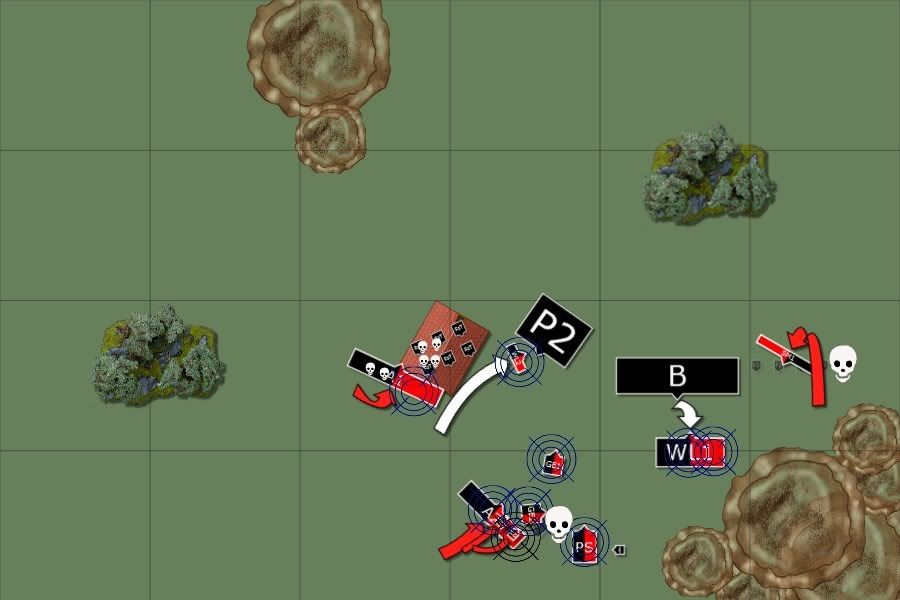 :: Daemons Turn 5 ::
Both Lions are charged. Magic is 4v4 and he fails to cast his first spell on 3D6. Shooting finally sees his Flamers target an Eagle and they promptly kill it. Panic tests - I fail like 4 because his -2LD Icon is so close, but due to the BSB they are all passed on the re-roll.
Combat sees the small Lions fail to wound the Nurgle BSB, T5 proving too tough for the 2 hits I scored. His Khorne Herald receives no less than 5 Lions attacks at WS10, I10 and I score 3 wounds. He manages to pass 0/3 armour saves - only to pass 3/3 ward saves!! The rest of the Lions manage 15 wounds on the Letters but he rolls well and saves 8 (!) of them. They are butchered down to 3 in return and I fail my break test despite the BSB. He fails to catch me but the Lions eventually run off the table.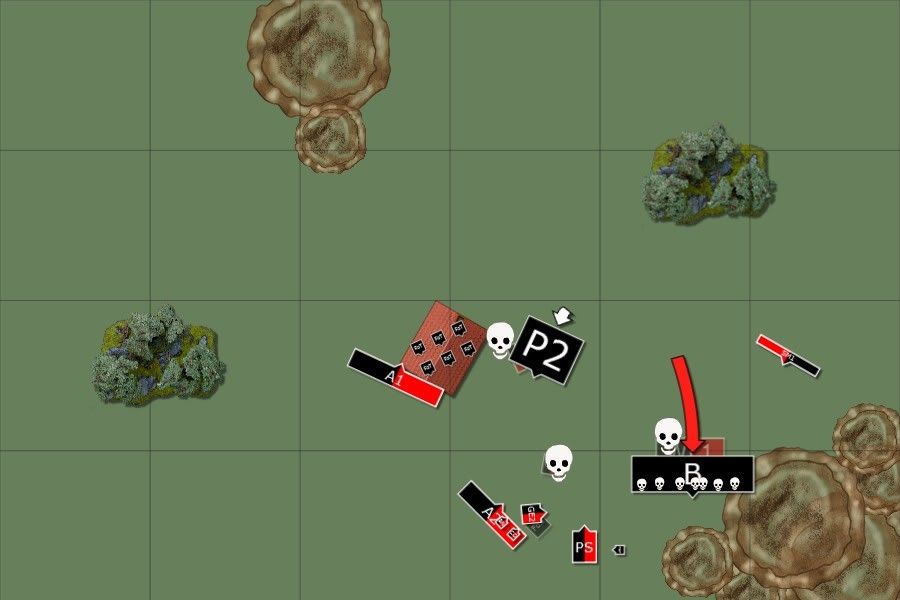 :: High Elves Turn 5 ::
I quadruple-charge his Bloodletters and the Archers charge his Flamers again. Magic is 9v6 but it doesn't matter because the only spell that matters is Timewarp. I try a bubble but fail to get IF and he dispels it easily, having 1 dice more.
Combat sees him challenge with the Herald and I accept with Saerith, killing him before he gets to strike at the Dragon. The Swordmasters do what they do best and kill a lot of 'Letters. The Archer and BSB (who made way) manage a couple more an in return he kills a couple from each unit. Needless to say, he lost by a mile and a high break test sees him vanish. The flaming Archers bring the Flamers down to 1 model.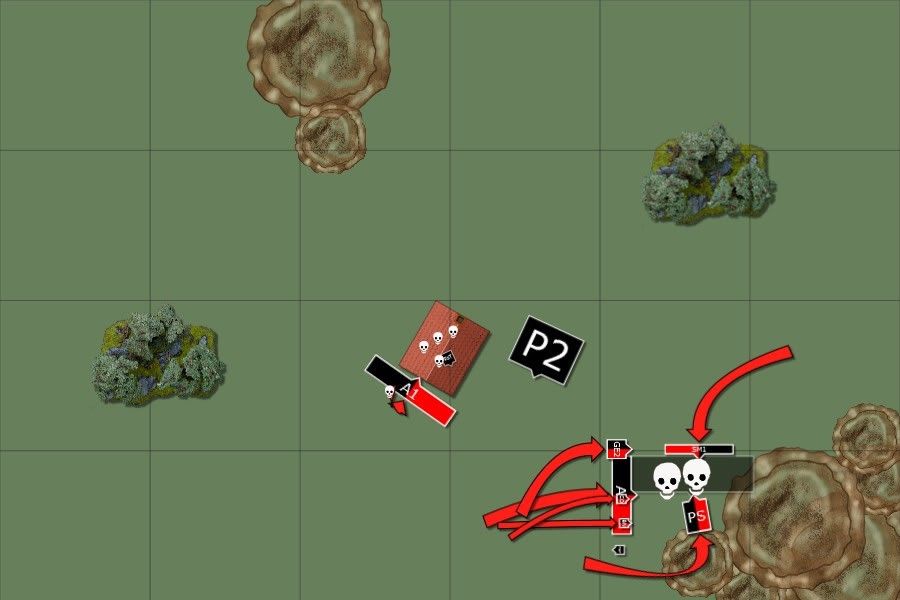 After this, he charges the Archers with BSB and mage but I flee, needing 10+ to get off the board. I promptly roll a 9 and he can't catch me, the blocking Eagle being in his way. He probably should've moved the lone Flamer out of the building but he doesn't so in my T6 I rally the coven-protection and charge + kill the last Flamer. The only thing he has left is the Plaguebearers, who miraculously enough haven't lost a single wound all game.
:: Victory Points ::
Counting up I'm ahead by 1256 points - a big
victory to the High Elves!
I'll save the evaluation until some I've received some replies for a change