Onto the last couple of turns:
:: Remember, Thou Art Mortal - Part 3 - End-game ::
With the Ironguts severely reduced, I was seeing a chance for victory if I could stall the Ogres for just long enough.
:: Status ::
He has all his remaining units committed against the Prince, which has 2W left. However, with Armour of Caledor and Vambraces of Defense, it's really hard for him to hurt me save for the Ironguts, which only have 2-3 models left (and he can only get 2 in base contact at any given time) and they hit me on 5's.
This combat would be crucial: If I could buff him magically and hold on for long enough, I could very well emerge the winner. In fact, if Saerith survives the entire game I'll be way ahead, points-wise.
:: High Elves Turn 5 ::
I moved the Swordmasters closer and tried to get the Lions a little further around. My T4 move with the Lions was proving to be poor - had I thought about some more I would've probably been able to get them closer to the Ironblaster for a T6 flank move. The Swordmasters couldn't do anything but march up at full speed.
Magic gave us an 8v6 split. Now, I started off with a 3D6 Pha's Protection. The reason is that with 6v6 he's likely to dispel it, barring IF, and having 2 dice left would yield me nothing. Instead I forced him to dispel Pha's and cast Timewarp for +1A. Perhaps this is a poor decision and I should've gone for Pha's with 6 dice, I'm not sure. One thing's for sure though, I sorely missed having duplications of Pha's here!
Shooting was nothing as everything was engaged so we went to combat: Saerith dealt a wound or two for nothing in return, losing by 4. I held on a 6- due to Naenor being nearby. This was crucial, because if he had died now, he would have a field day in his T5, which I really couldn't have coped with.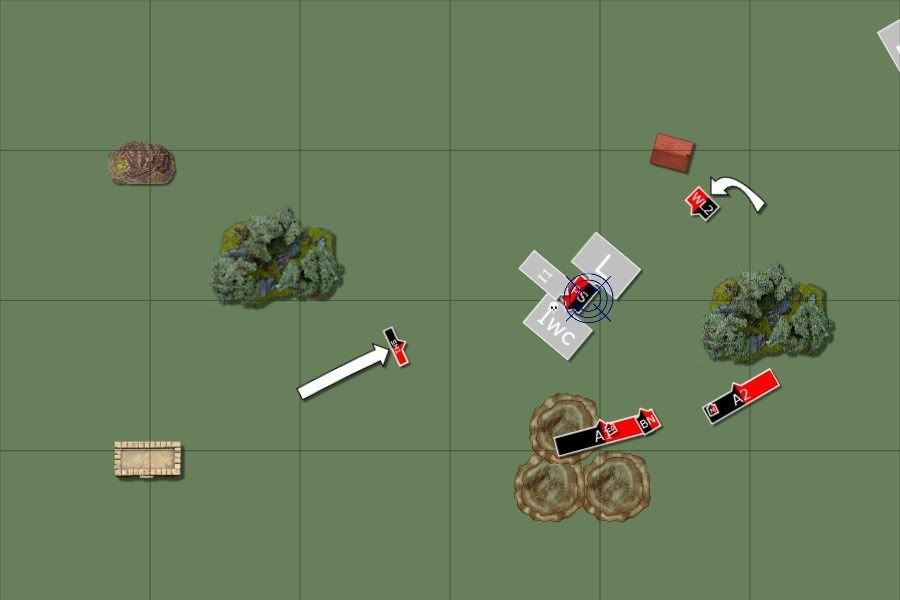 :: Ogres Turn 5 ::
No movement occured, so we went straight to magic. The split was 4v4 after a 3+2 roll and no channels. He proceeded to throw it all at regeneration bubble and managed to get two 6's. I was shocked to see how powerless I was to defend against Trollguts for 3 turns in a row. To add insult to injury, the miscast result was a S10 template, which brought Saerith down to 1W.
In combat, his Ironguts (striking last) managed 2W on Saerith. I failed the first 5+ armour saves, and both re-rolls failed too. Hoping for 4+ twice, I rolled the ward save but unfortunately, one of the dice came up a '1' and the noble Elf died. It's not often you see a miscast working in your favour, but that definitely happened to rusty here. Regardless, it wasn't the worst outcome since I had the initiative now and was ready to blast him. He reformed his units for a last T6 charge.
:: High Elves Turn 6 ::
I charged the Swordmasters into his Ironblaster, needing 6+ or 7+ on the charge roll. Regardless, I rolled a total of '4' and proceeded to stumble forward a couple of inches. The White Lions moved to block the Leadbelchers and I swapped the characters in the big Archers around for maximum protection.
Magic gave us a 6v3 split after a 3+2 roll and a channel. Now, the way I saw it I had two options:
- go with 2x3D6
- go with 1x6D6
The first has the disadvantage of failing to cast. If I do that, it's likely he'll dispel the other and I won't get anything. If I'm very lucky, I'll get 2 (!) Banishments through. It's a high-risk, high-reward play. However, given the size of his Ironguts (2 models left, both wounded as one was the champion) and my shooting potential, I didn't reckon I needed to take this approach.
I ended up throwing 6D6 and got a very high casting value. The only way for him to stop this spell was to get two or three 6's, which he promptly did! I was shocked as my magic phase gave me nothing. Onto shooting, I didn't fare a lot better as I managed a single wound, bringing his Ironguts down to 3W over 2 models remaining. The Slaughtermaster had lost a wound and the firebelly had lost 2.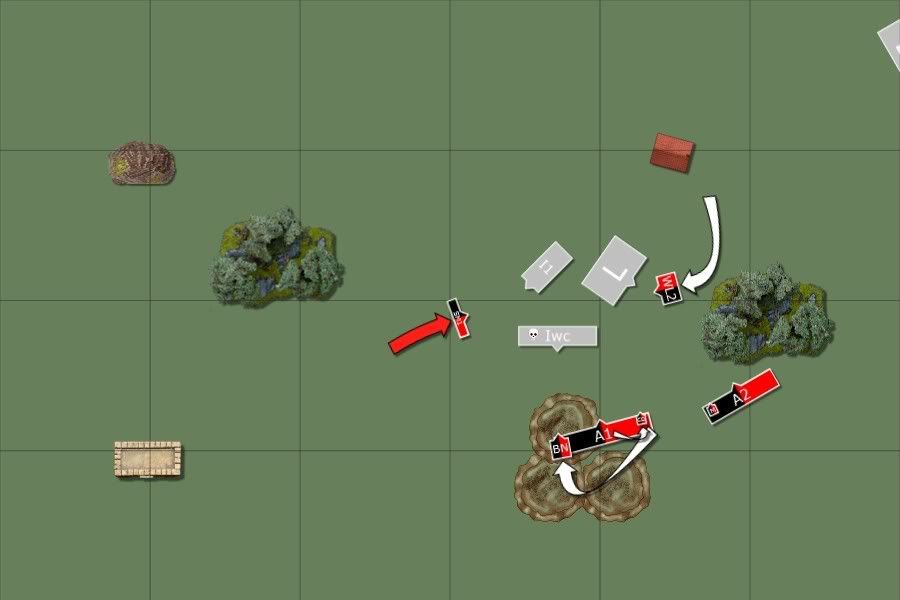 :: Ogres Turn 6 ::
His Ironblaster and Ironguts charged the bunker, the Leadbelchers charged the blocking Lions. I chose stand and shoot on his Ironguts, managing yet another wound to bring them down to 2 models with 1 wound each!
Magic saw us get a 3v6 split after 2 channels on my part and this time I finally managed to stop anything funny from him.
Combat saw the Leadbelchers easily take care of the Lions and we proceeded to the central one.
Naenor was in base contact with the Ironguts and I knew it was crucial for them to die. Because of this, I didn't challenge with him. The Ironguts promptly died before they could strike (though impact hits hurt a bit, as usual). In return, the Ironblaster killed Naenor (did I mention how broken I think this thing is?) while the Firebelly failed to impress the Crystalmage. In the end, I had enough models left to be steadfast, meaning I needed to roll an 8- to hold. I promptly failed this break test and he ran me down, getting 565 victory points in the process in addition to the 265 he got for the BSB.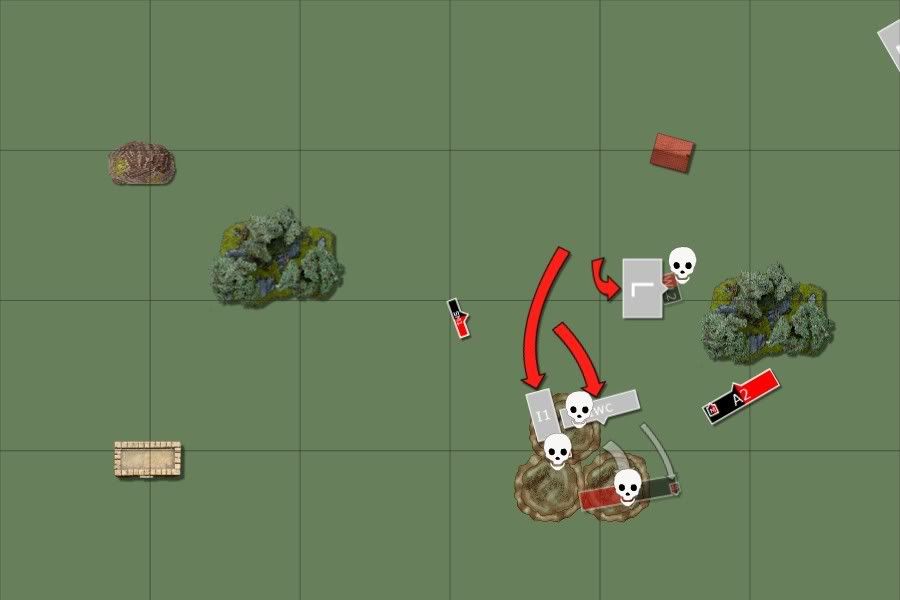 :: Victory Points ::
After the last turn I knew I was in poor shape. Yes, I had killed off his Ironguts, but I lost so much more. Counting up, rusty was ahead by 685 victory points, which is sadly a loss for the High Elves. Had I passed the 8- break test, we would be looking at a difference of 120 points instead - a draw.
:: Evaluation ::
Wow! First of all, a highly entertaining game with lots of nail-biting moments, crucial dice rolls, heroic stubbornness and fickle magic. All what Warhammer's supposed to be.
I have never played with an msu-style army before, and I quickly realized that this is something I have to do more to get used to: I think my visual image of the deployment was a bit off, and this led to my units being in poor positions despite going first. I also underestimated the Maneaters which cost me a flank, and arguably the game. This has already been mentioned multiple times so I won't go indepth at this.
The first turn movement of the Crystalmage was a really poor decision. With the scroll intact there is no reason to try and get both Ironblasters, it won't happen anytime this year against a competent player. This additionally lowered Banishment's strength, which hurt me so badly. I hope I won't make this same mistake again anytime soon.
The central Swordmasters were originally in a poor position, however I managed to put them to good use. Perhaps this could've been taken care of otherwise, I'm sure their weight would be appreciated against the Maneaters for example.
Committing Saerith like I did was most likely the right move, but I agree that the other flank is a better option. Small things like this matter. I do believe I would be able to take care of the Leadbelchers, as he would be forced to dispel Pha's I could Banish and shoot them to death.
A short note on luck, or natural variance, or whatever you like to call it: there is little doubt that Rusty was very lucky with the magical rolls (both to cast and dispel) for multiple turns in the later stages of the game, however I was equally lucky in panicking his Bulls off the table and passing a million tests for Saerith. Granted, he did take a couple himself, among others an LD9 break test without re-rolls. The point is that overall, though it may seem like he was very lucky, I think this went both ways: it's just easier to notice the impact of managing a dispel roll requiring two 6's than it is to notice passing like 6 break tests. Also, remember that his 1 cannonball did a total of 1W.
It's not often that I lose the Dragon AND the Prince, especially not in a prolonged combat as they're so insanely tough to bring down, however I gave them an extremely tough task this game which proved to be too much. Indeed, they are mortal.
I'm sure there are plenty more things to comment on in this game, but for now these are my thoughts and I'm eager to hear yours. I will however list a couple of thoughts I have with regards to the list:
- Banner of Sorcery is very vulnerable despite being in a 14-man unit. I could add one of the unit of Swordmasters to this for example, increasing them to 21. This would severely help my footprint-issues and add some much needed durability. Elites would thus be: 21 Lions, 6 Lions, 7 Swordmasters.
- It is possible squeezing another mage in. This would give me somewhat better spell selection (no points to upgrade him to level 2) but more importantly it would give me S7 Banishment AND a lategame redirector (100 points is what relative to saving the fragile and expensive bunkers).
Overall I believe in the list concept, but I made mistakes with regards to both the MSU aspect and the Coven part. Against a competent player like rusty, this is very hard to come back from. Have no fears though, the Star Coven will be back! I'm unsure whether I'll field this exact list or with slight changes in my next game though.
Oh, and one last thing: can somebody explain to me the rationale of putting the Ironblaster in the Ogre book at less than 255 points?
Hope you enjoyed