---
Curu Olannon presents:




:: 2D6 Crusade - Evaluation ::



Having spent quite a few hours typing up the reports from Crusade and analyzing my own play as well as that of my opponent's with the great help from Ulthuan, it's time to sit back and ask myself "what did I learn?" as well as "how did I do?". This post will detail the opponents I faced, key match events and my own thoughts about those games. Lastly, I will make an overall conclusion and point to some future possibilites for the Dragonlord.

To juice it all up for you guys I decided to put in some pictures from the tournament as well
It should help give you a feel of what it was like and I hope you enjoy them.

:: Game 1 - Chaos Dwarfs ::

This game was a hard matchup for me based on player skill and the fact that I'm not familiar with Chaos Dwarfs. I'm very glad that I read through the Throne of Tamurkan as well as Ptolemy's battle report against Chaos Dwarfs prior to this tournament, otherwise this likely would've been an 0-20 loss. The army was a very cool one and indeed ended up winning best painted (by 1 vote!) in the tournament - well deserved in my opinion!

So - let's jump to it. The worst mistake in this game was forgetting the fact that the K'daii Destroyer has flaming attacks. Had I remembered this, I likely would've taken home a big victory because my priorites would be way different to what they were. The second mistake was thinking that my Eagle - whose duty it was to angle away said Destroyer - needed to stay clear of Dangerous Terrain! These 2 cost me a lot of points, and indeed it was pure luck (an LD7 rally test...) which saved me a draw in the end.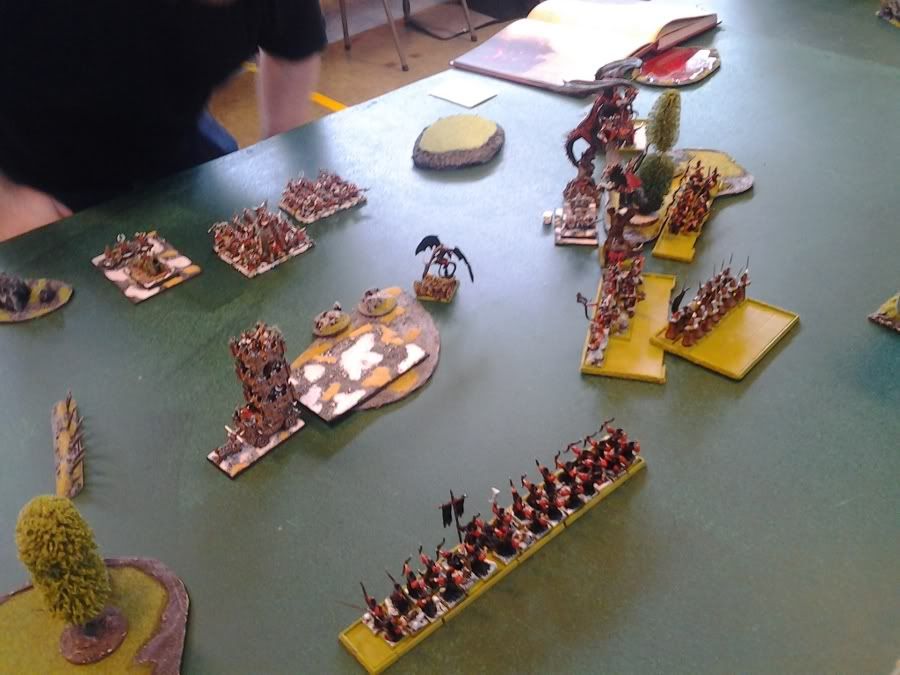 The Noble Eagle is unfortunately very afraid of the scattered rocks

My opponent went on to win his next 2 games 20-0 I think, which landed him at Table 1 for Game 4 where he met Ogres. Basically the Ironblaster went to town here and the Ogre player was a bit lucky with some crucial panic tests. It's a tough matchup for the Chaos Dwarfs I think, and indeed the result was 18-2 to the Ogres.

My opponent ended up placing 5th.

:: Game 2 - Vampire Counts ::

A fairly easy matchup for me. While a Vampire Lord is nothing to joke around with, one on foot is hardly ever a match for a Dragonlord properly tooled up (S7 Thunderstomp is just brutal). The rest of the list posed few problems, a mediocre-sized unit of Grave Guard, some characters, lots of chaff and a few Zombies. The only thing which had me worried was the Terrorgheist - a single roll of 2D6 is extremely high-variance which means that it can easily turn the game around on a lucky day.

I got to a fairly dominant position early on and managed to dictate the flow of the game and keep the Terrorgheist away from my most vital elements. Getting Vaul's Unmaking sealed the deal for the poor Vampire Lord and I was able to annihilate him fairly easily.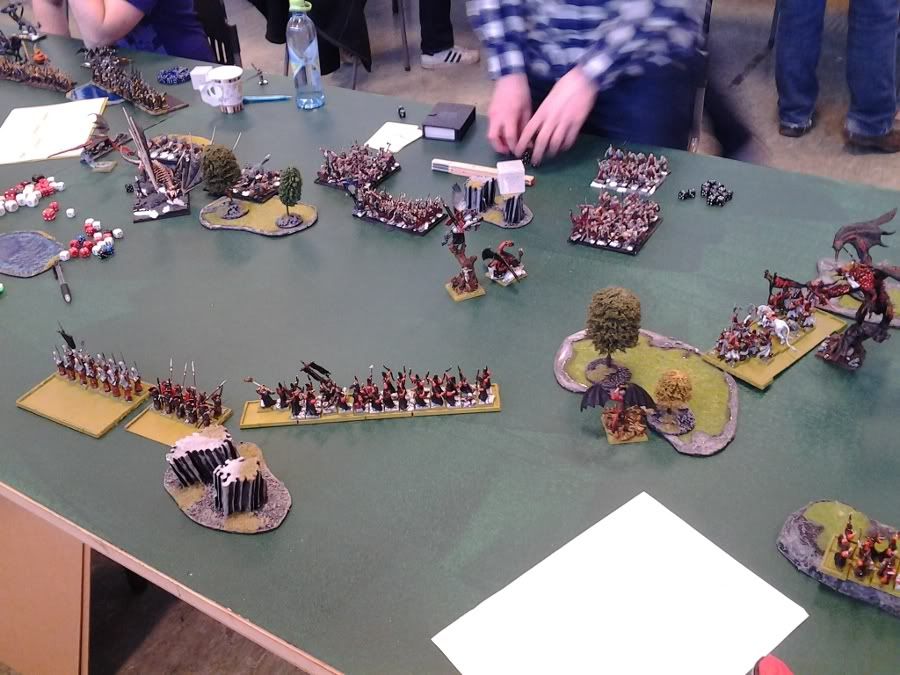 Lots of chaff is cleared and my units are in perfect positions for a game-breaking assault

Despite all these factors working in my favour, I didn't manage to win really big and had to settle for 16-4. While not bad by any means, I need to be able to turn advantageous matchups into 20-0 to contend for first place.

My opponent ended up placing 23rd.

:: Game 3 - Dwarfs ::

There is no secret that this is one of the worst possible matchups for me. However, my opponent had taken a big risk: his only cannon had a flaming rune. Intent on showing him just how critical this can be, I was eager to get started: until I lost the roll for first turn. This is especially bad since he had the Anvil of Doom. I dare say that if I'd have gotten T1 this would most likely have been a big victory with ease: basically I'd have 2 flyers in charge range of most of his army and the Lions + Swords wouldn't be far behind.

As it went, I made 2 big mistakes: the first was angling the Dragon so that his Siren Song character could draw me out (newbie mistake really), the second was overrunning with the Lions when he had so cleverly placed his Thunderers to force me to overrun off the table. I should've reformed here, instead I lost lots of valuable time.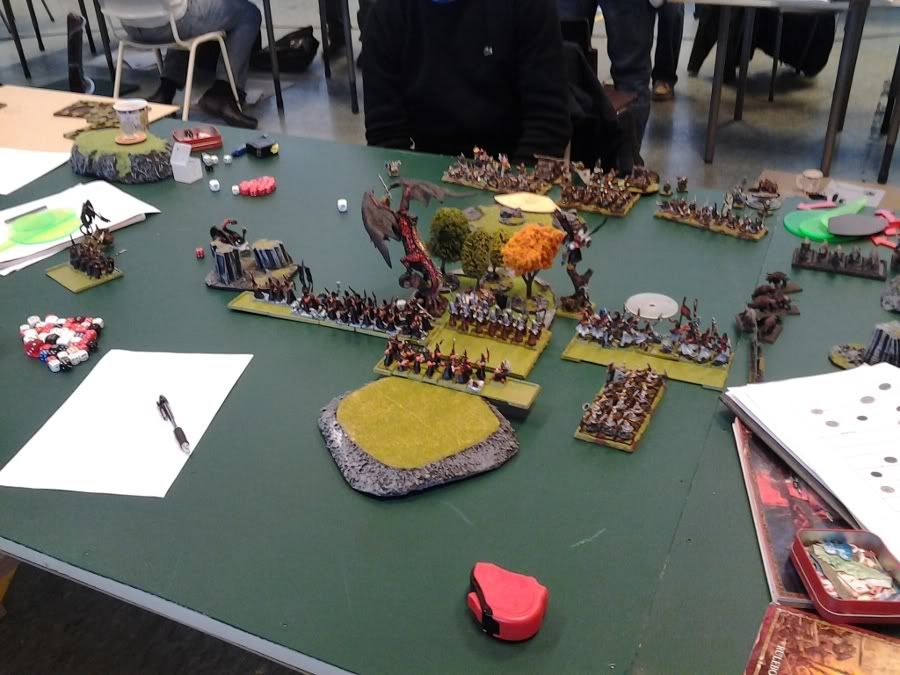 Despite the initial barrage, the Dragonlord's Vindicators are still largely unscathed

In the end, I had lots of luck with Naenor which likely saved me tons of points. I went away with a 15-5 victory which, to be fair, was way more than I should've had, given my mistakes.

My opponent ended up placing 9th.

:: Game 4 - Vampire Counts ::

Facing Vampire Counts again I knew I'd be out-deployed due to ridiculous amounts of chaff. This time I was up against a cavalry bus with 2 flyers as well, so my mobility was suddenly finding it had quite a challenger! This meant that I had to deploy in a fairly standard manner, which allowed him to capitalize on the spread-out elites. This taught me a valuable lesson for Game 5 - just how much the Banner of Swiftness really means!

The first few turns were extremely tactical and neither side managed to exploit anything in a game-breaking manner. I was getting somewhat frustrated but I knew I had an opening which I thought my opponent didn't see. Luckily, I was right and because of this I was able to come out on top, however due to a couple of terrible moves and a coin-toss going against me (Naenor being KB'd by 4 hits) it was a small one - 12-8.



The thoroughly discussed situation at the beginning of my Turn 4

Brewmaster_D pointed out a huge opening which my opponent gave me in his T3. Looking at the picture above, I reformed the Lions and escaped through the building. Careful analysis shows that, with a pretty big chance of success, I could engage and destroy his entire cavalry bus and Ghouls here in one fell swoop as follows: Archers + Dragon + BSB into Ghouls, Lions into cavalry. On average, even if the Archers don't make the charge, the Characters will beat the Ghouls so badly that the rest will crumble. This allows an overrun into the Knights, where the BSB challenges his Vampire Lord (who had to accept). The combined power of the Lions + Dragon hitting his Knights will see him crumble easily, barring only a set of truly horrible rolls.

My opponent ended up placing 10th.

:: Game 5 - Vampire Counts ::

Getting Vampire Counts yet again I managed to predict, based on last game's deployment, that my Lions were needed on the far flank. Indeed their M6 helped me tremendously this game, my Swordmasters likely wouldn't have been anywhere close to where they would've been needed later on.

The starting turns saw me win the chaff wars with a bit of luck and an IF cast of Flames of the Phoenix gave my Lions a free path to support the rest. A couple of aggressive units on his side was countered nicely and I decided to take my chances with an extremely juicy charge mid-game, which led to his entire centre being left wide-open to assault.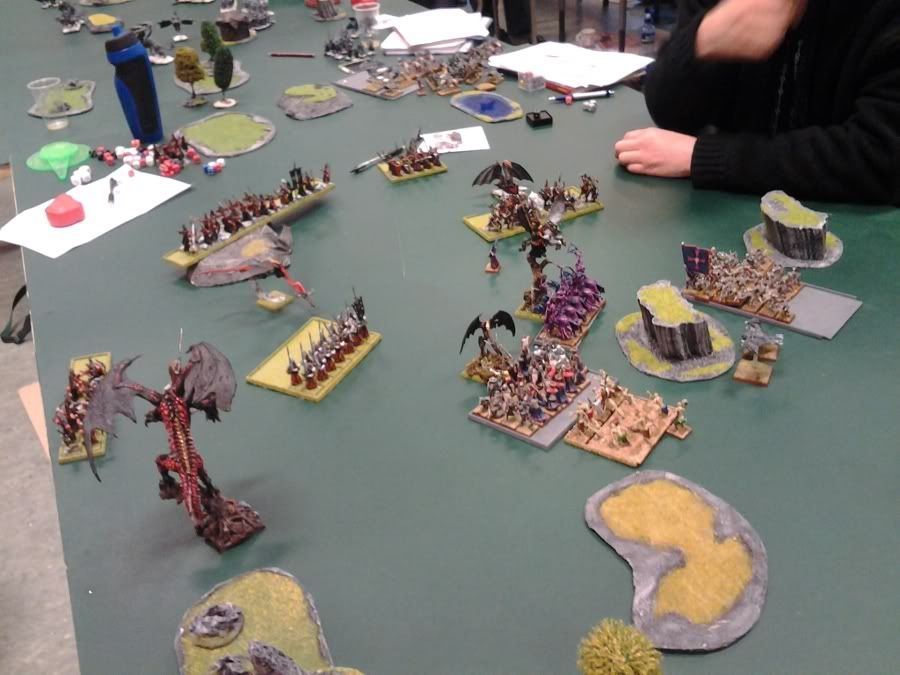 The Vindicators make ready to make the most deadly combo-charge in their history

When my opponent failed to sacrifice anything to stall the Lions, I was able to engage his bunker with my 3 most powerful units at once. Even before crumble results, he was left with his Lord alone. After this, I calculated that no more combat would be needed and played it safe. Finally a clean 20-0.

My opponent ended up placing 18th.

:: Conclusion ::

So - what did I learn? Well, first of all getting those really big victories is harder than I'd thought. I could blame the matchups, I could blame the dice, but in all of my games that didn't go 20-0 I believe there are major mistakes which should be easy to fix.

I also learned that I have no problem with time limits - I play very fast. Perhaps a bit too fast? It's a risky trade-off though, taking too much time will quickly lead to losing a turn which this army really cannot afford.

How did I do? At first, I was pretty happy with my overall performance. Placing 4th in a tournament with such a high standard is something I'm proud of. However, going through these games in detail afterwards it's clear that there is so much more room for improvement! More than anything, playing consistently well and not making big mistakes are crucial parts to being a strong player and I truly admire those who manage to accomplish this, game after game.

Naturally, I have been pondering some list changes as well. As always, the game changes character when you meet skilled opponents and for the first time I felt that my Swordmasters were somewhat ineffective - in almost all the games! Going back to the last major list discussion round, I've been re-reading Furion's suggestion of running a Dragon Prince BSB bus. This greatly alters the way the list plays, but I can easily see the value in this approach now and intend to give it a try. Also, LSG sound promising (!) because 45 with the needed command upgrades come to 625 sharp, which means that I won't have to bring Spears


I hope you all enjoyed the string of reports, resulting analysis and this evaluation. I'm eager to hear your thoughts and evaluations as well, so please share them


Regards,
~Olannon