---
Curu Olannon presents:




:: 2D6 Crusade - Game #5 - Vampire Counts - 53/27 points before pairing ::



After my 4th game I was fairly certain that I was in the top 10 area. Around me, I could spot a lot of juicy armies to face - ranging from Dark Elves to Daemons, Empire and Beastmen. I was pretty frustrated at this point because I never really got to get my powerful elements into the play at once, like I'm so used to doing. I was partially blaming the matchups, but I had also made a few mistakes along the way. Regardless, I was hoping for a matchup along these lines for the last game.

It was not to be however, as I drew Vampire Counts yet again. Another game with a severe deployment disadvantage, tons of chaff I have to go through, resilient tarpits and deadly counters to my characters. I decided to throw caution to the wind and play as aggressive as the game would allow me, but kept in mind that I couldn't push my luck by overestimating units. With that, we went to list review (just a quick read and explanation of anything we hadn't encountered before) and deployed the terrain according to the tournament manual.



:: For Thou Art Not So ::



The lists -

:: High Elves ::

Saerith with GW, AoC, Vambraces, Loec, Star Dragon - 622
BSB Naenor with Sword of Might, HoF, Shield, Dragon Armour, Great Eagle - 208
Olannon with Level 2, Annulian Crystal - 175

Characters - 1005

30 Archers, Full Command, Banner of Eternal Flames - 365
15 Archers, Musician - 170
10 Spearelves - 90

Core - 625

26 White Lions, Full Command, Banner of Swiftness, Amulet of Light - 450
14 Swordmasters, Bladelord w/Skeinsliver, Musician, STD w/Gleaming Pennant - 270

Special - 720

3 Great Eagles - 150

Rare - 150

Total - 2500

:: Vampire Counts ::

Vampire Lord
- Lvl 2, Heavy Armour, Red Fury, Beguile, Quickblood, Talisman of Preservation, Sword of Striking, Enchanted Shield, The Cursed Book
Necromancer
- Lvl 2, Scroll, Ring of Ruin
Necromancer
- Lvl 2, Book of Arkhan
Wraith
Wraith
Wight King
- BSB, Trickster's Helm

30 Ghouls, Champion
30 Zombies, standard, musician
20 Zombies
5 Dire Wolves
5 Dire Wolves

2 Fell Bats
2 Fell Bats
2 Fell Bats
30 Grave Guard, standard, musician, banner of barrows, great weapons
5 Hexwraiths
3 Vargheists, champion

Total - 2400

:: Pre-battle thoughts and deployment ::

On first glance, it was clear that this was very different to the ones I'd currently played. A trickle-strategy with multiple bound spells meant he had so many spells to throw. Regardless, I wasn't too worried about this as none of them posed a significant threat to me. The only real threat here was the Grave Guards, while his core could easily tarpit me. The idea was to isolate the Grave Guard and combo-charge them, this time I knew I was going to have to go for the big kill so I would have to play accordingly. I also knew it was of paramount importance that I cleared enough tarpitters and chaff to get there in time, before I would find myself occupied with multiple key units.

Magic saw me get Shield and Flames, which I was very happy with! He got:
Lord - Nehek, Hellish Vigour
Necro 1 - Vanhel's, Curse of Years
Necro 2 - Gaze, Nehek

Deployment saw me placing the Archers first, that central hill was so obvious that I saw no reason to start with Eagles. He had so much chaff that I had deployed my entire army before he commited (hence the central-ish position). I decided to place the Lions on the flank I considered to be the likely long one, as their +1M banner would help me out tremendously here (2 turns of marching effectively gives me a 4" difference!). He opted for a refused flank, and I was asking him if he intended to go for a draw by just sitting there for 6 full turns. He simply reply 'well we'll see' and I was worried we'd get an extremely boring game...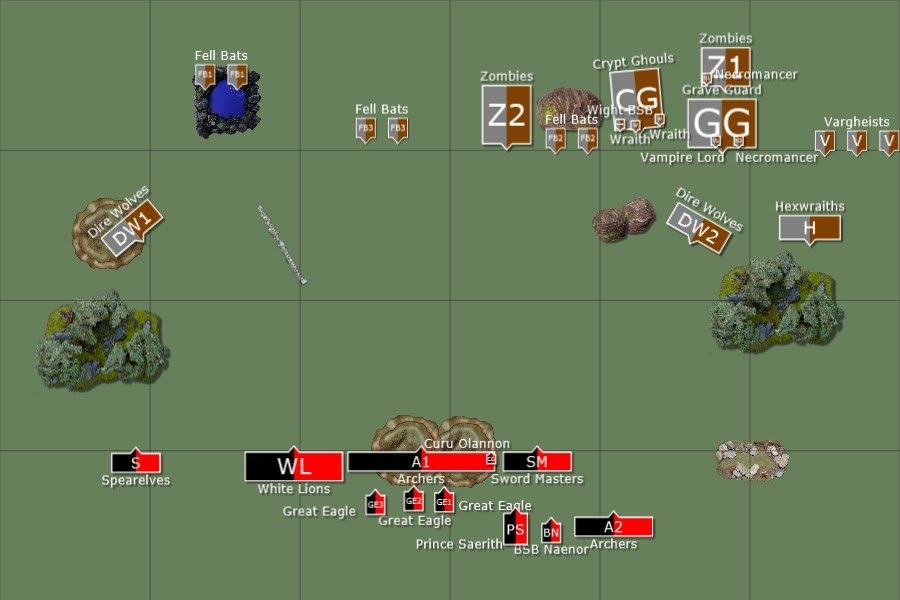 Having +2 to start, I rolled a '5' yet again and got first turn!

:: High Elves T1 ::

The Lions move up hard and the rest of the line slightly adjusts. I have a feeling that in a couple of turns the table will look like we're playing 'Meeting Engagement' due to the nature of his deployment. The Archers with Olannon move into 24" of the 30-strong Zombies, hoping to purify them with Flames of the Phoenix. The East is played conservatively as I see no reason to stress here - let him show his intentions with the Hexwraiths and Vargheists first and then I can reply. The Eagles positioned themselves to create a HUGE threat arc for his chaff while the Spears took on a waiting position, denying his dogs the optimal disruption route.

Magic saw us get a 7v4 split. I intended to cast Flames on 5D6 and Drain on 2D6, hopefully either getting a scroll out or getting a crucial spell through. As I started with Flames though, I managed two 6's... I rolled well for the Zombies and 19 (!) of the 30 undead went down. For my result however, I rolled Snake Eyes. Now, my mind immediately leapt to the thought of facing VC magic-spam without the annulian crystal as I picked up the crucial dice, hoping to roll that vital 4+ to save Olannon... Which I managed! Phew, that was close. I tell you, one miscasts WAY more than you'd think and quite frequently the result can be disastrous. I was lucky to avoid dying, but a number of Archers were killed to the big blast.

Shooting - since my Archers had moved I would be hitting flying chaff on 6's (move - long range - skirmish). Because of this, I opted to shoot the Zombies (hitting on 5's - twice as many hits on average). The idea was to bring them down so much so that he wouldn't bother with them anymore and just leave them for dead. Had he wanted to keep them alive, they could prove to be tremendously annoying against the White Lions in their quest to reach his lines before T6. To this end, the weakened Archers performed admirably and reduced the Zombies to but a handful. The smaller Archers did very well, too, killing all 5 of the central dogs (not moving really helps on the 'to hit' part of things! I envy Wood Elves...).

Overall, a pretty good first turn and I was curious to see what he was up to.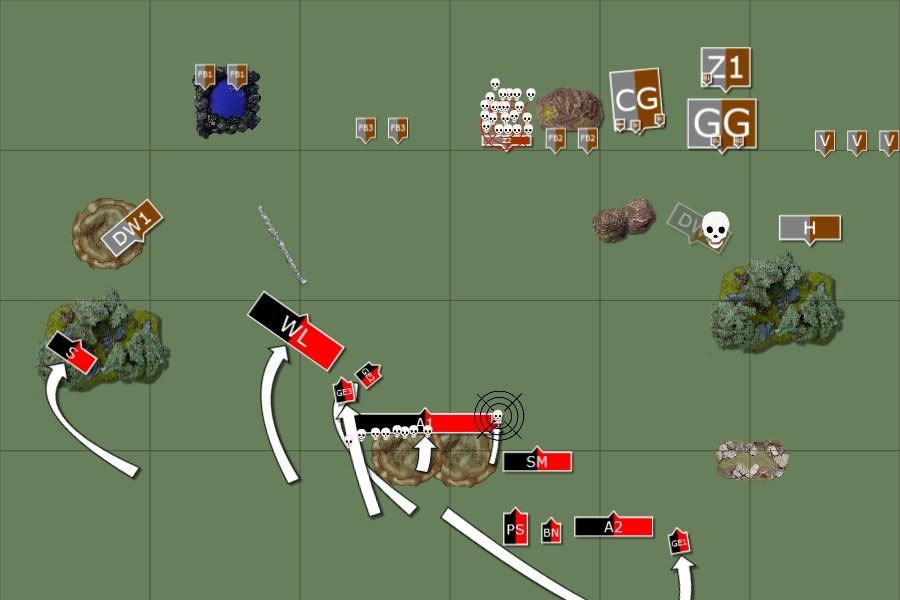 :: Vampire Counts T1 ::

I breathed a sigh of relief as he starts advancing everything. There is no way I could manage a huge win here if he'd have wanted to castle up and go for a tie, save for him making big mistakes. Granted, I still had a long way to go but at least he wanted to play a game
Everything moved up as fast as it could, with the Ghouls + Wight BSB taking on the flank duty on one side, the Hexwraiths + Vargheists on the other. His West saw the Bats charge my Eagle and I happily fled. The rest of his chaff there repositioned as to best avoid my threat zones and prepare for T2 blocks.

Magic was a 7v7 split. He started by using the Cursed Book - he got Miasma and decided to slow my Lions. As I was having none of this, I dispelled it with 2D6 (I think he lost 2 dice as well). The rest went into neheking the Zombies but I managed to dispel this as well.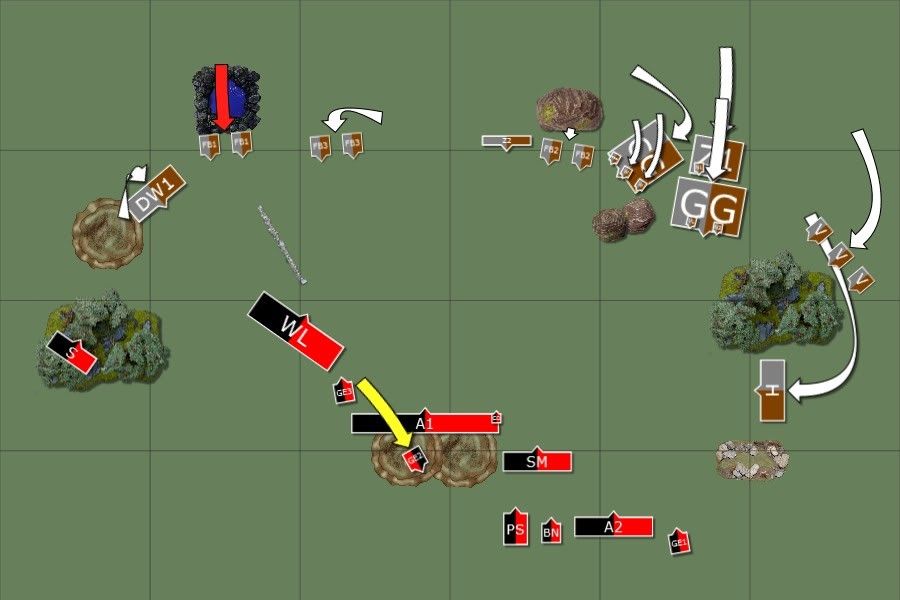 :: High Elves T2 ::

My Great Eagle charges his Wolves, while the Spears move up to a position where they carefully adjust their angle so that they can both flank the Wolves if something goes wrong and counter-charge the Bats should he flank my Eagle. The fleeing Eagle rallies while my Eastern units reform and back off a bit. I present an Eagle as bait to his Hexwraiths, carefully placing Naenor centrally with counter-charging options should he wish to play too aggressively.

Magic is a big 9v5. Flames start by killing a couple more Zombies. I then cast Shield on 2D6 and Drain on 2D6, he let them both through. I then discard the remaining dice, not wishing to trade Flames for a miscast.

Shooting sees me kill the last Zombies - the Lions provide the chaff with hard cover so I'd rather just wipe these out completely. The small Archers kill a single Grave Guard.

Combat sees my Eagle roll fairly bad and I don't win as big as I'd hoped. Next turn, I know he's going to counter-charge me and I'm just hoping I can hold this once to get the Spears into the mix.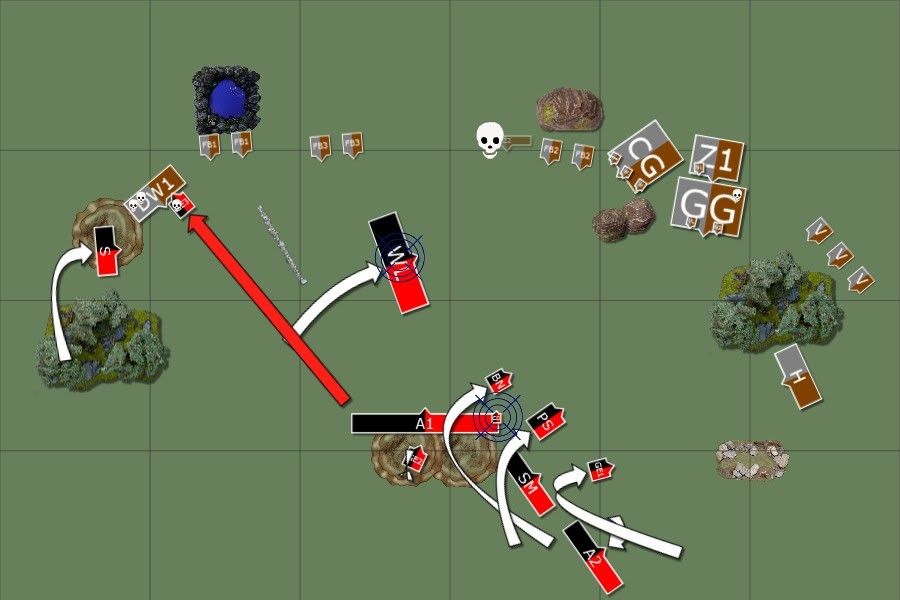 :: Vampire Counts T2 ::

As I feared, his Bats flank the engaged Eagle. The other Bats, happy to still be alive, realize that they aren't going to be alive for much longer so decide to delay the Lions some. The angle is a bit off in my opinion as he could've placed them way worse for me, but I'm not complaining! His East sees the Hexwraiths declare the charge on the taunting Eagle, but as I have no intention of them using him as a speed-burst to get into the Swordmasters I flee and escape easily. The Vargheists move up to the board edge, where they have a number of potential targets in their T3. I know he has to pass an LD test at 7 next time, so I'm hoping to use this move against him. The Ghouls however seem content with their position, which I find a little odd.

Magic is 5v5 and he starts with the Cursed Book, targeting the Dragon with a Curse of the Midnight Wind (he lost 2 dice) which I happily let through as I have no intentions of doing anything fancy with it anytime soon. I dispel the rest easily with 3v5 dice.

Combat - my engaged Eagle manages to kill a dog or two and hold his ground, much to my relief! He was also left on a single wound, so it was really time to get those Spears into this mix...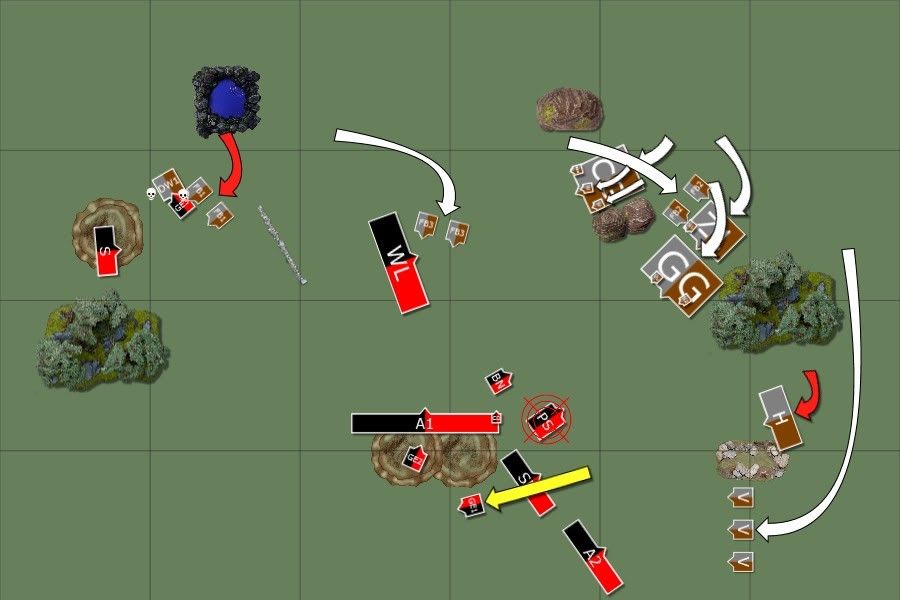 :: High Elves T3 ::

The Spears charge the bats while the Lions charge their blocking bats. My small Archers move up toward the Vargheists, making sure they need to roll a 5+ to escape them in a flee situation (due to proximity to Swordmasters). I place my units so that a flee roll will take them very far away. The idea is to force him to charge the Archers, flee, have him redirect into Naenor (a bit risky for him as he can only get 1 in contact - corner-to-corner and it's pretty far away) or the Swordmasters, where I'll slice him a new one. The centre reforms to face him properly and it now very much looks like we're playing Meeting Engagement! Saerith moved to counter-charge the Vargheists almost regardless of what they'd end up doing, taking care to stay out of the Hexwraith's charge arc.

Magic - notes are poor here with regards to the split but his scroll came out (I think it was low and he scrolled Drain, dispelling Shield).

Shooting did nothing and we went to combat - not only did my Spears manage to ensure the victory but my Eagle managed to survive - his 2 hits failed to roll a 5+! The Lions of course won easily and with that it was his T3 and I was very happy with the position. Now, what kind of trickery could he be up to?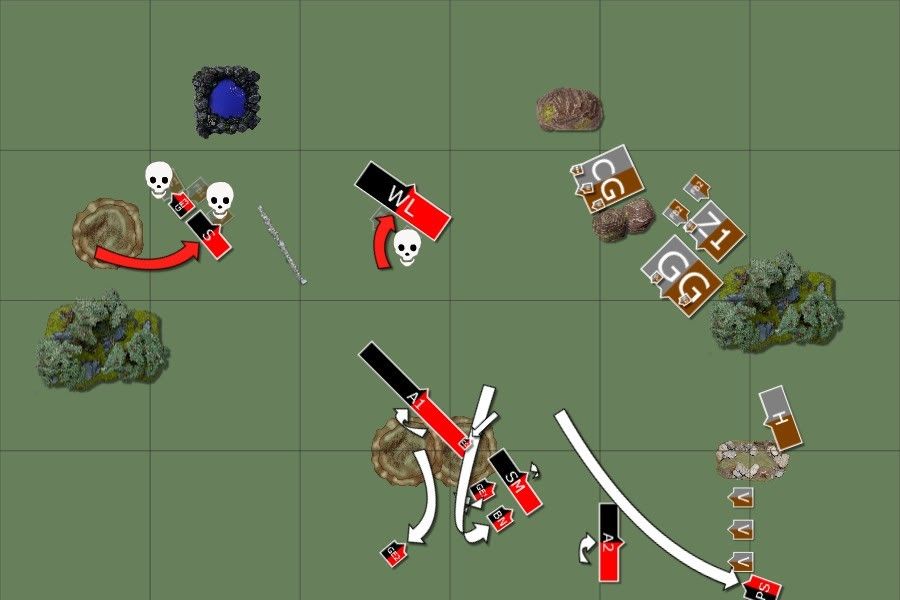 :: Vampire Counts T3 ::

His Vargheists charge the Archers and I flee. He passes his LD test and tries to charge Naenor (needing 8+) but fails! He's now left in the middle of no-where. His Hexwraiths realize they're poorly placed and redeploy to a central position. His Ethereal characters come out as well, moving up to very juicy positions. The Ghouls again decide they like this position while his Grave Guards are ever advancing.

Magic is 6v7 and he starts off by hexing the Lions with the Cursed Book. As it wasn't Miasma, I didn't care and let it pass (think it was Soulblight). He then tried to Gaze them with the rest of his dice but I dispelled it easily.

A short turn, and I was more than ready to initiate some aggressive moves...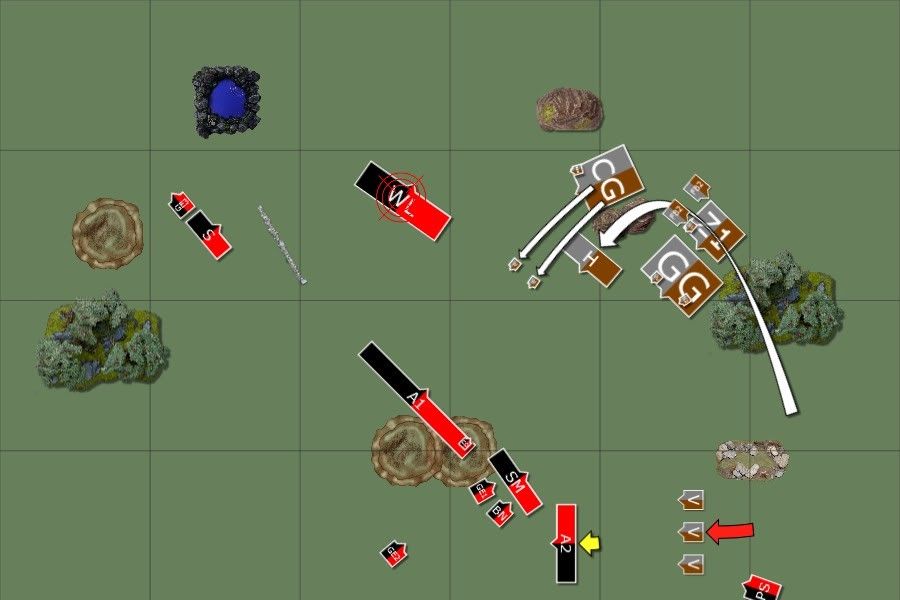 :: High Elves T4 ::

Naenor has one Wraith in his Arc, just barely. He's 19" away, making it roughly 50-50 to reach him, but the juicy part is that he can overrun into the Hexwraiths! Taking a minute to calculate my position, I ask myself the following:
- what happens if I reach the Wraith?
- what happens if I don't?
- what happens if I do but fail to roll 4+ on Swiftstride (the distance required to overrun into the Hexwraiths)?
The answer to question 1 is that his Grave Guard can counter-charge me, regardless of overrun distance. I have an Eagle to block him (measuring up, I can also block his Lord from solocharging out). Essentially, this is a win-win situation - there is no risk involved IF the charge is made. Question 2 is a bit more tricky. However I gather that if I do not reach them, I need Naenor pretty much where he is right now to threaten his centre with regards to the Ethereals in my T5. A failed charge won't hurt this and the angle will be good as well. Again, no significant drawback. Question 3 - the Hexwraiths don't bother me due to the 2+ ward and regardless nothing else can charge me - essentially I've killed a Wraith for very little risk.

Taken together, I conclude that this charge can be game-breaking. I roll the dice and make the required roll of 9+! Saerith rear-charges the Vargheists and the rest move accordingly: the Lions take up a very threatening position while the Swords move full speed ahead. An Eagle blocks his Lord + Grave Guard. The idea is to force him to charge it and overrun - perhaps reaching the Swordmasters, perhaps having to face a charge from them. Regardless, Saerith will have their flank and Naenor will be nearby.

Magic is a low 3v3 and my attempt to Shield the Swordmasters is dispelled. Shooting does next to nothing, and we go to combat:
Saerith kills the Vargheists easily, the wrath of Faeria too terrible to behold for the wicked undead. Naenor also slays his opponent with ease and overruns into the Hexwraiths!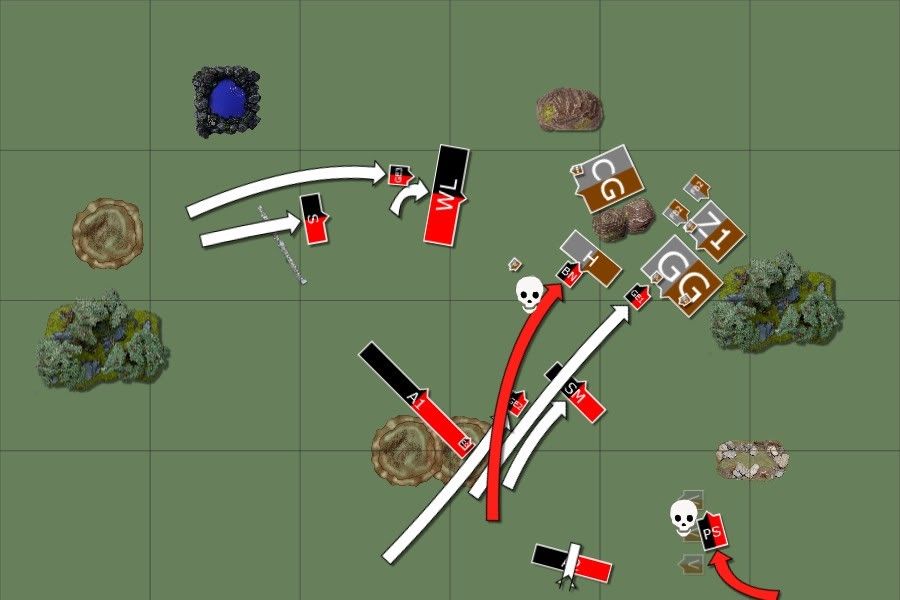 :: Vampire Counts T4 ::

His Wraith charges my Archers (needing 8+), I decide it isn't worth the risk and run away. He redirects into my Eagle, which is 11.5" away from the table edge. I flee this as well but roll box cars and the noble bird is gone (at least it didn't die, huh?).

The interesting part here is that his Ghouls back off, fearing the Lions apparantly, but his Lord + bunker charge (!) into the Eagle, leaving them very, very isolated.

Magic gives us an 8v6 split and he starts with a boosted Vanhels - getting IF! The result is lots of units with re-roll to hit and 1W on all his casters. The rest of the dice are drained by the miscast.

Combat sees his Lord kill the Eagle with ease and they overrun but are too short to reach the Swordmasters! Meanwhile, Naenor perform admirably as he kills enough to crumble the Hexwraiths. This is crucial as he can now charge away to let the Lions through to the Grave Guard! I reform him to face the Zombies with Necromancer behind his Lord.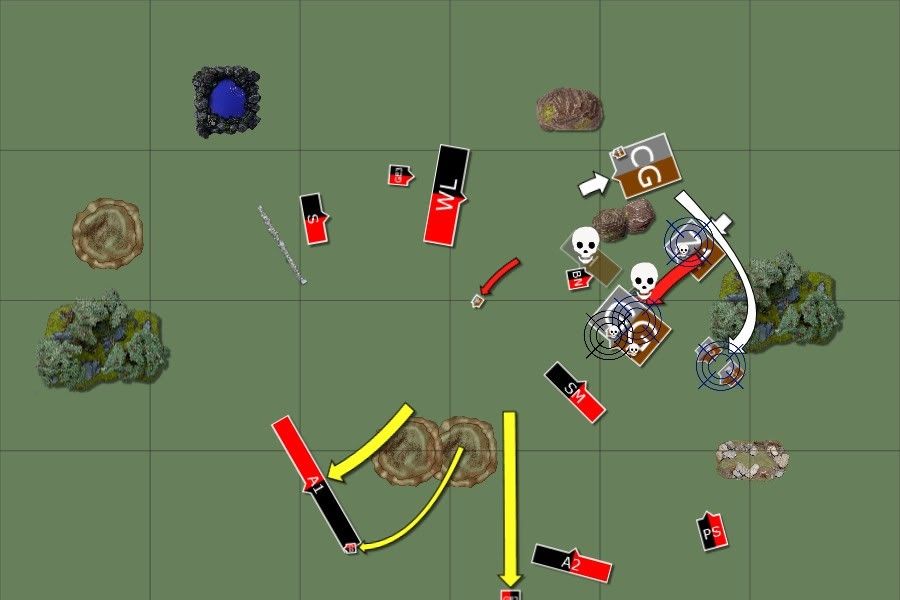 :: High Elves T5 ::

Well, Saerith needs to roll 3+, the Swordmasters are automatically in while the Lions need to roll a 5+. Naenor goes against the Zombies, I move in the Swordmasters and start rolling dice:
- Saerith easily makes it
- The first dice for the Lions come up a '1'... The second spins for what seems like forever but ends up a '4'!

I now have a situation which most High Elf generals would wet their pants at the mere thought of and I intend to make the most of it


The Archers (luckily) rally and we move to magic - again it's low and my attempt at Drain is dispelled.

Combat - I'm glad that my Swordmasters strike at the same time as his Lord as he kills quite a few of them. Regardless, the Lions + Prince + Swords + Faeria(breathing fire of course) reduce the Grave Guard to a mere 4 remaining and kill the Necromancer. When he hits back, he puts 1 hit on Saerith: hitting, wounding on a '6' for a killing blow and I fail my ward save! Luckily, this only awards him 100VP according to ETC rules. His Lord easily crumbles. Naenor kills his Necromancer and the Zombies crumble a bit as well. Crumble tests across the board kill off some chaff and zombies.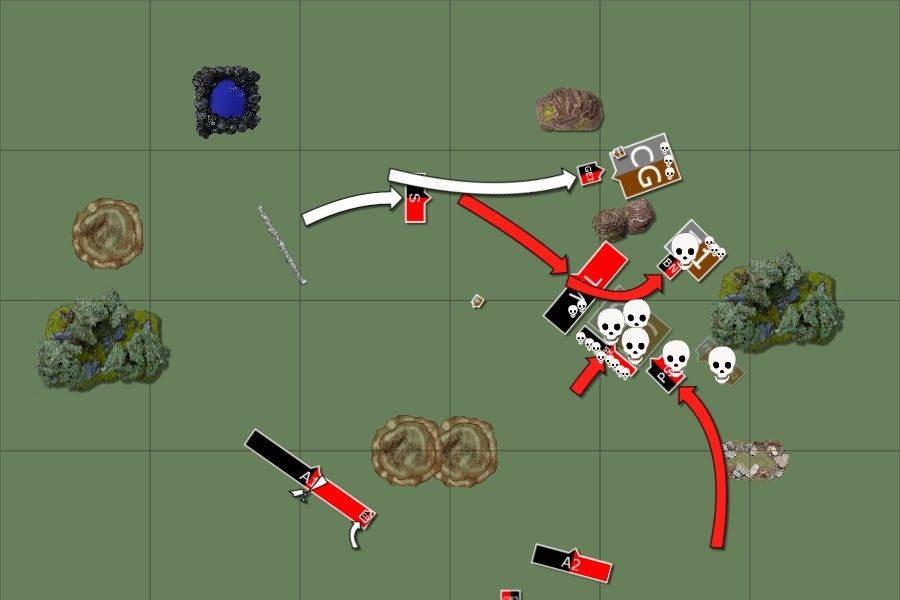 After this, I calculate that there's no need to engage further targets. I kill off his Zombies engaged with Naenor but don't bother with his Ghouls + Wight.

:: Victory Points ::

He's killed 3 Eagles and gets 100 bonus points for Saerith - 250 total. I have wiped out everything save the Ghouls and score 2050 VPs after bonuses have been calculated. Finally, a 20-0 Victory to the High Elves!

:: Evaluation and Conclusion ::

First of all, props to my opponent for being a very good sportsman throughout the entire game! With everything falling apart around him, he was still in a good mood and this ensured that all of my tournament games were very enjoyable. I was lucky to not experience the same as e.g. Brewmaster_D did in his most recent tournament against the infamous Ogre player and this most definitely makes me want to come back to a 2D6 event!

The initial miscast saw my pulse rise to 200 or something like that. I was lucky not to lose the mage, but it meant I had to play my magic way more conservatively throughout the game. I managed to keep his worst magic down, which is the main important thing, given the size of my magic investment. In the magic department, I think he suffered from not having multiple high-priority dispels. My initial devastation of his 30-strong Zombies left Nehek being of no importance. As such, I almost always had only 1 spell which I had to dispel. I think it's risky investing this much in casters without having a reliable way to boost their offensive capabilities (Casket of Souls for TK, Banner of Sorcery for us etc).

Overall, his list suffered from having a bit of everything in my opinion. In particular, the Vargheists didn't thrive in this context and indeed ended up doing nothing. While they might've made the charge on Naenor, I believe the result would largely have been the same, at least for them (losing combat -> rear-charge by Saerith -> gone). With that being said, this game could've turned out very differently to what it did, I was lucky with a number of things that could've gone wrong.

A note on strategy and execution: while I was unable to go full speed ahead in this game, I think I managed to follow through on my original plan: where I could take a risk to gain a lot, I did it without overreaching and praying for insane luck to save me. The risks I took, while calculated, could indeed have gone both ways. As I didn't want to settle for yet another mediocre victory I think this was the only right thing to do and it paid off!

A shoutout to thelordcal for treading this path before me: Dragon + Swiftness Banner White Lions is downright scary! Indeed the +1M was crucial in this last game, giving me those extra inches all the time and finally ensuring that I made the charge - just barely! Also thanks for the angry music tip - see the report headlines in these tournament VC games and compare them to Children of Bodom's Follow the Reaper introduction lyrics for a 'hidden' tribute


My total standing was thus 73-27 in a 5-game tournament. My list continues to avoid losses (the last one - and only one I've had - was against Ogre Kingdoms where he had a points advantage on me), but I was unable to rank up big enough points to get the really solid victories.

The final top 10, battle-points wise, were as follows:
1. Wood Elves (rusty) - 85 BPs
2. Ogre Kingdoms - 83 BPs
3. Dark Elves - 75 BPs
4. High Elves (me) - 73 BPs
5. Chaos Dwarfs - 71 BPs
6. Beastmen (!) - 70 BPs
7. Empire - 67 BPs
8. Daemons of Chaos / Vampire Counts - 66 BPs
10. Beastmen - 62 BPs
There were 46 in total who finished, out of ~55 who'd signed up

In my opinion, a very 'healthy' spread. We saw a lot of different armies and builds at Crusade, and in particular I think these top 10 show that ETC can make it interesting to play just about every army. It's a pity that the top TK player wasn't even in the top 20 though, but I think you'll agree that this spread is fairly uncommon compared to uncomped tournaments.

C&C, as always, very welcome
Now that you have seen all all the games I've played I'm sure it's time for some conclusions with regards to a lot of things - my strengths, weaknesses as a player and what the list could do with/without! I will wait a little while before writing my own thoughts so as not to influence your feedback, and will post them up with along with some pictures from the tournament and a more thorough look at my how opponents performed overall!

Regards,
~Olannon