Aaaaaand we're back.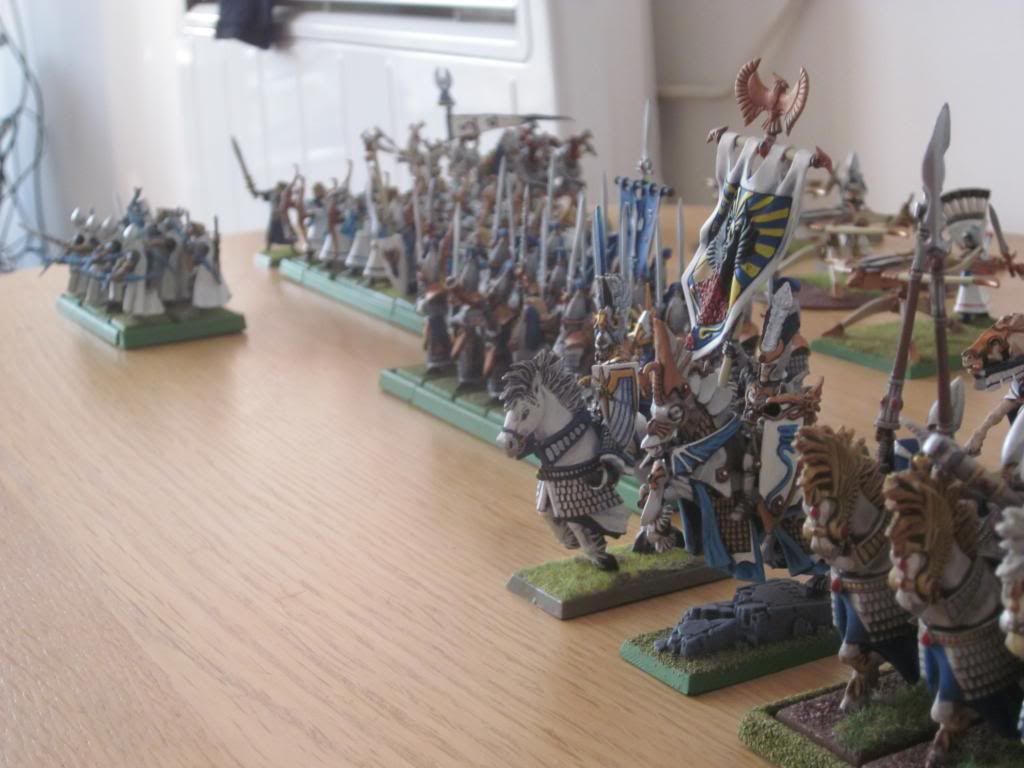 So, I've been away for a while. I mentioned interviews and stuff didn't I? Well, the good news is that I'm going to successfully qualify as a Construction solicitor in September, so it's all been worth it. BOOYAH.
So back to elves. I mentioned some changes too... We'll start off with the core troops, because they really do matter.
Getting the Core Balance Right for Combined-Arms
Introduction
So after a few games I've been learning something about how the new army plays and, in particular, the impact of perhaps the two biggest changes in the list: core silver helms and the new 2-mage High Magic phase. Let's start with the core. To clarify, up to now I have been running the following setup:
13 Silver Helms, Full Command
18 Archers, Musician
5 Helms
There are good strengths to all of these choices, and they're all in line with how we think the new book as made our army better.
"We can fight in 3 ranks!"
So we take units in 3 ranks.
"Silver helms and reavers are core!"
So we take all cavalry core (or something close to it). The immediate (and obvious) consequence of this is a
massive
shift in the make-up of our armies away from infantry- based forces to cavalry+monster smash lists or shooty avoidance lists with some elite infantry to mop up the pieces. I'm not here to say that either kind of army is bad in and of itself, but I also think that neither kind of army is for me. In both cases, the model/wound count of our forces plummets dramatically (slightly cheaper elites doesn't really dent this trend), the net result being that, although we can both avoid combat and shoot more effectively than previously before rolling the dice on a crushing counter-charge (in this sense the BT Skycutter is perhaps the quintessential unit of 8th High Elves), we have significantly fewer defensive units capable of actually holding the ground on which they're deployed. This has had a dramatic effect on how my army, which relies ultimately on overwhelming enemy armies in combat, seems to play, and has caused me some problems which I'd like to fix. Let's start with what's left of my core infantry.
18 Archers as Core Infantry
The 18 archers can all fire and fight in combat in three ranks, both better than they used to and at lower cost. With a musician they're nice and manoeuvreable and, at 18 strong, they are relatively cheap but also good enough in combat to easily trounce the kind of units that tend to make it to a backline (the new riderless flying monsters being the notable exceptions). Their big weakness, however, is that they cannot anchor my line in the way my old unit of 30 spears used to. They are not strong enough (either in terms of damage output or steadfast), to hold and control board space against most units which would encroach on it. This has some unfortunate consequences for the rest of my force because now, if I want a sturdy 'hold the line' unit to defend one flank whilst my knights are off chasing glory on the other, I have either to rely on the white lions, who aren't quite in large enough numbers to perform the role against massed infantry, or else reach for the swordmasters.
This situation tends to see the swordmasters deployed in defensive parts of the board, such as on a refused flank, where my need for defence in numbers is most common. Certainly they act as an amazing deterrent in this position, and an excellent home for High Elf mages chucking out a range of damage spells. However, they can also typically find themselves unable to advance from this position for fear of being surrounded and stalled, even picked apart, by a locally more numerous enemy (by definition a common occurrence with outnumbered elves refusing a flank). By any standards, 6 turns of standing off is a waste of an expensive combat unit. A large core unit does this defensive job, when it needs doing, much more efficiently.
By contrast, if the swords are able to advance in the company of my knights in a classic step formation (eg knights far left flank, then swords to the right (covering them), then archers/white lions (covering the swords) and so on), the swords are far less likely to find themselves facing an awkward choice between staying stranded in inactivity, or risking a lone assault against a large portion of the enemy line. With the knights attacking on one side and infantry allies covering the other. the swords are much more likely to be in a position to threaten board space (and therefore close it off to enemy movement), before engaging in overwhelming force. With no sturdy flank anchor, however, this tactic becomes much more difficult to pull off. To properly defend your side of the board you often find yourself separating your knights and elites, and losing the mutual support offered by one to the other.
Why my Infantry Matters (2)
As per the above, my core troops need to work in such a way as to free up my swordmasters for more aggressive duties. Can our cavalry core units step into this defensive gap? Honestly, as my latest posts have argued, I don't think they can. Silver helms are not cheap enough to be fielded in massive numbers, and are only basic elves underneath all the armour: as previously discussed, they don't kill very much if they don't charge. Reavers are cheaper than they were, but they're no more powerful than they used to be in the last book, and their role remains exactly the same: they can kill war machines, ping a wound off of light units or unarmoured monsters, force failed charges, follow up charges against fleeing units or charge down scouts (at a push – this is one reason I prefer 5 helms: they can take a stand and shoot from units like shades, chameleons and so on). Being able to do all this makes them incredibly flexible, but for holding ground their use is also, I think, limited.
Firstly, the problem with all these skills is that they require the reavers to move out into the board, either to kill a cannon (etc) or to charge-block an enemy unit. In the first kind of instance, they are instantly written off as a unit which can defend your flank, simply because they're probably in the wrong place. And in the second, there is inherent risk. Being close to the enemy forces exposes your fragile cavalry unit to a greater variety of weapons (spells, missiles, charges) which can quickly take them off the board. Against lizardmen, for example, moving a unit of 5 reavers out makes them very vulnerable to skink darts. Fleeing from charges, meanwhile, doesn't always go your way: you have to rely on a risky dice-roll to pull it off. If it goes wrong, the enemy unit leaps forward and you lose your reavers. In the end, if you take light cavalry, there is no actual threat coming from your Core troops which might dissuade enemy units from trying to march right into your teeth. If they do so anyway, only core infantry will be able to stand and hold them in place.
This is an important option for a Cavalry Prince bus list. Why? Because, although you can spend points on slowing enemy combat units down with your fast cavalry (ultimately by sacrificing them), if you want the points for that unit, eventually you're going to need to kill it. What is your army's most effective method of doing this? For me, it's the helm bus and swordmasters. So, I need to hem enemy units in, so that the knights and swords can get into combat with as many of them as possible (with overruns and successive charges), before the end of my Turn 6. Conversely, if I allow the enemy to march right through my refused flank, they travel further and make it harder for my best units to catch them in the late game. Keep them bunched up with their fellows, however, and I have a much better chance of getting the elites into them by turn 6 and taking the points.
As previously discussed, of our core troops only the infantry can hold ground in enough strength to hem in enemy units in this way. And only a core infantry unit can apply enough ranks to break large units in conjunction with the fighting elites. Against weaker opponents, meanwhile, using the 5 helms, chariot or white lions can likewise work to break an enemy unit without my having to rely upon direct aid from the Bus or Swords. Now that helms are in Core, I can't afford a large block of spears without punishing my shooting phase. So, a large block of archers is the next best thing. 18 won't cut it at 2500 points.
Problems with the Big Bus
Of course, I can't have all these silver helms and a large unit of archers. So the question now is '[/i]which is best[/i]'. Again, in and of itself, the bigger helm bus (up to 13 Full Command from 8 with a musician), is a no-brainer choice. 3 ranks of knights all get to attack and get to smash steadfast against units the old helm bus might bounce off. The extra knights cover the characters even better from war machines and allow me to take a High Helm to accept challenges without worrying about the loss of a rank and file model for the purposes of
Look Out Sir!
rolls. However, including the new standard bearer as well (my old bus had only a musician), the extra expenditure on this unit has been massive: from 190 points in the old list to 329 in the new draft. So far, we've all been saying
"Doesn't matter - It's a core choice!
but I'm starting to think it does matter. I'm taking 139 points out of core infantry and putting it into a unit that was already my army's primary threat. As a consequence, I may have made that threat even more potent, but I have significantly weakened my army's stand-and-fight defensive capabilities, as explained above. If that results in a tendency to deploy my swordmasters in a defensive position as compensation, losing their contribution to the main attack (along with the option of throwing the old spears in, of course), you have to say that taking all those extra helms wasn't worth the trouble.
One other problem for the Big Bus is that you become tempted to use the helms themselves as a separate unit. Especially against more MMU lists (or perhaps chariot lists/lists with multiple monsters), you will often feel compelled to run your characters solo rather than drag this great monolith around and, by focussing all these points in one place, leave other parts of your army exposed to units they can't
quite
handle by themselves (a problem exacerbated where you don't have a large core block). The thing is, having the extra 5 helms in the bus does not make them a line of battle unit. They have all the weaknesses of other Str 3 cavalry, and can get stuck easily in unwinnable combats or else expose themselves to disastrous long charges (which they can't stand up to without the characters). It's awfully difficult setting up a charge with cavalry that can't take it back because, eventually, the dice turn against you and you either fail your charge or your opponent gets luck and rolls a 10 to get his infantry in first. 329 points is very expensive for a unit which can't defend itself (or at least hold its ground) in such circumstances, and it's surprising how cheap enemy units can be while still posing this kind of threat (would you risk a charge from 15 saurus warriors with your 13 helms? I wouldn't).
So, if you're separating the helm bus from the characters on a regular basis because to do otherwise would put too many points in the one place, it's maybe a sign that you want to shift some of those points elsewhere. Ironically, your characters and helms may both end up more powerful if you have an army which is strong enough to be able to
afford
for them to go together. Less, in other words, could very well be more.
Switching up the Core
To me the obvious solution to these problems, in the absence of spearelves or the desire to spend more than the minimum on my core troops, is to increase the size of the archers at the expense of the Big Bus. Specifically, to work with the following setup:
24 Archers, Musician, Standard – 260
10 Silver Helms, Musician, Standard – 250
5 Silver Helms
The helms are still larger than they used to be, so I get some defensive benefit, at least, from their move to core and get to keep the +1 from the standard (handy in conjunction with BSB re-rolls). Now, however, I have an archer unit which can not only shoot but also tackle enemy core in close combat. These are not fights I'd necessarily want to seek out, but this is a unit which you can feel much more comfortable using to defend a portion of the field. Against particular opponents, you also have a unit which can bring a genuinely large number of ranks into the fight. Throw a ward-buffing level 2 mage in there, and you have 5 well-defended ranks to hit something in conjunction with your knights and/or swords and break enemy steadfast. With Walk Between Worlds now in play, this kind of switch from, defensive position to offensive, is an option not possible in our last book, making (in my mind), archers and seaguard better multi-tasking units than they used to be. Alternatively, you can deploy this unit on the defensive flank, in which case the counter-attack MSU elements of my list (chariot, lions, 5 helms or a combination of all three), now have a steadfast block to revolve around. Especially with a little magic and MSU support, this is a core unit which has significant ranged power
and
, crucially, the ability to hold ground. If this frees up my swords for pure attacking duty, then moving these 70 points over has, potentially, very large consequences indeed.
List Edit - Core Archers, 3 Repeaters, No Flag
Prince – Giant Blade, Dragon Helm, Dawnstone, Potion of Foolhardiness, Heavy Armour, Shield, Barded Steed – 276
Archmage – Level 4, High Magic, Book of Hoeth, Talisman of Endurance, Ironcurse Icon – 310 
BSB – Sword of Might, Enchanted Shield, Golden Crown of Atrazar, Other Trickster's Shard, Dragon Armour, Barded Steed – 170
Mage – Level 2, High Magic, Dispel Scroll, Ring of Khaine's Fury – 170 
24 Archers – Musician, Standard – 260
10 Silver Helms – Musician, Standard, Shields – 250
5 Silver Helms – Shields – 115 
20 Swordmasters – Bladelord, Musician – 280
12 White Lions – Musician, Standard, Gleaming Pennant – 181
1 Chariot – 70
8 Sisters – 112
3 Repeater Bolt Throwers – 210
1 Great Eagle – 50
1 Great Eagle – 50 
2498 points, 11 deployment drops.
So... Nyeave and Tetengo, take a bow. I've dropped the Banner of the World Dragon and replaced it with a third repeater bolt thrower. In part, this is because I think SpellArcher is right: the flag is absolutely brilliant against some stuff. Lots of stuff, but it's true that an extra repeater bolt thrower would be useful against
everything
, so I'm going to live life without the flag for a bit and enjoy the extra firepower and board control. What helps tip the balance is my choice of High Magic on the archmage: I'm getting good ward saves on the swords anyway, so I feel more comfortable living without that extra level of save delivered by the banner. I've got a head start against all missiles with the swords' parry save, the archmage's Ironcurse Icon helps against war machines, and my excellent magic defence (Book of Hoeth, Scroll), will help against the spells. Would I surrender a rank of swordmasters to get the flag back? No I wouldn't.
I've also reduced the sisters slightly. A single unit, although obviously giving fewer targeting options, is robust enough to work as more all-purpose light infantry, especially with the stand-and-shoot, while two units of 5 was really only about the bows. With the spare points, I've added two troopers and a musician to the white lions, so they can dish more damage, take more punishment without surrendering points and, importantly, reform into useful formations depending upon the opposition they face. As it stands, their base formation will be 4x3 - the maximum number of attacks you can get into a single monster base. All in all, the list feels more balanced, sturdy and less fragmented than its predecessor, with significantly better ranged potential coming from the extra repeater. Happy days.
Thanks for the great posts in my absence, everyone. As of this weekend I am on HOLIDAY so, after a massive 10k game at Warhammer World (pics will follow...), I'll get my replies rocking. Lots of good points happening.
Cheers all,
S