Those would be Mantic Hammerers, pretty awful models but they get the job done
We decided to do a pitched battle for a change, at 2400 points per side.
Skaven list:
Queek Headtaker
Grey Seer, Earthing Rod
BSB, Storm Banner
Assassin, Ironcurse Icon, Tail Weapon
Warlock, Level 2, Warp-energy Condenser
Warlock, Doomrocket
30 Queek's Stormvermin, command, Dwarfhide Banner + Warpfire Thrower
29 Clanrats, spears, shields, command + Poisoned Wind Mortar
30 Slaves
29 Slaves
2x3 Jezzails, champion
2x6 Gutter Runners, poison, slings
Hellpit Abomination
Warp Lightning Cannon
Dwarfs:
Runelord with Rune of Balance, Rune of Spellbreaking
BSB with Rune of Grungni
25ish Warriors, command
10 Quarellers
13 Thunderers
20 Slayers, command
21 Hammerers, command
10 Irondrakes, command, Trollhammer Torpedo
2 Cannons (runed up, one had flaming shots)
1 Catapult
2 Gyrocopters
Deployment: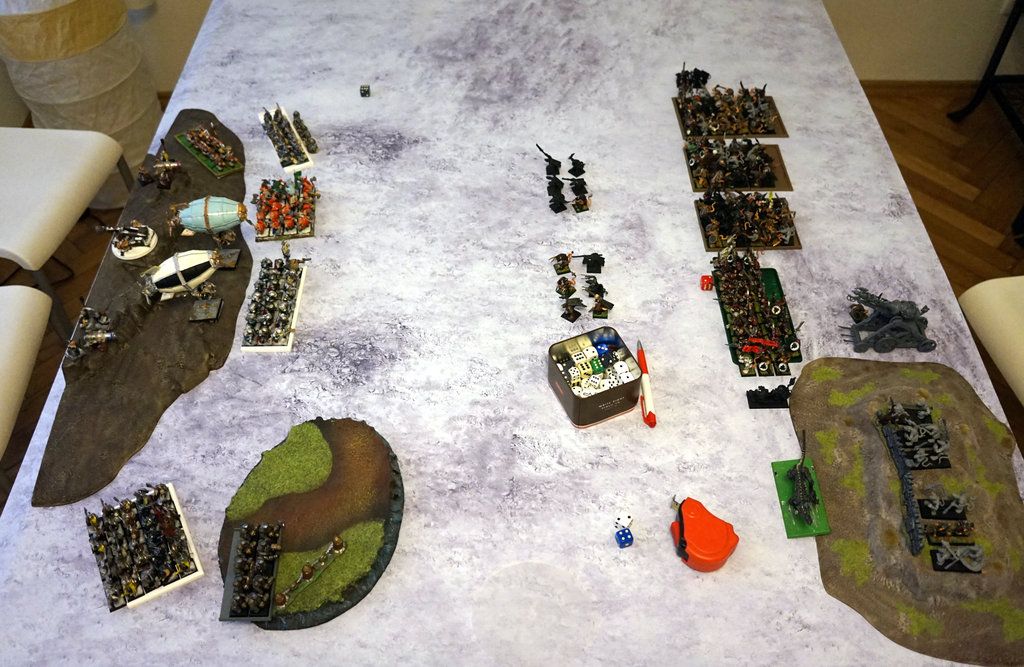 I got Warplightning, Warpgale, Deathfrenzy and 13th on my Seer, Warplightning and Cracks Call on the Warlock
The Runelord had Anvil bound spells per house rules.
The plan was to advance in an oblique fashion, with my left flank leading the assault. The shooters would hopefully eliminate the Gyrocopters and Artillery, while the Seer would try and weaken tough infantry units with his Dreaded 13th. It was the first time I took Queek's Stormvermin I think - they look good on paper with WS5 and S4(5 with their halberds), they also got Hatred thanks to their banner. They also have a big bulls-eye on them and the Ironcurse won't help them much against a Catapult. Storm Banner protect...
The Dwarfs got to go first.