Seredain wrote:
Except that lions cloaks only offer a 3+ save against non-magical shooting. It's 5+ in cc from the heavy armour.

This is what I meant, if they were 3+ in combat, i'd say game over Swordmasters hahaha. Anyways overtime I might change my mind about them, but right now on the board I don't see as much of an issue as others seem to have. To each their own I suppose.
High Elves vs. Beastmen
Well since moving down to Charlottesville, VA, it's been a month since I got to play against any of my gaming league back in the northern part of the State, but I was finally able to get a game in with an old friend. I also had no qualms about using "counts as" models either, so I was able to use the list that I'll be hammering on in the weeks ahead.
Without further adieu, here is my list:
Quote:
Archmage, lvl 4, High Magic, Talisman of Endurance, book of Hoeth, Ironcurse Icon @ 310.0 Pts
Noble, BSB, Heavy Armor, Great Weapon, Shield, Barded Steed, Star Lance, Dragonhelm, Golden Crown @ 170.0 Pts
Mage, lvl 2, BEASTS like a boss, Ring of Fury, Dispel scroll @ 170.0 Pts
20 Archers, Standard, Musician @ 220.0 Pts
9 Silver Helms, Full Command, Shields @ 237.0 Pts
5 Ellyrian Reavers @ 90.0 Pts
5 Ellyrian Reavers, Musician @ 90.0 Pts
23 Swordmasters of Hoeth, Full Command, BotWD @ 379.0 Pts
12 White Lions of Chrace, Standard, Musician, gleaming pendant @ 181.0 Pts
3 Tiranoc Chariot
@ 210.0 Pts
Lothern Skycutter @ 95.0 Pts
6 Shadow Warriors @ 84.0 Pts
Great Eagle @ 50.0 Pts
Eagle Claw Bolt Thrower @ 70.0 Pts
Eagle Claw Bolt Thrower @ 70.0 Pts
Eagle Claw Bolt Thrower @ 70.0 Pts
Beastmen list
Quote:
Doombull...Sword of Striking i'm sure of, other stuff i'm not sure.
Gorebull, BSB. Magic items
Brayshaman, lvl 2, Dispel scroll

10 Ungor raiders
10 Ungor raiders
10 Ungor raiders
21 Ungors, Full Command
19 Gors, Full Command
2 Tuskgor Chariots
5 Harpies

5 Minotaurs, Champion, Musician, Standard Bearer
6 Razorgors

Spawn
Cygor
I need to really start taking down magic items after the game. Sorry for the lack of more detail on the list!
First Thoughts
So my first thought when looking at his list is that it's not a typical build i'm used to seeing. I'm not a huge fan of the small unit of ungors or gors, and while I can see the utility in them as being like a shaman bunker, in this game he deployed the Gorebull inside of the Ungors. I can see that in a large horde of ungors possibly, but not in such a small unit.
When we started the game, I did not remember the statline on the Pumbas (Razorgor), and had to ask multiple times about them. As far as the minotaurs, I've seen them played and used many times, and while they hit like a truck in combat, if you get the jump on them, or avoid them while peppering them down with magic and shooting, it shouldn't be a problem. The biggest problem from the start for me wasn't his the Beastmen list, but I absolutely hated the terrain. Very combat and lots of it, giving me him soft cover and plenty of DT for me. However I was confident with my list and that I had the tools to deal with his list.
Deployment
I'll admit it. Not the prettiest deployment. I was confident on that left flank, however I felt like the bolt throwers were wasted where they were, but it was difficult to help that with all the terrain.
Beasts Turn 1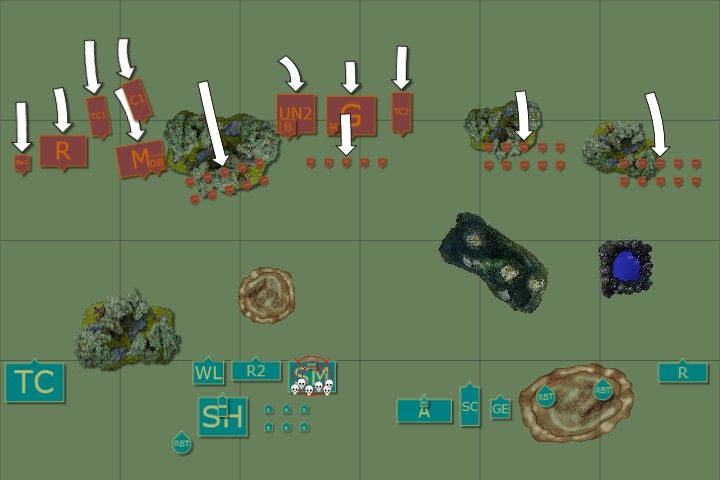 So it was clear that my deployment on the left flank made him uncomfortable, as he moved up cautiously. Magic saw nothing. Shooting saw a large runic boulder thrown at the Swordmasters, who despite waving their banner and shouting, "YOU LOOK MAGICAL." had 6 of their numbers fall. 1 Reaver on the right fell.
HE Turn 1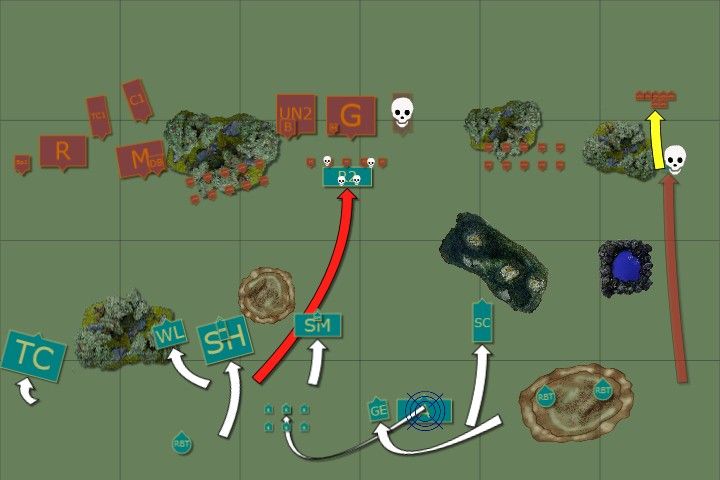 With the harpies sitting in front of his two blocks, and not wanting his chaff to start messing our little delicate dance on the left, I decided to charge the harpies. I thought he would flee, but he held. Right Reavers charged ungor unit. Shooting saw me target the right chariot with both bolt throwers on the right and tore it off the board. Left RBT took an RBT off the minos. Fiercy Convocation went off, but was scrolled. Pumbas got curse of arnheim, Hand of Glory went off on Archers, and I also walked on the skycutter, more for the ward than any movement. Reavers couldn't break the harpies (woot, holding the blocks up), and the reavers on the right lost 2 of their number in the combat while downing 3, broke down the ungor unit...and then the remaining 2 died to DT tests.
Beasts Turn 2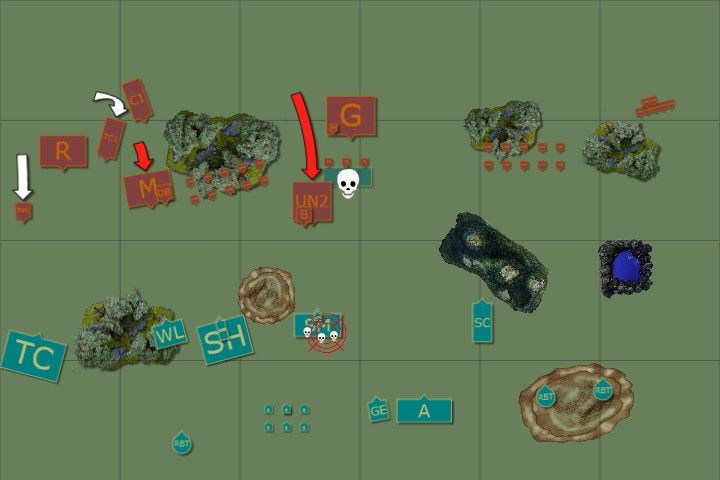 BSB and ungors charged the reavers in combat with the harpies. Minos attempted a charge on the SH because he figured if he didn't, i'd be doing it. I held, and he failed the charge. Cygor kill 3 SM with another boulder. Raiders do a wound to the skycutter, other raider unit downs one SH (stupid 1s...). In combat, reavers get mowed down, BSB and ungors overrun ahead, right into the path of the SM unit.
HE Turn 2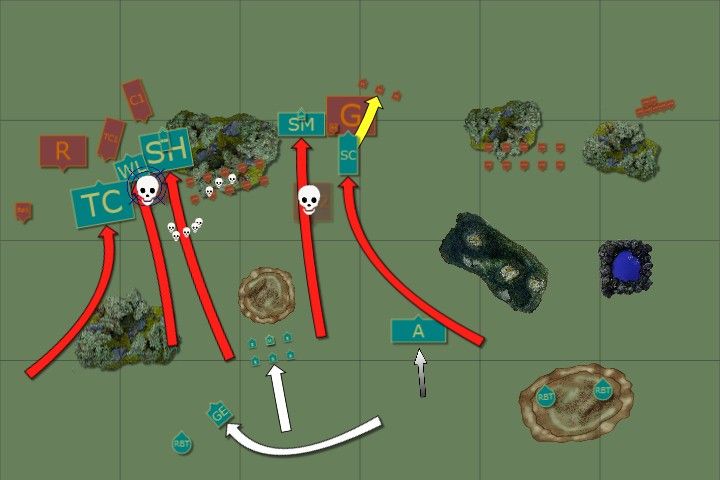 Fun turn. SM and Skycutter charged into BSB and ungor unit. SH and white lions into Mino front, Chariot unit into their flank. Got Walk off on Archers for the ward save, Curse of Arnheim went off on Minos, and I Ring of Furied 3 (lowsy roll) raiders. In combat, Skycutter did 6 wounds in total, SM unit did 4 (rolled poorly on the hit rolls). BSB killed the champion, and ungors killed 1 SM. His unit broke and I run them down. Skycutter redirected into the other block, SM unit just barely missed the corner of the other block. Mega combat! Chariots did a combined total of 8 wounds, WL tore it up with 7 wounds, SH/BSB did a total of 3 wounds. Doombull strikes back and kills 5. I win combat, he breaks and I run him down. WL barely miss the tuskgor chariot on the overrun, SH are 2" short of running into the Cygor.
Something weird happened here too that i'm not quite sure about. Here, the chariots rolled 10 for overrun, and the WLs roll a 4", since the chariots are on that flank, can they pivot on the center and move their 10" or are they stopped because of the WL? Can't believe i'm asking this, but as I said, i'm a bit out of practice, and took my friends word for it.
Skycutter was killed off.
Beasts Turn 3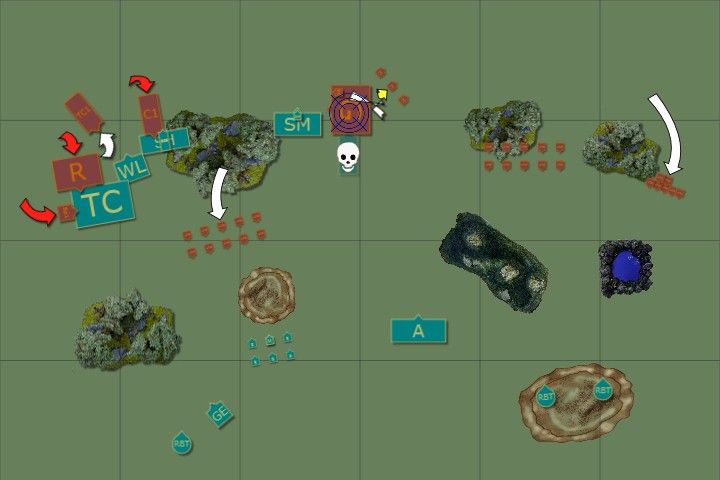 Pumbas and Spawn into Tiranoc Chariots. Cygor also into chariot. Magic saw wildform squeek through onto the Gor unit. Nothing in shooting. In combat, Spawn and Pumbas take the chariots down to 1 model, I roll double 1's like a Tiranoc BOSS. The Gors take out the Skycutter, reform to face the Swordmasters. Cygor kills 2 SH, I do 1 wound to him, I hold.
HE Turn 3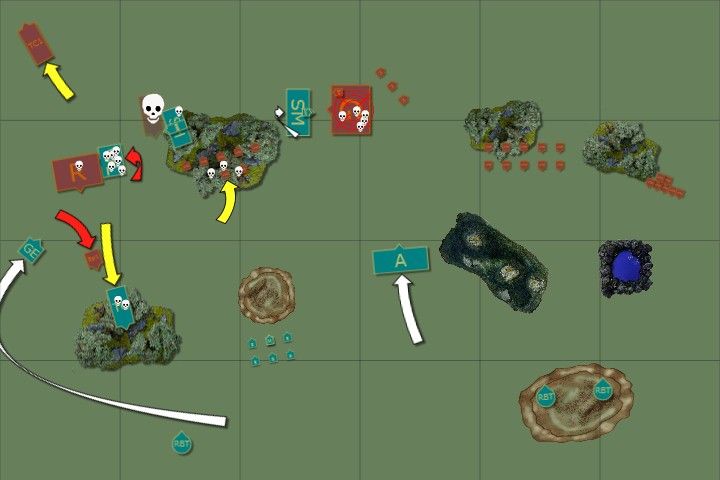 WL charge the Gor chariot, who flees. Now, here's where I clearly do not get the statline of the Pumbas. I redirect into the Pumbas, thinking "Heh, flanking this unit is going to be so sweet." It was not connecting that they have like 4 attacks each, and are S and T5. Not good. Anyways in magic I manage to fiery conv the Gor unit, killing 5 (he's T 5 since wildform is still on). HoG goes off on the SH, giving then m+1, making the Cygor hit them on 5+, and Walk on the Archers, moving them up into close range for shooting the Gors. In shooting, SW kill off 3 raiders, causing a panic test and they run away. RBTs kill off 3 other raiders, causing panic. Some of this may not be displayed. In combat, WL lose 8 of their number, and only doing 3 wounds in return. The chariot breaks, and gets away from the spawn. The WL hold (thankfully). Cygor is killed off.
Beast Turn 4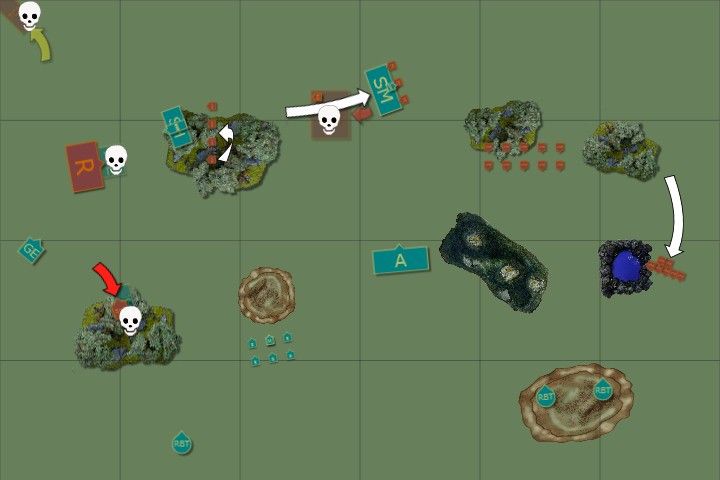 Gors charge into the Swordmasters. Spawn shuffles at the Tiranoc Chariot, and since it's random movement I can't flee further and get cut down. Nothing happens in magic or shooting. In combat, With my SW's having a 4+ ward from magic, and the Gors not having wildform, 9 Gors die, and take no casualties in return. They break and I overrun into Harpies. WLs are slaughtered.
HE Turn 4
No charges. In movement, I swift reform and move around the arc of the Pumbas. Get some spells off, shoot the Spawn to death. Harpies die in combat.
Beast Turn 5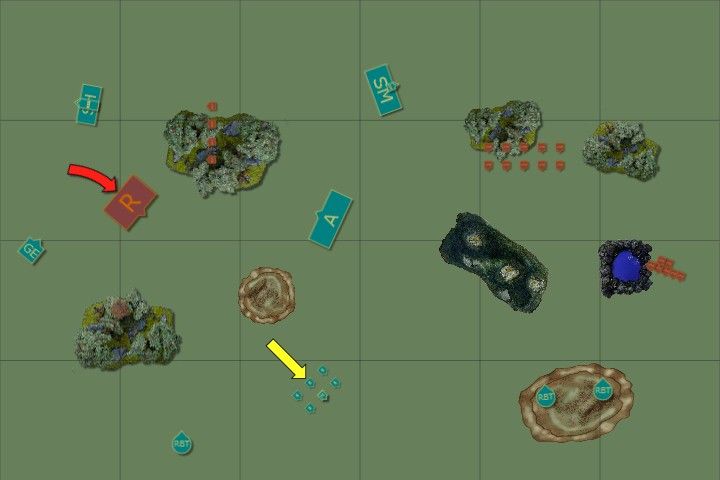 Game was dying down, we both thought it was turn 6. He charged pumbas at the Shadow Warriors, and I fled.
HE Turn 5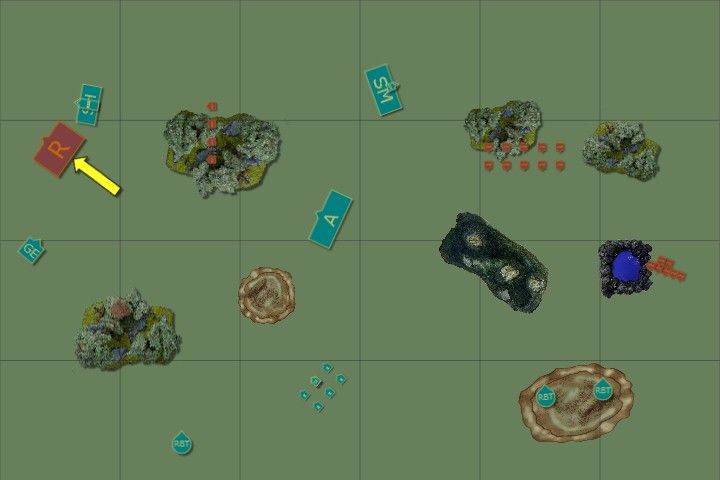 Archers managed to make the Pumbas panic and run away.
The End
We ended the game there, thinking it was turn 6. Game thoughts will come later, phew!