.::. Battle Report - 2400 vs The Empire (ETC comp) .::.
My list:
Prince on Barded Steed, Heavy Armour, Enchanted Shield, Giant Blade, Dawnstone = 263
Loremaster, Book of Hoeth, Talisman of Preservation = 330
Noble BSB on Barded Steed, Star Lance, Dragonhelm, Golden Crown of Atrazar, Heavy Armour = 164
Mage, scroll = 110
Characters = 867
5 Reavers, bows & musician = 95
5 Reavers, bows & musician = 95
8 Silver Helms, FC = 214
19 Archers, musician = 200
Core = 604
20 White Lions, FC, BOTWD = 340
20 PG, FC, Razor Standard = 375
Special = 715
3 RBT = 210
Rare = 210
Army Total = 2396
His list:
Arch Lector on barded steed, 1+, 4++, stubborn
BSB on Pegasus, 1+ re-rollable, 2++ fire, lance
Captasus, 2+, 2++ fire, magic weapon thingy, charmed shield
L4 Heavens, Scepter of Stability
L1 Heavens, Scroll
11 IC Knights, FC
20+10+10 Archers
6 Demis, muso
4 Demis, muso
Stank
Great Cannon
// Pre-battle thoughts and deployment //
A very compact Empire army with LOADS of tough things to wade through. I knew I would have to engage one piece at a time, so I tried for a refused flank, sort of similar to last game, with the cavalry wheeling deep, Lions center and PG on the refused end. I managed this very well and my opponent even had the STank + small Demis on the far side of the table. Now it was just a matter of silencing the cannon, using the Reavers properly and getting the combo-charges off. Magic saw him roll Iceshard, Convergence, Comet and Thunderbolt. Both L1s chose Iceshard.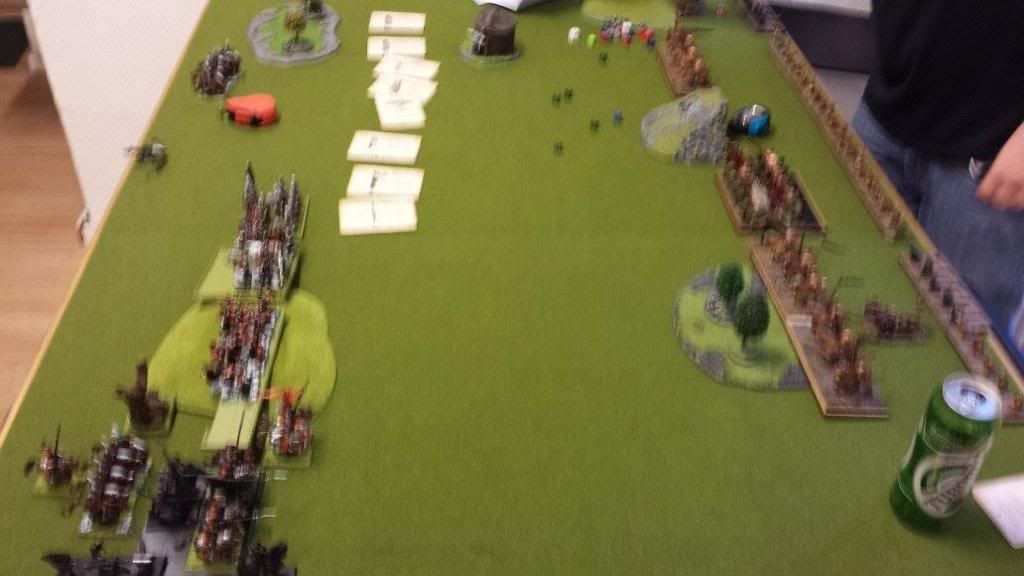 Reavers vanguarded defensively.
He got first turn and off we went!
// EMP T1 //
Center advanced, he forgot (!) to move the small Demis and the STank misfired, unable to move more than 1D6. Magic: he didn`t focus on the offensive stuff so I contained it. Shooting: Cannon kills an RBT.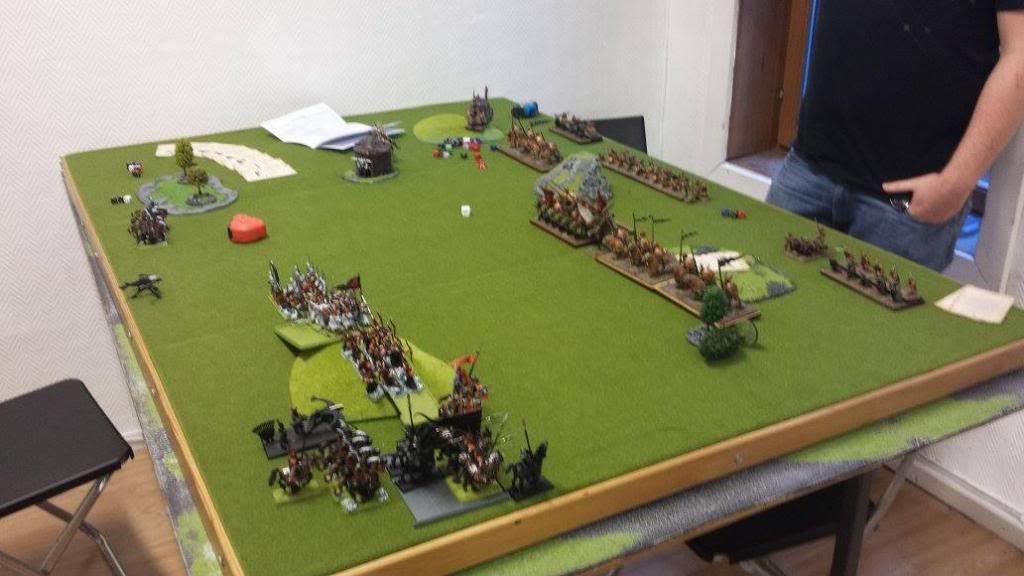 // HE T1 //
His aggressive advance with the unsupported center meant I could get right down to business: the Cavalry flanked up (18" march is pretty good!), the Lions moved up and the Reavers blocked the very wide charge of the Demis. The problem with forcing the issue this early is that you kind of have to get the scroll out. I tried a boosted Searing Doom to this end but fell just 1 short and the magic phase was over.
Shooting saw me ping off 1 wound on his Cannon while the RBTs did nothing.
// EMP T2 //
Demis charge blocking Reavers. To my surprise, the IC bus charges the WLs!! This is a pretty terrible move because given the distance, this doesn`t allow his Demis to reform properly, meaning they`ll be in a very poor position against my cavalry. Furthermore, the bus unsupported against Lions is suicide. Magic I believe drew my scroll and he got off Comet. Fairly early on, but chewing through these Knights quickly and with little loss in return was crucial to me. The Demis failed their free reform test (the distance between the Cannon, who had to stay 1" clear off the building, and the impassable piece of terrain wasn`t big enough for 4-wide) and thus didn`t move much this time either. His cannon misfired and blew itself up.
Combat saw the Reavers taken care of easily enough, however the Lions opened up 7 canned men to win the combat. He passed his stubborn test and it was my T2. Looking good!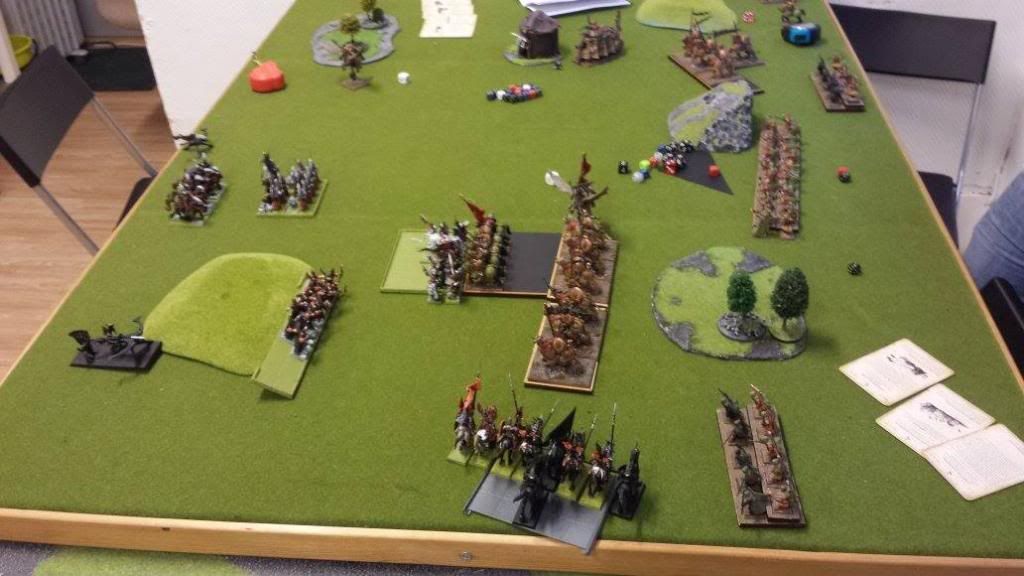 // HE T2 //
Silver Helms charge the Demis. I need to roll 1 higher than him to catch them (and kill all + BSB), however I fall short and he gets away. The PG charge the central combat, needing 6+, but fall short as well.
Magic sees me get off Wyssan`s on the Lions. Comet comes down and kills a few Archers, nothing else in range. Shooting: his Western Captasus is shot down in a splendid display from the Reavers, who sneak 2 wounds past him and he rolls snake eyes for armour saves! An RBT finishes the job while another kills a couple of Archers. Who said Reavers don`t need bows, eh? Furthermore, the Captasus had charmed shield so their salvo would`ve helped my RBT single-bolt greatly even if I hadn`t gotten so lucky.
Combat sees me wipe out IC Knights and the Arch Lector is left alone. He holds on stubborn.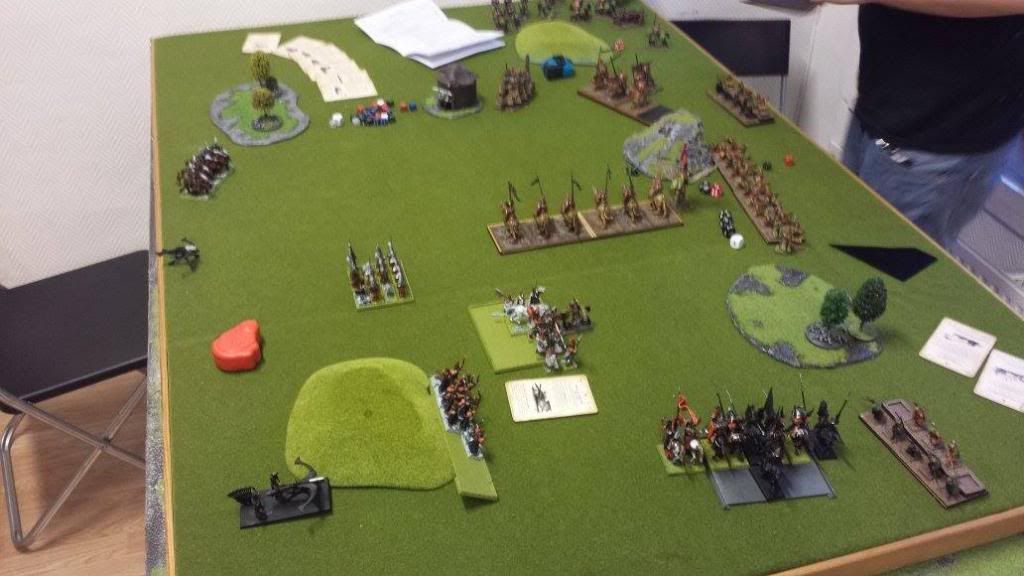 // EMP T3 //
Demis rally, STank and small Demis move up. Archers fail march-test but still manage to just block the SHelms` charge on his Demis. Magic sees him place another Comet (small black marker next to Lions). Shooting however costs him dearly: the Archers open up on the Silver Helms and kill 1 - enough for me to sneak past them and charge the Demigryphs (I was lucky to fail my 1 armour save).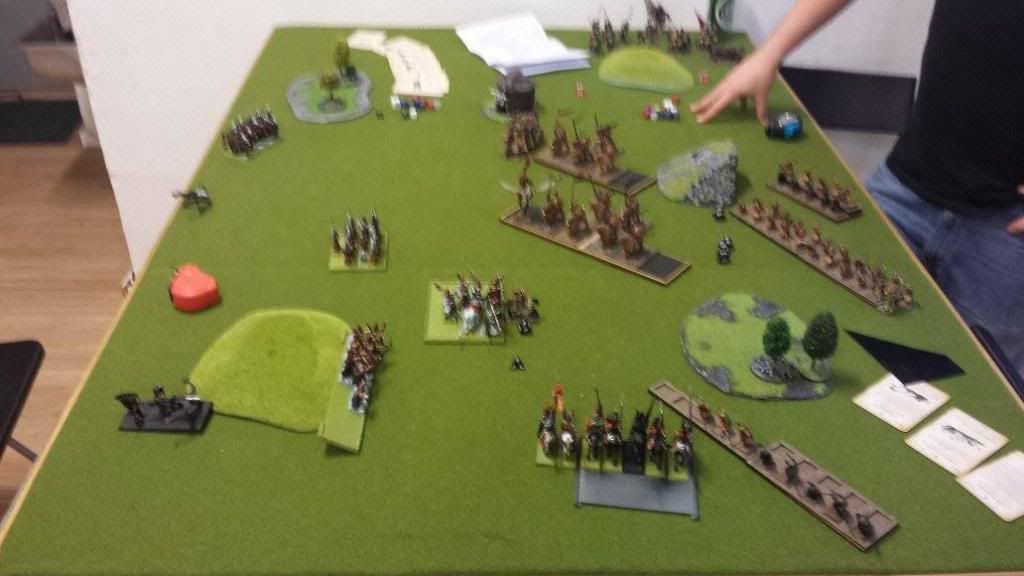 // HE T3 //
PG + SH charge big demis. He holds, both make it. Reavers block STank. Magic sees the scroll finally come out and I get no buffs off (he was lucky with two dispels as well, normally I can sneak one spell through the scroll-defense). Shooting sees an RBT go above and beyond the call of duty as it kills a Demigryph with a single bolt AND skewers the man behind him as well! Way to go!
In combat I inflict quite a few casualties and in total he loses by 5. He`s testing on 4- but with Hold the Line! He passes it. Oh, and through the combat phases since I killed the IC bus I haven`t been able to wound the Arch Lector past his 1+/4++ more than once, despite sending him like 12 S6 attacks every phase.
// EMP T4 //
STank into Reavers. Magic sees my scroll-less defense needing to let one Iceshard through (on the Prince), but nothing else fortunately. Combat is closer this time, I still win but without the Star Lance it`s not that much and he holds easily. Lions still can`t hurt the Arch Lector - he was wounded 7 times but saved them all. Reavers die.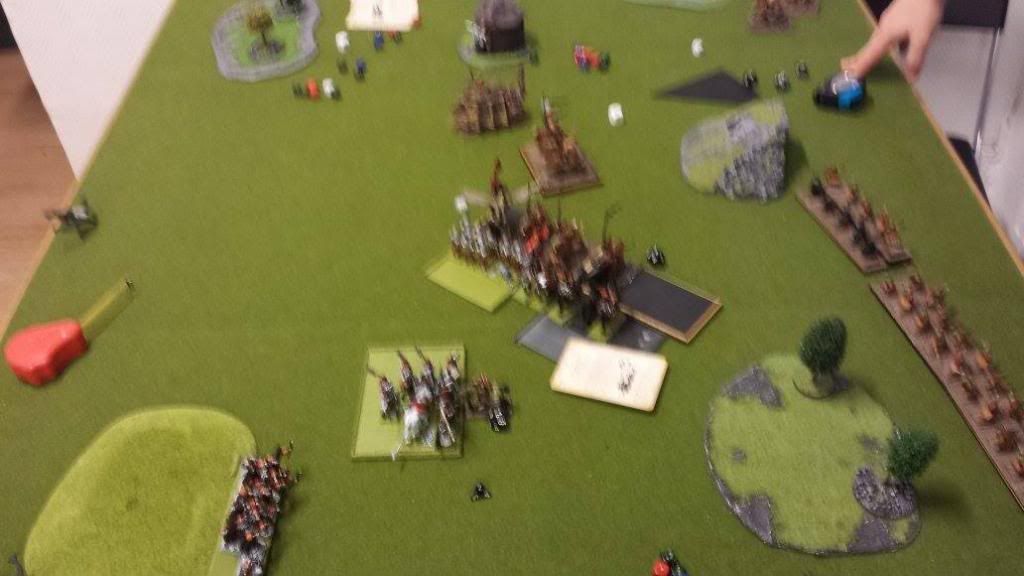 // HE T4 //
Not much movement to do, so straight to magic: Wyssan`s on the cavalry, Iceshard on the Demis. Rest dispelled. The problem with this combat was that quite a few of my PG were forced to attack the 1+ re-rollable captasus, something they`re really not capable of dealing any damage to. Because of this, despite their 4++, they were steadily taking stomp-based casualties. The now-S8 Prince failed quite hard as well, as I rolled three 1`s for to wound. The Iceshard kept me safe as well however and neither side managed much. I think I won, but he held.
// EMP T5 //
STank charges the PG. Magic is contained. In combat we resolve the Arch Lector first, who dies. I reform Lions to face the central combat. The STank kills the PG and I lose, despite the S8 Prince hacking away at Demis. I hold, barely, on a -5 or so. He combat reforms away from my Lions`arc. STank is unengaged as no PG are left.
// HE T5 //
Lions swift reform and move towards Archers. Magic sees Spirit Leech kill his Wizard Lord. I then get off Iceshard on his Demis. Shooting sees the MVP-RBT kill off (!!!) the last Demigryph from the 4-man unit. Man I gotta get my RBTs to start performing like this one! Combat sees the Prince finally kill off the last Demi, leaving the BSB alone who holds, yet again.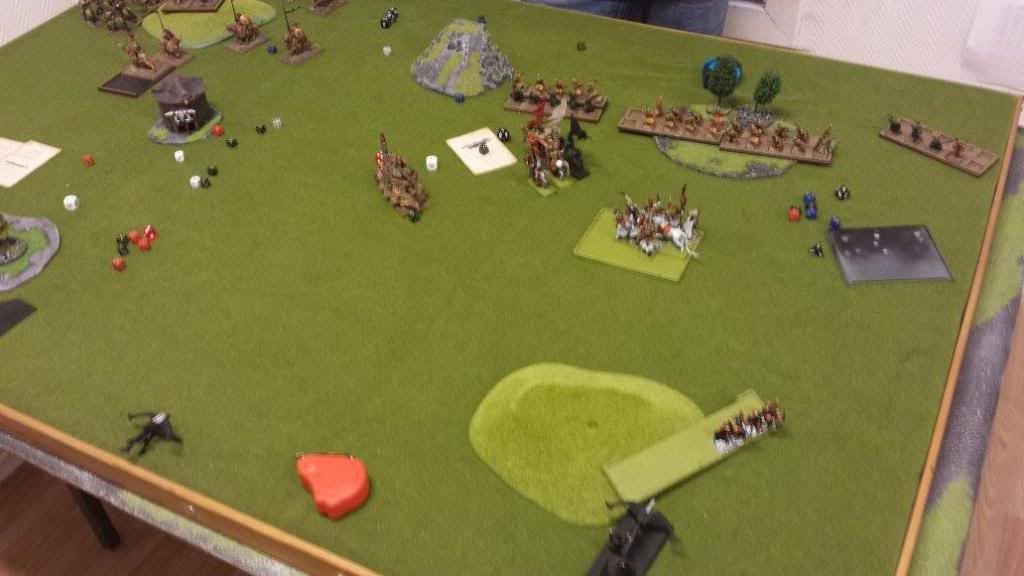 // EMP T6 //
STank flanks me in the central combat. Magic is contained with only 1 spell available. STank deals 9 impact hits: 3 on each dude. The Silver Helm dies, Crown keeps BSB safe (he loses 1W), Prince passes all saves. I inflict a wound on the BSB and barely pass my break test.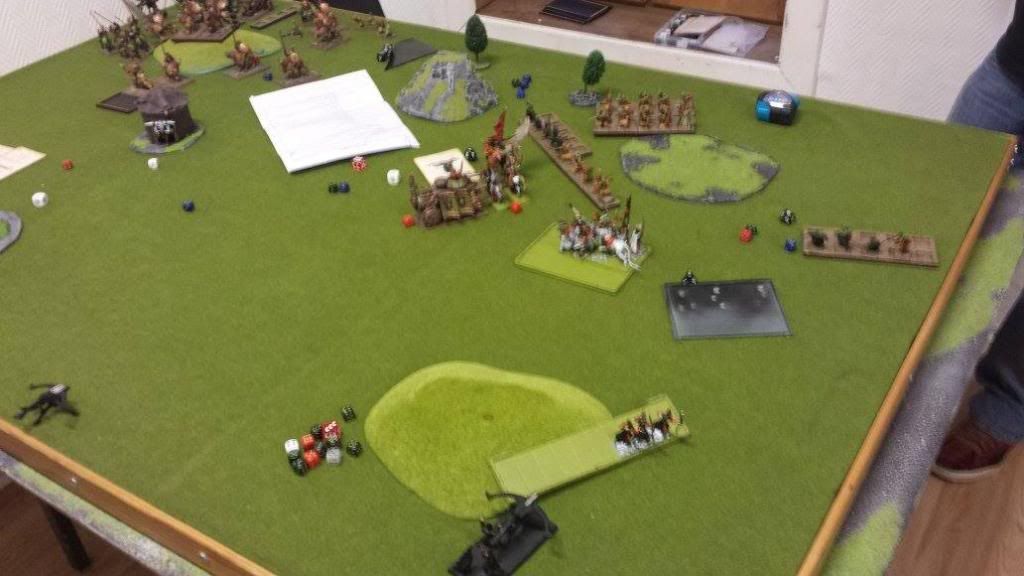 // HE T6 //
Lions charge congalined archers who protect the more important block. Archers fail swift reform (I was sending them away from his big Archers to preserve points). Magic sees Spirit Leech kill off his mage and Earthblood goes off, healing the BSB back to 2W. In combat I fail to hurt his BSB and he fails to hurt me. I lose by 1 (flank) but hold. Archers in the center lose to Lions, 2 survive and flee but I fail to catch him. Shooting sees my RBT leave one 10-man unit 1 strong. He flees, but I wish I had killed him...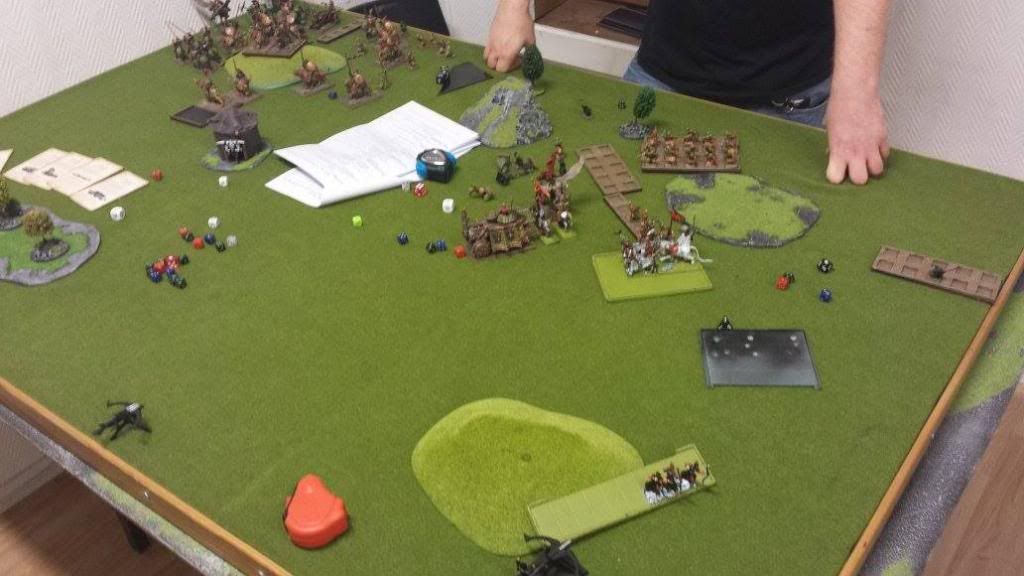 Counting up, I`m 885 points ahead, a
15-5 win to the High Elves!
Killing off that last Archer would`ve given me 16-4. After the performance against the Demis though, not to mention the Captasus, I can`t complain with my RBTs this game
.
// Evaluation //
What an action-packed game! From T1, the game was ON and everything was involved. Lots of stressing moments, a few bad decisions, insane dice all over the place: just what a game of Warhammer should be like!
So let`s start with my boosted Searing Doom T1: This is a spell that has only a 71% casting chance. However, given the pace of the game, I had to put pressure on the scroll. It was a 9v6 game and had he dispelled with 6D6 I could`ve followed up with a Spirit Leech on his BSB - a risky proposition to let through at this stage of the game. I`m very open for discussion but I think the right choice is to apply pressure here, despite the ~30% chance of losing a magic phase.
Then there`s the T2 charge by the SH on the Demis: I should`ve charged with the SH first, and then the PG. However I declared the PG into the central combat first, thus losing my chance to force a double-flee. This is a way bigger mistake than it seems, as a secondary flee could very well have taken him so far away that I would`ve been able to clear the center entirely. Part of why I didn`t do this was also for the chance to catch him (only needing one higher than him), not sure what the best play is here.
Lastly, the WL reform which he combat reformed away from. I was too hasty about this and I think I could`ve forced him to face me regardless of what he`d do. His combat reform away was brilliant. Note to self: pay closer attention to these kind of details.
The Prince, Loremaster and RBTs performed extremely well in this game and were the main reason why I could eventually take home the big win. The Prince kept hacking apart Demis, with S8 from Wyssan`s he really decimates that 1+. Loremaster was super-flexible as per usual and netted me loads of points throughout. It was a pity I lost both the PG and SH (lots of points), but ultimately a few mistakes by me and the Arch Lector refusing to go down meant I had to play a tighter game than I had to in the middle: such a big unit requires even bigger force concentration from me.
All in all a game I`m fairly happy with. I`m liking this list a lot! Thanks for the read, hope you enjoyed