.::. Battle Report - 2400 vs Empire (ETC comp) .::.
My list:
Loremaster of Hoeth, Book of Hoeth, Talisman of Preservation 330
Noble BSB on Barded Steed, Star Lance, Enchanted Shield, Golden Crown of Atrazar, Potion of Foolhardiness, Dragon Armour = 170
Heavens Mage level 2, Dispel Scroll, Ironcurse Icon = 160
Characters = 660
8 Silver Helms, Armour, Full Command = 214
5 Reavers, Bows & Musician = 95
5 Reavers, Bows & Musician = 95
19 Archers, musician = 200
Core = 604
21 White Lions, Full Command & Banner of the World Dragon = 353
20 Phoenix Guard, Full Command & Razor Standard = 375
Special = 728
4 Repeater Bolt Throwers = 280
9 Sisters of Avelorn = 126
Rare = 420
Army Total = 2398
His list:
Arch lector w/stuff
Wizard lord l4 life
Wizard lord l3 heavens scroll
BSB Dawnstone
2x captasus, 1+ 2++ fire, lance
11 IC Knights, FC
10 + 5 + 5 Archers
6 GW Knights, musician
5 Demis, musician
2 Cannons
Steam Tank
// Pre-battle thoughts and deployment //
I wasn`t sure how to attack this: I was pretty sure that his only major combat threat was the demis. That being said, the Stank can also hurt and the knightbus isn`t trivial to handle. My goal was to neutralize the Stank ASAP and then see if I could bring 2 or all 3 combat units into either the bus or the demis simultaneously.
Deployment was very unusual for me and I made a number of mistakes. The biggest one though was spreading out my army far too much (I used the entire table length), anchoring one extreme flank with Archers and the other with Sisters: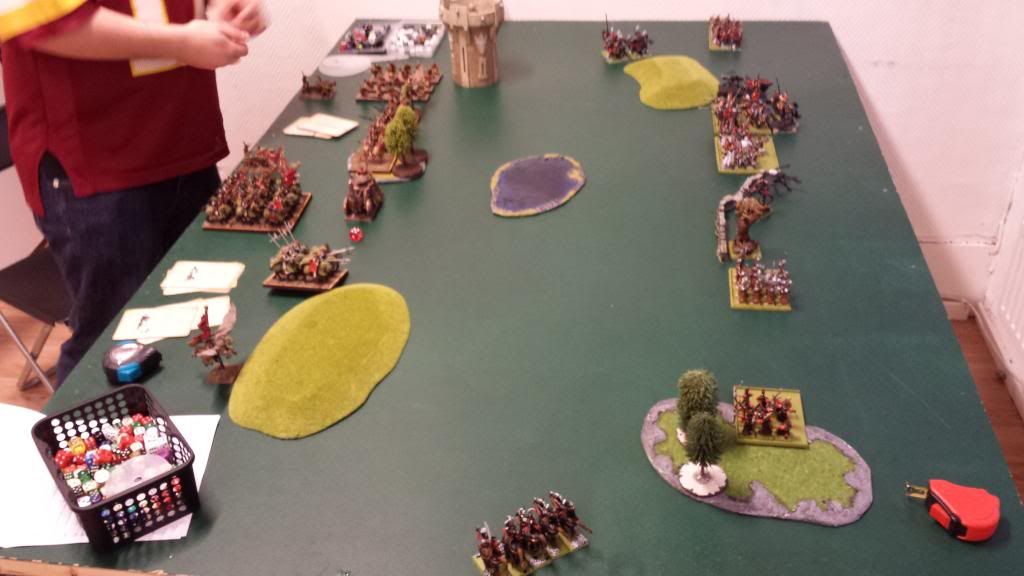 The Swordmaster models are my PG
Spells gives my L2 Iceshard + Harmonic, while he gets Shield of Thorns, Regrowth, Dwellers, Awakening (no doubles!), Chain Lightning, Iceshard and Comet. We both roll a `4` so he goes first.
// Emp T1 //
Everything moves up cautiously, one Captasus with Gryphs, the other close to the GW-knights. Magic sees him fail to cast Dwellers and that`s that. Shooting takes out an RBT and a fence.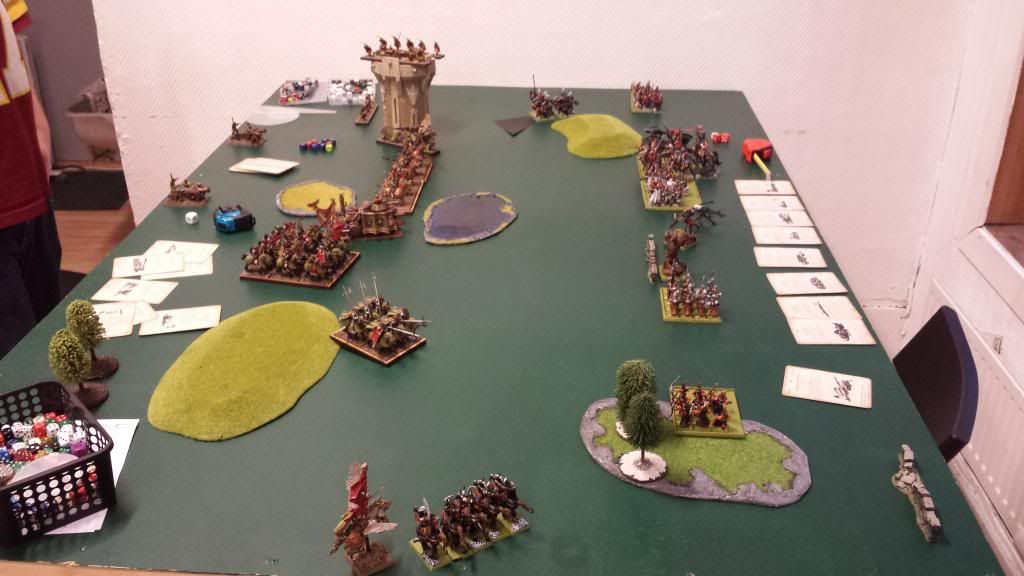 // HE T1 //
I realize my first mistake as my Sisters cannot get anywhere. I move them forward and angle the PG so that they can potentially handle the rests. The Reavers march up to go cannon-hunting while the Archers start their advance to support as well. The cavalry back off a little since the demis aren`t risking anything if they attempt a charge.
Magic is huge as I get IF boosted Searing Doom on the STank (BoH re-roll!). I manage 8 wounds in total and the miscast result kills like a single Lion. Shooting sees my RBTs combine to kill off the Stank: with Life I feel I cannot risk him having it alive. The rest does pretty much nothing.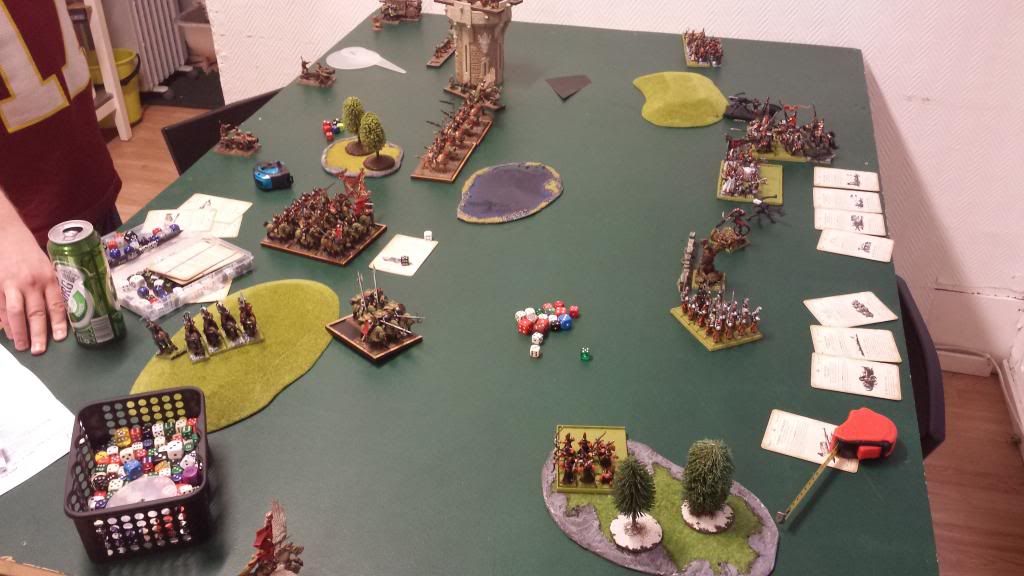 // Emp T2 //
Demis face my Eastern flank, GW-Knights + captasus 1 charge Sisters, other captasus charges out of demis at RBT. Magic - he fails again. Shooting: 1 RBT goes down. Combat: Sisters break and are caught, however due to failing dangerous terrain his GW knights flee! The captasus overruns out of the PGs arc.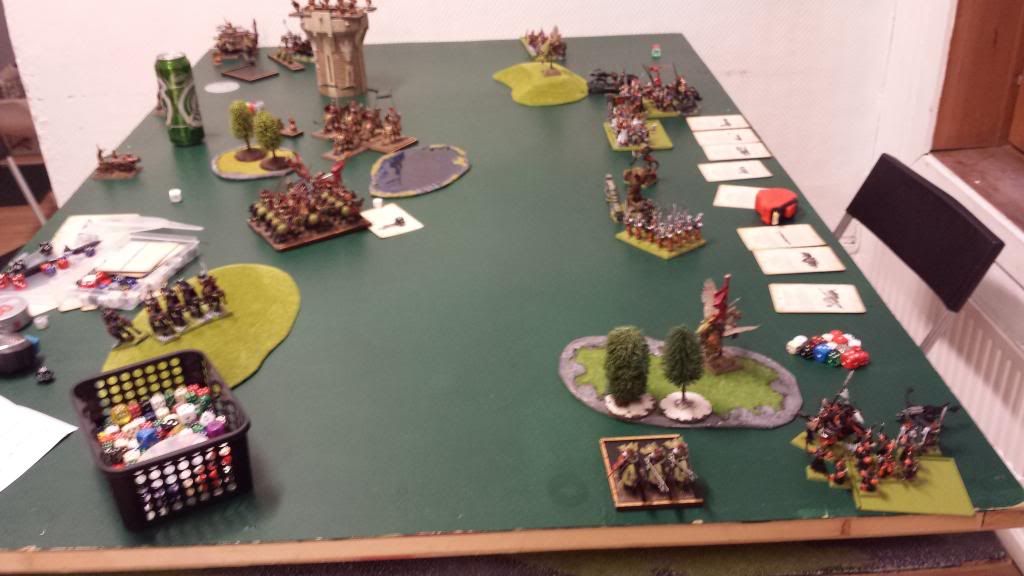 // HE T2 //
I create a pincer-like trap for his bus with the PG and WL, taking care to put the latter out of Demi-arc. The bus has a charge at 9+ required to reach the RBT and thus escape me, however if he tries this and fails it´s game over. SHelms setup for counter. Mage leaves Archers to be safe from captasus: as he carries the scroll he is vital. Magic draws his scroll so the net result is 1x Iceshard on his bus. Shooting does nothing as my RBT both fail to hit the Eastern captasus.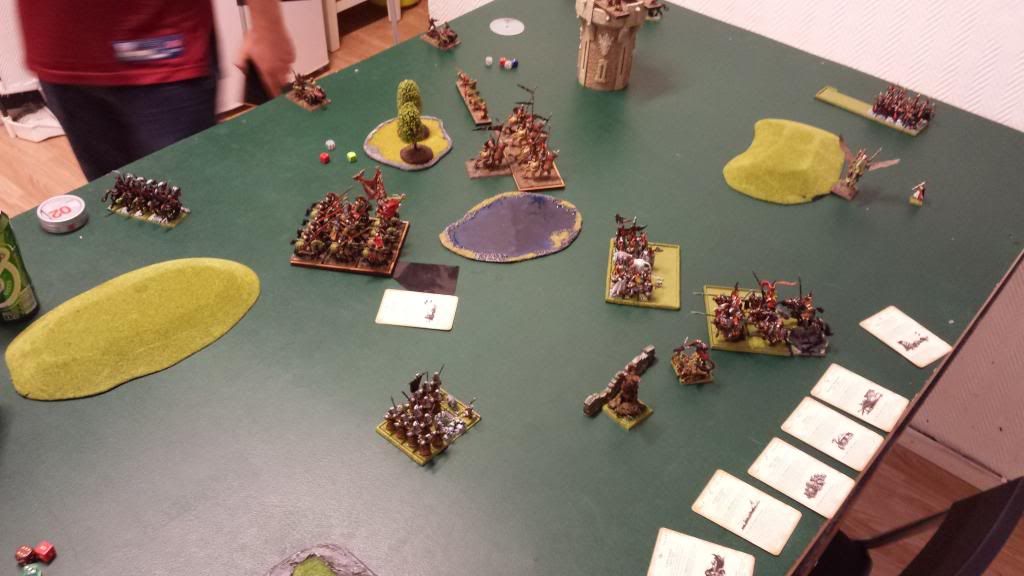 // Emp T3 //
His bus decides to charge the RBT and he makes it. Captasus on the East runs away from the Archers, not wanting to face their front and lots of ranks. Demis move up to support their bus. Magic does nothing as his wizards lack front arc targets due to escape-charging the RBT. Shooting kills an RBT again. In combat, he fails to hit with any of his attacks against the RBT due to defended obstacle + iceshard, however he wins too big for my break test to handle and overruns to safety. The dangerous terrain tests (20 in total) kill off a few horses.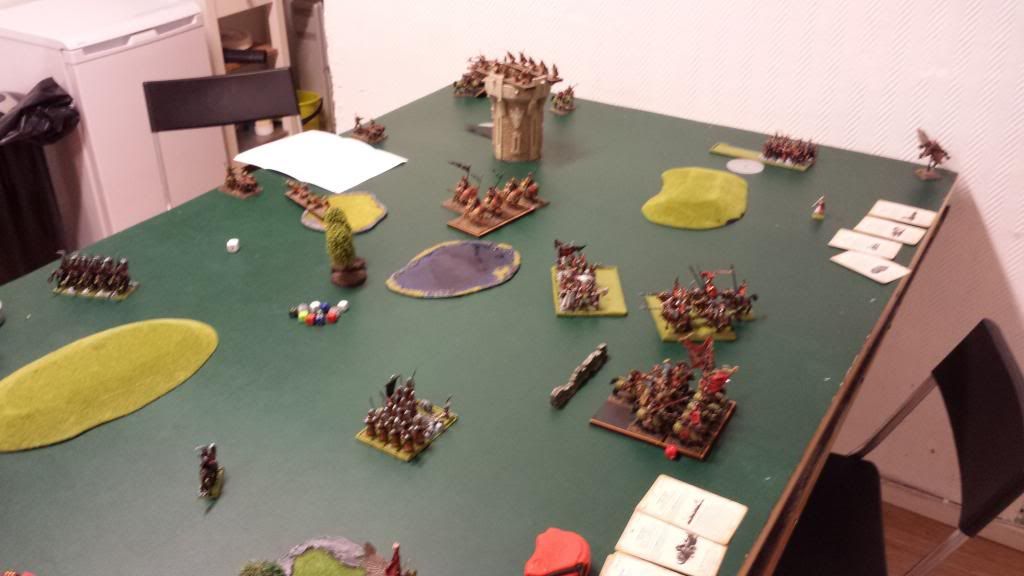 // HE T3 //
I move both infantry units toward the bus to keep trying to pressuring him, however the SHelms fail their free reform and thus are unable to block his escape. Magic sees me get an IF yet again on my first cast: Searing doom small version on the bus. Though a few knights die, I lose all my dice and am unable to unload on the Demis as I intended to: double Iceshard would make life a lot easier for me. I was counting on him to focus on dispelling the Searing Doom as the bus contains so many points, now however I was in dire straits. Comet came down and killed a handful of Archers, making them a lot more tasty to the captasus with reduced static res.
Reavers clear cannons.
// Emp T4 //
Demis rear-charge my WL. Bus gets out of all charge arcs and away from PG. Captasus charge Archers and PG. Magic sees him get IF Iceshard on my Lions (just perfect), result puts a wound here and there and kill a knight. In combat the Lions lose, but take a couple of Demi-wounds with them (I made way with the Loremaster which saved a couple, he lost 1W but 4++ kept him alive). I passed the break test many thanks to stubborn and BSB, however failed to combat reform (thank you very much, Iceshard Blizzard!). Meanwhile, the PG didn`t manage a single wound and lost two of their own as well to the captasus, so I only barely won combat. He passed his test so I was unable to help out my beleaguered Lions. I reformed to face him. The Archers lost but held on steadfast and managed their combat reform.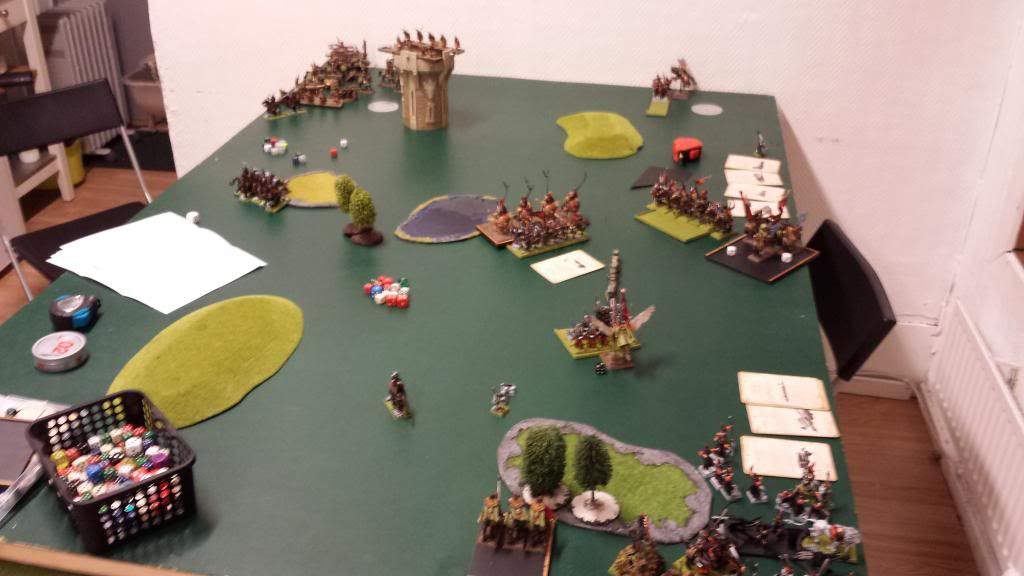 // HE T4 //
BSB and Helms flank the Demis. Magic is big and I manage to land DOUBLE Iceshard on the demis AND get Earthblood off, not only giving me 5++ but also healing the wound on the Loremaster via Lifebloom. In combat the Star Lance proves its worth and I win big. He needs 3- to hold, and promptly makes his break test!! I finally reform Lions but at this point they are so depleted that it`s hardly significant at all. PG win vs Captain and turn towards the main combat area. Archers hold vs Captasus.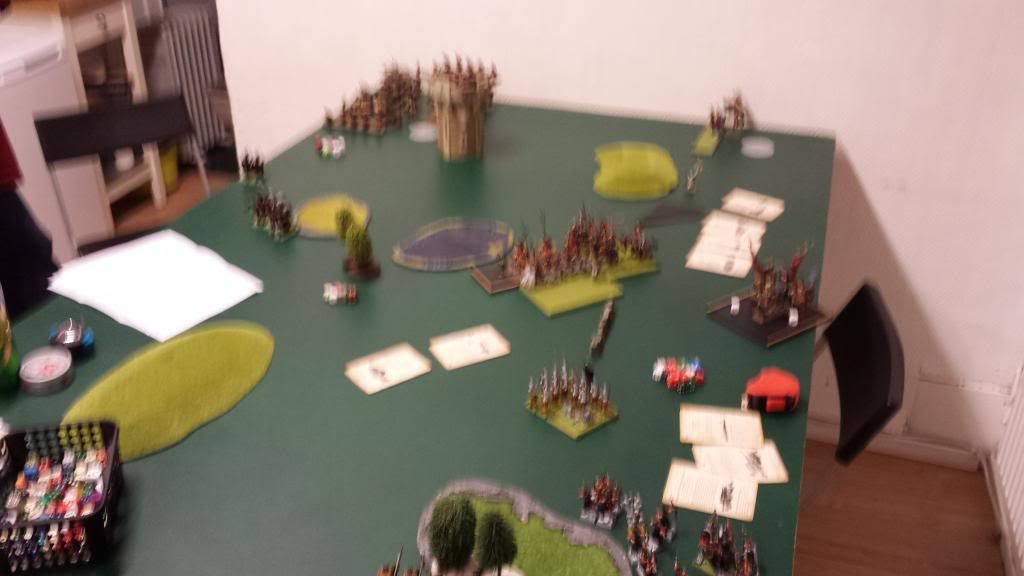 // Emp T5 //
His bus turns around to get away from PG, also getting LoS to my Helms` rear. Magic sees him get Iceshard through on my Lions yet again. Combat sees me fail to cause a SINGLE WOUND on his demis (which was a real problem as one knight was down to 1W). In return he gets a couple of 6`s and stomps kill enough Lions for him to actually win combat. I was speechless, but passed both break tests, luckily.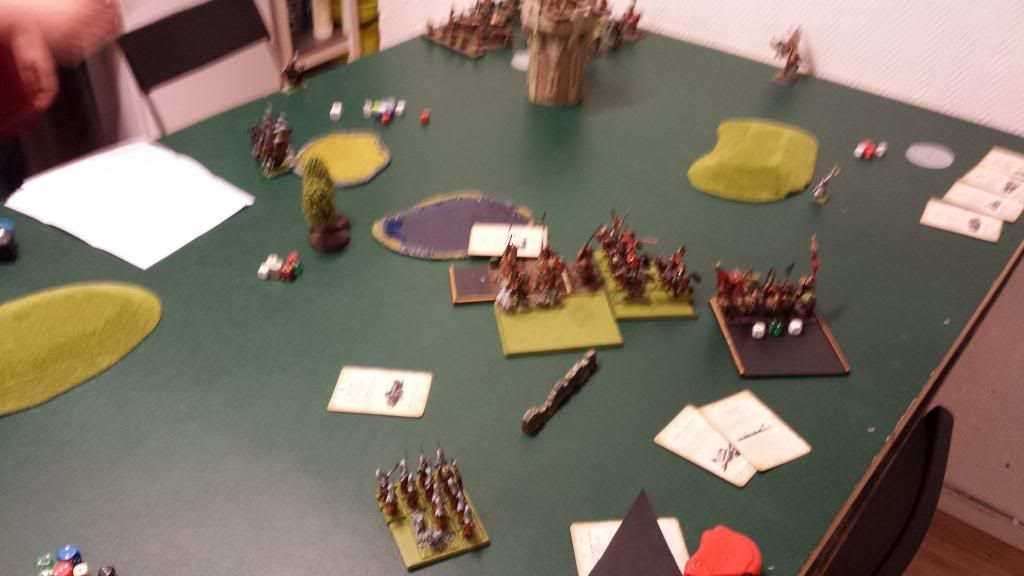 // HE T5 //
PG charge in and make the 8+ required to reach Demis. Magic is big again and the threat of Wyssans + Earthblood lands yet another double Iceshard on the demis. I again fail to impress his armour much, and though I win and have double Iceshards on him, he passes the break test on -4 and holds. The Lions are now completely gone.
// Emp T6 //
His BSB rear-charges my Silver Helms to provide combat bonus. I am now confident I`ll manage more wounds on him though, as my PG can attack with their full strength with the Lions gone (the last around I only got a handful of attacks). A huge regrowth cast finally draws my scroll but he gets Iceshard Blizzard through on the Loremaster (who wouldn`t be steadfast in case of breaks). Now, his bus was down to 1W on one wizard, 2W on the other, 2W on the General and 1 (!!) knight remaining for the unit. With Shem`s burning gaze, spirit leech, searing doom and fireball at my disposal, I was so eager to get my T6 and grab some juicy points!
Fate, however, deemed it otherwise: my PG were finally able to bring their strength to bear and managed 4 unsaved wounds on the Demis. This left a single model. Hitting on 6`s due to Iceshard. Regardless, he proceeded to put 2W on the Loremaster (1 by Stomp) and I failed to save both with the 4++ (I had lost one wound in the previous combat). Thus, I lost 430 points AND the ability to hurt him in my T6. Luckily, he broke with both the remaining Demi and the BSB this time, netting my both. In my T6 I couldn`t do anything noteworthy so the game was over!
Counting up victory points we were within 50 points of eachother, a
10-10 draw
.
// Evaluation //
Deployment was terrible. I need to work more on that with this type of army. The Loremaster was an absolute beast throughout the entire game. I failed to use PG and WL properly with the rest of the army, which was partly the fault of a stretched deployment, partly the fault of my overextending their M5 capabilities. There were many "oh so close" moments this game, like his RBT escape charge, Demis holding on 3-, 7-, 6- or whatever they needed and lastly the Loremaster suffering 2W in that crucial round. Regardless, I couldn`t quite get there, and given my wonderful start with the Stank being cleared T1 I should have managed to win this decisively, despite some poorly deployed units.
Please leave a comment if you have one, thanks for reading