2500pts v. Bretonnians
I played a good friend of mine last night, it's always a fun game and this one was no different. He is also looking for any comments about his list/play so please include any thoughts about the Brets if you post & have any.
My list:
Archmage(4) [Shadow] + wand, robes, 4++
Mage(1) [High] + scroll, ruby ring of ruin
Noble BSB + GW, armour of caledor, 5++
50 SpearElves (horde) + command, flaming banner
12 Archers + musician & standard
30 White Lions (horde) + command, banner of sorcery, am.light
12 Sword Masters + banner & mus
3 x Great Eagle
3 x RBT
Bretonnians:
Lord + Virtues of Heroism & grail, +3A sword, cuirass of fortune, shield
Prophetess(4)[Life] + verdant heart
Damsel(2)[Life] + dispel scroll
BSB Paladin + virtue duty, enchanted shield
11 Grail Knights + command, banner swiftness
10 Knights of the Realm + command
12 Knights of the Realm + command
9 Knights of the Realm + command
14 Longbowmen + mus
14 Longbowmen + mus
14 Longbowmen + mus
Trebuchet
Trebuchet
Note that all characters were mounted on barded steeds as per the usual Bret cav. army rules. The Lord, Prophetess, Damsel and BSB are the units L, P, D & BSB in the pics below.
For spells I rolled Miasma, Enfeebling Foe, Withering, Pendulum & Okkams for the level 4 and Drain and Shield for the level 2. His level 4 got Throne, Flesh, Dwellers and Regrowth while his level 2 opted for Awakening and Earthblood.
Deployment
In deployment I dropped chaff whilst he dropped archers to counter each Eagle drop. I opted for a refused flank on the right and deployed my spears in front of my RBTs on the left. I have started placing my WLs toward my center and did the same this game. I have found that placing them out on the flank often results in them getting held up out there and unable to influence the game. By placing them more centrally their threat range is used more efficiently (they can act both left and right as opposed to a single side when on the flank) and they have a greater chance of getting in the game! I was reasonably happy with my deployment.
High Elf 1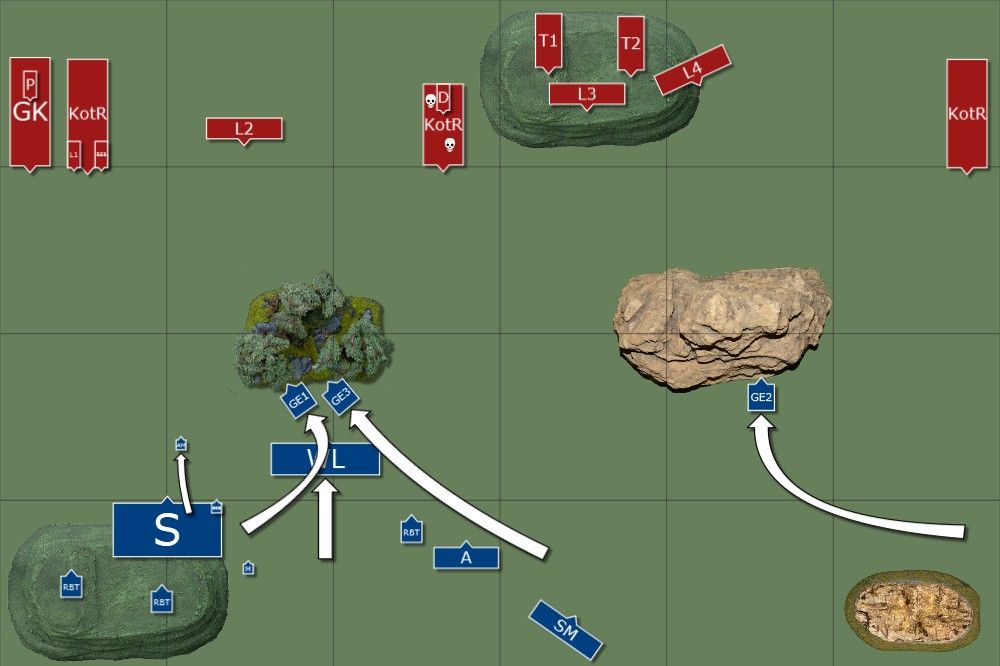 The eagles moved up and remained behind cover to avoid the Bretonnian longbowmen. Elsewhere I stayed put to avoid moving into bow range of his archers and to keep a distance between my troops and his knights - he needed to come to me to win this one!
Magic was 9v3 and I lead with Enfeebling on his Grail Knights. This produced the desired result of sapping his dispel dice although he did get rid of the spell. I followed up with Withering on his Lord + Knights and shielded my WLs. Finally his Grail Knights had their movement reduced by 1 by Miasma.
For shooting the RBTs whiffed but my bowmen took out two knights from the central damsel bunker unit.
Bretonnian 1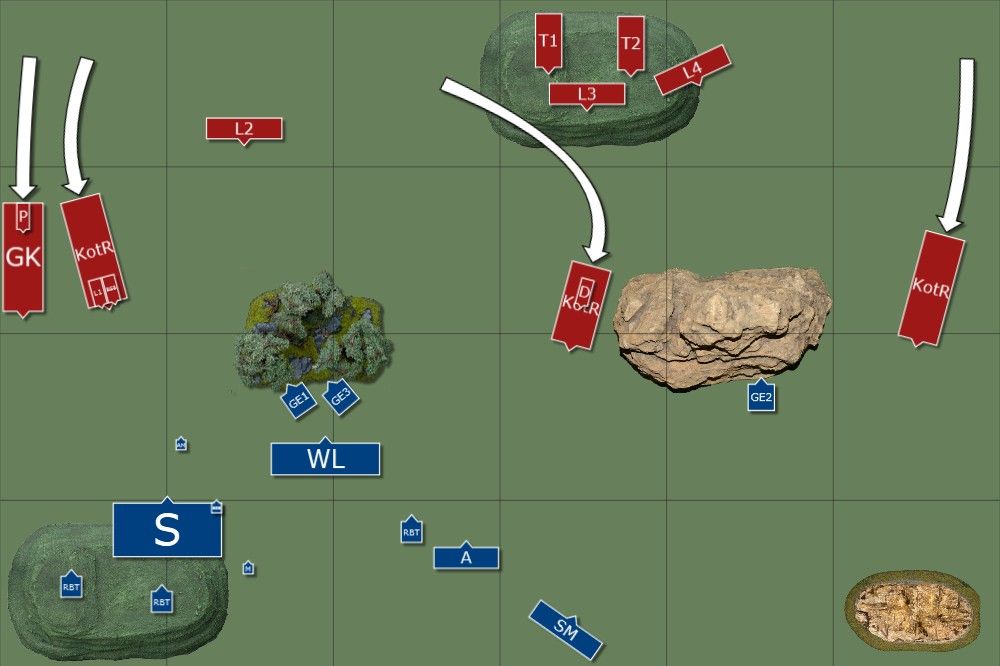 My opponents knights moved up across the board but stayed a healthy distance away to avoid being charged and losing their lance bonus.
In the magic phase John called '12' and promptly rolled boxcars! With the dice 12v6 he started off by dispelling withering on 4d and followed up with throne which I dispelled with 5d. He then failed Dwellers on my WLs.
For shooting he had line of sight from about 5 of his right-most bowmen to my eagle hiding behind the rocks. I knew this would happen but had wanted the eagle to charge and needed to leave some LoS. Fortunately no wounds were caused. Similarly his trebuchets scattered away from their intended targets.
High Elf 2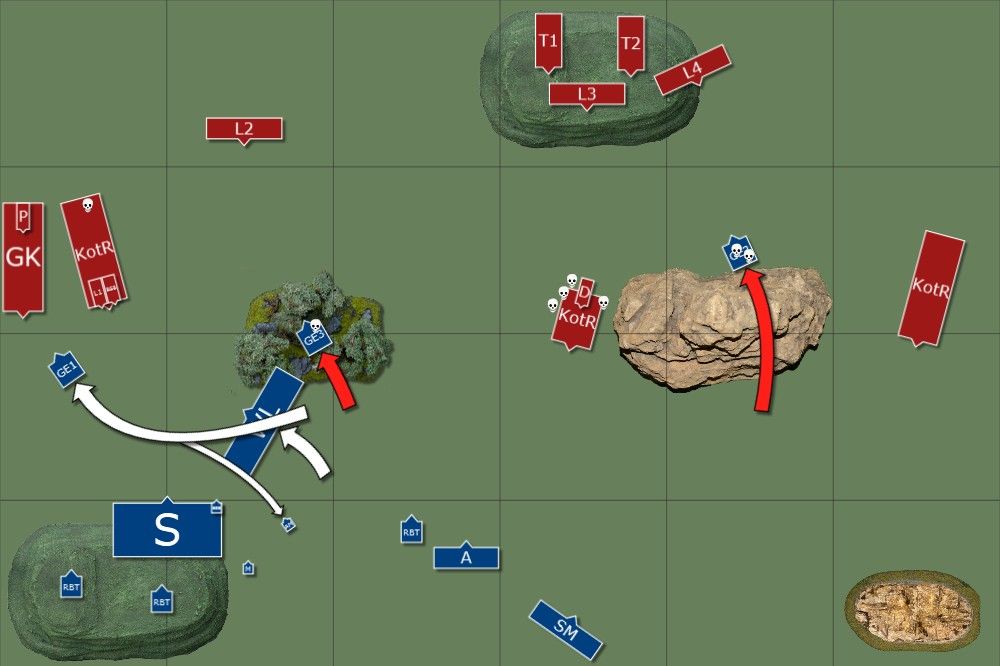 I declared charges with both my Eagles on his bowmen. At the time I considered this a good idea as they would be both hitting and wounding on 5s. After I failed both charges (needing 8 & 9) I realised the eagles were both dead next turn and was ruing my decision. I had just given up 100 easy points. On my right flank the eagle moved to block his Grail Knights and my WLs turned to face his units.
I tried calling '12' this time and got 11 dice. With the banner this meant I had 12v7 dice. I enfeebled his lord bunker (-3S) and followed this with a 4d withering which was dispelled. Miasma went off on 2d and reduced his movement by 1 and I managed to shield my WLs again. I failed my bound 3+ fireball.
My RBT crew had obviously needed a turn to get their 'eye in' and this turn managed to take down 4 of the central knights and and 1 of the lord's guard.
Bretonnian 2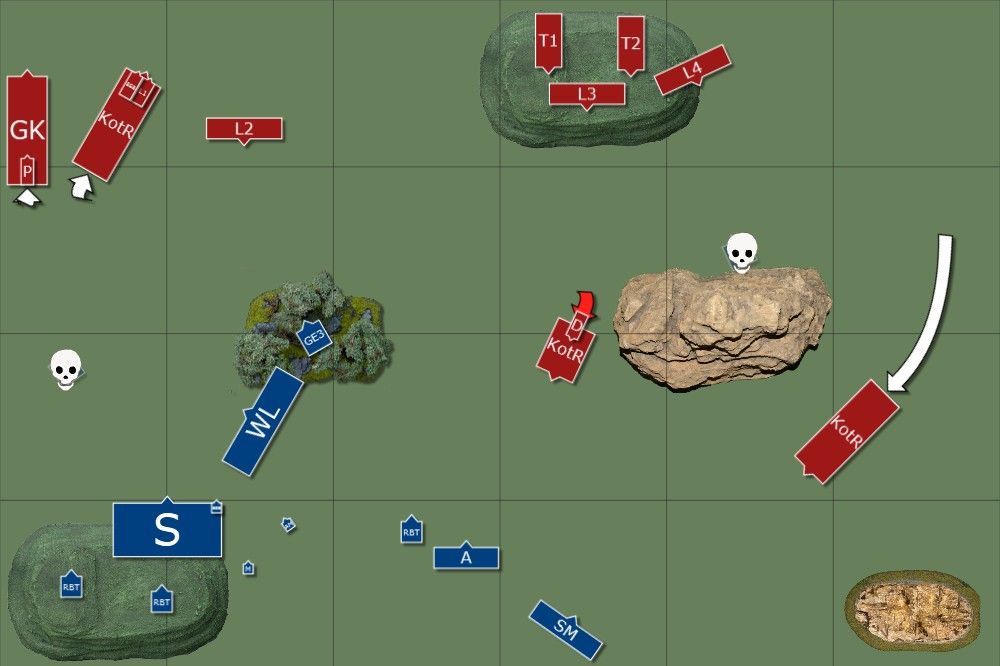 Has anyone seen Monty Python's Holy Grail? What did the knights do? "Runaway!" John's knights on his right turned tail and fled.
Magic was 11v7 and the phase started with a 3d dispel on enfeebling which probably wasn't John's best choice as it wasn't currently a big problem for him and I might end up casting it elsewhere later. Either way, this was good for me! He got throne but with only 4d left afterwards I let it go and shut down the rest of his phase.
As expected both charging eagles died in the shooting phase.
High Elf 3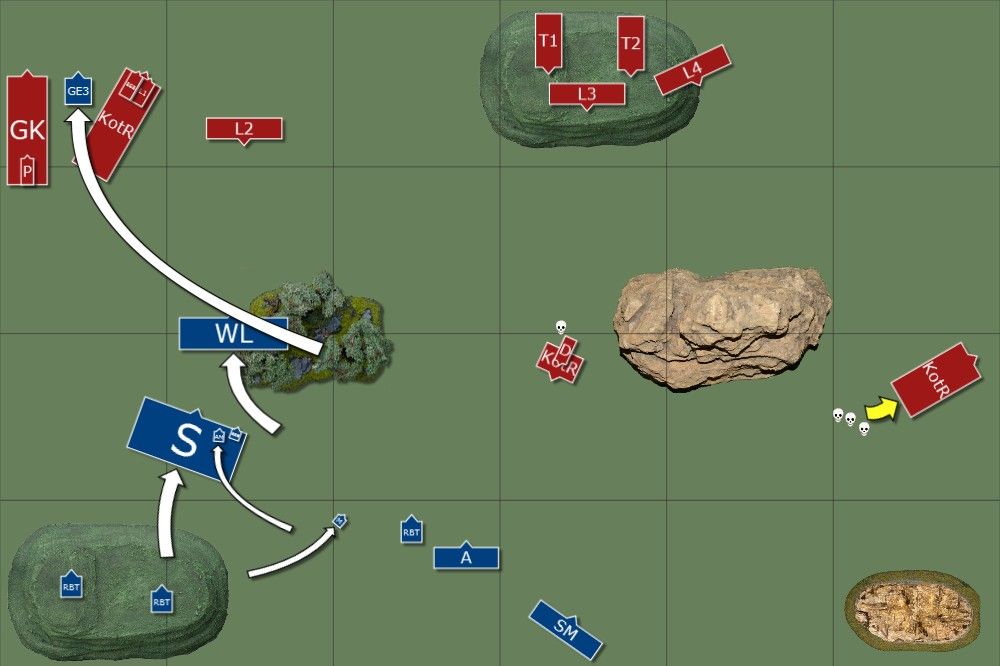 My spears and lions moved up and the remaining eagle made to block his knight buses in the corner and pin them in place to be destroyed! I realised after movement that I should probably have turned my WL toward the Grail Knights slightly in order to keep both them and the Lord's bus in their charge arc if they moved, but we live and learn I guess!
Magic was 10v3 and came to nothing... Onto shooting then! My RBTs let rip on the incoming knights on my right flank and killed enough to rout them! ("When Danger reared its ugly head, He bravely turned his tail and fled").
Bretonnian 3
In the center his knights and damsel charged into my archers. I'm not sure if this was a good decision with the unit being reduced in size and carrying a character -comments? In the North West my eagle had done it's job and the Grail Knights were stuck in the corner. They opted to turn around and face their fate while the lord galloped his knights around the rear of the army to reposition his forces. The prophetess moved into the lords unit.The knights on my right rallied.
Magic was 12v7 after John again rolled boxcars
. I started by dispelling the RiP Throne which I had forgotten (oops!) on 2d and then dispelling throne again on 3d. I then also managed to dispel a low casting roll earthblood with my 2d. John took advantage of his remaining dice to improve the toughness of his Grail Knights (flesh to stone) and regrew 1 knight in the Lord's bodyguard.
Meanwhile, his bowmen had turned to face my eagle and it was pincushioned. In CC my archers were cut down as they fled and his knights overran to the board edge.
High Elf 4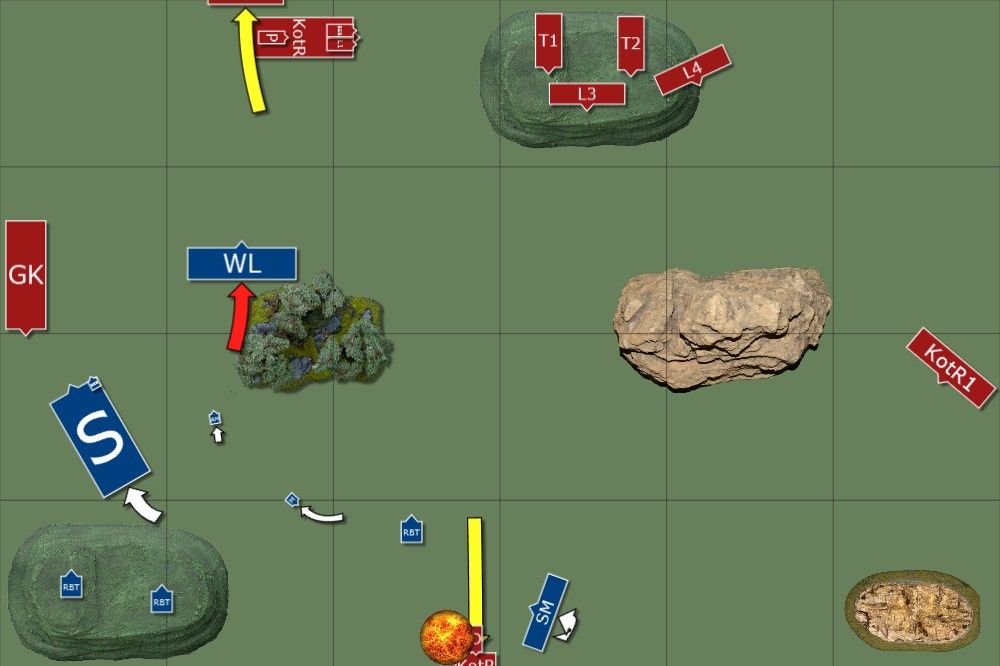 My WLs charged his bowmen to attempt an overrun into the lords unit but they wisely fled the field and left the WLs on the edge of the wood. My spearmen reformed 5-wide to face his Grail Knights, and my SMs & level 2 turned to face the knights on the board edge.
The winds were 10v4 and I opened with a fireball on 1d, it went off and caused a wound on the board edge knights who promptly panicked and ran off the board! Elsewhere Okkams was scrolled
which meant the rest of my phase was easy to control.
Shooting was a fail phase.
Bretonnian 4
The Grail Knights declared a charge on my spears. This was not a sensible move but was the only real option for them - it was charge or be charged and lose lances. On the Bretonnian left, most of the archers and knights moved up toward their High Elf foes.
Magic was boxcars again... An IF throne on 4d followed by a failed dwellers (6d) put paid to anything useful coming out of the phase for the Brets though.
The trebuchets finally found their mark this turn and knocked over 8 WLs (not shown on the pic - sorry!). In CC the Grail Knights killed 12 spears while I took out 2 knights in return. The spears held on steadfast and the knights reformed to 1 wide to maximise their attacks (a good move? I guess they were dead either way). I was confident I would win this fight... eventually...
High Elf 5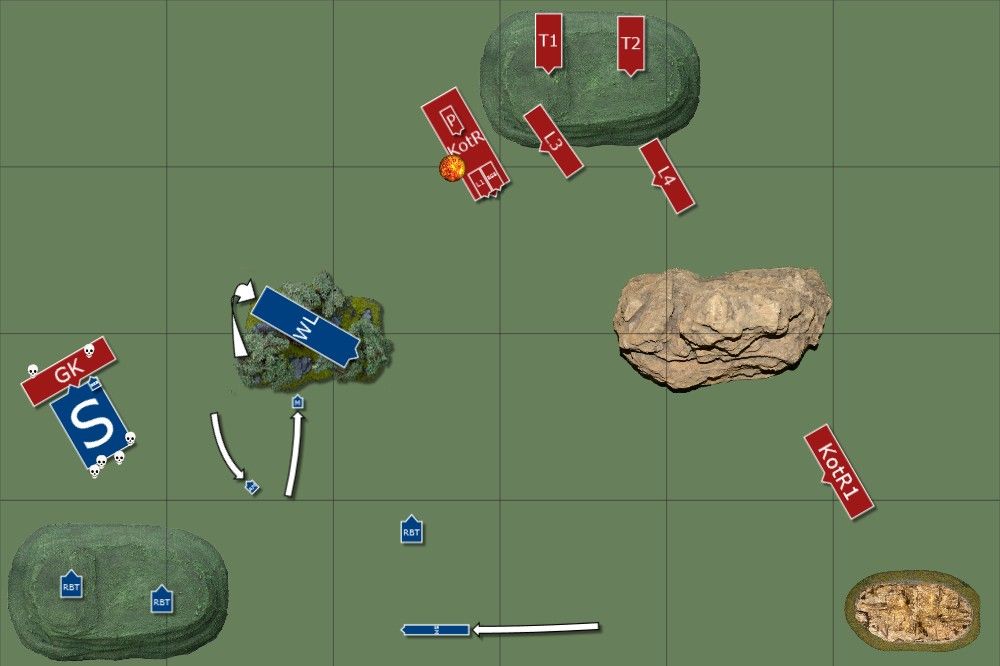 The WLs were currently in the middle of no and where - they needed to move. To this end I reformed them 3 wide and moved into the forest for protection from shooting and to get some knights in my threat range! My SMs ran from the incoming knights on my right while my mages moved to make better use of their spells.
Magic was a decent 10v5 and I knew John expected me to cast Okkams on my spears. I used this against him here as I knew my spears didn't need it. With so many ranks and backed by the BSB his Grail Knights would eventually fall and the longer it took, the better for my spears who were, by now, out of the fight but still in trebuchet range. I got shield (2d) and withering (3d) up on this combat before John realised I was not about to cast Okkams and used his dice (2v2) to dispel enfeebling foe. A 1d fireball rounded out the phase by killing a single knight.
I again fluffed shooting...
In CC I killed two knights to his 4 spears and he held when needing a 6.
Bretonnian 5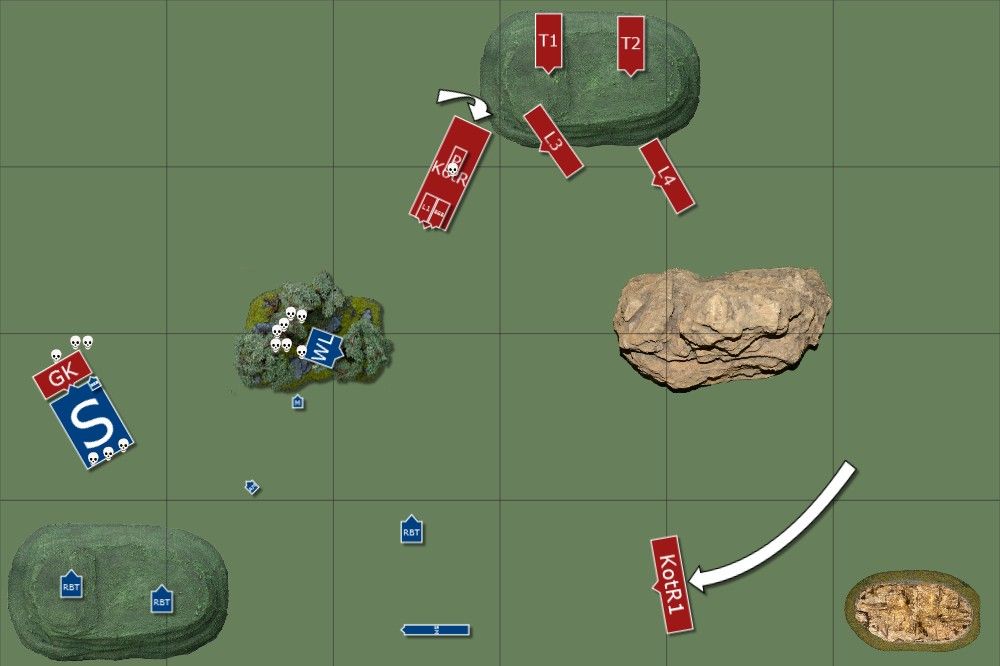 By this point John was starting to realise he would need to act soon to recover some points. He moved up across the board. Magic was 8v5 and I dispelled an RiP throne on 2d at the beginning. I then failed a 3d dispel of flesh cast on 3d. An IF throne then took down 7WLs and he lost a wound to the miscast... Combined shooting took out a further 8WLs but they passed their break check each time. There were only 9 of them left now and it was looking like John had a chance of getting some points back!
In CC I killed 3 knights while he killed 3 spears. Again the Grail Knights passed leadership on a 4.
High Elf 6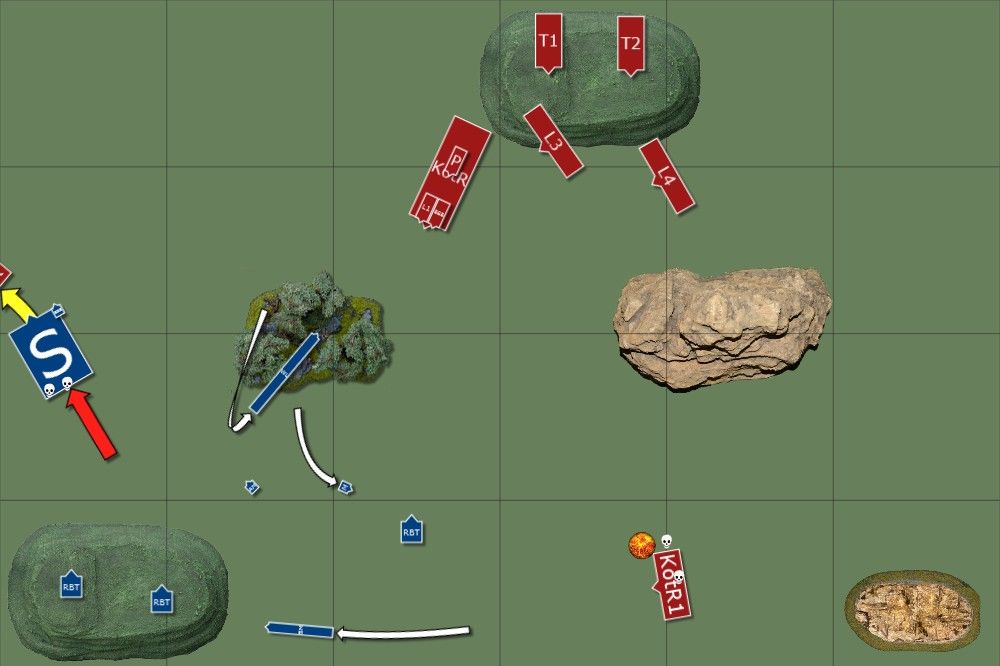 Turn 6 was upon me and, if I could prevent John killing too much, a minor victory would be mine. My SMs continued running away from the Knights to the right and the WLs went conga line in the woods facing the Lord and his retinue.
Magic was 11v5 and all I cared about was trying to protect my units! I managed to enfeeble his lord and retinue, shield my WL and fireball one of the knights off the board.
With so many knights breathing down my neck so close to the end of the game I could really have done with some decent shooting but, again, it was fluffed. That unit of knights on the right had survived at least 36 bolts coming their way (and the rest!).
In CC my spears finally broke his Grail Knights and they fled the board. I had only managed to kill one of them after causing 15 wounds though!
Bretonnian 6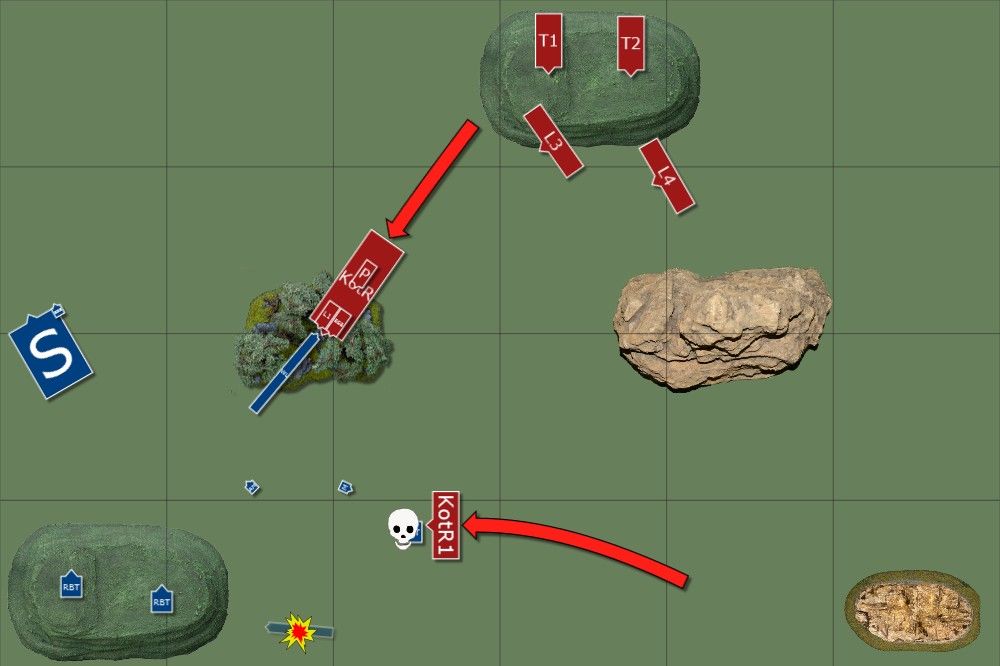 The Lord and unit charged my WL through the woods. I had a difficult choice here, fleeing and rolling 7 would have meant he needed a 10 on his 3d to get into B2B - not likely. I wasn't sure what to do and in the end opted to stay and 'trust the conga'. I planned to challenge and I'm not sure if he could refuse with his lord - virtues and all that? No difficult terrain checks were failed at all by the unit as they charged. The knights on my right flank also charged and made it into B2B with my RBT. It was doomed.
Magic was unkind to the Brets with the winds waxing and coming up 5v4 in his favour. I finally used my scroll and dispelled flesh to stone to end the phase.
Annoyingly his trebuchets managed to kill all my remaining SMs and netted him a neat 198pts.
In CC my RBT died as predicted and I challenged with my WL champ. No wounds were caused so we finished up and totted up the points scores...
Results
John had got 595pts while I scored 932pts. A victory to the High Elves!
So discussion... I think I did reasonably well here but definitely made a mistake with my eagles early on. As I mentioned I also made a small error in placing my WLs when they could have been turned slightly to make more use of their charge arc and threat range. I think I was helped more by John's mistakes in deployment more than anything though. Putting his two main combat units against my main two was never a good idea. It would've been better to place them on the other flank or more centrally to try and crush my weaker flank. By deploying against my spears, my WL were able to cover them and meant that combat would never be in his favour on this side of the board. This placement then made it easy for me to get some points and deny him many.
How did I feel the army performed? The WLs again stole the show, they didn't kill anything at all but crucially, they didn't die or flee - stubborn is great! and the threat they represented forced my opponent to do something very un-heroic and run back to his board edge. Fireball came in real handy here in causing the Damsel and knights to flee. Thanks for getting me to use this SpellArcher. My RBTs didn't really perform here against an opponent they are designed for and obviously my archers were almost useless against a 2+.
As in previous games, my big units again proved tough to get the points from but the 800 or so points of squishy stuff I have (eagles, RBTs, archers, SMs) are again costing me as they are what a decent opponent goes after first. As some people have commented, relying on Okkams for my spears is good until it gets dispelled - as happened here. I am definitely too reliant on my magic phase to help the spears out in CC.
This list evolved from one which was much more diverse and ended up being beaten (a lot). It caused me to reduce the number of units and increase the size of those that remained. The list at this time included a large unit of PG and almost no ranged ability. I found that the PG never really achieved much so they went in favour of the ranged threat offered by the RBTs. Now I have a different issue in that I have 800pts that are easy to take and the rest is relatively solid/tough to kill but easily avoided. As some of you have suggested, my current list is somewhat effective, but, very straight forward - you know where the threats are. Quite often I find my opponents not willing to engage me because of the size of my infantry blocks. This is great in a sense but it always leads to games that are won/lost by very few points as was the case here and in my last games against Empire/Ogres. Having said this, I have had a lot of fun with this list and have learned a lot too. As a relatively new player I think this list benefited my play but it might be time now to move on and try to tackle something more complex.
So, it has been coming for a while but I am going to change my list. I think I have talked about going to the Crossroads GT in September and I need to get list testing before then. I also have a small, friendly tournament at a local shop coming up and there are usual a few decent gamers and power gamers who show. All I know for sure is that 450pts (max. unit size for tourney) will be going into a unit of WLs! I'm also contemplating a dragon list...