Empire 2500
Scenario – Dawn Attack
Lords
Templar Grand Master, Sword of Power, Holy Relic
Lvl 4 Wizard Lord, White Cloak (Life)
Heroes
BSB, Barded Warhorse, Dawn Armour, Sword of Might
Warrior Priest, GW, Armour of Meteoric Iron
Lvl 2 Battle Wizard, Dispel Scroll (Metal)
Core
50 Halberdiers, FC
w. Detatchment:
- 15 Free Company
30 Spearmen, FC
w. Detatchment:
- 10 Crossbowmen
14 Handgunners
10 Knightly Orders (White Wolves) Ch, Std
Special
10 Inner Circle Knights (Knights Panther) Ch, Steel Std
5 Pistoliers, Mus
Cannon
Mortar
Rare
Hellblaster Volley Gun
Some modifications to the army I'd faced last time – while the bulk of the army was the same, dropping a detatchment and the Wizard Lord's warhorse had enabled the bulking up of the Halberdiers to a Horde of 50. The Wizard himself had switched to Life magic and swapped the Armour of Tarnus for the White Cloak.
Terrain gave us a 'Quicksand' marsh, a scree slope, a ghost fence, and a normal building and river.
However, the Scenario deployment rules played some nasty tricks with our deployment. For my opponent, everything apart from the Spears (along with their xbow detatchment and Wizard Lord) ended up in the centre, meaning by the end of putting units down space was at a definite premium, resulting in the handgunners and pistoliers stuck behind other infantry units. The Spears were on my right, stuck behind the river.
However, things went even more bizzarely for me. All my infantry (along with my Prince) ended up on my right flank, leaving my DPs out on their own on the left and my SH, eagles and Dragon Mage in the centre. I decided my best bet was to use the DPs and DM to overwhelm his units on the left, avoiding the centre until I could position my spears to support. My Prince could keep himself safe from the cannon for the first turn or two by hiding behind the Haunted Mansion on the right – after that I'd just have to see what the battleline looked like in the centre. As for the archers, I wasn't entirely sure what to do with them. Anyway, I failed to win first turn, so at least I'd get a chance to see what his moves were before reacting.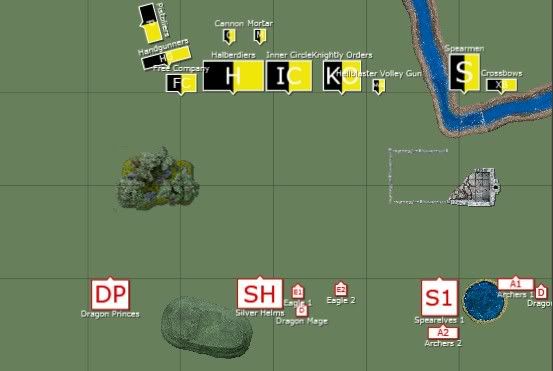 For spells, the Empire Wizard Lord rolled Awakening of the Wood, Shield of Thorns, Regrowth and Dwellers, without a single duplicate, swapping Awakening for Earthblood. While Dwellers was, obviously, a potential problem, the lack of Throne and Flesh to Stone was pretty encouraging. The Lvl 2 ended up with Plague of Rust and Searing Doom, both potentially very handy against Cavalry.
My BSB took Shield and Drain (as always) and my Dragon Mage rolled Flaming Sword and Piercing Bolts twice. I swapped one of the duplicates for Flame Cage.
Empire Turn 1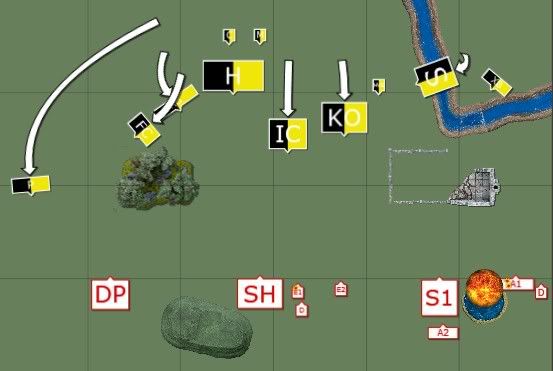 His Missile infantry positioned themselves to face the centre. The halberds stayed put, while the Spears reformed and began to march across the river. The General and BSB hopped into the GW knights, while the Inner Circle (with a extra charge movement banner) positioned themselves threatening my SH. The GW knights advanced to protect their flank. The pistoliers advanced as far as they could onto my left flank.
Magic was 5-1. Three dice got thrown at Plague of Rust on the Helms (which I dispelled) and 3 on Shield of Thorns on the Spearmen (which I let through).
The mortar scattered of my spears, clipping the archers and killing 2. The Helblaster was out of range, but the Cannon aimed at my Dragon Mage, impacting just in front of my protective Eagle and hitting him and the Dragon hiding behind. To my immense relief, he rolled a 2 to wound followed by a 2 for the number of wounds against the eagle – my feathered friend had performed his job brilliantly, stopping the cannon ball in its tracks! He was left with a single wound, so the poor fella was going to be sacrificed blocking the inner circle in my next turn.
HE 1
Minimal shooting casualties so far – my luck with the cannon and mortar and the rest of his shooters being out of position/out of range meant I was in good shape. Still, I needed to form up some kind of battleline. My DPs charged the Pistoliers, who dispite marching as far as they could last turn just hadn't made it out of their charge arc. The S&S, needing 6s, achieved nothing. One Eagle moved to block the Inner Circle, while my Helms and Spears advanced towards the centre, with the Helms setting up a guaranteed charge on the IC after they'd dealt with the eagle, while staying
just
out of range of the Hellblaster. My big dragon hid behind the building facing the centre for potential countercharges when his Cavalry engaged, and the DM moved up to threaten his left flank, covered by my remaining eagle to protect against the Hellblaster and by the obstacle against the cannon. The archers attempted to redeploy somewhere useful, with the reduced unit advancing to fire on the xbows.
6-1 for magic gave us equal dice, but my BSB managed to channel for 8-7. Starting off with 2 dice on Fire Cloak, which was left. Then I went for Flaming Sword on the far right archers with three dice, which again he left. A two dice Shield on the spears was dispelled with three, then 4v4 on Piercing Bolts gave 17v19, so it was dispelled. Gah - drawing out dice with the less important spells failed pretty comprehensively there.
In shooting, my boosted archers killed 4 xbows, but frustratingly they passed their panic test. The DPs unsurprisingly stomped all over the Pistoliers, reforming to face the centre.
Empire 2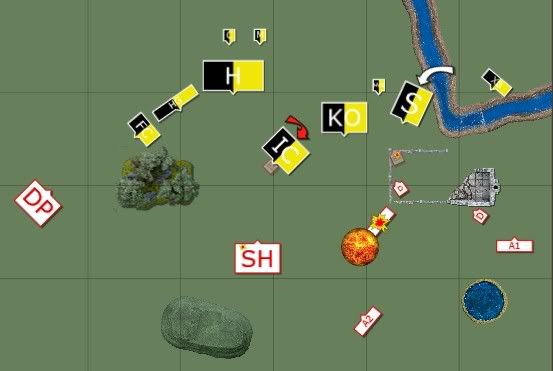 I took a risk and delayed taking my DM's toughness potion – he had Eagle cover from the Hellblaster, and the depleted xbows were over half range, so I figured he'd probably be ok.
My opponent charged the eagle with the IC but the White Wolves stayed in place, ensuring General and BSB cover for most of his army and giving him another turn to shoot up my Spears. The Empire Spears and Wizard Lord advanced out of the river, and everything else stayed put.
Magic
6 and 3, giving a decent 9 dice to my 6. He started with 3 dice on Plague of Rust on my Silver Helms. I figured the next spell would be a 6-dice dwellers, and decided the likelihood was he'd either cast it irresistibly or beat my dispel roll anyway, so comfortably 4-diced my dispel on Rust rather than risk wasting all my dispel dice. Unfortunately, he managed to cast the boosted version without a miscast, and I failed to get double 6 with my last two dispel dice. 19 Spearelves were dragged to their doom – not good at all. Still, they passed their panic test at least.
Things got worse in the shooting phase, with the mortar scattering but still killing 4 of the depleted Spearelves. The Hellblaster then vapourised the nearby Eagle. The Handgunners managed to down a Silver Helm, before the cannon (denied clear shots at either of the Dragons due to a building and an obstacle) misfired when shooting at the Helms, but only stopped itself firing for this turn. The Xbows shot at the Dragonmage, but thankfully justified my Potion decision by only hitting the dragon (once) and failing to wound. Still, a couple of strokes of luck with the cannon and xbows did little to cheer me over the fact my only ranked unit had been comprehensively blown apart.
In combat, the Inner Circle killed my last eagle and reformed for my SH charge.
HE 2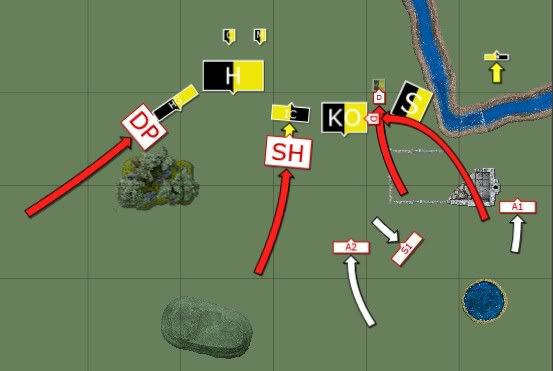 My Infantry was effectively out of the game already, either too depleted or out of position. Still, my cavalry and dragons were still in good shape, so at least I had a chance to claw some damage back. The Helms charged the IC – hopefully the charge and the BSB could make the difference and rout them. The DPs charged the Free Company, aiming to overrun into the Handgunners and get back into the centre. The Dragon Mage charged the Hellblaster. My Prince, frustratingly, didn't have LOS for what would otherwise have been a nice flank charge against the Wizard Lord and his unit of spears, leaving the White Wolves and characters as his only viable CC target. I considered keeping him out of CC for another turn, but that would expose him to cannon fire next turn, and I really needed to start causing some casualties, so I charged him in, only just making it. At least it should stop the White Wolves flanking my Helms.
Magic
4-1, and no channels. 5 each with the Warrior Priest. First up I risked a single dice cast on Shield, which thanfully went off on the Helms. I threw the rest of my dice at Flaming Sword, getting 21 – and
just
failing to get through his dispel. Flame Cloak fails to get any wounds on the Hellblaster. In shooting my right archers put another couple of wounds on the xbows, and this time they fail their panic test.
In combat the DPs totally marmalise the Free Company, killing 11, running them down and pursuing into the Handgunners flank. The Helms manage to kill 2 of the IC, and the champ kills the IC champ in a challenge. My BSB kills 2 more, and in return I lose a Helm. Still, they lose by 5 and break despite the reroll. Frustratingly, they outpace my pursuit due to a couple of 1s in my roll. Gah! The DM eats the Hellblaster crew and reforms to face the rest of his war machines.
He challenges my Prince with his White Wolf champ, and I suddenly realise the strife my big dragon is in. As long as he holds this turn (pretty much guaranteed given my Dragon won't get to attack after my lord kills the Champ) the Spears will be able to charge my rear, challenge with another champion, and have an exceptionally good chance of breaking me with the massed combat res. In the meantime, my Prince got 2 wounds past the Champ's armour, winning combat by 1 – unsurprisingly, they didn't break, and pass their reform test as well.
Empire 3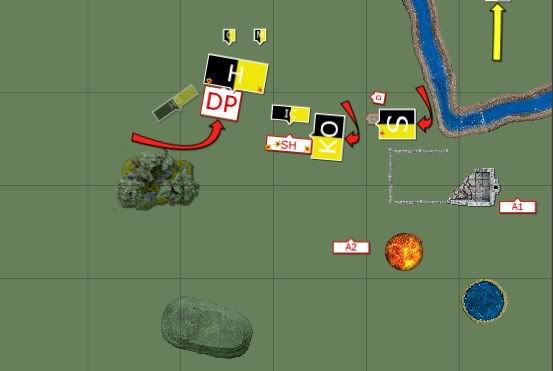 The IC rally, while the xbows flee off the board. The Spears make their charge into my Prince's rear, and the Halberdiers reform so both DPs and Helms are in their front arc.
4-4 for magic, and no channels. 8v4. He starts with three dice on Regrowth, bringing back the White Wolf champion – sneaky! He then throws 5 at Dwellers on the Helms – and miscasts! He inflicts S6 hits on his 2 wizards and Warrior Priest, all 3 suffering a wound. Dwellers kills 3 Helms, but my BSB survives.
In shooting his mortar lands bang on target on my depleted spears, but only kills 3 due to some lucky saves. His cannon can't shoot my DM due to the position of the Spears, so shoots at my depleted Helms, but only hits and kills one.
In combat my Prince again gets 2w on his resurrected Champion, but loses combat by 2v8 due to max ranks, std, BSB and rear charge. Unsurprisingly I fail my break test, roll a 9" flee, and get run down my the White Wolves pursuing 11", who then crash into the flank of my depleted Silver Helms. Oh dear. On the plus side, my DPs cause 13 wounds against the Handgunners, leaving a solitary survivor to be run down by the DPs. I pursue into the Halberdiers, hoping to at least have a chance of breaking them before the Knightly Orders come to their rescue.
HE 3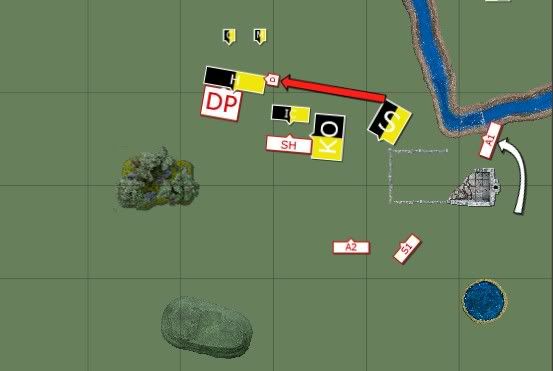 I figure I haven't got much chance at this point – my Prince is dead, my Helms and BSB are doomed, and my infantry are in no position to make any useful contribution. Still, if I can take out his machines and left flank I might have a chance to gang up on the depleted Knight unit later.
Anyway, my DPs needed some help against the Halberdiers, and my Dragon Mage still had Fire Cloak up, so in he went on the flank, drinking his potion.
6-1 for magic, so 7 each. Shield went off with 2 dice on the Helms, then I threw the rest of my dice at Flaming Sword – I failed to get two 6s, so he was able to dispel. Flame Cloak rolled a mighty 11 hits, incinerating 8 Halberdiers, which should prove helpful for the coming combat! In shooting my left archers rolled amazingly to hit (only a single miss out of 11 shots!) and killed 4 spearmen.
Combat time! I considered allocating attacks to the wounded Warrior Priest, but decided casualties were key so I could break Steadfast. My DPs killed 10 Halberdiers, my Dragon Mage killed another, and the Dragon killed 2 with attacks and, with some fortunate rolling, 5 with his Breath Weapon. In return the halberdiers caused 5 wounds, but only one got through my armour, and his warrior priest's single hit was saved as well. On the flank, his three hits against my t6 mage managed a 6 to wound, but left my mage alive on 1W. Then Thunderstomp killed 2 more. I'd won by 23-5, but frustratingly his casualty against my DPs meant they still had 2 ranks to my 1, and passed their Steadfast test. Booo!
In the other combat my BSB made way to the flank and challenged, meaning only his challenger would be able to attack. He accepted with his Grand Master, and my BSB put a wound on him before taking 2 back – but I saved one with a 6 on the armour reroll, then saved the second with the 5+ ward from Shield of Saphery! What an absoloute legend! I still lost combat by 5-1, but passed with my BSB reroll. I refrained from reforming – there was a chance my BSB could hold up his general a bit longer.
Empire 4
Unsurprisingly his Inner Circle charge the front of my Helms. The Spears march towards my elusive infantry.
Magic only gives him 3 dice, and he manages to get off Regrowth on the Inner Circle, bringing back 2 Knights. Bugger. And he healed the wound on his General as well. Still, he
still
hadn't dispelled Fire Cloak, which kills 4 Halberds, bringing them down to 18.
In combat he resolves the big Knight-off first, hoping to overrun into my DPs before they can finish off the Halberds. My Helms manage nothing against the IC, taking 3 wounds in return – however, my luck with armour saves continues, with a roll of 6,5,6 saving all the wounds before my ward save comes into play! My BSB manages 2 wounds against his General, but this time his saves are up to the task. However, one of the two wounds he inflicts in return is saved by my ward, leaving my BSB alive. I lose by 3, but pass my test with the reroll.
Meanwhile, the DPs kill 6 halberdiers, my Mage another 2, and the Dragon kills 1 more. This leaves his metal mage in contact with my DM, who misses. The remainder of the Halberdiers attack the DPs, and I fail one of my saves, and the Warrior Priest takes down another. Finally, TStomp takes down 5 of them, and the remainder, no longer Steadfast, flee. My DPs pursue into the cannon while the remainder of the Halberds flee a mighty 9" and escape. I position my Dragon Mage to chase them off the table next turn.
HE 4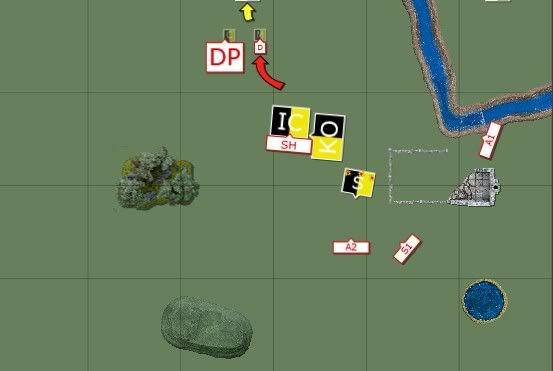 My DM charges the Halberds, they flee off the table, and he redirects into the Mortar. Magic gives me 5v4, and I attempt Flaming Sword on the Helms with 3 dice. He lets it through to save dice for shield, and dispels it relatively comfortably. My shooting concentrates on the Spears, and between the 2 archer units kill 7. In combat my DPs and DM + pet both wipe out their targets before they get a chance to strike back.
Meanwhile, my Helms manage to kill an IC knight, and my BSB lands 3 wounds on his General (wounding automatically with Flaming Sword). One makes it through armour and ward, but he still has 2 left thanks to Lifebloom the turn before. In return, he fluffs his attacks, and I manage – once again – to roll a 6 for the armour against the solitary wound he causes to keep my BSB alive. The IC also roll poorly, and without their lance bonuses I'm able to save their wounds as well. Combat ends up as a draw, pinning his cavalry in place once again.
Empire 5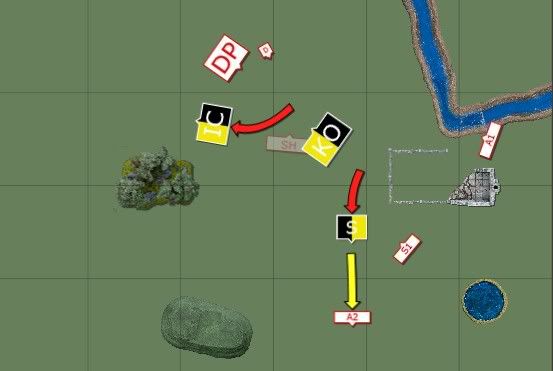 The Spears charged my archers, who killed 3 with S&S.
Magic gives him 9 dice to my 6. First off he throws 3 at regrowth, which I let through, and he regrows 4 spears. Then 6 dice on the Regen spell on the Spears, which I throw all my dice to dispel and fail. And of course, Lifebloom heals up his Grand Master again, and Shield of Thorns kills two of my archers (after their armour saves 2 wounds).
In combat my archers kill 3 spears, but regen saves one. He then kills two back (after armour saves another,
to all those who say LA on archers is pointless
). I've lost combat by 7-2 and flee, with his spears reforming to face my remaining Spearelves.
Against his knights, my Flaming Sworded BSB again puts 3 wounds on his General, but he saves two and wards the other, before
finally
hacking him down with +1 overkill. My helms wiff against the Inner Circle, but the flaming hooves of their steeds manage to take one down. The Inner Circle kill one in return. Unfortunately, the death of my BSB means the knights on the flank can now attack my SH, and the BSB kills one and the White Wolves kill another. The last two have lost by 6-2 and flee, with the Inner Circle surging forward to cut them down while the White Wolves reform.
HE 5
My archers fail to rally and flee off the board. My Dragon Princes can't draw line of sight to the Knights Panther, and they have little chance against the triumphant White Wolves and Grand Master, so I decide to get out of their charge arc and see if I can set up a potential last turn charge on his spears. I manage to wind my way between his two cavalry units with some crafty wheeling, ending up outside of his charge arc. The DM swoops over alongside them. My spears shuffle back a bit so I can flee the incoming charge next turn.
Magic is snakeeyes, so nothing happens (I fail to dispel Thorns), and in shooting my last archer unit only kills one spearman due to poor rolling and regeneration saves.
Empire 6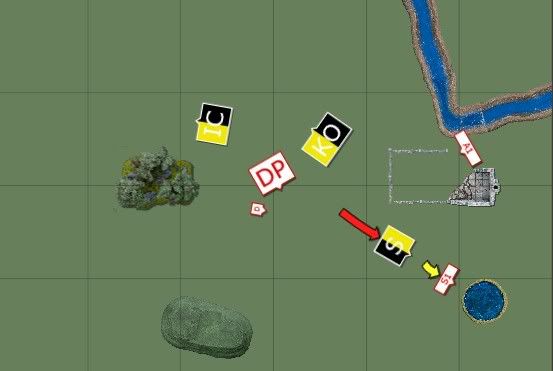 Last turn, so the Knights don't bother moving seeing as they can't achieve much. His spears, however, charge the last remnants of my spearelf unit that have been cowering in the corner since turn 2. I flee, and despite running a mere 4" its enough to outpace the Spears, who make a failed charge move.
Magic is 6v4. He casts regrowth on 3, which I ignore – it brings back 3 spearmen. I then use my dice to dispel Shield of Thorns.
HE 6
My Dragon Mage and DPs charge his Spears, he easily flees far enough to escape after bouncing through my Spears (taking a sprinkling of casualties from terrain tests in the process) and we call the game.
Result
Empire – 1462 HE – 1206
Empire Victory!
Thoughts
Well, a fairly solid Empire win in the end, though my DPs and Dragon Mage did well to crush his forces on the left flank while my heroic Helms/BSB held up his knights, thus avoiding the sort of trouncing I was expecting at the beginning of turn 3. My opponent certainly learned from his mistakes in the previous game – by advancing his Knights he forced me to deal with them rather than mopping up his weaker units first as I had in our earlier game. This gave him more time to shoot/magic a significant portion of my force into submission, even though my positioning denied him great targets with most of his shooting (the cannon accounted for a solitary SH and a couple of Eagle wounds, and the Hellblaster only killed 1 eagle before my DM ate him). Dwellers, however, was painful – I'd not been on the receiving end of it in 8th before, and I can see why people love/hate it so much!
However, a large portion of this loss is entirely down to my own mistakes or rather, mistake. I thought I'd got myself in a great position by turn 2, with my DPs advancing along his flank, my Dragons safe from cannon and Hellblaster fire, and the Helms set up to take down the Inner Circle while my Spears and Prince threatened the White Wolves. A single Dwellers later, and I panicked on the right, throwing my Prince into a hopeless position that both lost me my best fighter and enabled the White Wolves to overrun into the flank of my Helms, losing me the chance to take out the Inner Circle and combine with the DPs against the infantry on my left. Had I thought more carefully I could have moved him over to support my left flank, aiding the DPs and the Helms in later turns – he'd have been in the open and would have taken a cannon shot, but with the Princes kit and the Dragons 6W he can almost always survive at least one cannon hit. And I had to deal with the humiliation of my Caledorian Price fleeing from Empire State Troops due to CR… pitiful. Still, my justification is his Dragon got spooked by something and fled the battlefield, carrying my Prince away against his will….