Battle Report!
My first ever game with another army than High Elves. Playing Strange's Tomb Kings (lists a few posts up), I knew roughly what I was facing. The army I played is very blunt, with 1500 points (roughly) invested in combat characters and monsters). This will be a quick report by the way, since I don't think there's a whole lot to dwell about save for the story the pictures tell.
He had significantly more drops than me but I realized in time that he was going for refused flank, despite of some sub-optimal firing routes due to hills. To counter this, I placed all the 4 powerhouses directly opposite his corner, with most of them out of sight of both the catapults.
Magic saw me grab Miasma and Pit, while he got Shem's, Pha's, Banishment, Birona's, Ward-save, Movement, -S/-T and <can't remember last> from his 2 level 4's. With his 3 bound spells in addition, he had enough spells to choose from!
I was able to grab first turn and pretty much moved everything at full speed ahead. With so many targets and a scroll (something I'm not used to!) I was confident I could stop the worst and still crash into his horde of Tomb Guard. Magic saw me get Pit through and I rolled a Hit, killing a catapult. This was the table at the end of my T1: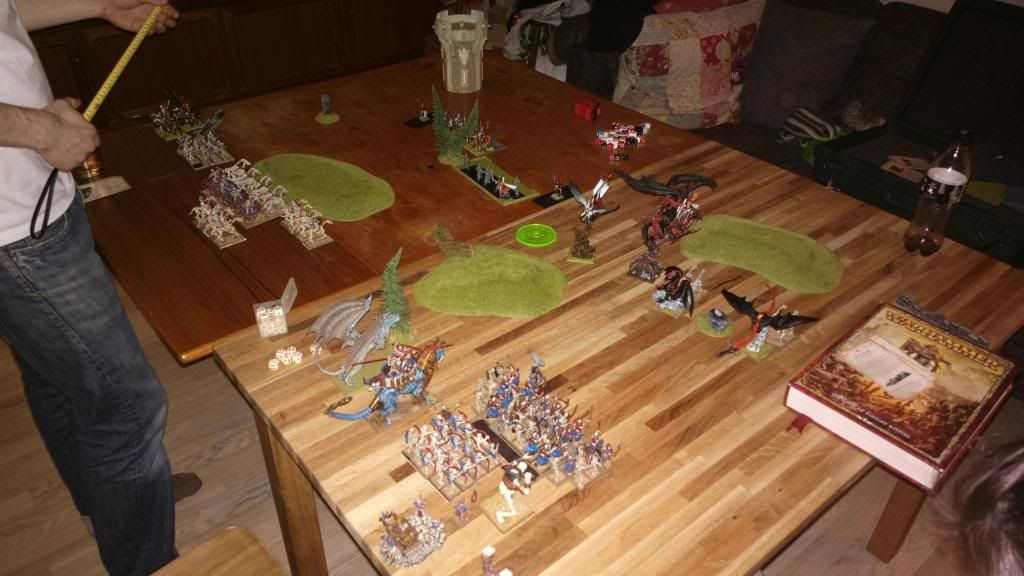 Extreme left: Warhounds moving around Archers. The 50x100 bases with a single Lion model are chariots. The 50x100 with Drakes are Chimerae. The BSB is the BSB, Dragon is dragon, Swordmasters are Nurgle Warriors and the grey models are Tzeentch Warriors. Strange had the Tomb Guard Horde in front with Hierophant in the Archers behind, the Light mage on his own
Strange then responded with Pha`s on the Tomb Guard and scored an IF Shem's @S6 on one Chimera, bringing it down to 1W. The shooting phase finished it, but did little else. His Sphinxes tried to charge but failed, needing 11+ or something like that. On the East, his Chariots charged the Nurgle Warriors, dealt 7W but lost 2, I held on Steadfast.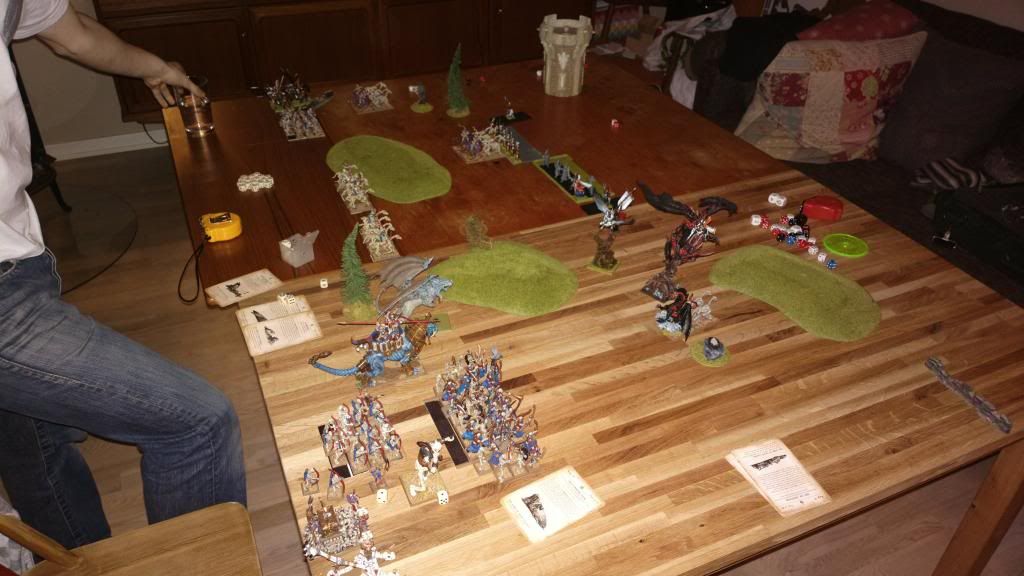 I charged the horde with BSB + Dragon + Chimera. Despite losing the General to KB, scoring snake eyes for thunderstomps and having the BSB locked in a challenge, I won by a massive amount and reduced them to a dozen, after crumble. The Eastern flank saw the Nurgle Warriors clear up the chariots while the rest moved into position to kill the rest of his chaff.
Magic didn`t do anything as the Pit scattered away from a Sphinx.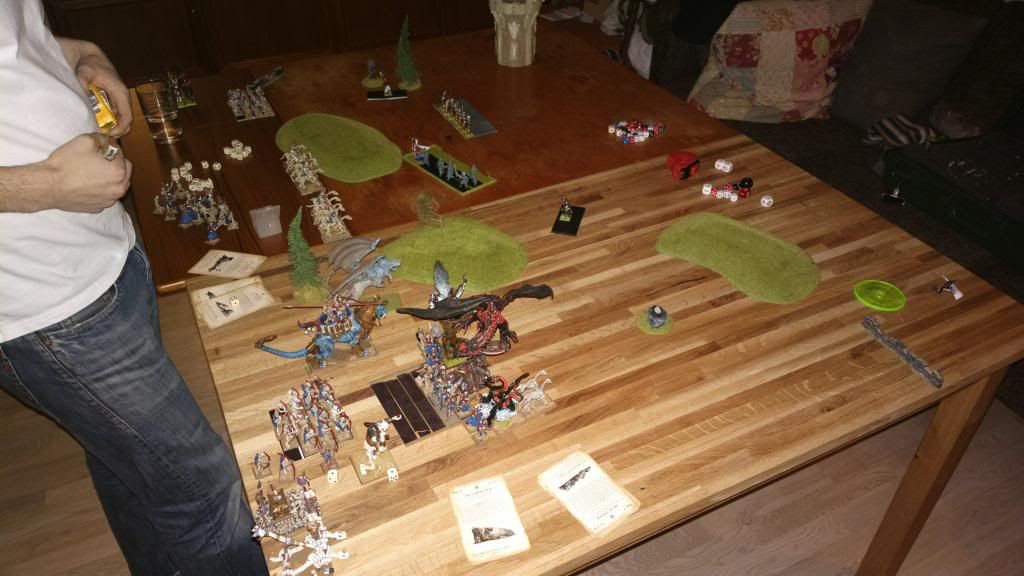 Strange moved the Sphinxes to counter-charging positions, however he couldn't help the TG out enough with magic to survive the ensuing combat. I didn't reform as I was looking to kill his mages next turn as they were right in front of me.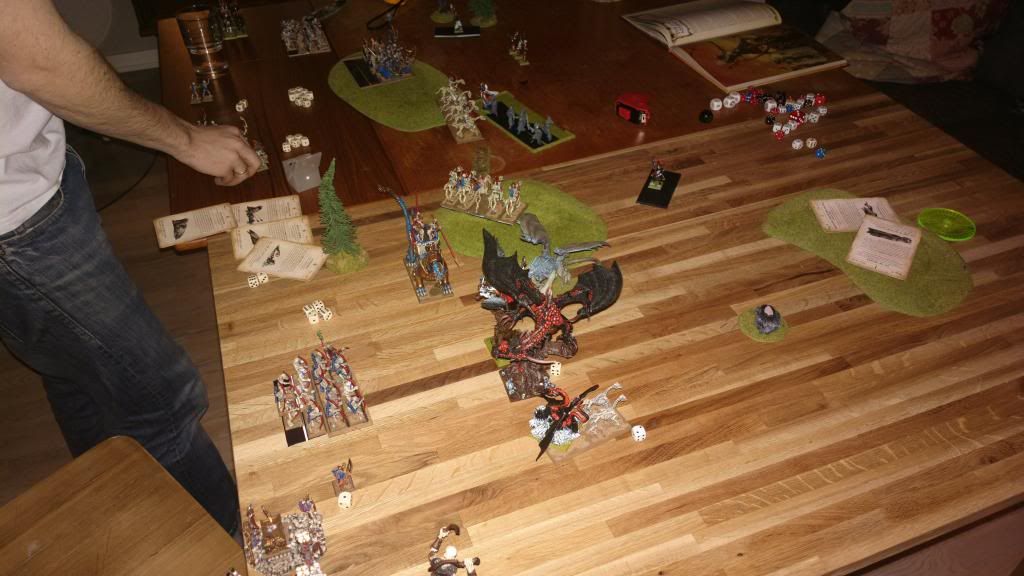 I charge the Hierotitan`s bunker with the BSB + Dragon, the Chimera goes into the Light mage. The East clean up the rest of his troops and magic does nothing. Combat sees me kill both mages and the bunker unit with ease. The Chimera overruns into the Casket of Souls. Crumble tests kill off the remaining catapult and wounds the Hierotitan once.
Picture taken after Strange's movement phase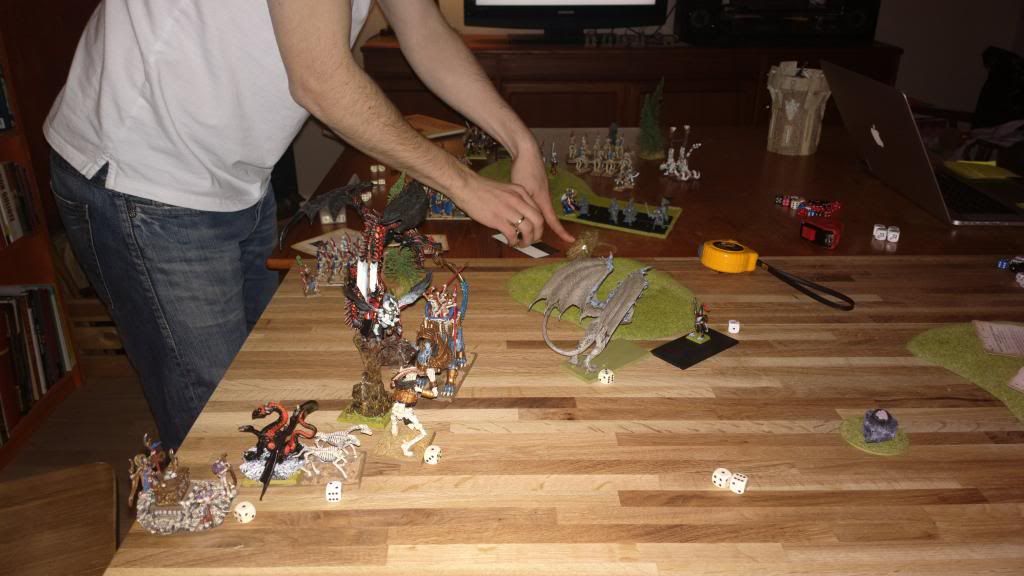 The Hierotitan + Sphinx charge the BSB. In his magic phase he gets an IF Spirit Leech off on the Dragon. Having 4W left and LD8, same as the Titan, I'm not too worried. Strange has other plans though, and as I roll a '1' he rolls a '5' to take it away, cleanly.
At this point things go downhill. He has 4 constructs left, and this is the rest of the battle:
- BSB fails to wound any constructs and eventually dies, failing an LD7 re-rollable.
- Chariot rear-charged a Sphinx but did nothing for 3 combat rounds, eventually died.
- Mage miscast once, getting a 3 -> failing the 4+ to survive.
- Chimera kills the Casket, then a Sphinx on combat res, then the last Sphinx on combat res.
- Strange passes his crumble tests like a baws, keeping the Sphinxes alive.
In the end, it's a truly bloody battlefield. Strange had nothing left, and I was left with:
- 3 Nurgle Warriors
- 1 Chariot
- 10 Tzeentch Warriors
- 1 Chimera on 2W
Fun fact: for 7 combat rounds I didn't manage to score a single wound on the Sphinxes. I must have literally rolled at least 40 hits. In the end, they both died on combat resolution from rear charges etc.
Fun fact 2: the surviving Chimera did the following (MVP!):
- helped kill the Tomb Guard
- killed the Lvl 4 Light mage (alone)
- killed the Casket (alone)
- killed the Hierotitan (alone)
- crumbled a Sphinx on combat res (alone)
- crumbled a second Sphinx on combat res (with Warriors, wouldn't have mattered though)
A very fun and fast game with lots of insane rolls. I was very impressed with the sheer combat power of the monsters, though getting first turn was key with regards to closing the gap quick and assaulting before he could organize any defenses. In the end, I was slightly less than 1000 points ahead, a
16-4 victory
to the Elves... Err. Chaos. Whatever
Thanks for reading, C&C appreciated! In particular, I'm hoping some of you have any ideas for the deployment for the both of us, since it ended up being so important. Seeing as we have a resident TK expert (Jimmy!), hopefully Strange can get some input, too