Report up!
:: Vile Sorcery ::
My dragonlist:
Prince Saerith on Star Dragon - Vambraces of Defense, Great Weapon, Armour of Caledor, Talisman of Loec :: 622
Noble Naenor BSB on Great Eagle - Dragon Armour, Shield, Great Weapon, Helm of Fortune, The Other Trickster's Shard :: 216
High Mage Curu Olannon - Level 2, Annulian Crystal, Dragonbane Gem :: 180
Characters Total :: 1019
30 Archers, Full Command and Gleaming Pennant - 360
14 Archers, Musician - 159
10 Archers - 110
Core Total :: 629
30 White Lions, Full Command and Banner of Eternal Flame, Amulet of Light :: 505
5 Dragon Princes, Drakemaster with Skeinsliver :: 195
Special Total: 700
3 Great Eagles :: 150
Rare Total :: 150
Army total: 2498
His list:
Tzeentch Sorcerer Lord on Disc, 1+ armour save, 4+ ward
Khorne BSB on jugger, 1+ armour save, 4+ ward
40 Khorne Marauders, GW
38 Khorne Marauders, GW
24 Khorne Warriors, Halberd + Shield (ward save vs shooting banner)
15 Chosen, Halberd + Shield + full command (terror banner)
5 Warhounds
5 Warhounds
5 Warhounds
5 Warhounds
Warshrine
:: Pre-battle thoughts & deployment::
Magic: I got curse and vauls and opted to keep both, figuring curse would provide some nasty choices for his poorly armoured marauders whereas Shield is highly situational and easy to prioritize against. He got everything he wanted; treason, gateway and pandaemonium being the most important ones.
Deployment was like this: warhounds-eagle-warhounds-eagle-warhounds-eagle-warhounds-10 archers. At this point he was forced to commit a block and picked the Hill corner. From here, I simply refused that flank and due to size issues he had to put the warriors there as well.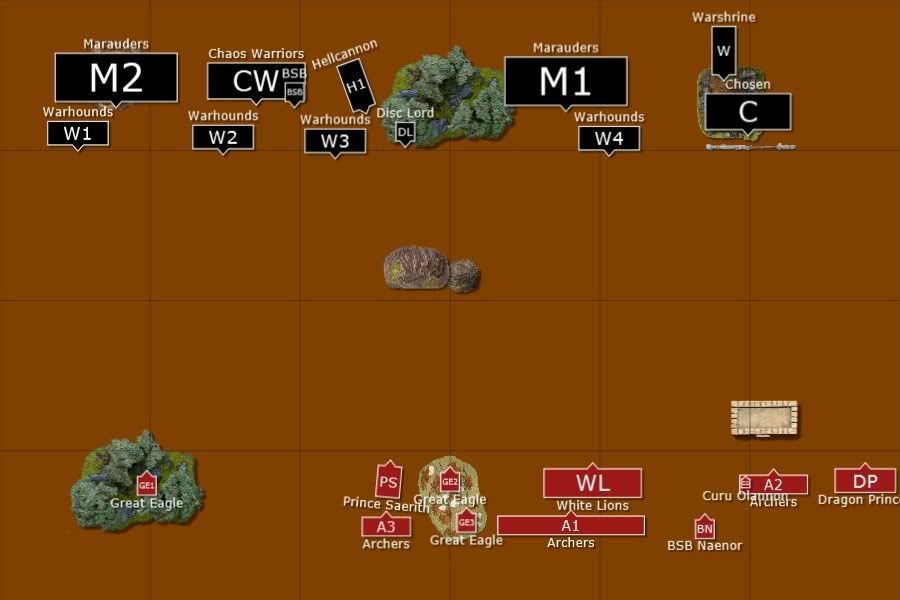 In my opinion, this is a massive advantage for me. I get to engage the Hellcannon super-fast with Saerith whereas the chosen have the worst matchup with poor support. Rolling for first turn, I get a '6' which, with my +2, gives me the initiative!
:: High Elves Turn 1 ::
Everything moves up; the Archers and Olannon get the tower (with 3 floors it's perfect!) and Saerith goes for the Hellcannon. Lions shuffle to give Archers LoS to warhounds.
Magic is 5v4. I opt to throw it all at Vaul's but a miserable roll sees him easily dispel it.
Shooting is equally poor - the result of my 50+ shots only kills 2 Warhounds.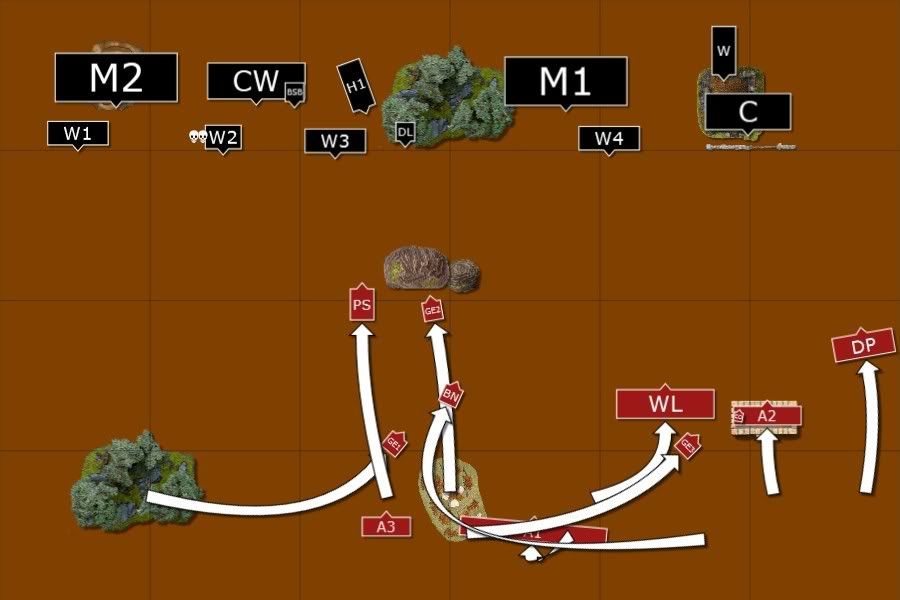 :: Warriors Turn 1 ::
As predicted, the answer for my Dragon is a confused one. His Warriors + BSB reform to try and cover the Hellcannon as best as they can. His Eastern Marauders stay still, unsure of what to do. The rest advance.
Magic is 7v7 and this is a very hard phase for me: I know he'll be casting Treason on the Lions and Gateway on the Dragon. I decide that for now, the Lions being at full strength, I'm more worried about them. I thus stop the Treason but Gateway hits me for 7 hits at S8! The net result is 4 wounds (!) taken from Faeria and 1 from Saerith.
Shooting puts +1A on Chosen and his Hellcannon scatters off Faeria.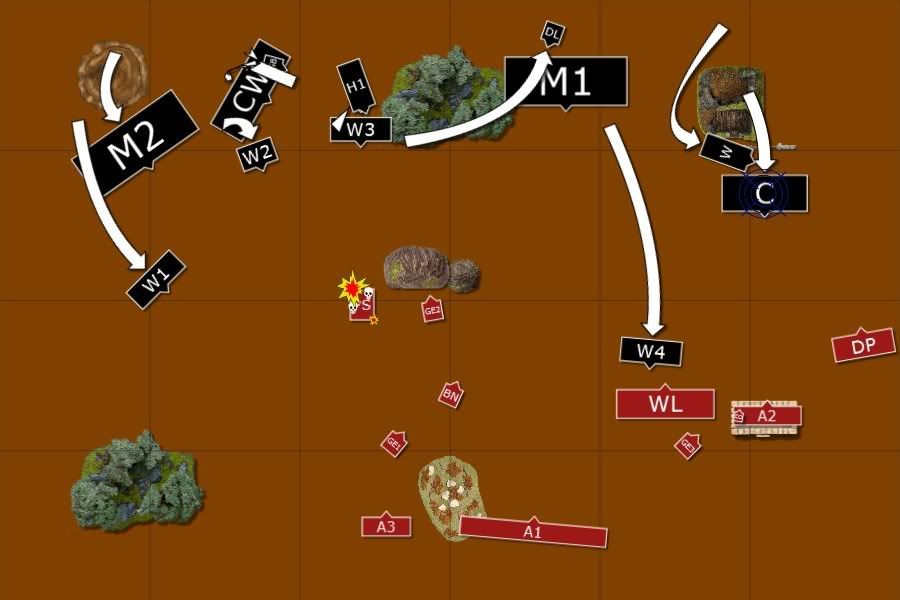 :: High Elves Turn 2 ::
Saerith charges the Warhounds in front of the Hellcannon. This way, I get to overrun into it, thus being safe from Gateway in his following turn. The central Eagle moves to block the Warriors off. My Lions charge his Warhounds screening them while the Eagle here moves to block the Chosen, the Dragon Princes staying put. I have a plan with them, assuming he'll do what I think he will with his Sorceror Lord... The last Eagle moves up centrally.
Magic is 3v2 and a good cast sees Vaul's hit his Chosen and remove the Terror Banner.
Shooting is a bit better this time around but still nothing major.
Combat sees me win both easily, overrunning with Saerith into the Hellcannon and reforming the Lions to face the Chosen.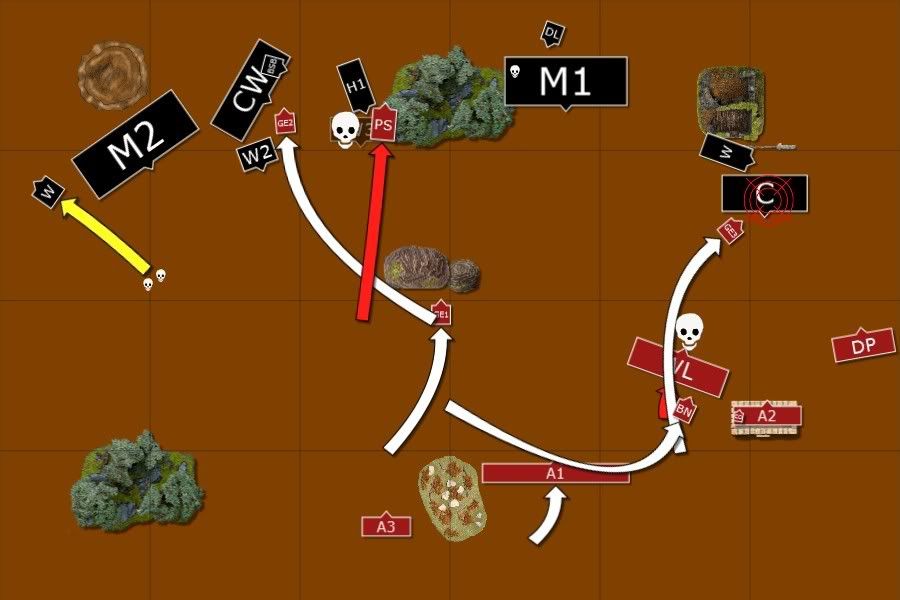 :: Warriors Turn 2 ::
Warriors charge the blocking Eagle while his Chosen shuffle around the other one. Rest move up, his Lord taking refuge in the corner. Bingo - I'm fairly certain I have him trapped, despite of flying!
Magic is 3v4 and I thank the annulian... Only to see him roll IF Treason on the Lions!! 12 of them perish and panic is passed. Miscast has no effect due to puppet (base contact result).
Combat sees him kill the Eagle and reform. I kill the Hellcannon (phew!) before it strikes back and reform.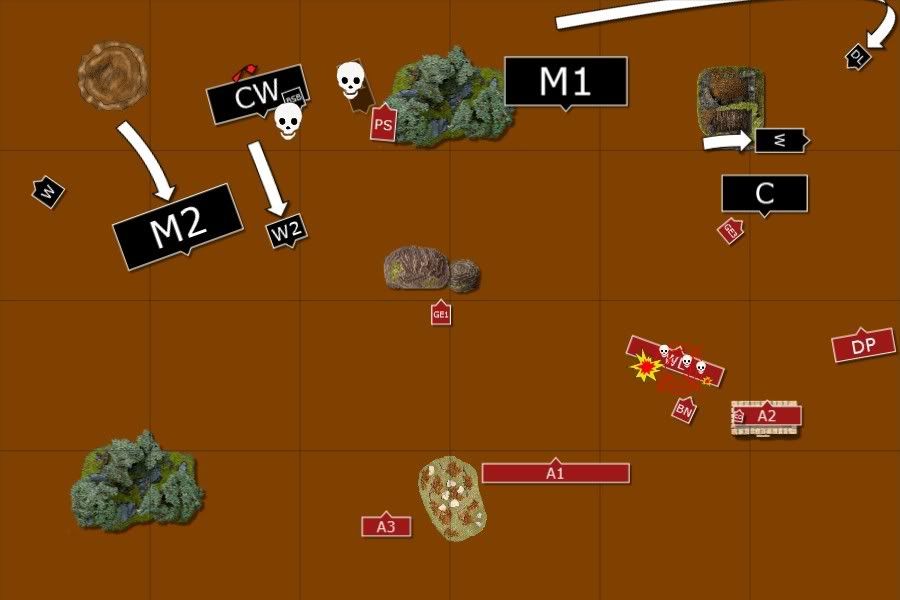 :: High Elves Turn 3 ::
Saerith flies to a central position. White Lions charge the Chosen; the intervening Eagle charging past them to get the Warshrine. Naenor joins the Lions against the Chosen. The Dragon Princes now cover an insane amount of his escape-space. The last Eagle moves up to block the last. His Sorceror is now feeling very claustrophobic.
Magic is huge as I roll boxcars. I start off with 6D6 Vaul's, taking away his Chosen's ability to modify Favour rolls. I then cast curse on 6D6, getting IF. Puppet sees me take a S10 hit along with a small template. Olannon suffers a wound along with 2 Archers dying.
The Archers, thus far being ineffective, give thanks for the magical support by killing no less than 16 Marauders!
Combat sees me roll well and I kill all the Chosen before they get to strike back (mind you, he hadn't rolled Ward Save at this point). Naenor overruns, further complicating things for his Mage and the Lions reform.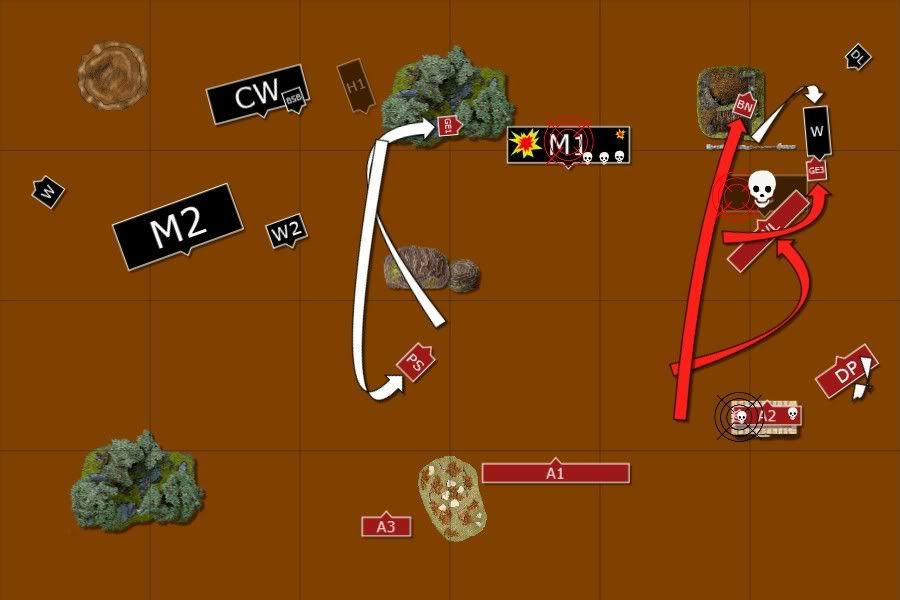 :: Warriors Turn 3 ::
His Western flank continue their slow advance, M4 being a real pain. His BSB leaves the unit since I placed Saerith to cover his Sorceror's escape paths, making use of the Juggernaught's superior movement. The Sorcerer decides to try a last ditch effort as he positions himself to Treason the Lions and Gateway Saerith. He chose the probably best place, being close to my Eagle instead of facing a cavalry/lion/dragon charge.
Magic is 6v4 after an annoying channel on his part. The Lions have served their purpose by now and I'm not worried by Treason any longer. I thus let it through on his 3D6 roll, saving my 4D6 for Gateway. The Lions however panic despite Naenor being nearby (!!) and run a full 12" away, carrying them through the Dragon Princes as well, who, luckily, pass their panic test. He then proceeds to IF Gateway on 3D6!! As he rolls for hits I can't believe how much that single, relatively innocent-looking 6v4 magic phase is starting to impact the game. He rolls 11 hits and I hold my breath as he ends up with strength of... 3!! Phew, that was close! No wounds are taken and as my opponent curses himself for not rolling the other way around (3 hits... auto-remove!) I feel lucky, though he was lucky to IF in the first place.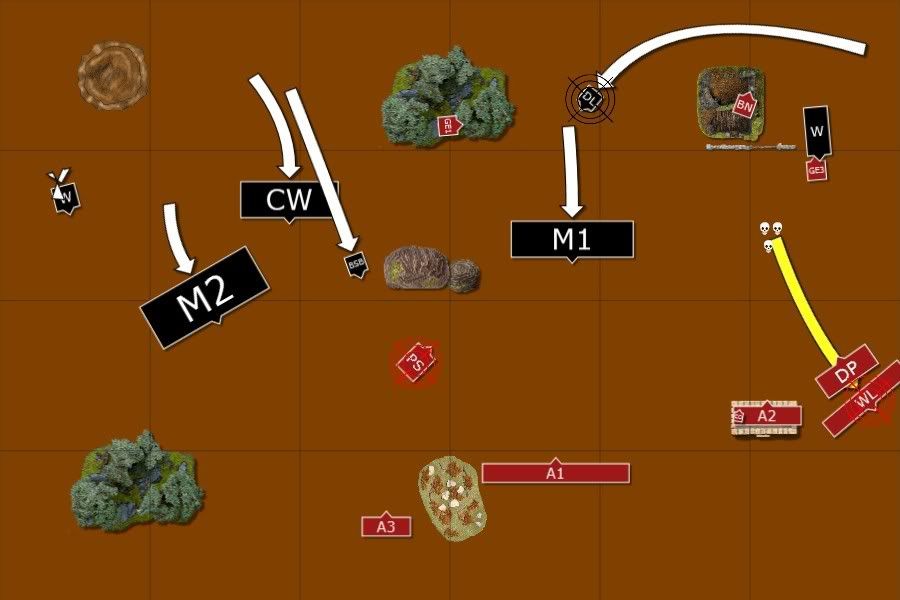 :: High Elves Turn 4 ::
Saerith and the Dragon Princes (the latter being 16" away) combo-charge the remaining 23 Marauders. However, the Dragon Princes fail their charge. Luckily, my Lions at the very least rally. The Eagle charges his Sorceror Lord, Naenor moving for a rear-charge.
Magic is 10v6 and I cast Drain on 3D6, which he lets through. I discard the remaining 7D6 as I don't want a miscast with Olannon being 1W.
Shooting is next to useless, though to be fair it hardly matters at this point.
Combat sees Faeria breath fire for a lousy 3 hits, 2 kills. I still kill 11 though, taking 1W in return. She's now down to 2W, same as Saerith. The Eagle ties his Sorceror Lord since he only inflicts 1 wound! Perfect
His Warshrine finally kills my Eagle and due to the Dragon Princes' failed charge my Lions are now very, very poorly placed...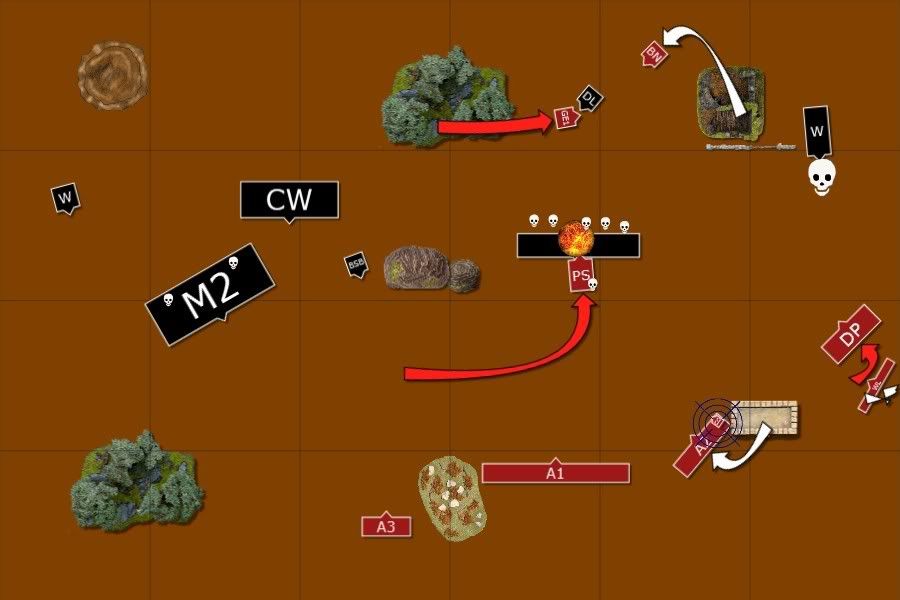 :: Warriors Turn 4 ::
His far flank keeps moving up and his Warshrine makes its charge against the Dragon Princes.
Magic is 3v4 but he gets Pandaemonium through.
In combat, my Eagle refuses to die, ensuring Naenor gets a rear charge! The Warshrine fails to deal any wounds but takes 1 in return for a tied combat. Faeria and Saerith bring the Marauders down to 5 before thunderstomp. As I roll a '1' for hits, my opponent's asking for another '1', ensuring steadfast. The Gods of Chaos have abandoned him however as I roll a '2', which means he breaks. I reform to face his BSB.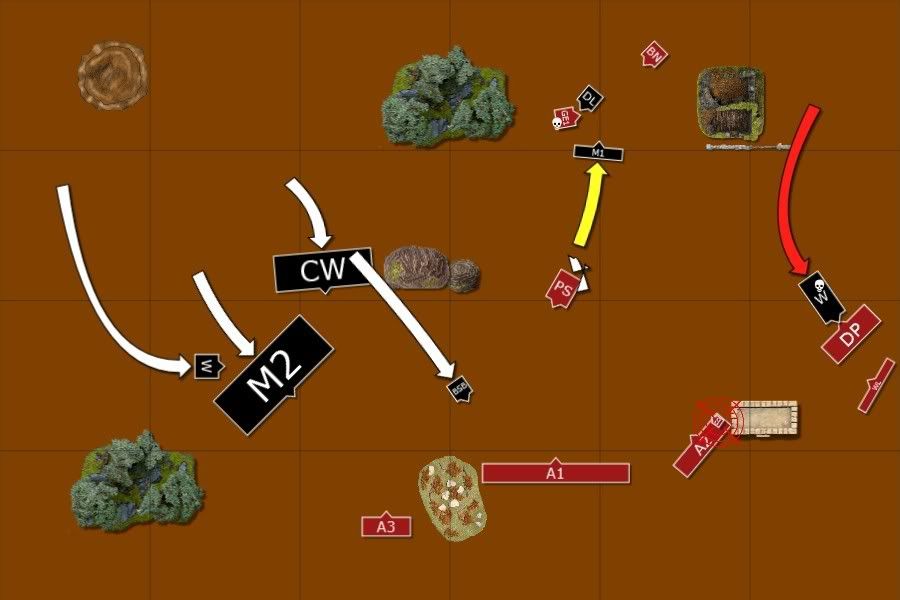 :: High Elves Turn 5 ::
Naenor charges his Sorceror Lord, Saerith his BSB. The Lions reform (yet again) to get an angle to the Shrine. My small Archers move to block off his Marauders from helping the BSB.
Magic is 5v4 and I cast it all at Vaul's (Deja Vu anyone?). This time it gets through his defences and I remove his BSB's 4+ Ward. Panda means I take a miscast but I figure it's easily worth it as I don't want to face his return attacks, fearing for Faeria. As his puppet forces another S10 hit I pray for a '1', not because I need it particularly much but because it would be the icing on the cake. I duly get it and Olannon survives!
Shooting is again in-efficient. In combat, my Dragon Princes hold their ground. Naenor challenges his Lord (denying him easy resolution from the Eagle) and we both fail to wound eachother. With a massive -4 he loses and breaks and I run him down. I activate Loec for Saerith and despite of only getting 2 hits, both wound (1 came up a '1' but Loec does the trick!). He rolls his 4+ armour save, getting a 3 and a 4. Again, Loec is what's needed as the 4 ends up a '2', killing him before he can strike back!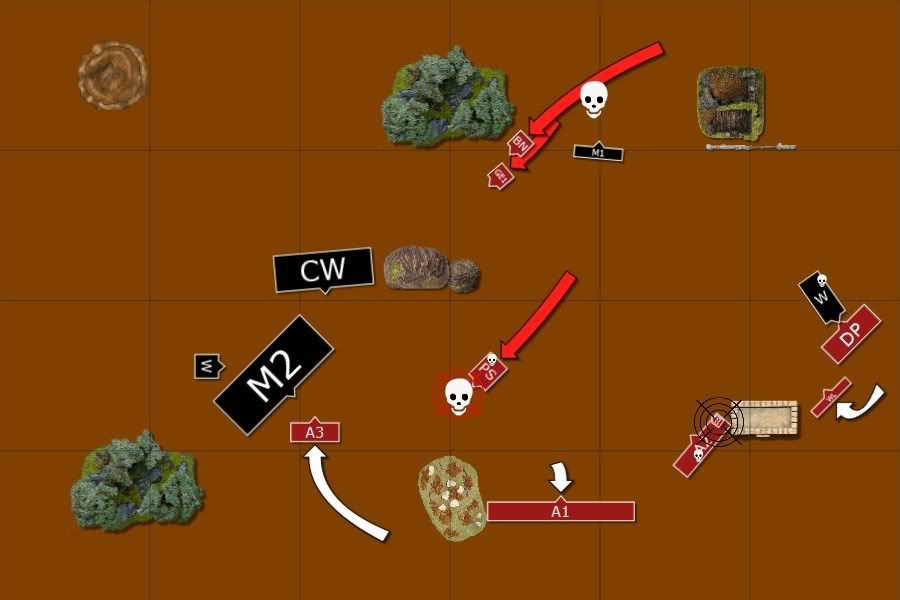 :: Warriors Turn 5 ::
His Marauders charge the blocking Archers, which opens up for the Hounds AND the Warriors to charge Saerith. I flee them both, which takes me very, very far away.
In combat, the Marauders easily murder the Archers while my Dragon Princes hold their ground.
:: High Elves Turn 6 ::
The Lions charge the Shrine and Saerith rallies. I skip magic and shooting and in combat I leave the Shrine with 1W, however it passes its test due to killing a couple of Lions.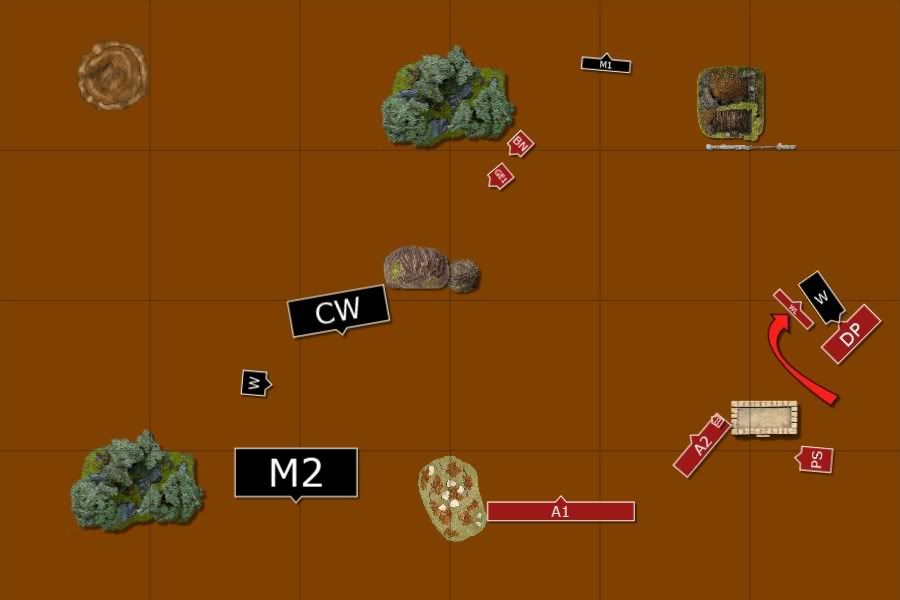 In his last turn nothing's able to charge and I kill the Warshrine!
:: Victory Points ::
I lost: 2 Eagles, 10 Archers. He lost: everything save for 5 Hounds, 38 Marauders, 24 Warriors. Bonus: General, 2 Banners, BSB. A
massacre to the High Elves!:: Evaluation ::
First of all, deployment was HUGE this game. Everybody believes that 8th is all about huge blocks being bigger and tougher than other huge blocks, thus beating them in a 1v1 situation. It's also common internet knowledge that Marauder hordes are very cost-effective. However, when you take a Chaos army like this, you're looking at a 30" frontage from the Marauders + Warriors alone! This is extremely easy to capitalize on with an army such as mine. Note that this isn't mainly because of the Dragon, but because of the Eagles. Though he probably could've deployed better, I would've had the advantage anyway with my superior chaff and the rocks in the middle.
I've always thought that the better the player you're up against, the more obvious your mistakes are (usually because he capitalizes on them). My opponent said, at the end of the game, that he feels he doesn't really get to show what he's capable of by playing against me. Though this is partly because I consider my army a very good counter to his, I believe this shows that I also know how to use the mobility in my army to its potential.
Magic was HUGE this game. The initial blast on Faeria left me in an awkward position - basically having taken out his Hellcannon I had a very tough job prioritizing: go into another combat against a full-strength Horde unsupported or face more Gateway blasts. In the end, I opted for Gateway seeing as combat would be pure suicide. Also, as the game unfolded, this decision allowed me to box a flyer in - not an easy task by any means! Between some irregular rolls (him IF'ing 2 times on 3D6, both times in a situation where I had 4D6 for dispelling) and good spells (curse, vaul's - him getting both Treason and Gateway) I was really impressed by how much a single wizard without any support can accomplish using the old lores. Tzeentch magic in particular is incredibly devastating for its cast value. Basically, almost any Winds roll is useful as you can safely 2D6 away stuff like Treason due to +5 to cast.
With regards to magic, I must add that I've been considering an MSU-ish approach (8 Lions flaming banner, musician, rest Swordmasters in small units) . This would greatly mitigate my weakness to Treason and similar spells, however I think that the advantages of the Lion horde outweighs this benefit. The way I play this list usually means damage per frontage is a primary consideration and MSU Swordmasters are poor here as opposed to Lions in a horde when you factor in return attacks and the 1" rule in particular.
Lastly, I'd like to ask for some feedback for the Warriors player as well as myself. He's following this blog and I'm sure he would appreciate any advice you have for him
Of course, feel free to point out things I could've done better as well, or simply leave a comment.
Regards,
~Olannon