Jimmy thanks for the enthusiasm! If you get an army you like and learn to play with some interesting tactics then High Elves really have a lot to offer.
Jimmy wrote:
Would you consider dropping the scroll for the silver wand?
Yeah I've thought long and hard about the silver wand. The second draft of this list had Silver Wand (only) on the Archmage and Banner of the World Dragon on the BsB. I took out the latter because the BsB was just too vulnerable (3+ save) to be a versatile combat character (he could never leave the helms and return attacks were always a worry). Since I'd ditched the only magic defence I had, I felt I had to take a scroll to make up the balance. Scrolls are better in 8th than they were in 7th, since power dice are harder to come by. As for spell selections, that's also better in 8th than it was in 7th, since you get to choose a spell when you roll for the same one twice. With 4 dice the odds are ok- not bad enough for me to feel comfortable with losing my only serious piece of magic defence.
Jimmy wrote:
Let's talk a bit about deployment if you don't mind Seredain.

Obviously you position your shooting units to take out enemy shooting and fast cav, so you tend to then anchor a point with your infantry and advance the cavs + chariots up a flank? Obviously a lot of this depends on the opponent and how they deploy as well but for a rough plan would you care to share?
Deploying the Cavalry Prince List
As you say, my deployment will depend mostly on which enemy army I'm facing. However, I've provided an example below of a deployment which I used in my last game against my most regular opponent- who plays Lizardmen. He's got quite a powerful list with tough saurus blocks and a wide variety of dangerous supporting units and a very powerful magic phase. My tasks are to weather his magic, remove his stegadon and skirmishers and then surround and crush his core blocks.
Here's the map of how he and I deployed, with some notes below explaining the rules I was trying to follow. Characters are marked in red: Prince = 'P', BsB = 'B' and the archmage is with the archers. The Lizardmen characters are (left to right), Saurus BsB, Slann and Lvl 2 Skink Priest on an Engine of the Gods.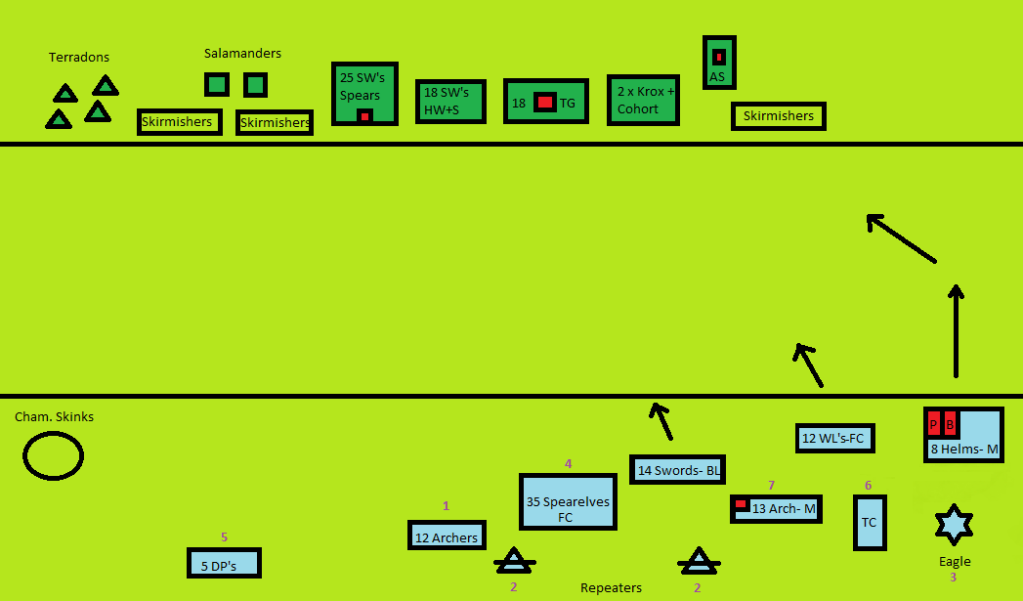 So, here we go.
1: Have a Plan
What is your army good at? What units are dangerous in his army and which units do you intend to use to take them out? Think about this and make a decision on a framework for your plan before you place your first unit. Then, once you start deploying, be ready to adapt it.
For the deployment above, the plan is to play defensive with the main body of the army while inflicting damage in the early turns with missile fire and cavalry/chariot/white lion charges on the flanks. My main attack will be on the right flank, with my Prince's bodyguard helms leading the charge, with the white lions and chariot in support. Then I'll take my attacking wing into his centre once it's within charge range of my swordmasters, who'll join the party by Turn 3 or 4. The steadfast spearelves will cover my defensive refused flank and hold while I'm crushing the Lizardman left. The right-hand archers and repeaters will apply themselves initially to weakening the units targeted by my attacking wing, before fending off the Lizardmen support units to protect my centre. The dragon princes will work in conjunction with the archers on the left to rout the terradons and skirmishers opposite before running over the salamanders. By Turn 5 they'll hopefully be in a position to join any combat my spears find themselves in.
Every deployment I make will have this plan in mind- this way no deployment is wasted.
2: Order of Deployment- Confusing Your Opponent
If the first rule of deployment is to Have a Plan, the second rule is to Keep Your Opponent Guessing.
Firstly, you obviously don't want your opponent to know exactly what you've decided to do and, secondly, you want to try and force deployment errors on his part. I've labelled some of my deployment drops 1 to 7 to give you an idea as to my deployment order and how I try and throw my opponent off. The un-numbered units are those I deploy last, since, in this battle, they form he backbone of my attack.
So, deploying the archers
(1)
and repeaters
(2)
gives nothing away: they could be forming a central fire base or covering a defensive flank. In any case, deploying your repeaters fairly centrally is a good way, against this Lizard army, to cover most of the board and provide plenty of targets (I'm not looking for flank shots against cavalry here). Likewise the eagle deployment
(3)
is hard for my opponent to decipher, since he could either be running disruption for a defensive flank or providing cover for an attack.
The spearelves
(4)
actually make a lovely early deployment if you put them centrally. Again, your opponent will find it difficult to decide what's going on: they could be forming the centre of your battle line or acting as a pivot for either flank. Since they're in the middle, figuring out which flank that is will be difficult.
Then the dragon princes
(5)
. In the battle I've represented above, my opponent figured they were going to run with my helms and form a powerful attacking flank, so he countered with the saurus spears next turn. In fact,as discussed, I'll be using them to run harassment on his skirmishers- his spears will therefore find themselves stranded on the wrong side of the field. The Tiranoc chariot
(6)
is easily re-deployable and so, again, doesn't give my opponent too many clues as to where my most powerful units and combat characters are going.
At this stage of the deployment, I am still completely free to place my elites and helms to either the left or the right of the spearelves. If I go left I have the DP's packing more punch and if I go right I have the support of the chariot and eagle. In either case, I have an archer unit deployed nearby to allow the archmage to provide support. I'm planning to go right, but my opponent doesn't know that- he reckons I'm going the other way, but he can't be sure since my deployment thus far has been pretty symmetrical.
This puts him in a difficult position. If he puts all his blocks on the far right or left, by Deployment 8 I can go the opposite way with my elite infantry and helms and have the fast units I've already placed redeploy on Turn 1. In either case, I end up with a refused flank anchored by spears, with the soft infantry in the centre of my army covered by missile fire and my elites by Life Magic, with a fast and powerful attacking flank on the far side.
All this guesswork means that my opponent just ends up deploying centrally with his big blocks. This is no surprise for 2 reasons:
1: He doesn't know which way I'm going as discussed above. He has to come to me (because I have the greater range), so he has to cover both options.
2: I know that he is likely to deploy his blocks together to protect the Slann so, once he's placed 2 of them I can guess where the others are going. In principle - take a good loook at the enemy army and you're likely to be able to guess how it'll deploy. Big blocks will likely go together to cover each other's flanks.
In the end I place my helm bus on the right flank. This is bad for him because I'm overlapping his flank there and because the big saurus spear unit is in completely the wrong place. He counters with the stegadon to hold that flank up, but that's fine by me as I want to take it out early. That's what the Prince is for.
Mini-Conclusion
Just in the deployment phase, I've made my opponent's job harder. He's got few units to defend against my attack on his left and his most powerful infantry block has miles to travel to do anything important. Make an effort to confuse your opponent in the deployment phase and you'll find it gives you a huge advantage just like this.
3: Placing Your Units- Refused Flank Army Formation
Since, when building your army, you've already decided how each unit in your army is going to support its fellows, you know not to deploy everything in a single line. As you can see I've deployed a
refused flank
here to execute The Plan described at point
1
- ie so that I can take out his army in sections on my attacking right flank and leave the Lizardmen units on my defensive left with a long way to run.
By
deploying deep
with many of my units I've prevented my opponent from deploying his scouts in the back of my army (hence the chameleon skinks are stuck out on the far left- they were in a wood). I've also ensured that the terradons can't march behind me on Turn 1 and get out of my line of sight. The
repeaters
, in deploying centrally, are nicely protected from his support troops by archers and infantry.
I've placed the
chariot
in such a way that he can do a number of things on Turn 1: he can run alongside the helms, move to either side of the white lions (to support them or the swordmasters), or cut behind the archers to provide support for the spears and/or cover the repeaters from Terradon attack. In this game he'll charge alongside the white lions and silver helms but you'll see that I've kept my options open here and am able to counter unexpected moves by my opponent.
The
eagle
is able to fly over the knights and do anything he wants, in this case blocking off the stegadon, preventing Burning Alignment going off on my cavalry before my Prince charges out to challenge the priest and neutralise the Engine.
Notice that the
Archmage
is deployed almost in the centre of the main body of my army, directly behind the elite infantry. This way he's covered by my best fighters but in range of all the major combats so he can buff my units. In this game he'll have to edge back a little to stay away from calming cogitation, but obviously the archers don't mind keeping a safe distance.
As a final point, note that the units on my
attacking wing
are all placed outside of their targets (as indicated by the arrows): silver helms on skirmishers+ stegadon, white lions and chariot on the kroxigor cohort (with archer support), swordmasters on the temple guard (an excellent match-up for us), and spears covering the flank of the swordmasters. Deploying in this manner forces the Lizardman defensive flank to turn outwards- to rotate to face my right. This gives the infantry on his right (my left) even further to travel before they can have an impact on the game- since his whole army will have to rotate and they're on the outside of the circle. Having his defensive flank rotate to face my right also means that any pursuit moves I make with my attacking units will be cutting into his centre rather than running vertically off the board.
Hope this helps- any questions welcome.
Edits(s): Lots of editing to correct spelling, grammar etc etc...