SpellArcher wrote:
Daemons are a powerful army but that leaves it's own selection dilemmas. Here your opponent went for numbers but lacked combat characters and his magic wasn't awesome.
It was tricky to deal with simply because he always had something useful to cast but, typically, I was able to tell which were the spells I really needed to get rid of in any given turn. The difference between this phase and the Mannfred phase, though, was that this phase didn't have the loads of power dice to back up the loads of spells, so I could normally handle it. My opponent rolled really well for power a couple of times, though. That, in conjunction with the flamers, made me seriously worried. We saw T7 bloodletters and T8 plaguebearers this game. And then there was the damn amber spear...
Eldria wrote:
I took my cut down version (2400 point) to a 14 man tourny on sunday and placed 4th due to losing to a demon player in the last game fighting for first. I blame 2 mistakes for my loss, one was forgetting he was allowed the +1d6" charge banner and the other was misdeploying the white lions behind a pond which was actually an impassable spawning pool so they did nothing all game.
Nice! That banner is a complete bastard: I won't forget about it again in a hurry. As for the white lions... Doh!
I like your daemons setup. For sure I see precious few armies that employ chaff on that scale and daemons have some of the best light/skirmishing units in the game. High elves are pretty good are taking out units like these, however. Archers, repeaters, chariots and knights have good range and can move quickly to clear the board before the infantry gets to it. The unknown quantity, for me, would be the GUO/LoC. I'm not yet familiar with the kind of setups these beasts run.
Syleth wrote:
My first post in this forum (after introduction post).
An excellent first post!
Syleth wrote:
First of all, i find this whole thread to be of enormous help, either for beginners or for experienced generals. the topics, battle reports and reflections are unvaluable. Special thanks to Seredain, and congratulations on your last win!
Thanks for saying so. I continue to be really pleased with the possibilities that the High Elf army has to offer in 8th edition and I'm glad that the guys on this site have been so proactive in following, supporting and inventing new and unique list builds in the way they have. When 8th Edition started, the hype was all about archmages and elite infantry blocks but now, in addition, we've got cavalry back in play, shooty/magic lists, avoidance lists, eagle princes, dual cavalry hammers- a wonderful amount of variety that lots of other armies can't (or won't) really match. It seems that the community now is generating battle reports, interesting tactics discussions & treatises and army blogs at a rate that I haven't seen historically. It's great to see and great to be a part of.
Syleth wrote:
Before giving my suggestion i would also like to comment the fact that, as i understand it, the jewel of the dusk dice can only be used by its wearer. I guess in that case there is no problem in giving JotD to archmage and dispell scroll to mage lvl 1, but still, it's nice to have it in mind if what i say is correct.
This used to be true back in 6th but isn't in our current army book. The jewel is just an excellent item for the price. The only flaws it has are a) that it takes up a valuable arcane slot and, more particularly, b) that it requires an expensive mage to carry it. Individually it's better value than the Banner, but the cost of the mage changes things on points-cost alone.
Losing the 2nd Repeater - Problems and Solutions
Syleth wrote:
However, i really really miss the Banner of Sorcery for the great impact it has in boosting the much needed aid spells for your troops.
This is absolutely right. Not having the Banner is a straight-up weakness of the list. I'll reiterate that having the extra deployment location, board coverage and enemy unit distraction (it takes two turns to charge a repeater, kill it and then get into position to charge something else- that's a significant chunk of game time), is something more power dice can't replicate, though. I've been reluctant to take the Banner, then,
without
being able to replace (in full or in part) the harassment/anti-harassment/deployment options granted by the 2nd repeater. The loss of missile fire is a serious consideration (in terms of the effect it has psychologically and in terms of wounds caused), but not the only one.
Syleth wrote:
In the last games i see you have tried different approaches to try to overcome this issue, (RBT +2WL out, mage in) with different degrees of success. Metal mage performed really well against that empire opponent, but you really missed the fire of RBT and the 2 WL against DoC.
Spot on. The 2nd repeater could have been the defence my backline needed against those fiends where I felt the need to dedicate the chariot to combat. The absence of secondary support unit behind my lines
combined
with the reduced number of white lions made my life more difficult than I'm used to. Certainly the extra mage could not cover this defecit- he's just something else that can get killed by units like fiends, is forced to hide and, thus, is not the solution. I'll say again that, with the exception of magic missiles (which I'll come to in a moment), magic (certainly Life lore) cannot achieve the annihilation of units in and of itself: rather it can only operate in conjunction with pre-existing units. I straight-up lost a unit for that last game and that made me uncomfortable.
Searing Doom
was excellent against the Empire, of course, and would be just as excellent against certain other enemies. The truth is, though, that I have lots of ways of coping with knights all over my list: the characters, the elite infantry, the eagle (not ready to fight 'em? Hold 'em!) and, latterly, the Life spells (esp.
Stone
for fighting and
Regrowth
for steadfast).
Indeed, having looked at the ETC lineup recently, I was struck by the number of powerful enemy armies that were full of dangerous light units which could punish my fragile and manoeuvre-reliant list but which, frankly,
Searing Doom
or (the Metal buffs) would be useless against. I'm talking about Dark Elves (any of them!), Skaven weapon-teams, chameleon skinks, fiends, eagles and so on. Being on the receiving end of such units in that last game exposed a gap in the capability of the new list edit which I think will prove far more damaging in the long run than my inability to smite a steam tank in one turn.
Syleth wrote:
So here is my suggestion, an alternative which i still haven't seen in this thread:
- Drop 1 RBT (100pts)
- Add Ring of Fury (enchanted item, 40points). So archmage wears Dispell scroll + Ring
- Add Banner of Sorcery to SW (12+50)
So that makes you need 2pts from somewhere. Points are really tight but i hope there's somewhere to take them from.
Reasoning:
- The main objective of this change is to field BoS to boost magic. I can't see anywhere else where to take points from except from the RBT.
- BoS > JotD in terms of raw magic boost. JotD cheaper but needs mage, which costs more but offers other things, at the cost of 2 elites.
- The loss of the RBT is compensated with Ring of Fury. In terms of effectiveness, RoF is generally superior (7S4 magic hits on average, when successfully cast). Also, the spell fury of Khaine can be usefull against most armies (if not all).
- Of course, RBT can't be dispelled and it's threat might distract enemy troops going against it.
- On the other hand, you can use the extra dice from BoS to either cast more (or stronger) life spells or to cast RoF. In either case, your enemy has to choose what to use his dispel dice on, and you have more casting dice and a new spell that you didn't have before.
- You gain 1 Standard in SW. Good in some scenarios and the +1 CR might be usefull sometimes. Bad thing, SW will get even more attention, and if you lose them, you lose BoS; so now you REALLY have to protect them with magic (however, your magic is now stronger).
Let's see your opinions and what you think about it
The Ring of Fury
I honestly hadn't even considered the Ring of Fury! I must say, though, that this is a properly properly good suggestion and the reasoning behind it is very well explained. The ring allows me both the Banner (more power), the better spell selection and, as you say, a maintained ranged ability. Specifically, it does something the rest of my Life spells can't do and, further, it hurts support units like fiends badly. Thumbs up!
There are a few little problems with the ring, however (other than the power it requires- you can't cast everything you'd like!). The archmage cannot be, or turn to face, everywhere at once. It is very unlikely that I will be able to Dwellers my enemy's horde and fry his scouts in the same turn. The archmage, since he's a soft target to enemy shooting and spells, will also have to sit in an infantry unit- typically archers but possibly spears. He will, therefore, be partly bound (or at least influenced) by the unit's location, target and all-round purpose. This is no problem for most spells, but it is for magic missiles. Lastly (and most importantly), it doesn't solve the problem of the missing deployment. It's not just that the archmage takes on another role and can't be everywhere to do it, it's that my other good harassment and anti-harassment units have to fill the gap which, in terms of deployment, the archmage can't himself satisfy at all. I think I've found the solution, however...
List Edit
Prince - Barded Steed, Dragon Armour, Shield, Giant Blade, Helm of Fortune, Plucker Pendant, Talisman of Loec - 286
Archmage - Level 4, Life Magic, Dispel Scroll - 280
Battle Standard Bearer - Barded Steed, Great Weapon, Heavy Armour, Shield, Dragonhelm, Dawnstone, Amulet of Light - 190
30 Spearelves - Full Command, Gleaming Pennant - 300
14 Archers - Musician, Standard - 169
14 Archers - Musician - 159
14 Swordmasters - Bladelord, Standard, Banner of Sorcery - 284
11 White Lions - Full Command, Banner of Eternal Flame - 205
8 Silver Helms - Musician, Shields - 192
5 Dragon Princes - 150
1 Tiranoc Chariot - 85
1 Repeater Bolt Thrower - 100
2 Eagles - 100
= 2500 points
Liberating the Archers
Yes! It's another eagle! And the Banner of Sorcery is in! And I've got 2 extra standards for
Blood and Glory
! Hooray! So, the extra magical power is in and my harassment has just got a lot better (it's not that I can throw 1 eagle away and have a spare- I can now block 2 units in 1 turn with eagles, or 1 deathstar for 2 turns- this is a good thing); but my anti-harassment abilities got a lot better too, and this has nothing to do with the eagle directly attacking harassment units.
Here's what I mean: take a look at the deployment I used against the daemons in that last game.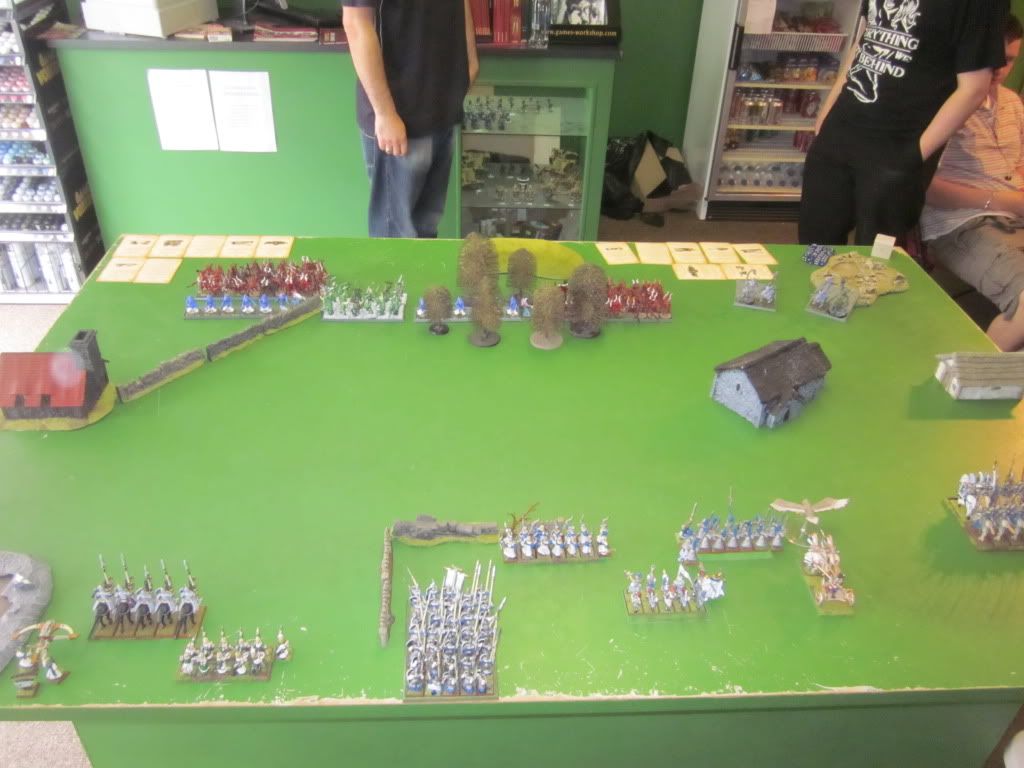 You'll see that the green archers are deployed far to my left flank. This is a usual habit of mine to throw my opponent off during deployment. During the course of this battle, they will spend perhaps a turn or two shooting and then find a second important use- they will nobly sacrifice themselves to block the bloodletters for a turn- giving me time I need to clear the daemon right flank. Both of these roles, now, can be performed by the second eagle.
In this way the eagle doesn't just improve the list by what it can itself do, it does so by liberating the archers to perform other roles themselves. Specifically, my deployment of my shooting units will now be less constrained by my need to out-deploy and harass my opponent's big blocks. The fact that both archer units are now 14 strong with musicians isn't the critical detail (though 3 extra shots might make the difference here and there). The critical details are as follows:
(1) Both archer units will be much better able to concentrate their fire, if required, since they can now deploy together without worrying about doing an eagle's job. In this way the new eagle keeps my shooting phase potent- even where it's lost a repeater and gained only 3 archers.
(2) I now have that spare unit which I can use, where required, to cover my back line. You can do this from a relatively central position so as to not greatly impact point (1). 14 archers with musician are an excellent foil for enemy harassers looking to worry my attacking units in the way the fiends did during the last game. They will, typically outshoot and outfight units like scouts, skinks, flyers and light cavalry looking to close in and cause trouble. The archers will, infact, outperform the 2nd repeater in this capacity since they can move, shoot and fight.
As for the spears, I think I can survive with 30. Against anything except gunlines they typically don't take much of a beating before they get into combat: my opponent usually decides he has bigger fish to fry. Mortars like to land on them but, if it comes to it, I have more power dice to throw at the Lore of Life, now, so an esssential regrowth or toughness buff will be easier to get off. I also, of course, have the opportunity to apply more direct support to the spearelves with the 'liberated' archer unit (for flank charges and such). I've lost a white lion, but nothing's perfect. I might continue tinkering until I can get him in but, in principle, I'm happy.
In conclusion, I think I've simultaneously improved my magic phase, harassment and anti-harassment abilities, with a manageable impact on my shooting phase and without spending any more points. It sounds like squaring the circle, but I'm looking forward to giving the new setup some more games. In fact, my next report is on the way, in which I deploy this army against the following Lizardmen list.
My opponent spent another 185 gold on top of the list you see, so he fielded this:
2685 point Lizardmen
Slann Mage Priest- Loremaster (Life), Focus of Rumination
Skink Priest- Level 1, Dispel Scroll, Heavens Lore, Ancient Stegadon, Engine of the Gods
Skink Priest- Level 2, Cloak of Feathers, Diadem of Power (may store power dice to use as dispel dice)
Scar-Veteran BSB- Sword of Strife, Enchanted Shield, Light Armour
25 Saurus Warriors- Spears & Shields
24 Saurus Warriors- Hand Weapons & Shields (BSB here)
10 Skink Skirmishers
10 Skink Skirmishers
20 Temple Guard, Full Command
4 Kroxigor
1 Stegadon
1 Salamander- 4 handlers
Battle Report coming soon...