Ahoy amigos! I return, belatedly, from my latest trip to bring you the concluding part of...
Battle Report - High Elves v Vampire Counts
Part 2
Vampires Turn 3
The current plan wasn't working too well for the vamps: I was bearing down on their right flank and the unit anchoring that flank was beginning to look very fragile indeed. Movement was required! The ghouls got their act together and advanced towards the centre of my army, the grave guard wheeling to keep in line with them. The skellies rotated to cover their right side from my princes and reformed to reduce their frontage.
Magic this turn was more useful for the vampires. They got 10 power dice to my 4 or 5 dispel dice (including Mannfred's +2) and made it count by raising up enough skeletons to bring the unit to an even 20. Mannfred threw Spirit Leech at Lecalion, who was forced to spend his scroll to protect himself.
High Elves Turn 3
I was feeling pretty confident now. The skeletons were at a manageable size due to all my shooting and Dwellers, and I was closing in with my army intact. All I had to do was set up the charge. The spirit hosts had to be dealt with: I couldn't shoot them, so I'd move Caradath into the princes to buff them with his amulet of light while Seredain remained with the silver helms. In any case, if the ghosts charged either unit, or moved to block a charge of mine, I'd stampede them easily.
So, movement. My cavalry and chariots moved to within easy charge reach of the skeletons and the grave guard, the eagle flying forward to hold up the grave guard and make sure they didn't spring a nasty counter-attack. The swordmasters and white lions moved to form a line covering the right flank of the cavalry, with the spears in close support and the blue archers beyond.
Magic. I'd taken a risk and kept the archmage within 24" of the grave guard. Mannfred's Death spells would therefore be a threat to him, but I figured it was worth the risk for the chance to get Dwellers off on that unit and protect the fast-approaching prince by offering another juicy target. I duly got enough power to get Throne of Vines up and then cast Dwellers irresistibly at the grave guard. Aha! A full rank of them were dragged back to the grave and one of the wight kings went with them- unfortunately the killy one rather than the regen BSB. Mannfred, as expected, was too strong for the mudmen and survived unscathed.
Shooting saw my repeaters thud another hail of missiles into the skeletons, who wilted again. The blue archers, since they couldn't see the skellies for all the advancing High Elves, aimed at the grave guard instead and may have brought down one or two.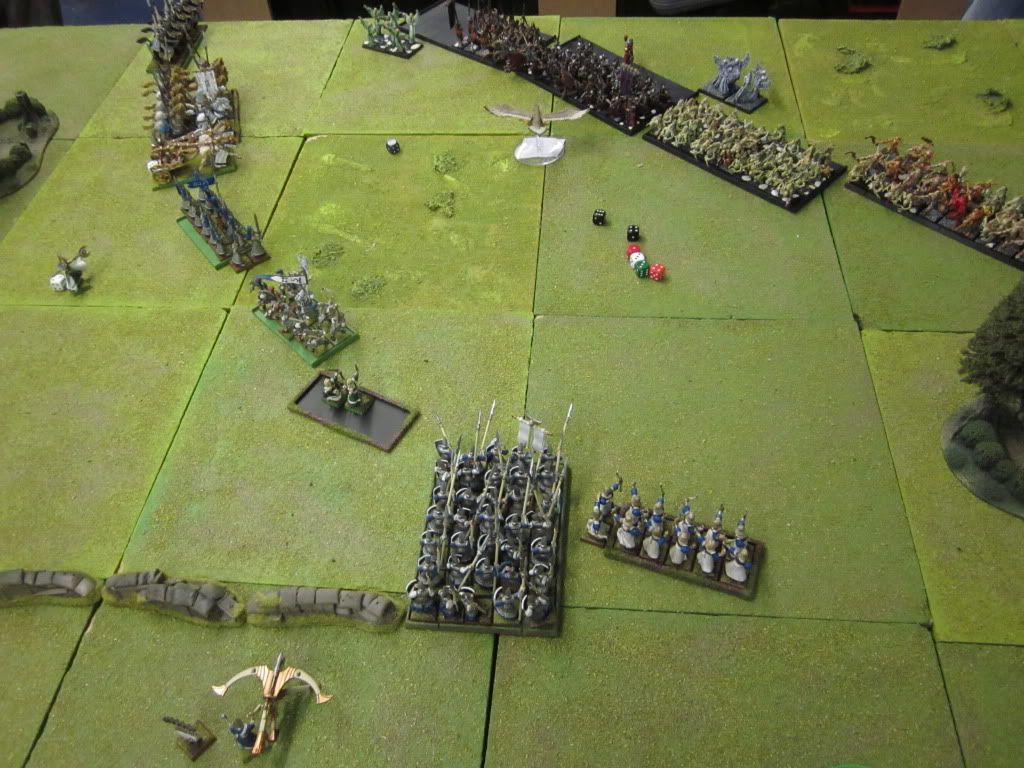 Looking good, eh? No. No it wasn't looking good. I'd forgotten to move Caradath into the princes...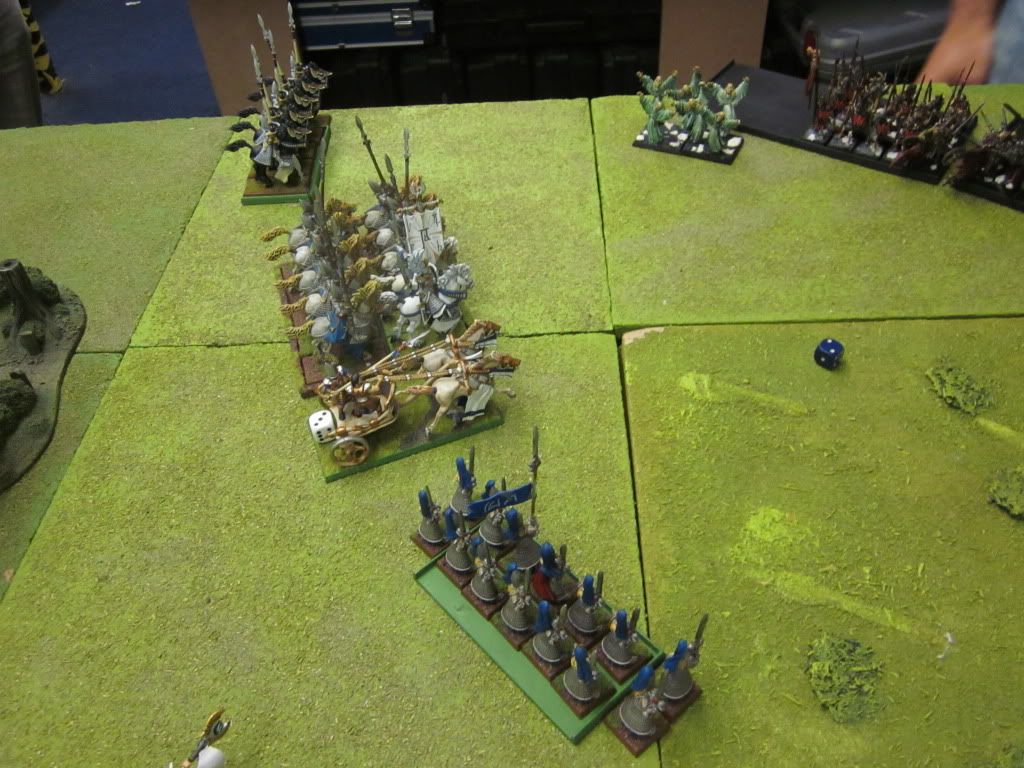 Shit. Nice picture though.
Vampires Turn 4
My opponent was no fool: he moved the spirit hosts right in front of the princes. He had the good grace not to cackle madly as he did so. He might have done, though. I'd wanted to get the characters and princes into the skeletons in my next turn, leaving the silver helms free to form a combo with the chariot and swordmasters against the grave guard once their flank had gone. Now, to pull that off, I was delayed by at least a turn (and we were already on Turn 4!). On the plus side, I still had the eagle holding the GG's up and Seredain was able to charge in and hold them up himself. If I got him into base contact with Mannfred, my opponent would have to challenge him out with his champion to prevent the Giant Blade going to work and that, in turn, would prevent my prince taking a killing blow to the face. In any case, I didn't want to charge the grave guard with my troops until I had their flank open.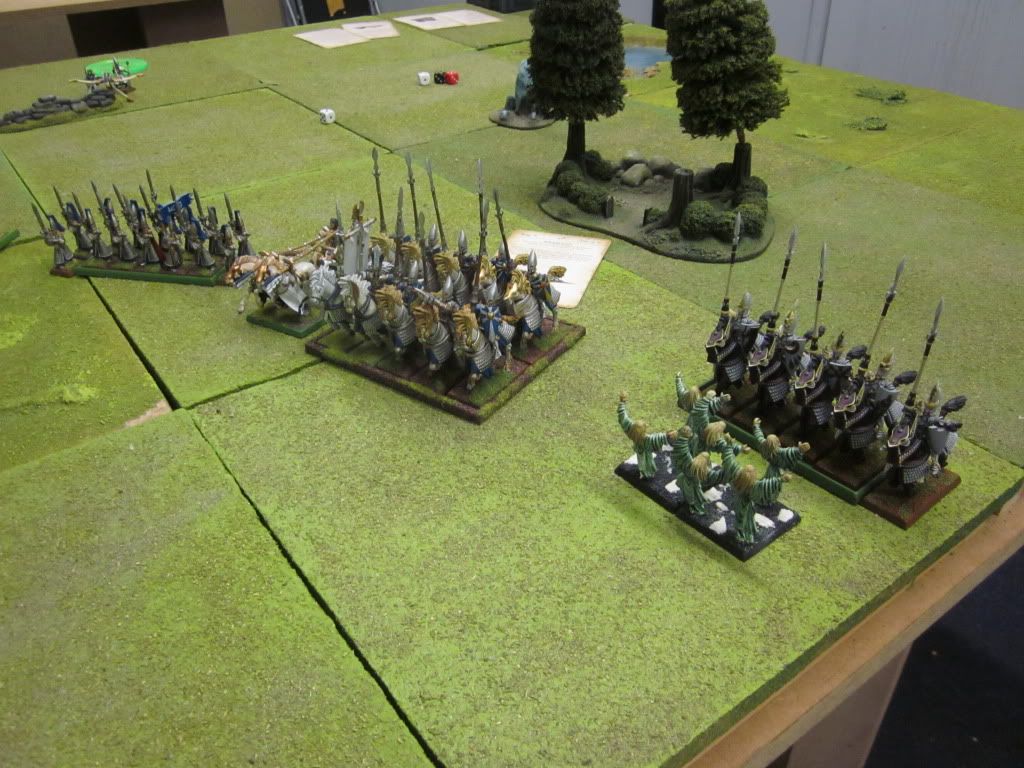 Balls.
Other movement was restricted to the undead line swinging round further to face mine. Magic, though, was far more eventful: Mannfred didn't get that many power dice, but he did get an irresistible Spirit Leech on Lecalion, killing him and taking a wound (his second from miscasts) in return. Bad!
A mage once stood here, but now he is no more.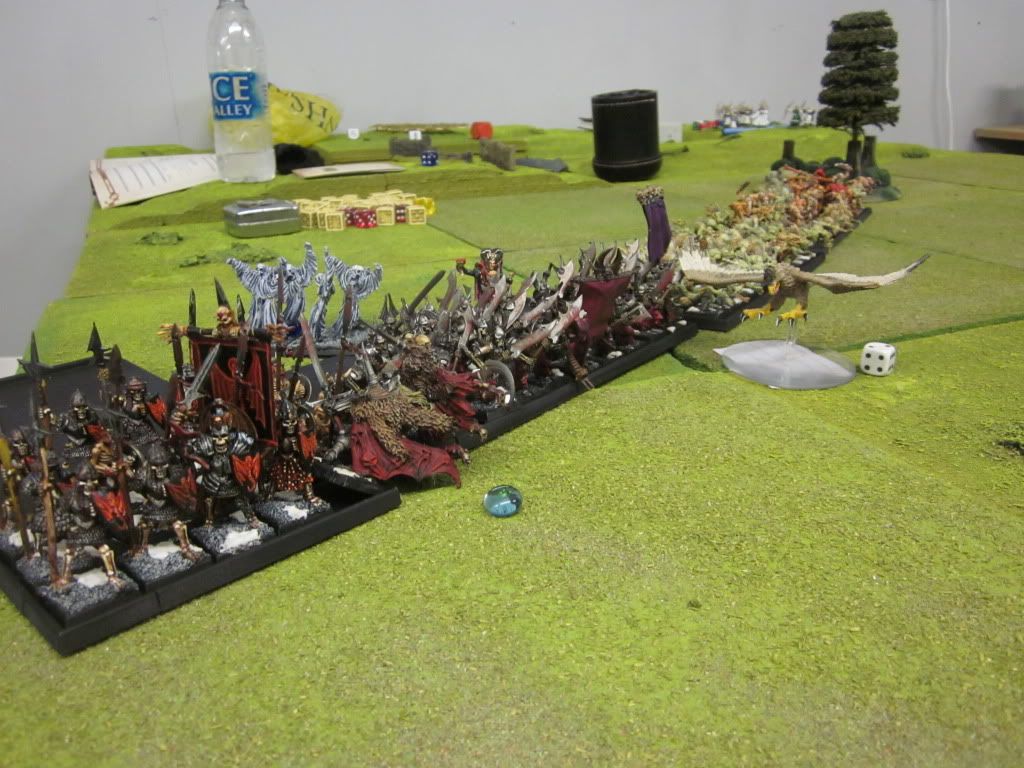 The eagle makes a mental note of the number of times he has been in this position and resolves to speak to his workers' union as a matter of urgency.
High Elves Turn 4
I'd taken a risk exposing my mage for the sake of protecting the prince and taking out the regen wight BSB. Now this reasoning was beginning to look shaky: regen was still up and my prince was defenceless. I urgently needed to get him into combat, then, but I didn't want my units coming in piecemeal. So, I resolved to clear out the spirit hosts before declaring my big charge so the DPs could play their crucial part (as it was, I'd effectively lost myself the flanking element of my flank attack!). Caradath would shift left into the DPs and Seredain would shoulder the mantle of pinning the grave guard in place by threatening Mannfred and forcing the challenge from the GG champion- simultaneously buying me the time I needed to rectify my mistake with the DPs and protecting Seredain from the direct damage Death spells. He took a deep breath and charged out of the silver helms, calling Mannfred out by name... only to find that his horse tripped over a rabbit hole and brought him stumbling no distance at all, out into the open. The undead hoard howled derision.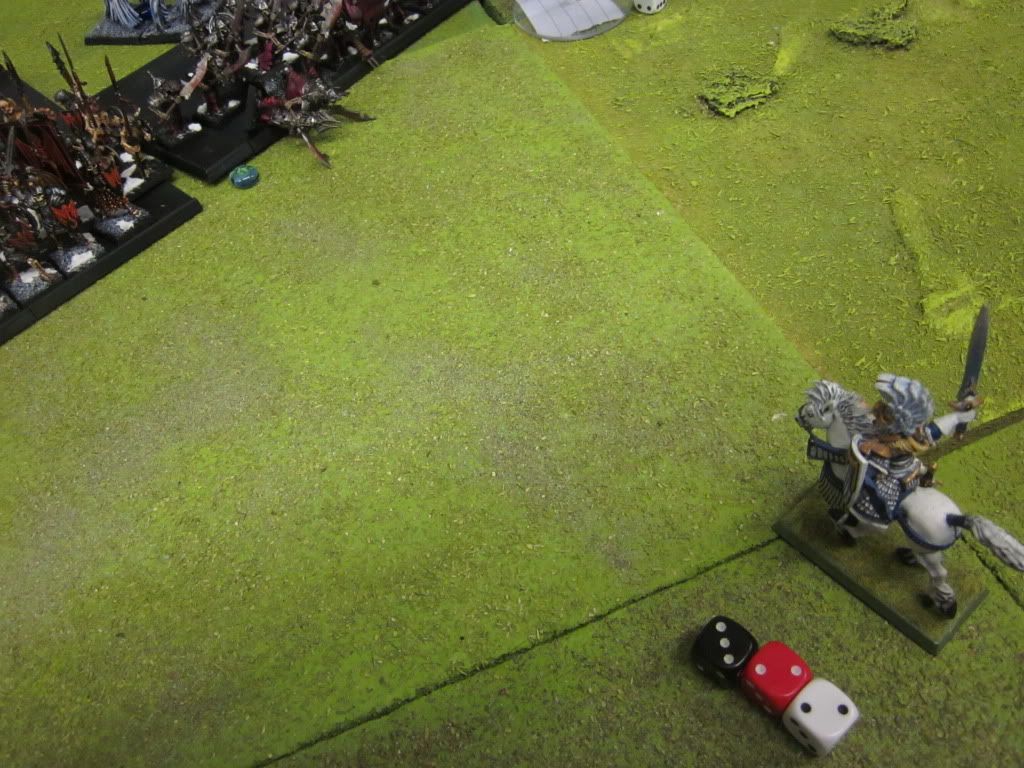 Shit!
I was dumbfounded by my charge roll... I'd only needed 6". This was not how things were meant to go! There was nothing I could do to help my prince now- only to hope that my opponent rolled very very poorly for power dice next turn.
Movement: and the rest of my army moved up in a neat line so that, if any were charged by the wide undead hordes, they would be supported by the next unit along. This was a limited response to the crisis slowly building, but seemed the best thing to do at the time: with both my lord-level characters likely to be dead by my next turn, I was down and out unless I could force a couple of big combats, present the Vamps with some hard choices when it came to spell-casting and the Helm of Commandment, and pull off a lucky victory. To buy my combat units a turn, the blue archers moved up at an angle to stop the outer ghouls from flanking the spearelves next turn.
Shooting saw my repeaters continue their good form, felling the best part of a rank of ghouls from the unit on my right.
Vampires Turn 5
My opponent continued his usual policy of moving as little as possible, though his flanking ghouls broke with tradition and surged forward into the archers. Of more concern to me, however, was the magic phase...
10 or 11 power dice, including Mannfred's extra dice, flooded the field and the vampire duly threw 8 of them at Death spells directed against the High Elf prince. The first was deflected and the second was not: Seredain tumbled from his horse and a cry of despair erupted from the elf army (and from their owner, who was now looking very upset). To make matters worse, Mannfred managed to cast Raise Undead horde, putting a load of models back onto the ghoul unit charging my archers and, worse, healing his own lost wounds. Oh dear.
During the charge against them, the archers let fly and, amazingly, brought down a whole handful of ghouls. I started to dream that they could hold for more than a turn, when combat happened. The didn't manage to kill a single ghoul themselves and, in reply, were totally wiped out. The ghouls turned, hungrily, to face the exposed flank of the spearelves.
High Elf Turn 5
My infantry were now in a very poor situation indeed. By the time they saw combat they were meant to be fighting with knights and characters in support or close to being so: now they were on their own and looking like they were going to be flanked by the ghoul horde on their right flank. In placing my blue archers close to the spears, I'd got them in range of the skeletons and been able to pile on the firepower during the early turns, but this also meant that they'd been
un
able to keep the ghouls away from the spearelves for more than a turn (if I'd deployed them further to the right, they'd be able to take the ghouls into a lonelier part of the field). Now that my fast attack had failed, my right flank, not refused as much as it could've been, was looking vulnerable.
Since fortune favours the bold, I decided to force the issue: an all-or-nothing strike across the undead line. Caradath and the princes charged the spirit hosts, hoping to overrun into the skeletons. The white lions and spearelves charged the inner ghouls while the silver helms, chariot and swordmasters declared a mighty charge against the grave guard. With two major combats going on at once, my opponent would have to split his buffs, hopefully allowing me to win one combat at least. Clarion calls filled the air and...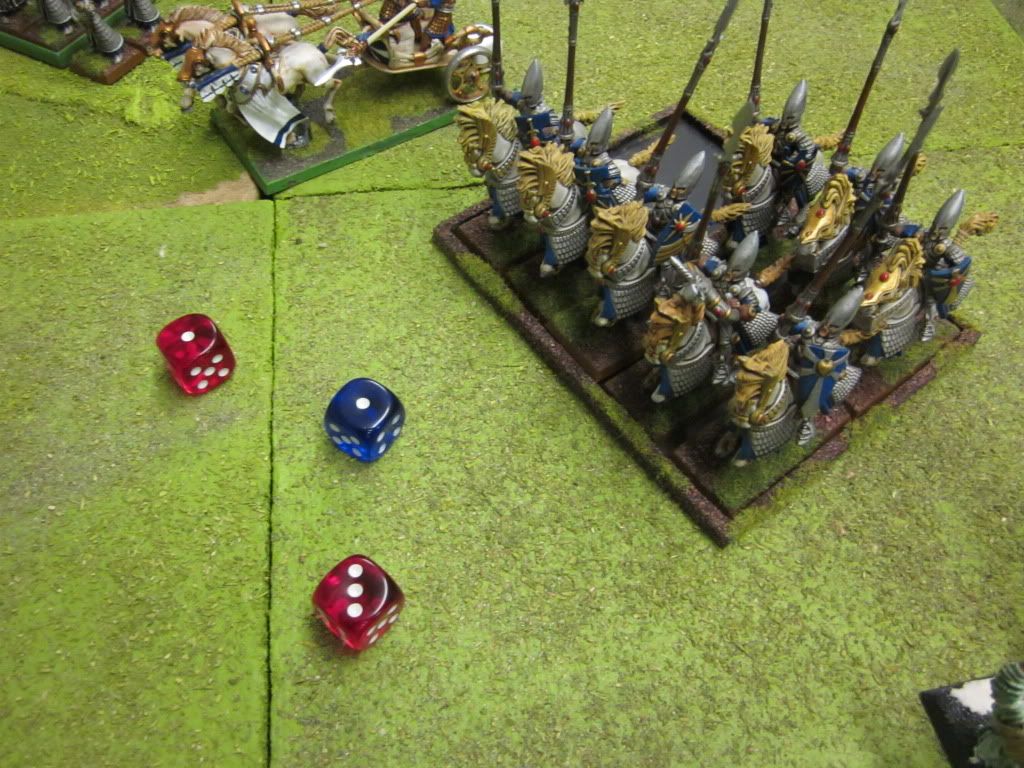 Nooo!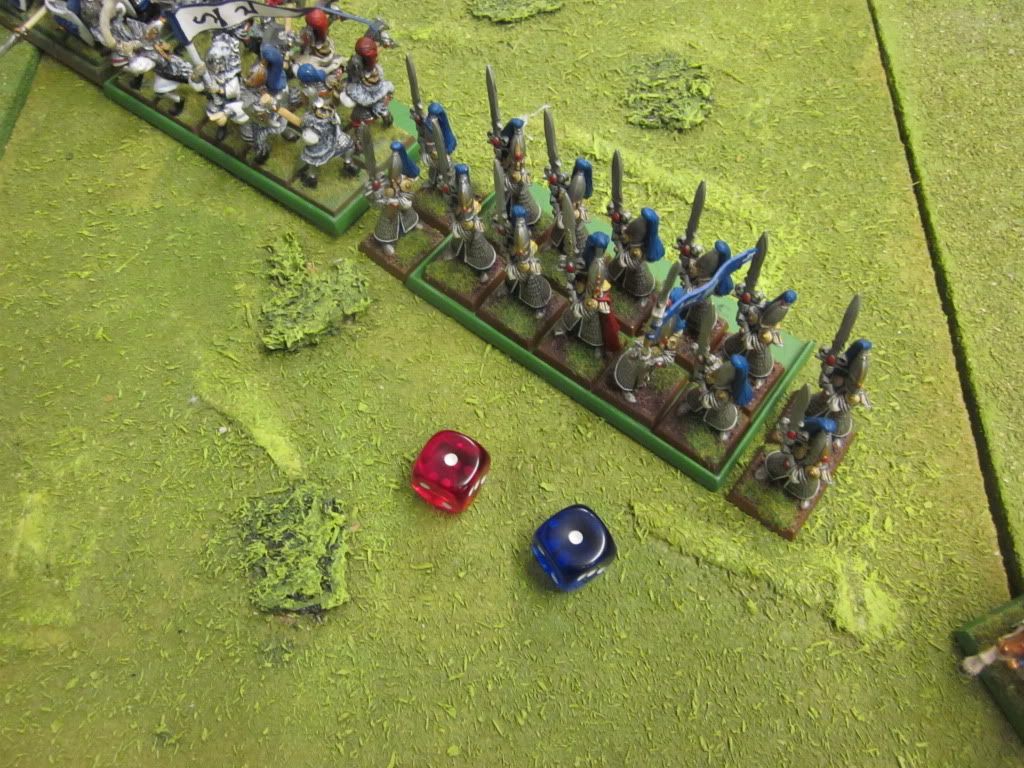 Oh, dear Lord...
Only the chariot made it into the grave guard. I facepalmed and let out something resembling a howl. The white lions and spears both made it into the ghouls, but a fully-focused undead magic phase would surely see them overwhelmed in short order.
In the shooting phase my repeaters, starting to sense that things were falling apart, lost their focus and failed to land much damage on the flanking ghouls.
During combat, Caradath and the princes easily rode over the spirit hosts but failed, annoyingly, to reach the skeletons beyond with their overrun. The chariot managed to run over a single grave guard before Mannfred smashed it, with contemptuous ease, into the ground. All eyes now turned to the white lions and spearelves... who did ok. More specifically, the white lions did fine and the spearelves failed to kill more than a single ghoul. The ghouls' attacks back, however, were surprisingly lethal: a rank of lions and two ranks of spears were pulled down (I missed Life magic, here). After crumbling, the ghouls were only down to 26 models-plenty enough.
Vampires Turn 6
The second ghoul unit charged the flank of the spearelves, baying for blood. Mannfred, meanwhile, continued to decide that discretion was the better part of valour, opting only to withdraw a little behind the front line of the skeleton unit, to prevent a dragon prince/silver helm/swordmaster triple-team charge.
The magic phase was a disaster. The vamps got a huge surge of power dice for their final turn - the full 12- and put it to work against my white lions and spears. Having drawn my dispel dice out by threatening Caradath with Death spells, Mannfred (whose excellent spell selection- two full lores- had made prioritizing dispel attempts very difficult all game), got VanHels through on the large ghouls (this was the second attempt- I dispelled the first) and raised horde to replenish the ghouls back to 3 full ranks. The former caused another miscast and another wound on the vampire lord, but the latter healed him up again.
Combat was as devastating as expected: the white lions were all killed and the spearelves, finally losing their steadfast to the ASF ghouls, broke and were easily run down by their pursuit. Specifically, the spears fled 3" and the ghouls pursued 12", following the theme of earlier turns.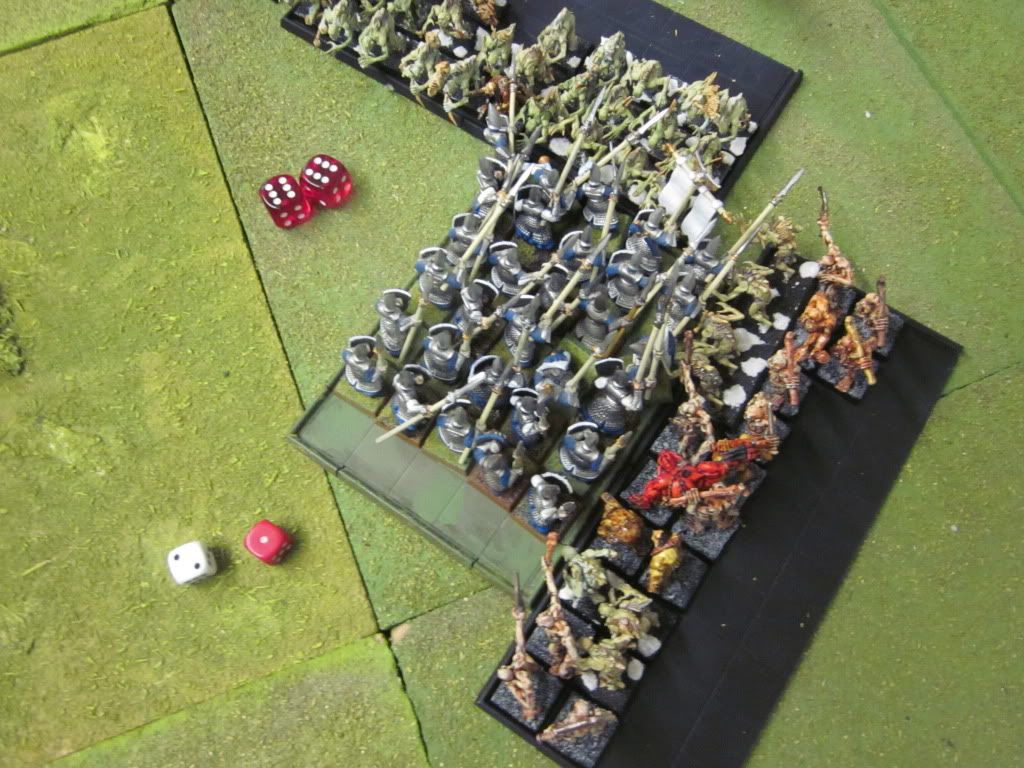 Ouch.
High Elf Turn 6
It was game over for the elves. I thought long and hard about charging everything I could into the skellies and grave guard but, seeing that the undead magic phase was rampant and since time was getting on (it was about 10pm, so the club was set to close), I shook my opponents hand and called it GG.
The remaining elves quickly retrieved their fallen lords and evacuated the field under cavalry guard. The ghouls began quietly feeding on the mound of fallen elf infantry that remained. Mannfred wiped the dust from his hands.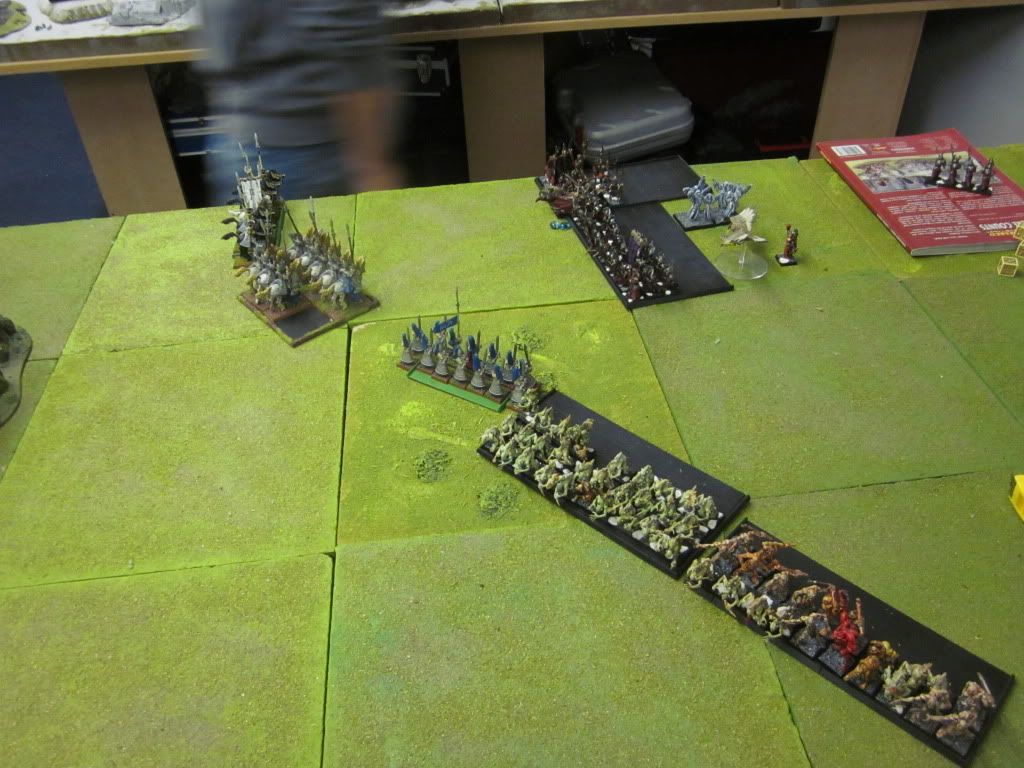 Defeat!
Naturally I have plenty to say about what went wrong! A combination of bad luck and a couple of silly mistakes put paid to the whole thing (as is usual for most defeats, I'd imagine). I'll let you guys have a read, though, and we'll get into it properly later. Briefly, here are some lessons I've (re)learned.
Lesson 1: if your opponent sits in a corner and refuses to move, but has no long range firepower of any kind, you must feel completely free to keep your distance, shoot away, and play for the draw or minor win. If this is cheesy, it is only as cheesy as castling in the first place.
Lesson 2: If you do go for the killer strike, you must make sure you don't get held up, via your own idiocy, by a 50 point unit of ghosts. This is what they call in the biz 'silly'.
Lesson 3: Do not throw away your archmage on the off-chance that you can cast a good Dwellers. If it works, then great. If it doesn't, however, an undead magic phase led by Mannfred von Carstein will own you, while your own troops will be without the buffs they need for drawn-out combats. Poor white lions.
Lesson 4: One I'm actually very familiar with (see my 2nd O&G report as a nice example) but simply forgot here, confident as I was of quickly steamrolling the undead right flank: If you aim to hold up a refused flank with a throw-away unit, approach the enemy from the outside of their flank and set up the road block a turn before you aim to engage with the unit your road black is covering. This way you should be able to keep the offending enemy unit in the wrong part of the field for longer, rather than allowing it to eat your road block and simply have an easy charge into your flank next turn.
I'll also say for now that, despite being one of the most frustrating games ever, my opponent was a gent and we actually had a really fun game. Now, having lived through this debacle again, I'm going to have a big drink. GG!
P.S. More reports are on the way, including my latest campaign game (2506pt High Elves vs 2750pt Empire), and a titanic battle between an alliance of the forces of Good (4K Brettonians, 4K Lizardmen, 4K High Elves) and Evil (4K Goblins, 4K Dark Elves, 4K Chaos Warriors).
Coming soon...